by Tom Gaylord, a.k.a. B.B. Pelletier
Several years ago, a big bore airgun manufacturer was heard to say that his hunting rifles were accurate enough to hit an Oreo cookie at 30 yards. He argued that it would be very hard for a deer to hide behind an Oreo cookie. So, the question is: Were his rifles accurate? He obviously thought they were, but most of the public disagreed. He had to improve the accuracy until his rifles could hit that Oreo at 100 yards. He managed to do that, and the sales were very good from that point on. True story.
Was this an issue of perception, or was the manufacturer right — that no deer can hide behind an Oreo? Well, here's the deal. If he doesn't sell any guns, nothing else really matters because he goes out of business, making his opinion as a manufacturer moot! Today, I'd like to talk about what drives practical airgun accuracy.
You might think it's the World Cup and the Olympics that drive accuracy for airguns, but that would be incorrect. The World Cup matches certainly have had a huge impact on the accuracy and ergonomics of target airguns at close range. They've gone from being capable of making very small groups in the late 1950s to almost being able to stack all their pellets on top of each other. But that took place back in the late 1960s and early 1970s timeframe. Since then, there hasn't been much advancement in accuracy because there wasn't much room to improve. So, the target airgun designers turned their attentions to improving the sights and the ergonomics of their airguns, and that's still going on today.
In this same time period, the pellet makers have advanced their art, as well. There's still room for some improvement of lead-free target ammunition, but things in the lead pellet realm are slowing down. Once again, we've gone about as far as it's possible to go.
But all of this progress has been in the world of close-range target guns. Longer-range airguns had a lot more room for improvement, and that was accomplished by different means.
History of field target and accuracy
When the sport of field target began in the UK in the 1970s, the first targets were just silhouettes of animals. The were hinged at their base so a hit anywhere on the silhouette knocked the animal over. These were simple targets to build, but not that challenging. It was argued that hitting a squirrel in the tail was hardly tantamount to dispatching it. If this sport was going to grow, it had to become more interesting.
Field target was not created to be a hunting simulation; but once it began, the connection to hunting was too obvious to ignore. Something had to be done to make the targets more realistic. The kill zone was the answer.
The kill zone works is a hole in the "face" of the target, which is the silhouette of the animal. The pellet must pass through the hole and hit a trigger (called a paddle) behind the target face. When the paddle moves, depending on how the target is built, the face will either fall over flat or at least fall partway.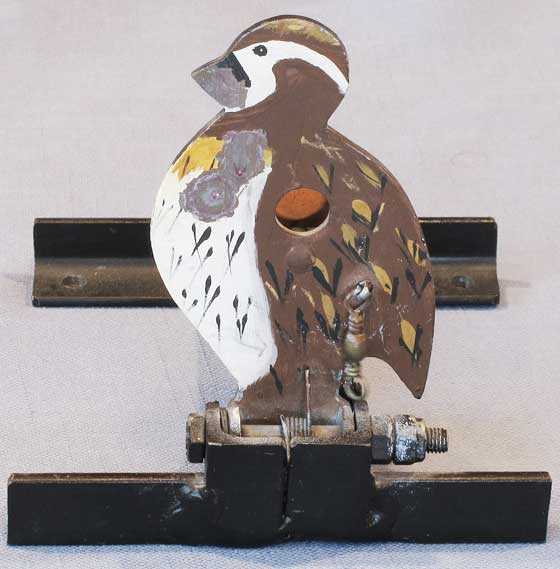 This field target was made by Ulysses Payne years ago. It has a kill zone that's backed by a movable paddle. The paddle is sensitive and  falls when hit square or locks when the pellet is split on the edge of the kill zone.

This side view of the target shows the link that connects the paddle to the face. When the paddle goes back, it pulls the face after it.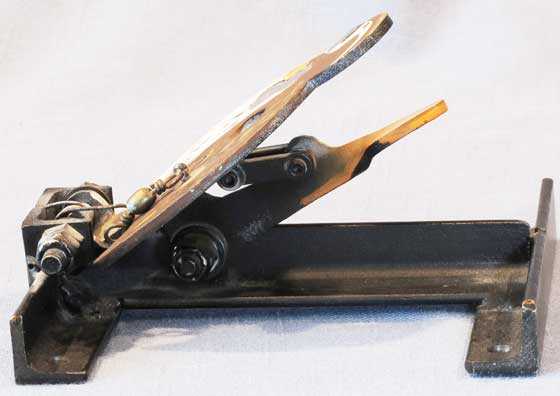 This target doesn't fall completely flat because of the linkage connecting the paddle to the face of the target.
The kill zone changed the sport of field target, though it took some time to realize. What people discovered was that if you hit both the target face at the edge of the kill zone hole and a piece of your pellet splits off and goes through to hit the paddle (called a split in the sport), the face would be pushed backwards so hard that the paddle might not fall. At first, this was a chance discovery; but after a while, target makers started making their targets more sensitive to splits. The goal was that a split would not allow the target to fall, thus preventing a point from being awarded.
After that, the kill zones got smaller and smaller to challenge good shooters even more. By the end of the last century, it was obvious what this had done to the sport. Accuracy had taken on a new meaning. People were no longer satisfied with hitting tin cans. Now, they wanted to bust aspirins. And not at close distances! But that's not all.
The evolution of scopes
Targets weren't the only thing to improve because of field target. Scopes changed dramatically. Back in the early 1990s, you really had to search for a scope that would correct for parallax down to 10 yards. Today, that kind of adjustability is even showing up on firearms scopes! The tiny little sport of field target is what has driven this change.
But that's just the beginning! Know those sidewheel parallax adjustment knobs on scopes? Where do you think they came from? Leupold didn't wake up one morning and say, "We think the snipers of the world deserve a sidewheel parallax adjustment scope that sells for about $1,400." No, sirree! The dozens of airgun scope manufacturers decided it for them — 10 years before Leupold got around to building their first one. And field target pushed them.
That little sport pushed the scope manufacturers until they were making scopes that could only have been dreamed of 2 decades earlier. When I got into the sport, the Leupold 6.5-20x Vari-X III was all the rage. Today, it would be considered a second-tier scope. Good…but no longer a championship scope.
And coming soon will be the bubble level inside a scope that Leapers is perfecting. Yes, other scopes with bubble levels already exist, but their optics aren't suited to precision shooting. This one will be.
Ammo
Pellets advanced at the same time. Back when I started in field target, a Diana Magnum was a good domed pellet. Then, Crosman Premiers hit the market and buried virtually all other brands. Next, JSB Exacts replaced Premiers as the best. Today, what would have been a world-class pellet in 1998 is now just considered average.

Pellet precision has evolved greatly in the last 20 years.
In short, this one sport of field target, in which only a handful of shooters actually compete, changed the face of airgunning forever. It defined accuracy for a generation and set the performance bar very high, indeed.
Big bores are staring to improve
The same thing has started to happen in big bore shooting. In the 1998 timeframe, a big bore that grouped inside 3 inches at 50 yards was seen as accurate. Now, that's down to an inch. But there are even fewer big bore airgun shooters than field target competitors, so the advancements are going to take longer.
The future
Nothing stands still. What we need today is a hunting pellet that's also very accurate. There are already a couple of contenders like the Beeman Devastator and the Crosman Premier hollowpoint. But the market is far from saturated. There's lots of room for accurate hunting pellets in all 4 smallbore calibers.
And the world of lead-free pellets is still in its infancy. The lead-free pellets of today are lightyears more advanced than they were even 5 years ago; but compared to target pellets and general purpose domed pellets, they're still very crude.
Summary
To prove the truth of what I'm saying, look at the groups we celebrate on this blog. The only thing that we don't yet do is shoot those tight 10-shot groups at 100 yards. But I'm convinced that day is coming.
So, if you compare where we are today with where we were even as recently as 1995, you'll see how far airgun accuracy has come. The guns are better, the pellets are better and even the scopes are better. The future is bright, and I can hardly wait to see the new inventions that will take us to the next level.
by Tom Gaylord, a.k.a. B.B. Pelletier
The most refreshing thing about this blog is that we keep getting new readers, while retaining a large percentage of our long-time readers. That allows me the occasional opportunity to share an inside story with several hundred of my closest friends. Today is such an occasion.
We got this comment yesterday morning from reader Jp:
BB, got another question: You ever heard of using a solid pellet in an airgun. A bullet, I guess would be the correct term. Considering an airgun tends to shoot like lower velocity black powder (usually subsonic, I assume), maybe use something like a Minnie-ball shot. Know anything about this, how it works, how it doesn't work, is it worthwhile or even a good idea? Jp
From his remarks, it sounds like Jp may have been a blog reader for some time. And he asks a question that I've heard before — not always from the consumer side of the sales counter. Many manufacturers have ventured into the realm of solid pellets without knowing what they're doing or the ramifications of using such technology in an airgun. I would like to address this issue in some depth today.
A solid pellet is exactly what Jp says — it's a bullet. It does not have the stabilizing feature of high aerodynamic drag, so all its stabilization must rely on the rifling-induced spin. From tests we did with a smoothbore pellet gun, we know that aerodynamic drag does cause a pellet to fly true for at least the first part of its flight. See the results I got at 10 meters with the Diana model 25 smoothbore.
But that's not a deal-killer because we also know that a solid bullet (and that's what a solid pellet really is) can be accurate from spin, alone. I've gotten sub-one-inch 10-shot groups from my Winder musket shooting standard-speed .22 shorts at 50 yards, and that rifle has a twist rate of 1:22 inches. Even when the 29-grain lead bullet exits the bore at 1,000 f.p.s. (or less because the Winder has a 28″ barrel that cuts velocity), it can still be accurate from just the spin. We know that an air rifle twist rate is really 1:16 inches, which is faster than the 1:22 inches that's the standard twist rate for the .22 short cartridge (actually, the rate varies by manufacturer, from 1:20 to 1:22 inches).

The Winchester Winder musket shoots a .22 short bullet of 29 grains weight at less than 1,000 f.p.s., yet it's very accurate at 50 yards.
If a powerful air rifle can fire a solid "pellet" weighing about 30 grains at 1,000 f.p.s., it should be accurate. Right? I mean, wouldn't that be what we've all been looking for: An air rifle that fires with the force of a .22 rimfire. This is the thinking that certain pellet manufacturers have undertaken in recent years when they got their great ideas to make solid pellets. Yet, I'll bet a dollar that NONE of those pellet designers have ever shot a muzzleloading rifle.
But you readers have watched me shoot plenty of muzzleloaders. I guess the Nelson Lewis combination gun is the one you remember the best. Know what you have to do with a muzzleloader? You have to pound the bullet into the rifling to get it into the barrel — that's what. For that, you use a tool called a short-starter. Every muzzleloading guy knows what that is.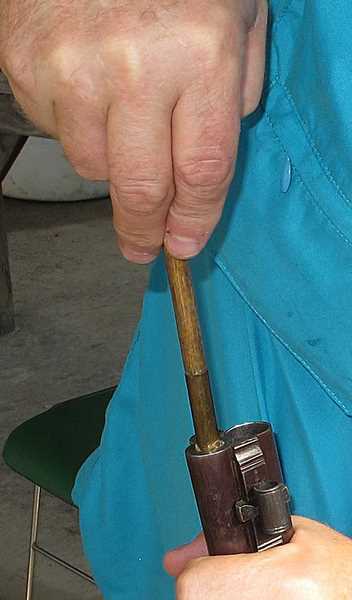 This is me pushing a bullet into the muzzle of the Nelson Lewis combination gun's rifle barrel with a short starter. They make it with a wide ball end so you can put some force behind it! And this is a patched bullet — not a naked lead bullet that needs to be engraved by the rifling.
Guess what?
If you try to load a solid pellet into a rifled barrel, YOU become the short starter. Or at least your thumb does! Back when a certain solid pellet called a Piledriver first came out, they sent a sample batch to AirForce Airguns, and yours truly had to test them in a Condor to see if they had any merit.
Test them? Heck, I couldn't even load them! I finally resorted to using a penny on the end of my thumb to push the pellet into the rifling, and even that didn't work very well. You can sit on the sofa and talk about the benefits of solid pellets all day long, but let's see how your mind changes when you actually try to load one into a gun!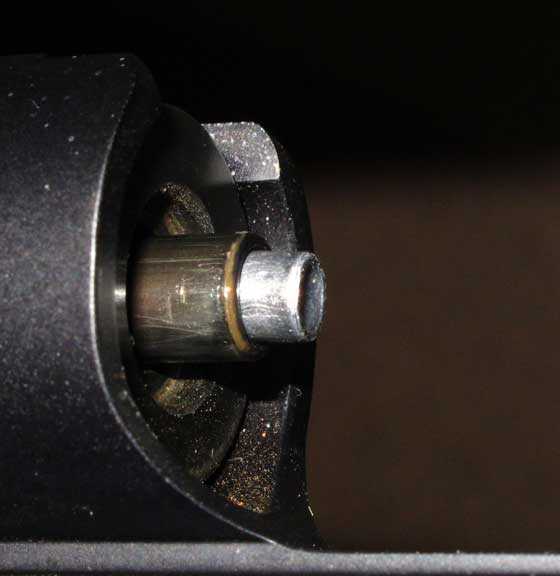 When you try to load a solid pellet like this 30-grain Eley solid into the breech of an air rifle like a Condor, as soon as it contacts the rifling, it stops cold. This is as far as it goes in.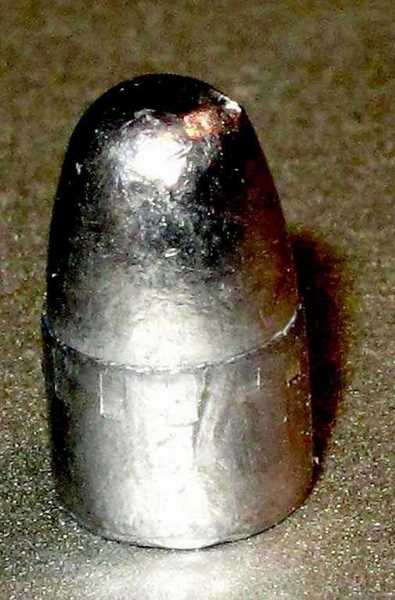 Here's the proof. Look at the short grooves at the top of the cylindrical section of the pellet, where the rifling has started to engrave the lead. This is the same pellet shown in the photo above.
At this point, the engineers will tell you that the diameter of the pellet's body is critical. If you can just get it right, these pellets will load. Well, I've been testing solid pellets for at least 15 years in dozens of different airguns, and to-date I haven't seen one that was right. While I was at AirForce, I worked for over a year with the Pelletman (a maker of many kinds of solid pellets), trying to get the dimensions correct…and we never succeeded.
But wait…there's more
Jp asked a question that I know many other folks have been wondering about. I say that because this subject comes up a lot at the airgun shows. So, I'm not going to leave it here.
I will actually load some of these pellets into a Condor, which is one of the only air rifles powerful enough to shoot them anywhere near the same velocity as a .22 short bullet, and we'll see just how accurate they are. That's why today is Part 1.
If you have thoughts, stories or questions, now is the time to speak up.
by Tom Gaylord, a.k.a. B.B. Pelletier
Before we begin, here's an update on my good friend Earl "Mac" McDonald, who's contributed so much to this blog and has enriched my life and the lives of many who participate here. He's at home, being cared for around the clock by a home-care nursing staff. That will soon transition into home-based hospice care, as his condition will not improve. He knew I came to see him, and we spent a lot of time together in the two weeks I was there. If he could, he would thank everyone who's sent him good wishes and prayers.
Today's topic came in about a week ago, and I put it in my bank of reports to write while I'm on the road. Although today is Monday, I'm still traveling home from seeing Mac. The distance was so great that I broke it into a 3-day trip, and was planning to stop by the American Pickers store in Nashville. I got there before they opened, and hundreds of people were already waiting in line to see it. So, I decided to just continue driving home.
The question is: How did shooters of old test their trajectories? How did they know where to aim for the longer shots?
I suppose the answer breaks down in several ways. Buffalo hunters, for instance, shot just one load in their rifles so that one load was all they had to learn. The land over which they shot was mostly flat and dusty so they could see the strike of the bullets when they hit the ground. Over time, they learned where to set their sights to hit animals at different ranges, and they used the feedback they saw downrange to refine their understanding of the ballistics of their rifles.
Then, there's the scientific approach, which is based on mathematics. Calculations can be made to predict the flight of the bullet with good precision, then they're verified and refined by empirical testing on the range. One of the best-documented instances of this is the development of the cartridge that became the .45 Government, or what we know today as the .45-70. That cartridge started out as a .50-caliber round; but through range studies and exhaustive testing they discovered that the .45-caliber bullet had better ballistics. If you're interested in this sort of thing, there's a very thorough report of the entire cartridge development in M.D. (Bud) Waite and B.D. Ernst's book, The Trapdoor Springfield.
Though the timeframe for this development was the late 1860s and early 1870s, scientists knew a lot about how projectiles flew ballistically — and they had good mathematical tables to help them with their research. Ballistics was already an established field of study when this cartridge was developed.
But what about the amateurs? What did they do? Some were able to use the same tables as the scientists, and they used their own ranges to confirm and tweak the results of the calculations. But they didn't have Chairgun back in the 19th century, so whatever did they do?
What's Chairgun?
Chairgun, and now Chairgun Pro, is an airgun and rimfire ballistics software that helps you plot the trajectory of a pellet before you shoot. It has become a great favorite of airgunners who use it to set their scopes for different ranges with different pellets. Field target competitors find it especially useful because they need to know the exact place in the trajectory their pellets will be at all ranges. Those pellets must pass through small holes in the front of the steel targets they shoot at in order to hit the triggers in the back of the targets and knock them down. If their pellet partially hits the face of the target as it passes through the hole, it can lock the target in the upright position and it won't fall — robbing the shooter of a point. But the Chairgun software and lots of testing helps the shooter refine his pellet plot so he gets it in the right place every time.
And the good news is that now they have a version that works on Mac computers, too, so I'll finally be able to use it!
But 150 years ago, there were far fewer personal computers — so what did those people do to determine the actual trajectories of their bullets? Well, to paraphrase the movie, The Graduate, I have two words for you — tissue paper. They lined up tissue paper screens between the muzzle and the target, and shot through them to "watch" the drop of the bullet over distance.
Now, before some wiseacre scientist in the crowd pulls the Heisenberg principle card on me, I'm aware that passing through even one sheet of tissue paper does have an effect on the ballistic flight of the bullet, however slight. I'm also aware that a bullet isn't a subatomic particle, but I wanted to get that idea off the table so we could discuss the thing that "they" really did in order to measure the flight of bullets.
When Dr. Mann did the 37 years of work that eventually lead to his book The Bullet's Flight, from Powder to Target, he used tissue paper screens at regular intervals between the rifle and target. He wasn't looking for the trajectory as much as he wanted to know the attitude of the bullet at various distances from the muzzle. In his day, it was suspected that bullets left the bore unstabilized and then stabilized as they went downrange. So, he was looking for the pattern of elongated holes on the screens that would indicate yawing bullets.
How did they align the screens?
If you have ever given this approach any thought, you must have wondered how the screens were aligned. For example, if all the screens are supposed to be the same height above the ground from the muzzle to the target — how is that done? You don't just set them on the ground and hope they line up; because no matter how flat the ground may be, there are still variations of several inches at various points along the bullet's path. But these people wanted those tissue paper screens to be aligned within the tightest variation possible.
Today, we'd use a laser and place the screens so each one aligned with the laser's dot; but just as computers were in short supply back then, so were lasers. So how did they do it?
They used a surveyor's transit to align each screen. Because of the nature of what they were doing, they had to start placing screens at the target and work backwards to the gun because each screen obscured everything that was beyond it. With a laser, you work the same way. The only difference is that one person can lay out a range like this with a laser, while a transit takes at least two people. If you've never tried it, don't make light of it, because you cannot imagine the difficulty of aligning all those screens. And, if the wind is blowing, you might as well give up because the screens will never settle down.
Did it work?
Some of you know this works because you've tried it yourselves. Yes, it does work. The tissue paper needs to be stretched tight on the screens so it doesn't tear. That isn't as important for firearm bullets as for airgun pellets, but the paper does need to be fairly flat for every bullet or pellet. And airgunners usually don't need to place screens out beyond 50 yards or so, while in the past firearms shooters often placed them out several hundred yards.
For an airgun, an interval of 5 yards is useful. For firearms going out to long distances, a 25-yard spacing might work better, though closer to the gun so that spacing might be reduced to 10 yards.
A modern anecdote
In the early 1990s, several government physicists wrote papers that criticised the story of Billy Dixon, the buffalo hunter who shot an indian off his horse at 1,538 yards during the second battle of Adobe Walls, Texas. It took him 11 shots to find the range. The physicists said it wasn't possible for a .50-caliber bullet weighing over 600 grains and leaving the muzzle at 1,250 f.p.s. to even go that far, let alone to hit a target way out there. So, several shooters convened at Fort Huachuca, Arizona, where the U.S. Army had a millimeter wave radar to track their bullets in flight.
What they learned astounded them. A bullet from Dixon's rifle could go over 2,500 yards, and the Army's .45 Government bullet went past 3,000 yards. Even though they were subsonic much of the way, these bullets were proven to have very great range. This experiment could not have been done with tissue paper, since the barrels had to be elevated 30 degrees to the horizon.
Summary
I hope this answers the question our reader asked about how trajectories were verified in the past.
by Tom Gaylord, a.k.a. B.B. Pelletier
This comment came in last week from our new blog reader Jim H, and I wanted to address it right away. It's a good question for a new airgunner to ask, and it deserves a good answer.
"I'm new to the airgun side of things, so I have a lot of questions but here's one that is really bugging me. I have read all of the reviews here by Tom and also the blogs over at that "other airgun retailer" written by Jack Elliot. One message that has come through loud and clear is that each gun will tend to like specific pellets and only experience will tell the shooter which one is best. What is the best approach for testing various pellets? Do you pick a velocity that you want to shoot at and then try all the pellets that will get you to that velocity range or do you simply have favorite pellet brands and types that you've come to love over the years and that's what you go with? With the hundreds of pellets available out there, what is the 'short list' of pellets that a newbie needs to start with?"
Several of you started to answer Jim in the comments section, so my answer comes a little late; but from what I've read, I'm telling him things that are pretty different from what all of you told him. He actually asked 2 different questions: 1. What is the best way to test a pellet? and 2. What is a short list of pellets to choose to test airguns? I took my direction for this report from his request for a "short list" for a newbie.
This will not be a very technical report. I'm not going to discuss pellet head sizes or skirt thicknesses, except where it affects the pellets I name. I have a short list for most of the airguns I shoot, and it's not rigid. But it's caliber-specific, and there's also a small powerplant component to it.
Money is no object
I used to focus on the cost of pellets, but that was before discovering that hitting the target is far more important than saving money. If saving money is your principal goal, get a piggybank. I shoot for fun, and hitting the target is where the fun is. It costs no more to be accurate than it does to experiment by chasing the illusion of economy.
I must also say that I have more experience with pellets for rifles than for pistols. So, today we're just looking at pellets for rifles. Let's take a look at them.
.177-caliber rifles
For .177 rifles my short list is the following pellets:
Crosman Premier lites (brown box) springers and CO2
Crosman Premier heavies (brown box) pneumatics and CO2
JSB Exact RS (up to 12 foot-pounds)
JSB Exact Heavy 10.3-grains
H&N Baracuda and Baracuda Match
Beeman Kodiak and Kodiak Match
RWS Superdome
RWS Hobby
That is my short list. There are other pellets that are very accurate, but I find them to be more specific to certain guns. Please remember that this is not a popularity contest. If your favorite pellet didn't make my list, don't fret. I try other pellets all the time — these are just the ones I count on.
If you ask me why these pellets are on the list, it's because they're the ones that are the most reliably accurate. That's my only criteria because if you can't hit the target, nothing else matters.
.20-caliber rifles
The .20-caliber list is very short because there aren't as many reliable pellets made in that caliber. The most reliable one is the Crosman Premier.
Other than that, I would try anything JSB makes, and that's about it.
.22-caliber rifles
Crosman Premier
JSB Exact Jumbo 15.9-grain
JSB Exact Jumbo Heavy 18.1 grain (good in powerful PCPs)
RWS Superdome
RWS Hobby
H&N Baracuda and Baracuda Match
Beeman Kodiak
.25-caliber rifles
The quarter-inch caliber is another one with few good pellets. The two on my list have demonstrated they will deliver in all cases.
Benjamin domed (these have no name, but they are essentially a .25 caliber Premier)
JSB Exact King
Pellet shapes
I prefer domed pellets to all other shapes. They're more accurate at long range and penetrate well. Wadcutters are good for distances under 25 yards but not for farther than that.
Pointed pellets, hollowpoints and lead balls
I have no use for pointed pellets of any kind. I've never found them to be accurate, and the slight advantage they have in penetration isn't good if they can't hit the target. Hollowpoints are a subject that need a blog report of their own. Lead balls are specialized for certain airguns and are not for most air rifles.
Pellets and power
As power goes up, the pellets should generally get heavier. And PCPs tend to do best with heavier pellets. CO2 guns are a lot like PCPs when it comes to pellets, so I consider them to be the same.
Other selection criteria
There are other selection criteria, of course. I've found certain pellets to sometimes be surprisingly accurate in certain guns, and that's enough to keep me trying them in other guns — searching for more miracles. But the lists above are the tried-and-true performers that almost never let me down. That's why they made my list.
The second question
The other question Jim asked was how to test pellets. I do it by choosing the most accurate rifle I have and shooting 10-shot groups with each pellet in which I'm interested. Do it that way, and pellet testing is easy.
I usually don't express my opinions this strongly; but when it comes to picking a good pellet, I think it's too important to let it slide.
by Tom Gaylord, a.k.a. B.B. Pelletier
Today, we'll look at my solution to the solid pellet for a 20 foot-pound rifle.
The first thing you have to know is how much this pellet will weigh. There's a very quick and easy way to determine this. Find the weight of a round lead ball in .22 caliber. The .22-caliber Gamo Round Ball weighs 15.43 grains. When I did my design, I actually weighed round balls and found them to weigh 15.3 grains. So, that was my staring point.
Now, mentally extend the ball into a cylinder of the same width and height dimensions. The cylinder will be flat on top and on the bottom. The extra lead will increase the weight of the cylinder to just over 20 grains. Remember, this cylinder is just as long (0.2165″) as it is wide (0.2165″).
What velocity will a 20 foot-pound rifle drive a 20-grain pellet? Go to the Pyramyd Air velocity calculator and enter the pellet weight and energy…but you don't even need to do that, do you? Because, if the energy is the same as the pellet weight in grains, the velocity has to be the magic number — 671 f.p.s. Try it in the calculator and see. Use the second formula for your calculations.
Is this precise? Not yet, because we don't know the exact weight of the new pellet that hasn't yet been designed. It's just a ballpark approximation that gets you going. But even if your finished pellet weighs 24 grains, you still know that it has to be driven above 600 f.p.s.
I said I wasn't going to ask you for the math, but I know many of you will find that easiest to envision, so here it is.
The math
The formula for the volume of a cylinder is Π (pi) times the radius squared times the height of the cylinder. The formula for the volume of a sphere is 4/3 Π times the radius cubed. Lead weighs 0.4092 lbs. per cubic-inch.
I did the math and determined that a cylinder of lead that is 0.2165 inches tall by 0.2165 inches in diameter weighs 22.83 grains. Using the same math but a different formula, I calculated the weight of a lead sphere of 0.2165 inches diameter weighs 15.2 grains. That's close enough to the 15.3 grains that I measured to use these data.
My estimates were not exact — they were close. Close enough to make this workable without doing the math because, at this point, what we're doing is determining the envelope for the new pellet. Blog reader Mark was the first person to weigh in with the results. He said the pellet has to be short and fat. Bravo, Mark!
The design
I asked you to design a solid pellet for a 20 foot-pound rifle because that is the hard task. What I actually did was design two pellets — one for 20 foot-pounds and one for 60 foot-pounds. What I'm about to show you are both pellet designs. The 60 foot-pound pellet has my concept thoughts on the drawing, while the 20 foot-pound pellet has just the dimensions.



20 foot-pound solid pellet design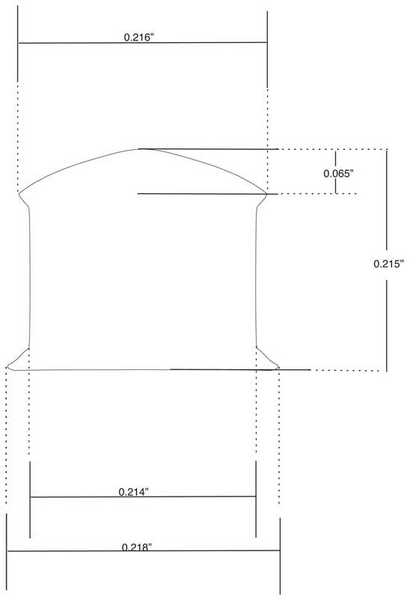 As you can see, this design is lighter than the cylinder of lead described above. So, it goes faster and spins faster, thus having a greater chance of stabilization. This one probably weighs 19-20 grains.
Also note that the driving band at the rear is very thin, so loading should be easy. The body of the pellet is smaller than the smallest diameter of the target bore size of 0.2165 inches.
Notice that the band at the head doesn't get engraved by the rifling. It rides on top of the lands. The rear band is what seals the compressed air behind this pellet. This also helps the loading.
Notice that this pellet is shorter than it is wide. It's very stubby, which we believe to be necessary for stabilization in a lower-powered air rifle.
Will it work?
In theory, yes. But until you make some pellets and test them, you won't know. It may work well in some guns but not in others.
60 foot-pound solid pellet design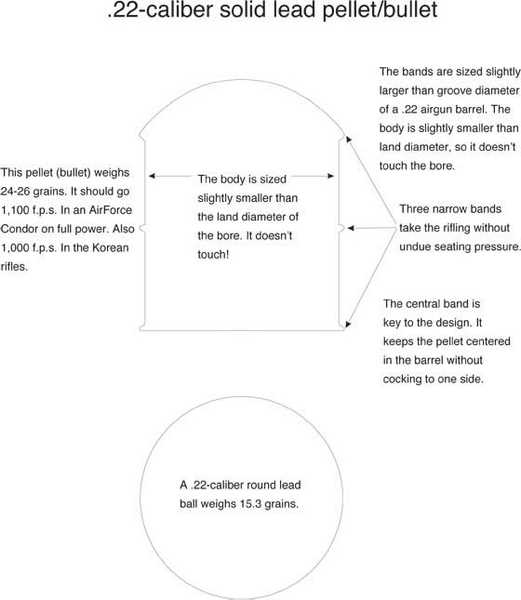 The 60 foot-pound pellet is different than the 20 foot-pound pellet. The basic idea remains the same, but there are small yet important differences to work with the 3x higher power.
I gave no dimensions with the 60 foot-pound pellet because I wanted to test the 20 foot-pound pellet first. Until we knew how well it performed, the larger pellet was just a concept.
Summary
These pellets were designed to work well in the pneumatic rifles mentioned above. You're looking at the exact design drawings that were used to get the solid pellet project underway.
My pellet was never made, but there is a similar pellet on the market that came out a year after I shared these drawings with the company. That pellet is made by a different company. It has some differences from my design; but if you look at it, you can see the similarities. That pellet is still in use today and seems to work as designed. So, I feel confident that my design would work.
This is as much of the story as I'm willing to tell.
by Tom Gaylord, a.k.a. B.B. Pelletier
Blog reader Kevin asked me to tell "the rest of the story" about a pellet I designed a few years ago. That design never got to market under my name, but it did appear on the market from another manufacturer. How that came to be is a question that I can't answer, but my suspicions caused me to break my relations with the company I'd been working with.
I'm not naming names because I cannot prove what happened beyond the obvious parts that affected me. But, today, I thought I would share some of my ideas about pellet design — ideas that have been proven because they're now in production and are apparently successful.
Not a novice
Usually, I would make all sorts of self-depricating remarks at this point about how I'm not qualified to design pellets, but this time I don't think I have to. The things I'm about to tell you are things I've observed in my experiences with airguns, and I know them to be true. Sometimes, you can learn a lot just by doing things.
Heavy pellets
When I was working for AirForce Airguns, the owner, John McCaslin, asked me to test a couple heavyweight pellets in the Condor rifle to see how good they might be. The Condor is so powerful that we figured it could easily handle the heaviest pellets on the market.
The first pellets he gave me were a sample lot from a UK manufacturer. They were shaped like cylinders with points on either end, and the maker claimed they could not be loaded backwards because they were the same on both ends. When that's the selling feature for something, you know it's bad before you start the test, and I wasn't wrong about these! They refused to enter the bore!
The "maker" had assumed that pellets must be bore-sized to seal the compressed air behind them. That part he got right, but he had obviously never loaded a muzzleloading rifle. Bore-sized bullets (they ARE NOT pellets, no matter how much anyone wants them to be) will not go into a rifled barrel without a LOT of force being applied to them — as in a hammer!
Had the maker known anything about the evolution of the rifle, he would have stumbled across the patched ball, which is considered to be the biggest advance in rifled guns since the invention of rifling. With a patched ball, the patch takes the rifling, leaving the lead ball unmarked. It is an order of magnitude easier to push a tight cloth patch into rifling than it is to engrave a lead bullet with the rifling lands!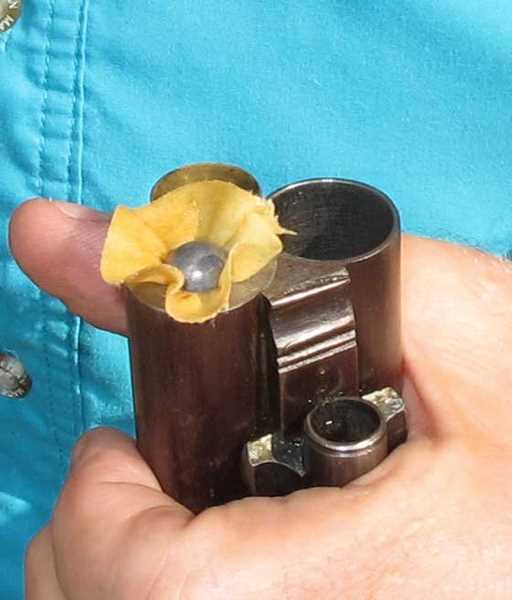 The patch fills the rifling, sealing the gases behind the ball and causing it to spin without actually being engraved by the rifling. This advance made loading a rifle much easier and faster.
Well, the pellets I was trying to test could not be loaded into the barrel. But I forced them in with a hammer and punch, and the results were not good. Accuracy was terrible and velocity was in the 700s for this 30-grain bullet, when it should have gone about 1,000 f.p.s.
I then tested other heavy solid "pellets" for AirForce, but each of them had the same drawbacks that the first one did. They didn't load easily.
I could regale you with dozens of other anecdotes involving solid lead bullets (that were invariably called pellets), but they all worked the same. I remember working with the original Pelletman, who found it hard to believe that the diameter of the bore of our Lothar Walther barrels was as tight as it is. He finally gave up when his 0.218-inch pellet proved too large to easily enter the breech of a Condor. Swaging dies cost hundreds of dollars apiece, and there's only so much money to be lost on trial-and-error tests before you have to throw in the towel.
Lesson No. 1
A pellet has to be easy to load. If it isn't, no one will buy it because they find it too difficult to use.
Spin or drag — what stabilizes a pellet?
We just started looking at this, using the vintage Diana 25 smoothbore. As that test seems to have revealed, both spin and drag are important. Drag for the first 10 meters of flight and spin after that — or at least that's what the test appears to have demonstrated. Only powerful rifles like the Condor can drive a heavy .22-caliber pellet to supersonic velocities. The rest of them should probably also generate high drag. That rules out boattail shapes and solid bullets — even though you will find the airgun chat forums ablaze with thoughts of using them. At the velocities we're able to achieve, the boattail shape is useless; and we still need a lot of drag, no matter how fast we get the pellet moving.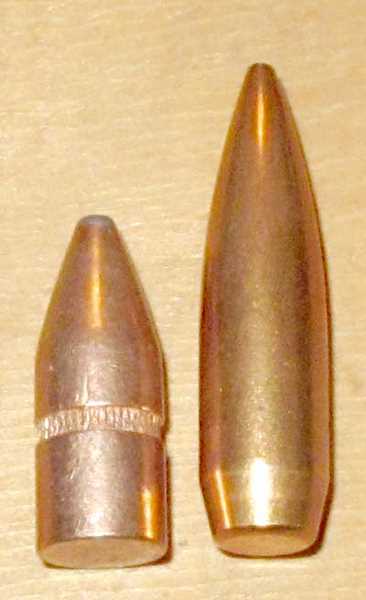 The .30-caliber flat-base bullet on the left is much shorter than the boattailed hollowpoint .30-caliber bullet on the right. The shorter bullet will stabilize with a slower spin than the boattail. The boattail will remain supersonic longer than a flat-based bullet of identical weight. But neither of these bullets has very much drag.
One thing I know for sure is that Winchester rifled their target rifle barrels, which were chambered for the .22 short cartridge, with a 1:22″ twist. That's been documented. The .22 short cartridge fires a domed-shaped solid lead bullet weighing 29 grains. That happens to be very similar to the weight and composition of a heavyweight .22 airgun pellet. A standard-speed .22 short bullet usually leaves the muzzle at 1050-1,100 f.p.s.
I also know that the shorter a solid conical bullet is, the slower it has to spin to stabilize. Short bullets stabilize sooner than longer bullets when fired from the same barrel. I learned that on the rifle range, but it's also very evident in the literature.
Lesson No. 2
A shorter solid bullet is stabilized with less spin than a longer bullet of the same weight.
Okay, so given lessons one and two, how would you design a solid .22-caliber pellet that you wanted to be extra-heavy? That was what I was trying to do when I had the problem I mentioned at the beginning of this report. I wanted heavy .22-caliber pellets that would perform well in PCP rifles generating 20 foot-pounds, 35 foot-pounds and 50+ foot-pounds. My thinking was to sell these designs as a brand but also approach the makers of some powerful PCP rifles and see if they wanted to buy the design. We would make those pellets only for them. That's a business strategy.
Let's concentrate on the 20 foot-pound pellet for now, because that one will be the most difficult to make. Because it will be going so slow — wait a minute — do you know how slow it will be going?
Homework assignment
I want you to take the design from this point. The tools you need are available on the Pyramyd Air website. This drill takes almost zero mathematics — but you do have to use the tools that are available and you have to think the problem through.
Design a solid pellet that should work well in a PCP capable of generating at least 20 foot-pounds of muzzle energy. You don't have to draw your pellet for us, but you do have to describe what it looks like and why you designed it that way. And tell us about the expected velocity this solid pellet will have to travel.
On Monday, I'll show you my design and tell you why I made it the way I did.
This doesn't have to be the last time we look at pellet design. I have a LOT more material I can bring into this discussion if there's interest
by Tom Gaylord, a.k.a. B.B. Pelletier
Let's begin testing the effects of oiling pellets. There are numerous ways to approach this issue, and I have to pick one at a time and limit the test to just that. But I think as long as I'm testing one aspect, I ought to test it thoroughly so someone can't come back and second-guess me later in the report.
So, today I'll test with one rifle, and the next time I'll test with another. What I won't do is test with each different brand of airgun, just to see what will happen. If a powerful gas spring rifle performs in a certain way, I'll assume that all powerful gas spring rifles are going to do the same. If the difference between dry pellets and oiled pellets is close, I may do additional testing; but if there's clear separation, I'll accept that as the way it works.
What am I testing?
The question that started this experiment was, "How much faster will oiled pellets shoot than those that are not oiled?" One reader has asked me to also test this downrange because he wonders if a thin coat of oil changes the laminar flow of air around a pellet. I may get to that at some point, but for the present I'm just concerned with muzzle velocity because all pellets slow down after they exit the muzzle — oiled or not.
I suppose this needs to be tested in all three powerplant types, but today I'm testing it in a spring-piston powerplant. Today's gun is a weak powerplant, so next time I'll test it in a more powerful gun.
I'm using an HW55 SF target rifle to test three pellets. This rifle is a variation of the old HW50 rifle, so it shoots in the 600-650 f.p.s. region with lead pellets.
Since oiled pellets will leave a film in the bore, I tested all pellets dry first, and then tested the oiled pellets afterwards. Before the first test shot with oiled pellets, I fired two pellets to condition the bore. That turned out not to be enough, but I'll come to that later.
Pellet shapes
I'll test the three major pellet shapes in this test. They're the wadcutter, dome and pointed head. There are other shapes, like hollowpoints, but they're based on one of these three main shapes, so this is all I'm testing.
How I oil pellets
I oil pellets in the following manner. A foam liner is placed in the bottom of a pellet tin, and 20 drops of Whiscombe Honey are dropped onto the foam. Then, a single layer of pellets is spread on the foam, and the tin is rolled around. I shake the tin lightly to move the pellets around…but not enough to damage them. Whatever oil transfers to the pellet is all the oil it gets. I've been doing this for many years and it works well.

Twenty drops of oil on the foam is what I use. Then, a single layer of pellets.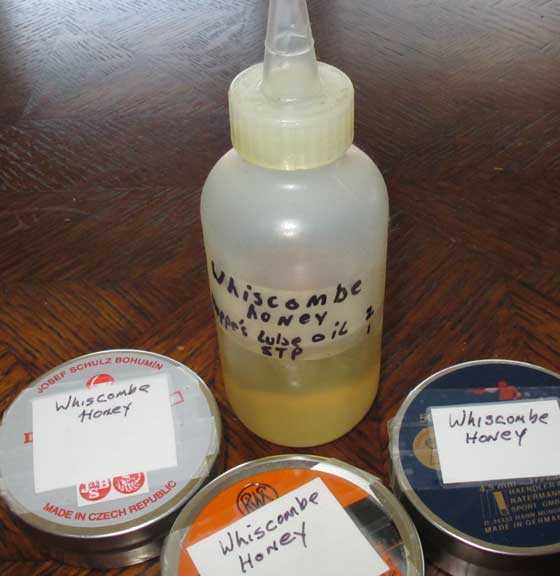 One tin for each type of pellet used in the test.
The pellets end up with a very light and uniform coat of oil. When I handle them the tips of my fingers become oily, but I can't see any oil on the pellets. Other people use more oil than I do, but this is what I am testing.
Whiscombe Honey is a mixture of two-thirds Hoppes Gun Oil (not Number 9 bore cleaner!) and one-third STP Engine Treatment, by volume. Shake the mixture until is takes on a light yellow color. It will look like thin honey, hence the name. This mixture should not detonate easily in a spring gun.
Test one — dry pellets
Crosman Premiers
Crosman Premier 7.9-grain pellets were the domes I tested. The average velocity for dry Premiers was 606 f.p.s., with a low of 577 and a high of 616. So, the spread was 39 f.p.s. The average muzzle energy was 6.44 foot-pounds.
Gamo Match
For wadcutters, I tested Gamo Match pellets. The average for dry pellets was 652 f.p.s., with a low of 640 and a high of 663 f.p.s. The spread was 17 f.p.s. The average energy was 7.14 foot-pounds.
H&N Neue Spitzkugel
The pointed pellet I selected was the H&N Neue Spitzgugel. When shot dry, they averaged 601 f.p.s., with a low of 585 and a high of 620 f.p.s. The spread was 34 f.p.s. The average muzzle energy was 6.81 foot-pounds at the muzzle.
Oiled pellets
Now, I shot two oiled pellets through the bore to condition it and began the test.
Oiled Crosman Premiers
Oiled 7.9-grain Premiers averaged 591 f.p.s., but the spread went from a low of 545 to a high of 612 f.p.s. That's a spread of 67 .p.s. The average energy for oiled pellets was 6.13 foot-pounds. I did notice the pellets were going faster at the end of the shot string, so I thought I might come back to them after testing the other pellets.
Oiled Gamo Match pellets
The oiled wadcutters averaged 658 f.p.s. — a slight gain over the dry pellets. But the real news was the spread, which went from a low of 651 to a high of 663 f.p.s. Instead of a 17 f.p.s. for the dry pellets, the oiled pellets gave a spread of just 12 f.p.s. That's too close to draw any conclusions, but it's interesting. The average energy with the oiled pellets was 7.27 foot-pounds. So, with the oiled pellets, the velocity went up — along with the energy — and the shot-to-shot variance went down.
Oiled H&N Neue Spitzkugel
Oiled Spitzkugels averaged 609 f.p.s. — which was a small increase over the same pellet when dry. The average energy was 6.99 foot-pounds. The spread went from 585 to 620 f.p.s, which was identical for the same pellet dry. Velocity and energy were both up slightly from dry pellets, and the shot-to-shot variance remained the same.
By now, it's obvious that the bore needed more than two shots to condition it, so I retested the oiled Crosman Premiers. The second time the oiled pellets averaged 604 f.p.s., which is just 2 f.p.s. slower than the same pellets dry. But the spread that was 67 f.p.s. on the first test of oiled pellets and 39 f.p.s. with dry Premiers now went from a low of 594 to a high of 613 f.p.s. — a much tighter 19 f.p.s. total. The average energy was 6.40 foot-pounds.
Observations
From this test, I observed that these three pellets either remained at the same velocity or increased very slightly from the light oiling I gave them. In two of the three cases, the velocity spread got tighter when the pellets were oiled.
I further observed that it's necessary to condition a bore with oiled pellets before doing any testing. As a minimum, I would say that 20 oiled pellets should be fired before testing.
These are very small differences from oiling; and although I can't draw any conclusions yet, I would think that such a small change is not enough to matter. It hardly seems worth doing at this point. However, there's still a test to be done in a powerful airgun. Until we see those results, I think it's too soon to say anything for sure.
Although the question that drove this test was how much faster oiling pellets makes them shoot, I think we still have to take accuracy into account before forming any opinions.
And now for something completely different
Pyramyd Air is looking for a manager for their tech department. If you're interested in the position, below is the job info and where to send your resume.
Directs and coordinates activities of the department in providing customers technical services and support; directly supervises employees. Responsibilities include but are not limited to:
Coordinates technical support services between management, tech support staff, sales department, and customers.
Establishes and documents department procedures and objectives.
Accomplishes department objectives by selecting, orienting, training, assigning, coaching, counseling, and disciplining employees; communicating job expectations; and monitoring performance.
Maintains and improves support operations by monitoring staff and system performance, identifying and resolving problems, and preparing and completing action plans
Provides technical assistance to customers and labor quotes. Handles escalated calls or provides assistance requiring more complex issues.
Installs common accessories and kits in accordance with customer orders.
Performs tests on guns to determine advertised performance specifications.
Required experience, skills and background:
Bachelor's degree and 3 years managerial experience, or an equivalent combination of education and experience required. Previous industry experience required.
Must be detail-oriented with good mechanical aptitude.
Ability to prioritize and multi-task.
Good communication and customer service skills.
Good computer skills.
Hours: Monday through Friday, 9am until 5:30pm; longer hours and some Saturdays are expected, especially during our busy peak periods.
Preferred experience, skills and background:
Previous experience in airgun repair or troubleshooting desired.
Send your resume to resumes@pyramydair.com