Posts Tagged 'Predator Polymag pellets'
by Tom Gaylord, a.k.a. B.B. Pelletier
AirForce Escape: Part 1
AirForce Escape: Part 2
AirForce Escape: Part 3
AirForce EscapeUL Part 1

The AirForce EscapeUL is a lightweight PCP with the Escape powerplant. Everything has been modified to save weight.
Today, we'll look at the accuracy of the new .25-caliber AirForce EscapeUL. This is the ultra-lightweight version of the Escape rifle and has most of the Escape's power but is more than a pound lighter. The Escape is already lightweight, but at just 4.25 lbs., the EscapeUL is a real featherweight.
The day I chose to test this rifle was very cold, with a threatening breeze that soon picked up to a 20 m.p.h. wind. I did all of my shooting between puffs and gusts.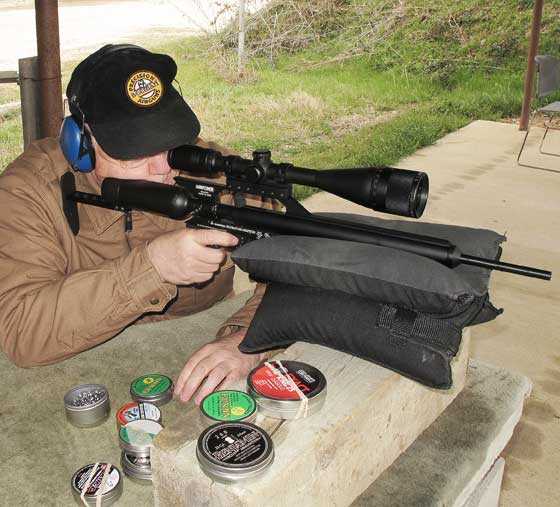 It was a cold day that grew windier the longer I shot. But the EscapeUL did itself proud!
Full power
Because this rifle is so potentially powerful, I decided to test it all-out with the first 2 pellets. The power adjuster was run up as high as it would go and the tank was filled to 3,000 psi. The first pellet I tested was the heavyweight 43.2-grain Eun Jin pointed pellet. As you'll recall from my tests of the Escape, I'm shooting 5-shot groups instead of 10-shot groups because the velocity decreases with every shot. At 50 yards, I can keep 5 shots in a good group, but trying to do that for 10 in a row opens things up. There are still 10 good shots on a fill, but you have to change your aim point to use all of them.
The first group measured 1.866 inches between centers. That's with a pellet that produces from 70 to 80 percent of the power of a .22 long rifle bullet, so it's plenty potent. The Eun Jin pellets are not the most accurate in these rifles; but for power on target, they're pretty hard to beat.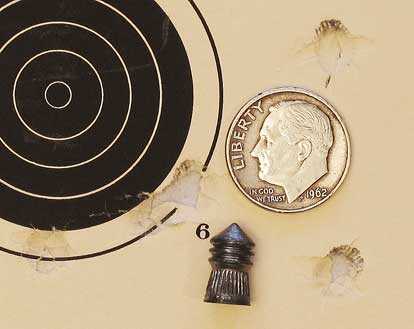 Five heavy Eun Jin pointed pellets went into 1.866 inches at 50 yards on max power.
Next, I refilled the rifle and tried the same thing with the 35.8-grain Eun Jin dome. This time the group opened to 2.506 inches between centers. In light of the heavier pointed pellet's accuracy, I don't think I would use this pellet in this rifle.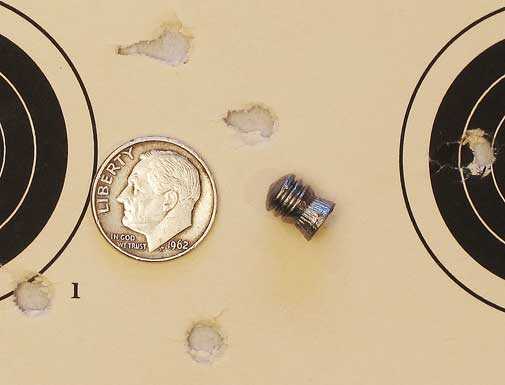 Five Eun Jin domes made this 2.506-inch group at 50 yards. This is not the pellet for this rifle — at least not on full power.
Experience comes in handy
I've said many times that a shooter can adjust these AirForce rifles so much that you'll never be able to test everything; but, fortunately, there's a better way if you have some experience to go on. And I did have some experience because I'd already tested the Escape rifle. While it does have 6 inches less barrel and a thinner barrel to boot, the rest of the EscapeUL is pretty much the same as the Escape. I felt that if I went in the direction that gave some success with the Escape, it might work with this rifle, as well.
JSB Exact King
I knew that the Lothar Walther barrels in AirForce rifles like JSB pellets, and in .25 caliber the JSB Exact King pellet is a real performer. When I tested the TalonP pistol, the King was one of the best pellets, and you know the Escape rifles are all based on the TalonP platform.
I also knew that I should reduce both the starting air pressure in the tank and the power setting to do well with the King. But I wanted to see if it could handle the full 3,000 psi; so, the tank was filled to the max, but the power setting was dialed back to setting 8. I started shooting and was so successful that I kept right on after the fifth shot. Eight shots went into 1.61 inches at 50 yards. I would have shot another 2 shots but this time the air pressure had dropped to 2,000 psi on the built-in gauge, and I thought the next shot might go somewhere else.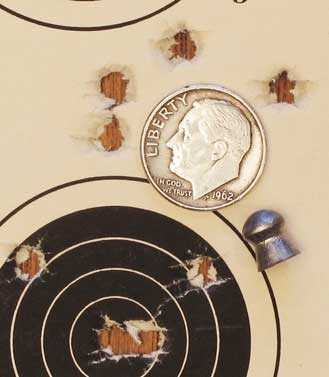 Eight JSB King pellets went into this 1.61-inch group at 50 yards. They were going so well I couldn't stop shooting!
Next, I tried the Kings with the same power setting (8) and a starting air pressure of 2,600 psi. I shot just 5 pellets that went into 1.209 inches at 50 yards. That was definitely the best the rifle had done to this point, but I'd seen even better accuracy from the Escape, so I decided to shoot these pellets again.

When the fill pressure was stopped at 2,600 psi and the power setting was on 8, five JSB Kings went into 1.209 inches.
A second group of Kings with the same fill pressure and power settings produced a 1.526-inch group. That was still good, but I felt the rifle could do even better. It was time to switch pellets.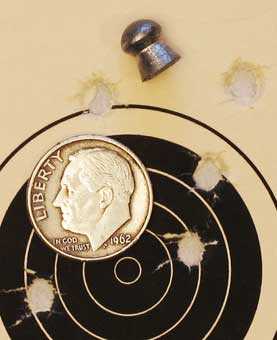 Five more JSB Kings on power setting 6 with a 2,600 psi fill made this 1.526-inch group.
Predator Polymags
Ton Jones has done more testing than I with these rifles, and he likes the Predator Polymag pellet the best. Even when he knows the Eun Jin pointed pellet produces more energy, he trusts the Predator Polymag to go where he shoots. That was the next pellet for me. I filled the tank to just 2,500 psi and set the power at 6.
I expected a good group, but I wasn't prepared for how good! Five Polymags went into 0.622 inches at 50 yards. Despite the cold (20 degrees F) and the winds that were gusting to 20 m.p.h., this hollowpoint pellet was drilling them in!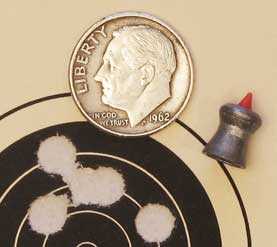 Predator Polymag pellets are definitely the ones for this rifle. Five went into 0.622 inches at 50 yards.
Predator calls their Polymag a pointed pellet, but I call it a hollowpoint. The point is just a plastic tip that's glued in place. The pellet acts like a hollowpoint on game, so I call it one regardless of the plastic tip. Just a little quirk of mine, I guess.
That first group was stunning. By now, the wind was blowing all the time, and my day with air rifles had ended. I did shoot a final group of Polymags in the wind, waiting out the gusts and shooting when the wind was down to about 5-10 m.p.h. The same setting and fill pressure was used. This time, 5 pellets landed in 1.298 inches at 50 yards, and I can truthfully say it was the wind's fault. However, this group is still the third best of the day, which says a lot for the Predators in a reasonable wind. I think Ton is right — this is the best pellet for the Escape rifles, but you have to lower the power and fill pressure.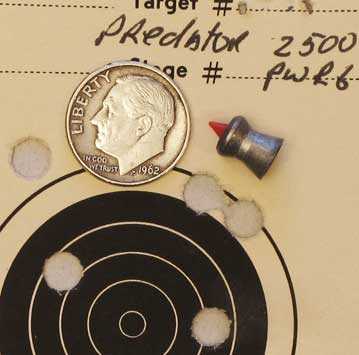 Although this group is larger, it was shot in the wind. Five Predator Polymags went into 1.298 inches at 50 yards.
More to do
As with the Escape rifle, I'm not done with the test just yet. I need to get the velocity figures for the best pellets, power settings and fill pressures so we have some idea what this rifle can reasonably do in the field. Before I do that, I want to try the EscapeSS first.
Summary so far
Most shooters will look at the Escape's raw power and choose it over the EscapeUL on that basis, alone. But I look at the light weight, compact size and the stunning accuracy of the EscapeUL and think it would be my pick, so far. From the standpoint of muzzle report and recoil, there's very little difference in these 2 rifles. Both are loud and both kick like a rimfire rifle — perhaps even more. But there's still one more rifle to test.
by Tom Gaylord, a.k.a. B.B. Pelletier
Tarzan! This weekend, a number of readers conducted a discussion of the fictional character Tarzan and the author who created him, Edgar Rice Burroughs. I thought you should all know an interesting connection of Tarzan to airguns. His grandson, J.R. Burroughs, was a big-time airgun importer in the 1990s. In fact, he imported many of the Korean brands that are still coming in today.
When I started writing about airguns in 1994, I got to know J.R. through my writing, and I eventually met him at one of the SHOT Shows. We continued to communicate about airguns and many other things well into the 21st century. I haven't heard from him since I got sick back in 2010, so he may no longer be involved with airguns like he once was, but he was certainly a mover and shaker in the U.S. airgun scene during the time he was active.
A couple points of interest with J.R. He was the man who modified the Shinsung Career 707 adjustment wheel from 3 settings to 17 settings — giving us much greater control over the velocity of our rifles. The factory eventually made the same modification. It was possible to keep a Career shooting at the same velocity for a long time simply by adjusting the power wheel as you shot. I remember testing it over a chronograph and getting 90 shots that were all within 30 f.p.s.
J.R. also created the first adjustable trigger for the Career, and I believe he also created one of the first pellet feed mechanisms that was user-adjustable. Before that, you could only shoot a few types of pellets in the gun; but with his modification, many more types of pellets would work through the magazine.
His brother, Danton manages, the licensing of the Burroughs family literary property. Part of that is a collection of original Tarzan novels that were never sold. There was a fire in the storeroom many years ago and some of these books have smoke damage, but they're all like-new hardcover books from the 1930s. I was gifted with one — Tarzan and the Forbidden City — from this collection, and J.R inscribed it, saying that his father had done the cover art.
Of course, many of you know that the southern California community of Tarzana was created from Edgar Rice Burroughs' Tarzana Ranch in the San Fernando Valley. But how many know that Tarzana was also the name of small hamlet located on the ranch before Burroughs purchased it? And his Tarzan character appeared in print for the first time two years after he bought the ranch.
So, Tarzan does have ties to modern airgunning. I thought you would like to know that. One final thing. Burroughs didn't just write adventure novels. He is also quite famous for his science fiction that bears a remarkable resemblance to his other works, but are set on Mars. Edith and I both enjoy the movie John Carter, in which Burroughs appears as a minor character who turns out to be the author who documents the "real-life" exploits of his uncle, John Carter. I think we enjoy it most because of our fond memories of J.R.
Now, let's take our first serious look at the new AirForce Escape survival rifle. Before I start, I need to make a couple corrections to Part 1. I said the Escape SS (officially named the EscapeSS) has an 18-inch barrel and several readers figured out that wasn't the case. It actually comes with a 12-inch barrel in either .22 or .25 caliber.
I also said the Escape valve is a modified TalonP pistol valve, which isn't true. The TalonP valve is used exactly as it is in the pistol, so pistol owners who add a 24-inch barrel and end cap to their pistols can essentially have the Escape. The pistol's frame is shorter than the Escape frame, but it is just right for the Escape Ultra Light (officially named the EscapeUL) that we'll look at in a later report.

The AirForce Airguns Escape precharged pneumatic air rifle is a powerful new survival rifle in both .22 and .25 calibers.

The TalonP pistol is the base gun used to create the new Escape-series rifles.
The Escape rifle looks like the other AirForce sporting rifles and has many of the same features. The new trigger is there, along with the new safety that can be taken off safe by the trigger finger, alone. The 2-stage trigger on my rifle breaks at a relatively clean 28 oz. While it's not adjustable, I think most serious shooters will find it more than adequate.
The rifle weighs 5.3 lbs. unscoped and measures from 34.5 to 39 inches long, depending on where the extendible buttstock is set. That means the length of pull can also be varied from 9.75 to 14.25 inches.
Like all other AirForce rifles, the Esacpe has long 11mm rails on top and below the receiver. Since this is a survival gun, a bipod and sling swivels might be almost as important as a scope.
I tested this rifle differently than normal. Instead of getting the chronograph figures right away, I decided to shoot it at the range, so 2 days were spent on the range with the rifle in its .25-caliber incarnation. Once I have a good baseline of performance downrange, I'll come back and chrono the best pellets, pressures and power settings. Because these rifles are so infinitely adjustable, it makes sense to figure out what works before you worry about the numbers.
But I'll give you some velocity figures because Ton Jones tested the heck out of the rifle late last year, and AirForce provided me with the data. With .25-caliber JSB Exact King pellets and the rifle set to max power, Ton's first shot was 1145 f.p.s. The first 10 shots on a 3,000 psi fill looked like this:
1–1145
2–1125
3–1106
4–1090
5–1078
6–1061
7–1044
8–1028
9–1017
10–1003
On power setting 8, the same pellet did this on the first 10 shots after a 3,000 psi fill:
1–1100
2–1112
3–1133
4–1106
5–1107
6–1088
7–1075
8–1060
9–1041
10–1022
On power setting 4, the same pellet did this on the first 10 shots after a 3,000 psi fill:
1–1041
2–1036
3–1077
4–1095
5–1080
6–1077
7–1100
8–1077
9–1091
10–1080
At max power and the highest velocity, this JSB pellet generated 73.96 foot pounds of energy at the muzzle.
With the 43.2-grain Eun Jin pointed pellet, the rifle did this on the first 10 shots at max power after a 3,000 psi fill:
1–1010
2–980
3–974
4–955
5–940
6–924
7–907
8–894
9–876
10–860
On 8 power with a 3,000 psi fill, the rifle did this with the Eun Jin:
1–996
2–984
3–964
4–944
5–932
6–906
7–888
8–872
9–856
10–840
On 4 power with a 3,000 psi fill, the rifle did this with the Eun Jin:
1–986
2–975
3–959
4–950
5–937
6–922
7–902
8–889
9–870
10–849
At the max power setting and highest velocity, this pellet generated 97.88 foot-pounds of energy at the muzzle.
I have the data on the Escape's .22-caliber performance, but that will make today's report too large, so let me continue with just the .25-caliber rifle, which is how AirForce set it up for me. I took it to the rifle range on 2 different days. Both were cold but the first one was also very windy, so I'm going to show you the results of day 2 testing, only. The day was 16 degrees F (-9 C) but dead calm. I shot several types of pellets this day and based on those velocity figures you have just seen, I decided to shoot 5-shot groups instead of 10-shot groups.
Ton Jones maintains that a survival situation calls for a single well-placed shot, rather than a number of shots fired rapidly. I agree with him, so I'm not testing the Escape as I normally would. I fired 5 shots and then topped off the air tank. When you're making single shots, that makes sense.
On max power the best groups I shot were with JSB Exact King pellets and Predator Polymag pellets. At 50 yards, 5 JSB Kings went into a group that measured 1.846 inches between centers. That's a large group, but remember that you're shooting at large targets, and 50 yards may be farther than you choose to shoot.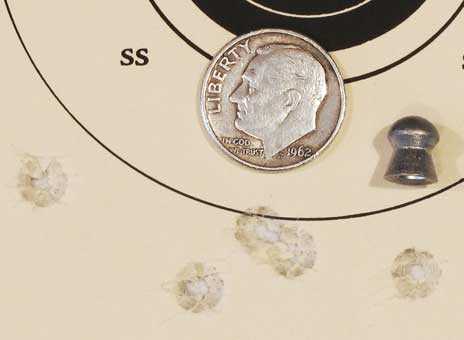 Five JSB Exact Kings went into 1.846 inches at 50 yards on maximum power.
Predator Polymags put five into 1.819 inches at the same 50 yards on max. power. Notice that both pellets spread their shots horizontally.

Five Predator Polymag pellets went into 1.819 inches at 50 yards on maximum power.
Experience takes over
I'm not going to bore you with each and every experiment I did on this day, but I want you to know that I also tried Benjamin domed pellets and Beeman Kodiak pellets. Both gave similar results, with the Kodiaks doing slightly better than the Benjamins.
But I knew that this rifle was more accurate than this. From my experience with other powerful precharged rifles, plus the testing I did with the TalonP pistol, I reckoned the fill pressure had to be lowered and the power adjusted. It soon became obvious this was correct and the JSB Exact King pellet was the one to go with. After several more groups, I settled on a fill of just under 2,000 psi and a power setting of 6. The groups became amazing with this combination, plus they were remarkably uniform from group to group.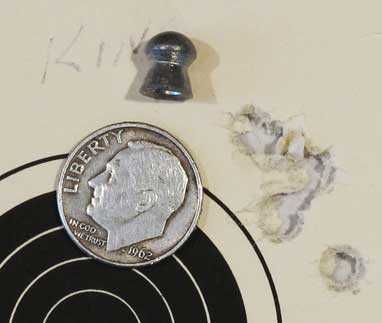 First good group of JSB Kings on power setting 6 with a 1950 psi fill gave me this 0.751-inch, 5-shot group at 50 yards.

After adjusting the scope, I put 5 JSB Kings into 0.694 inches at 50 yards. This was the best group of the day.

Another 5 JSB Kings went into 0.841 inches at 50 yards. This was the worst group of 6 that were fired with this combination of pellet, pressure and power setting.
Now that I know where at least one sweet spot is located, that will be what I'll test through a chronograph. I'll guess that this pellet is producing something in the 30 foot-pound range with the settings I used. Hitting the target with that kind of energy is much more meaningful than missing with three times more.
I also haven't tested the heavy Eun Jin pellet for accuracy. And Ton told me that he lubricated his pellets with Slip 2000, which I've obtained, so I'll be able to replicate what he did.
Summary
How do I summarize anything when I've only just started to test the rifle? There's enough variability here that I could spend the rest of my life just testing the Escape in .25 caliber! What I can tell you is that the rifle performs as advertised, and, yes, you do have to work with it to get these kinds of results. AirForce has always made air rifles for the thinking man, and the new Escape continues that tradition proudly.
by Tom Gaylord, a.k.a. B.B. Pelletier
Benjamin Marauder PCP .177-caliber air rifle: Part 1
Part 2
Secrets of loading the Benjamin Marauder magazine
Part 3
Part 4
Part 5
Part 6
Fixing a Marauder magazine
Part 7
Benjamin Marauder .25 caliber: Part 1
Benjamin Marauder .25 caliber: Part 2
Part 3
Part 4
Benjamin Marauder .22 repeater with synthetic stock: Part 1
Benjamin Marauder .22 repeater with synthetic stock: Part 2
Benjamin Marauder .22 repeater with synthetic stock: Part 3
Benjamin Marauder .177 caliber 50-yard test: Special part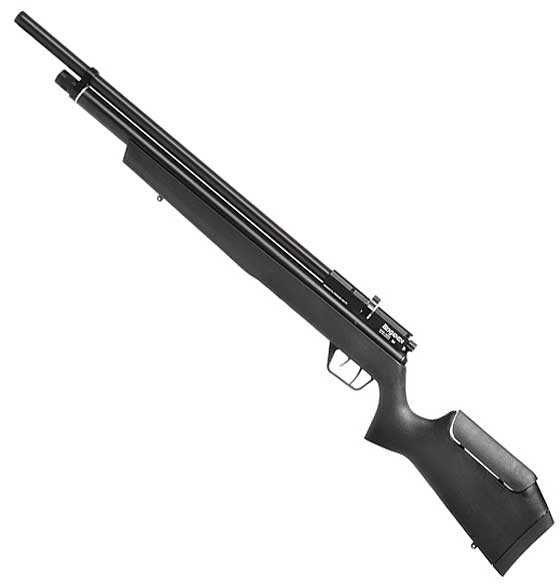 New Benjamin Marauder with synthetic stock has all the features of the classic Marauder in a lighter, trimmer package.
Well, it's certainly been a long time between reports on this rifle, hasn't it? Today, we'll begin looking at the accuracy of the .22-caliber Benjamin Marauder with the synthetic stock. Some of you have already asked me if I plan to also test the new wood-stocked Marauder that has the same new action as this one. I have no plans to test it because I feel this test encompasses everything on the rifle, except for the stock material.
I was particularly keen on testing this rifle because we had a couple new readers who had purchased this gun and were having accuracy problems with it. I wanted to pay closer attention to accuracy than normal. After all, this is a new action, even if the changes have been relatively minor. Also, this is the first .22-caliber Marauder I've tested. Since Crosman makes both the .177- and .22-caliber barrels and buys the .25-caliber barrels from Green Mountain, I feel it's worthwhile to examine this rifle more closely.
Sight-in
I filled the rifle to 3,000 psi because we learned in Part 3 that it's on the power curve with a 3,000 psi fill. Then, I fired a single shot from 12 feet to see if I was on paper. Following that, I backed up to 25 yards and refined my sight picture. Only the 14.3-grain Crosman Premiers went everywhere! I got them on target, but sometimes a pellet landed an inch away from the aim point.
What was happening?
This is what a couple readers had described, so I did what I advised them to do. I removed all the baffles (see Part 2 of the Synthetic Stock review for this) to see if the pellets were touching any of them. Since they're just plastic, it would be obvious if a pellet nicked one; but there was no sign of this on close inspection. So, I assembled the baffles and closed the shroud again.
And the next 10 shots with Premiers were remarkable! They went into a group that measures 0.246 inches between centers. Right away I guessed what might be happening is that the rifle was smoothing out as the air pressure dropped. So, even though the power curve seems to support a 3,000 psi fill, the targets do not show the same thing.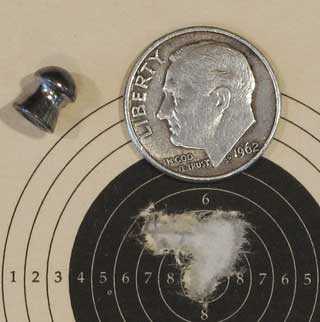 Ten Crosman Premiers in 0.246 inches is pretty conclusive! The new synthetic-stocked Marauder can shoot!
You can't tell everything from just a single group — even a tight one like this. More testing was needed, but now I would be careful about the pressure level at which the groups were shot.
I tried many more pellets, but I'm not going to show all the groups. In all, I fired a total of ten 10-shot groups, making this test more exhaustive than my usual 25-yard accuracy test. I wanted to pin down this pressure-versus-accuracy correlation to see if it was real or imagined.
JSB Exact Jumbo
The 15.89-grain JSB Exact Jumbo pellet gave a very clear example of how the pressure affects the groups. The first group was fired from a fresh 3,000 psi fill and 10 pellets went into 1.131 inches. You can tell at a glance that the pellets are scattered around.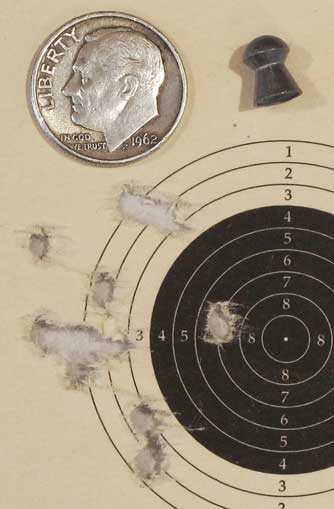 On a fresh 3,000 psi fill, 10 JSB Exact Jumbos are scattered around in a 1.131-inch group.
The second group of the same JSB pellets was fired after the first group. By this point, the rifle's internal pressure has dropped to the mid-2,000 psi point (2500 to 2600 psi). This group still isn't a good one, but you can see that it's tightening up. It measures 0.872 inches between centers.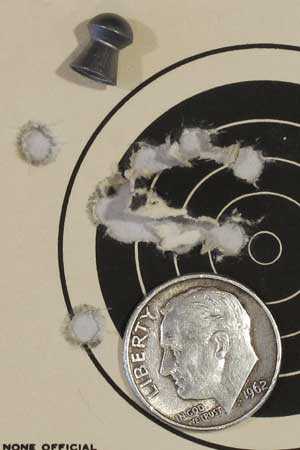 The second 10 JSB Exact Jumbos on the fill tightened up to 0.872 inches. Still not a good group, but better than the first.
On the third group of 10 shots (still on the same fill), the group really tightened up. These 10 went into 0.592 inches. That's a good group, but maybe I don't want to use this pellet in this rifle because it seems too fussy.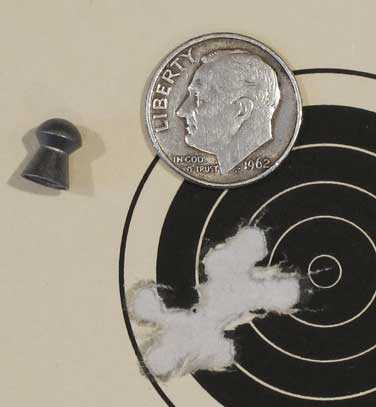 The third 10 JSB Exact Jumbos on the fill tightened up to 0.592 inches. This is an acceptable 10-shot group for 25 yards.
No Predators, no Newboys!
I tried both Predator Polymag and Skenco Newboy Seniors, but both were too long to fit in the Marauder's rotary magazine. If you want to use these pellets, you'll need to use a single-shot tray; and since Crosman no longer makes them in .22, good luck finding one. Of course, you can load pellets without the tray, but it's more difficult to align them with the breech.
I wondered how Premiers might do on the third batch of 10 shots after the fill. Ten pellets went into 0.496 inches. Not as tight as the second 10 after the fill, but still very good!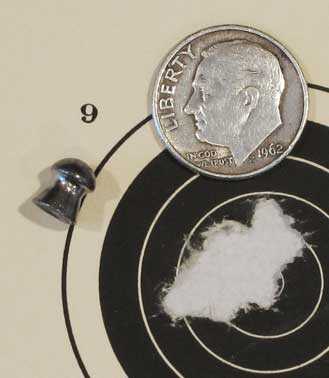 The third batch of 10 Premiers after the fill went into 0.496 inches. This is a good 10-shot group for 25 yards.
JSB Exact Jumbo Heavy
The 18.1-grain JSB Exact Jumbo Heavy pellets behaved much the same as the regular Jumbos, except the groups were tighter. The first 10 went into 0.653 inches; the second 10 went into 0.657 inches, and the third batch went into 0.591. All 3 groups are pretty close to one another; but in light of the Premiers and the Kodiaks we have yet to see, I don't think they're the best in this particular rifle.
Beeman Kodiaks
I was burned out when I got to the Beeman Kodiak pellets — 100+ shots is too much for a single session when every shot requires concentration. I didn't mention shooting RWS Superdomes yet. I did shoot 1 group with them, and it was a bust at 0.83 inches. When I got to the Kodiaks, I wasn't concentrating as well as I would have liked. And I shot this single group on a fresh 3,000 psi fill. I felt I could get away with that because of the weight of the 21-grain Kodiak pellet.
And I was right. Even though I was fading, 10 pellets still went into a tight round hole that measurtes 0.378 inches between centers! It's the second-best group of the test and earns the Kodiak a spot in the 50-yard test, for sure!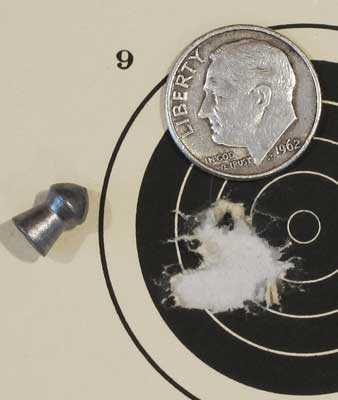 Ten Beeman Kodiaks made this very round 0.378-inch group at 25 yards. What a nice finish to today's shooting!
What I've learned
The first thing I learned from today's test is that this particular rifle doesn't seem to shoot as well on a fresh fill as it does on the second and third magazine of pellets. So, if you stop filling at 2,600 psi, you'll get 20 good shots from the rifle and not waste any air. I also learned that Crosman Premiers are the miracle pellet in this rifle, just like they've always been.
That last group of Beeman Kodiaks has me thinking that Premiers and Kodiaks will battle it out at 50 yards for the overall accuracy championship. I know Premiers are aerodynamically excellent, but the Kodiaks look like a real challenger in this air rifle.
I need to comment on the noise, or lack of noise. This .22 caliber Marauder is extremely quiet. It's more like a .177 than it is like a .25 in that respect.
I expected to have problems with accuracy when I encountered those wild shots during sight-in. But by hanging in there and shooting both the second 10 and the third 10, I learned that this rifle likes to push its pellet slower than most. I would have to live with the gun for a long time to learn all of its secrets, but the test rifle is a very accurate PCP that's worthy of the Benjamin Marauder reputation.
I like the synthetic-stocked rifle, but in my opinion it is no better than the older model in the wood stock. I never minded the thickness of the old wood stock, so I'm just going on the performance of the gun at this point.
by Tom Gaylord, a.k.a. B.B. Pelletier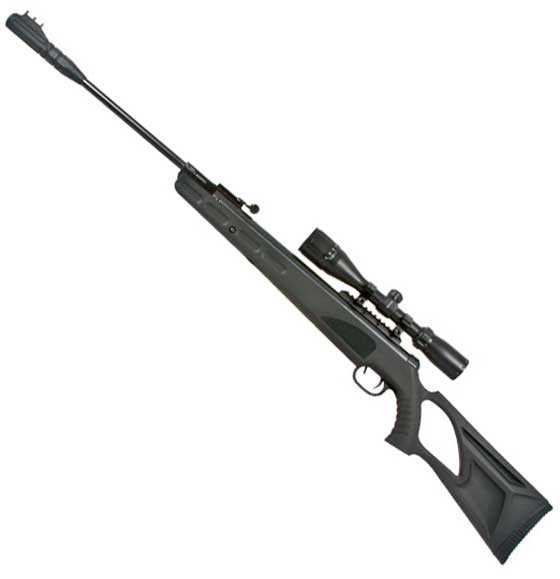 Umarex Octane gas spring rifle combo.
Today's report is both interesting and a little different. I shot the .22-caliber Octane combo from Umarex at 25 yards and used the Umarex 3-9X40 scope that came in the package. I'll talk about the scope and mounts first.
The scope is a variable with parallax adjustment from 10 yards to infinity. It features a duplex reticle and comes with 2-piece Weaver rings that have 4 screws per cap. The top of the rifle has a Picatinny adapter clamped on the 11mm dovetails that are cut directly into the spring tube, so the scope rings mounted quickly.
I found the scope to be clear and sharp, and the parallax adjustment to be close to the actual distance once the eyepiece was adjusted correctly. This is one of the nicest scopes I have seen bundled with a combo airgun. I don't think you need to buy anything other than pellets — lots of pellets.
Sight-in
I sighted-in the gun at 12 feet with one shot, then backed up to 25 yards to refine the sight picture. Veteran readers know I'm purposely trying not to hit the center of the bull, as that erases the aim point.
I was finished sighting-in after 4 more shots and ready to start shooting for the record. The first pellet I selected was the .22 caliber 14.3-grain Crosman Premier that had done so well in the 10-meter test with open sights.
After the first 5 shots, I thought I had a slam-dunk accurate rifle, but I guess I got a little sloppy. Shot 6 went into the same hole, but shots 7 through 10 moved over to the left of the main group. Six consecutive shots went into 0.449 inches; but after 10 shots, the group measured 1.067 inches.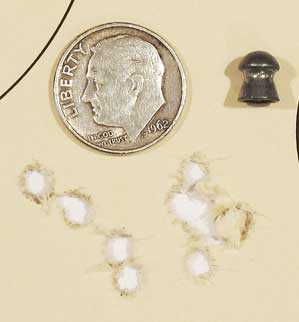 The first 6 Crosman Premiers went into a tight 0.449 inches, but the remaining 4 shots opened the group to 1.067 inches at 25 yards.
After this group was finished I discovered the scope base screws were both loose. That made the scope loose, as well. I tightened them and checked them frequently throughout the remainder of the test.
The second group of Premiers opened to 1.382 inches. This one is very horizontal, but within it is a tight group of 4 shots that came early in the string. That group measures 0.188 inches between centers.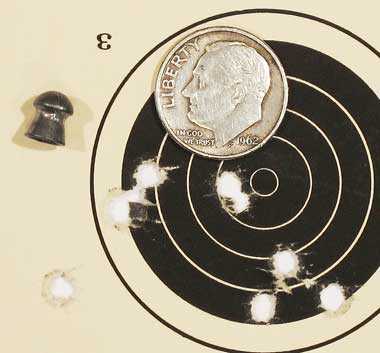 These 10 Premiers are not very impressive for 25 yards, at 1.382 inches between centers; but at the 9 o'clock position on the bull, 4 pellets went into a tight 0.188 inches!
Following this group, I noticed that both forearm screws had come loose. So they were tightened — a lot! And for the rest of the test, I monitored their tightness closely.
What's happening?
The Octane recoils a lot, and you have to watch all the screws. Once they're tight, they probably won't back out for a long time; but the first time you use the gun, they probably need to be tightened just a bit more than normal. At least, watch for them to loosen.
This is nothing new. We have always been told to watch the screws on spring guns that recoil heavily. I just forgot it this time until it became obvious downrange.
JSB Exact Jumbo
Next I tried JSB Exact Jumbo pellets. They did very well for the first 6, then the last 4 wandered over to the right. And when I say "wandered," I mean they really went places! The group measures 2.822 inches between centers, with 6 of those shots in 0.763 inches.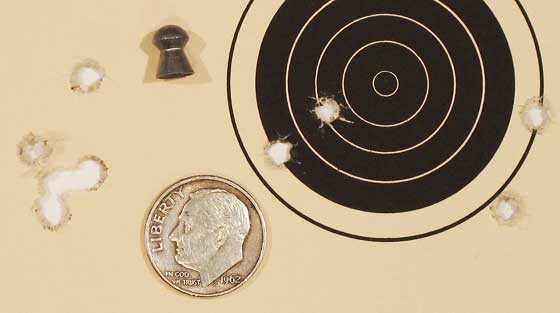 Interesting group! Six shots in a tight 0.763 inches, then the last 4 stretched it out to 2.822 inches. Go figure!
After this group, I played around with holding my off hand at different places under the forearm, and then some non-standard holds that included resting the rifle directly on the bag 2 different ways. By the time I was finished, I'd fired over 60 shots from a rifle that takes 39 lbs. of force to cock. I never reported that effort in Part 2, like I normally would, so now you know that the Octane is hard to cock — like all powerful gas spring airguns.
I suspected that I was tiring at this point. The term used in competition is I was "blowing up"! The Octane wanted to put them in the same place, but something prevented it. I shot one final group of Premiers — just to see if I could see what it was doing. But that group wasn't worth reporting. I had clearly pushed past the point of fatigue, so the session was over.
Here's what's at stake. Priced at just $200 with a very good scope, the Octane is poised to take its place beside legendary air rifles like the RWS Diana 34 Striker Pro combo. It's actually $100 less than the 34, yet offers the same power. If it also gives the same accuracy, the Octane suddenly becomes an important air rifle; and if the horribly heavy trigger has a workable solution that the average owner can follow, then folks, we have a winner. So, I want to give this air rifle every chance to compete. It seems to want to do well, so I need to find out what needs to be done.
by Tom Gaylord, a.k.a. B.B. Pelletier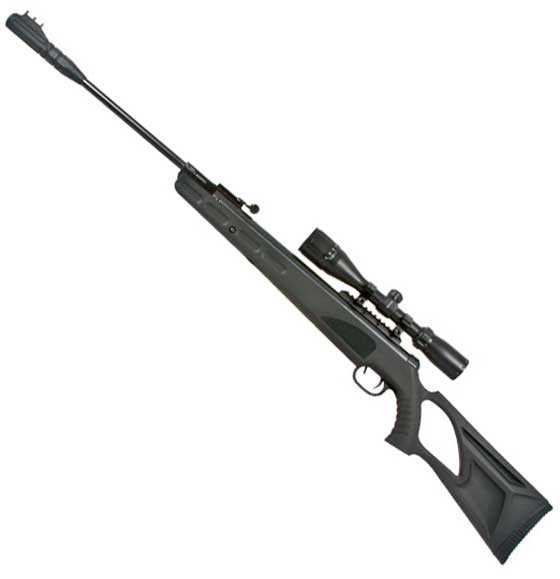 Umarex Octane gas-spring rifle combo.
Today is the start of accuracy testing for the Octane combo air rifle, and I'm going to make some changes. For starters, I'm going to give you the summary now. The Octane is a smooth-shooting, accurate air rifle. It's everything the manufacturer wants it to be, and a couple of things they probably didn't think about, on top of that. The rest of this report will justify and explain my summary.
Another thing, the Octane is different from any gas spring I've ever tested. Gas springs always fire fast, as in instantaneously. When the sear releases, the shot is over, and you usually know it from the sharp crack of sound and the painful slap to your cheek. The Octane fires slowly in comparison. There's a lot of forward recoil and almost no vibration, and the discharge is very quiet, as I noted in part 2. I attribute this behavior to the Reaxis gas-spring design that's reversed from the norm, and to the SilencAir silencer on the muzzle. Both apparently work as advertised.
The test
I decided to just shoot 5 shots per pellet today, and to shoot the rifle with open sights at 10 meters. I wanted to get a good sense of how accurate it is before putting the walls of my house at risk. And what I discovered was that this rifle is fun to shoot! I normally don't have much fun shooting a 20 foot-pound spring rifle, but the Octane is so civilized that it gave me a lot of confidence. By the time I'd fired the first 2 shots at the target, putting them into the same hole, by the way, I knew this day was going to be fun.
I held the rifle with an artillery hold, but the thumbhole stock makes you grip the gun harder than you normally might. So, I would have to call it a modified artillery hold. But the rifle cooperated, and there was noting to worry about. The muzzle heaviness holds the front sight steady on target once you're dialed in.
The sights are fiberoptic, which destroy all attempts at precision, but by lighting the target brightly and sitting in a darker room to shoot, I could defeat the fiberoptic tubes and get a very sharp sight picture. When they don't glow, the Octane's sights offer a nearly ideal sight picture, and that was what made me decide to not mount the scope, yet. I wanted to have the fun of shooting with open sights since the rifle was cooperating.
The trigger is still quite heavy and very creepy, so I envy those who own their rifles and can modify them. If I could drop the release weight to under 4 lbs. and if there was a way to eliminate all the second-stage creep, this trigger would help accuracy greatly.
Beeman Kodiaks
The first target was shot with 5 Beeman Kodiak pellets. This was when I first noticed how slow the Octane's gas piston is. It feels like an airgun equivalent of a 45-70 single-shot. You feel the recoil and the rifle bounces around, but you know the pellet got out of the muzzle before all that started and that accuracy wasn't affected in the slightest.
As I said, the first 2 pellets cut the same hole, though each made a distinctive mark. Then I stopped watching through the spotting scope and just shot the next 3 pellets. In the end, the group is larger than I would have liked for 10 meters, at 0.581 inches, but this is with open sights. Still, it is just 5 shots instead of 10.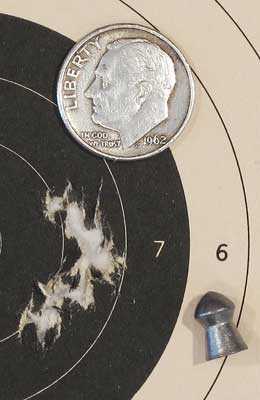 Five Beeman Kodiaks at 10 meters with open sights measure 0.581 inches between centers. It's a good start!
RWS Hobby
Next, I tried the RWS Hobby pellet. It felt good while loading because it fit the breech tight but not overly so. And, though the point of impact shifted up a bit, the Hobby was quite accurate — putting 5 pellets into 0.368 inches! I thought that was remarkable. I couldn't wait to test some more pellets!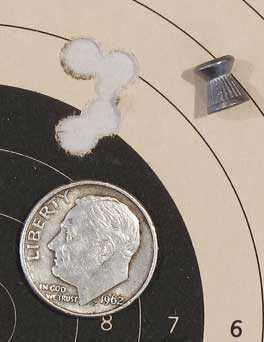 Five RWS Hobbys at 10 meters with open sights measure 0.368 inches between centers. Now, the rifle was giving me confidence.
RWS Superdome
Next, I tried the RWS Superdome. Here's where you're going to see something significant. RWS makes both Hobbys and Superdomes in Germany, and presumably they use the same lead alloy for both. And domed pellets are generally regarded to be the most accurate. Yet look at how the Superdomes did! They grouped horizontally, to exactly 1 inch, while the Hobbys stayed together.
You might try to blame me for getting tired at this point in the test, but there's group coming that will show that I was still shooting my best. That's one benefit of these 5 shot groups. They don't tire me as quickly.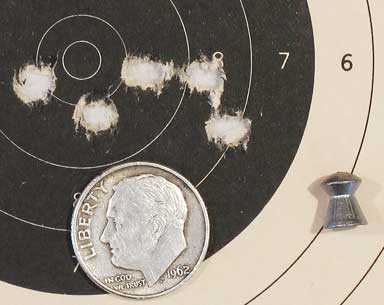 Five RWS Superdomes at 10 meters measure a long 1 inch between centers. When you compare this group to the one made by the Hobbys, you see that Superdomes are not suited for this Octane.
Predators
Now, for those of you who think I might have slipped up on the last group, I shot 5 Predator Polymag pellets next. They're a recognized premium pellet, just like the Superdomes, and I've shown some great groups using them in recent tests. But not this time. Instead of the group stringing sideways, the Predator group were stringing vertically. Five went into 0.982 inches, so we won't be seeing them in any future tests of the Octane.

Five Predator Polymag pellets made this vertical 0.982-inch group.
If you have now decided that I've gotten tired and ho-hum, what's so special about the Octane if this is the best that it can do — hold on! I saved the best for last. Actually, the Octane saved the best for last because the next group is the last one I shot on this day.
Crosman Premier
The 14.3-grain Crosman Premier pellet is sometimes the best pellet you can use in an airgun. And it is in the Octane test! Five Premiers went into a group measuring 0.245 inches between centers. It looks like only 3 pellets have passed through, but I did shoot all 5. This is very clearly and hands-down the most accurate pellet I tested in the Octane.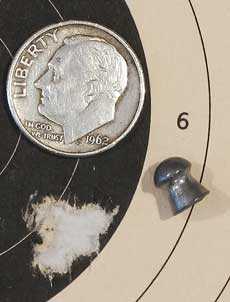 Five Crosman Premiers made this beautiful 0.245-inch group. It was the last group of the test. Who says the groups open up as you go? This is the pellet for this rifle.
Summary
I already gave you the summary in the beginning of this report. Now you see the substantiation of what was said.
Several readers reported higher velocities than I got in the last test, and I was asked to change the breech seal. Well, I might do that, but frankly the rifle is shooting so nice right now that I don't feel any urgency.
The Octane is unlike any gas-spring breakbarrel rifle I've ever tested. I wish the trigger was better, but it's hard to argue with the accuracy or with the rifle's firing behavior.
I will skip testing the rifle at 10 meters with the scope that comes in the package and go straight to 25 yards next time.
by Tom Gaylord, a.k.a. B.B. Pelletier
Benjamin Marauder .177 caliber: Part 1
Benjamin Marauder .177 caliber: Part 2
Secrets of loading the Benjamin Marauder magazine
Benjamin Marauder .177 caliber: Part 3
Benjamin Marauder .177 caliber: Part 4
Benjamin Marauder .177 caliber: Part 5
Benjamin Marauder .177 caliber: Part 6
Fixing a Marauder magazine
Benjamin Marauder .177 caliber: Part 7
Benjamin Marauder .25 caliber: Part 1
Benjamin Marauder .25 caliber: Part 2
Benjamin Marauder .25 caliber: Part 3
Wow! More than one month has passed since the last part of this report. I've been to the Roanoke airgun show and also out to the rifle range at least 3 times trying to get the data for today's report, but what a quest it has been! It all boiled down to false confidence in my ability to get the job done. I'm used to certain rifles cooperating with me every step of the way, and this time I got called by the fates who expose pride for what it is.
I'm not going to bore you with all the details, but I will point out the most recent example of my stupidity because it's a lesson for us all. When I went to the range last week, I thought I was ready to complete my 50-yard test of the .25-caliber Benjamin Marauder. I'd swapped the scope mounts from a previous test because they were too high. The new mounts were lower, and I didn't have to hold my head as high on the comb. I knew this would help with the accuracy. But then I went to the Roanoke airgun show, and forgot that I'd made this change.
What's most important about the change, though, are that the new mounts were vintage B-Square adjustable mounts. And the rear ring was jacked up higher than the front. I always liked that setup because it gets the drooper problem taken care of on the first shot — even if there isn't one! But not if you forget that you did it!
And that's why this report didn't happen last week. I had the Marauder at the range with the TX200 Mark III, on which I reported last weekWhen I shot the Marauder, there wasn't a pellet hole on the paper. And I'm not just talking about the target paper, either. I mean the 2-foot x 4-foot backer paper that I use whenever I have a rifle that's not known to be sighted-in.
Naturally, I was disappointed. This was a Marauder after all, and I expected it to go right to the point of aim. After shooting just two 8-round magazines, I took the rifle off the line and put it away. I needed to look into the situation deeper and figure out what was wrong.
What was wrong, was that I had forgotten about the new scope mounts. When I looked at the scope back in my office, I immediately saw that the rear was higher than the front. Then I vaguely remembered something about changing the mounts before going to the Roanoke airgun show, so I reread the last report and discovered what had happened. The gun had not been sighted-in with the new mounts. It was obvious that the scope was set up for a rifle with severe barrel droop, and this rifle doesn't have that.
I even went back to the rifle range last Friday and looked at the backer board where my target and backer paper had been stapled. Sure enough, above where the top of the paper had been there was a hole in the backer board. It had the appearance of a nice rifle group. And some of the holes in the group appeared to be .25 caliber.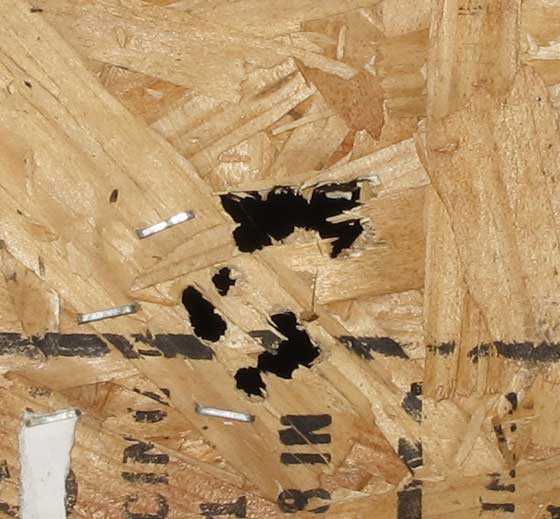 This group in the backer board is just above where my target paper was stapled. I believe it's the impact point of the 25-caliber Marauder from last week's test!
Suspecting what happened, I started shooting at an aim point much lower than my anticipated target. Sure enough, my pellet was hitting the paper about 16 inches high and 6 inches to the left. That's a problem I can deal with! All I had to do was adjust the scope down and to the right, and I was on target. It took me less than 10 minutes to get my groups landing where I wanted at 50 yards. Now, it was time to test the rifle.
The first group was shot with H&N Baracuda pellets. In the past, these were the most accurate .25-caliber pellets on the market, but they have since been replaced by several others, including one huge surprise that emerged in this test! The group measured 1.021 inches between centers. It's a good group for any rifle at 50 yards, but I did think the Marauder might be capable of better.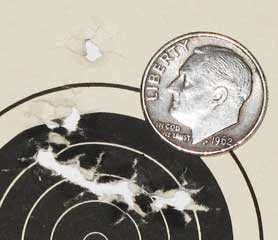 Eight H&N Baracuda pellets went into a 1.021-inch group at 50 yards.
I should mention that I was firing two magazines of eight shots each in this test. So the groups that you see have 8 pellets and not 10 in them. I recharged the rifle with air after every 16 shots because the reservoir pressure had dropped to around 2,100 psi by that point. That was as low as I felt it could go and still be accurate.
JSB Exact King
The next pellet I tried was the JSB Exact King, a .25-caliber pellet that's shown a lot of promise in recent testing. The first group I shot measured 1.447 inches between centers. That's not very good for a PCP rifle at 50 yards. Interestingly, however, 7 of those 8 shots went onto 0.719 inches, and that is good. I hoped that the one flyer was an anomaly, and that a retest of the same pellet would do better.

Eight JSB Exact Kings went into 1.447 inches. That's not very good, but 7 of the pellets went into 0.719 inches, which is promising.
The second group of JSP Exact Kings when into 1.094 inches. That's a lot better, but it still wasn't what I'd hoped for, so I left the Kings to try other pellets.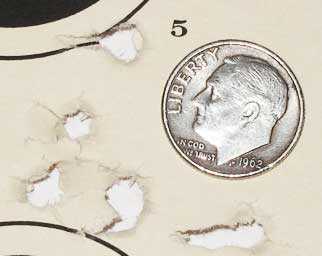 Eight JSB Exact Kings went into 1.094 inches. It's better than the first group, but still not thrilling. At this point, the .25 Marauder looks like a 1-inch rifle at 50 yards.
Benjamin domes
Another stunning pellet in .25 caliber is the Benjamin dome. It has no model name, but you could think of it as a Premier pellet because it looks similar to the other pellets in the Premier line. The first group of 8 pellets measured 1.226 inches between centers, which was again larger than I was looking for.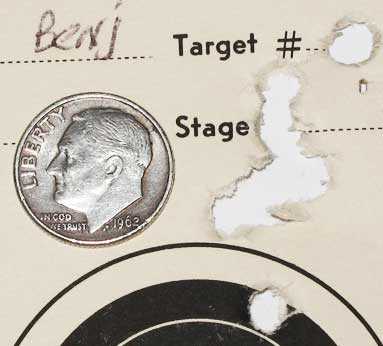 Eight Benjamin domes went into 1.226 inches at 50 yards. It's larger than I would like.
The second group of Benjamin domes measures 1.06 inches. While that's better, I still thought the rifle could do more.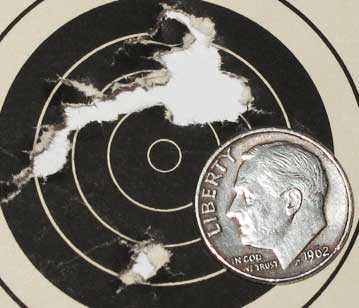 The second group of Benjamin domes was better, with 8 in 1.06 inches. It's good, but somehow not good enough.
Predator Polymag
The last pellet I tried was the .25 caliber Predator Polymag. It showed well in the 25-yard test and earned its place in this test. There really aren't a lot of options when it comes to accurate .25-caliber pellets, and I think we've included all of them in this test. Yes, there are other brands out there, but do they perform? In my experience, they don't.
The Predator is a hollowpoint pellet that has a red plastic tip in the center of the nose. Normally, hollowpoints fall off in accuracy at around 25 yards, but this pellet doesn't. That tip seems to do its job.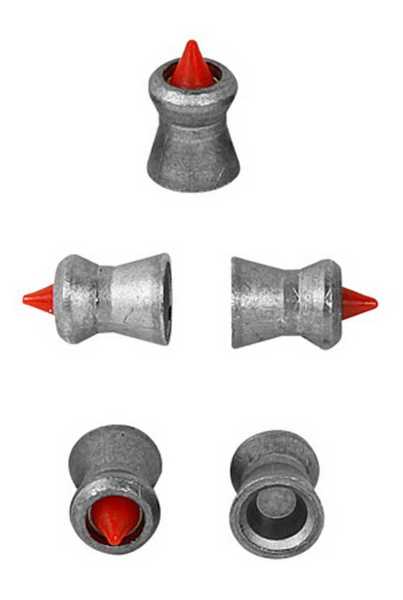 The Predator Polymag pellet is a hollowpoint with a plastic tip in the center, and it really works at long range!
The first group of Predators measures 1.121 inches between centers. Once again, that's okay for 50 yards, but it's nothing to scream about. But the second group measures 0.808 inches between centers. That's what I was looking for! While the Marauder can't be expected to shoot that well every time, this group proves that it has the potential. And it does it with a pellet that is acknowledged to be a great hunting pellet!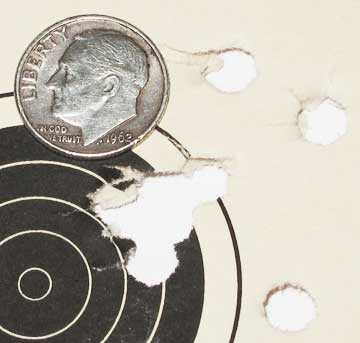 The first 8 Predator Polymags went into 1.121 inches at 50 yards. That's not bad, but not what I was hoping for.

Now, that's a group! The second group of 8 Predators measures 0.808 inches. This is the accuracy I was looking for from the Marauder.
Observations
No .25-caliber airgun has ever been as accurate as the best .22 or .177 guns. What we see from this test is a range of results that represents what the .25-caliber Benjamin Marauder can do at 50 yards. I think these groups show what this gun can do very well. Sure, if you shoot more there will be some smaller groups. But there will also be many more groups that are larger than those shown here. I think we can safely say the Marauder in .25 caliber is capable of putting 8 shots into one inch at 50 yards when you do your part.
The .25-caliber rifle uses a lot of air! I was getting just 16 good shots in this test on a 3,000 psi fill. Compare that to the 32 good shots I got in the test of the .177-caliber rifle filled to the same pressure.
From a handling standpoint, there isn't a nickel's worth of difference between the .177- and .25-caliber rifles. The trigger can be adjusted to operate virtually the same, and the stocks feel the same. The one small difference is the .25-caliber gun does move back slightly with each shot. I didn't feel that with the .177, but I definitely felt it in this test.
If you want a .25-caliber hunting air rifle, I think the Marauder is a good candidate for your short list. It's powerful, accurate, quiet and reliable. How much more can you ask?
by Tom Gaylord, a.k.a. B.B. Pelletier
Yesterday, I shot the TX200 Mark III at 25 yards and discovered that it can shoot accurately when rested directly on a sandbag. Today, I'll take the rifle to the range and shoot it again at 50 yards.
I decided to continue shooting with the rifle rested directly on the bag because it seems to work well, and also because I haven't settled down yet. The bag-rested results should be a fair representation of what the rifle can do.
The day was dead calm throughout the test. Conditions were perfect for the rifle to do its best. But the results were most interesting and not what I expected.
H&N Baracuda Match
You will recall that, yesterday, I got the rifle sighted-in with the point of impact hitting about quarter-inch high and a half-inch to the left of the aim point. I left the scope setting where it was, so you could see what happened out at 50 yards. I'm shooting with the same H&N Baracuda Match pellets that were used yesterday.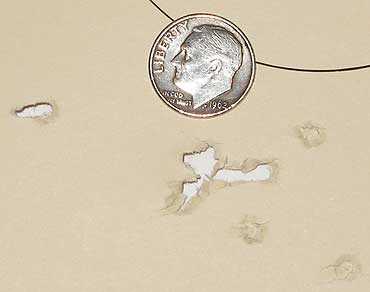 Ten H&N Baracuda Match pellets didn't do very well at 50 yards. Yes, there's the one pellet off to the left, but there are 3 more to the right of the main group. Group measures 2.2 inches between centers, with 9 pellets going into 1.199 inches.
The new point of impact (center of the group) is about 2-1/2 inches low and 1 inch to the left. This pellet dropped 2-3/4 inches, going from 25 yards out to 50 yards. The group is pretty large, measuring 2.2 inches between centers. It was shot 2 that strayed over to the left. The other 9 pellets are in 1.199 inches, or about one inch less. That's still on the large side.
JSB Exact Heavy
Next up were JSB Exact Heavy pellets. They weigh 10.3 grains and are often the most accurate pellets in premium airguns. They certainly were this day, as the first 10 turned in a group measuring 1.042 inches. It was the best group of the day.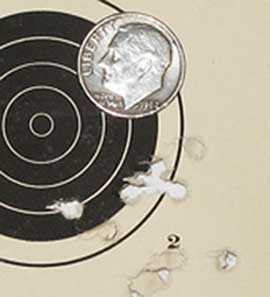 Ten JSB Exact Heavys made this 1.042-inch group.
The other 2 groups I shot with the JSB Exact Heavy pellets were larger. One measured 1.289 inches, and the other measured 1.66 inches. I did adjust the scope between groups, but I was careful never to hit the aim point of the target bull.
 The second group of JSB Exacts measures 1.289 inches between centers.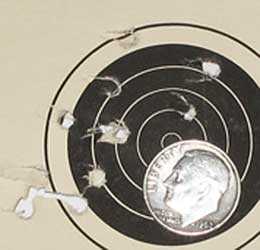 The third group of JSB Exacts measures 1.66 inches between centers.
Crosman Premier Heavy
Seeing that I'd given the JSB Heavys a fair chance, I then shot a group of 10.5-grain Crosman Premier Heavys. They made a 10-shot group measuring 1.365 inches between centers. Since its size is about in the middle of the 3 JSB groups, I think it's safe to say this pellet is about as accurate as the JSB Exact Heavy. I'm not making any claims, though, because I don't think I've done the TX200 Mark III justice in this test.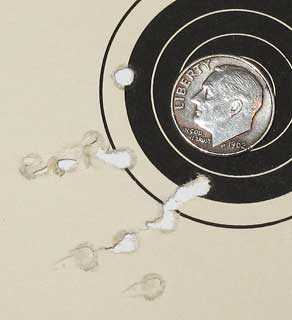 Ten Crosman Premier Heavys made this 1.365-inch group at 50 yards. That puts them on par with the JSBs.
The bottom line is that I'm not satisfied with these test results. I've seen this rifle do better, and I believe it still can — I just need to change something. I've never before shot a spring rifle directly off a sandbag at 50 yards, but I don't think that's the problem. I think I was using the wrong pellets.
Some observations
Remember at the beginning that I told you how far the group dropped when I went out to 50 yards with the 25-yard zero? I also shot the TX200 at 100 yards on this day. I didn't shoot an entire group, just 3 JSB Exact Heavy pellets. I used the 50-yard zero after adjusting the scope at the range. The 3 pellets went into about 6 inches, but what's really interesting is the fact that they struck the target more than 2 FEET below the aim point. Don't let anyone kid you that shooting at 100 yards is simply double shooting at 50 yards. The transition out to 100 yards is very dramatic! I did this just as an aside to see what would happen. Well, I saw all right!
I also think by shooting only heavy pellets on this day that I hindered the TX200′s chances to shine. I want to rerun this 50-yard test with some lighter pellets that are known to be accurate. Someone asked me about that already, and I think it needs to be tested.
Finally, blog reader Tunnel Engineer asked me to try resting the TX on the sandbag close to the triggerguard and again out at the cocking slot. He wanted me to compare group sizes and point of impact with the 2 balance points. But the bag I use is very long and runs all the way from the triggerguard to the cocking slot, so I don't see how I can do that.