Posts Tagged 'Quattro trigger'
by Tom Gaylord, a.k.a. B.B. Pelletier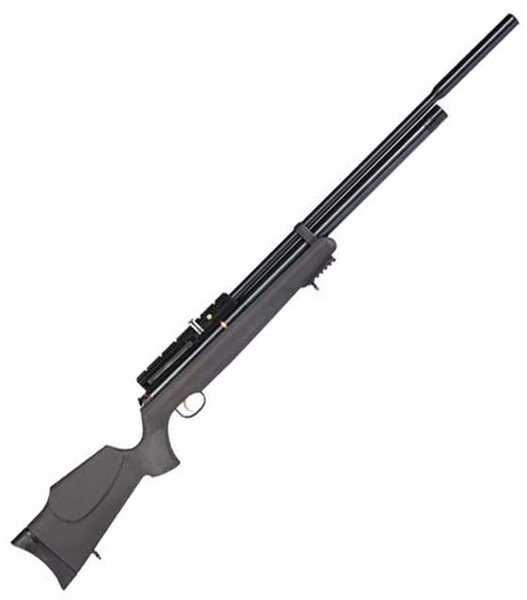 Hatsan's AT44S-10 Long QE is packed with features for airgun hunters.
This report covers:
• Inconsistent shots?
• Most accurate pellet?
• 100 yards means scope adjustments
• JSB Exact Jumbo heavy pellets
• Crosman Premier pellets
• H&N Baracuda Green pellets
• Gamo Hunter pellets
• Call it a day
• Conclusions
• Pyramyd Air sale
Today is a test of the Hatsan AT44-10 Long QE at 100 yards. I don't do this very often for many reasons; but when I find a PCP that's exceptionally accurate at 50 yards, I feel it's worth testing at the greater distance. It takes a perfect day for this test because any wind will push the pellet around. We don't get many windless days here in Texas, but this past Wednesday was one of them. It was so calm that dandelion fuzz would fall straight down.
You also know from reading this blog that groups do not always open in linear fashion as the distance increases. A rifle that shoots a half-inch group at 50 yards will not automatically shoot one-inch groups at 100 yards — even though the day is perfect.
Inconsistent shots?
While testing this rifle, I'd seen that the first 10 shots could be less accurate than the second 10. They sometimes contained fliers that didn't seem to exist in the second group. Yesterday, blog reader Jerry in Texas asked me why one shot out of 10 from his Benjamin Marauder was dropping in velocity by over 250 f.p.s. I told him I thought some PCP guns do that in certain places in the power curve. I saw evidence of that on the 50-yard range and again at 100 yards, as I'll show you.
Most accurate pellet?
I also hedged my bets by taking several pellets to the range that hadn't been tested in this rifle before. I was getting such great performance at 50 yards from one pellet in particular — the 18.1-grain JSB Exact Jumbo Heavy — that I sort of stopped testing other pellets. That's not very scientific of me, though it's very much in keeping with being a gun crank. So, I took some other pellets along and gave them a try at 100 yards — even though they'd not been tried by me before in this rifle.
100 yards means scope adjustments
I knew the pellet would drop a lot going from 50 yards to where the rifle was sighted to 100 yards. I guesstimated the drop would be at least 12 inches, which would be 48 clicks on the quarter-minute elevation knob to bring things back up. But when I adjusted the scope, I stopped at 40 clicks because you never know if the clicks are exactly quarter-minute or if that's just an approximation. As it turned out, both my guesstimate and the adjustments were close to correct, and I had to adjust the scope another 16 clicks up to get close to the point of aim.
JSB Exact Jumbo Heavy pellets
The first pellet up was the 18.1-grain JSB Exact Jubo Heavy that had given me a group of 10 in 0.522 inches at 50 yards. If any pellet was going to excel in this rifle at 100 yards, I felt this one had the best chance. Alas — the best-laid plans….
The best I was able to do with this pellet was 10 in about 3 inches. I shot the same pellet in both the first 10 shots and the second 10 shots per fill with pretty much similar results, except there was a flier in the first group. I'm not going to show you those groups because they don't help the report and also because the first group fell below the target paper and hit the 2×4 backer paper I always use when I'm not sure where the pellets are going.
At this point, I decided to punt — as in testing something I hadn't tried before. One reader had recommended trying the 15.89-grain JSB Exact Jumbo pellets, and I thought it was a good choice. It happens to be one of my favorite .22-caliber pellets, and I normally would have tested it at 50 yards; but when the heavier JSB did so well, I decided to just shoot it to the exclusion of all others.
I refilled the rifle with air and loaded 10 JSB Exact Jumbos into the circular clip. The first group was very telling. Nine out of 10 pellets landed in a 1.668-inch group, but the first shot hit about 4 inches above the top of this main group. Remember what I said about inconsistencies in the first 10 shots after a fill?

Nine of the 10 JSB Exact pellets landed in this 1.688-inch group at 100 yards. The first shot was 4 inches higher. This is a very good group for any pellet rifle at 100 yards.
After that group, I refilled the clip and shot a second group with the same pellet. This time, all 10 went into 2.385 inches. I know that doesn't sound very good, but I ask you to reserve your comments until you have shot some 10-shot groups of pellets at 100 yards. It isn't easy! And guns that group in a half-inch at 50 yards do not necessarily group in one inch at 100 yards.
Look at the shapes of these holes. Many are oval in shape, which indicates they didn't go through the paper straight-on.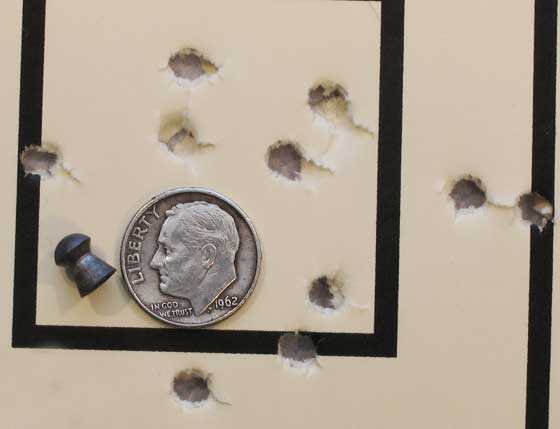 Here are 10 of the same JSB pellets in a 2.358-inch group. These oval holes show some evidence of a tilt on axis.
Crosman Premier pellets
One of the most accurate .22-caliber pellets is the domed Crosman Premier that comes in the brown cardboard box. Sometimes, they're the most accurate, and other times they're among the top 3. But in PCPs they don't do as well — especially when the PCP is more powerful such as this Hatsan. And this was no exception to that rule, as Premiers couldn't stay inside 6 inches at 100 yards. I didn't even complete a group with them after seeing the first few shots land so far apart.
I'd planned on trying Eun Jin pellets, as well; but when I started loading them, I discovered that the tin I picked up were .25-caliber pellets.
H&N Baracuda Green pellets
The next pellet I tested was the H&N Baracuda Green. While lead-free pellets are not that accurate as a general rule, Baracuda Greens are an exception. In the Hatsan, they managed to put 10 shots into 5.25 inches, with 9 of those shots in 2.988 inches. That's pretty good for lead-free pellets; and, yes, this was the first group of 10 after a fill.
Gamo Hunter pellets
The last pellet I tried was the Gamo Hunter. While I have very little experience with this pellet, I do recall it working well in one spring rifle years ago. But it was not suited to the Hatsan AT44. I didn't see where the first Hunter struck the target; but I saw the second pellet's flight through the scope, and it was a wild spiral curve to the right that landed a foot off the target! Clearly this rifle is not suited to shoot Gamo Hunters.
Call it a day
After this last attempt, I decided to call it a day. The shooting had worn me out by this time. I think it's clear that of the pellets I've tested so far, the JSB Exact 15.89-grain Jumbo is the best. Out to 50 yards it may do no better than the heavier 18.1-grain JSB Jumbo Heavy, but something about this lighter pellet carries it to 100 yards in better form.
Conclusions
I believe the Hatsan AT44-10 Long QE is one of the finest PCP rifles on the market at any price. It has power, accuracy, a great trigger and very quiet operation –all for a wonderful price. If you're in the market for a good PCP, I would put this one on your short list.
Pyramyd Air sale
Pyramyd Air is having a "Christmas in July" sale. If you're planning to make a purchase, click here to visit their sale pages.
by Tom Gaylord, a.k.a. B.B. Pelletier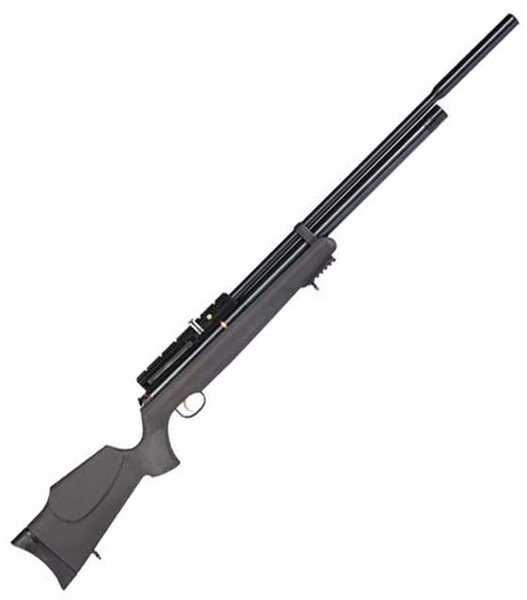 Hatsan's AT44S-10 Long QE is packed with features for airgun hunters.
This report covers:
• Fast becoming a favorite
• Accuracy test
• Stunning first group!
• Tried RWS Superdomes
• Finish with JSB pellets
• Overall evaluation
• 100-yard test
Fast becoming a favorite
Today, we're back at the 50-yard outdoor range with the Hatsan AT44S-10 Long QE rifle — an air rifle that's fast becoming a favorite of mine. I think you'll see why in this report.
Last time, I showed you some excellent 10-shot groups from this rifle at 50 yards. That day was perfectly calm, and by chance the second pellet I tried turned out to be the one to shoot. The 16-grain Air Arms Diabolo Field pellet delivered some great groups, including one 10-shot screamer that was just 0.624 inches between centers. I resolved to return to the range another day to see if this was just a one-time thing or if the rifle could deliver such stunning accuracy all the time.
Accuracy test
This day was not perfect. There was a little breeze sometimes, but in the beginning it could be waited out. It was only 1-3 m.p.h. when I began shooting. Last time, I learned that the first 10 shots on a fresh fill weren't as accurate as the second 10, so I filled the rifle to 200 bar and loaded ten 18.13-grain JSB Exact Jumbo Heavy pellets, thinking that I would save the sure-thing Air Arms pellets for the second 10.
Stunning first group!
But my first group was stunning! Nine of the 10 pellets went into 0.552 inches and only shot 8 strayed from the main group. It enlarged the group to 0.916 inches, which is still commendable for 10 shots.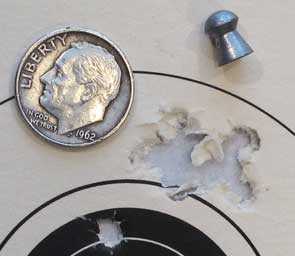 Nine JSBs in 0.552 inches! Shot 8 opened the group to 0.916 inches, which is still excellent.
Now that the first 10 were shot, I thought the rifle was going to give me a wonderful second group with the Air Arms pellets — but for some reason, it didn't. Ten went into 1.434 inches, with 5 of them clustered in 0.212 inches. How do I make sense out of that?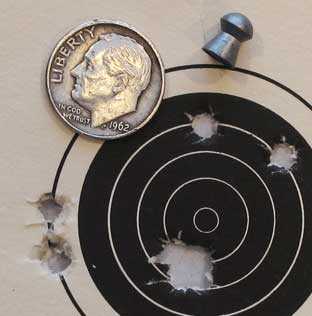 Five shots in that tiny (0.212 inches) hole, but the other 5 went everywhere else (1.434 inches)!
The Hatsan is short of breath, and there are only 20 good shots per fill if you're shooting groups at 50 yards. I filled the rifle, again, and once more I shot the first group of 10 with the JSB Exact Jumbo Heavys. This time, they were a little more open than the first time, but they still managed to all be within 0.676 inches. That's actually smaller than the first group was, and it's close to the size of the best group from the previous session (0.624 inches).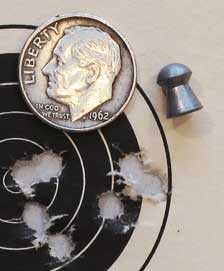 The best group of this session! Ten pellets went into this 0.676-inch group.
The second group I shot was 10 Air Arms pellets, and this time they really opened up. Ten went into 1.334 inches, with 8 of them in 0.824 inches. Apparently, Air Arms pellets were not going to do as well on this day as they had during the previous session!

For some reason, the Air Arms pellets didn't want to group together on this day. Ten in 1.334 inches with 8 in 0.824 inches.
Tried RWS Superdomes
I brought some RWS Superdomes along — just to try one more pellet. But the first shot was 14 inches from the aim point (!!!) and the next shot was 6 inches from that! I ejected the clip and removed all the pellets. That's just wasting air.
Finish with JSB pellets
I filled the rifle once more and this time decided to just shoot the JSB pellets since they seemed to want to do better. The first group of 10 went into a whopping 1.71 inches, which was surprising. The second group of 10 was 1.351 inches apart, and I was now having to fight a growing breeze. I can't say how much the wind affected the last 2 groups, but it probably had some impact.

This time the JSBs didn't stay together too well. Ten went into 1.71 inches. This just shows that sometimes the bear eats you!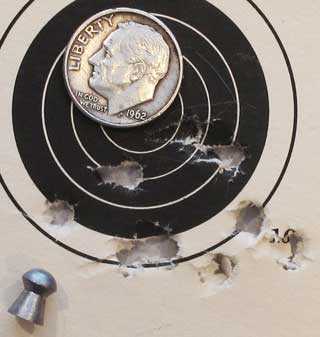 The second group on this charge is a little better — at 1.351 inches. It isn't always sweetness and light!
Overall evaluation
Based on the results of these two days at the range, I have to say the Hatsan AT44-10 Long QE is one of the most accurate precharged pellet rifles I've ever shot. It may not be the most accurate, but it has to be in the top 5!
It's amazing that an air rifle this powerful is also quiet. It sounds about as loud as my vintage Diana model 27 spring rifle, yet I know it's producing 35-47 foot-pounds of muzzle energy. And the trigger, while not the absolute finest I've ever tested, it still right up there in the top 10.
Hatsan has hit the ball out of the park with this rifle! They're pricing it to compete with the Benjamin Marauder, and it absolutely kills the more expensive European PCPs in all categories except appearance. But I'm the kind of shooter who wants to hit the target. I don't care that much what my rifle looks like — as long as it can deliver the mail.
100-yard test
The last time I had a PCP that was this accurate was when I tested the AirForce Airguns Condor SS, and that rifle put 10 pellets into one inch (1.003 inches) at 100 yards. This Hatsan isn't quite as powerful as the Condor SS, but I'm willing to give it a try at that distance. So, there will be a Part 5 to this series!
by Tom Gaylord, a.k.a. B.B. Pelletier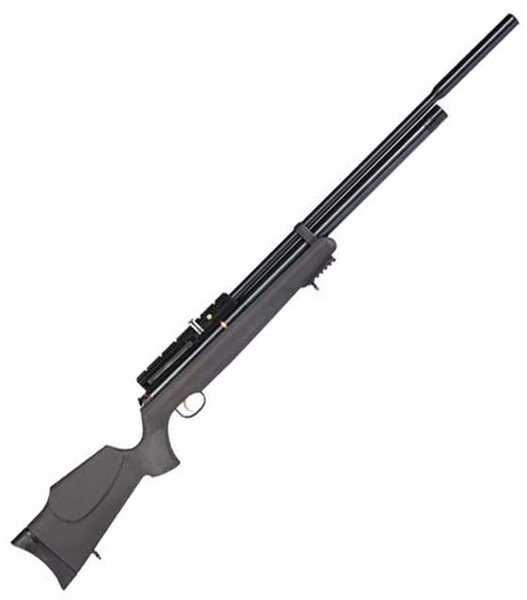 Hatsan's AT44S-10 Long QE is packed with features for airgun hunters and long-range shooters.
This report covers:
• Most accurate test ever conducted!
• Scope and mounts
• Scope base design
• On to the range
• Airgunners…just like golfers!
• What happens next?
You waited for this report. I told you it was going to be a good one. I even advised a couple people to just buy this rifle if they wanted a quiet and powerful PCP that was also accurate. Today, you're going to see why I said that.
Best test ever conducted!
To cut to the chase, this was the best test of an air rifle I've ever conducted at 50 yards. I won't go so far as to say that the Hatsan AT44S-10 Long QE is the most accurate air rifle I've ever fired, because you've seen in recent days that I seem somewhat variable. I refer to yesterday's good test of the Air Arms Shamal after a pervious mediocre test.
However, if I can repeat today's results at some future date, then I'll conclude that this rifle is the most accurate air rifle I've ever tested at 50 yards. But I'm getting way ahead of myself. Let's see what happened.
If you're a regular blog reader, you already know that I was having a good day because the Shamal had just turned in several great groups — including one stunner that measured 0.818 inches for 10 shots at 50 yards. Now, it was the Hatsan's turn on the bench, and the weather was still perfect.
Scope and mounts
I had mounted an AirForce 4-16X50 scope on the rifle using UTG 2-piece Max Strength high Weaver rings for a 1-inch scope. One of our readers heard that the Hatsan scope base that allows both Weaver and 11mm scope rings to be mounted has problems with Weaver rings, so he asked me specifically to use rings that have a Weaver dovetail on their base. I did, and the UTG mounts fit well, though I will say that the Hatsan base is at the wide end of acceptable width.
But I think I see what the reader has heard about, and I want to share it with you. There are some shooters who feel that all mounts must look attractive and squared away or they don't fit right. What these people don't understand is that mount makers use base jaws that will fit as many different configurations of dovetail cuts as possible — because gun manufacturers do not use many standards when making their cuts.
Scope base design
I'm going to explain something here, and I want you to try to understand it because it will make all the difference if you do. Weaver bases are a standard that specifies the width and height of the dovetail, and the width of the cross groove that accepts the locking bar on the mount. But the angle of the cuts that shape the dovetail grooves are not as certain. No doubt, Weaver specifies them, but mount makers don't always conform to that spec. They use dovetail cutters with varying angles. To deal with this inconsistency, many mount makers, including Leapers, cut the jaws of their ring base clamps with rounded points, so they'll grip most dovetails, regardless of the angle of the cut.
If there was only one rounded point on the clamp base, the ring would sit cockeyed on the rifle; but when the other end of the same clamp also has a rounded point that engages a special cut in the scope ring and the two cockeyed points cancel each other. The result is a scope ring clamp jaw that looks cockeyed, yet the ring sits squarely on the gun.
In the 1990s, B-Square owner Dan Bechtel and I did a project to determine the standard width of 11mm airgun dovetails. This is where we discovered that those dovetails vary between 9.5mm and almost 14mm in width. The angles of cuts ranged from 45 degrees to 60 degrees. The Weaver base is more standardized, but the cut angles still vary and have to be addressed.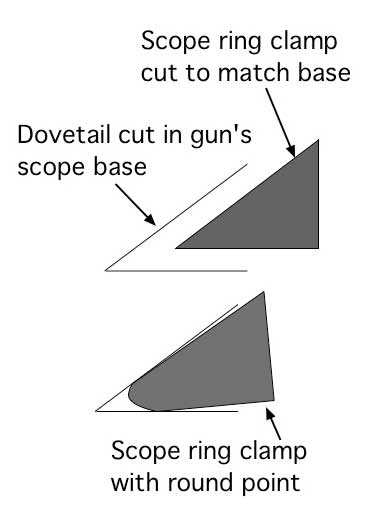 Here you see how the rounded point of the scope ring clamp jaw allows it to fit into a wide variety of rifle dovetail base cuts. Having a rounded point on the other end of the same clamp will cancel this odd angle and allow the scope ring to sit squarely on the rifle.
The genius of this clamp design is lost on many people who see the cockeyed part as a flaw or mistake. Actually, it's a compensating part that assures an exact fit on a variety of different gun bases. The picture shows this clearly.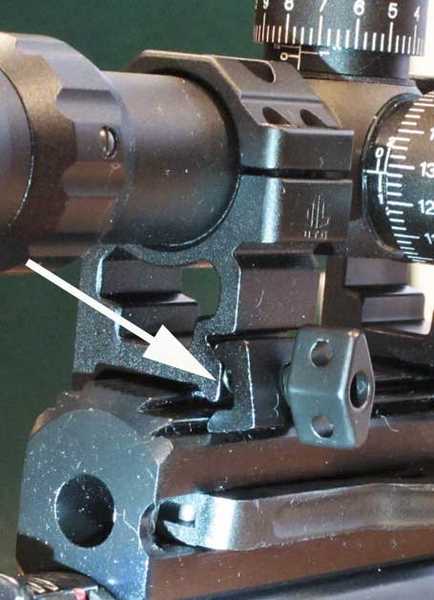 This photo shows how the compensating clamp jaw works. The jaw sits at an off angle, but the scope ring is perfectly level.
For that reason, my answer to the reader who asked whether the Hatsan bases will accept a Weaver ring is — yes. Many ring manufacturers make their ring base jaws this way. If you can tolerate the odd appearance, this solution works perfectly.
On to the range
I was at the range on a perfect day, so this test would be conclusive if a good pellet was found. In the past, you've seen me work through a list of pellets, looking for the best one. Well, on this day I happened to find that pellet on the second try. At least, I think that's the case because that pellet did so well that I didn't bother trying any others.
I filled the rifle to the manufacturer's recommended 200 bar (2900 psi) and loaded the 10-shot magazine. The first pellet I shot was the 14.3-grain Crosman Premier dome. I put 10 into 1.463 inches, but I'm not going to bother showing you that group because of what happened next. I knew from the velocity test we did in Part 2 that this rifle probably gets at least 20 good shots per fill when shooting at 50 yards. The velocity does decline with every shot; but as you'll soon see, that doesn't seem to matter much.
The second pellet I tried was the 16-grain Air Arms Diabolo Field pellet. It's a dome that sits comfortably in the middle of the .22-caliber pellet weight range. Although it resembles the 15.9-grain JSB Exact Jumbo and although JSB does produce this pellet for Air Arms, they do so on proprietary dies owned by Air Arms; so, the two pellets are not the same and should not be confused with each other. On other tests, I've seen different results from these two pellets.
These 10 pellets were fired on the same fill as the Premiers, so the rifle's internal pressure was down around 2500 psi when I started shooting. Every pellet went to the same place on the target. It was like they were being guided, or something. The result was 10 shots into a group that measures 0.681 inches between the two centers that are most distant. I was stunned when the group was finished! I've probably shot a couple other groups that small with airguns before — certainly with my Talon SS and probably also with a Benjamin Marauder — but this still ranks as one of the best groups I've ever shot at 50 yards with an air rifle. And the day was just beginning!

Ten Air Arms 16-grain domes made this 0.681-inch group at 50 yards. This is a screamer.
Following that, I refilled the rifle, for 20 shots had now been fired. The pressure had dropped to below 2000 psi, and I think to as low as 1750. I filled it back to 2900 psi and went back to the bench.
The next 10 shots were with the same Air Arms pellets, only this time we started at a full fill instead of only a partial. Ten pellets went into 0.992 inches this time — a little larger, but still in good territory.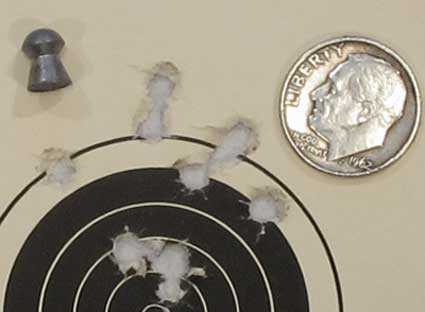 Ten more Air Arms 16-grain domes made this 0.992-inch group at 50 yards when the rifle was filled to the maximum. This isn't a screamer; but coming on the heels of the previous group, it's pretty good!
Now the rifle was back down to where it had been for the first great group. So, I loaded 10 more Air Arms pellets into the rotary clip and settled down to shoot another group. This time, all 10 went into 0.624 inches. A definite screamer; and with the first group, pretty good proof that the Hatsan AT44-10 Long QE I'm testing is a shooter.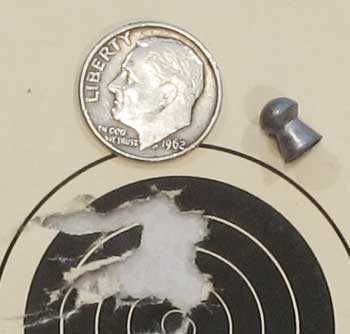 Ten more Air Arms domes made this 0.624-inch group at 50 yards when the rifle was fired on a partial fill. This is the best group of the session and also one of the best 50-yard 10-shot groups I've ever shot with an air rifle.
Airgunners…just like golfers!
Like a golfer who shot a sub-par game in which he also got a hole-in-one, I decided that my good luck had probably run its course this day. Besides the 40 shots fired with this rifle, I had also tested the Shamal and shot an additional 40 shots there because there were some adjustments to the scope that had to be made. In all, I'd shot 80 precision shots this day. That's tiring.
What happens next?
I've never had an air rifle that would shoot this many consistently small groups in succession. Either I was having the best shooting day of my life, or this Hatsan rifle can really shoot. I want to return to the range under similar shooting conditions and see if I can repeat this. And I'll continue to shoot the Air Arms pellets.
I just want to make sure this test was a valid one. It isn't every day that you shoot the most accurate air rifle you've ever seen. I told several readers not to worry but to just buy the rifle if that was what they wanted. Now you see why.
After seeing what can be done with the Air Arms pellet, I want to explore some other pellets in this Hatsan. Hopefully, it'll do well with several brands so there's a choice.
After that, who knows? Maybe I'll try this one at 100 yards. You may remember that I shot a one-inch group of 10 at 100 yards with a CondorSS last year. I wonder if this rifle can do as well?
by Tom Gaylord, a.k.a. B.B. Pelletier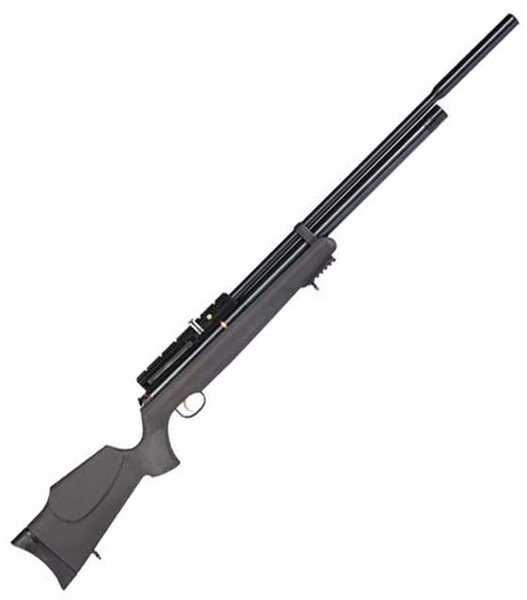 Hatsan's AT44-10 Long QE is packed with features for airgun hunters.
This report covers:
• First pellet
• What to look at
• Next pellet
• Last pellet
• Quattro trigger
• Discharge noise
Remember this report because I've done something with this rifle that I don't normally do. To save some time at the range, since good airgun range days in Texas are often hard to come by, I've already tested the Hatsan AT44-10 Long QE at 50 yards. I took it along last week when I was testing the Shamal, and the day was perfect for 50-yard shooting. I'm not going to tell you the results today; but when I do show them, a lot of you will be impressed.
Today is velocity day. Normally, I would have already tested velocity when I went to the range, but this time when I shot for accuracy I had no idea how fast this rifle was shooting. You can't tell from its muzzle report, either, because the AT44-10 QE is as quiet as a Benjamin Marauder. When I tested it today, Edith thought I was shooting the Benjamin Trail Nitro Piston 2 in my office, instead of a powerful PCP.
First pellet
The first pellet I tested was the 16-grain Air Arms Diabolo Field pellet, which is a dome. I'll show you the first 20 shots, then explain what I'm doing. The rifle was first filled to the recommended 2900 psi (200 bar).
Shot    Vel.
1………1003
2………1019
3………1018
4………1009
5………1003
6………1002
7……….994
8……….991
9……….987
10……..975
The average for this first string of 10 shots was 1000 f.p.s. The high was 1019, and the low was 975 — so the spread was 44 f.p.s. At the average velocity, this pellet generated 35.54 foot-pounds of muzzle energy.
The next 10 shots with the same pellet, and still shooting on the same fill, looked like this.
Shot    Vel.
11……..970
12……..960
13……..961
14……..953
15……..950
16……..948
17……..931
18……..930
19……..928
20……..923
The average for this string of 10 shots was 946 f.p.s. The high was 970 and the low was 923, so a spread of 47 f.p.s. At the average velocity, the pellet generated 31.8 foot-pounds on this string.
The spread for the entire string of 20 shots was from 923 to 1019 — which is 96 f.p.s. We will look at where the pellets impact on the target with this pellet for both strings in the next report. And, yes, I have focused on this specific pellet.
What to look at
I showed you these 20 shots for a reason. What you see is that the velocity drops from the first shot to the last, with a couple exceptions. Perhaps the maximum fill pressure of 200 bar is understated for the rifle I'm testing, or maybe my gauge doesn't agree with Hatsan's gauge for the starting pressure. Some shooters would be tempted to fill to a higher starting pressure to see how the power curve might change; but since I'm at the recommended maximum, I'll stay where I am.
The air reservoir had 1750 psi remaining after these 20 shots. That's about the maximum number of shots you can get with this pellet if you're looking for the best accuracy at 50 yards. If you confine your shots to 35 yards and less, I'm sure there are another 10 shots in the reservoir. The shot count depends on how you're shooting the airgun. Please keep this velocity relationship in mind as we proceed because I'm not going to record the velocity of the other pellets 20 times. But you know that the velocity will continue to drop with them just as it does with this pellet.
Next pellet
Next up were 28.4-grain Eun Jin domed pellets. We know that these heavy pellets will probably be the most powerful in this rifle because it's a pneumatic. Pneumatics usually do their best (achieve the most power) with the heaviest pellets.
This is a very long pellet that just fits in the circular clip, but it did fit and functioned fine. I filled the gun to 2900 psi, again, and shot 10 pellets that did the following:
Shot    Vel.
1……….892
2……….886
3……….882
4……….876
5……….869
6……….867
7……….863
8……….850
9……….852
10……..836
The average for these 10 pellets was 867 f.p.s. The high was 892, and the low was 836 f.p.s. — so the spread was 56 f.p.s. Again, the velocity dropped almost linearly; and at the end of 10 shots, the reservoir was holding 2250 psi. This heavier pellet used more air than the lighter Air Arms pellet that shot 20 shots and ended at 1750 psi. At the average velocity, this pellet generated 47.41 foot-pounds at the muzzle. Remember that number.
Last pellet
The final pellet I tested was the 11.9-grain RWS Hobby. The gun was filled to 2900 psi once more, and another string was fired.
Shot    Vel.
1………1128
2………1128
3………1123
4………1114
5………1110
6………1107
7………1103
8………1090
9………1087
10…….1078
The average for this string was 1107 f.p.s. The high was 1128 f.p.s., and the low was 1078 f.p.s. The velocity spread was 50 f.p.s. As with the first 2 pellets, the velocity fell off linearly. At the average velocity, this pellet produced 32.39 foot-pounds of energy at the muzzle. The reservoir pressure after this string was 2500 psi.
We've learned that lighter pellets will use less air than heavier pellets. If you just plink at distances below 35 yards, you can probably extend the number of shots per fill to 30. Hatsan says you should get 30-40 shots per fill, and that's about what I see from this test. I'm probably going to test it at only 50 yards, although I haven't yet made up my mind on that.
There doesn't seem to be a flat spot on the power curve. The velocity just drops from the first shot to the last. We'll see next time how that affects accuracy.
Velocity and power
Hatsan says you'll get up to 38 foot-pounds from this rifle in .22 caliber. In fact, I got over 47 foot-pounds, so they're being very conservative. They also say the top velocity with lead pellets should be 1070 f.p.s., yet I saw over 1100 f.p.s. with RWS Hobbys, which are lead. Again they are conservative. Hatsan has the reputation of advertising realistic velocities and power for their PCPs by using only lead pellets, and this test confirms that.
Quattro trigger
I adjusted the Quattro trigger and got it to my liking. Stage one now requires 1 lb., 3 oz. and stops at stage 2 most of the time. Stage 2 releases at 3 lbs., 4 oz. There were a couple times when the rifle fired before I could feel the trigger stop at stage 2. I think that may have been partly my inexperience with this trigger, but it made me more cautious. At any rate, the trigger is very adjustable and should please most sportsmen.
Discharge noise
The AT44-10 Long QE is an extremely quiet air rifle — especially when you consider the power. Stay away from pellets that go supersonic and you won't bother too many people when you shoot. It's quieter than most breakbarrel rifles. You should be able to shoot it without bothering the neighbors, unless they're listening for you to shoot.
So far, the AT44-10 Long QE is living up to its advertised potential. I just happen know the rest of the story as well; so, although I'll make you wait a while longer, this is going to be a story you will want to read. If you're looking for a quiet, powerful, accurate hunting air rifle, watch this test closely.
by Tom Gaylord, a.k.a. B.B. Pelletier
Photos by Earl "Mac" McDonald
The SHOT Show is not a gun show — though that is what many attendees call it, and the mainstream media that doesn't attend also calls it that. Instead, it's a happening — to use a 1960′s term. Or it's a Middle Eastern open market. The big booths house the recognized names like Colt, Winchester and Crosman. Their booths are two stories tall with signs hanging from the ceiling that you could see a mile away if there weren't other signs hanging in front of them.
But the real drama of the show isn't at those booths. People already know what to expect in those places. It's the little out-of-the-way booths hugging the walls that have the surprises. I always set aside some time just to cruise the aisles, looking for some rocks to turn over.
I'll be walking along a narrow aisle and someone will step out to stop me. Then, in a conspiratorial tone, he leans over and says something like, "Don't you just hate it when your ice cubes melt and dilute your drink? Cold Bars have solved that problem forever. These are sanitized stainless steel bars that retain the cold almost as well as water, plus they're reusable forever. Put three of these in your scotch and soda, and it'll be as fresh and strong after 20 minutes as when it was poured. When you finish the drink, just pop them in the freezer for 10 minutes…and they're good to go again. While you wait, you use the second set of three bars in your next drink! Nothing could be easier."
This guy is serious! You look at his spartan booth and realize that he has poured everything into this venture because at some point watery drinks pushed him over his tipping point. When he bounced the idea off his wife and friends, they all agreed it was the next big thing. They had no idea he would mortgage the house and put his life savings into it!
So, here he is, in a narrow aisle of a large trade show, hawking his brains out to people who, for some reason, just don't seem to get it. Who doesn't want cold, undiluted drinks?
Think I'm exaggerating? Attend a trade show and walk the aisles some time.
Why do I plod through these pathways of personal misery? Because next to the stainless steel ice cube booth there 's the G+G Airsoft booth that has the best action target I've seen in a long while. It's a lighted rubber hemisphere that's computer-controlled to react to being hit by an airsoft BB. You can turn the light on or off, depending on how you have programmed it.
They call it the MET Unit, which stands for multifunctional electronic target. It can exist as one single target or they can be strung together in up to 25 targets for a prolonged target array.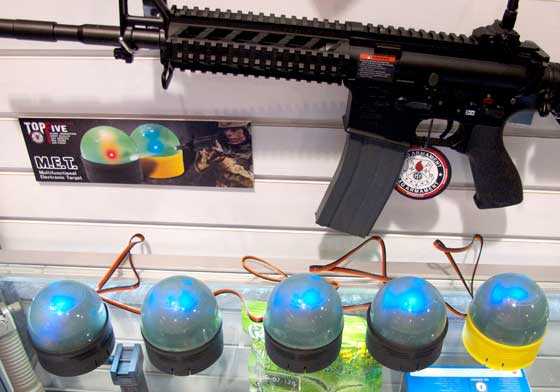 The MET Unit is from 1 to 25 programmable lights that turn off or on when hit by an airsoft BB.
The wires between targets can be up to 50 meters in length, which allows them to be set up in a tactical course and either light up at some random time until hit or stay on for a programmed time and go off after the time is up or when hit. Two competitors can shoot at the same target and change the color of the lights when they hit it, establishing a duelling target.
The individual target will sell for $66 or 5 for $250. It looks like a great way to have fast-action fun with airsoft guns. They can take hits from AEGs shooting 0.20-gram BBs at up to 450 f.p.s. Naturally, they're not robust enough for even the lowest-powered steel BB or pellet guns.
Umarex
Umarex is now branding airguns under their own name. This year, there are three new long guns: the Octane is a breakbarrel with a Reaxis gas spring and SilencAir, which is a baffled silencer; the Surge is an entry-lever springer breakbarrel; and the Fusion is a CO2 pellet rifle, and it also has the SilencAir noise dampener. We've seen the Fusion before, branded as the Ruger LGR, but Umarex tells me the Fusion is a Gen 2 upgrade and quite different. I never got the chance to test the LGR, so I'm looking forward to testing the new Fusion as soon as possible.

The Fusion is a new CO2 single-shot rifle from Umarex that sports a 5-chamber noise dampener.
Leapers
I spent an hour at the Leapers booth this year. The most important thing I wanted to see was the new scope with an internal bubble level. It's a 4-16x in a 30mm tube, and it looks exactly like what the doctor ordered for those long-range targets we love to shoot. They're working hard to get it to market this year, but it won't go out until they're certain of the quality. Putting a bubble level inside scopes on a production line is apparently quite a challenge…but one I'm sure Leapers will do correctly.
The entire line of scopes have been upgraded with finer adjustments — many of them 1/8-minute adjustments — and greater repeatability. They have a broad range of adjustment in both directions, and their production models are even exceeding the maximum limits they established! All leaf springs have been replaced with coil springs to increase adjustment precision and repeatability.
But the WOW factor comes on the stuff you can see. How about a 3-9x scout scope (10-inch eye relief) with a wide field of view? That is the big trick for scout scopes, and I saw a beauty mounted on an M1A — though it would be just as correct on a Mosin Nagant.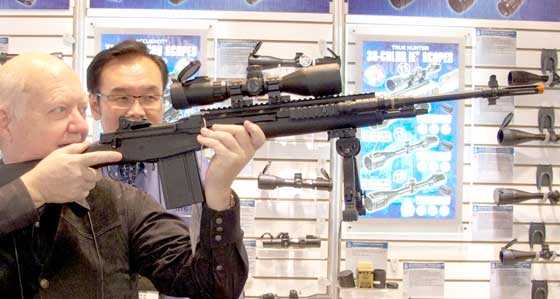 Leapers new scout scope has a full field of vision — something scout scopes are not known for.
Another surprise from the folks in Michigan is the smallest tactical laser I have yet seen. I asked Mac to photograph it next to a quarter for scale.

Leapers new laser is the smallest I have yet seen. That's a quarter next to it.
Crosman
Back to the Crosman booth to show you what the new Benjamin pump looks like when the handle is raised. I didn't expect the huge reception this pump got when I showed it the first time this year. Please note that it has not one but two pump tubes. This is a 3-stage pump — the same as the current pumps, but this one compresses a bit more air with each stroke. I'll have more to say about it when I test it.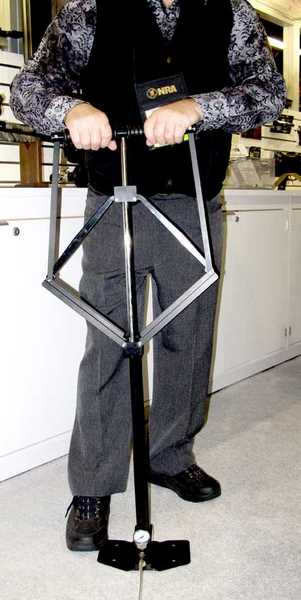 Maybe this view will help you understand how the new Benjamin pump magnifies the force you put into each pump stroke.
Hatsan
I'll close with a last look at the Hatsan booth. They have the AT-P carbine and AT-P1 pistol…and both are precharged pneumatics. They'll come in .177, .22 and .25 calibers that each have hunting levels of power. These are repeaters with circular clips and adjustable Quattro triggers. The sights are fiberoptic, and there are provisions for scopes. The air cylinders remove, and spares will be available as options.
For those who are looking for hunting air pistols, I think these two should be considered. I'll work hard to review them for you as soon as possible.

The Hatsan AT-P2 Tact (left) and the AT-P1 are exciting new PCP airguns.
Leaving the show
As Edith and I left the show we passed by one final booth. The guy is selling Instant Water for survivalists. Just drop one of his pills in a bucket of water and — Presto! — instant water. Why I can't think of things like that?
by B.B. Pelletier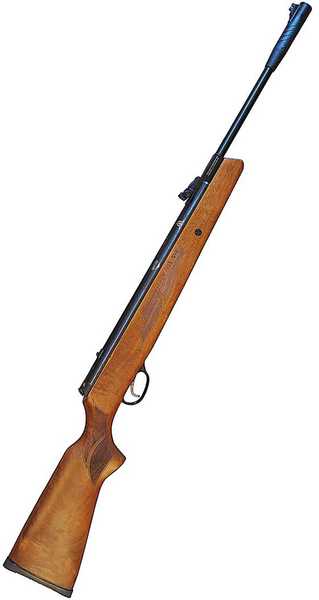 The test rifle was prettier than the photo Hatsan provided for the website.
There has been a lot of interest in the .22-caliber Hatsan 95 combo breakbarrel I've been testing! We have even had people emailing Pyramyd Air directly to ask when Part 3 was coming. Folks, they don't know any more than you do. If you want to know something about the blog, post your comment on the blog and I'll answer you here.
The Hatsan 95 represents a departure from the other Hatsan spring rifles I've tested so far. It's sized for a normal adult rather than for a giant, and it doesn't require the strength of Hercules to cock. I found during the velocity testing that the rifle seems to like heavier pellets, so I tested it with some for accuracy. I tested the rifle with open sights because they seem to be a reasonably set even though they're fiberoptic.
10-meter testing
Before testing the rifle at longer range, I first shot it at just 10 meters. Many of you say this is about as far as you can shoot an airgun in your homes, so today's test should be very revealing.
The sights
The sights are fiberoptic and they don't glow indoors. So, I used them as normal post-and-notch open sights. Unfortunately, the front bead is too large for the rear notch; but I did find it possible to see the top half of the front bead, and I could guesstimate where the bead was centered. It wasn't perfect, but it was the best I could do.
Forget looking for aftermarket sights for this air rifle. Air rifle sights these days are mostly proprietary, which means the guns they're on won't accept aftermarket sights from another manufacturer, unlike a lot of firearms. Since most shooters will use the scope that comes with this combo package, that presents no problem — but I included it because there are always a few people who want to use open sights.
Accuracy
First up was the Beeman Kodiak that did so well in the velocity test. They put 8 of 10 shots into a round group measuring 0.529 inches between centers, but two other shots opened that to 1.073 inches. I can chalk up those two shots to the imprecise sights, so this group looks promising.

Eight of the ten Beeman Kodiak pellets made a 0.529-inch group at 10 meters. The last two shots opened it to 1.073 inches. While this looks good, don't forget that it's only 10 meters.
The firing behavior of the Kodiaks is so smooth that I think they have to be considered by anyone who buys a Hatsan 95. Not only do they generate more energy than lighter pellets, they also group well — at least at 10 meters.
Next up was the JSB Exact Jumbo that weighs 15.9 grains. It's usually a good performer when Kodiaks are, so I gave it a shot. It didn't disappoint.
At 10 meters, 10 JSB Exact pellets went into a group measuring 0.648 inches — besting the Kodiaks for 10 shots. However, as with the Kodiaks, I see a smaller group inside the main one on the left side. It's too difficult to measure, but you'll see it, too.

Ten JSB 15.9-grain domes made this 0.648-inch group. This looks promising.
The last pellet I tried was one I don't usually test, because I haven't found it to be very accurate. Others have, though, and I think they must all be shooting them in pneumatics rather than spring guns. The Predator pellet is a premium hollowpoint that has a cone-shaped tip inside the hollow point of the pellet head.
At 10 meters, 10 Predators grouped in 1.548 inches between centers, and the distribution was open enough to show that it was no accident. This pellet is not for the Hatsan 95 and was eliminated from further testing.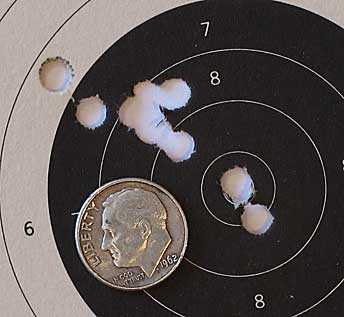 Predator hunting pellets are clearly not the pellet for the Hatsan 95. Compare this open 1.548-inch group to the two before it.
When you compare this group to the other two, you can see why I think this pellet isn't right for the Hatsan 95. A group like that at 10 meters is due to more than just imprecise sights!
Back to 25 yards
Now that I knew this Hatsan could shoot, it was time to back up to 25 yards and give it a go. This is where those sights would come into play; because at 25 yards, the bullseye I was aiming at was the same size as the front sight bead I could only see the top of.
I shot Beeman Kodiaks first, and 10 shots went into a group measuring 3.735 inches. That's hardly a good group, but you'll notice that just a single pellet opened up the group to that size. Nine pellets made a group that measures 1.613 inches. While hardly a good group for 25 yards indoors, this is where the front sight comes into question. I've shot 5-shot groups at 50 yards that measure a quarter-inch between centers with the best open sights, and I've shot 10-shot groups that measure three-quarters of an inch at the same distance with the same sights. Clearly, this group grew because the sights were not clear and not because the rifle is inaccurate.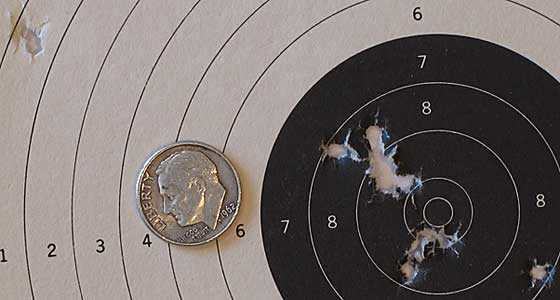 Kodiaks didn't do so well at 25 yards. Most are in the black, but that stray one out to the left was not a called flier. 3.735 inches between centers for this one.
Next up were the JSB Exacts. These had performed a little better at 10 meters, and I expected to see them out-group the Kodiaks at 25 yards, as well. And they did. Ten pellets went into a group measuring 1.882 inches. You can see the dispersion resulting from the fiberoptic sights, yet this pellet shows a tendency to stay together at this distance. Of course, this group is not acceptable, but it does give me hope that this rifle can shoot.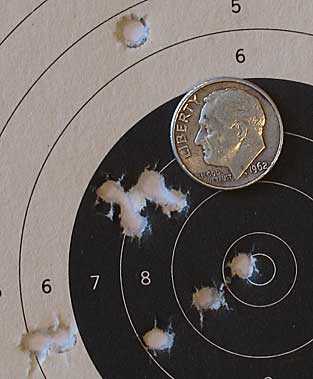 Ten JSB Exacts made this 1.882-inch group at 25 yards. It's not good, of course, but the sights are probably the main reason for that.
Where does this leave us?
I believe the Hatsan 95 can shoot, and this test shows that. Next, I'll mount the scope that came with the combo package and try that at 25 yards.
If you've been holding off buying a Hatsan 95 until you saw the results of my test, I would say the wait is over. This air rifle can shoot. It's a breakbarrel springer, so it needs the artillery hold, but it doesn't seem to be overly sensitive to the hold. It cocks easily enough for a hunting air rifle, and the firing cycle is smooth if you use heavier pellets.
The trigger is very nice, with just a little creep in stage two. I like the wide blade and the general shape of the blade on this gun.
Next, I'll test this rifle with the scope it comes with.