Posts Tagged 'Quattro trigger'
by Tom Gaylord, a.k.a. B.B. Pelletier
Photos by Earl "Mac" McDonald
The SHOT Show is not a gun show — though that is what many attendees call it, and the mainstream media that doesn't attend also calls it that. Instead, it's a happening — to use a 1960′s term. Or it's a Middle Eastern open market. The big booths house the recognized names like Colt, Winchester and Crosman. Their booths are two stories tall with signs hanging from the ceiling that you could see a mile away if there weren't other signs hanging in front of them.
But the real drama of the show isn't at those booths. People already know what to expect in those places. It's the little out-of-the-way booths hugging the walls that have the surprises. I always set aside some time just to cruise the aisles, looking for some rocks to turn over.
I'll be walking along a narrow aisle and someone will step out to stop me. Then, in a conspiratorial tone, he leans over and says something like, "Don't you just hate it when your ice cubes melt and dilute your drink? Cold Bars have solved that problem forever. These are sanitized stainless steel bars that retain the cold almost as well as water, plus they're reusable forever. Put three of these in your scotch and soda, and it'll be as fresh and strong after 20 minutes as when it was poured. When you finish the drink, just pop them in the freezer for 10 minutes…and they're good to go again. While you wait, you use the second set of three bars in your next drink! Nothing could be easier."
This guy is serious! You look at his spartan booth and realize that he has poured everything into this venture because at some point watery drinks pushed him over his tipping point. When he bounced the idea off his wife and friends, they all agreed it was the next big thing. They had no idea he would mortgage the house and put his life savings into it!
So, here he is, in a narrow aisle of a large trade show, hawking his brains out to people who, for some reason, just don't seem to get it. Who doesn't want cold, undiluted drinks?
Think I'm exaggerating? Attend a trade show and walk the aisles some time.
Why do I plod through these pathways of personal misery? Because next to the stainless steel ice cube booth there 's the G+G Airsoft booth that has the best action target I've seen in a long while. It's a lighted rubber hemisphere that's computer-controlled to react to being hit by an airsoft BB. You can turn the light on or off, depending on how you have programmed it.
They call it the MET Unit, which stands for multifunctional electronic target. It can exist as one single target or they can be strung together in up to 25 targets for a prolonged target array.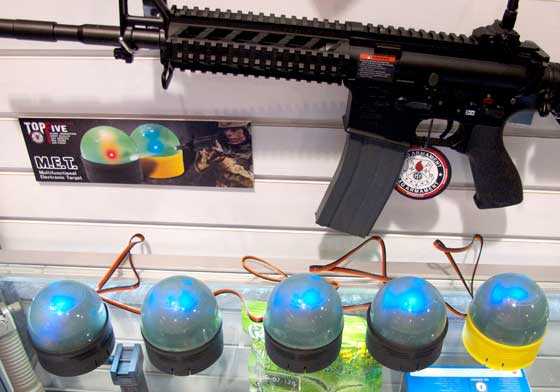 The MET Unit is from 1 to 25 programmable lights that turn off or on when hit by an airsoft BB.
The wires between targets can be up to 50 meters in length, which allows them to be set up in a tactical course and either light up at some random time until hit or stay on for a programmed time and go off after the time is up or when hit. Two competitors can shoot at the same target and change the color of the lights when they hit it, establishing a duelling target.
The individual target will sell for $66 or 5 for $250. It looks like a great way to have fast-action fun with airsoft guns. They can take hits from AEGs shooting 0.20-gram BBs at up to 450 f.p.s. Naturally, they're not robust enough for even the lowest-powered steel BB or pellet guns.
Umarex
Umarex is now branding airguns under their own name. This year, there are three new long guns: the Octane is a breakbarrel with a Reaxis gas spring and SilencAir, which is a baffled silencer; the Surge is an entry-lever springer breakbarrel; and the Fusion is a CO2 pellet rifle, and it also has the SilencAir noise dampener. We've seen the Fusion before, branded as the Ruger LGR, but Umarex tells me the Fusion is a Gen 2 upgrade and quite different. I never got the chance to test the LGR, so I'm looking forward to testing the new Fusion as soon as possible.

The Fusion is a new CO2 single-shot rifle from Umarex that sports a 5-chamber noise dampener.
Leapers
I spent an hour at the Leapers booth this year. The most important thing I wanted to see was the new scope with an internal bubble level. It's a 4-16x in a 30mm tube, and it looks exactly like what the doctor ordered for those long-range targets we love to shoot. They're working hard to get it to market this year, but it won't go out until they're certain of the quality. Putting a bubble level inside scopes on a production line is apparently quite a challenge…but one I'm sure Leapers will do correctly.
The entire line of scopes have been upgraded with finer adjustments — many of them 1/8-minute adjustments — and greater repeatability. They have a broad range of adjustment in both directions, and their production models are even exceeding the maximum limits they established! All leaf springs have been replaced with coil springs to increase adjustment precision and repeatability.
But the WOW factor comes on the stuff you can see. How about a 3-9x scout scope (10-inch eye relief) with a wide field of view? That is the big trick for scout scopes, and I saw a beauty mounted on an M1A — though it would be just as correct on a Mosin Nagant.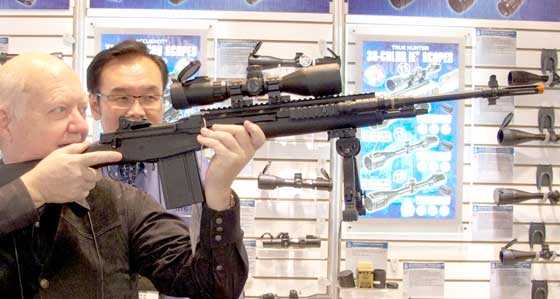 Leapers new scout scope has a full field of vision — something scout scopes are not known for.
Another surprise from the folks in Michigan is the smallest tactical laser I have yet seen. I asked Mac to photograph it next to a quarter for scale.

Leapers new laser is the smallest I have yet seen. That's a quarter next to it.
Crosman
Back to the Crosman booth to show you what the new Benjamin pump looks like when the handle is raised. I didn't expect the huge reception this pump got when I showed it the first time this year. Please note that it has not one but two pump tubes. This is a 3-stage pump — the same as the current pumps, but this one compresses a bit more air with each stroke. I'll have more to say about it when I test it.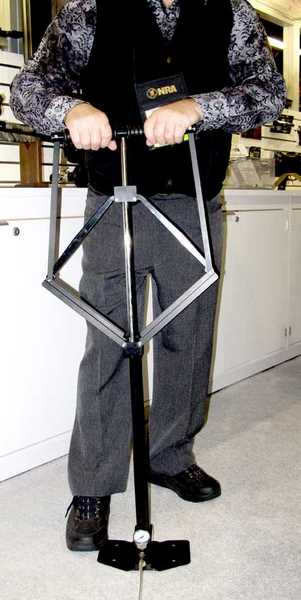 Maybe this view will help you understand how the new Benjamin pump magnifies the force you put into each pump stroke.
Hatsan
I'll close with a last look at the Hatsan booth. They have the AT-P carbine and AT-P1 pistol…and both are precharged pneumatics. They'll come in .177, .22 and .25 calibers that each have hunting levels of power. These are repeaters with circular clips and adjustable Quattro triggers. The sights are fiberoptic, and there are provisions for scopes. The air cylinders remove, and spares will be available as options.
For those who are looking for hunting air pistols, I think these two should be considered. I'll work hard to review them for you as soon as possible.

The Hatsan AT-P2 Tact (left) and the AT-P1 are exciting new PCP airguns.
Leaving the show
As Edith and I left the show we passed by one final booth. The guy is selling Instant Water for survivalists. Just drop one of his pills in a bucket of water and — Presto! — instant water. Why I can't think of things like that?
by B.B. Pelletier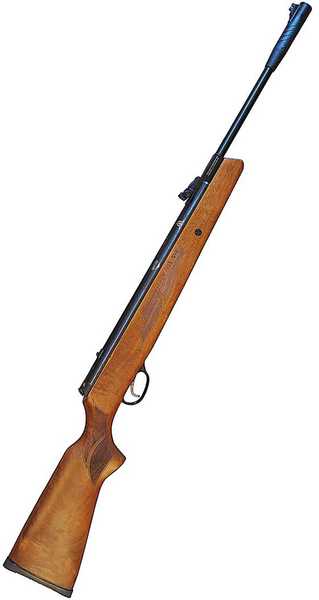 The test rifle was prettier than the photo Hatsan provided for the website.
There has been a lot of interest in the .22-caliber Hatsan 95 combo breakbarrel I've been testing! We have even had people emailing Pyramyd Air directly to ask when Part 3 was coming. Folks, they don't know any more than you do. If you want to know something about the blog, post your comment on the blog and I'll answer you here.
The Hatsan 95 represents a departure from the other Hatsan spring rifles I've tested so far. It's sized for a normal adult rather than for a giant, and it doesn't require the strength of Hercules to cock. I found during the velocity testing that the rifle seems to like heavier pellets, so I tested it with some for accuracy. I tested the rifle with open sights because they seem to be a reasonably set even though they're fiberoptic.
10-meter testing
Before testing the rifle at longer range, I first shot it at just 10 meters. Many of you say this is about as far as you can shoot an airgun in your homes, so today's test should be very revealing.
The sights
The sights are fiberoptic and they don't glow indoors. So, I used them as normal post-and-notch open sights. Unfortunately, the front bead is too large for the rear notch; but I did find it possible to see the top half of the front bead, and I could guesstimate where the bead was centered. It wasn't perfect, but it was the best I could do.
Forget looking for aftermarket sights for this air rifle. Air rifle sights these days are mostly proprietary, which means the guns they're on won't accept aftermarket sights from another manufacturer, unlike a lot of firearms. Since most shooters will use the scope that comes with this combo package, that presents no problem — but I included it because there are always a few people who want to use open sights.
Accuracy
First up was the Beeman Kodiak that did so well in the velocity test. They put 8 of 10 shots into a round group measuring 0.529 inches between centers, but two other shots opened that to 1.073 inches. I can chalk up those two shots to the imprecise sights, so this group looks promising.

Eight of the ten Beeman Kodiak pellets made a 0.529-inch group at 10 meters. The last two shots opened it to 1.073 inches. While this looks good, don't forget that it's only 10 meters.
The firing behavior of the Kodiaks is so smooth that I think they have to be considered by anyone who buys a Hatsan 95. Not only do they generate more energy than lighter pellets, they also group well — at least at 10 meters.
Next up was the JSB Exact Jumbo that weighs 15.9 grains. It's usually a good performer when Kodiaks are, so I gave it a shot. It didn't disappoint.
At 10 meters, 10 JSB Exact pellets went into a group measuring 0.648 inches — besting the Kodiaks for 10 shots. However, as with the Kodiaks, I see a smaller group inside the main one on the left side. It's too difficult to measure, but you'll see it, too.

Ten JSB 15.9-grain domes made this 0.648-inch group. This looks promising.
The last pellet I tried was one I don't usually test, because I haven't found it to be very accurate. Others have, though, and I think they must all be shooting them in pneumatics rather than spring guns. The Predator pellet is a premium hollowpoint that has a cone-shaped tip inside the hollow point of the pellet head.
At 10 meters, 10 Predators grouped in 1.548 inches between centers, and the distribution was open enough to show that it was no accident. This pellet is not for the Hatsan 95 and was eliminated from further testing.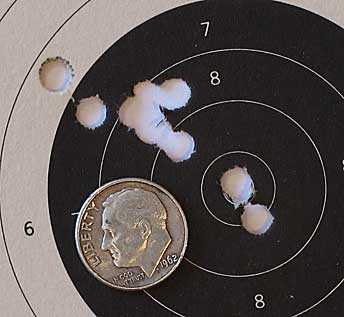 Predator hunting pellets are clearly not the pellet for the Hatsan 95. Compare this open 1.548-inch group to the two before it.
When you compare this group to the other two, you can see why I think this pellet isn't right for the Hatsan 95. A group like that at 10 meters is due to more than just imprecise sights!
Back to 25 yards
Now that I knew this Hatsan could shoot, it was time to back up to 25 yards and give it a go. This is where those sights would come into play; because at 25 yards, the bullseye I was aiming at was the same size as the front sight bead I could only see the top of.
I shot Beeman Kodiaks first, and 10 shots went into a group measuring 3.735 inches. That's hardly a good group, but you'll notice that just a single pellet opened up the group to that size. Nine pellets made a group that measures 1.613 inches. While hardly a good group for 25 yards indoors, this is where the front sight comes into question. I've shot 5-shot groups at 50 yards that measure a quarter-inch between centers with the best open sights, and I've shot 10-shot groups that measure three-quarters of an inch at the same distance with the same sights. Clearly, this group grew because the sights were not clear and not because the rifle is inaccurate.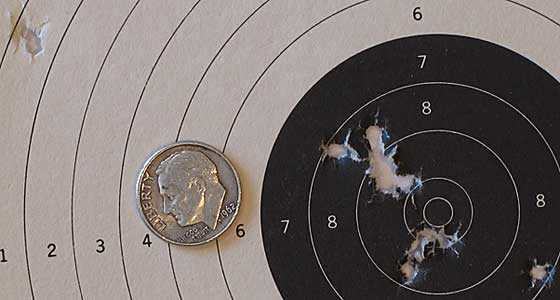 Kodiaks didn't do so well at 25 yards. Most are in the black, but that stray one out to the left was not a called flier. 3.735 inches between centers for this one.
Next up were the JSB Exacts. These had performed a little better at 10 meters, and I expected to see them out-group the Kodiaks at 25 yards, as well. And they did. Ten pellets went into a group measuring 1.882 inches. You can see the dispersion resulting from the fiberoptic sights, yet this pellet shows a tendency to stay together at this distance. Of course, this group is not acceptable, but it does give me hope that this rifle can shoot.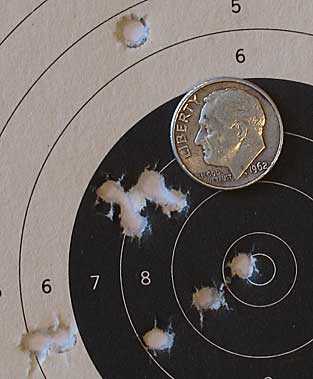 Ten JSB Exacts made this 1.882-inch group at 25 yards. It's not good, of course, but the sights are probably the main reason for that.
Where does this leave us?
I believe the Hatsan 95 can shoot, and this test shows that. Next, I'll mount the scope that came with the combo package and try that at 25 yards.
If you've been holding off buying a Hatsan 95 until you saw the results of my test, I would say the wait is over. This air rifle can shoot. It's a breakbarrel springer, so it needs the artillery hold, but it doesn't seem to be overly sensitive to the hold. It cocks easily enough for a hunting air rifle, and the firing cycle is smooth if you use heavier pellets.
The trigger is very nice, with just a little creep in stage two. I like the wide blade and the general shape of the blade on this gun.
Next, I'll test this rifle with the scope it comes with.
by B.B. Pelletier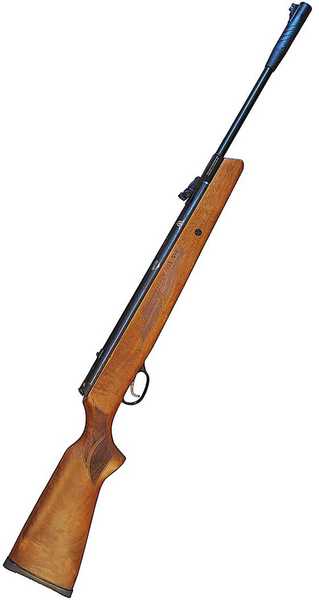 The test rifle was prettier than the one shown on Pyramyd Air's website.
Today, I'll test the velocity of this Hatsan 95 combo breakbarrel. After shooting it for this test, I have to tell you that I'm liking this air rifle. For staters, it isn't impossible to cock. The barrel requires an effort of 40 lbs. to cock, which is light enough for one-hand cocking (for me) but too heavy for a plinker. It is world's better than Hatsan's portable gyms, which go by the model names 155 Torpedo and 125TH.
The second thing this 95 has that those other two don't is a nice trigger! I mean — right out of the box. There's a little creep in the second stage, but it's not much and I can live with it. The trigger of my test rifle breaks at 4 lbs., 10 oz. and the only thing that would make it nicer would be an adjustable overtravel stop.
Firing behavior
The rifle jumps forward when it shoots, plus there's a small amount of vibration I can feel. It's over quickly and not objectionable, but it lets you know that you're shooting a spring rifle.
I like the way the trigger blade tracks in this rifle. It feels wide and comfortable to my trigger finger, and I cannot feel any raising as the blade comes back. It feels like a trigger on a far more expensive air rifle.
Velocity and power
If the Hatsan cocks with the same force or even a little more than a Beeman R1, it ought to have roughly the same power, to my way of thinking. So, that's what I was looking for.
The first pellet I tested was the .22-caliber Crosman Premier. I know that this pellet will average around 750 f.p.s. in a .22-caliber R1. In the Hatsan 95, the average was 734, so pretty close to the R1. The spread, however, went from a low of 699 to a high of 763 f.p.s. The rifle is probably burning off excess oil because it's new, but the increase over the break-in period will balance that out. We may be looking at the final velocity, albeit with a much closer spread once it's broken in. At the average velocity, this pellet produced an average 17.11 foot-pounds of energy at the muzzle.
Next up was the RWS Hobby pellet — that lightweight lead wadcutter that gives us a true sense of realistic top velocities for the rifle. Hobbys averaged 801 f.p.s. and ranged from 794 to 805 f.p.s. That's a much tighter spread and perhaps indicative that the gun is stabilizing — but it's still too soon to tell. At the average velocity, Hobbys delivered an average 16.96 foot-pounds of energy at the muzzle. They felt harsh on firing, though; in retrospect, I don't think I'd use them in this rifle.
The final pellet I tested was the Beeman Kodiak dome. Many people think a Kodiak is too heavy for a spring-piston powerplant, but I disagree. In the Hatsan 95, the Kodiaks smoothed out the firing cycle so that it felt the best of all three pellets I tried. Kodiaks averaged 646 f.p.s. and ranged from 644 to 650 f.p.s. — an incredibly tight velocity distribution!
At the average velocity, Kodiaks generated an average 20.02 foot-pounds in the test rifle — confirming how they felt upon firing. Clearly, the Hatsan 95 has a heavier piston that's best-suited for heavier pellets. And, since Kodiaks are often among the most accurate types in many guns, it'll be interesting to see how they do in the accuracy test.
Observations thus far
To this point, the Hatsan 95 is stacking up to be the best Hatsan-branded spring gun I've tested. It cocks with a reasonable effort, the trigger is good (very much better than the two other Hatsan springers I've tested) and it develops decent power. The gun is also sized right for an adult male — rather than for a giant.
I think the next test will be the rifle without the scope that came with it. I want to really put this rifle through its paces, because it has the potential of becoming one of the best values for the money in a powerful spring rifle.
by B.B. Pelletier

The test rifle was prettier than the one shown on Pyramyd Air's website.
This Hatsan 95 combo breakbarrel is the third Hatsan-brand air rifle I've tested since the SHOT Show. I started out with very high hopes for the brand, but the two rifles I've tested thus far — the 125TH and the Torpedo 155 — have both been lacking in accuracy and refinement. They both met their power and velocity goals with no problem, but the Quattro triggers on them were not adjustable, as far as I was able to determine.
I'm aware that some people are advocating installing longer screws in the Quattro trigger for better adjustability, but I don't want to test these guns that way. A new buyer will probably not make that kind of modification, and I want to test these guns as that new person will experience them.
Good reports
I've read a lot of good comments about the model 95 that I'm about to test. In fact, it was those comments that guided me to this rifle. Owners say it's accurate and also well-behaved. I hope so. I'll bend over backwards to give this rifle every chance to shine, but I'm not going to do anything that an average new owner wouldn't do.
The Hatsan 95 is large, but it's not in the same league as either of the two rifles I tested before. It's about the same size as other large air rifles, like the Beeman R1 and the RWS Diana 350 Magnum.
I couldn't resist firing a shot, just to see how this rifle handles itself, so I triggered off one round. The rifle cocks about as easily as can be expected of a spring gun in this power class, and the discharge was relatively smooth. I'll have a lot more to say about it after I put a couple hundred rounds through the gun.
The metal and part of the walnut stock were dripping with oil when I opened the sealed plastic envelope the gun comes in. I wiped it down carefully; but if there was that much oil on the outside, it makes me wonder about the inside. Let's hope it isn't full of oil like some spring guns.
The rifle
For those who are keeping score, I am testing rifle number 101123711.
The Hatsan 95 is a large spring rifle that has a square-section forearm. The forearm is deep but not wide, feeling almost carbine-like in my hands. The line of the butt is straighter than most air rifles, meaning it has less drop at the toe. As a result, the rifle comes up to the shoulder ready to shoot. The sights will be on a level with your eyes, with no need to scrunch your head lower or higher. It'll handle a scope well.
The wood is walnut, as mentioned, and few companies do walnut as well as Hatsan. It's very smooth and even, and the stain is an attractive medium brown. Both the forearm and pistol grip have pressed checkering that's reasonably rough. The pistol grip is too far back from the trigger and feels clunky to me. There's no swell on either side of the grip and also no cheekpiece, making the 95 a truly ambidextrous rifle.
I will criticize how Hatsan attached the rubber buttpad, because it looks like they did it with hardware from Home Depot. Two bright-plated Phillips screws look entirely out-of-place on the end of the dark rubber buttpad, seeming to belong more in a men's restroom on a West Virginia freeway than on a fine air rifle.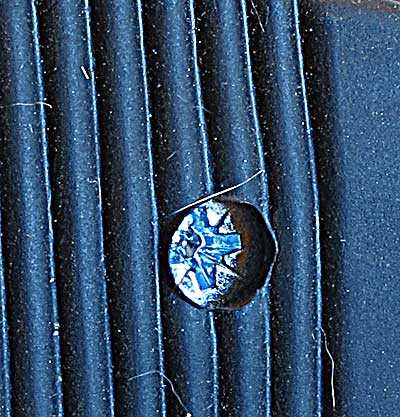 The screws that hold the buttpad look like they belong in the stall of a men's room.
The metal is finished matte, which is to say virtually no polishing under an industrial black oxide finish. The triggerguard and muzzlebrake are both plastic, but the rest of the gun (other than the sights) seems to be wood and steel.
Sights
The open sights are fiberoptic and the front sight is too big to fit in the rear notch. I'll shoot this gun with the open sights — at least at 10 meters; but with these sights, I don't hold out a lot of hope for precision. The front red fiberoptic tube is very dark and doesn't seem to gather light very well indoors. I took the rifle outdoors on a sunny day; and as long as I was in the sun, the red dot was okay. The moment I stepped into the shadows it faded. The actual dot is very small. When it's lit, the sights look okay, with two green dots bracketing one small red one. But whoever designed these sights was not a rifleman, because they're not very useful in the real world.
The rear sight adjusts in both directions and, except for the green dots, is a pretty nice sight. It has a square notch, and I wish I could use it with the front sight, but the housing for the red dot tube in the front is simply larger than the entire rear notch. The adjustments are crisp and positive, and there are scales on both adjustments so you know where you are.
The rifle I'm testing is in .22 caliber, which I thought was appropriate for the power. While I'm on the subject of caliber, have you discovered yet where Pyramyd Air shows the different calibers of the rifles on their website? There's a small table showing a single caliber in the description, and it's located to the right of the picture of the rifle. Put your cursor over the table or the words "Choose your airgun" directly below that area and it will expand to show all the calibers that model comes in. Click anywhere in the column for the caliber you're interested in, and it'll remain there when you move the cursor off the table. It's a clever way to fit more information on the page!
The other Hatsan features
The 95 has the Quattro trigger and the SAS shock absorbing system. It doesn't have the scope rail that accepts both Weaver and 11mm scope rings. The 95 takes only 11mm rings, though it does have a built-in recoil stop.
The price
I normally don't pay any attention to how much an airgun costs, except for perhaps a sideways glance to make sure it isn't over the moon. This rifle certainly isn't, that's for sure. Until I looked at the price, I thought I was dealing with a $350 airgun — not a $150 gun! Yes, that's right, the Hatsan 95 retails for under $150! Now, if it isn't accurate, the price doesn't matter. I'm not one of those shooters who evaluates everything by how much it costs. It's either accurate or it isn't, and I have NO time for guns that aren't accurate.
If it is, then the Hatsan 95 could well be the best new buy of this year. If it isn't, I will be sorely disappointed because they seem to have gotten almost everything else right.
by B.B. Pelletier

Hatsan's new 125TH breakbarrel is a large, powerful spring-piston air rifle.
Today is velocity day. Before I dive into the test, I want to say some things about today's test. This is not supposed to determine the velocity of the best pellet for this rifle. It's supposed to give a general range of power that can be expected from a rifle like this. That way, you'll have an understanding of all the pellets that aren't tested. They should either fit within the range or be very close to it.
The test
I must admit I had some misgivings about this test, because the Hatsan 125TH is such a powerful spring-piston air rifle. I already knew it took a lot of effort to cock. I'd estimated over 50 lbs. in Part 1; and when I tested it for today's report, the bathroom scale went to 51 lbs. If you'd like to learn how to measure the cocking effort of a breakbarrel air rifle like this, watch this video.
Hatsan advertises this rifle as getting 1,250 f.p.s. with lead pellets in .177 caliber. And this one does! I'll spare you the anticipation — the 125TH hits its advertised velocity on the head!
Three things to watch
There were three things I was curious about. The performance of the new Quattro trigger, the amount of vibration transmitted through the stock with the gun's Shock Absorbing System (SAS) and the general firing characteristics. Let's look at the trigger first.
The Quattro trigger resembles the Air Arms TX200 trigger more than a little, which in turn is an improved Rekord trigger. The Quattro has adjustments for the length of the first-stage pull, the pull weight (which is the weight of the second-stage release) and the weight of the first-stage pull. I adjusted it several different ways, and the lightest pull I got was 6 lbs., 5 oz. — which is heavy for the best work. The letoff is very crisp after adjustment, and I do like the wide trigger blade very much. But this is not a TX200 trigger.
I believe the SAS is doing its part to attenuate vibration, but there's still a lot to be felt when the gun fires. Perhaps nothing can completely tame this action short of a master tune, because the long piston stroke makes the rifle leap forward at the end of every shot. So, those scope stops are not there for window dressing! The vibration dies off fast, which I attribute to the SAS doing its part.
This is a really big spring-piston air rifle, and it does move around a lot when it fires! I believe it's fully the equal of the old British-made Webley Patriot, which was legendary for its recoil. Factor that into your buying decision. The 125TH is a hunting rifle — pure and simple. Or buy it for the bragging rights. But don't expect to plink a lot with it unless you have 18-inch biceps.
Velocity test
As I started the velocity test, I noticed two things. First, the rifle is not over-lubricated. There was some honking during initial cocking, but that went away after 30 shots. Second, the big gun diesels heavily with the first few shots. I saw Beeman Kodiaks clocking 1,194 f.p.s during the initial shots! That's to be expected with a rifle of this power — but it never detonated. So, praise for the spare lubrication!
Beeman Kodiaks
The Beeman Kodiak, whose weight is back up to 10.60 grains, following several years of lighter weights, averaged 1,021 f.p.s. in the 125TH. The spread went from a low of 1,013 to a high of 1,042, but only two pellets went faster than 1,024 f.p.s., once the big gun slowed down. The total spread was 29 f.p.s. I think it'll stabilize around this speed, if not increase just a little with a break-in. At the average speed, this pellet generated 24.54 foot-pounds of energy at the muzzle. That's really cracking for a .177!
Crosman Premier 7.9-grain
The next pellet I tested was the 7.9-grain Crosman Premier dome. This is a light pellet for a rifle of this power. Plus, it's a Premier, and the antimony in the lead will tend to lead the bore at these velocities. These pellets averaged 1,186 f.p.s. and had a spread from 1,167 to 1,191. At the average velocity, they produced 24.68 foot-pounds of muzzle energy. Did you notice that the velocity spread of 24 f.p.s. is tighter with these than with the Kodiaks? I believe that shows that the rifle is settling down quickly.
RWS Hobby
Hatsan advertised 1,250 f.p,.s. with lead pellets, and RWS Hobbys are the normal test pellet for velocity with lead pellets. Of course, any of the other 7-grain RWS pellets would work just as well. The Hobbys fit the breech of the 125TH loosely, yet they produced the tightest velocity spread of all three pellets, varying by just 19 f.p.s. They averaged 1,254 f.p.s. and went from a low of 1,248 to a high of 1,267 f.p.s., generating an average of 24.45 foot-pounds of muzzle energy.
Overall observation
This was my first test of a true Hatsan airgun, so it represented an introduction of the entire line for me. I've tested other air rifles they've made, but always under other names; and the specifications are subject to change when someone else sells the gun. This time it was just them. I think the impression is a good one, in general. The Quattro trigger could be a lot lighter without compromising safety, but the SAS is probably doing everything it was designed to do.
They met their velocity specification with lead pellets, just as they advertised. That was both surprising and encouraging.
This is a big, powerful spring-piston rifle and my plan is to treat it that way. I'm not looking for quarter-inch groups at 25 yards, though I would be delighted to get them. But next I will test the rifle using the open sights. They look like a good set, and that will give me some time to find a good pellet for this rifle.
by B.B. Pelletier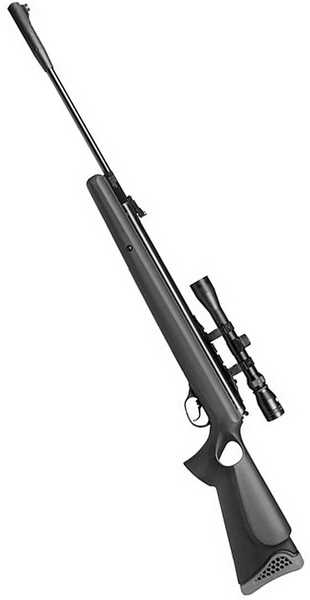 Hatsan's new 125TH breakbarrel is a large, powerful spring-piston air rifle.
Today, we'll begin our look at the first of what I hope will be many new Hatsan air rifles. The Hatsan 125TH air rifle is a powerful breakbarrel spring-piston gun with a black synthetic stock. The advertised velocity for this large .177 Turkish rifle is 1,250 f.p.s. A month ago, I would have decried that kind of velocity, but the results of the Pellet velocity versus accuracy test showed us that velocity, by itself, is not what causes inaccuracy. It is the harmonics of the gun that cause inaccuracy, and they can be moderated or "tuned," if you prefer, by selecting the right pellet.
This is a combo package, so I'm not only testing the rifle but also the 3-9×32 Optima scope that came with it. This scope dopes not have parallax adjustments; but if you're consistent in placing your sighting eye at the same place in relation to the scope's eyepiece every time (your "spot weld"), you can eliminate any parallax error that tries to creep in. The scope mounts that come already attached to the scope are two-piece high rings (aluminum) with two-screw ring caps.
Quattro trigger
When I was in the Hatsan booth at the 2012 SHOT Show, I saw all their new models. There was no opportunity to try any of them, so I'm looking forward to putting this pellet rifle through its paces. Hatsan is advertising two features that I'm especially interested in. One is the Quattro trigger. I was told by the president of Hatsan U.S.A. that the Quattro is a match-grade trigger. I told him I would reserve judgement, but he assured me that it is extremely adjustable.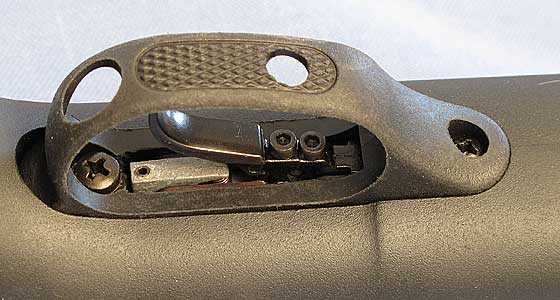 The Quattro trigger has three adjustments. It'll be interesting to see how well it can be adjusted.
The reason I'm skeptical of the trigger is the physical difficulty encountered by a trigger on a spring-piston gun that has to restrain well over 100 lbs. of mainspring force (probably more like 160 lbs. in this case) and yet break cleanly and crisply. The Rekord can do it, but that design is a multi-lever trigger that's more famous than many entire airguns! If Hatsan has been able to design another trigger that's just as good, it's earth-shattering news.
I'm giving lots of leeway to the "match-grade" trigger comment…a real match-grade trigger releases in ounces, as we've seen from testing numerous vintage 10-meter guns. I won't be looking for that level of performance on this gun. But I will hold the Quattro trigger up to the Rekord, which, on a Beeman R1 rifle of similar power, can be adjusted to a crisp release weight of 1 lb. and still be quite safe.
I couldn't resist a couple test shots, but they didn't reveal much. The trigger is reasonably crisp as it comes from the box and not too heavy, either. There's a small amount of creep in the second stage. I'll have to try adjusting it for the next report. To do that, I'll read the owner's manual, which I must say is very nice. It has clear instructions on adjusting the Quattro trigger and should be a great help when I do it. The adjustments, by the way, are for the length of the first stage pull, the length of the second stage pull and the second stage pull weight.
It isn't up to Rekord trigger performance right now, but it also isn't a bad trigger. It's probably the equal of the Diana T06 trigger at the present time. I've fired the rifle only a few times as I write this. With the right adjustments, I hope this will turn out to be a great trigger.
My friend Mac had observed that the trigger looked like it came up, rather than straight back. Of course, he was limited by not being able to shoot the gun, just as I was. In fact, the trigger does come up, but the angle of the blade makes it slide through your finger so it feels like it's going straight back. Some airguns do feel funny this way, but the trigger on this Hatsan feels quite normal.
The safety is automatic, and the button is located at the back of the spring tube — convenient for release by your thumb. Unlike most other airguns and firearms you pull the safety button back to release it. The norm would be to push it forward.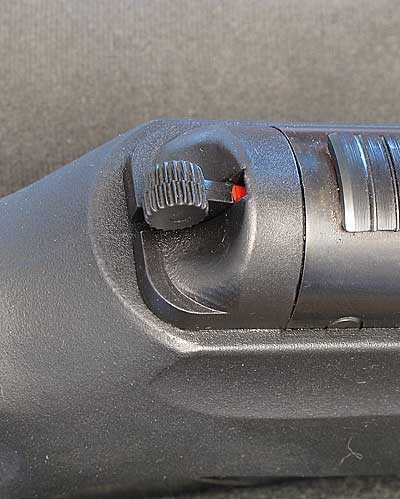 The safety engages automatically when the rifle is cocked. But to release it, you pull the button back, rather than pushing it forward.
SAS
The other feature Hatsan is touting for this new line of airguns is their Shock Absorbing System (SAS), which is supposed to isolate the shooter from the vibrations of the powerplant. As I understand it, it's one or more rubber bushings between the action and the stock. At this point, I have fired the gun only a few times, but it does vibrate some — as I would expect from an untuned rifle of this power. The vibration isn't that bad, though. It certainly doesn't give you a headache or sting your cheek when the gun fires, so the SAS is probably doing its thing.
This illustration shows how the SAS works. The stock is held to the action by a strong bolt that passes through a rubber bushing.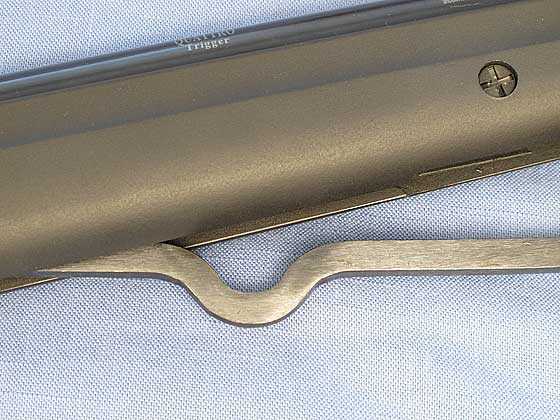 This is the actual cocking link. You can see how it wraps around the stock bushing.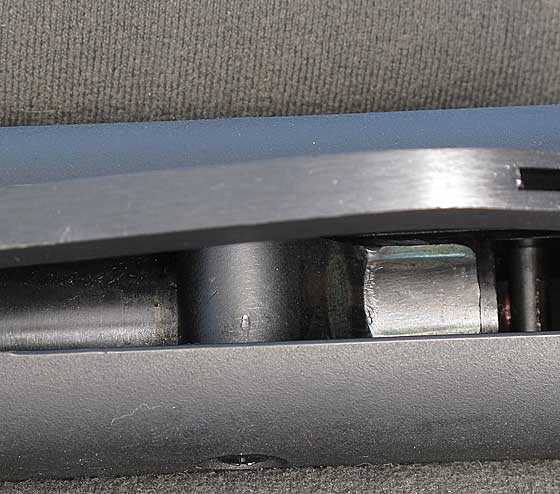 Looking straight up into the stock slot, you can see the rubber bushing that the stock bolt passes through. It's contained in a steel housing.
The stock
The stock is for right-handed shooters only, as the sculpted cheekpiece does not roll over to the other side. This is a thumbhole design, and it has to be shot that way — there's no provision in the shape of the stock to shoot the rifle any other way.
The pull on the rifle as it came from the box is 13.25 inches, but there are three spacers that came with the rifle to lengthen this pull. The owner's manual doesn't address them at all, and the Phillips-head wood screws that hold the rubber pad on the rifle are buried so deep inside the pad that you'll have to find them by feel, alone. I added all three spacers and now the rifle's pull is a more comfortable 14 inches.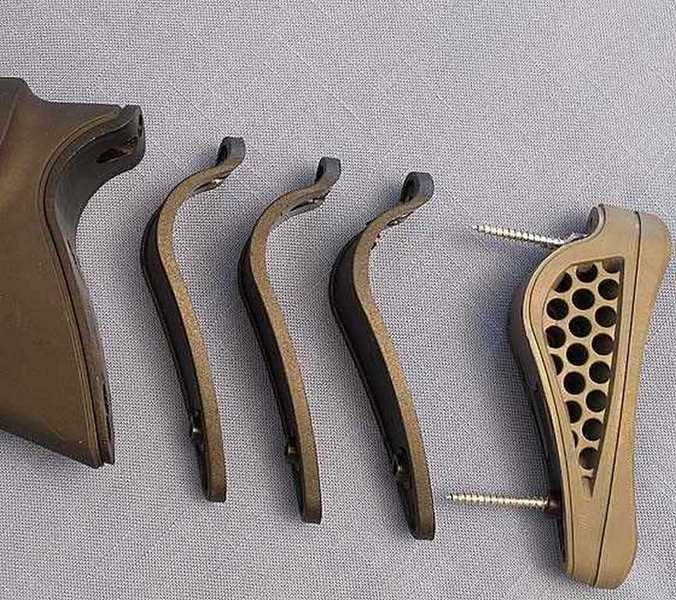 The buttpad can be moved back with one to three spacers that come with the rifle. With all three spacers installed, the pull is 14 inches.
The synthetic stock material is rough to the touch, but it feels good when the rifle is held. The stock profile or cross-section is large at all points of contact except for the thumbhole, where it fits me surprisingly well.
The rifle weighs just one or two ounces under 10 lbs., even, with no scope mounted. Overall length is 47.4 inches, so this is a very large air rifle. Your Winchester model 70 will feel like a carbine in comparison, unless it's an African model. The barrel is 19.6 inches long, and you'll be glad that it is when you cock this powerhouse…it's like bending the bow of Hercules. You need one of Archimedes' really long levers to cock this one! I'm guessing the effort will exceed 50 lbs., but I'll measure it for you in Part 2.
Sights
The rifle comes with a nice set of open sights, even though it's a combo that includes a scope. The front sight is fiberoptic and the tube is exposed, which could lead to damage. This is where a metal hood would be appropriate.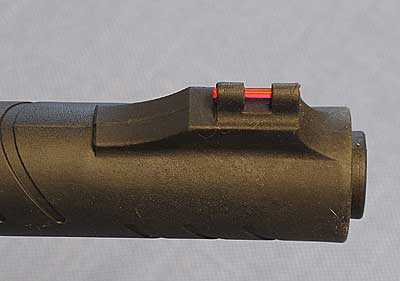 Front sight contains a fiberoptic tube that's exposed to damage. A hood would be good here.
The rear sight, which is also fiberoptic, is a nice, adjustable open sight with click detents on both adjustment knobs. The windage knob detents are mushy and vague, but the vertical detents are crisp. There's a scale on the windage adjustment and reference numbers on the elevation knob.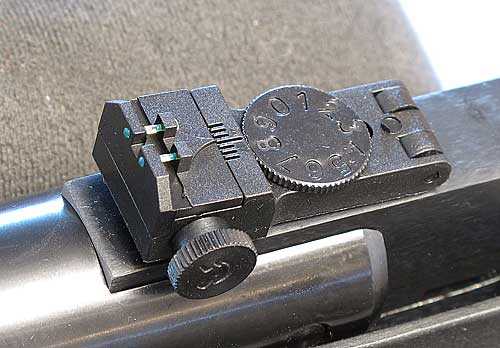 The rear sight looks like a good unit. I plan to try it in this report.
I like the open sights on this rifle enough to conduct a separate accuracy test with them. So, there will be at least four parts to this report.
There's also a scope rail on top of the spring tube. And this is perhaps where Hatsan shows its capability, along with the Quattro trigger and the SAS. When Hatsan made Webley spring rifles, they had a two-dimensioned scope rail that appeared to be sized for both 11mm and Weaver dovetails, but the base was very crude and the cross-slots weren't even the same size. They looked like someone from summer camp had filed them by hand. I criticized them at the time; but upon reflection, perhaps Hatsan was only doing what Webley paid them to do. The scope rail on this 125TH is correctly proportioned and well-finished. Maybe Hatsan did the right thing by coming to the U.S. under their own name!
Notice in the picture that there are two vertical holes for scope stop pins, as well as a flat metal plate. There's also a threaded hole forward of the metal plate if the shooter desires to reposition it. This gives great flexibility for positioning your scope mounts.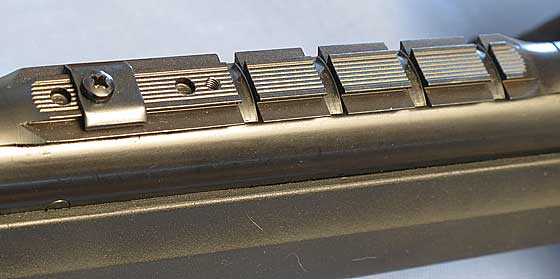 The scope rail gives you the option of using either Weaver or 11mm scope mounts. It looks very nice. Note that there's a flat scope stop plate for the 11mm dovetail grooves and two vertical holes for scope stop pins. You can also reposition the flat metal plate forward by using other threaded hole.
So far
I'm impressed. After seeing the Webley Hatsans, I didn't think too much of their airgun designs, but this 125TH looks like it could turn out nice. To do that, the rifle has to be accurate. We can only hope.