by Tom Gaylord
Writing as B.B. Pelletier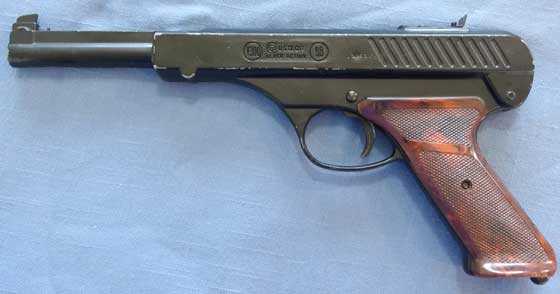 Crosman V-300 BB pistol.
This report covers:
For those who care
History
M1 Carbine
Enter the V-300
The model name
Oiling, loading and cocking
Sights
General specifications
Summary
Sometimes I write these historical reports about airguns that many of us know and have either owned or wanted. The Beeman R8 is one example. American readers could have bought one when they were new and readers from other parts of the world could have bought the now-obsolete Weirauch HW 50S that it was based upon. Both air rifles are no longer produced, but used examples should be available in their respective markets. And Weihrauch does still make a rifle they call the HW 50S, although it is based on a different platform.
Then there are times when I dredge up some strange airguns that few of us have ever seen. The Lov 21 target pistol I recently reported on is such a gun. Unfortunately I have jammed the CO2 fill cap in the gun and am still trying to extract it so I can write the accuracy report. That one will have to wait, but it wasn't the only odd duck I found at the Findlay airgun show this year. Today we start looking at a scarce and little-known BB pistol that Crosman once produced — the V-300.