Posts Tagged 'RWS R10 match pistol pellets'
by Tom Gaylord, a.k.a. B.B. Pelletier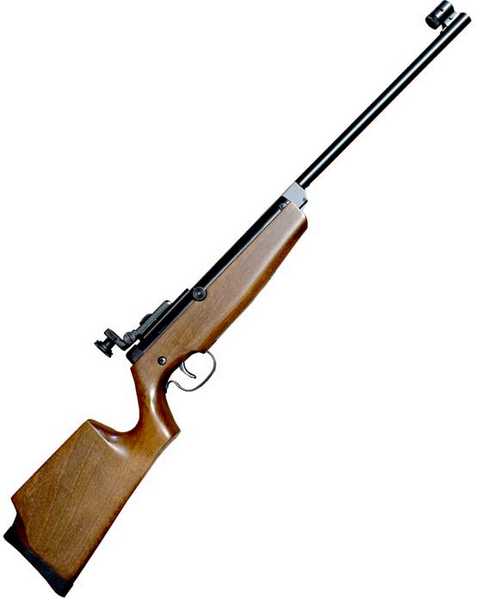 Diana 72 is a youth target rifle from the late 20th century.
This report addresses:
• More on the trigger.
• Accuracy with various pellets.
• Why 5 shots?
• Accuracy with deep-seated pellets.
• Summary.
Today is accuracy day for the Diana model 72 target rifle. We had one extra report in this series, and that was on adjusting the trigger. I want to tell you some more of what I have learned about this trigger.
More on the trigger
During the accuracy test, the trigger failed to work two times. The first time I made a small adjustment and got it running again in a matter of a minute. The second time, however, I worked on it for 15 minutes without success. I finally read Part 3 of this report, to see where the two adjustment screws had been positioned when the trigger was working. The camera angle of that photo isn't the best, so there was still some guesswork involved; but even then I couldn't get the rifle to fire.
Then, I thought of something. I know this rifle has a very protective anti-beartrap mechanism, and I wonderd if it was a little too over-protective. So, I cocked the gun, again (it was still cocked and loaded from when the trigger had failed). I've had other spring-piston air rifles — most notably Weihrauchs and a few Dianas — that would seem to cock but wouldn't quite go all the way. How many people have I talked through cocking their RWS Diana sidelevers because they had not pulled the lever all the way back, and the gun was stuck? Even my Whiscombe has done this often enough that I'm used to it.
When it happens to the 72, the rifle is cocked from the standpoint that the piston is back and the mainspring is compressed, but it also isn't fully cocked in that the trigger isn't in the right position to fire the gun. It's a sort of limbo state that some spring rifles can get into. Think of it as a disagreement between the trigger and the anti-beartrap device, and the designers have allowed the anti-beartrap device to trump the trigger for safety reasons.
All you need to do when this happens is cock the rifle a second time, making sure that the cocking linkage goes all the way back. When I did this, the 72′s trigger began working immediately. So, if you ever get one of these rifles, keep this in mind.
Accuracy
I began this test not knowing where the sights were set. After all, this rifle had been through a complete rebuild, so those sights presumably came off. And the action has been out of the stock several times over the past 2 years. So, the gun needed to be sighted-in.
As a side note, the manufacturing date on the left rear of the spring tube is November 1989. That puts it near the end of the production cycle (1979-1993, according to the Blue Book of Airguns).
Sighting-in with H&N Finale Match Pistol
I started sighting-in with H&N Finale Match Pistol pellets. The first shot was lined up with the center of the bull, but it was too low. It landed at 6 o'clock. Since the sights are target apertures front and rear, I was not using a 6 o'clock hold, but centering the bull in the front aperture.
The first sight-in shot was interesting, but the second was even more so, for it would tell me if this was an accurate rifle or not. It hit above the first shot, in the same line but the 2 holes didn't quite touch. That was good but not what I had hoped for. I had hoped to see a single hole that had barely enlarged with the second round.
Shot 3, however, went into the same hole as shot 2, and shot 4 joined them. So, the rifle was probably accurate, after all. I clicked the elevation up two clicks and proceeded to the first record target.
Shooting for the record
The first 5 shots went into a group that measures 0.221 inches between centers. It's a group you would love to see out of most sporting rifles but not impressive coming from a 10-meter rifle. Just to make sure it wasn't me, I shot a second group with this same Finale Match Pistol pellet. As I shot, I could hear the voices of the newer readers, asking why I only shot 5 shots. So, on just this one target, I put 10 into the next group, which measures 0.269 inches. That's encouragingly close to what just 5 shots did, so it renewed my enthusiasm.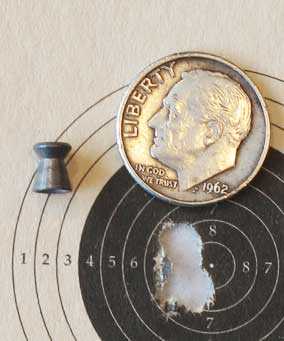 Five H&N Finale Match pellets went into 0.221 inches at 10 meters.

Ten H&N Match Targets made this 0.269-inch group. This is not that much larger than the 5-shot group.
RWS R10 Match Pistol pellet
Next up was the RWS R10 Match Pistol pellet. Five of those made a group that measures 0.244 inches. It's in the same range as the H&N Finale Match pellet, so no cigar.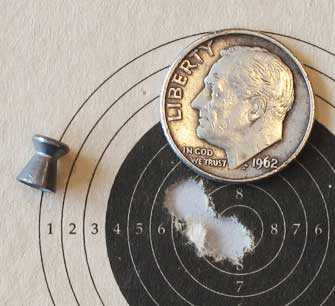 Five RWS R10 Match Pistol pellets went into 0.244 inches.
RWS Hobby
After that, I decided to give the RWS Hobby wadcutter pellet a try. Who knows what they might do? Well, that was a good decision this time, because 5 of them went into 0.194 inches between centers — the smallest group so far.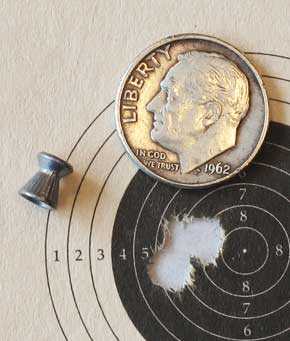 Five RWS Hobby pellets went into 0.194 inches at 10 meters. This is a good group.
At this point, I'd noticed that all the groups were landing off to the left. There's no scope involved, so I can hit the center of the target and not destroy the aim point. I dialed in 3 clicks of right adjustment into the rear sight and continued the test.
JSB Match
Next, I tried JSB Match pellets. Five went into 0.264 inches. That was the second-largest group in this test, so no joy there.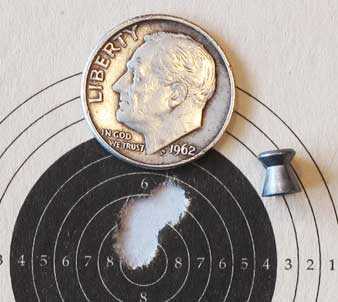 Five JSB Match pellets made this 0.264-inch group. Not that good.
Why 5 shots?
Before someone asks why I shot 5-shot groups, I'll tell you. Accuracy is the reason. Ten-meter guns are generally so accurate that there isn't that much difference between 5 and 10 shots. You only have to look at the first 2 targets to see the truth of that.
H&N Match Pistol
Next, I shot 5 H&N Match Pistol pellets. They're a lower-cost pellet than the Finale Match Pistol, and sometimes they produce good results. This was to be one of those times. Five pellets made a round group that measures 0.166 inches between centers. That's the smallest group of the test; and because it was noticeably smaller, I shot a second group to see if the first was a fluke.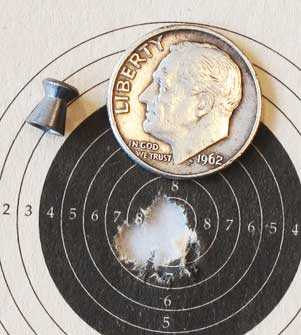 Now, this is a group! Five H&N Match Pistol pellets went into 0.166 inches.
It wasn't a fluke at all, as you can see. The second group was a little larger, at 0.196 inches, but still one of the smaller groups fired in this test.

This second group of H&N Match Pistol pellets was shot to confirm the first one. It measures 0.196 inches, which is larger but still one of the smaller groups of this session.
Seating the pellets deep
Now that I'd tested 4 different wadcutter pellets, three of them being designated as target pellets, I thought I would take the best 2 and test them by seating them deeply in the breech to see if there was any difference. For this, I used the Air Venturi Pellet Pen and Pellet Seater that was also used in the velocity test. We learned then that the 72 doesn't like pellets to be seated deeply where velocity is concerned. Let's see what it does for accuracy.
The first pellet I tested this way was the H&N Match Pistol that proved to be the most accurate in the entire test. When seated deeply, they gave a 5-shot group that measures 0.23 inches between centers. While that isn't bad, it's larger than either of the two groups that were seated flush. They measured 0.166 inches and 0.196 inches, respectively.

When they were seated deeply, 5 H&N Match Pistol pellets went into 0.23 inches. It's larger than either of the 2 groups made with the same pellet seated flush.
And the last pellet I tested was the RWS Hobby. When seated deeply, Hobbys group in 0.252 inches. Again, this was not as small as the one group of flush-seated Hobbys that went into 0.194 inches. That leads me to believe that this rifle likes its pellet seated flush much better.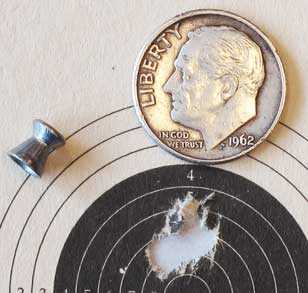 Five deep-seated RWS Hobby pellets went into 0.252 inches. This group appears smaller than it really is because some of the target paper has closed around the holes.
Summary
The RWS model 72 target rifle is a fine example of the quality and ingenuity that Diana can put out. They took a great informal target pistol — the model 6 — and turned it into a youth target rifle. They didn't pour a lot of money into this airgun, with the rear target sight being a conventional, adjustable sight fitted with an aperture, but they did everything right. This is a youth target rifle to covet!
If you want one of these, you'd better start looking right away. There aren't that many of them, and owners tend to hang on to them longer than they do most airguns.
This was a test of the recoilless model 72, but don't forget there's also a model 70 that's based on the model 5 pistol that recoils. There are more of them to be found, and their recoil doesn't amount to much since they were originally an air pistol. Either model is a great airgun that you should certainly look for if this sort of gun interests you.
by Tom Gaylord, a.k.a. B.B. Pelletier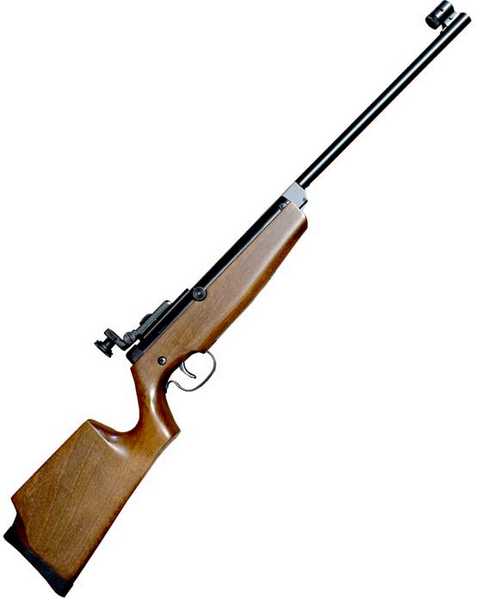 Diana 72 is a youth target rifle from the late 20th century.
This report addresses:
• Cocking effort
• Velocity
• Velocity and consistency comparisons, depending on how the pellet is loaded
• Firing behavior and cocking behavior after oiling
• Trigger-pull
• Impressions so far
Some topics resonate with more readers than others, and this is one of them. I heard from many Diana model 70 and 72 owners when Part 1 was published, and I hope to hear from more with this installment. New blog reader Harryholic from the UK had just received a new-old-stock model 72 when Part 1 was published. Searching for information on his new rifle, he stumbled across our blog.
His new rifle is one that hadn't ever been fired, apparently. It was still in the original Diana packaging based the pictures he published online. Unfortunately, that means it has the old Diana piston seals that dry rot with age. His new gun heeded a resealing before he could even fire the first shot. While he's arranging to have that done, I'll test our 72 that was resealed last year. It should have pretty close to new-gun performance.
Cocking effort
This rifle is a converted air pistol — we learned that in the last report. I recall my Diana model 10 target pistol needing about 35 lbs. of force to cock. The old Air Rifle Headquarters reported the velocity of a broken-in model 10 as close to 500 f,.p.s. with lighter lead pellets. I will presume they mean something like RWS Hobbys.
A model 10 has the same poweplant as the model 6 pistol that on which this rifle is based, so I'll use the cocking effort and velocity for the model 6, as well. I believe a model 6 in good shape should launch a Hobby pellet around 475 f.p.s. That would also be my guess for the model 72 rifle. We shall see.
As for the cocking effort, we learned last time that the 72 has a longer barrel shroud (13-3/4 inches, compared to the 7-inch barrel on the pistol) that extends the lever used to cock the rifle, so I expected the cocking effort to drop off to about 20 lbs. When I measured it on my bathroom scale, it was more like 16 lbs., though some stiffness in the cocking linkage did make the needle spike up to 20 at times. I think this will smooth out as the rifle wears in.
Velocity
I think I learn as much when I chronograph an airgun as I do when shooting it for accuracy. The things I learn aren't always what I expect, though, and today's test demonstrates that.
RWS Hobby
I started the test shooting the 7-grain RWS Hobby wadcutter pellet. I like using Hobbys because not only are they very light and give high velocity numbers, but they're also well-made and often quite accurate.
On the first string, I noticed something remarkable. I'm going to print the string here, so you can see what I saw:
Shot Vel
1     438
2    406
3    391
4    387
5    377
6    366
7    362
8    349
After shot 8, I stopped to evaluate the gun's performance. Each shot was going slower than the last. The 72 is a spring-piston rifle, and it honked a bit when cocked. So, I deduced the piston seal was dry. I oiled the seal with a few drops of RWS Chamber Lube and then returned to the string.
9    414
10    399
The average for this string is 389 f.p.s., but a lot of the reason for that is because of the velocity loss. This rifle was just rebuilt. It came back to my friend Mac just a few weeks before he passed away, so he never shot it. Therefore, I'm the first person to shoot it since it was rebuilt. I'm breaking it in.
After the first string, I oiled the chamber, again, with about twice as much oil as I used before. This time, I shot 10 Hobbys at an average 427 f.p.s. The spread was from 399 to 449, so 50 f.p.s. Obviously, the rifle needed to be oiled. And notice that my original estimate of the expected velocity was too high.
Next, I tried deep-seating the pellets with the Air Venturi Pellet Pen and Pellet Seater. This gave an average velocity of 424 f.p.s. The spread went from 401 to 461, so a total of 60 f.p.s. From this, I have to deduce that deep-seating Hobby pellets does not accomplish anything.
H&N Finale Match Pistol
Next, I tested the rifle with H&N Finale Match Pistol pellets. Seated deep, these averaged 393 f.p.s. The spread went from 376 to 405, so 29 f.p.s. That's a lot tighter than the Hobbys.
I tried these same pellets seated flush. This time they averaged 456 f.p.s. The spread went from 450 to 462, so just 12 f.p.s. They're both faster and more consistent when seated flush with the breech (not pushed into the barrel by a pellet seater).
RWS R10 Match Pistol
The last pellet I tried was the RWS R10 Match Pistol pellets. These weigh 7 grains, just like the Hobbys. Seated deep, they averaged 395 f.p.s., with a spread from 365 to 414. A max spread of 49 f.p.s. Seated flush, they averaged 429 f.p.s., and the spread went from 404 to 446. That's a total of 42 f.p.s. Again, the pellet went faster and the spread was tighter when it was seated flush with the breech.
Note the velocities
A couple days ago, someone asked me if I ever experienced a heavier pellet going faster and with more consistency than a lighter pellet in the same gun. This test demonstrates that phenomenon. The 7-grain Hobbys went an average 424-427 f.p.s., while the 7.56-grain H&N Finale Match Pistol pellets averaged 393-456 f.p.s. When seated flush, these were the fastest pellets in this test, as well as the heaviest pellets.
Firing behavior and cocking effort revisited
I told you the rifle squeaked when cocked. At the end of the test, it still squeaked — but less than before. Also, the cocking effort seems to have smoothed out a bit. I measured it, again, and this time the needle deflected from 16 lbs. up to between 18 and 19 lbs., but it was so close I can't tell if there has been a real reduction or not.
The rifle fires dead-calm regardless of which pellet is loaded or how it's loaded. But flush seating seems to be best, so that's what I'll do.
Trigger-pull
The 72 trigger is 2-stage, but not as crisp as I remember the trigger of my model 10 pistol. Stage 1 stops at stage 2, but then stage 2 has movement that can be felt. The net feeling is a trigger that has no second stage, though I know this one does and can feel it if I really try. The trigger breaks at 33 oz. consistently.
There's a good reason for this trigger to be mushy. The linkage is very long because this is a pistol in a rifle stock. I looked for trigger adjustment instructions on the internet and couldn't find any, so in the next report I'll show you the trigger and describe how to adjust it in detail.
Impressions so far
I like the little rifle — not quite as much as I thought I would, but perhaps I'm objecting to the stiffness of the rebuild that just needs to be broken in. Once I get the trigger where I want it — if that's possible, I may warm to it some more.
by Tom Gaylord, a.k.a. B.B. Pelletier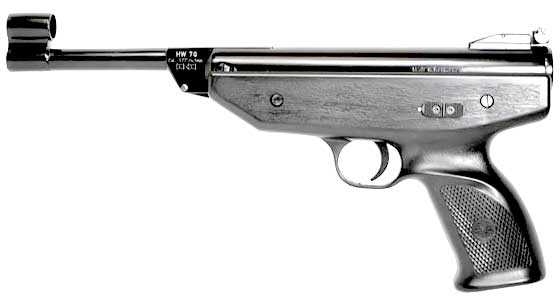 Beeman's HW 70A breakbarrel spring pistol.
Today you get a twofer. Or at least it will be more than just one test, as I'm starting to test a second product with today's accuracy test of the Beeman HW 70A pellet pistol. The other product I'm testing is the EyePal Master Kit for Rifles and Pistols. Because it did play a pivotal part in today's test, let's begin with it.
EyePal Master Kit for Rifles and Pistols
The EyePal is a soft patch that's applied to prescription or safety glasses to provide an aperture for the sighting eye. This concept is close to a century old, and many of the veteran readers will remember the Merit adjustable iris that had a suction cup to attach to glasses. The Merit was adjustable, so the aperture you looked through was controlled by the user. The EyePal is not adjustable. In the Master Kit I'm evaluating, there's one soft patch for handguns and another for rifles. They have different sized holes, and the handgun patch that I used in today's test has the slightly larger hole. The lids on the boxes and the patches themselves are color-coded so you know what each one is.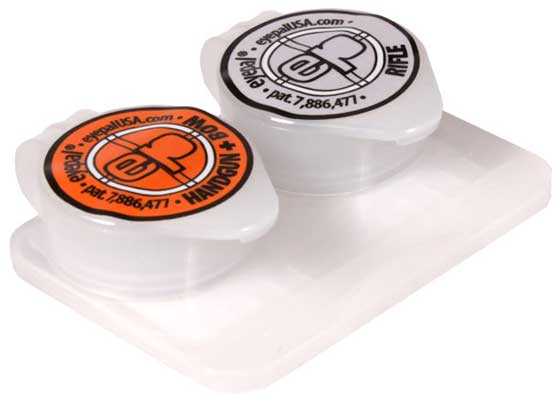 The EyePal Master Kit contains an eyepatch for pistols and another for rifles.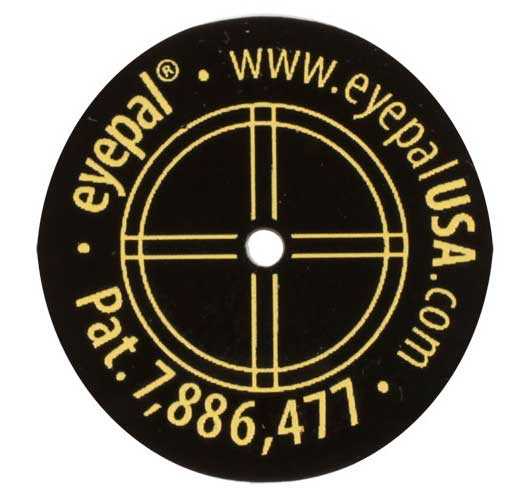 The pistol eyepatch has gold lettering.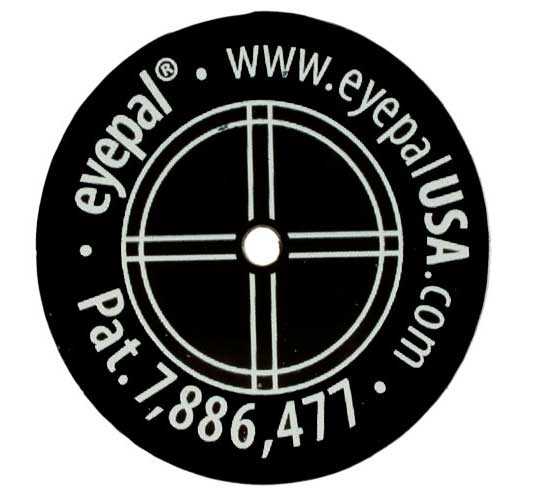 The rifle eyepatch has white lettering, and the hole is slightly smaller than the pistol eyepatch hole.

The EyePal patch attaches by just laying it on the surface of the glasses (safety or prescription) and rolling it flat.
I won't report on the EyePal as a separate item because I need to use it more than a few times to get comfortable with how it works. So, very much as I reported on the Winchester Airgun Target Cube over several tests that spanned many months, I will do the same with the EyePal.
I've tried the Merit accessory in the past and found it to be quite difficult to position. Also, as it aged, the rubber suction cup that held it to the glasses hardened and became less pliable — to the point that it eventually stopped working.
The EyePal patch, in sharp contrast, attaches easily and can be removed just as easily, though it does have to be pried up at one corner before it comes off. I find that it's very intuitive to use the first time and that repositioning it is simple and needs no explanation.
Shooting the HW70A
Now, it's time for the test. I found myself faced with a number of test variables, so I decided to test all of them with the first pellet, and then use the best result from those tests for the other pellets. The first pellet was the RWS Hobby. The test was a rested pistol held in two hand at 10 meters. I used standard 10-meter air pistol targets.
When I say I shot the pistol rested, I mean that both my arms rested on a sandbag. The pistol was held forward of the bag, so it never touched them to set up a variable recoil reaction. I kept both hands in the same place on the pistol for each shot.
The variables
I had to test this pistol under the following circumstances:
* Pellet seated deep and EyePal worn
* Pellet seated flush and EyePal worn
* Pellet seated flush and prescription glasses worn with no EyePal
* Pellet seated flush and no prescription glasses worn with no EyePal
The 4 targets for the first part of the test are shown below. I used RWS Hobby pellets every time for these 4 targets. After you look at the results, I'll critique them and tell you what I found.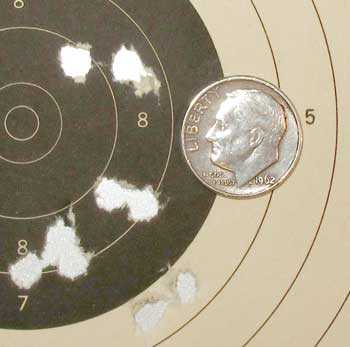 Hobbys were deep-seated and EyePal was worn on prescription glasses. Group measures 1.522 inches between centers.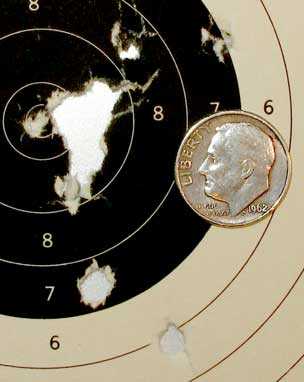 Hobbys were seated flush and EyePal was worn on prescription glasses. Group measures 1.863 inches between centers. The large central group within this group made me think this was the best group of Hobbys.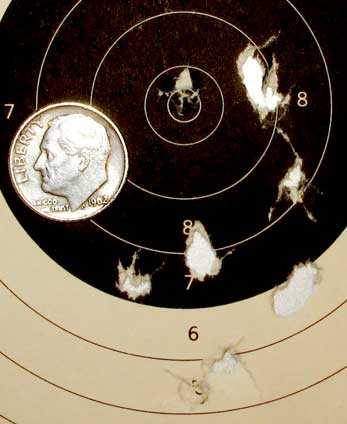 Hobbys were seated flush and EyePal was not worn on prescription glasses. Group measures 1.953 inches between centers.

Hobbys were seated flush and prescription glasses were not worn. Group measures 1.953 inches between centers. I know that sounds too coincidental, but that's what it measures.
Critique
First, I have to tell you the EyePal did make the front sight appear sharp when glasses alone did not. However, without glasses, the front sight appeared just as sharp as with the EyePal. What I did not know until I measured all the groups for this report was that deep-seated pellets measurably outshot all flush-seated pellets. That was a surprise; and if the Hobby pellet was the only one I used, I would re-run this test. But as you'll soon see, I don't have to.
The next thing I discovered is that the Hobby pellet wasn't a good fit for this gun. These groups do not show what the HW 70A can do. However, this does illustrate an important point. By staying with the same pellet and varying other things, it didn't really matter that the pellet wasn't the best. I was still able to compare the effects of the other variables by staying with the same pellet.
Next, I must say that the trigger that I liked in Part 2 isn't as crisp as I would like it to be. It has a very mushy, indistinct pull and release comes as a surprise every time. While that sounds good, it actually isn't because the trigger can go off before you're ready.
The bottom line for the first test is that deep-seated pellets and the EyePal on prescription glasses produced the best results. However, I did not pick up on that during the test, and shot all the other groups with the EyePal and flush-seated pellets.
Test 2: 3 other pellets
Next, I shot the pistol with Crosman Premier 7.9-grain pellets. The group measured 2.163 inches between centers and was clearly not in the running for this pistol.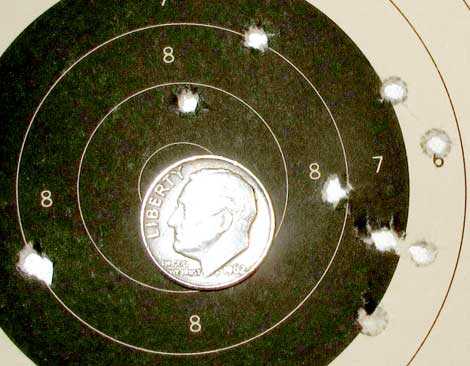 Premier lites were seated flush and EyePal was worn on prescription glasses. Group measures 2.163 inches between centers. It looks like only 9 pellets were fired, but they were counted carefully and there were 10. Not a pellet for this air pistol.
Then, I tried 10 Beeman H&N Match pellets. Bingo! This was the pellet I was looking for. Ten made a 1.085-inch group that's very round and unifirm.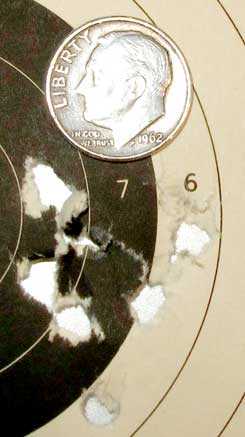 Group measures 1.085 inches between centers. Ladies and gentlemen, we have a winner! This is the accuracy I expected from this pistol.
Because the H&N Match pellets did so well, I also tried RWS R10 Match Pistol pellets. For them, I adjusted the sights back to the center of the bull. They didn't do as well as I'd hoped, grouping in 1.18 inches. While that's the second-best group of the test, the H&Ns are clearly better this time.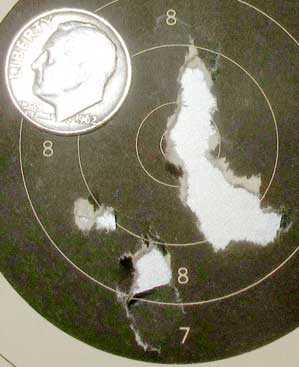 Group measures 1.18 inches between centers. It's a possible second good pellet, but more testing is needed.
Final evaluation
For those who keep score, I shot this pistol 70 times in this test. I was concerned about getting tired, but the best two groups were the last two. So, I think I gave it a fair evaluation. However, I do admit that the best method of loading is deep-seating pellets, and I didn't use that on the most accurate pellets. I'm going to come back and do a part 4. It'll be at 10 meters, again, and only Beeman H&N Match pellets from this test will be used along with several new target pellets.
by Tom Gaylord, a.k.a. B.B. Pelletier
Photos and report by Earl "Mac" McDonald
This is the final report about Mac's vintage steel-breech IZH 61. We are only doing two reports — partly because the rifle performs just like the one that's being sold today, but mostly because Mac sold this rifle at the Roanoke airgun show this past weekend. He also bought one just like it that was like new in the box because he got a super price at the same show. That one will be given to some fortunate youngster, as part of Mac's "Arm the Children" program!
Today, we'll look at the accuracy Mac got from his rifle. Then you can compare it to what I was able to do with the IZH 60 I recently tested for you.
Trigger
As I reported in Part 1, this vintage rifle has a truly adjustable two-stage trigger, instead of just being able to reposition the trigger blade like on the current gun. Mac had it set to release at 27 oz., and he says it was crisp.
Someone wanted me to post a photo of the entire vintage rifle, but there isn't that much difference between it and the current one. I didn't think it was worth showing. Yes, if you're a fanatic collector, there are some small differences; but I spent the weekend with the vintage gun before it sold, and it's pretty much the same as what they sell now except for having a steel breech and metal clips.
Metal clips
On the subject of the metal clips, Mac says he has had some plastic clips that got worn to the point that they would no longer stay in the gun as they should. They're supposed to advance one pellet each time the sidelever is pulled out to cock the rifle, but he said some of his would shoot out the side of the rifle because they're under spring tension.
Sights
I showed the sights on this rifle in Part 1, but Mac tried both the peep sight that comes with the rifle and also a Tasco Pro Point dot sight with a 4 MOA dot. At the 10 meter distance he shot, the dot covered about 0.35 inches He e got equal accuracy with both types of sights, but all the groups seen in this report were shot with the Tasco.
He rested the forearm of the rifle on the palm of his hand and shot off a bag rest at 10 meters. We wanted to keep the results equivalent with those I recently got with the new rifle. And he also shot at 10-meter rifle targets, which is why he elected to use the dot sight. The hole in the factory peep sight is so large that there's a loss of precision when using the smaller 10-meter rifle bulls. They get lost in the hole (meaning you can't tell when they're exactly centered). He could have used pistol targets that have a much larger bull, but he wanted his test to look just like mine.
Mac shot 5-shots groups instead of 10-shot groups. Things got confused in our talks, so we didn't shoot the same number of shots per target. Still, I think you will see some interesting things as we go.
JSB 8.4-grain Exacts
The first pellet tested was the JSB Exact that weighs 8.4 grains. Five shots at 10 meters produced a group measuring 0.95 inches between centers. That's pretty big for just 10 meters!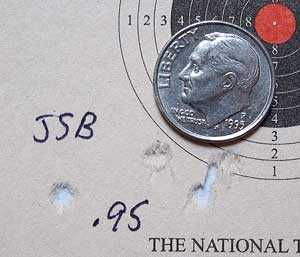 Five JSB Exact 8.4-grain domes at 10 meters made this 0.95-inch group. One pellet looks like it went through the paper sideways!
There are some indications of tumbling with the JSB, so it's possible the rifle wasn't stabilizing it. That would account for the large group.
RWS Hobbys
Next he tried RWS Hobby pellets. These are often among the most accurate in a low-powered rifle, but not this time. Five Hobbys made a 0.90-inch group.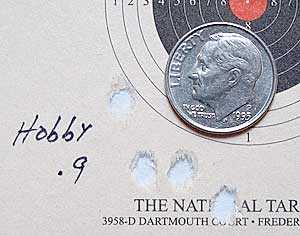 The only nice thing I can say about the Hobbys is they did cut larger holes. They're obviously not the right pellet for this rifle.
H&N Finale Match
Next up were H&N Finale Match Pistol pellets. Five of them made a group that measured 0.80-inches, but notice that one is apart from the other four. If there was something wrong with that pellet, it could explain why it's apart. This might be the right pellet for the rifle, and it's a good example of why one 10-shot group tells you more about accuracy potential than three 5-shot groups.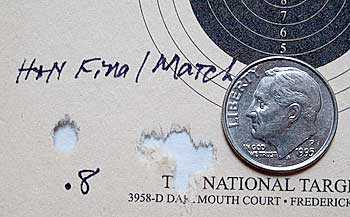 Five H&N Finale Match Target Pistol pellets made a group measuring 0.80 inches.
Eley Wasps
The next pellet Mac tried was one you can't buy anymore. The Eley Wasp has left the stage, at least in the version Mac was shooting. It was an oversized pellet that sometimes cured accuracy problems for rifles with larger bores. In this rifle, 5 shots made a group that measures 0.70 inches. You'll also notice that there don't seem to be any signs of tumbling like there were with the JSBs.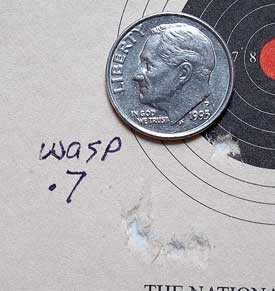 Five Eley Wasp domes made a group measuring 0.70-inches. This group also has a single stray pellet, which means it might also have more potential than seen here.
RWS R10 Pistol pellet
The last pellet Mac shot was the RWS R10 Pistol pellet. These grouped best, with 5 of them making a 0.50-inch group. While that looks good in comparison with the other groups, it doesn't begin to equal the groups I got with the new IZH 61 shooting 10 shot groups! That means is we have to revise our thinking about the old steel-breech/metal clip guns, don't you think?

Five RWS R10 Pistol pellets made a half-inch group at 10 meters. It's good only in comparison with the other groups, but doesn't begin to equal the groups from the new rifle.
Our conclusions
Mac and I discussed these results at length, and we believe that the steel breech IZH 60/61 has perhaps become more accurate through the long lens of memory. Just as a walk to school was always 10 miles uphill in both directions when we were young, so it's possible that these rifles were as variable back then as the new ones are now. From the results, we have to say that it looks like the current version of the gun is at least as accurate as the old one, if not more so.
We think that there were probably some very accurate rifles with steel breeches, and then the rest — which our test rifle seems to be — were only good plinkers. I know this test was hardly exhaustive, nor was it entirely without bias. Even so, I think we must admit that the new rifle beat the old one in this case.
What do you think?
by Tom Gaylord, a.k.a. B.B. Pelletier
Announcement: Gary Lee is this week's winner of Pyramyd Air's Big Shot of the Week on their airgun facebook page. He'll receive a $50 Pyramyd Air gift card. Congratulations!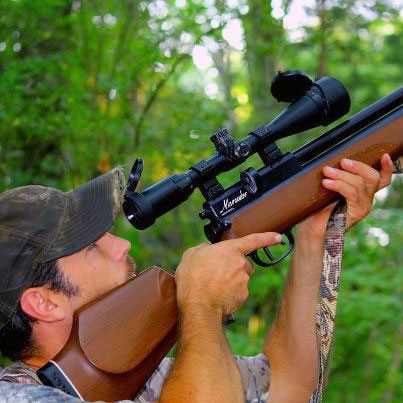 Gary Lee submitted this week's winning photo for BSOTW.


The IZH 60 now comes with target sights.
It's accuracy day for the IZH 60 Target Pro and this is the big test that everyone has been waiting for. And there are a couple of things that have to be cleared up, too. So let's get started.
Cosmoline in the bore
Blog reader chasblock mentioned finding Cosmoline in the bore of his rifle and asked if I would take a look at the test gun's bore. I don't think he really meant Cosmoline, which is a range of military long-term metal storage lubricants. He probably just meant excess grease or oil. At any rate, I ran a patch through the bore, and it came out dry. There was some anti-oxidant compound on it, but no oil or grease. So, that's one down.
Front sight element not centered
Then, we had a discussion about the front sight element not being centered in the globe and wondered if that wouldn't that throw you off. Or at least wouldn't it be annoying? Well, I shot 82 shots in this test and the front sight position was a non-issue for me. Once I had the black 10-meter bull centered in the front aperture, I forgot about everything else. But I'm posting a photo of a Winchester model 94 front sight so you can see that this is a very common phenomenon, and it isn't troublesome in the slightest.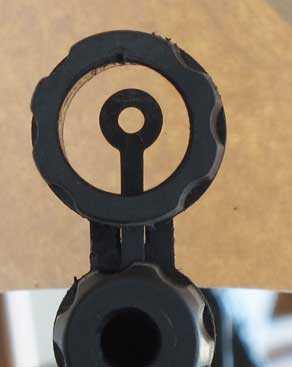 The IZH 60 front sight element is a little higher than the center of the globe. When you're sighting, it's not a distraction.

This Winchester 94 front sight is even higher in its globe and people hunt with it. Many open-sighted rifles with globes are like this.
Rear sight doesn't adjust low enough
Another issue that was raised is that the rear sight doesn't adjust low enough to get on target at 10 meters. I didn't find this to be a problem, as you will see. I also found the rear sight to adjust very positively in all directions without any backlash. So, that's now laid to rest.
Accuracy
I was told by the folks at Pyramyd Air that the IZH 60 Target Pro can put 10 pellets into a quarter-inch at 10 meters. The gun they sent to me to test had a 5-shot group of H&N Baracudas with it. It was fired into a Shoot-N-C paster, so measuring is difficult, but as near as I can tell, it measures 0.268 inches between centers, so even these 5 shots grouped larger than a quarter-inch, though not by much. But we expect a 10-shot group to be 40 percent larger when the same pellet is used.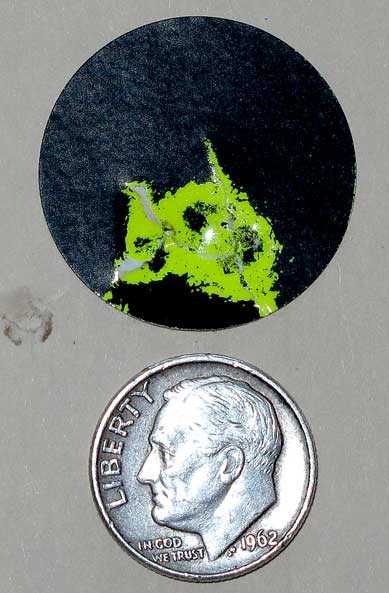 The 5-shot test group measures 0.268 inches between centers, as close as I can measure it. It was shot with H&N Baracudas. The shot outside the black is a sighter and not part of the group.
The rifle was shot from a rested position at 10 meters. The targets were standard 10-meter rifle targets, and they fit well inside the front aperture. It was very easy to hold on target with this rifle. I laid the stock on the back of my hand that was resting on a sandbag.
The trigger-pull is single-stage and vague as to the let-off point, but it's light enough to work very well in this rested position. The rifle is very light, but it didn't seem to move around as much as I'd feared it would.
H&N Baracudas
The first target I shot was with the H&N Baracudas. It took me several shots to get on target because the sight adjustments work backwards of U.S. adjustments. Turn the windage knob in (to the left) to move the pellet to the right, and so on.
The first group of 10 Baracudas measures 0.546 inches between centers. It was larger than expected, but not too bad for the first group.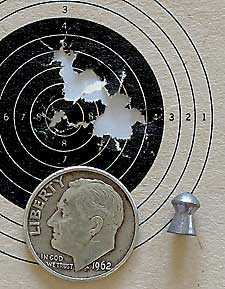 Ten H&N Baracudas made this 0.546-inch group.
As you can see from the pellets I had chosen to use, I expected to shoot a lot in this test, so I thought I would speed things up by firing 5 shots and then seeing if it was worth firing 5 more. The next pellet up was the RWS Hobby that sometimes surprises us with great accuracy. This wasn't one of those times, however, because the first 5 pellets made a group that measures 0.482 inches between centers. No sense finishing that one!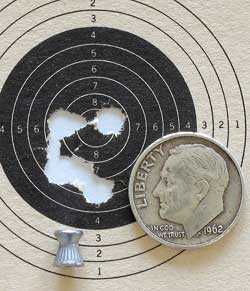 Five RWS Hobbys made this 0.482-inch group. No sense finishing it.
Next, I tried the RWS R10 Match Pistol pellet that I thought might be the most accurate in this rifle. It wasn't, as 5 made a group measuring 0.452 inches. Once more, no sense going on. So I stopped at 5 and moved on.
Five RWS R10 Match Pistol pellets made this 0.452-inch group. No sense finishing it, either.
Then, I tried the H&N Match Pistol pellet. Something was different with this pellet, because the rifle recoiled noticeably less. It was easy to feel, and I could follow-through much better because the sights remained on target after the shot. The feeling was so good that I didn't check the target after 5, but went all the way to 10 shots before looking. The 10-shot group measures 0.391 inches between centers and was the tightest group (10 shots!) to this point in the test! It's not a quarter-inch, but it's a very good group, nonetheless.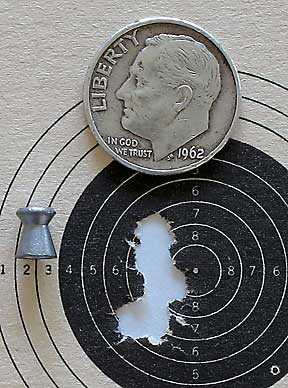 Ten H&N Pistol Match pellets made this 0.391-inch group. This pellet felt like it made the rifle recoil a lot less, so I finished the group without checking.
Next, I tried the JSB Exact RS pellet that often surprises us. This is a domed pellet, so it can't be used in a formal match (impossible to score), but most shooters won't care about that. Ten pellets made a group measuring 0.284 inches between centers. It's a nice, round group, and it's the best 10-shot group the test rifle shot all day!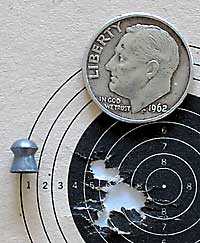 Ten JSB Exact RS pellets made this 0.284-inch group. This pellet also felt like it made the rifle recoil a lot less, so once again I finished the group without checking. This is the best 10-shot group of the test.
This pellet shoots so well that I shot a second group with it. That one didn't turn out as good, at 0.502 inches between centers. Perhaps I was tiring out?

Another 10 Exact RS pellets were not so good, at 0.502 inches between centers.
I then turned to H&N Finale Match pistol pellets, which I thought would be better than the Match Pistol pellets. Alas, that wasn't the case. Ten of them made a huge 0.675 inch group, which turned out to be the second largest of the entire test..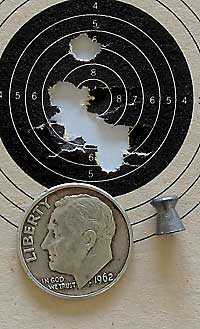 Ten H&N Finale Match Pistol pellets made the second worst group of the test, a whopping 0.675 inches between centers.
Then I tried five RWS Superdomes, but when I looked at the group they made I stopped. It measures 0.646 inches between centers, so no point in continuing.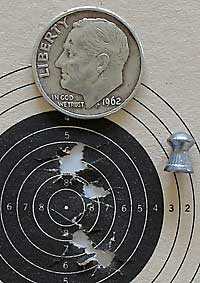 Five RWS Superdome pellets made this 0.646-inch group.
By this point in the test, I knew how the rifle shot. I was also very accustomed to the trigger. So, I thought I'd try another group of Baracudas — just to see if I could improve things from the first time. Ten went into a group measuring 0.702 inches, which was larger than the first group.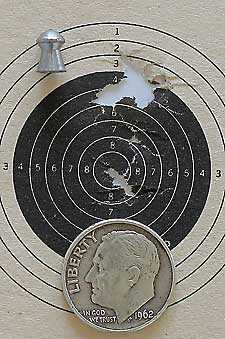 Ten H&N Baracudas made this final 0.702-inch group — the largest in the test.
By this point I knew I was tired. But was that the cause of the group sizes? Was I no longer able to lay them all in the same hole? To see, I grabbed my FWB 300S, which is the most accurate 10-meter rifle I own. I put 10 RWS R10 pistol pellets into a last group that measured 0.135 inches. That's for 10 shots. So it wasn't me!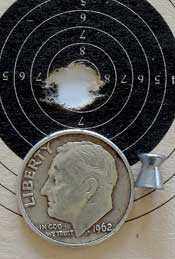 Yeah — it's not me! Ten RWS R10s went into 0.135 inches.
Final impression
The IZH 60 shot about as well as I remembered. It certainly cannot group 10 shots in a quarter-inch at 10 meters in anything other than a chance encounter. So, there's a hat to be eaten!
On the other hand, for what it costs, the rifle is reasonably accurate and the target sights make it even easier to shoot well. I don't think it can out-shoot a Bronco, but it's certainly worth considering for informal target shooting.
by Tom Gaylord, a.k.a. B.B. Pelletier


The IZH 60 Target Pro now comes with target sights.
Today is velocity day for the IZH 60 Target Pro. Before we begin, there's a surprise correction I need to make to Part 1. When I measured the length of pull, I didn't mention that the adjustable stock can be lengthened an additional inch by relocating the anchor point of the adjustment screw.
Increased length of pull
Mac reads the blog sometimes, but he doesn't comment very often but he loves the IZH 60/61 family of rifles. After reading Part 1, he called and reminded me of something I'd forgotten. If you pull the butt stock off its post, you'll see a second spot for the screw anchor on the butt stock post. All you have to do is move the anchor from the first slot to the second, and you'll add just over an inch to the length of pull on your rifle. I had reported a LOP range of 12 inches to 13.25 inches in Part 1. Now, I'll revise that to a maximum of 14.5 inches. (Edith will amend the owner's manual to show this info.)

By moving the screw anchor from one slot to the other, the length of pull can be increased by more than an inch!
The importance of follow-through
We discussed the fact that this powerplant is not capable of producing a lot of velocity. There was a comment on Part 1 that low velocity makes you need to follow through all the more, but I want to address that. Low velocity is not why you must follow through when shooting a spring-piston airgun. Even a 1,300 f.p.s. springer requires follow-through because it has the same problem as the IZH 60. In a springer, the pellet does not begin moving until the piston has almost come to a complete stop. The gun is already vibrating and moving in recoil before the pellet starts its journey down the barrel. But if it takes an IZH 60 to drive that fact home, all the better, because the proper follow-through can do nothing but make you a better shot.
Velocity
As I explained in Part 1, Pyramyd Air sent this rifle to me for this test. They were very confident this rifle would shoot accurately, and they even sent a tin of what they feel are the best pellets. Guess what they are? H&N Baracuda pellets! The website says these are supposed to weigh 10.65 grains, but I weighed the ones sent by Pyramyd Air, and they weighed 10.4 grains. H&N Baracuda pellet weights have changed a lot over the past few years, and I would always recommend actually weighing them rather than accepting the description, because the weights seem to change a lot.
These pellets averaged 382 f.p.s. in the test rifle. The range of velocity went from 371 to 389 f.p.s. At the average velocity, they generate 3.37 foot-pounds of muzzle energy. They will be the first pellets I test for accuracy; but since they're domed pellets, they cannot be used in a formal target match due to the difficulty of scoring the holes. I'll also test some wadcutter pellets — both target and general sporting types.
The second pellet I tested was a target wadcutter — the H&N Match Pistol pellet. This 7.56-grain wadcutter is a good general target pellet that costs less than H&N's Finale Match pellet line. As a pistol pellet, it weighs less than 8 grains, making it appropriate to the IZH 60 powerplant.
This pellet averaged 485 f.p.s. and ranged from 481 to 490 f.p.s. At the average velocity, they generated 3.95 foot-pounds at the muzzle. This is the velocity I expected from this rifle.
Next I tried the H&N Baracuda Green — the lead-free pellet that's performed so well in a number of lower-powered airguns. This time, though, the performance wasn't as good. The average velocity was 425 f.p.s., despite the fact that the pellet weighs just 6.48 grains. It must be the harder alloy that causes excessive friction with the rifling, because the range for this pellet was from a low of 367 f.p.s. to a high of 489! At the average velocity, the muzzle energy was 2.60 foot-pounds. Even at just 10 meters, a velocity variation this large will cause the group to grow, so I don't think I'll test this one for accuracy.
The last pellet I tested was the RWS R-10 Match Pistol pellet. At just 7 grains, this pellet was the lightest of the lead pellets used in this test. It averaged 525 f.p.s. with a range from 507 to 534 f.p.s. The low shot was an exception and loaded very hard. The next-slowest pellet went 516 f.p.s. At the average velocity, this pellet produced 4.29 foot-pounds of energy.
Overall the rifle performed better than I expected. There's some buzzing in the firing cycle, but it's not objectionable — probably because of the low power of the rifle. A "beer-can" tune would probably do wonders for it.
The trigger is light enough, if not very positive. It breaks at 1 lb., 7 oz. consistently. I did try adjusting it, but it was set as light as it would go when I received the rifle, so there was no improvement.
One final thought. I went through the box the rifle came in and found a target that proves this rifle can shoot a tight group at 10 meters. It's shot on a Shoot-N-C target, so measurement is impossible because of the paint flaking off, but it does look like a quarter-inch group. However, it's only 5 shots and the standard is 10, so that hat is still on the line!