Posts Tagged 'RWS R10 match pistol pellets'
by Tom Gaylord, a.k.a. B.B. Pelletier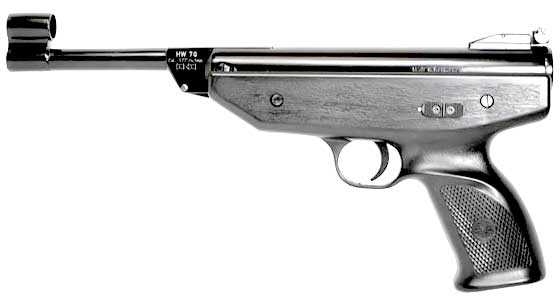 Beeman's HW 70A breakbarrel spring pistol.
Today you get a twofer. Or at least it will be more than just one test, as I'm starting to test a second product with today's accuracy test of the Beeman HW 70A pellet pistol. The other product I'm testing is the EyePal Master Kit for Rifles and Pistols. Because it did play a pivotal part in today's test, let's begin with it.
EyePal Master Kit for Rifles and Pistols
The EyePal is a soft patch that's applied to prescription or safety glasses to provide an aperture for the sighting eye. This concept is close to a century old, and many of the veteran readers will remember the Merit adjustable iris that had a suction cup to attach to glasses. The Merit was adjustable, so the aperture you looked through was controlled by the user. The EyePal is not adjustable. In the Master Kit I'm evaluating, there's one soft patch for handguns and another for rifles. They have different sized holes, and the handgun patch that I used in today's test has the slightly larger hole. The lids on the boxes and the patches themselves are color-coded so you know what each one is.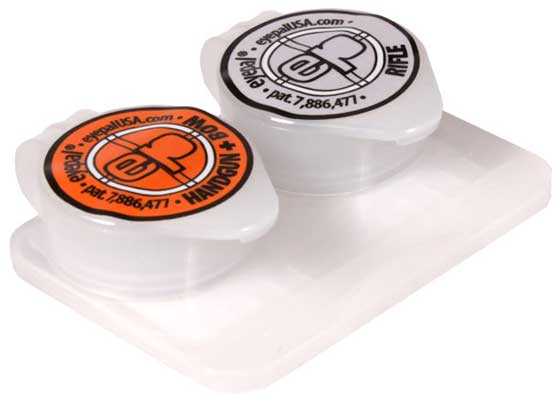 The EyePal Master Kit contains an eyepatch for pistols and another for rifles.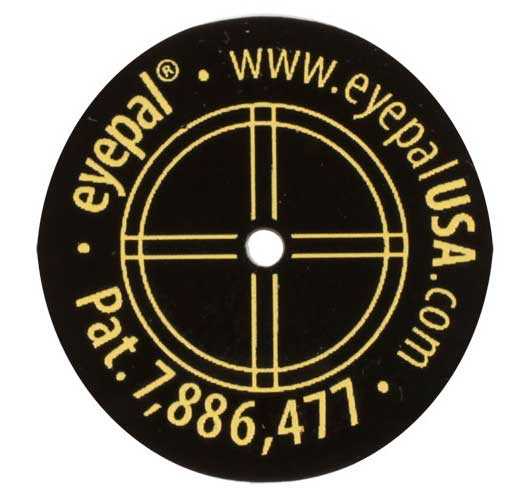 The pistol eyepatch has gold lettering.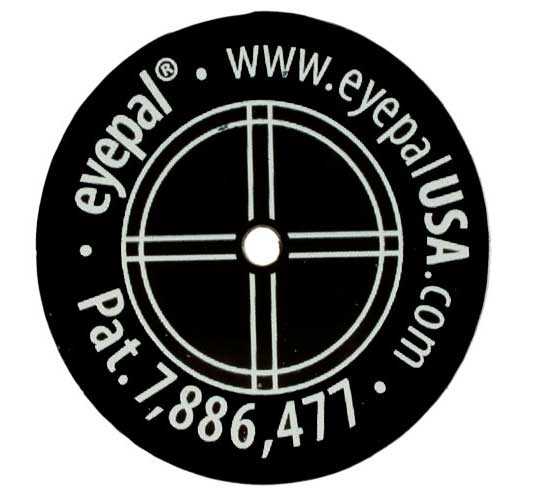 The rifle eyepatch has white lettering, and the hole is slightly smaller than the pistol eyepatch hole.

The EyePal patch attaches by just laying it on the surface of the glasses (safety or prescription) and rolling it flat.
I won't report on the EyePal as a separate item because I need to use it more than a few times to get comfortable with how it works. So, very much as I reported on the Winchester Airgun Target Cube over several tests that spanned many months, I will do the same with the EyePal.
I've tried the Merit accessory in the past and found it to be quite difficult to position. Also, as it aged, the rubber suction cup that held it to the glasses hardened and became less pliable — to the point that it eventually stopped working.
The EyePal patch, in sharp contrast, attaches easily and can be removed just as easily, though it does have to be pried up at one corner before it comes off. I find that it's very intuitive to use the first time and that repositioning it is simple and needs no explanation.
Shooting the HW70A
Now, it's time for the test. I found myself faced with a number of test variables, so I decided to test all of them with the first pellet, and then use the best result from those tests for the other pellets. The first pellet was the RWS Hobby. The test was a rested pistol held in two hand at 10 meters. I used standard 10-meter air pistol targets.
When I say I shot the pistol rested, I mean that both my arms rested on a sandbag. The pistol was held forward of the bag, so it never touched them to set up a variable recoil reaction. I kept both hands in the same place on the pistol for each shot.
The variables
I had to test this pistol under the following circumstances:
* Pellet seated deep and EyePal worn
* Pellet seated flush and EyePal worn
* Pellet seated flush and prescription glasses worn with no EyePal
* Pellet seated flush and no prescription glasses worn with no EyePal
The 4 targets for the first part of the test are shown below. I used RWS Hobby pellets every time for these 4 targets. After you look at the results, I'll critique them and tell you what I found.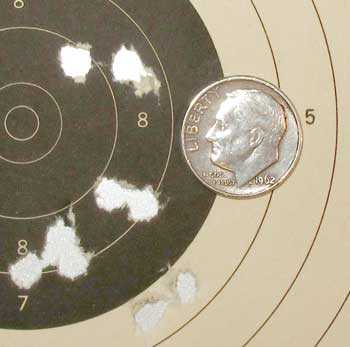 Hobbys were deep-seated and EyePal was worn on prescription glasses. Group measures 1.522 inches between centers.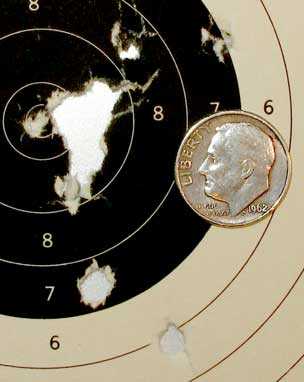 Hobbys were seated flush and EyePal was worn on prescription glasses. Group measures 1.863 inches between centers. The large central group within this group made me think this was the best group of Hobbys.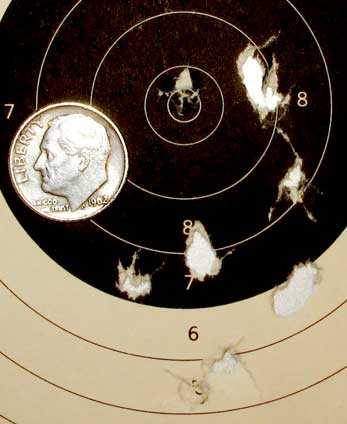 Hobbys were seated flush and EyePal was not worn on prescription glasses. Group measures 1.953 inches between centers.

Hobbys were seated flush and prescription glasses were not worn. Group measures 1.953 inches between centers. I know that sounds too coincidental, but that's what it measures.
Critique
First, I have to tell you the EyePal did make the front sight appear sharp when glasses alone did not. However, without glasses, the front sight appeared just as sharp as with the EyePal. What I did not know until I measured all the groups for this report was that deep-seated pellets measurably outshot all flush-seated pellets. That was a surprise; and if the Hobby pellet was the only one I used, I would re-run this test. But as you'll soon see, I don't have to.
The next thing I discovered is that the Hobby pellet wasn't a good fit for this gun. These groups do not show what the HW 70A can do. However, this does illustrate an important point. By staying with the same pellet and varying other things, it didn't really matter that the pellet wasn't the best. I was still able to compare the effects of the other variables by staying with the same pellet.
Next, I must say that the trigger that I liked in Part 2 isn't as crisp as I would like it to be. It has a very mushy, indistinct pull and release comes as a surprise every time. While that sounds good, it actually isn't because the trigger can go off before you're ready.
The bottom line for the first test is that deep-seated pellets and the EyePal on prescription glasses produced the best results. However, I did not pick up on that during the test, and shot all the other groups with the EyePal and flush-seated pellets.
Test 2: 3 other pellets
Next, I shot the pistol with Crosman Premier 7.9-grain pellets. The group measured 2.163 inches between centers and was clearly not in the running for this pistol.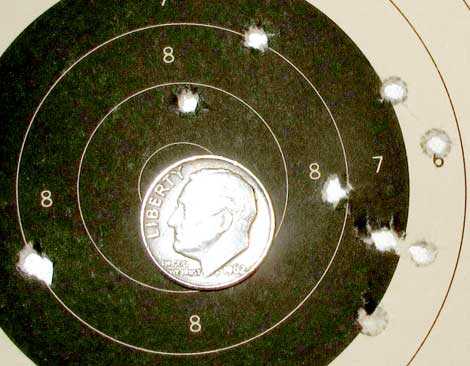 Premier lites were seated flush and EyePal was worn on prescription glasses. Group measures 2.163 inches between centers. It looks like only 9 pellets were fired, but they were counted carefully and there were 10. Not a pellet for this air pistol.
Then, I tried 10 Beeman H&N Match pellets. Bingo! This was the pellet I was looking for. Ten made a 1.085-inch group that's very round and unifirm.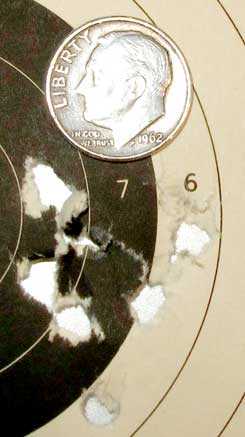 Group measures 1.085 inches between centers. Ladies and gentlemen, we have a winner! This is the accuracy I expected from this pistol.
Because the H&N Match pellets did so well, I also tried RWS R10 Match Pistol pellets. For them, I adjusted the sights back to the center of the bull. They didn't do as well as I'd hoped, grouping in 1.18 inches. While that's the second-best group of the test, the H&Ns are clearly better this time.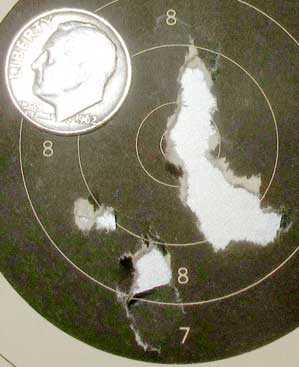 Group measures 1.18 inches between centers. It's a possible second good pellet, but more testing is needed.
Final evaluation
For those who keep score, I shot this pistol 70 times in this test. I was concerned about getting tired, but the best two groups were the last two. So, I think I gave it a fair evaluation. However, I do admit that the best method of loading is deep-seating pellets, and I didn't use that on the most accurate pellets. I'm going to come back and do a part 4. It'll be at 10 meters, again, and only Beeman H&N Match pellets from this test will be used along with several new target pellets.
by Tom Gaylord, a.k.a. B.B. Pelletier
Photos and report by Earl "Mac" McDonald
This is the final report about Mac's vintage steel-breech IZH 61. We are only doing two reports — partly because the rifle performs just like the one that's being sold today, but mostly because Mac sold this rifle at the Roanoke airgun show this past weekend. He also bought one just like it that was like new in the box because he got a super price at the same show. That one will be given to some fortunate youngster, as part of Mac's "Arm the Children" program!
Today, we'll look at the accuracy Mac got from his rifle. Then you can compare it to what I was able to do with the IZH 60 I recently tested for you.
Trigger
As I reported in Part 1, this vintage rifle has a truly adjustable two-stage trigger, instead of just being able to reposition the trigger blade like on the current gun. Mac had it set to release at 27 oz., and he says it was crisp.
Someone wanted me to post a photo of the entire vintage rifle, but there isn't that much difference between it and the current one. I didn't think it was worth showing. Yes, if you're a fanatic collector, there are some small differences; but I spent the weekend with the vintage gun before it sold, and it's pretty much the same as what they sell now except for having a steel breech and metal clips.
Metal clips
On the subject of the metal clips, Mac says he has had some plastic clips that got worn to the point that they would no longer stay in the gun as they should. They're supposed to advance one pellet each time the sidelever is pulled out to cock the rifle, but he said some of his would shoot out the side of the rifle because they're under spring tension.
Sights
I showed the sights on this rifle in Part 1, but Mac tried both the peep sight that comes with the rifle and also a Tasco Pro Point dot sight with a 4 MOA dot. At the 10 meter distance he shot, the dot covered about 0.35 inches He e got equal accuracy with both types of sights, but all the groups seen in this report were shot with the Tasco.
He rested the forearm of the rifle on the palm of his hand and shot off a bag rest at 10 meters. We wanted to keep the results equivalent with those I recently got with the new rifle. And he also shot at 10-meter rifle targets, which is why he elected to use the dot sight. The hole in the factory peep sight is so large that there's a loss of precision when using the smaller 10-meter rifle bulls. They get lost in the hole (meaning you can't tell when they're exactly centered). He could have used pistol targets that have a much larger bull, but he wanted his test to look just like mine.
Mac shot 5-shots groups instead of 10-shot groups. Things got confused in our talks, so we didn't shoot the same number of shots per target. Still, I think you will see some interesting things as we go.
JSB 8.4-grain Exacts
The first pellet tested was the JSB Exact that weighs 8.4 grains. Five shots at 10 meters produced a group measuring 0.95 inches between centers. That's pretty big for just 10 meters!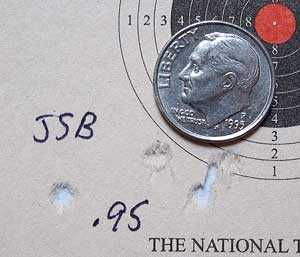 Five JSB Exact 8.4-grain domes at 10 meters made this 0.95-inch group. One pellet looks like it went through the paper sideways!
There are some indications of tumbling with the JSB, so it's possible the rifle wasn't stabilizing it. That would account for the large group.
RWS Hobbys
Next he tried RWS Hobby pellets. These are often among the most accurate in a low-powered rifle, but not this time. Five Hobbys made a 0.90-inch group.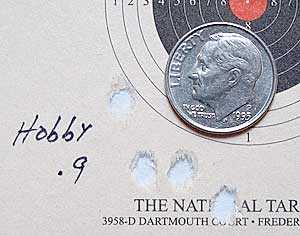 The only nice thing I can say about the Hobbys is they did cut larger holes. They're obviously not the right pellet for this rifle.
H&N Finale Match
Next up were H&N Finale Match Pistol pellets. Five of them made a group that measured 0.80-inches, but notice that one is apart from the other four. If there was something wrong with that pellet, it could explain why it's apart. This might be the right pellet for the rifle, and it's a good example of why one 10-shot group tells you more about accuracy potential than three 5-shot groups.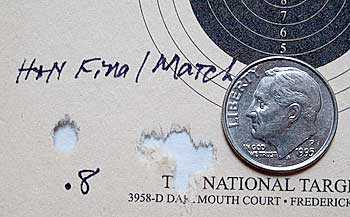 Five H&N Finale Match Target Pistol pellets made a group measuring 0.80 inches.
Eley Wasps
The next pellet Mac tried was one you can't buy anymore. The Eley Wasp has left the stage, at least in the version Mac was shooting. It was an oversized pellet that sometimes cured accuracy problems for rifles with larger bores. In this rifle, 5 shots made a group that measures 0.70 inches. You'll also notice that there don't seem to be any signs of tumbling like there were with the JSBs.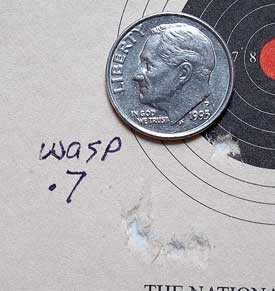 Five Eley Wasp domes made a group measuring 0.70-inches. This group also has a single stray pellet, which means it might also have more potential than seen here.
RWS R10 Pistol pellet
The last pellet Mac shot was the RWS R10 Pistol pellet. These grouped best, with 5 of them making a 0.50-inch group. While that looks good in comparison with the other groups, it doesn't begin to equal the groups I got with the new IZH 61 shooting 10 shot groups! That means is we have to revise our thinking about the old steel-breech/metal clip guns, don't you think?

Five RWS R10 Pistol pellets made a half-inch group at 10 meters. It's good only in comparison with the other groups, but doesn't begin to equal the groups from the new rifle.
Our conclusions
Mac and I discussed these results at length, and we believe that the steel breech IZH 60/61 has perhaps become more accurate through the long lens of memory. Just as a walk to school was always 10 miles uphill in both directions when we were young, so it's possible that these rifles were as variable back then as the new ones are now. From the results, we have to say that it looks like the current version of the gun is at least as accurate as the old one, if not more so.
We think that there were probably some very accurate rifles with steel breeches, and then the rest — which our test rifle seems to be — were only good plinkers. I know this test was hardly exhaustive, nor was it entirely without bias. Even so, I think we must admit that the new rifle beat the old one in this case.
What do you think?
by Tom Gaylord, a.k.a. B.B. Pelletier
Announcement: Gary Lee is this week's winner of Pyramyd Air's Big Shot of the Week on their airgun facebook page. He'll receive a $50 Pyramyd Air gift card. Congratulations!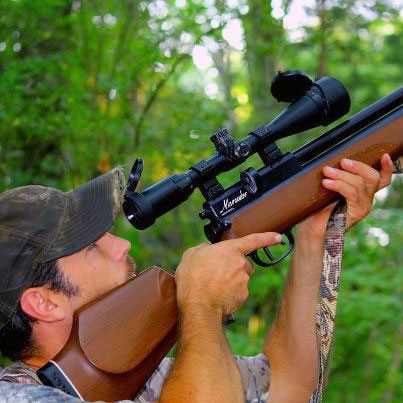 Gary Lee submitted this week's winning photo for BSOTW.


The IZH 60 now comes with target sights.
It's accuracy day for the IZH 60 Target Pro and this is the big test that everyone has been waiting for. And there are a couple of things that have to be cleared up, too. So let's get started.
Cosmoline in the bore
Blog reader chasblock mentioned finding Cosmoline in the bore of his rifle and asked if I would take a look at the test gun's bore. I don't think he really meant Cosmoline, which is a range of military long-term metal storage lubricants. He probably just meant excess grease or oil. At any rate, I ran a patch through the bore, and it came out dry. There was some anti-oxidant compound on it, but no oil or grease. So, that's one down.
Front sight element not centered
Then, we had a discussion about the front sight element not being centered in the globe and wondered if that wouldn't that throw you off. Or at least wouldn't it be annoying? Well, I shot 82 shots in this test and the front sight position was a non-issue for me. Once I had the black 10-meter bull centered in the front aperture, I forgot about everything else. But I'm posting a photo of a Winchester model 94 front sight so you can see that this is a very common phenomenon, and it isn't troublesome in the slightest.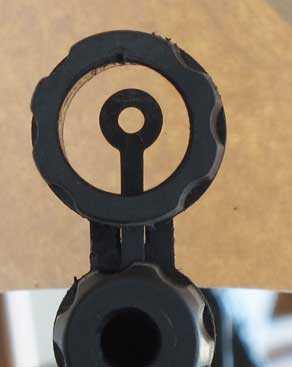 The IZH 60 front sight element is a little higher than the center of the globe. When you're sighting, it's not a distraction.

This Winchester 94 front sight is even higher in its globe and people hunt with it. Many open-sighted rifles with globes are like this.
Rear sight doesn't adjust low enough
Another issue that was raised is that the rear sight doesn't adjust low enough to get on target at 10 meters. I didn't find this to be a problem, as you will see. I also found the rear sight to adjust very positively in all directions without any backlash. So, that's now laid to rest.
Accuracy
I was told by the folks at Pyramyd Air that the IZH 60 Target Pro can put 10 pellets into a quarter-inch at 10 meters. The gun they sent to me to test had a 5-shot group of H&N Baracudas with it. It was fired into a Shoot-N-C paster, so measuring is difficult, but as near as I can tell, it measures 0.268 inches between centers, so even these 5 shots grouped larger than a quarter-inch, though not by much. But we expect a 10-shot group to be 40 percent larger when the same pellet is used.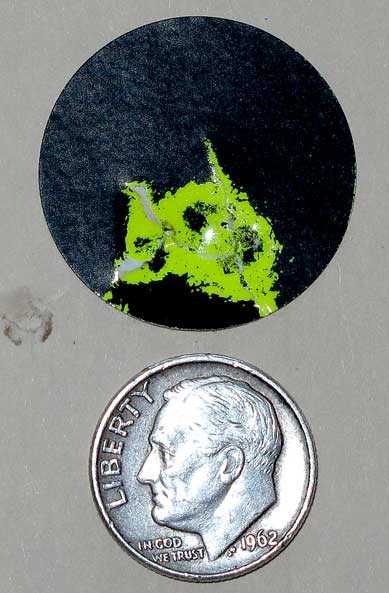 The 5-shot test group measures 0.268 inches between centers, as close as I can measure it. It was shot with H&N Baracudas. The shot outside the black is a sighter and not part of the group.
The rifle was shot from a rested position at 10 meters. The targets were standard 10-meter rifle targets, and they fit well inside the front aperture. It was very easy to hold on target with this rifle. I laid the stock on the back of my hand that was resting on a sandbag.
The trigger-pull is single-stage and vague as to the let-off point, but it's light enough to work very well in this rested position. The rifle is very light, but it didn't seem to move around as much as I'd feared it would.
H&N Baracudas
The first target I shot was with the H&N Baracudas. It took me several shots to get on target because the sight adjustments work backwards of U.S. adjustments. Turn the windage knob in (to the left) to move the pellet to the right, and so on.
The first group of 10 Baracudas measures 0.546 inches between centers. It was larger than expected, but not too bad for the first group.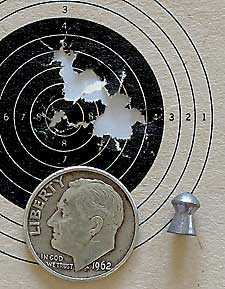 Ten H&N Baracudas made this 0.546-inch group.
As you can see from the pellets I had chosen to use, I expected to shoot a lot in this test, so I thought I would speed things up by firing 5 shots and then seeing if it was worth firing 5 more. The next pellet up was the RWS Hobby that sometimes surprises us with great accuracy. This wasn't one of those times, however, because the first 5 pellets made a group that measures 0.482 inches between centers. No sense finishing that one!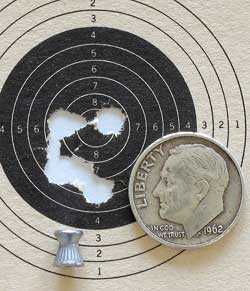 Five RWS Hobbys made this 0.482-inch group. No sense finishing it.
Next, I tried the RWS R10 Match Pistol pellet that I thought might be the most accurate in this rifle. It wasn't, as 5 made a group measuring 0.452 inches. Once more, no sense going on. So I stopped at 5 and moved on.
Five RWS R10 Match Pistol pellets made this 0.452-inch group. No sense finishing it, either.
Then, I tried the H&N Match Pistol pellet. Something was different with this pellet, because the rifle recoiled noticeably less. It was easy to feel, and I could follow-through much better because the sights remained on target after the shot. The feeling was so good that I didn't check the target after 5, but went all the way to 10 shots before looking. The 10-shot group measures 0.391 inches between centers and was the tightest group (10 shots!) to this point in the test! It's not a quarter-inch, but it's a very good group, nonetheless.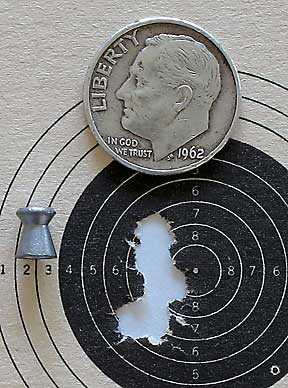 Ten H&N Pistol Match pellets made this 0.391-inch group. This pellet felt like it made the rifle recoil a lot less, so I finished the group without checking.
Next, I tried the JSB Exact RS pellet that often surprises us. This is a domed pellet, so it can't be used in a formal match (impossible to score), but most shooters won't care about that. Ten pellets made a group measuring 0.284 inches between centers. It's a nice, round group, and it's the best 10-shot group the test rifle shot all day!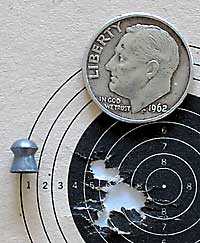 Ten JSB Exact RS pellets made this 0.284-inch group. This pellet also felt like it made the rifle recoil a lot less, so once again I finished the group without checking. This is the best 10-shot group of the test.
This pellet shoots so well that I shot a second group with it. That one didn't turn out as good, at 0.502 inches between centers. Perhaps I was tiring out?

Another 10 Exact RS pellets were not so good, at 0.502 inches between centers.
I then turned to H&N Finale Match pistol pellets, which I thought would be better than the Match Pistol pellets. Alas, that wasn't the case. Ten of them made a huge 0.675 inch group, which turned out to be the second largest of the entire test..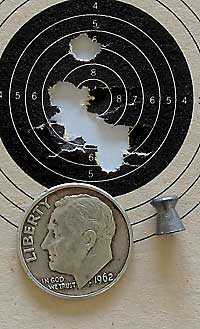 Ten H&N Finale Match Pistol pellets made the second worst group of the test, a whopping 0.675 inches between centers.
Then I tried five RWS Superdomes, but when I looked at the group they made I stopped. It measures 0.646 inches between centers, so no point in continuing.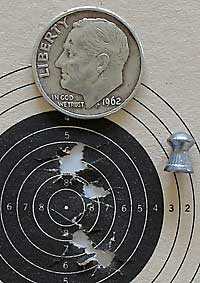 Five RWS Superdome pellets made this 0.646-inch group.
By this point in the test, I knew how the rifle shot. I was also very accustomed to the trigger. So, I thought I'd try another group of Baracudas — just to see if I could improve things from the first time. Ten went into a group measuring 0.702 inches, which was larger than the first group.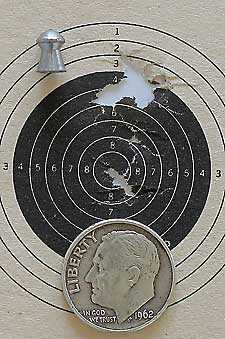 Ten H&N Baracudas made this final 0.702-inch group — the largest in the test.
By this point I knew I was tired. But was that the cause of the group sizes? Was I no longer able to lay them all in the same hole? To see, I grabbed my FWB 300S, which is the most accurate 10-meter rifle I own. I put 10 RWS R10 pistol pellets into a last group that measured 0.135 inches. That's for 10 shots. So it wasn't me!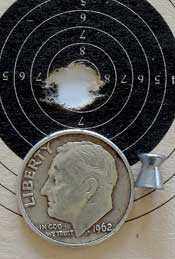 Yeah — it's not me! Ten RWS R10s went into 0.135 inches.
Final impression
The IZH 60 shot about as well as I remembered. It certainly cannot group 10 shots in a quarter-inch at 10 meters in anything other than a chance encounter. So, there's a hat to be eaten!
On the other hand, for what it costs, the rifle is reasonably accurate and the target sights make it even easier to shoot well. I don't think it can out-shoot a Bronco, but it's certainly worth considering for informal target shooting.
by Tom Gaylord, a.k.a. B.B. Pelletier


The IZH 60 Target Pro now comes with target sights.
Today is velocity day for the IZH 60 Target Pro. Before we begin, there's a surprise correction I need to make to Part 1. When I measured the length of pull, I didn't mention that the adjustable stock can be lengthened an additional inch by relocating the anchor point of the adjustment screw.
Increased length of pull
Mac reads the blog sometimes, but he doesn't comment very often but he loves the IZH 60/61 family of rifles. After reading Part 1, he called and reminded me of something I'd forgotten. If you pull the butt stock off its post, you'll see a second spot for the screw anchor on the butt stock post. All you have to do is move the anchor from the first slot to the second, and you'll add just over an inch to the length of pull on your rifle. I had reported a LOP range of 12 inches to 13.25 inches in Part 1. Now, I'll revise that to a maximum of 14.5 inches. (Edith will amend the owner's manual to show this info.)

By moving the screw anchor from one slot to the other, the length of pull can be increased by more than an inch!
The importance of follow-through
We discussed the fact that this powerplant is not capable of producing a lot of velocity. There was a comment on Part 1 that low velocity makes you need to follow through all the more, but I want to address that. Low velocity is not why you must follow through when shooting a spring-piston airgun. Even a 1,300 f.p.s. springer requires follow-through because it has the same problem as the IZH 60. In a springer, the pellet does not begin moving until the piston has almost come to a complete stop. The gun is already vibrating and moving in recoil before the pellet starts its journey down the barrel. But if it takes an IZH 60 to drive that fact home, all the better, because the proper follow-through can do nothing but make you a better shot.
Velocity
As I explained in Part 1, Pyramyd Air sent this rifle to me for this test. They were very confident this rifle would shoot accurately, and they even sent a tin of what they feel are the best pellets. Guess what they are? H&N Baracuda pellets! The website says these are supposed to weigh 10.65 grains, but I weighed the ones sent by Pyramyd Air, and they weighed 10.4 grains. H&N Baracuda pellet weights have changed a lot over the past few years, and I would always recommend actually weighing them rather than accepting the description, because the weights seem to change a lot.
These pellets averaged 382 f.p.s. in the test rifle. The range of velocity went from 371 to 389 f.p.s. At the average velocity, they generate 3.37 foot-pounds of muzzle energy. They will be the first pellets I test for accuracy; but since they're domed pellets, they cannot be used in a formal target match due to the difficulty of scoring the holes. I'll also test some wadcutter pellets — both target and general sporting types.
The second pellet I tested was a target wadcutter — the H&N Match Pistol pellet. This 7.56-grain wadcutter is a good general target pellet that costs less than H&N's Finale Match pellet line. As a pistol pellet, it weighs less than 8 grains, making it appropriate to the IZH 60 powerplant.
This pellet averaged 485 f.p.s. and ranged from 481 to 490 f.p.s. At the average velocity, they generated 3.95 foot-pounds at the muzzle. This is the velocity I expected from this rifle.
Next I tried the H&N Baracuda Green — the lead-free pellet that's performed so well in a number of lower-powered airguns. This time, though, the performance wasn't as good. The average velocity was 425 f.p.s., despite the fact that the pellet weighs just 6.48 grains. It must be the harder alloy that causes excessive friction with the rifling, because the range for this pellet was from a low of 367 f.p.s. to a high of 489! At the average velocity, the muzzle energy was 2.60 foot-pounds. Even at just 10 meters, a velocity variation this large will cause the group to grow, so I don't think I'll test this one for accuracy.
The last pellet I tested was the RWS R-10 Match Pistol pellet. At just 7 grains, this pellet was the lightest of the lead pellets used in this test. It averaged 525 f.p.s. with a range from 507 to 534 f.p.s. The low shot was an exception and loaded very hard. The next-slowest pellet went 516 f.p.s. At the average velocity, this pellet produced 4.29 foot-pounds of energy.
Overall the rifle performed better than I expected. There's some buzzing in the firing cycle, but it's not objectionable — probably because of the low power of the rifle. A "beer-can" tune would probably do wonders for it.
The trigger is light enough, if not very positive. It breaks at 1 lb., 7 oz. consistently. I did try adjusting it, but it was set as light as it would go when I received the rifle, so there was no improvement.
One final thought. I went through the box the rifle came in and found a target that proves this rifle can shoot a tight group at 10 meters. It's shot on a Shoot-N-C target, so measurement is impossible because of the paint flaking off, but it does look like a quarter-inch group. However, it's only 5 shots and the standard is 10, so that hat is still on the line!
by B.B. Pelletier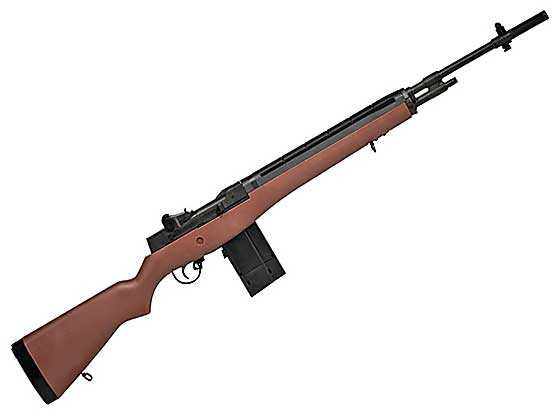 Winchester's new M14 dual-ammo rifle looks very much like the military rifle it copies.
Redemption is a powerful experience, because it comes only after suffering and anguish. Redemption is what I longed for with the Nelson Lewis combination gun and with my Ballard rifle. Today, however, I'm going to talk about another redemption — that of the Winchester M14 dual-ammo rifle.
In Part 1, we learned that this rifle is nearly all plastic — which for many, including me, is a put-off. We also learned that it uses two 12-gram CO2 cartridges instead of one, and that assaulted the the miser in all of us. Accuracy is the only thing that would make it worth the extra cost.
When we looked at the velocity in Part 2, we discovered that the rifle does not begin to achieve the advertised velocity of 700 f.p.s. That's not a bad thing, except it leaves us disappointed from unrealized expectations. The velocity should prove high enough, though, as long as the rifle is accurate — which brings us to today's test. Part 3 — accuracy day.
The Winchester M14 is both a BB gun and a pellet rifle, so I had to test the accuracy of both types of projectiles. BBs get tested at the standard 5 meters (just over 16 feet) distance, while pellets were shot at 10 meters. And each target got 8 shots instead of 10 because of the capacity of the circular clip at either end of the stick magazine. Trying to load just two more of anything in one of these clips is annoying and troublesome at the least.
So, it was BBs first, as they're shot at the closer distance. I shot the rifle using Daisy zinc-plated BBs offhand at 16.5 feet.
I left the sights as they came out of the box. With a 6 o'clock hold, the first BB struck the target at the exact aim point, so I stopped checking and fired 7 more shots. This rifle is super-easy to shoot, as there's nothing to do but pull the trigger. The cocking and advancement of the cylinder are all taken care of by the gun. And as light as the rifle is, it's easy to hold it on target for all 8 shots.
After the clip was empty, I walked up to the target to see the results, which is when the word "redemption" came into my thoughts. The group is very round and measures 0.532 inches between centers! This is a group I might shoot with a Daisy 499 Champion — the world's most accurate BB gun. I've never shot a group this small with any other long BB gun, that I can remember.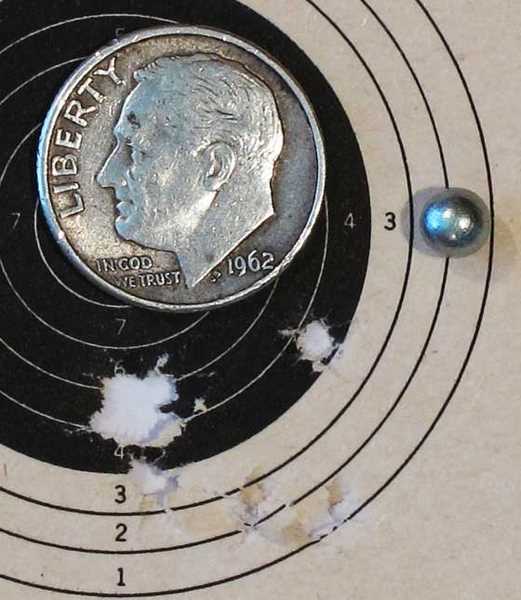 The first group of Daisy BBs made this dime-sized group at 5 meters. It measures 0.532 inches. Pretty encouraging!
What if it was just a fluke? What if the next 8 BBs went into a group twice the size? Only one way to find out. I shot a second group. This time, it was positively fun — as the confidence of an accurate gun poured over me! I adjusted the rear peep up three clicks and shot again.
The second group was easier to shoot because I now knew the gun was accurate. I only hoped I could repeat what had been done before. Alas, that didn't happen, as the second group was smaller than the first. Eight shots went into a group measuring 0.472 inches!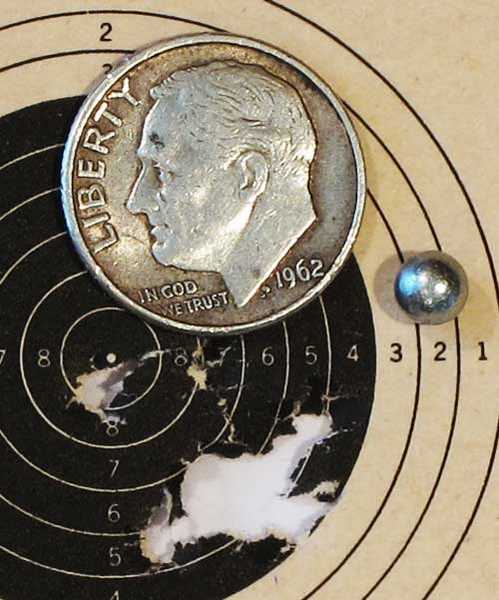 This second group of BBs is even better! It measures 0.472 inches.
What now?
Here's a BB gun that rivals the most accurate BB gun ever made! And this one has M14 sights that encourage target shooting. Look at the center of the second group. It's just a little higher than group one, which is exactly how the sights were adjusted.
Now I moved back to 10 meters where I could shoot pellets from a rest. Again all the groups will have 8 pellets because of the mag capacity. The rifle was rested on a sandbag positioned under the forearm just in front of the magazine that hangs down. Although this rifle is very light, I found it to be very steady in the rested position, and the trigger-pull did not disturb the aim point.
The first pellet I tried was that champion of lower-powered spring guns — the JSB Exact RS that Kevin turned me on to. It struck the target higher than the BBs, but did not group very well. Eight pellets made a group measuring 1.384 inches between centers. That's not good for 10 meters.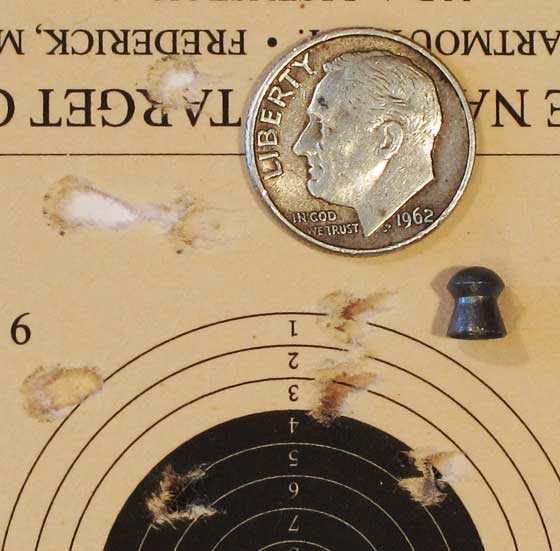 JSB Exact RS pellets blew up at 10 meters! Group measures 1.384 inches between centers.
I followed the JSB pellet with our new friend — the H&N Baracuda Green that we're learning to love. As light as it is, I wondered if it might be suited to the lower power this rifle generates. Apparently it is, because 8 of them went into a tight group that measured 0.739 inches. This is only 10 meters; but if you look at this group, I'm sure you'll see the potential the rifle promises.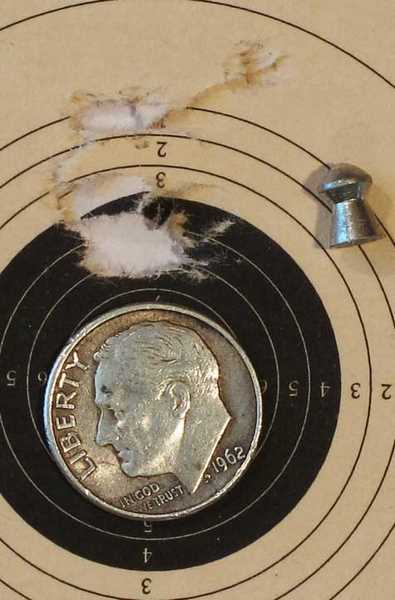 H&N Baracuda Green pellets made this tight 0.739-inch group at 10 meters. You can see how tight it is. This shows real potential.
Next up were some H&N Match Pistol pellets. I chose them for no special reason, other than I am trying to mix up the pellets I usually test with. They printed a group that measures 0.694 inches between centers — so just a little smaller than the Baracuda Greens. The rifle just keeps on doing better!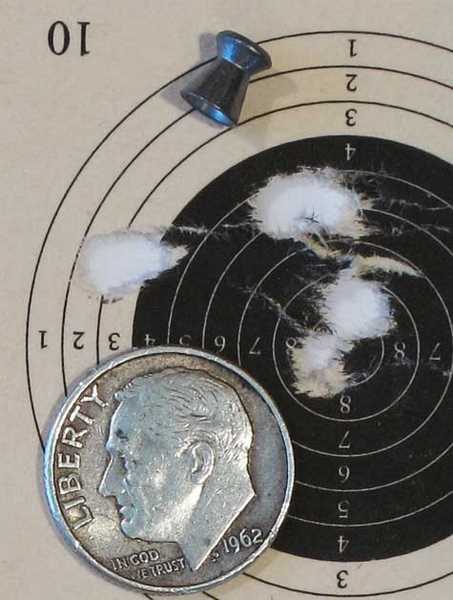 H&N Match Target pellets made the best group of pellets, measuring just 0.684 inches at 10 meters.
The final pellet I tried was an RWS R10 Match Pistol pellet. This pellet is among the best target pellets I have available, and I wanted to see what it could do in this rifle. The 8-shot group measures 0.722 inches across, so it's between the Baracuda Greens and the H&N Match Pistol pellets.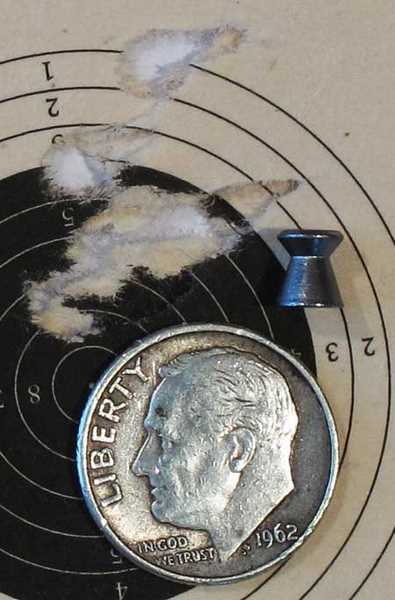 This group of RWS R10 Match Pistol pellets is also very tight — at 0.722-inches.
Evaluation
Do you notice we have three groups that are very similar in size? I think the rifle is capable of this level of accuracy all day long, and perhaps there's another pellet I haven't tried that's even better. The gun shoots easily and very much resembles a fine target rifle when I shoot it. The sights are easy to see, and very crisp, plus they seem to adjust with precision.
As I shot this rifle I thought of blog reader Matt61 and his new Garand. Here's an apartment-sized airgun that he could use to keep his skills sharpened for those days when he can't get out to the range with the large firearm.
I was also reminded of when I was a youngster, shooting the NRA's beginner training course. There's virtually no resemblance between this rifle and the Winchester 52, but the shooting experience seems so similar that it's scary. I understand why all those customer reviews have praised the accuracy so highly, and also why they've forgiven the plastic and light weight for the most part. The Winchester M14 has redeemed itself in my eyes!
The last word
I used the Winchester Airgun Target Cube to stop the BBs and pellets fired in this test. Because this rifle shoots faster than 350 f.p.s., the cube was turned to the side for higher-velocity rounds. As before, the cube caught all BBs and pellets with no mess and nothing got through. I will continue to report on the performance of this cube backstop as I use it in future tests, with an eye to discovering just what it will take.
by B.B. Pelletier
Part 1
Part 2
Part 3
Part 4
Part 5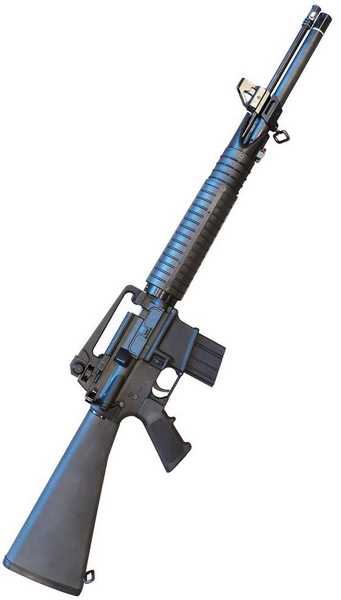 Crosman's new MAR177 upper is big news!
Today's test is shooting the Crosman MAR177 at 25 yards, both with and without the magazine. We'll also shoot it with the best wadcutter target pellets and the best domed pellets to see what differences there are.
Rather than shoot the rifle myself, I let Mac shoot it this time. He is the better rifle shot between us, and I just wanted to see what the rifle would be like in his hands. He shot it off a bag rest at 25 yards indoors. Ten pellets were shot from the magazine, then another 10 of the same pellet were shot using the single-shot tray. Mac tested both domed and wadcutter pellets, so we get to compare the relative accuracy of both today. And the results did not turn out as I expected.
Magazine
I'd noted in an earlier report that the particular 10-shot magazine I've been using has two chambers with tight entrances. Mac found the same thing without being prompted by me. I had him use the same magazine as I did so I could compare his results with all other variables remaining the same.
You'll recall that I mentioned not liking magazine guns because of how they handle the pellets. So, today was also a test between the magazine and loading each pellet as you shoot. I'm not saying that all pellets have feeding problems, but that some magazines may have a problem. But when you load each pellet singly, you have less chance of damaging the pellet.
Single-load tray
That said, the MAR177 has a gap at the front of the single-load tray that can catch the nose of certain pellets and make it very difficult to load. The H&N Field Target pellets that were the most accurate in an earlier test had this problem and had to be exchanged for a different domed pellet. The H&Ns have a semi-wadcutter rim around the head that just catches in the gap on the tray and causes the pellets to flip up and possibly get damaged on loading. I substituted 7.3-grain Air Arms Falcon pellets that fed perfectly through the tray.
On to the shooting
Let's get right to today's test. First, Mac tested the domed pellets at 25 yards.

Through the 10-shot magazine, 10 Falcon pellets made this 0.667-inch group at 25 yards. This is very good!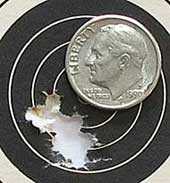 When the single-shot tray was used, 10 Falcon pellets made this 0.429-inch group at 25 yards. This is clearly better than the group made using magazine-fed pellets.
Mac tried the H&N Field Target pellets first, and they were very accurate, but a couple of them refused to feed through the magazine. But the Falcon pellets fed flawlessly, so we changed the test to use them as the domed pellet of choice. Once again, I want to say that in another magazine this pellet might have fed better, but this is a quirk you get with mags that you don't get when loading singly.
Clearly the single-loaded pellets are more accurate than those loaded by the magazine. That may not hold from magazine to magazine; but for this one mag, you're better off loading the pellets one at a time. Let's see how the rifle does with wadcutters at 25 yards.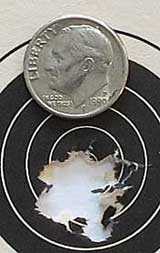 Using the magazine, 10 RWS R10 7.7-grain pellets (an obsolete weight for the R10) grouped in 0.484 inches at 25 yards. That's great performance.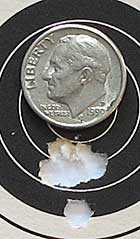 When each pellet was loaded singly, the R10s grouped 10 in 0.402 inches. This was the best group of the test!
The trend continued with the wadcutter pellets. The R10s grouped even tighter than the Falcons at 25 yards, and those that were loaded singly did much better than those that fed through the magazine.
What have we learned?
First, we've learned that some magazines do influence the accuracy of the gun with all ammunition — or at least with the pellet types used in this test. A different magazine might well give different results, but one thing it will never do is outshoot loading the pellets by hand, one at a time. As a 10-meter shooter, I knew this going into the test. But it was nice that we were able to demonstrate it so clearly.
Next, we see that wadcutters were more accurate than the domes in this test. Even though both pellets were very accurate, the wadcutters had the edge. That was the part that surprised me. I'd expected the domes to take over at 25 yards.
The bottom line
The Crosman MAR177 is a valuable addition to an AR and a wonderful target rifle in its own right. It was held back in this test by the use of an AR National Match trigger, which is by no means as good as a target trigger on an air rifle. Even so, we see accuracy that any 10-meter precision rifle would be proud of.
I think Crosman has made a winning rifle in the MAR177. And when they bring out more powerful versions of it in the future, it'll be all the greater justification for owning an AR! My thanks to Crosman for the loan of this MAR177 for both this test and for the feature article I am writing for Shotgun News!