Posts Tagged 'Sheridan Blue Streak'
by Tom Gaylord, a.k.a. B.B. Pelletier
Today is Thanksgiving, here in the U.S., as well as the first full day of Hanukkah, which started last evening. I want to wish my Jewish readers a happy Hanukkah and all my U.S. readers a Happy Thanksgiving Day. Today I'd like to take some time to acknowledge those airguns that are worth remembering.
Benjamin 107
It was my first airgun — though I didn't acknowledge it at the time. I was whining at my mom to let me buy a BB gun, when all the while I had a beauty right there in front of me.
The 107 was a front-pump .177 smoothbore pistol that shot BBs, darts and pellets — none very accurately. But compared to a common BB gun, it wasn't too bad. I got it when I turned 10 or 11 after my father died. It had been his. I remember seeing him shoot it once, but that was all.
All the black nickel finish was gone, and the gun was worn to silver nickel in most places, with a hint of brass showing though some of the edges. It was a real bear to pump, and I think I could manage only three strokes when I applied all my weight. After that, I was the one having the stroke!
I could hold about one inch at 20 feet with darts, which was the ammo of choice since I had them and they could be reused. There were some Benjamin pellets that came with the thing, too, but I don't remember them being very accurate.
Once I secured my Daisy No. 25 pump BB gun, I don't think I ever looked at the old Benjamin, again. But that was the first airgun I ever shot, and it started the fascination that's lasted until now.
Diana model 10
Fast-forward 14 years, and I'm married (to my first wife) with a child and living in Germany. In the walled city of Rothenberg ob der Tauber, I find a gun store that sells high-end airguns. They have Walther LGVs and LGRs that I can't afford as a family man. But they also have a Diana model 10 target pistol that the owner claims is stunningly accurate. He's a good salesman, and we decided we could afford it; so I buy it plus 5,000 RWS Meisterkugeln pellets.
I learned how to shoot 10-meter pistol with that airgun — heck, I learned that there WAS such a thing as 10-meter pistol! And I got passably good. Good enough to stand on the line at formal matches while better shooters won. I did that for the next 20 years and got better and better until I was what, in technical terms, is known as a duffer. That's a guy who shows up and shoots without embarrassing himself, while others rule the day.
I also taught my gun-hating father-in-law how to shoot with that air pistol. He got so interested that he shot up a lot of my 5,000 pellets! I finally sold that pistol when I left the Army in 1981.
FWB 124
This is the air rifle I bought after returning from Germany in 1977. I scoped it with a Tasco firearm scope and never had a lick of trouble with it. It had the plastic trigger that the early rifles came with, but I loved it just as it was. It taught me what a precision adult air rifle could be. I had been reading about these rifles for the last 2 years I was in Germany; and, of course, I failed to realize that I lived in Erlangen, the home of the BSF factory! No, I read the Airgun Digest in the last 2 years of my tour and I wanted a 124, so that's what I got.

One of many FWB 124s I've owned over the years. Each one is a classic!
Then the R1 came out and took all the wind out of my sails. My 124 was no longer the baddest airgun on the block — despite the fact that no one on my block owned any air rifles at all. No sir! Dr. Beeman said the R1 was the gun to own, and I wanted one with all my fiber! I had to sell that 124 to pay off debts when I left the Army, but it left a seed deep inside me and I've owned several since that time.
Diana 27
The Diana 27 I'm referring to is not the one you have seen me write about. No, it's a gun I bought for $18 in a pawn shop in Radcliff, Kentucky, in the late 1970s. I didn't even know what it was at the time. It was a Hy Score 807 in .22 caliber and rough as a cob. The rust was deep all over, making the metal surface bumpy. Had it been removed, there would have been deep pits left behind. But the gun still shot very well. I marveled at how light and smooth the powerplant was. It shot slow compared to the 124, but out to 20 yards it held its own. I gave that one to a friend when I left the Army.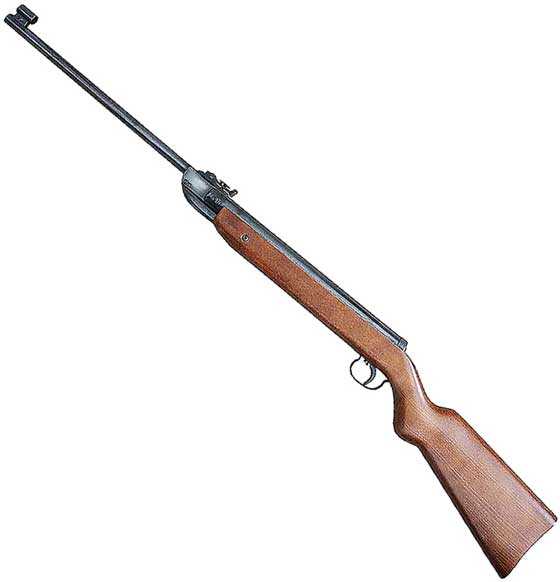 Diana 27 isn't a pretty air rifle, but it shoots like a dream!
Sheridan Blue Streak
This was an air rifle I had coveted since I was a Tenderfoot in the Boy Scouts and read all the ads in Boy's Life. It could shoot through an inch of wood — the ads said so! And it was accurate. But I never had the money to buy one as a kid. In 1978, a year after returning from Germany (and fast becoming a real airgunner), I finally bought one. The price had risen from $19.95 to $39.95 in the time that had passed, but I purchased what is today recognized as the high-water mark of Sheridan production — a 1978 Blue Streak with the rocker safety!

The Blue Streak I bought in 1978, and the rifle on which Edith learned to shoot.
That gun stayed with me after I left the Army. It wasn't worth enough to sell, so I kept it and still have it today. Edith learned to shoot with it and killed 9 rats around our Maryland home — not to mention various mice in the house and snakes in the garden. She put a yellow twist tie around the triggerguard to remind her the pellets were the ones in the yellow plastic box. This was before the days of The Airgun Letter and field target. Edith was still learning about airguns.
Beeman R1
We really didn't have the money at the time, but Edith gifted me with a new Beeman R1 for Christmas in 1991. The Airgun Letter was still 3 years in the future, so the only reason I got this gun was because I told her how long I had desired it. I had purchased a Beeman C1 a couple years before, but it just didn't scratch the itch.
But the real surprise was the used HW 77 carbine that was also under the tree that year. That was Edith at her best — giving me a gift I had no idea I was getting. We even had a scene from A Christmas Story, as a final long box with my name on it appeared after all other gifts had been opened!
The R1 scratched my itch alright; but what I discovered about airguns is that the more you scratch, the more the itch spreads. You think I'm an enabler? Remember, folks, I do everything to myself before I do it to all of you.
Beeman R8
It was the day I returned from the hospital in 2010. I was sitting on the sofa and had just enough strength to sit up for awhile. Edith pulled out a long cardboard box and told me that one of our blog readers had sent me something for when I come home. I couldn't stand or even open the box. She had to do it for me. Inside was a black hard case and inside that was the most beautiful Tyrolean air rifle I've even seen. It was a Beeman R8 with a custom stock and a fresh tune. A personal note told me who had done the work and how nice it shot.

This beautiful Tyrolean Beeman R8 was waiting for me when I returned home from the hospital.
As weak as I was, I had Edith hand me the rifle and I found that I could cock it. Oh boy! Here was a spring rifle I could shoot real soon, even when I couldn't cock most other air rifles. My friend, Mac, was still testing spring guns for me for several months as my strength returned, but that R8 was mine from the moment I first held it.
Edith and I were showered with gifts from the members of this blog when I got out of the hospital, and we were stunned at the outpouring. But that R8 is my favorite spring rifle because of how nice it is, how great it shoots, and most of all what it meant to me at a time when I could barely raise my head off a pillow.
What about the others?
Sure, there have been plenty of other airguns I'm thankful for. My Whiscombe has been a dream test bed for numerous experiments. Both the Benjamin Discovery and the Air Venturi Bronco are guns I personally was involved in developing. So, of course, they meant a lot. The AirForce Talon SS with a 24″ barrel is probably the gun I shoot more than any other…and you all know how I feel about the TX200! I could go on and on, but where do I stop? These guns have all been pivotal in my development as an airgunner.
I'm thankful
Back when I wrote The Airgun Letter, I allowed myself to get sucked into several bad arguments over trivial airgun issues. When we started this blog, I insisted on using a pen name rather than my own. I didn't want to spoil things with old baggage from the past. I also reinvented myself at the same time. I learned to curb my temper and to listen to what others have to say — even when it runs contrary to what I believe.
Some of you suspect this, but now I'll tell you all that Edith is half of Tom Gaylord, the writer. She keeps me on an even keel and lets me vent privately when I have to. She has a much better memory than I do and sometimes she suggests things that I wish I had thought of (and accept credit for when they show up in print). If I didn't have her, the veneer of who I am would quickly peel back and expose the unpleasantness underneath.
The airguns I have written about today were all pivotal in shaping my life as an airgunner. But it is Edith and you readers who have really had the greatest influence. Through thick and thin, you continue to inspire me and make me glad to have this job.
A few weeks ago, blog reader David Enoch asked me to write a report about the airguns that I never warmed to. I tried doing that and quickly found all the bad old stuff leaking out. So, I stopped writing and focused on only the good things that have happened with airguns. There are so many of them; and when I focus on them, I become the person I want to be.
Today's report came as a result of a disaster I had while testing a gun yesterday. Nothing went right, several optical sights failed and I put some new dents in the wall of our bedroom. I then sat on the couch complaining about everything. Knowing that I was losing it, Edith suggested today's topic. I hope this piece does some good for all of you because it has made my day! Happy Thanksgiving!
by B.B. Pelletier
Announcement: Adrian Cataldo Beltran is this week's winner of Pyramyd Air's Big Shot of the Week on their facebook page. He'll receive a $50 Pyramyd Air gift card. Congratulations!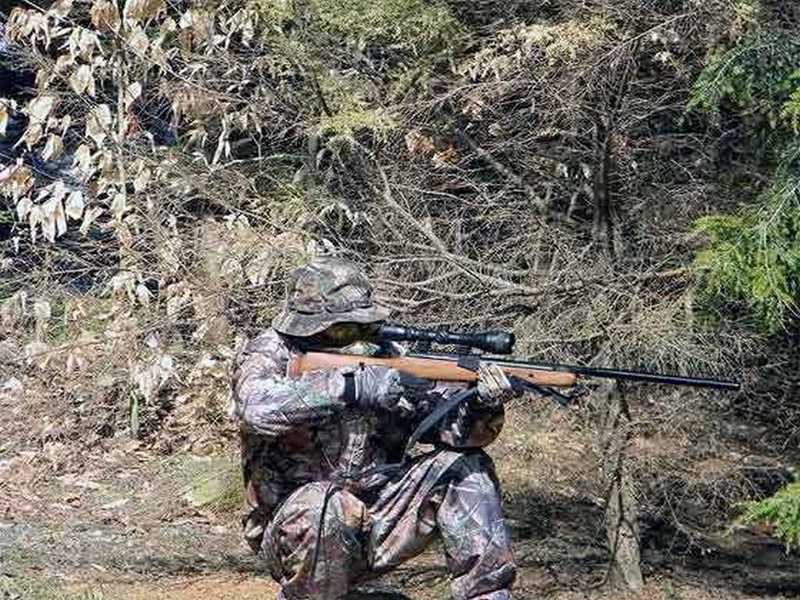 Adrian Cataldo Beltran is the BSOTW.
This is the second time I've used this title for a blog. The last time was a blog I did back in July 2007, almost five years ago. In that report, I was mostly addressing the expectations of accuracy that new airgunners have and how they relate to reality. Today, I want to look at something different.
Today I want to look at our secret hopes — those unspoken agendas that push us and direct us toward gun purchases that can sometimes disappoint us. I had one of these happen to me just this week.
When I was a boy back in the 1950s, I loved the Winchester model 61 slide-action .22 repeater — what we kids called a pump gun in those days. I loved it because every time I got to shoot one, which wasn't that often, the rifle spoke to me. It was just the right size, with a slick action that seemed to bespeak rapid-fire accuracy. Since I never shot at anything smaller than a soup can, I don't suppose that real accuracy ever came into question, but that gun just SEEMED accurate to me.
As a young adult in the middle 1970s, I had the opportunity to buy a 98 percent model 61 that had been produced in 1953. It still had the original box and cost the exorbitant price of $250, but I knew it was worth every penny. I didn't actually shoot it that much, but I shot it enough to know that my childhood imagination had amplified the rifle's true capabilities. It was accurate enough for what it was, but it was no tack-driver. Anyhow, the day finally came when I was forced to sell it before I apparently fulfilled my fascination for the gun — because a couple years ago I had a chance to buy another one in very good shape (call it a 75-percent gun) for just $550. This time I could afford the gun, but I didn't act quick enough and the opportunity passed.
Last week I passed the pawn shop where I had seen the model 61 for sale, and once more the same childish thoughts flashed through my mind. And here's the point of what I'm telling you. I now own a Marlin model 39A that is even slicker than the Winchester, and a Remington model 37 target rifle whose accuracy can embarrass almost every other .22 on earth. So why does my heart still yearn for the old pump gun that I know can't compete with the guns I have? I think it's that eternal desire to return to my childhood!
I had the exact same experience with a Daisy No. 25 slide-action BB gun, only this time I actually acquired nine of the things — all in beautiful, collectible condition. Owning them for over two decades allowed me to purge the demons from my past; and a couple years ago, I started quietly selling off that collection. The void in my heart had been filled.
At one time, I had the itch for a Colt Woodsman .22 pistol, because as a youngster I shot my uncle's gun and did very well with it at 25 yards. From the prone position with a two-hand hold, that pistol grouped like a fine .22 rifle! But I've owned several Woodsman pistols over the years, and the experience has filled that pothole in my character. I know now that a Ruger Mark II can be just as accurate and just as reliable for one-quarter the price.
The longest itch I ever had was for the M1 Carbine, because I still have it even though I own one! I have owned several, and all have been good shooters — if not terribly accurate. But something about the little semiautomatic action that's still impossible for gunmakers to build (no semiautomatic rifle has ever been made that was as light and powerful as the M1 Carbine) turns me on! I cannot pass one by. It's as though I need to own them all, even though I have whittled my own "collection" down to just one good gun.
The strangest itch I ever had was for one specific gun. Years ago, I acquired a Trapdoor Springfield rifle that was in NRA antique good condition. It wasn't anything to look at; but the bore was great, and it was fun to shoot. But I tired of that hard-kicking rifle after many years and eventually traded it away. Then, seller's remorse set in. A year later, when I saw it up for sale, I bought it back. And I had it for several more years until I traded it away a second time. Then, a couple months later, I learned that the new owner intended selling it because the barrel was too long for him, so I traded for it, again. I also own a really accurate scoped .45-70 rolling block that I shoot all the time, but apparently I cannot stand to not also own this tired-looking old Trapdoor. Like a prized horse that's been put out to pasture, I guess this one will remain with me until my estate sells it!
The point of this report
What I'm driving at today is that all shooters carry some baggage. For me, it's the Winchester 61 and the others I've mentioned; but for you, a Browning Auto 5 may light your fire, or perhaps you find Lugers fascinating! I know that Mac has a soft spot for any shotgun in .410 caliber. Somewhere on the path of life, we have an experience or even just a fascination, and it starts the pot inside us brewing with lust.
BB's Kryptonite
Old B.B. Pelletier still has a couple voids left in his soul besides the Winchester. One would be a beautiful blue H&R model 999 Sportsman .22 revolver. There's just something mystical about that break-open design that fascinates me! I have the good sense to know that I couldn't possibly shoot it any better than any other top-quality revolver, but something about it still haunts me. I have never even fired one shot from a 999, so of course the thing is really buried deeply under my saddle! I fantasize about breaking open the action and watching those nine empty cases extract from the cylinder, as if by magic. It's not a healthy wish, but this one's on my bucket list.
For some asinine reason, I'm fascinated by the Johnson semiautomatic battle rifle of World War II. They're all selling for way over $2,000 these days, and good ones go for much more; so this is an itch I don't ever expect to scratch — but it's still there. I would probably be underwhelmed by one if I shot it, because I've shot the Garand (another itch that has been satisfied many times!), but I guess you want most the things you can't have.
Oh, and for some dumb reason, I find I cannot look away from an 8mm Hakim battle rifle. I know it's because I've owned so many of the air rifle trainers, but the phrase "the poor man's Garand" has sunk its hook firmly into my lips. I've come very close to pulling the trigger on several fine-looking Hakims in the past but was always put off by their poor bores that resulted from firing corrosive 8mm military ammunition.
Airguns
In airguns, my secret desire is to own another Sheridan Supergrade multi-pump pneumatic. I owned one years ago and learned that it was no more powerful nor more accurate than a simple Blue Streak, but something about the robust styling of the gun still attracts me. Years ago, I was forced to sell the one I had for economic reasons, so the fascination was never completely satisfied. And I sold it just after the prices began to rise. I told myself I would buy another one when I could, and then I encountered the super-inflationary price increases of recent years.
A couple years back, I had the chance to buy a nice Supergrade at the Roanoke airgun show and I even (momentarily) had the money to buy it! But something inside stopped me from forking over the cash. And that was two weeks before I made the landmark trade for my Ballard rifle — so I guess the still small voice I listened to was the voice of reason that time! I had to use the cash to buy several things that were used in that trade, so it was either the Ballard or the Supergrade.
To quote Minnie Pearl, "I'm done playin' now!" I want to spend the rest of this weekend reading about what turns YOUR crank!
by B.B.Pelletier
Announcement: Mathias Moe Varga is this week's winner of Pyramyd Air's Big Shot of the Week on their facebook page. He'll receive a $50 Pyramyd Air gift card.
Mathias Moe Varga submitted the above photo of Miles Alexander Varga, who got in some shootin' with his Crosman XT air rifle.
Today is Friday, and I've already written a couple reports this week that belong on a Friday blog, but a question came in from a shooter who will probably never read this report — yet, it was so intriguing that I wanted to answer it for you today.
This shooter owns a vintage Sheridan multi-pump pneumatic, and he's been perplexed for years because .20-caliber Crosman premier pellets are not carried in stores. He remembers the old cylindrical pellets that used to come in the red and white tins and later in the yellow plastic boxes, but he doesn't know if any .20-caliber pellets are still being made today.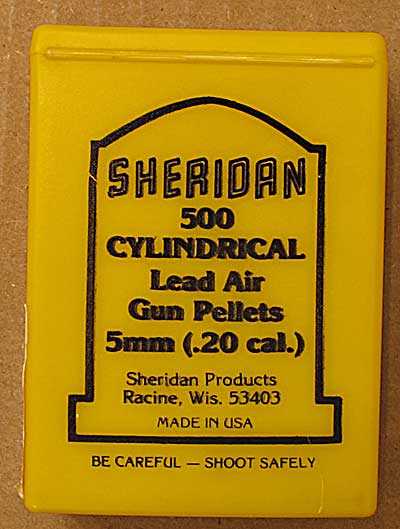 This is the box that vintage Sheridan cylindrical pellets came in when Sheridan was still in business (before Benjamin bought them…and then Crosman bought Benjamin).

Vintage Sheridan cylindrical pellets. Notice the small driving band at the base, which engages the rifling.
Of course, they're being made and in greater diversity than ever before. But you don't typically find .20-caliber pellets at a sporting goods store, and they're never found at a discount store. The best selection will be found on the internet.
His question made me think of this: Are today's pellets better or worse than those of long ago? What I thought I would do today is find out which is better — the old pellets or the new.
I have been telling people for years that the .20-caliber Crosman Premier pellets in the cardboard box are noticeably better than the older cylindrical Sheridan pellets, but are they really? The only way to find out is to shoot some and see what happens.
Twenty-caliber pellets
I bought my Sheridan Blue Streak in late 1977, though I have also owned a vintage Silver Steak that was made between 1950 and about 1960. I no longer have that vintage gun, but the '77 Blue Streak is still here, so that will be the test bed.
I used to buy Sheridan pellets in yellow plastic boxes of 500. They were the only .20-caliber pellets on the market when I bought them, but Dr. Beeman changed that in the 1980s when he began bringing in European spring guns in .20 caliber. Twenty caliber still occupies third place out of the four smallbore airgun calibers (.177, .20, .22 and .25) in terms of popularity, and its position is currently being threatened by a resurgence of interest in .25 caliber. Both .177 and .22 calibers are so far ahead of these other two calibers that there's really no comparison when it comes to sales and usage.
Beeman's pitch was that the .20 caliber was a great compromise between .177 and .22, but that pitch never quite caught on. Many shooters felt the truth was just the opposite — that .20 was both more expensive than the .177 and not as effective on game as the .22. You can argue this all day long and never change anyone's opinion, but the truth is that there just aren't as many great pellets in .20 caliber as there are in .177 and .22.
However, if there's even just one good pellet, maybe that's all we need. And the Crosman Premier pellet may just be the one.
I thought I'd test-fire several groups with my Blue Streak at 25 yards. Because it's a multi-pump that takes some time for each shot, I'm going to shoot only 5-shot groups, but I'll shoot several with each pellet. I'll pump the rifle 6 strokes per shot because I'm shooting at 25 yards. That should give me decent accuracy, though I'm only using the open sights that came on the gun.
As I write this, I've not yet fired the rifle, so I have no data to consider. I do think the Crosman Premier will shoot more accurately than the old cylindrical pellet, but we'll have to test it to see.
Let's shoot
It's been about two years since I shot the Blue Streak, so I oiled the pump head with Crosman Pellgunoil before starting. Then, I fired a single shot at the bull 25 yards away. It hit within about one-quarter inch of the aim point, so I finished that group and changed targets for the next.
The first three groups are all Crosman Premiers. I think the groups speak for themselves.


These three groups of Crosman Premiers were easy to put side-by-side because they're so small. They were shot in order from left to right. The groups measure from left to right — 0.749 inches, 0.911 inches and 1.088 inches between centers.
Next, I tried the vintage Sheridan cylindrical pellet. Once more, I verified that the first shot was close to the aim point, then no more checking.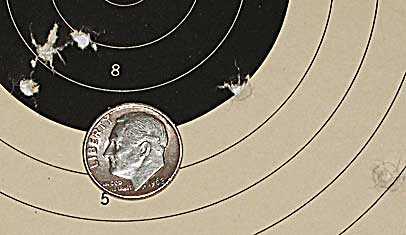 First group of vintage Sheridan cylindrical pellets looks like I wasn't trying! It measures 2.63 inches between centers.
The first group of Sheridan pellets looks like I wasn't trying, but I assure you I was. I really gave each shot everything I had.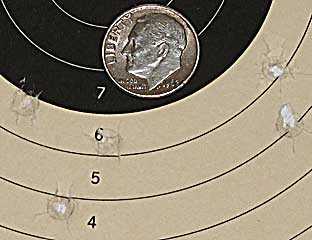 This second group of Sheridan pellets was better than the first, but still not good. It measures 1.66 inches between centers.
Group two was better but not really good. I was relieved to discover that the reason was the pellet and not me. However, it gave me an idea. After group three with the vintage pellets, I would shoot a fourth group of Premiers, just to see if I could still shoot. I thought I might be getting tired at this point.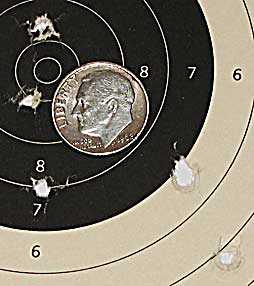 The third group of vintage Sheridan pellets measured 2.133 inches between centers. It was in-between the first group and the second.
The third and final group of vintage Sheridan pellets confirmed that they're not that accurate. It was in between the first and second group, even though I was doing my best to aim precisely.
Was I tiring out? I had to know, so I shot a fourth group of Crosman Premiers that had established themselves as accurate pellets.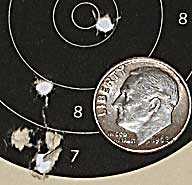 This final group of Crosman Premiers shows that I was still shooting about the same as at the start of the test. It measures 1.106 inches between centers, which fits in with the first three Premier groups.
As long as I was shooting the rifle, perhaps I should shoot a group with one other pellet that's given good results in the past. The .20-caliber Beeman Kodiak is actually a medium-weight pellet — at just 13.27 grains. I shot only one group, but it seems to confirm that this pellet is in the same class as the Premier for accuracy.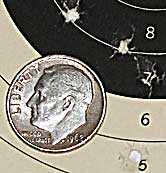 Five Beeman Kodiak pellets made this 1.143-inch group. It's close in size to the Premier group and should be considered for this airgun.
An interesting pattern
When I took the last target down from the pellet trap, the pattern in the fresh cardboard that backed all targets was quite interesting. Though I made no attempt to mount each of the eight targets in the exact same place, the cardboard tells the whole story about where all the pellets went.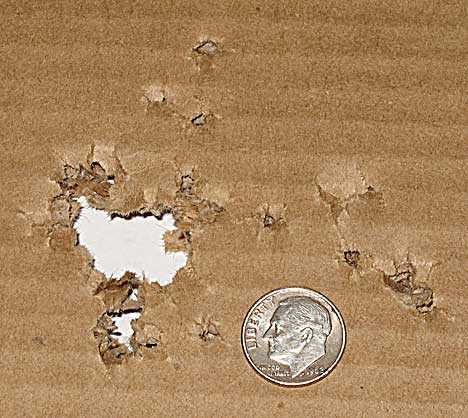 Here's the history of where each of the 40 shots went. Though no attempt was made to position every target in the same relative position, I find this is an interesting record of all the shooting.
Final thought for the day
This was written and tested on a Thursday — yesterday to everyone who is reading it on the day it is first published. I had been planning on going to the range to shoot some firearms yesterday, but the weather wasn't cooperating, so I shot at home, instead. I'd planned to shoot my .32 cap-and-ball rifle, and shooting the Sheridan was very similar. You have to take time before each shot to get the gun ready so you're extra careful to make every shot count. Also, going at this pace calms you and soothes you. I felt wonderful after this shooting session. Contrast that to shooting some uber-magnum springer that cocks like the bow of Hercules! Give me the slow lane every time.
by B.B. Pelletier
Heads up! Before you read today's blog, I wanted to alert you to a special scope deal Pyramyd Air is running through GearHog.com. For one day only, they've slashed the price on a Leapers 4×32 compact scope with rings. The scope goes on sale Wednesday morning (9/21/11) at 3:00 A.M. Eastern. I can't say for sure the exact minute that evening when it'll go back to the regular price, so be sure to order early if you want it. Click on the Gear Hog link to get yours. There's also an order limit of 2 per person. Now, on to today's blog.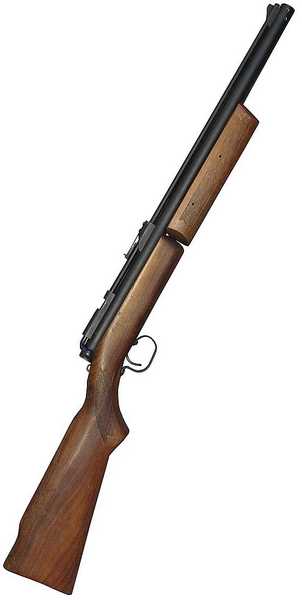 Benjamin's 347 multi-pump was sold between 1969 and 1992.
Today will be a "Grasshopper" day, as in basic learning. We will transition from "Wax on. Wax off" to learning a few basic offensive karate moves — metaphorically speaking.
I'm going to demonstrate today how I assess the firing condition of a new (to me) multi-pump airgun. This is a drill you probably should be using with all your multi-pumps when you first get them — new and used, alike.
Today's lesson requires the use of a chronograph. My choice is the popular Alpha model Shooting Chrony that costs right at a hundred dollars.
The first thing I do is cock the gun and shoot it to release any air that might still be inside. Hopefully, there will be some; but with a used gun, the chances of that happening are less than 10 percent. From this point on, though, you should always store the gun with one pump of air in it if the mechanism allows you to do that. Some guns, like the Daisy 22SG, are designed so they cannot be stored this way, but the Benjamins and Sheridans still can; they should always be stored with air in them.
The next step is to pump the gun to the maximum, which with most modern Benjamins is eight pump strokes. Then, load a pellet and fire it through the chronograph. I always use the Crosman Premier pellets for this; and with the .177 guns, I use Premier lites. With the 347 in this test, I got a velocity of 646 f.p.s. on eight pumps.
According to Crosman literature, a new Benjamin 397 should get up to 800 f.p.s. with the maximum number of pumps. That would be with the lightest pellets, so figure a max with Premier lites of around 750 f.p.s. I happen to have a Benjamin 397 in great condition, and it gets 748 f.p.s. with Premier lites on eight pumps.
So, the 347 I'm testing is a bit weak. However, it's not as bad as it sounds, because the bolt on the 347 doesn't have an o-ring sealing it like the 397 does. It might never have been quite as fast when it was fresh, due to a small air loss at the breech upon firing. Not that metal-to-metal seals can't be absolutely airtight, because they can. But on a high-rate production gun like the 347, the time needed to assure a good seal cannot be taken; while it's good, it isn't perfect.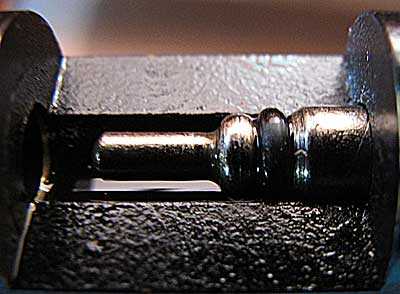 The Benjamin 397 bolt has an o-ring to seal the breech.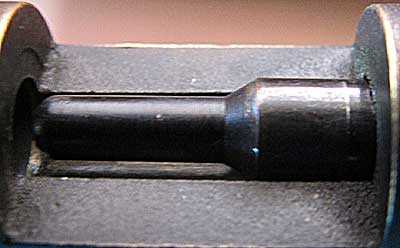 The Benjamin 347 bolt seals with an angled metal-to-metal contact. It's less airtight.
The comprehensive test
Now we're ready to comprehensively test the subject rifle. There are several different ways to do this, but the one I'll show you is pretty quick and also very thorough. I'm going to pump the rifle to a different number of pump strokes and record three shots at each level. After I finish the maximum number of strokes, which is eight, I'll pump the rifle additional times and shoot through the chronograph. After every one of those shots, I'll cock the gun and fire it to see if any air remained in the gun. When I get to the point that air remains, I'm finished with the test.
Pumps–Velocity
2            404, 416, 408
3            488, 489, 485
4            546, 540, 545
5            582, 578, 578
6            609, 614, 616
7            644, 639, 641
8            666, 656, 668
9            678 No air remaining in gun
10          700 Air remaining in gun
The test was stopped at this point, because the gun's valve cannot handle 10 pump-strokes worth of air. That doesn't mean I'll be filling the gun to nine strokes, either. It simply means the gun is a little tired and the valve can handle more air than the eight strokes I'm currently putting in it. But pumping to a higher number of strokes puts more stress on the pump mechanism; so if you want your air rifle to last for decades, don't exceed the maximum recommendation. However, if you absolutely must have the last foot-second from the gun, then this one needs an overhaul.
Personally, I'll keep on shooting it as it is, because I don't need this gun to be a magnum. I have other airguns for that.
Shot string analysis
Let's look at the shot string and see what we can learn. First, notice what huge jumps in velocity you get when advancing to pump strokes three, four and five. Those large increases start tapering off after five strokes, and the additional strokes only boost the velocity a little. The jump from four strokes to five is about 34 f.p.s.; but from seven strokes to eight, it's just about 22 f.p.s. We're stressing the system more for a smaller boost in velocity.
Next, notice how the rifle stabilized and gave very tight velocity variances on pumps three through seven. Apparently, it likes that range of pressures.
After the test
After the shooting was finished, I went back and shot one more shot at each number of pumps to see if the results still agreed with what I got when shooting the strings. What I'm doing here is canceling any bias from the gun heating up.
Pumps–Velocity
2            411
3            483
4            539
5            581
6            610
7            642
8            659
Comparing these numbers with what was seen in each of the strings, I'd say the rifle is shooting in the groove and there's been no heating up from use. However, the first shot on eight pumps differed from the string on eight pumps, so the gun does need a couple shots to warm up in the beginning.
One other test
One final test, and I'm finished testing this rifle. When I bought it from a pawn shop several weeks ago, of course there was no air in it. I immediately put in one pump and have stored it that way ever since. When I started this test, the first thing I did was cock the rifle and shoot it, to see if there was still compressed air inside. And there was! That means it held air for over a week.
For the rest of the time I own this rifle, I'll test it from time to time to see if it 's still holding that pump of air. My Sheridan Blue Streak, which was new in 1978, has been stored with a pump of air in it since new and it still holds air indefinitely. I've shot it after storing it for over a year, and there's still air inside. It's lost about 75-100 f.p.s. velocity since new, but it still holds air; and that means the valve is still tight. My Crosman model 101 .22-caliber multi-pump rifle, which was built in the 1940s and was overhauled about seven years ago, has held one pump of air for as long as two years, which is as long as I've tested it so far.
Do you notice that I only used a single pellet for today's test, and that I ran the test differently than usual? Multi-pumps are different guns and have different things to watch, so this kind of a velocity test is better-suited to their design quirks.
by B.B. Pelletier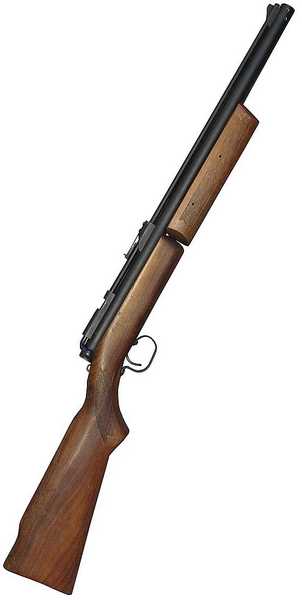 Benjamin's 347 multi-pump was sold between 1969 and 1992.
The Benjamin 347 is a single-shot, multi-pump pneumatic made by the Benjamin Air Rifle Company of St. Louis from 1969 through 1992. Most of what I will say about the 347 (the .177-caliber version of the gun) also applies to the .22-caliber model 342.
There are two variations of this gun. The model I'm testing for you today is the first variation. It is characterized by a checkered pistol grip and forearm and was made from 1969 until 1986. The second variation has a plain stock and went from '86 to '92.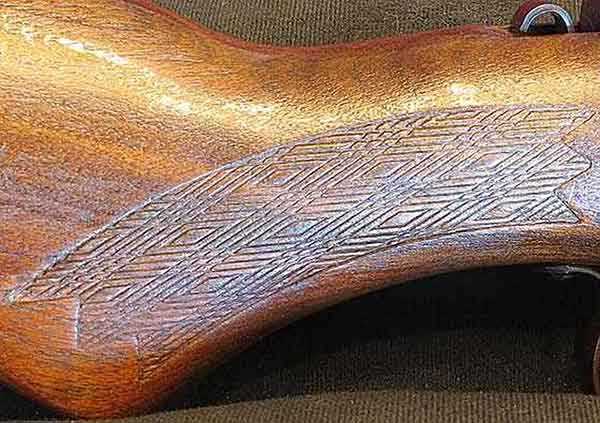 This closeup shows the checkering on the 347 pistol grip. Not great, but what do you expect?
This is the model that took Benjamin out of the old days and into the modern era, where the successor models 397 and 392 took over and remain current today. The rifle just prior to this one was the model 317. It was also an underlever pump like the 347, but Benjamin had used the same model designation for an earlier front-pump, pushrod-type multi-pump that was made before World War II.
When I got back into airgunning seriously in the early 1990s, the presence of these two different Benjamin airguns with the same model number caused a lot of confusion; but now that Crosman has brought out the now-discontinued Benjamin Super Streak, a breakbarrel spring-piston rifle, most collectors have gotten used to the idea of model name reutilization.
The rifle
The 347 is generally the same as all underlever multi-pumps that went before and came after its time, but don't think there are no differences. For years, I've told people that a 347 is just an older 397; but now that I have both of them to examine, I can see several differences. The first is the overall length of the gun. The 347 is just under 34-1/2 inches long, while the 397 that I have is 36-3/4 inches overall. All that difference appears in the stock, as the barreled actions are exactly the same length. That's important, because the length of the barrel determines the maximum velocity the rifle can achieve.
While this is not a report on the 397, I'll say that the first 397 rifles looked remarkably similar to the 347. Over time, though, certain features — such as where the safety is placed and how the rear sight works — have changed. Today, the 397 is quite a different rifle, though at its heart it's still a multi-pump with the same capability as all other similar guns.
The pull on the 347 is just 13 inches, which is about 7/8 of an inch less than the 397 and about 3/4 of an inch more than the 397 carbine. I compared it to the specs Mac gave us for the 397C, and it turns out to be just a little longer over all and heavier (at 4 lbs., 12 ozs. compared to 4 lbs., 4 ozs. for the carbine). So, this is a smaller air rifle, yet still sized for an adult.
The safety is located at the rear of the receiver and is a push-pull type similar to many shotgun safeties. It's entirely manual.

The bolt is just bent from a solid rod. The safety. located behind the receiver tube, is manual and slides in and out. It is convenient to the thumb.
The trigger is another interesting feature. While it's quite simple in design and operation, it has an average 46-oz. pull-weight and is reasonably consistent (within 3 oz.). That's under three pounds and quite a bit better than the lawyerly 5-7 lb. triggers we see on multi-pumps today. The blade is very wide and flat and feels good to me.
Sights
The rear sight is adjustable in both directions, though both adjustments are crude. To adjust windage, loosen the rear screw on the sight leaf and push the whole sight in the direction you want the pellet to go. For elevation, there's a stepped elevator that sits under the rear leaf. I'll find out how well they work when I test the rifle for accuracy.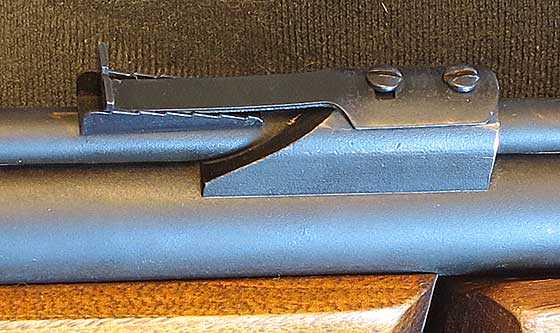 The rear sight has crude adjustments for both windage and elevation.
The rear sight notch is very wide in comparison to the front blade. A little extra light on either side of the front blade is good, because it allows you to frame the front blade exactly in the center. But this seems to be too much; and once, again, I'll find out when I shoot it for accuracy.
The 347 will accept the Williams peep sight, but the receiver isn't pre-tapped for it. That was a marketing mistake on Benjamin's part, and Crosman corrected the situation when they took over the company. Owners do not want to drill and tap holes in their receivers, and why should they? Even though the receivers on all Benjamin pneumatics are made of brass that's easy to drill, it's an extra step that most people just will not take; but if the holes are already there, quite a number will decide to try the peep sight.
As far as scoping the rifle goes — my advice is to forget it. The intermount that fits on the barrel of a rifle like this is so prone to break the barrel solder joint from flexing it with the extra weight of a scope that it isn't worth the attempt. My advice is to just use open sights on these older multi-pumps. Of course, there have been receiver bases for the modern Benjamin rifles that change everything, but I don't know if they'll work on an older-profile receiver like the one found on a 347.
Maintainability
Though the parts are no longer generally available for an older model like the 347, there are plenty of service stations that are making and modifying parts for these guns. So, they can be repaired and rebuilt. The pump piston rod in the rifle is adjustable for wear. As the power drops off, the pump rod can be turned out (made a little longer) to make the piston head go closer to the inlet valve, thereby pushing more compressed air into the valve/reservoir when the rifle is pumped. It's not a means to hot-rod the gun, but to tweak it back to original performance when it gets a little tired.
Naturally, the best maintenance for any airgun like this is to keep the pump head moist with Crosman Pellgunoil, which helps it maintain a seal against the walls of the compression tube when it moves. For long-term care, leave a pump of air in the gun when it's stored. That seals the valve against airborne dirt that can quickly destroy the seals. A rifle thus stored can be expected to function for many decades.
My pet peeve
The rifle says "Benjamin Franklin" on the left side of the receiver tube. I knew that was a play on the company name when I was nine years old and inherited my father's model 107 pistol. For some reason that I cannot fathom, adults in their 60s still don't get it and think the rifle is called a Benjamin Franklin. Nothing sets me off quicker that when someone makes this mistake. Sorry, but you've been warned.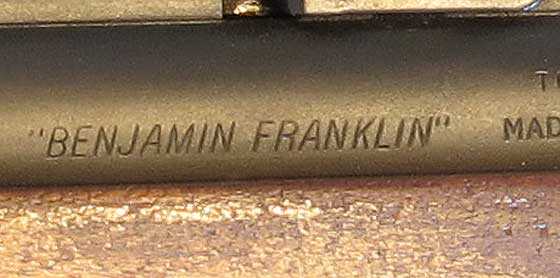 The presence of quotation marks around the name, Benjamin Franklin, indicates that it's not real. It is, in fact, just a play on words. Since the company name is Benjamin, they wrote Benjamin Franklin on all their guns during certain years. There was never a Benjamin Franklin airgun model, nor is there any other connection to the name.
Another factoid
All Benjamins are made of solid brass. It's amusing to see one all polished like a trumpet and the owner thinks he has the greatest thing in the world. In fact, they're all solid brass under the finish. At gun shows, it tickles me to hear dealers talking with pride about their "all-brass Benjamin Franklin" when the guns are still made of the same materials today.
Putting things into perspective
A look at a 347 is a look back into history. This rifle was made when the old Sheridan Blue Streak with the classic rocker safety was made and should be equivalent to it in most ways except power. As a .177, this rifle will always come out on the short side of a power test because pneumatics like to push heavy pellets for greater power. However, velocity will be greater for the smaller-caliber guns. So there's a balance.
This should be a fun gun to test.
Postscript
Last weekend, I heard a funny line in the new movie Contagion. One of the main characters was a blogger portrayed by Jude Law. A doctor, played by actor Elliott Gould, told him that a blog is just graffiti with punctuation.
by B.B. Pelletier
Our blog reader pcp4me suggested this topic; and since I spent both Saturday and Sunday at the Dallas Arms Collector's show (it's a tough life), I wanted something that didn't need a chrono, a range or lots of pictures. So, this report is one of my laments that will start all you veteran shooters crying in your beer. It's the story of guns I've loved and lost.
Yes, I've done this before and, no doubt, there will be some repeats. But, because I'm flawed and continue to make mistakes, there will be some new stories, too.
My first Daisy No. 25 pump gun
I had a paper route and when my sister's latest boyfriend wanted to score some points (he didn't last long), he sold me his 1936-version of the Daisy No. 25 pump BB gun. It was the Weatherby Magnum of the BB gun world back in the 1950s.
For three days, I was king of the hill, lording my good fortune over the neighbor kid who was making the best of a tired old lever-action Daisy 102 that shot to the left. My gun would shoot through one side of a tin can (the airgun chronograph of the 1950s), while his would only make a dent.
However, on day four, when I went to shoot my new prize, the BB just rolled out the muzzle after I pulled the trigger. I was beside myself and immediately went into the repairman mode, stripping the gun as far as I could with just a screwdriver, pliers and a lot of personal angst.
When the parts were far enough apart that I'd never be able to get them together again, I put them all in a paper grocery bag and sold them for a quarter to someone. I just wanted the gun out of my sight to forget the sad memory as soon as possible, and I thought the guy who bought the parts was a friend.
Several days later, the "friend" brings the whole gun back and shows me that it shoots fine. "My old man put it together for me. He told me you have to oil them every so often to keep the leather seals working, you dope!"
At that exact moment, I became a collector of Daisy No. 25 guns, and a potential airgun writer with his first cool anecdote. This is probably the tenth time I've told that tale, so I'm slowly ammortizing the pain though the catharsis of writing.
My Sheridan Supergrade
They don't shoot any better than a Blue Streak, nor are they more accurate; but Sheridan Supergrades have held a fascination for me ever since I read about them in the first Airgun Digest. Just like the former owner of what became the Golconda diamond mines, I wasn't poor until I knew what a Supergrade was and I didn't have one.
Mine was an "honest" gun, which means that it worked and wasn't a junker, but it had the signs of use. It was accurate, but no more so than a Crosman Town and Country 107 I owned at the same time. But it was a genuine Supergrade and it was mine!
Then I was forced to sell it and while doing so I told myself that when circumstances improved I could always by another one. But like the old doctor in the movie Field of Dreams, the man known as Moonlight Graham in the single inning of major league baseball he ever played, what I didn't know was that was the only day I would have. Supergrades went through the roof and now I absolutely refuse to pay what it takes to buy one in a condition similar to what I once had. So, I'm going to continue to sit by the curb and make mudpies and pout.
A .22-250 custom rifle
I was young and stupid and didn't know that all centerfire rifles cannot hit hovering bumblebees at 100 yards. My .22-250 was a nondescript custom job on a 98 Mauser action with a Douglas Premium barrel. I had the loading dies, brass and exact loads to put five into a half-inch group downrange. What I didn't have was the presence of mind to hold on to this most accurate rifle I ever shot. I forget what I traded it for or how much money I may have received for it, but I do know that it wasn't as good. I've been searching for an accurate .22 centerfire rifle ever since.
A .458 Winchester Magnum
Sure, it's an elephant rifle, but the guy who sold it to me at a local gun show also sold me the dies and the bullet mold and gave me all the cases I'd ever need to shoot the rifle. He also gave me the light load it preferred, and that was the first rifle I ever shot 10-shot groups with. I did that only because I was mesmerized by all the bullets passing through the same hole in the 100-yard target.
I was so stupid about guns that I thought all .458s would do the same as that Springfield-based custom gun. Now, I know better and continue to search for accurate big bores that can do as well. Perhaps, someday, I'll get the Ballard to turn in a group equal to what I once owned and stupidly traded away.
Ruger Blackhawk flattop with a 10-inch barrel
It was a great gun that I could load heavy but never seemed to kick me beyond my ability to absorb it. It wasn't a cowboy gun and, at the time, I thought the sun rose and set under the rampant Colt. I traded off the Ruger, telling myself that I could always buy another one…if I don't mind selling off a handful of my other favorites. I see them on Gun Broker from time to time and two thousand will buy one in good shooting condition these days. Once again, I refuse to be taken advantage of my own stupidity. Press onward and never look back is my motto.
Savage Anschutz .22 Magnum
This one is painful because it just happened this past weekend. I took my deluxe Savage Anschutz .22 Magnum bolt-action to lay on my table just to fill some empty space. I put a price on it that I was certain would insult everyone, because I really did not want to sell this rifle. Sure enough, a dealer walked up and paid my full price before the show opened. Mac later saw it on his table with another $125 on the price.
Back to airguns
If it seems like I've loved and lost more firearms than airguns, it's because I have. I've been shooting firearms as long as I have airguns and have owned many times more of them over the years. But there are also some more airguns I've sold that I shouldn't have. You generally find out that you shouldn't have sold a gun when you find that you cannot stop thinking about it after it's gone. For that reason, I know I'll have difficulty selling the current crop of 10-meter rifles I own.
Air Arms Shamal
But many years ago, I bought an Air Arms Shamal .22-caliber PCP. That rifle had a fill pressure of just 2,600 psi, yet it developed 20 honest foot-pounds over 20+ shots. The rifle had a gorgeous walnut stock, but that wasn't what caught my fancy. It was the incredible accuracy that could put five pellets into the same hole at 40 yards. Aside from one other British-made airgun, this was the most accurate .22 air rifle I've ever tested.
I sold it in a moment of weakness when I was panicked over money. I would probably do the same thing again, but I'm fortunate not to have been in the same financial straits for many years.
I would do it again
My last story has a happy ending, despite the fact that I don't have the gun. Fifteen years ago, I was heavy into tuning FWB 124 air rifles. I found them, tuned them and resold them to finance the next batch of similar air rifles. However, in all the confusion, I tuned one rifle that stands out from all the rest. It was a 124 Deluxe sold by Beeman back in the late 1980s, and it looked just like hundreds of other 124s, only this one was different. It turned out to be the hottest 124 that ever passed through my hands. After the tune, it was putting Crosman Premier lites out the spout at 881 f.p.s. with complete smoothness.
I knew it was a great airgun when I owned it, but familiarity finally bred, if not contempt, at least disregard, and I allowed it to go in a trade. The good news is where it went. My buddy Mac got the rifle and still owns it today. He says it still shoots as fast and smooth as ever and that makes me glad.
If I've learned anything over the years, it's this one truth. You may probably never, again, have the chance to acquire something as nice as what you now have. You should take the time to acknowledge when something is so good that it catches your attention. It probably does that for a good reason, and you should learn to listen to your gut when this happens.
I know something else, too. I don't have the time to enjoy all the wonderful things there are. If I take the time to enjoy fewer things more, rather than more things in less time, it turns out well. And that's my advice for today.