Posts Tagged 'Shinsung Career Dragon Slayer air rifle'
by B.B. Pelletier

The Dragon Claw from Sam Yang is a .50 caliber big bore air rifle.
Today, I'll test the velocity of the Sam Yang Big Bore .50 caliber Dragon Claw single-shot air rifle. For this test, I used two Air Venturi bullets and a swaged round ball that are available from Pyramyd Air.
The rifle is supplied with a probe-type quick-disconnect fill device, and I can finally report that the Koreans have now conformed with the rest of the world in supplying these adapters with standard threads that attach to common 1/8″ BSP fittings. In the past it was a chore matching these adapters to hoses you might have on hand (if you're already into PCP airguns).
The No. 1 recommendation I have if you're buying the Dragon Claw as your first PCP is that you also purchase the Pyramyd Air Quick-Disconnect male fitting and switch out the fill port on your rifle. Then, you can fill from a variety of high-pressure air devices, including the Air Venturi 88 cu ft carbon fiber tank. You're going to want something that large to keep this monster gun supplied with air.
Let me address the air issue right now. This rifle does use a lot of air. I found that I got four useable shots on high power or eight shots on low power, and each time I did that the gun dropped from 3,000 psi to 1,500 psi for high power and 1,200 psi for low power. This number of shots per fill is fairly good considering the caliber of the rifle, but you're going to refill it often. Don't even think of using a hand pump for this rifle!
Shot with open sights
I decided to shoot the velocity test shots with open sights to simplify things at the range, and in so doing I learned that this rifle shoots very low at 50 yards. So low, in fact, that it was impossible to move the point of impact up to the point of aim. That's good to know, because I'll want to use a scope mount with some droop correction for the accuracy test.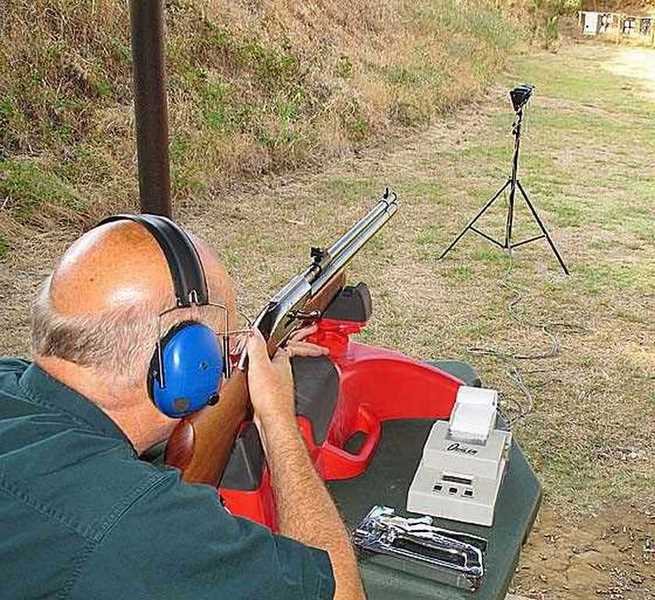 While I chronographed the Dragon Claw, I also got to see how it shot with open sights.
The rifle actually grouped pretty well with open sights, considering I was shooting three different projectiles at two different power levels for each. Of the approximately 25 shots I fired, about 21 grouped in a hand-sized group. Unfortunately, it was below the target paper, so I'll leave all accuracy testing to Part 3. But this test did show me a couple things about the gun.
I know why there's a low-power level
First, you may remember that I was skeptical about using the low-power level. Now I know why it's useful. With the Air Venturi 200-grain round nose lead bullet, the rifle gave eight good shots on low power — and they all went into that group I mentioned. When I scope the rifle for the accuracy test, this is one power level I'll definitely try.
On low power, the 200-grain bullet ranged from a low of 562 f.p.s. to a high of 613 f.p.s. The average was 598 f.p.s., which gives us a muzzle energy of 158.85 foot-pounds. That's for eight shots on low power.
On high power, I got four good shots from all the bullets. The 200-grain bullets ranged from 687 f.p.s down to 610 f.p.s., with an average of 640 f.p.s. That's an average muzzle energy of 181.95 foot-pounds. So, I got half the number of shots for a 23 foot-pound gain. It doesn't seem worth it to me. They did group with the other 200-grain bullets, though.
The 225-grain Air Venturi round nose lead bullets also gave four good shots on high power. They ranged from 652 f.p.s. down to 581 f.p.s., with the average at 614 f.p.s. That's an average muzzle energy of 188.4 foot-pounds. That's not much better than the 200-grain bullets, so I think I'll stick with the lighter bullets. These bullets also went into the main group with everything else.
On low power, the 225-grain bullets gave eight good shots, ranging from 614 f.p.s down to 521 f.p.s., with the average at 563 f.p.s. That's an average muzzle energy of 158.4 foot-pounds. They also went into the main group at 50 yards.
Round balls
It was the Hornady .495-inch round balls that didn't do so well in this gun. They averaged just 465 f.p.s., so they must fit the bore very loosely. Since the balls weigh only 183 grains, the average energy was just 87.77 foot-pounds. They did not group with the other bullets. They were about six inches lower than the main group, though centered with it.
Shooting behavior
The Dragon Claw has a heavy trigger. I would estimate that it releases with about 8 lbs. of pull, and there's considerable creep in the pull. The rifle recoils about like a lightweight .22 Magnum rifle or even a .38 Special fired from a rifle. A friend at the range noticed the recoil when I fired.
Cocking
The gun cocks by pulling back on the spring-loaded hammer. It's stiff in a new gun, and it takes a bit of finesse to stop on the low-power setting. The tendency is to haul back as hard as you can, which takes you right to high power.
Observations thus far
The Dragon Claw is a handy big bore that's got plenty of power and is priced right for the category. It seems to be very good on low power, and I'm looking forward to shooting it with a scope.
Are there .17 caliber firearms?
J-F, one of our Canadian blog readers, asked this question and I thought I'd answer him here. Yes, there are plenty of .17 caliber firearms; though, just like the .22 calibers, they're not the same size as airguns. In the case of .17 caliber, the firearm bullets are all smaller.
Two very popular .17 caliber firearms these days are the .17 HMR — that's a .22 Winchester Magnum rimfire necked down to .17 caliber — and the .17 HM2, which is a .22 long rifle necked down. The HMR leads the HM2 in the popularity contest, even though the ammunition is three times more expensive.
I have a .17 HM2 rifle that a friend of mine built for me on a Hungarian single-shot .22 long rifle action. You've seen this rifle before, because it's the same gun I used for testing the Blue Wonder cold bluing process. And, the blue is still beautiful on that barrel, despite my never wiping the gun down and purposely handling the barrel to see if I could get the finish to wear.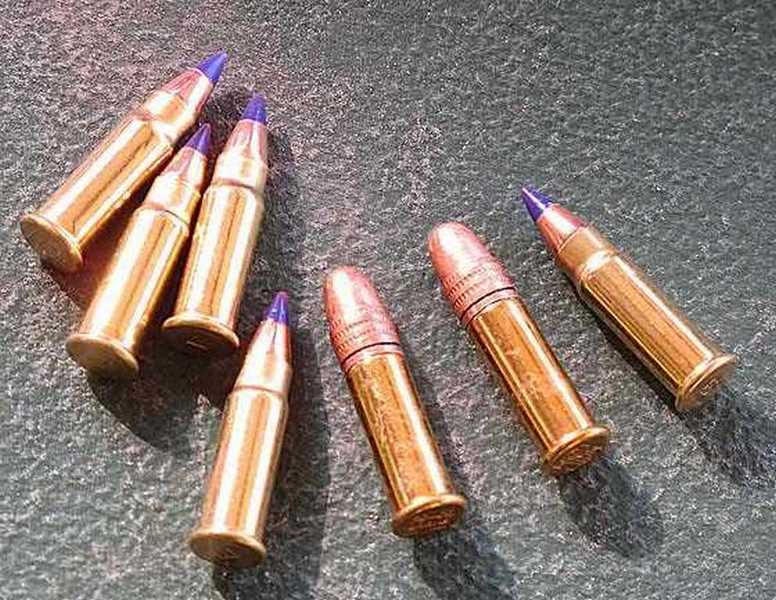 The .17 HM2 cartridges are based on the .22 long rifle round.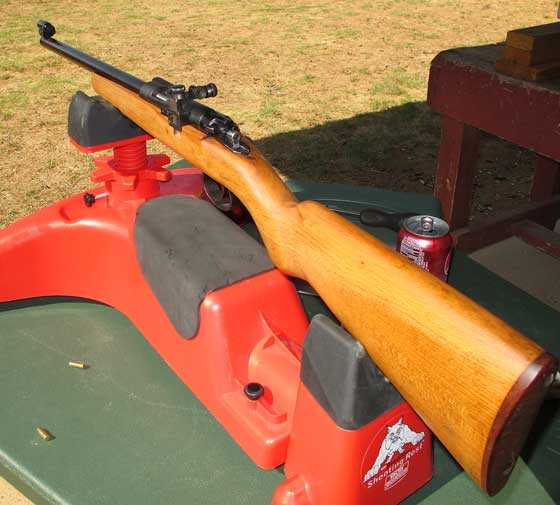 My .17 HM2 rifle is based on a Hungarian single-shot trainer. I blued the barrel with Blue Wonder cold blue in another report.
I cleaned the barrel just for this report, so naturally I had to shoot several rounds to foul the bore again. A clean barrel almost never shoots to the same point of aim as a slightly dirty one. Once I was satisfied that the rounds had stopped walking, I adjusted the sights and shot a five-shot group at 50 yards. It's no great group, and several PCPs I've tested will beat it hands-down, but it's in the right place.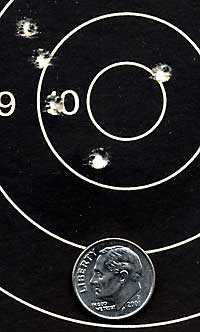 Not great but also not terrible for open sights at 50 yards. The .17 HM2 is a nice, inexpensive varmint cartridge.
So, yes, there are .17 caliber firearms, as well as pellet guns. That's my report for today. Next time, I'll have a scope on the Dragon Claw, and we'll see how well she can do.
by B.B. Pelletier
Today, I'll begin our look at Sam Yang's Big Bore .50 caliber Dragon Claw single-shot air rifle (serial number 3526). The rate these new big bores are being made is stunning! I remember when Dennis Quackenbush first offered the Brigand — a .375 caliber roundball shooter that ran on CO2. It was 1996, I believe, and there simply were no other modern big bore air rifles around at the time. Oh, that's not entirely accurate. There were a few boutique makers producing a handful of guns, many of which were "engineered" so close to the edge of disaster that shooters risked their lives every time they filled them.

The Dragon Claw from Sam Yang is a .50 caliber big bore air rifle.
History of big bore airguns
Big bore airguns are the oldest type of mechanical airgun, dating back to around the year 1550. There's an airgun action in the Danish Royal Museum that has the date 1603 engraved on the action, and historians who have examined that piece know there had to be something that pre-dated it because it's so advanced. Then there are certain written records than make obscure references to someone (Guter?) living in Nuremberg around 1550 who is associated with mechanical airguns.
Big bores remained popular up to World War I, when they promptly died out. They had no doubt been on the wane for many decades before that, and the war simply made people stop doing things that were of little importance. That's the same time that schuetzen shooting all but died off here in the U.S.
Fast-forward to the early-1990s, and big bores re-emerge in the marketplace. The main big bore airgun in 1990 was the Farco air shotgun, a .51 caliber brass gun (crudely plated with nickel) from the Philippines. It was a smoothbore and it could just barely generate 100 foot-pounds with a heavy load of shot that left the muzzle at under 500 f.p.s. You couldn't hunt birds with it, because it was too slow. I tried shooting hand-thrown clay pigeons and quit after hearing the shot bounce off them at about 20 yards. But importer Davis Schwesinger filled his gun with higher-pressure air, getting around 1,200 f.p.s. with a .433 roundball in a 20-gauge shot cup, and he managed to kill a very small wild pig down in Florida, which gave birth to the modern big bore airgunning craze.
By 1996, Dennis Quackenbush had already made 10 kit gun versions of the Paul air shotgun and was starting to make his new Brigand. The Brigand was a .375 caliber roundball shooter that originally operated on CO2.
Once Quackenbush was established, other smaller boutique makers like Gary Barnes started producing a few big bores. Gary's guns eventually were (and still are) very accurate, after he learned how to rifle barrels, but the early smoothbores I tested back in 1998 were barely able to keep their balls on a 4′x4′ cardboard box at 50 yards. But Gary witnessed a father/son team shooting smoothbore big bores they'd made, and their homemade dumbbell-shaped projectiles that were copied from the French Balle Blondeau shotgun slug were reasonably accurate out to 40 yards. Soon thereafter, Barnes began offering his own version of the dumbbell slugs that eventually took his big bores out to 200 yards with game-killing accuracy.
The Asians came to the party in the 1990s with a 9mm and something they called a Big Bore 44, which actually had a bore diameter of 0.457 inches. There haven't been commercial .457-inch bullets since the 1920s, so go figure what they were thinking. The 9mm was based on the red-hot .25 caliber Fire 201 air shotgun, and it would have been a wonderful entry into big bores except there weren't many lead bullets around. You see, nobody casts lead bullets for 9mm pistols — they're all jacketed, which don't work well in airguns. Some American makers jumped in and started swaging their own 9mm lead bullets, and that finally made these guns shootable. Pyramyd Air now offers swaged 9mm bullets.
The Asians also made several other big bores. One was a 9mm lever-action called the Ultra, which would have been nice except it accepted only very short 9mm bullets through its magazine feeding mechanism. Another was the .50 caliber Career Dragon Slayer that I tested for you years ago. I also made a YouTube video that has gotten a few hits. If you want to see a typical Asian big bore in action you ought to watch it.
Then, of course, there's Crosman's own recent entry into big bores, the Benjamin Rogue. It's a .357 caliber rifle that uses computer control to give the most efficient use from the compressed air onboard.
But in today's blog, we're starting a look at Sam Yang's new Dragon Claw .50 caliber rifle. The specs put it at 230 foot-pounds, which is an increase from what Sam Yang big bores used to be capable of. Naturally, I'll test that very carefully for you.
Out of the remarkably flimsy cardboard box, the Dragon Claw comes to you with the side-mounted bolt handle detached. That should be the first thing in the owner's manual, but the Chinglish manual that came with the test gun puts the instructions for this way back toward the back of the manual. Fortunately, Edith rewrote the manual, and you can find it in the Pyramyd Air manual library. Print that manual if you want one to read. However, the current Sam Yang guns come with the new manual.
The gun
The Dragon Claw is a .50 caliber, single-shot, precharged pneumatic air rifle. It has a sliding breech for loading the bullets or balls, and in the past I've found this to be an ideal type of breech for these big bores, because it doesn't limit the types of bullets you can load.
The stock and forearm are made from beautiful figured walnut and have several panels of sharp laser-cut checkering on both the pistol grip and the forearm. Most fine air rifle stocks are made in Asia today, and the quality of the workmanship is first class.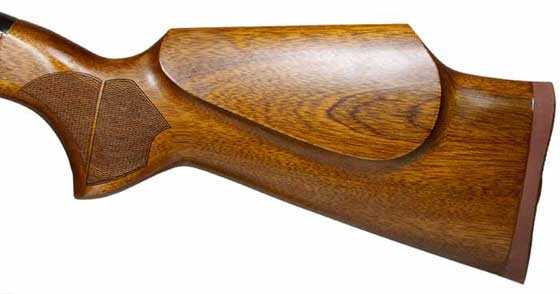 The wood in the stock is beautiful and conforms to every top-quality specification for a rifle stock.
The stock is proportioned correctly for an average adult. The forearm is tall, slim and squared at the bottom, and it feels very nice when the rifle is held offhand. A pressure gauge (manometer) is in the bottom of the forearm. It tells you the pressure of the air stored in the reservoir. The gauge is calibrated in something Asian (millinewtons per microhectare?), but it is also color-coded green, yellow and red so you know where to stop filling.


A small pressure gauge is built into the bottom of the forearm so you always know how much air is in the reservoir.
The metal is finished a deep, lustrous black that's polished as well as an Air Arms rifle. The receiver is made from a non-ferrous metal that's finished bright and is engraved around the borders.
Overall, the appearance of the Dragon Claw is first class, though the lines run more to a shotgun profile than that of a rifle. While there appear to have been some changes in the finish because the rifle shown on the website is finished with a black receiver, but my test rifle is finished bright, in fact, it's the way the lighting was set up for the website images so the detail on the receiver wasn't washed out with a lot of light.
The rifle weighs 7.5 lbs., which makes it a lightweight. There's going to be some felt recoil. Oh, and the manufacturer has thoughtfully provided a threaded muzzle for those who cannot get arrested by other means. Seriously, if you own a silencer that will screw on to this rifle, it better, by golly, have a $200 tax stamp with it! Don't even kid about something so basic, because both Joshua Ungier and I have been asked by BATFE to give expert testimony in cases where illegal silencers have been found on big bore airguns. Making one for yourself breaks at least two federal laws.
Sights
The sights are first-rate, adjustable open sights that I will simply have to test at the range. Seldom, if ever, do modern big bores have any sights, and these look so inviting that they'll be tested. I'll also mount a scope, because I know it will probably increase my accuracy a bit. It will also be interesting to make that comparison.
Power
The rifle has two power levels, which is about as useful as a reading lamp at the beach. Pull the cocking bolt back to the first click and you have low power. One more click, and it's up on high power.
Low power? Who would ever want, need, or conceive of using low power on a big bore? I guess I'll have to test it for you just to satisfy some idle curiosity, but believe me, low power on a big bore is like a mower deck on a AA fuel dragster. People don't buy big bore airguns to shoot them on low power.
As for sophistication, these Asian rifles don't have a lot. They operate on a very simple slam-fire type of knock-open valve. However, they're capable of a fair number of shots. If this one comes close to the advertised power level, it'll be a very capable gun regardless of the level of sophistication.
My muzzleloaders have caused me to lay away many roundballs in different calibers. One of them is the 0.495″ round ball that's used in a lot of .50 caliber percussion rifles. I plan to try these in the Dragon Claw, as well, just to see if they can be used. Come to think of it, I may have to spend a couple of range sessions with this rifle to test all it has to offer.
What can you do with a big bore airgun?
People ask what can be done with a big bore airgun, like there should be an answer. What can you do with a Tailorcraft tail-dragger airplane or a Ford Model T? You don't have to DO anything with them, except have them, love them and perhaps use them once in awhile. They don't have to serve a purpose to exist.
Yes, they can be used to take larger game animals, but I think the attraction is greater than that. Come along and let's find out together.