Posts Tagged 'Shooting Chrony'
by Tom Gaylord, The Godfather of Airguns™
Writing as B.B. Pelletier
This report covers:
• Equipment to fill the gun
• Silicone chamber oil
• Diver's silicone grease
• Plumber's tape
• No such thing as Teflon tape
• A chronograph tells the whole story
• Other things?
• Summary
Today, I'm writing this for the sales representatives at Pyramyd Air, who are always asked what else you'll need when you buy a precharged airgun. Precharged airguns need some things to go with them to operate smoothly. Think of  the batteries you always need for electronics. Are they included in the box or do you have to buy them extra?
Equipment to fill the gun
This is the big one! How does air get into your new gun? Back in the 1980s, customers were surprised to learn they had to buy the fill device (also called a decant device, hose and gauge, and other things) separate from the airgun. They never thought about people possibly owning two such guns that one fill device would service. And they also didn't appreciate how much these fill devices cost — and how much could be saved by not buying a second one that was identical.
These days, most people know you need a fill device of some kind to connect an air source to an airgun, but there's more to it than just that. Some companies, such as AirForce, Crosman, Daystate and Dennis Quackenbush, use the now-common Foster quick-disconnect fittings that simplify everything. One common fill hose services all the airguns made by these companies. On the other hand, Air Arms, BSA, Evanix and others still have proprietary connections. The question is: What do you need to fill your new airgun?
Pyramyd Air provides an easy solution to this dilemma — a little decision tree that helps you find exactly what you need for your new airgun. You can try it out right now and see how it works. Select any PCP on their website and look at the product page. I'm going to choose the Air Arms S510 Xtra PCP Carbine.
On that page, find the tabs where you see these words:
Description  Specifications  Customer reviews  Questions & Answers  PCP Hookup
Click on the words PCP Hookup, and you'll see the tool they've provided. Don't be embarrassed if this is new to you. I didn't notice it until Edith came into my office and walked me through it — and I write this blog!

When you click on PCP Hookup, this is what you'll see.
Now, click on the air source you will be using to fill your PCP, and the complete connection requirements will come up. Try several of these fill source options (by clicking the reset button), so you can fully appreciate what they've done for you. As the fill source changes, so do the connection requirements. If no additional adapters or hoses are shown after you click on your preferred fill device, that means none are needed. And it states that at the top of the left side.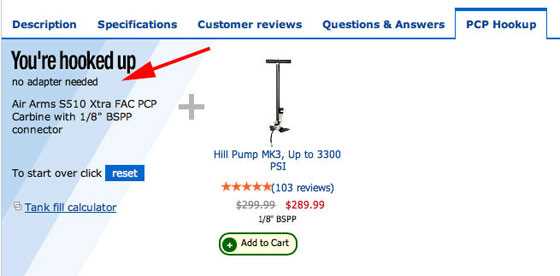 When I clicked on the Hill MK3 pump as my preferred fill device, it said on the top left column that I didn't need any additional hoses or adapters to make this fit the Air Arms S510 Xtra FAC PCP air rifle. If I wanted to find other fill devices, I would click the "reset" button to go back to the full list on the PCP Hookup tab.
Like Einstein's relativity equation, everything sounds simple after seeing this software tool. But airgunners have lived 34 years without it and can tell you — it isn't obvious!
[Editor's note: Whether you're looking for hand pumps or carbon fiber tanks, always check out more than one fill option. Some devices are more expensive, but they may already include the hoses and adapters you need and may end up being more economical than buying a fill device that requires you to buy additional hoses and adapters.]
Silicone chamber oil
If you've read even a couple weeks worth of these reports, you've seen me recommend silicone chamber oil for sealing airguns. This stuff is so necessary that veteran airgunners should all know they need it. When I worked at AirForce Airguns, I was responsible for testing every valve they made. When a valve leaked (and a small percentage of them did leak on the first test) it was my job to fix it. There are just two things that can fix most high pressure air valves — getting rid of dirt and silicone chamber oil.
I would use a heavy rubber mallet to smack the valves, causing them to pop open loudly under pressure. That also blew out any dirt that was in the sealing surfaces and also made a perfect impression of the metal valve face in the hard synthetic valve seat. It was like breaking in leather shoes. Once broken-in that way, that valve would work reliably for — well, I don't really know. I have some valves that are now 14 years old, and they still hold indefinitely.
But silicone oil was needed for the o-ring that seals the valve inside the air tank. We actually used a light industrial silicone grease that works very well when you can apply it directly to the parts; but when the gun is together, it's hard to get grease to go where you want. Light silicone oil will go everywhere, and I cannot remember how many hundreds of airguns I've fixed with it — the most recent being the Crosman 2240 that has the HiPAC air conversion installed.
I'll even go farther and advise you to get a bottle of silicone chamber oil with a needle applicator. That applicator is very handy for putting the oil exactly where you want it. You'll also find it wonderful for oiling piston seals on a spring gun through the air transfer port.
Diver's silicone grease
I just said that silicone grease and oil could be used interchangeably, but what I didn't say is that you pick the one that best suits the job. That's why I also have silicone grease on hand at all times. If there's an o-ring that can be seen, like on the bottom of 200- and 300-bar air fittings, use the grease instead of the oil. For the o-ring that seals the HiPAC air tank to the Crosman 2240 pistol, use the grease. Not only does the silicone grease seal air just like silicone oil, it also remains on the parts for a long time. I have 3 jars of it, and one is always in my range bag.
Plumber's tape
Here's a product that Pyramyd Air doesn't carry! But no worries, because just about every hardware store stocks it. Plumber's tape is for sealing joints that thread together.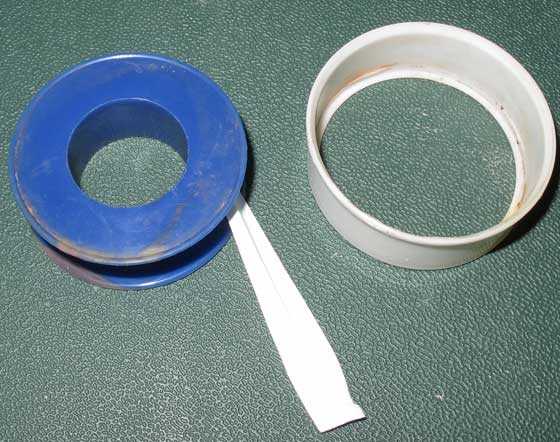 Plumber's tape is not sticky. It seals the smallest holes in threaded joints.
If this is new to you, it's tape that doesn't stick to anything. It has no glue! It is elastic and rather thin, but when you wrap threads with it the correct way, it expands into the smallest crevices and seals the threads against air loss. And, having written that, I guess I will now do a report on how to properly wrap threads for a repair.
Plumber's tape lubricates the threads, so joints go together tighter (farther), plus it deforms easily, blocking those same threads. It also keeps threads from seizing, so they come apart easier.
No such thing as Teflon tape
Many people call this Teflon tape. But it isn't. Teflon is a registered trademark of Dupont; so, unless they make the tape (they don't at the present time), it isn't Teflon. It's more correctly called PTFE (polytetrafluoroethylene) tape – but plumber's tape is probably the best name for it.
It's not expensive, and I use it a lot; so, I keep several rolls around the house. I also keep a roll in my range bag, where it's saved a PCP field test more than once.
A chronograph tells the whole story
You knew I was going to recommend one of these, didn't you? If not, you're a new reader of this blog. This is one of the most important diagnostic tools an airgunner can own. A chronograph tells you how fast the pellets are traveling when they leave the muzzle of your airgun.
For many years, I used the Oehler 35P printing chronograph. I was raised in a time when Oehler chronographs were the most accurate instruments money could buy, and writers had to have one to be taken seriously. Then, I started writing this blog, and my chronographing needs increased tenfold! When I did a test of the Shooting Chrony chronograph, I was impressed with how convenient it is. I now keep one set up in my office permanently, which is where all my indoor velocity data is gathered. The price is right, and the unit is small, rugged and easy to transport. And it has an anchor point to mount it to a camera tripod.
If you want a choice, I've read good reports about the Competition Electronics Pro Chrono Digital Chronograph. The Bianchi Cup uses it, and that's a big-time firearm competition! It doesn't cost much more than the Shooting Chrony, so you have two good instruments to choose from.
Other things?
Is there more? Of course, but these are the essentials. The chronograph you can live without for a little while, but the other things you really should get right away.
Summary
Buying your first PCP airgun always seems to be a leap of faith. You're going where you've never been, to places others have warned you to avoid. You've done the research, but you still wonder if the good stories aren't all just part of a grand scheme to hoodwink you.
I've told you about all the things I think you absolutely need when you get a PCP. Pyramyd Air has coined a new word for them — PCP necessories. Obviously you don't need 2 chronographs or 2 different silicone oils, but you'll eventually need one of each if you're going to enjoy your new precharged airgun to its fullest.
by Tom Gaylord, a.k.a. B.B. Pelletier
This topic was suggested by veteran blog reader Kevin. I liked it because it gives me a chance to say some things to the new airgunners; better yet, it's a great way to start a discussion among all you readers.
I will touch on the things about chronographs, which are near and dear to me, but I think my role today is simply to get the ball rolling. We have enough readers with chronograph experience that I'm sure they'll share a lot of their own viewpoints — some of which may never have occurred to me.
What is a chronograph?
The term chronograph means different things to different people. To an horologist, it might mean a particularly accurate instrument (watch or clock) to record the passage of time; but to a shooter, it means an instrument that's used to measure the velocity of a projectile. It still records the passage of time, but also performs an additional calculation to convert the results into velocity. As incredible as it sounds, we're able to measure the speed of a pellet or bullet moving hundreds, or even thousands of feet per second with an instrument we can buy for as little as a hundred dollars.

A modern chronograph is inexpensive and very accurate!
History
While ballistic chronographs have existed for more than a century, most of that time they were large, cumbersome, very expensive and difficult to use. It wasn't until the 1960s that the first portable electronic chronographs became available to the common shooter — and even then they were still very costly and hard to use. You had to shoot through paper screens that had tiny wires running though them, and a sensor would detect when the resistance of the screen changed as some of the wires were broken by the bullet. These screens didn't last very long in a shooting situation and had to be replaced when they could no longer detect the passage of the bullet. Time was wasted when things didn't go as planned, and buying chronograph screens was an ongoing expense.
The early electronics were also quite troublesome from today's perspective. They didn't directly read out the velocity of the bullet. Instead, they registered the time that elapsed between screen one and screen two, detecting the passage of the bullet. And even that wasn't direct! They did it by illuminating lights in various columns on a panel that the user had to interpret. The user took that number to a table and looked up the velocity. It wasn't always given as one absolute speed, either. It was often given as a small range of velocities within which the bullet was traveling — like 2,140 to 2,148 feet per second. It was slow, crude and primitive, but it was the best we had at the time. This was also the time when we were using slide rules to solve complex math problems, and we accepted small margins of error when taking a reading.
These early electronic chronographs were also very imprecise by today's standards. The precision of their internal "clock" was only about 1/10 to 1/40 that of today's chronographs, so the number they gave…which was a best guess to begin with…was nowhere near as close as what we get from a modern instrument. Still, they gave us numbers, and we were fascinated by them.
When the first direct-reading chronograph (one that displayed the actual velocity of the projectile) came out, it boosted sales worldwide. Then, chronographs were easy enough for the average user. And when the first photo-sensitive sensors (skyscreens) came out, they did away with the expense and frustration of the old paper-and-wire screens. Both these things happened some time in the 1970s, if I remember correctly. That was when the private use of chronographs really took off.
A skyscreen senses the passage of a projectile by detecting the slight drop in light when the shadow of a pellet or bullet in flight passes over the sensor. Since the light source is often the sky, the name skyscreen became common. This is both good and bad. Good because of how easy they are to use, but bad since accuracy depends on how well the screens are lighted — but that's a different topic. Today, I want to talk about what the availability of chronographs does…both for and to airgunners.
You use a chronograph to establish the velocity at which a pellet is traveling. All well and good. But the first time you actually do it, you'll probably be awed by what's happening. Then, one of two things can happen. You can either put aside your awe and get to work or become enraptured by the numbers the machine gives you and lose sight of everything else. I think that's what Kevin wanted me to talk about when he suggested today's topic
Problem No. 1: Speed rapture
The user becomes so engrossed in watching the chronograph readout that everything else stops. This once-sane fellow who used to love nothing more than making acorns dance with his pellet rifle now sits slack-jawed in front of his chronograph, watching the screen for the next number to appear. He no longer shoots at targets. He no longer cleans his gun. He just watches that screen. In extreme cases, he invents things to launch, just to see how fast they go. The chronograph has turned a shooter into a nerd. It's the equivalent of an addition to a social network; and whether you like them or hate them, you've all seen what can happen when the network, itself, becomes the sole focus of a person's attention.
Problem No. 2: Infinite dissatisfaction
The chronograph owner uses his machine to determine how much he likes a certain airgun. Because nothing is ever perfect, he's never satisfied with anything. His chronograph has become like the magic mirror on the wall — but one with an extreme personality disorder. It spray-paints dissatisfaction on the overpass of his life.
This guy will buy an airgun, then shoot it over the chronograph until it fails to please him. You see, he's learned that if you do something long enough, eventually you get the results that come from the bad side of the curve. When that happens, it sets off his spring-loaded trigger of dissatisfaction, as in, "I knew this rifle wasn't as good as they said! And here's the proof!" As Midas was unable to survive when everything he touched turned to gold, this fellow is in pretty much in the same boat; though, when he touches things, they turn into something far more objectionable.
Problem No. 3: The statistian
This shooter used to be the life of the party until he got his chronograph. He now carries a notebook full of columns of numbers that he will try to work into any conversation. You'll ask him how things are going, and he'll whip out a spiral-bound notebook with the numbers he's collected over the past six months. Somewhere in all that data is the answer to how he's doing — he just can't quite put it into words. But he's got the number to back it up! How's he doing? Please turn to page 46.
Problem No. 4: Dazzled by the charts
This guy takes his chronograph numbers and creates charts with them. But he's never taken a statistics course, so he isn't really sure what the numbers are telling him. But he has found that he can tweak the presentation of the numbers on the charts to make them look any way he wants. For him, happiness lies in finding the best way to make his new airgun look good by adjusting the values on the scales of the charts. He's really the same as guy No. 2, only his outlook is positive, where No. 2′s outlook is — well — it's No. 2.
What good are chronographs?
It probably sounds like I'm against the use of chronographs, but that really isn't the case. However, I do advise using them as tools — not as crutches. For example, do you first find the fastest pellet, then see how accurate it is? Of course not! First, you find the most accurate pellet, then see how fast it goes. If it doesn't hit what you aim at, its velocity is secondary.
I see the same thing with those who reload centerfire firearm ammunition. They keep searching for the fastest load for a particular gun, with one eye always on the chronograph screen. They seem oblivious to what that cartridge is doing downrange — just as long as it's the fastest in their gun. They paid for the speed their rifle can deliver, and by gosh, they're going to get it! It's akin to being the "fairest in the land," don't you think?
I turn this around by never consulting the chronograph until I have the most accurate round. Whether it's a centerfire cartridge or a pellet, it's all the same to me. I want to hit my intended target. Once that happens, I get interested in velocity, but only to know how fast the projectile is going — not to tweak it to go faster.
Okay, Edith pointed out that I test velocity before accuracy in my blog tests. That isn't in contradiction of what I just said, because when I test an airgun here I am seeing what it can do in general terms. In other words, I am looking at power independently of accuracy. But when I test a gun for myself (and spend a LOT longer doing it), I'm interesting in the optimum performance it can give — not in the average performance out of the box.
Chronographs as diagnostic tools
A great use for a chronograph is to test the health of your airgun. If you know how fast it shoots with certain pellets, you can always test it again to see whether anything has changed. I've found things like broken mainsprings this way.
You can also use a chronograph to estimate performance of a certain pellet or gun. If, for example, there is an 80 foot-per-second variation in the velocity of a certain pellet in a certain gun, you can be pretty sure that gun will not shoot tight groups with that pellet at long range. They will be elongated on the vertical axis due to the large velocity difference.
Chronographs can also be used to calculate more complex things, such as the ballistic coefficient of a projectile by measuring its velocity at various distances from the muzzle. For this, you need more than one instrument since each projectile must have multiple readings along its flight path.
When I worked at AirForce Airguns, I used a chronograph to test the results of various repair jobs we did to customer guns. Of course, we never knew what the gun was doing before it encountered whatever problem it might have had, but we did know the parameters of a healthy gun. When the rifle was performing within those parameters, it was deemed to be fixed. You may have noticed that I often refer to the Crosman Premier pellet as a "standard candle." That's my slang way of saying that I use it in a diagnostic role since I know how fast a healthy AirForce rifle is supposed to shoot it.
There are also numerous other uses for chronographs, such as determining the energy a certain pellet generates, finding the optimum performance curve with a PCP gun and counting the number of useful shots you can get from a CO2 cartridge.
Before there were chronographs, shooters focused on hitting the target. They didn't talk about velocity — they talked about power, as in, "This pellet rifle is powerful enough to shoot through a one-inch board." After chronographs became widely available, some people lost sight of why they were shooting and became mesmerized by those alluring numbers.
You know that pellet guns are sold today on the basis of how fast they shoot. There are allusions to accuracy in the advertisements, but the velocity is always given. That's what the modern chronograph has done to and for airgunning.
Chronographs are wonderful instruments, as long as they stay in their rightful place. Just don't allow them to take over your shooting life and push the more important things aside.
by B.B. Pelletier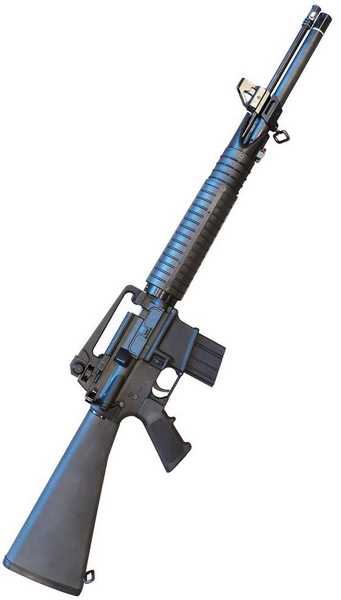 Crosman's new MAR177 upper is big news! This view shows the front sight properly oriented.
Today is the first accuracy test day for the Crosman MAR177 upper, so let's see how this baby shoots. Blog reader Darth Cossack pointed out that I had mounted the front sight backwards in the last report, so I fixed that for today's photo. It wouldn't have mattered from a shooting standpoint, but we do want the gun to look right.
On this AR-15, both the front sight and the rear sight adjust for elevation, while the rear sight also adjusts for windage. The front sight requires a sight adjustment tool that I don't have and didn't see packed with the upper. You can also use the point of a 5.56mm military round, which I have an abundance of, but doing it that way is very laborious. I'm hoping the rear sight adjustments will take care of everything that's needed.
And one more time for those who didn't read it — the MAR177 is purpose-built for the new sport of National Match Air Rifle (NMAR). NMAR can be shot with traditional 10-meter rifles (using the CMP classifications of Precision and Sporter) and the course is three positions — standing, kneeling and prone. You can continue to use your shooting glove, sling and shooting jacket for this sport, as well. Shooting trousers are not permitted.
The benefit of the AR-15 type rifle that the MAR177 is a part of is that it helps shooters transition over to National Match highpower shooting, because the lower that includes the trigger can be the same for both rifles. And from a competitive standpoint, the MAR177 is very affordable. The only other AR-type air rifle that's suitable for this sport is made by Anschütz and sells for $1,850.
It cost me $450 to build my lower receiver, and half of that was the National Match trigger. If I wanted to build a lower on a budget, I could do it for under $200 by careful shopping. And I just saw a complete lower advertised in a local sale for $250. But the trigger would then be single-stage and heavier, though there are ways to gunsmith the pull weight down to the legal range of 4.5-5.0 lbs. And when I say the legal range, I refer to high-power competition, only. An air rifle has no trigger-pull limit, because Precision-class target rifles, which are the Olympic target air rifles, are permitted to compete in NMAR.
Why did Crosman make the MAR177 upper for a firearm lower?
This question is being asked by many airgunners. Why would Crosman knowingly make their upper to fit a lower that then classifies the whole rifle as a firearm under federal law? The answer lies in the tens of millions of AR rifles now in the hands of shooters and the extreme popularity of the model. Crosman is building for a market that is more than a hundred times larger than the current active airgun market in the U.S. Even if only a few percent of those owners decide to buy a MAR177, they represent more than all the active airgunners in the United States at this time.
But Crosman isn't blind to the potential for sales of an MAR that's not classified as a firearm. I have no doubt they're working hard on a lower that will accept a modified MAR upper that will not be classified as a firearm. But these things take time. I would expect such a project to be on the fast track right now, but how long it might take before we see it is unclear.
The difficulties are enormous!
You probably think the MAR was easy to develop. After all — every AR is the same (they're all held to certain specs), so don't they just have to develop a gun for one lower that will automatically work on all the rest? Actually, no. When your upper has to interface with all the lowers on the market and all possible combinations of triggers in those lowers, there are bound to be some problems. Crosman did their due diligence in designing a universal upper, but there are bound to be some combinations of lower receivers and triggers that experience temporary problems. That would be true for any company designing any new AR-15 upper from scratch.
As I mentioned in Part 2, my Rock River lower and National Match trigger worked fine from the first moment I assembled the rifle, so every new owner can expect success, but there are bound to be some hiccups. There are synthetic lower receivers on the market that are being sold on a price basis that are known to have interchangeability issues with firearm uppers, and this is going to carry over to the MAR177 as well.
I'm not going to list those brands here, but if you do a search for AR-15 lower receiver problems, you'll come up with a good list of what to avoid. The problems are both the lower receivers, themselves, and the separate parts kits to complete them. People are buying these receivers and parts based on price, alone, and they're running into problems when one brand of lower won't accept another company's parts kit and then work with those three other uppers.
Somebody asked me why I chose a Rock River lower receiver and a Rock River parts kit, and I'm telling you why. There are other brands that are just as good, and a few that are even perhaps better, such as the Giessele National Match trigger that one of our readers mentioned, but you have to be aware of the fact that not all AR-15 uppers fit all AR-15 lowers.
What I'm testing
One final comment I want to make. Building a gun like this is full of decisions. You are free to choose whatever appeals to you; but once you choose, your path is determined by the decisions you make. As I said before, there's no trigger-pull weight restriction in the NMAR class for air rifle shooting, but if I were to want to use the same lower in a match with a firearm, I would be restricted to a weight range for the trigger release and also the style of pistol grip. While I'll probably never compete in a high-power military-style match, I wanted to shoot a gun that would qualify. It was a choice I made, and one that you do not have to follow. But that choice led me to a certain level of performance in the rifle I am now about to test.
I'm also shooting the military-style post front sight. An aperture front would allow more aiming precision; but if you want to use the MAR as a training tool for your high-power competition rifle, you'll stick with the sights that come on the upper.
The test
I shot 5 shots per group off a rest at 10 meters with each pellet I tested. Since there's going to be more testing with this gun, I didn't try to test all the pellets I have, but I did try eight different ones.
Sighting in was done with the Crosman Premier Super Match target pellets that Crosman packed with my test gun. And they were astonishingly good! The group fired for record measured 0.144 inches between centers. That's in the range for CMP (Civilian Marksmanship Program) and NRA Sporter class 10-meter rifles that have much lighter triggers and aperture front sights. I was impressed.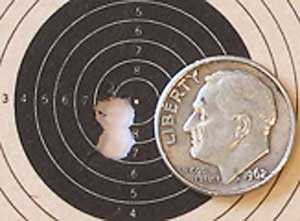 Crosman Premier Super Match pellets are great in the MAR177. Five shots went into a 0.144-inch group between centers at 10 meters.
Loading is not perfect
I used the single-shot tray for all this testing. This is the same tray that the Benjamin Marauder uses, and there's a small gap just before the breech of the barrel. If you try to load the pellet tentatively, the head drops into the gap and binds. If you slam the bolt home too fast, the pellet jumps up in front and also jams. It takes a while to get the right closing speed so the pellet feeds smoothly. Not all pellets jam this way, but a couple are particularly bad. You'll have to try it for yourself if you use the tray. I was able to get the feed right for every pellet I shot, so it's not a problem — you just have to spend some time to learn the peculiarities of the gun with the ammo you choose.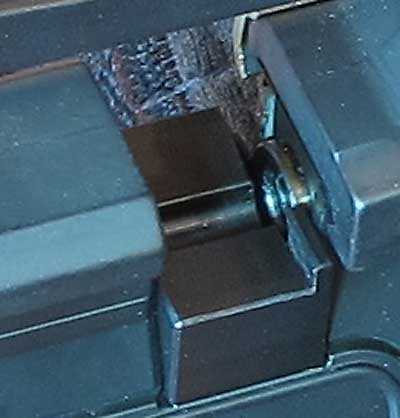 You can see the gap at the front of the single-shot loading tray. You have to learn how fast to load pellets to get wadcutters past that gap.
Number two
The second-best pellet in the test was the Gamo Match. While the group they made looks large, it's so round that it doesn't take up that much room. In reality, this probably means they're not really second best, but I may have made a small aiming error with one of the other pellets. However, it's surprising that such an inexpensive pellet is also this capable.

Five Gamo Match pellets made this 0.136-inch group. Second best of the test, though it appears open.
Best group
RWS R10 7.7-grain pellets that are no longer available gave the best results, with a group size of just 0.106 inches between centers. I shot them early in the test and was probably more rested than I was later, so my eyes were working at their best.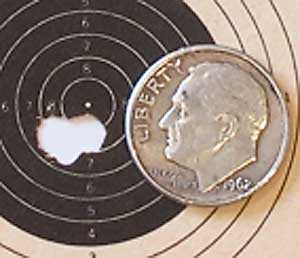 RWS R10 7.7-grain pellets made this five-shot group measuring 0.106 inches. It was the best of this test.
The other pellets
Besides these three, I tried five other target pellets. They were all very equal to the Crosman Super Match, and the largest group fired during the test was 0.162 inches with RWS Hobbys.
JSB S100 Match
Conclusions
One test like this is not enough to determine the most accurate pellet. If I were to do the same test again, the results would no doubt change. Lots more testing is needed to find that one best pellet for this competition air rifle. However, one test was sufficient to prove that the MAR177 has everything going for it. It's accurate, easy to use and conserves air like a free diver. It mates to an AR lower perfectly to become the best possible training system for AR shooters.
I have more plans for this rifle. Next, I plan to mount a scope and test the rifle with accurate domed pellets at 25 yards. I believe the MAR177 has more to show us.
by B.B. Pelletier


Crosman's new MAR177 makes a fine tactical target rifle when attached to an AR-15 lower.
Today, we're going to see how the new Crosman MAR177 upper performs! Because this rifle is a precharged pneumatic, I used my Shooting Chrony Alpha chronograph to analyze the power curve. Though not absolutely necessary, a chronograph can eliminate a lot of shooting time and let you know how the rifle shoots on the first session.
The test rifle was showing a charge of just less than 1,800 psi when I started the velocity test. I chronographed Crosman Premier Super Match target pellets that Crosman sent with the upper for testing the rifle.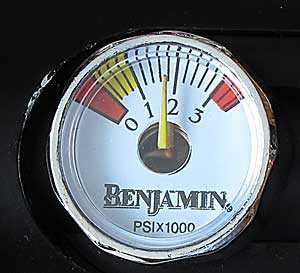 Pressure gauge is located underneath the end of the forearm. This is the pressure that was in the gun as it came from the factory — minus a couple of test shots. It reads just under 1,800 psi.
The first shot went 582 f.p.s., which sounded to me as though it might still be within the power curve. So I fired 16 more shots and the velocity ranged from a low of 559 f.p.s. for the final shot to the 582 f.p.s. that was the first shot. At that point 17 shots had been fired and the pressure gauge was reading 1,600 psi, so I guessed that the gun had fallen off the power curve. The average for these 17 shots was 569 f.p.s.
I filled the reservoir until the gun's pressure gauge indicated 2,000 psi. I then fired five shots that ranged from a low of 580 f.p.s to a high of 585 f.p.s. It seemed the gun was certainly now on the power curve and that it hadn't been that far off the curve on the first 17 shots.
But just to be sure, I filled the reservoir to 2,200 psi and fired another five shots. This time, the velocity ranged from a low of 578 f.p.s. to a high of 586 f.p.s. That's not much different than the reading on the 2,000 psi fill, so the rifle is clearly on the power curve and has been since at least 2,000 psi. But then it wasn't that far off at 1,600 to 1,800 psi, either.
To see if these assessments were correct, I filled the rifle to 3,000 psi — the top of the white sector on the onboard pressure gauge. If the gauge was calibrated correctly, the rifle should now be at the top of its power curve.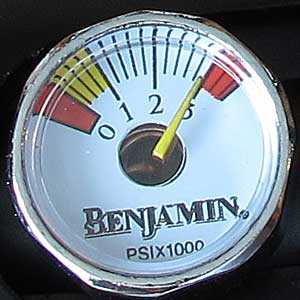 Filled to the top of the white sector, the onboard gauge now reads that 3,000 psi is in the reservoir.
Too much pressure
If you ever needed to see a demonstration of what over-pressurizing a pneumatic gun will do, this is it. The first shot after the fill went out at 549 f.p.s. and the next one went 537. In fact the first 11 shots were all below 550 f.p.s. Shot 12 went out at 551 f.p.s., and the pressure gauge on the gun read 2,900 psi. I accepted that this is the maximum fill pressure for this rifle. More than that shuts the firing valve too fast and costs velocity.
I then fired 33 more shots, for a total of 34 good shots (so far) on the 2,900 psi fill. The lowest velocity was 534 f.p.s. and the highest was 562 f.p.s., for an average of 552 f.p.s. At that velocity with this pellet, the rifle generates 5.39 foot-pounds of muzzle energy.
Having established the top fill pressure, I proceeded to test the rifle's velocity with other pellets without refilling the gun. I tested only target pellets, but the test was more for the weight of the pellets than for their shape.
RWS R10 Match 7.7 grains
I tried the RWS R10 Match pellet that weighs 7.7 grains. This one is now off the market, and there is no replacement. It is in-between the RWS R10 Match pistol pellet that weighs 7 grains and the RWS R10 Match Heavy pellet that weighs 8.2 grains.
This one averaged 588 f.p.s. for 10 shots with a 13 f.p.s. spread from 581 to 594 f.p.s. That generates an average of 5.91 foot-pounds at the muzzle.
H&N Finale Match Rifle
H&N Finale Match Rifle pellets weigh 8 grains, even, and averaged 575 f.p.s. in the MAR177. The velocity spread went from 571 to 585 f.p.s. This pellet generates an average of 5.87 foot-pounds of muzzle energy.
RWS Hobby
The final pellet I tried was the 7-grain RWS Hobby. They averaged 609 f.p.s., but the velocity spread was larger than the other two pellets. It ranged from 593 to 625 f.p.s. At the average velocity, this pellet generates 5.77 foot-pounds of muzzle energy.
Back to Premier Super Match
After these three pellets had been tested, there were a total of 64 good shots on this fill. Remember — I'm counting the start of the fill from where it passed 550 f.p.s. for the first time. That was when the gun registered 2,900 psi on its gauge. I shot another 10 Crosman Premier Super Match pellets, and this time they averaged 567 f.p.s. The spread went from 559 to 571 f.p.s. At the average velocity, this pellet generates 5.64 foot-pounds of muzzle energy.
How many shots per fill?
I fired 74 good shots on the first fill, and stopped with 2,200 psi remaining in the reservoir. If I continued to shoot until 1,600 psi, as the testing indicates is possible, that would add another 50 shots, minimum, to the shot count, taking the total to 124 shots on a fill. That's more than enough, but what I now know is that the gun likes the range of 2,900 down to 1,600 psi on the onboard pressure gauge.
The dynamics of the MAR177
The MAR177 is unregulated, so it relies on just the action of the firing valve to control the velocity of the pellet. In the data I've shown here, the lowest velocity for a Premier Super Match pellet that's still on the power curve is 534 f.p.s. The highest velocity within the curve is 585 f.p.s. I'm getting the high velocity from the string fired on the 2,200 psi fill. So, this rifle has a large velocity spread ranging from 534 to 586 f.p.s. to get those 124 shots that I maintain are in the power curve. That's 52 f.p.s., and normally we wouldn't consider a range that large to be good. But this rifle is meant for 10-meter target shooting, and for that reason I doubt we will see any group enlargement due to velocity. However, I'll conduct a test to see if there's any vertical stringing, which is what large changes in velocity can cause.
If we were shooting the rifle at 25 yards and farther, then I would recommend using a smaller section of the power curve. It's apparent that, as the air pressure drops below 2,000 f.p.s., the velocity rises to the highest it's going to be with a particular pellet.
If the large velocity spread bothers you, you can limit the fill to 2,800 psi, and your slowest shot will be 535 f.p.s. Or limit it to 2,700 psi and the slowest shot will be 549 f.p.s. If you decide to do the latter, your total shot count will be 104 shots, and the total velocity spread will be 37 f.p.s. For my money, the 2,900 psi fill looks best, so that's what I'm going to use to test this gun.
This discussion would be impossible without the use of a chronograph. You would just load the rifle and shoot until the point of impact started to wander. By using the chronograph, you can look at the performance from shot to shot and also understand that there are always going to be some anomalies in the data.
If a different pellet is used to baseline the rifle, things could change dramatically. Premiers are made from a hardened lead alloy, where the other three pellets are closer to pure soft lead. That will have an effect on the numbers you get.
A major lesson demonstrated
This test demonstrates clearly why you cannot simply act as though the pressure gauge on a PCP is reading correctly, and the valve is responding according to the specifications. I've said in the past and I'm saying it again — these small gauges can easily be off by 300 psi yet still be considered accurate. The same is true of the firing valve — it may operate at a slightly different range of air pressures than the spec states. If you want to know for sure, you have to use a chronograph.
What we have seen here is the fact that this gun operates on less peak reservoir pressure and also continues to operate to much lower ending pressure. Without these tests, that information would not be known, because you certainly can't tell from the sound of the discharge. Instead of obeying the owner's manual in rigid lockstep, we've used a diagnostic to learn how our particular gun performs. Knowing that, we can get the best performance that this individual airgun has to offer.
The muzzle compensator
I mentioned the compensator in an earlier report, but I wanted to show it to you here. You'll see that the turbulent air gets stripped off and cannot follow the pellet downrange after it leaves the muzzle because of how this compensator is designed.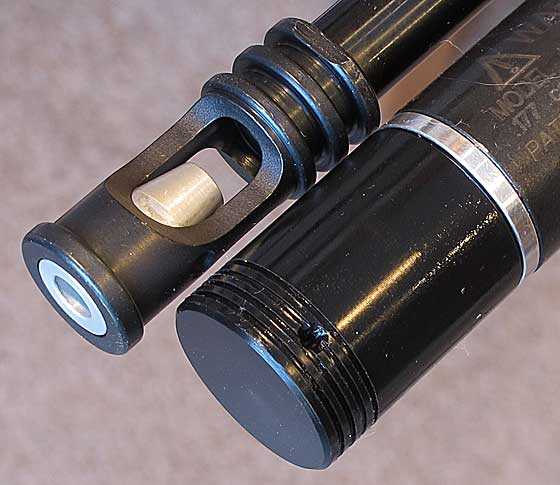 When the pellet leaves the muzzle, it passes through a separate piece that strips off the turbulent air and directs it to the side. The pellet is free to fly straight without the turbulent gasses acting on its skirt.
by B.B. Pelletier
Heads up! Before you read today's blog, I wanted to alert you to a special scope deal Pyramyd Air is running through GearHog.com. For one day only, they've slashed the price on a Leapers 4×32 compact scope with rings. The scope goes on sale Wednesday morning (9/21/11) at 3:00 A.M. Eastern. I can't say for sure the exact minute that evening when it'll go back to the regular price, so be sure to order early if you want it. Click on the Gear Hog link to get yours. There's also an order limit of 2 per person. Now, on to today's blog.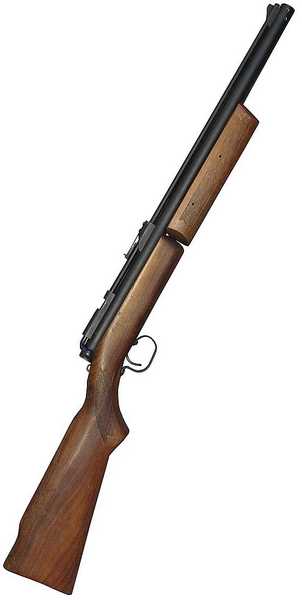 Benjamin's 347 multi-pump was sold between 1969 and 1992.
Today will be a "Grasshopper" day, as in basic learning. We will transition from "Wax on. Wax off" to learning a few basic offensive karate moves — metaphorically speaking.
I'm going to demonstrate today how I assess the firing condition of a new (to me) multi-pump airgun. This is a drill you probably should be using with all your multi-pumps when you first get them — new and used, alike.
Today's lesson requires the use of a chronograph. My choice is the popular Alpha model Shooting Chrony that costs right at a hundred dollars.
The first thing I do is cock the gun and shoot it to release any air that might still be inside. Hopefully, there will be some; but with a used gun, the chances of that happening are less than 10 percent. From this point on, though, you should always store the gun with one pump of air in it if the mechanism allows you to do that. Some guns, like the Daisy 22SG, are designed so they cannot be stored this way, but the Benjamins and Sheridans still can; they should always be stored with air in them.
The next step is to pump the gun to the maximum, which with most modern Benjamins is eight pump strokes. Then, load a pellet and fire it through the chronograph. I always use the Crosman Premier pellets for this; and with the .177 guns, I use Premier lites. With the 347 in this test, I got a velocity of 646 f.p.s. on eight pumps.
According to Crosman literature, a new Benjamin 397 should get up to 800 f.p.s. with the maximum number of pumps. That would be with the lightest pellets, so figure a max with Premier lites of around 750 f.p.s. I happen to have a Benjamin 397 in great condition, and it gets 748 f.p.s. with Premier lites on eight pumps.
So, the 347 I'm testing is a bit weak. However, it's not as bad as it sounds, because the bolt on the 347 doesn't have an o-ring sealing it like the 397 does. It might never have been quite as fast when it was fresh, due to a small air loss at the breech upon firing. Not that metal-to-metal seals can't be absolutely airtight, because they can. But on a high-rate production gun like the 347, the time needed to assure a good seal cannot be taken; while it's good, it isn't perfect.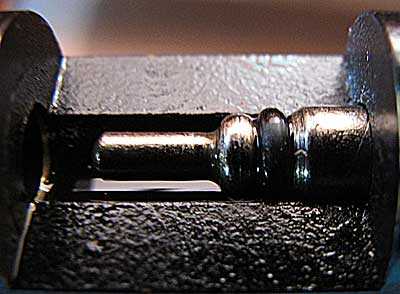 The Benjamin 397 bolt has an o-ring to seal the breech.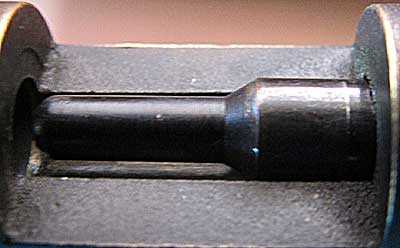 The Benjamin 347 bolt seals with an angled metal-to-metal contact. It's less airtight.
The comprehensive test
Now we're ready to comprehensively test the subject rifle. There are several different ways to do this, but the one I'll show you is pretty quick and also very thorough. I'm going to pump the rifle to a different number of pump strokes and record three shots at each level. After I finish the maximum number of strokes, which is eight, I'll pump the rifle additional times and shoot through the chronograph. After every one of those shots, I'll cock the gun and fire it to see if any air remained in the gun. When I get to the point that air remains, I'm finished with the test.
Pumps–Velocity
2            404, 416, 408
3            488, 489, 485
4            546, 540, 545
5            582, 578, 578
6            609, 614, 616
7            644, 639, 641
8            666, 656, 668
9            678 No air remaining in gun
10          700 Air remaining in gun
The test was stopped at this point, because the gun's valve cannot handle 10 pump-strokes worth of air. That doesn't mean I'll be filling the gun to nine strokes, either. It simply means the gun is a little tired and the valve can handle more air than the eight strokes I'm currently putting in it. But pumping to a higher number of strokes puts more stress on the pump mechanism; so if you want your air rifle to last for decades, don't exceed the maximum recommendation. However, if you absolutely must have the last foot-second from the gun, then this one needs an overhaul.
Personally, I'll keep on shooting it as it is, because I don't need this gun to be a magnum. I have other airguns for that.
Shot string analysis
Let's look at the shot string and see what we can learn. First, notice what huge jumps in velocity you get when advancing to pump strokes three, four and five. Those large increases start tapering off after five strokes, and the additional strokes only boost the velocity a little. The jump from four strokes to five is about 34 f.p.s.; but from seven strokes to eight, it's just about 22 f.p.s. We're stressing the system more for a smaller boost in velocity.
Next, notice how the rifle stabilized and gave very tight velocity variances on pumps three through seven. Apparently, it likes that range of pressures.
After the test
After the shooting was finished, I went back and shot one more shot at each number of pumps to see if the results still agreed with what I got when shooting the strings. What I'm doing here is canceling any bias from the gun heating up.
Pumps–Velocity
2            411
3            483
4            539
5            581
6            610
7            642
8            659
Comparing these numbers with what was seen in each of the strings, I'd say the rifle is shooting in the groove and there's been no heating up from use. However, the first shot on eight pumps differed from the string on eight pumps, so the gun does need a couple shots to warm up in the beginning.
One other test
One final test, and I'm finished testing this rifle. When I bought it from a pawn shop several weeks ago, of course there was no air in it. I immediately put in one pump and have stored it that way ever since. When I started this test, the first thing I did was cock the rifle and shoot it, to see if there was still compressed air inside. And there was! That means it held air for over a week.
For the rest of the time I own this rifle, I'll test it from time to time to see if it 's still holding that pump of air. My Sheridan Blue Streak, which was new in 1978, has been stored with a pump of air in it since new and it still holds air indefinitely. I've shot it after storing it for over a year, and there's still air inside. It's lost about 75-100 f.p.s. velocity since new, but it still holds air; and that means the valve is still tight. My Crosman model 101 .22-caliber multi-pump rifle, which was built in the 1940s and was overhauled about seven years ago, has held one pump of air for as long as two years, which is as long as I've tested it so far.
Do you notice that I only used a single pellet for today's test, and that I ran the test differently than usual? Multi-pumps are different guns and have different things to watch, so this kind of a velocity test is better-suited to their design quirks.
by B.B. Pelletier
I need to be humbled periodically to maintain my perspective on things. Fortunately, for me, I was created with many imperfections that make frequent humbling a certainty.
I was taking a .22 semiautomatic rifle apart several days ago to clean the action, and I got to the part where you remove the last drift pin and all the major and minor parts fly apart like a satellite that's been hit by a particle beam. No chance to see where everything went because they all got disassociated at the same time.
When this happens, I have several mantras to address the situation. No. 1 is I imagine the item was assembled by a 19 year-old girl named Tiffany, while she is also talking to her coworkers, drinking a Slurpee and texting her best friend. Tiffany can put this thing together in 27 seconds and can spot (without thinking about it) when part 51b has been reversed in its slot, which is good because Tiffany isn't really into thinking.
If that one fails and I still have parts lying all over the table, I think of Ishmael, who uses no special tools to assemble this item. He has a hole in one of the upright girders supporting the roof where he assembles these items all day long. It was blown through the steel girder 37 years ago with an acetylene torch, and it isn't quite round; but time and use have polished the edges of the hole, and it's the perfect assembly tool that was used by Ishmael's father for the same purpose. With it, he can assemble a pallet-load of these things, whatever they are, before tea time.
When that one fails me, there's only one thing left — the Machtar chant of assembly (see the movie Galaxy Quest). As it happens all too often, even this potent bit of magic refused to work, leaving me with a pile of parts that purportedly had once been a semiautomatic rifle. Had I not seen it in that condition, I would have doubted it.
I got the gun back together by scrutinizing each part and imagining the relationship it had with the other parts (see, mom, I can use that lump on my shoulders for something other than a hatrack!), but I hate it when that happens. Complex parts should self-assemble, like a wine glass filmed in reverse after shattering.
But this isn't about me fixing a gun. It's about me being humbled, so I'll remember what it's like to approach something new for the first time. Trepidation, you are my middle name!
So, when a Pyramyd Air customer asked for some pointers on the use of a chronograph the other day, I felt I had to spring into action. Here is his exact request:
I've read a good percentage of your BLOGs & articles (plus videos), but no-where do I see the distance specified to set-up a chrono for muzzle velocity for springer airguns, pistols & rifles. I use a ProTach Classic Chrono, with 36″ between "start" & "stop" sensors (originally for hand-loading). I've searched the net for an airgun industry std. (like for fire-arms), with no success. One article, on the net, said set the "stop" sensor @ 3 ft. from the muzzle ~ that's impracticle!! How-about-it, B.B., Tom or Robert B.!! Rich
Where to place the start screen
Rich, if this was five years ago, I wouldn't have a clue what to tell you. That's because you're coming from the world of firearms. I began using chronographs with airguns. Only very recently have I started using a chronograph for my firearms, and only recently have I learned the difficulties of figuring out where to place the start screen.
I typically place the start screen about one foot from the muzzle of the airgun. That's almost ANY airgun, mind you, except for a big bore and one other exception I'll mention in a moment. A couple months ago, while I was chronoing some centerfire handloads, I rediscovered why my Oehler 35P came with 15-foot cables. Even when the skyscreens are placed 10 feet from the muzzle, the muzzle blast from a .43 Spanish round will move them like a slinky in Shakeytown!
When it came time to test the Benjamin Rogue, I was prepared to move the skyscreens way downrange from the muzzle to keep from blowing them apart from the air blast. Even though the start screen was situated about 10 feet from the muzzle, the entire skyscreen assembly shook violently every time the rifle fired. So, I understand Rich's question at the most visceral level.
Rich, a spring gun discharges only the tiniest fraction of pressurized air that a pneumatic puts out, so you can place the start screen a foot from muzzle of the most powerful spring rifle or pistol you can find, which would be a Whiscombe JW80 generating 32 foot-pounds in .25 caliber. Ain't nothin' badder than that out there (in spring guns, that is), and your chrono will never miss a beat!
CO2 guns — the other exception
CO2 guns, however, often have a visible exhaust that can fool the skyscreen. Whenever I chrono one of them, I back up about 18 inches from the start screen. This holds true for the weakest pistols as well as the more powerful rifles. You don't get an incorrect number from them, at least not from my Shooting Chrony Alpha model. What you get is an error message that screen one, the start screen, was unable to detect the passage of the pellet accurately. Back up a few inches, and the problem is solved!
The rest of the smallbores
As far as the other smallbore air rifles and pistols are concerned, 12 inches is all the distance you need between the muzzle and the start screen. This holds true for a catapult gun throwing a 3-grain lead shot at 86 f.p.s. as well as an AirForce Condor belting out a .25-caliber 43.2-grain Eun Jin pellet at nearly 1,000 f.p.s.
Watch where you're shooting!
A funny story that is directly related. Many years ago, I was running an M203 grenade launcher range for my company at Hohenfels training center, West Germany. The M203 is an underslung weapon that attaches to the bottom of the M16 rifle. It lobs a 40mm grenade out several hundred meters and has been called the hip-pocket artillery of the infantry.


Attached under the rifle, the M203 grenade launcher lobs 40mm grenades out to 350 meters. It uses special high-angle sights, which the firer must not forget to use!
Here's the thing about the M203. It shoots only a few hundred yards, while the M16′s 5.56mm cartridge can shoot several miles. Naturally, the rifle shoots much flatter than the grenade launcher, so the grenade launcher comes with its own set of sights designed to elevate the weapon to a very high angle to get the needed range. If you were to use the rifle's sights, the grenade would hit the ground just a few yards downrange — and that would be a bad thing.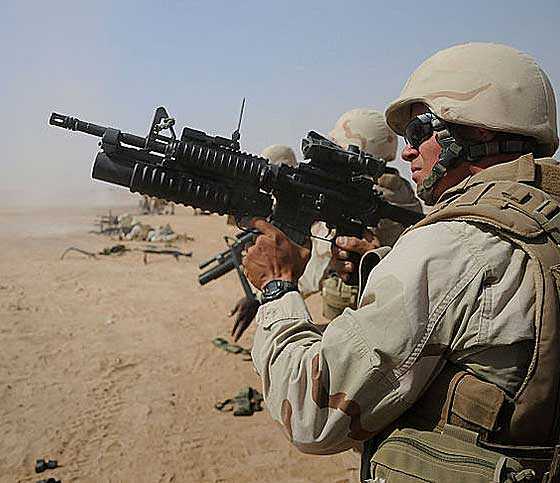 This young man demonstrates the correct angle for the M203 grenade launcher.
The firing positions on the M203 range were simulated foxholes with bermed bunkers in front and on both sides of each shooter. These berms were made of railroad ties that held back mounds of compacted dirt. Each firing position was protected from the others so that if anything bad happened, only the one position would suffer the consequences. On this day, I found out why — to my chagrin.
Even though I briefed each relay of shooters before they went to the firing points about using the M203 quadrant sights and not the rifle sights, and even though each firing position had an NCO to watch the shooter, we had an incident where a shooter forgot and used his rifle's sights to engage a target. The grenade came out of the launcher and hit the railroad ties that were about 12 inches in front of him.
No, he didn't blow himself up. The designers of the M203 grenade anticipated this event (it's fairly common) and made the grenade to be armed by spin. It has to travel a certain distance downrange before the centrifugal force of it spinning from the rifling arms it, and 12 inches isn't far enough. After the range was called cold and evacuated, I went to inspect the firing position, where I found a crumpled grenade lying in the dirt, next to the abandoned weapon. Just from the sheer velocity of the projectile, the grenade had dented the railroad tie about two inches!
Bad things can happen
I won't tell you how I fixed the situation, but my point is this — when the sights and the bore are not aligned at close range, bad things can happen. The same is true with chronographs! If you're shooting into a pellet trap that's three feet away and you sight through the scope, you're going to shoot your chronograph because the bore is three inches below the scope. Don't think you're smarter than that, because everyone who uses chronographs shoots them sooner or later. By sighting through the scope, you're almost guaranteed to put a pellet through the guts of the electronics package.
Instead, sight by instinct, looking at the orientation of the barrel relative to the target, and of course to the skyscreens. Do this both for the elevation above the skyscreens as well as for the line the pellet takes across both screens.
Downrange problems
People sometimes place a chronograph downrange to calculate the terminal ballistics at a certain distance; or, if another chronograph is used near the muzzle, the ballistic coefficient of the projectile. But they forget that downrange the projectile can go wherever it wants. More chronographs have been ruined this way than any other. Figure that it is only a matter of time before the downrange chronograph is hit.
Lighting for a chronograph
The best light for skyscreens is an even light. A totally overcast day is perfect, as is a day with clear blue sky (as long as the sun does not shine directly on the skyscreens). But a day with puffy white clouds that move around is bad, and you'll have to use the diffuser filters above the skyscreens.
For artificial light, incandescent bulbs that shine evenly are the best. Bulbs that shine by exciting either a gas or a phosphor, such as fluorescents, cannot be used. They will set off the skyscreens.
I personally have found that by reflecting a 500-watt incandescent light off a white ceiling, I get the optimum in indoor chronograph lighting.
Here's a small lighting tip. Don't use strobe flashes near the chronograph, because they will set off the skyscreens. So will the arc from an electric welding torch.
On the level
When you shoot through the skyscreens, it's important to be as close as possible to perpendicular to the path of light to the screen. If you shoot on an angle — up or down doesn't matter — the path through the screens will be longer than if perpendicular and the recorded velocity will be lower.
You're in charge!
Most chronohraphs run on batteries. I should not need to say it, but always carry a spare for when the battery dies. It's discouraging to be out on a range, only to have the battery die and not have a replacement — especially when the whole reason for going to the range was to use the chronograph.
Chronograph oddities
A few chronographs use infrared sensors in their skyscreens and need infrared light sources in order to work. If you lose one of these special-purpose bulbs, all the bright lights in the world will not make up for it. Keep spares close by.
What about that neat little Combro chronograph that attaches to the muzzle of the gun? How good is it? Well, I once owned one and can comment. It does work and you do get a number from it. And whenever there's a number, people stand around and believe it.
But here is the deal. Oehler, which is admittedly the leader in commercial chronograph technology, separates his skyscreens (the third one in the middle is the stop screen for a second channel that checks the other one) by at least 24 inches. The machine's clock speed (the frequency at which the crystal oscillates) is four megahertz. While the pellet flies between the start screen and the stop screen, the oscillator is counting at the rate of four million cycles per second. At that rate, it can parse time into small packets. The Combro has screens that are only a couple inches apart and a clock speed they don't publish, but which must be slower than the Oehler. The number you get from this device is at best a close approximation — a best guess.
Aside from that, the Combro uses IR sensors, will not operate well in strong daylight and is difficult to fit to the muzzle of the gun. If it's misaligned when mounted, it can be hit by the projectile. It's not suited to use with firearms.
Wrap-up
I answered Rich's question in one paragraph in this report, then I went on to discuss other common problems encountered when using a chronograph. If you have any other questions or would like to know more, please make a comment to that effect.