by Tom Gaylord, a.k.a. B.B. Pelletier
Tarzan! This weekend, a number of readers conducted a discussion of the fictional character Tarzan and the author who created him, Edgar Rice Burroughs. I thought you should all know an interesting connection of Tarzan to airguns. His grandson, J.R. Burroughs, was a big-time airgun importer in the 1990s. In fact, he imported many of the Korean brands that are still coming in today.
When I started writing about airguns in 1994, I got to know J.R. through my writing, and I eventually met him at one of the SHOT Shows. We continued to communicate about airguns and many other things well into the 21st century. I haven't heard from him since I got sick back in 2010, so he may no longer be involved with airguns like he once was, but he was certainly a mover and shaker in the U.S. airgun scene during the time he was active.
A couple points of interest with J.R. He was the man who modified the Shinsung Career 707 adjustment wheel from 3 settings to 17 settings — giving us much greater control over the velocity of our rifles. The factory eventually made the same modification. It was possible to keep a Career shooting at the same velocity for a long time simply by adjusting the power wheel as you shot. I remember testing it over a chronograph and getting 90 shots that were all within 30 f.p.s.
J.R. also created the first adjustable trigger for the Career, and I believe he also created one of the first pellet feed mechanisms that was user-adjustable. Before that, you could only shoot a few types of pellets in the gun; but with his modification, many more types of pellets would work through the magazine.
His brother, Danton manages, the licensing of the Burroughs family literary property. Part of that is a collection of original Tarzan novels that were never sold. There was a fire in the storeroom many years ago and some of these books have smoke damage, but they're all like-new hardcover books from the 1930s. I was gifted with one — Tarzan and the Forbidden City — from this collection, and J.R inscribed it, saying that his father had done the cover art.
Of course, many of you know that the southern California community of Tarzana was created from Edgar Rice Burroughs' Tarzana Ranch in the San Fernando Valley. But how many know that Tarzana was also the name of small hamlet located on the ranch before Burroughs purchased it? And his Tarzan character appeared in print for the first time two years after he bought the ranch.
So, Tarzan does have ties to modern airgunning. I thought you would like to know that. One final thing. Burroughs didn't just write adventure novels. He is also quite famous for his science fiction that bears a remarkable resemblance to his other works, but are set on Mars. Edith and I both enjoy the movie John Carter, in which Burroughs appears as a minor character who turns out to be the author who documents the "real-life" exploits of his uncle, John Carter. I think we enjoy it most because of our fond memories of J.R.
Now, let's take our first serious look at the new AirForce Escape survival rifle. Before I start, I need to make a couple corrections to Part 1. I said the Escape SS (officially named the EscapeSS) has an 18-inch barrel and several readers figured out that wasn't the case. It actually comes with a 12-inch barrel in either .22 or .25 caliber.
I also said the Escape valve is a modified TalonP pistol valve, which isn't true. The TalonP valve is used exactly as it is in the pistol, so pistol owners who add a 24-inch barrel and end cap to their pistols can essentially have the Escape. The pistol's frame is shorter than the Escape frame, but it is just right for the Escape Ultra Light (officially named the EscapeUL) that we'll look at in a later report.

The AirForce Airguns Escape precharged pneumatic air rifle is a powerful new survival rifle in both .22 and .25 calibers.

The TalonP pistol is the base gun used to create the new Escape-series rifles.
The Escape rifle looks like the other AirForce sporting rifles and has many of the same features. The new trigger is there, along with the new safety that can be taken off safe by the trigger finger, alone. The 2-stage trigger on my rifle breaks at a relatively clean 28 oz. While it's not adjustable, I think most serious shooters will find it more than adequate.
The rifle weighs 5.3 lbs. unscoped and measures from 34.5 to 39 inches long, depending on where the extendible buttstock is set. That means the length of pull can also be varied from 9.75 to 14.25 inches.
Like all other AirForce rifles, the Esacpe has long 11mm rails on top and below the receiver. Since this is a survival gun, a bipod and sling swivels might be almost as important as a scope.
I tested this rifle differently than normal. Instead of getting the chronograph figures right away, I decided to shoot it at the range, so 2 days were spent on the range with the rifle in its .25-caliber incarnation. Once I have a good baseline of performance downrange, I'll come back and chrono the best pellets, pressures and power settings. Because these rifles are so infinitely adjustable, it makes sense to figure out what works before you worry about the numbers.
But I'll give you some velocity figures because Ton Jones tested the heck out of the rifle late last year, and AirForce provided me with the data. With .25-caliber JSB Exact King pellets and the rifle set to max power, Ton's first shot was 1145 f.p.s. The first 10 shots on a 3,000 psi fill looked like this:
1–1145
2–1125
3–1106
4–1090
5–1078
6–1061
7–1044
8–1028
9–1017
10–1003
On power setting 8, the same pellet did this on the first 10 shots after a 3,000 psi fill:
1–1100
2–1112
3–1133
4–1106
5–1107
6–1088
7–1075
8–1060
9–1041
10–1022
On power setting 4, the same pellet did this on the first 10 shots after a 3,000 psi fill:
1–1041
2–1036
3–1077
4–1095
5–1080
6–1077
7–1100
8–1077
9–1091
10–1080
At max power and the highest velocity, this JSB pellet generated 73.96 foot pounds of energy at the muzzle.
With the 43.2-grain Eun Jin pointed pellet, the rifle did this on the first 10 shots at max power after a 3,000 psi fill:
1–1010
2–980
3–974
4–955
5–940
6–924
7–907
8–894
9–876
10–860
On 8 power with a 3,000 psi fill, the rifle did this with the Eun Jin:
1–996
2–984
3–964
4–944
5–932
6–906
7–888
8–872
9–856
10–840
On 4 power with a 3,000 psi fill, the rifle did this with the Eun Jin:
1–986
2–975
3–959
4–950
5–937
6–922
7–902
8–889
9–870
10–849
At the max power setting and highest velocity, this pellet generated 97.88 foot-pounds of energy at the muzzle.
I have the data on the Escape's .22-caliber performance, but that will make today's report too large, so let me continue with just the .25-caliber rifle, which is how AirForce set it up for me. I took it to the rifle range on 2 different days. Both were cold but the first one was also very windy, so I'm going to show you the results of day 2 testing, only. The day was 16 degrees F (-9 C) but dead calm. I shot several types of pellets this day and based on those velocity figures you have just seen, I decided to shoot 5-shot groups instead of 10-shot groups.
Ton Jones maintains that a survival situation calls for a single well-placed shot, rather than a number of shots fired rapidly. I agree with him, so I'm not testing the Escape as I normally would. I fired 5 shots and then topped off the air tank. When you're making single shots, that makes sense.
On max power the best groups I shot were with JSB Exact King pellets and Predator Polymag pellets. At 50 yards, 5 JSB Kings went into a group that measured 1.846 inches between centers. That's a large group, but remember that you're shooting at large targets, and 50 yards may be farther than you choose to shoot.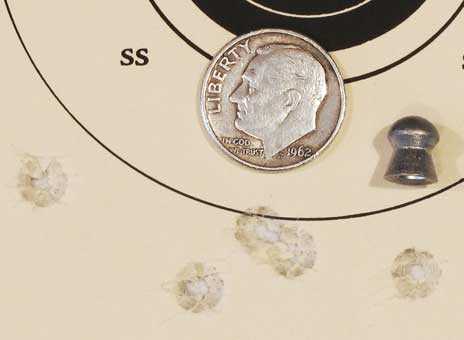 Five JSB Exact Kings went into 1.846 inches at 50 yards on maximum power.
Predator Polymags put five into 1.819 inches at the same 50 yards on max. power. Notice that both pellets spread their shots horizontally.

Five Predator Polymag pellets went into 1.819 inches at 50 yards on maximum power.
Experience takes over
I'm not going to bore you with each and every experiment I did on this day, but I want you to know that I also tried Benjamin domed pellets and Beeman Kodiak pellets. Both gave similar results, with the Kodiaks doing slightly better than the Benjamins.
But I knew that this rifle was more accurate than this. From my experience with other powerful precharged rifles, plus the testing I did with the TalonP pistol, I reckoned the fill pressure had to be lowered and the power adjusted. It soon became obvious this was correct and the JSB Exact King pellet was the one to go with. After several more groups, I settled on a fill of just under 2,000 psi and a power setting of 6. The groups became amazing with this combination, plus they were remarkably uniform from group to group.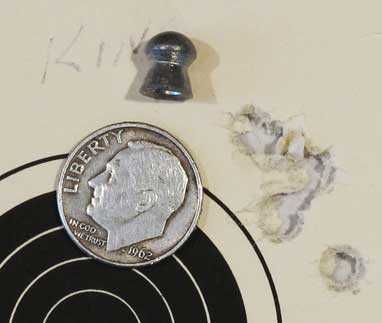 First good group of JSB Kings on power setting 6 with a 1950 psi fill gave me this 0.751-inch, 5-shot group at 50 yards.

After adjusting the scope, I put 5 JSB Kings into 0.694 inches at 50 yards. This was the best group of the day.

Another 5 JSB Kings went into 0.841 inches at 50 yards. This was the worst group of 6 that were fired with this combination of pellet, pressure and power setting.
Now that I know where at least one sweet spot is located, that will be what I'll test through a chronograph. I'll guess that this pellet is producing something in the 30 foot-pound range with the settings I used. Hitting the target with that kind of energy is much more meaningful than missing with three times more.
I also haven't tested the heavy Eun Jin pellet for accuracy. And Ton told me that he lubricated his pellets with Slip 2000, which I've obtained, so I'll be able to replicate what he did.
Summary
How do I summarize anything when I've only just started to test the rifle? There's enough variability here that I could spend the rest of my life just testing the Escape in .25 caliber! What I can tell you is that the rifle performs as advertised, and, yes, you do have to work with it to get these kinds of results. AirForce has always made air rifles for the thinking man, and the new Escape continues that tradition proudly.
by Tom Gaylord, a.k.a. B.B. Pelletier
Before I begin today's report, there are a couple SHOT Show updates. First, there were numerous inquiries about Crosman's butterfly hand pump. Are they going to build it? Is it dead? Stuff like that.
They told me the pump is still an active project. The problem is that they're trying to find a manufacturer that can build it to the quality they'll accept. They keep getting samples from different companies, but there are always problems. They're not going to put it on the market unless it's fully developed. So, there's no date when the pump will come to market.
Why don't they build it themselves? Read today's report to answer that question.
A couple folks wondered about the Chinese-made TX200 copy that Crosman has shown at past shows. That project is dead. Crosman told me they weren't satisfied with the quality of the gun being made, specifically in the area of the safety. They feel it cannot be made to their standards, so they aren't going any farther with it.
I was asked specifically by blog reader Ariel if I'd seen the Air Arms S510 Ultimate Sporter. I hadn't, so I went back to the Air Venturi booth and looked for it. They had it sitting on a counter, so I took a photo and here it is.


The Air Arms Ultimate Sporter was featured by Air Venturi at the SHOT Show.
Simon Gibbon from Air Arms wasn't in the both when I was there, so I don't have an answer about Canadian importation. I will continue to work on finding out.
Next, I stumbled across a Pardini dealer right here in the United States! Pardini is an Italian maker that makes both firearms and airguns. I've tested their 10-meter target pistols in the past. They're in the same quality category as Walther and Steyr, but they don't have quite the ergonomics. They offer both electronic and mechanical triggers on their guns, and the grips are either designed by Morini or heavily influenced by them.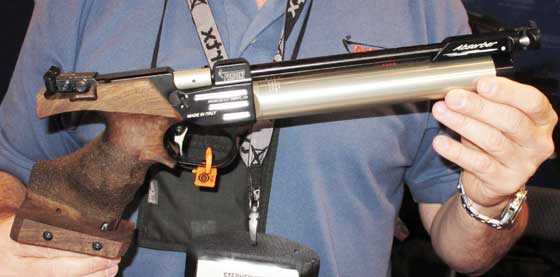 Nice to know there's a Pardini dealer in the U.S.!
Incidentally, the man in the booth was not the Pardini dealer, but his friend. This man custom builds handguns and showed me a 9mm pistol that shot a 1.8 inch 10-shot group at 100 yards! He also showed me a rifle he makes. He builds the action and it's rigid as any sniper rifle. The 100-yard groups were 0.3 inches!
Big news!
The last find at this year's show may prove to be the best one if things pan out. It's a new type of sight. When I walked up to the booth, a woman was standing in the aisle asking if people wanted to look though the sight, which attaches to the rear of a rifle. Since it was mounted on a Gamo breakbarrel, I decided to have a look. Lo and behold, this is an optical type sight that uses passive light! Think of a dot sight without any batteries!
That's an over-simplification and also somewhat misleading, but the See All Open Sight appears to have the precision of a dot sight and the size and light weight of a peep sight.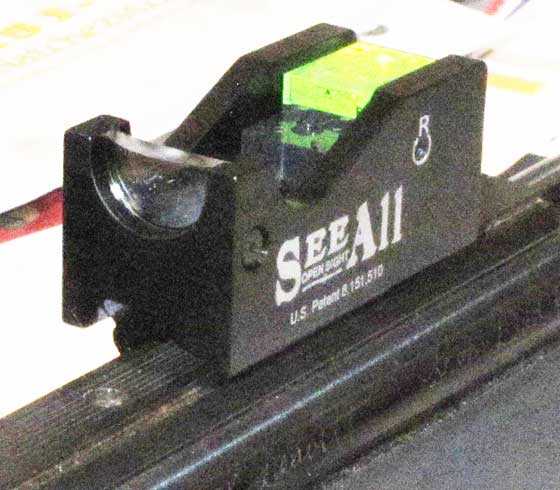 See All Open Sight may be just what the doctor ordered for all who want open sights on air rifles that are currently without them.
I have to give Edith credit for making the connection for me. I saw in general terms how useful this sight might be; but when she mentioned that it could be put on a TX200, the lights came on! How many times have I had to explain to people that guns like the TX simply cannot have open sights installed. Well, maybe now they can!
Why can't "they" build it?
Today's report seems very appropriate in light of the Crosman butterfly hand pump and underlever spring rifle projects. As consumers, we usually see new products after they've gone through a long development process — only some of which we understand. Today, I'd like to talk about what goes on behind the curtain.
When we think of a certain product, we think in terms of performance. If we have some experience, we may lump things like reliability and maintainability into our definition of performance. But that's as far as it goes.
We don't think about what it takes to make the things we desire. That's all hidden from view, but it's at least as big and important as performance and can spell the difference between success and disaster for a product.
We think products are in the U.S. Space Program, where billions of dollars are available to support them. So, if something is possible, we expect every new product to have it. Let's look at a few examples to see how it works.
Materials
Let's start with materials. Fussybritches LTD builds cool precharged rifles that look gorgeous and shoot quite well. The only problem is that they're expensive! You'll pay over $2,000 for one of their FoxxxHunter Premium guns. But Cool Cal Eber out in Portland sent a FoxxxxHunter Premium over to his contact in China, Mr. Har Lee, and he found a factory that can make it for $560, retail. They can even replicate the beautiful walnut stock for that price, which isn't surprising since Fussybritches buys their stocks from them already! The only thing is that Factory 12 cannot get the correct seal material for the valve seats and o-rings. Also, the metal finish isn't quite as nice, and there are divots in the wood stock — only some of which are filled with putty. The Chinese guns are known to leak down over time, and the stocks are often filled with blank spots that are wood putty over holes.
But Cool Cal isn't worried. He says, "Anyone who wants to save that much on an air rifle has got to expect to do some work on their own." The problem is that Bob Sixpack bought one thinking he was getting a heck of a deal by cutting out the middleman, only to discover what the term support really means. Now, he has a rifle that doesn't hold air, and Bob is no mechanic.
Size
Mammoth Air, Incorporated makes some of the best airguns for the money. But Mammoth has expanded their production capacity to the limit. They run 2 shifts a day, 6 days a week, with factory maintenance, cleaning and machine repairs accounting for the additional time. The cost to build another 50,000 square-foot factory building (which is the cheapest structure per square foot they can build and still get all the power, OSHA, floor loading, cooling, waste removal and additional requirements met) is $7,500,000. Then, there's the additional workforce needed to staff the extra capacity, plus the machinery to fill the building.
Mammoth has 27 fabrication centers and 3 process lines in their current 350,000 square-foot plant, which all need upgrading. Their CNC machines are 14 years old and have reached the end of their expansion limits. They can continue to do what they've been doing for many years, but they can't make more parts, nor can they do many of the complex operations that Mammoth would like to take advantage of.
New machinery and upgrades to the existing plant have been estimated at $43,000,000 over the next 7 years. Mammoth is doing great right now, but there isn't enough money in the budget to build the new plant, to say nothing of tooling it and still upgrade the current production capability. And the additional workforce has to be factored in, including the cost to train and maintain them, as well as the loss of productivity over the period they're introduced into the current workforce.
So, Mammoth has been looking outside their plant for additional production capacity. They don't want to do it, and their customers hate it when they learn some products aren't really made in the Mammoth plant, but what can they do? They can phase out older products that don't bring in the revenue they used to; but when they do that, the diehard supporters of those traditional products go on the warpath — claiming Mammoth is loosing sight of their heritage.
Mammoth appears to be a giant, and it really is. But what you don't see is that the giant is spinning 30,000 plates at the same time over a concrete floor!
Sources
Instant Airguns is just the reverse of Mammoth. They're small and light on their feet. They can make changes fast, but what they can't do are some of the more exotic steps to make their own parts. I will choose just one — barrel making. Making barrels is a specialty trade, much the same as optics. It takes a huge investment in both machinery as well as skilled people to make good barrels. Sure, one craftsman can hand-rifle 120 good barrels in a year and still do the other things needed to make airguns. But Instant Airguns makes over 7,000 top-quality airguns each year. They make most of their guns, but the barrels they buy for the reasons mentioned.
Let's say you're a well-known barrel maker who knows the market. You know that Instant Airguns is renowned for using your barrels. In fact, they tout them in their advertising! So, if you want to charge a little more for your barrels, don't you think Instant Airguns will pay? Of course they will! If they could make their own barrels they would, but you know it would cost them a bundle just to get started. You're in a comfortable position. And Instant Airguns customer will just have to settle for periodic price increases.
Capital equipment
You're a medium-sized airgun maker who makes a fine sporting rifle. It's accurate and beautiful, but you take a lot of criticism because your triggers are creepy. The reason they are is that you're drilling the pinholes on a drill press with an indexing bed fixture to hold the receivers. The best tolerance you can hold that way is a maximum of 0.005 inches in the plus dimension between all the pinholes. To accommodate the variation in the pinholes, you have to drill the holes larger than the pins. There's a 6-axis CNC machine that could hold the tolerance to +/- 0.0005 inches, but it costs $450,000, and you just don't have the money.
A number of disgruntled customers have reamed the pinholes of their triggers and installed larger diameter pins. They berate you on the chat forums for being too stupid to realize this is the simple solution. What they fail to understand is that hand-reaming adds a half-hour to the build time and approximately $130 to the retail cost. It seems easy to them to do one rifle this way, but it's a killer to do 340 of them in each 8-hour shift. And it would kill about 80 percent of your sales to charge that much more for your gun.
The list goes on and on. When I meet with industry executives, owners and engineers, they tell me my blog reports like this one read like the history of their company. But no matter what they do, they can't get most of their customers to understand these problems. And perhaps they shouldn't even try. This is business, pure and simple. It's their responsibility to wade through the jungle of problems and wind up with a great product.
But just for today, I thought you'd like a look at the other side of producing airguns.
by Tom Gaylord, a.k.a. B.B. Pelletier
Mea Culpa!
You know, Babe Ruth was the home run king of his era. But he was also the strikeout king. Sometimes when you swing for the fence, you get fanned by the pitcher. I've done that a couple of times in recent reports.
The AirForce Escape SS has a 12-inch barrel. I said it was an 18-inch barrel, but several of you clever guys spotted why that could not be. And, while I was starting to redden from embarrassment in the AirForce booth, John McCaslin also took the opportunity to inform me that what I wrote about the Escape valve is also incorrect. It isn't different than the TalonP valve — it is identical. So, gather a crowd and paint me red…I goofed!
The Escape has a 24-inch barrel, the Escape Ultra Light has an 18-inch barrel and the Escape SS has a 12-inch barrel. All 3 rifles come in either .22 or .25 calibers and no others.
The $100 PCP
I'm happy to report that Crosman is taking the $100 PCP project seriously. They will look into the possibility of making such an air rifle, but that doesn't mean they have made any decisions to proceed. A lot of things must be taken into consideration beyond the fact that it might be possible. Don't any of you start a clock on this! I'll continue to test the rifle I have, and we'll leave it at that.
Mike Mellick (Mike in Iowa) did come to Las Vegas, and we had a meeting. He showed me 2 examples of the rifles he's currently selling, and we talked about my testing one for a feature article in Shotgun News. I plan to present the entire $100 PCP project in that article, which I think will be in the July 2014 color issue.
Okay. On to the new stuff.
Leapers
Leapers is going to introduce an upgraded line of optics later this year that they'll call the T8 line. They're trying to offer optics as clear and sharp as those currently being sold for tactical use by Law Enforcement. They want to give $2000 worth of value for something in the $200 price range.
The first scope will be a 1-8X that fits the tactical scenario very well. If you're in the CQB team, you run your scope on 1X and have a wide field of view and rapid acquisition. If you're in the overwatch team, you're running 3-4X and cover the door-breakers. The snipers sit on the high ground at 8X, watching everything.
I looked through a prototype scope, and it was clear as a bell, but the development is not quite finished. After it's announced later this year, they'll move ahead on a 2-16X scope to compliment the first one.

Leapers T8 scope line will offer upgraded optics.
I saw many products at Leapers this year, but the one that surprised me the most was the little peep sight they developed for a number of firearms. It's so small, yet it adjusts in both directions. I asked if it could be made for airguns because then people wouldn't have to root out the sides of their wood stocks to make room for the elevation slide — not that I've ever done that!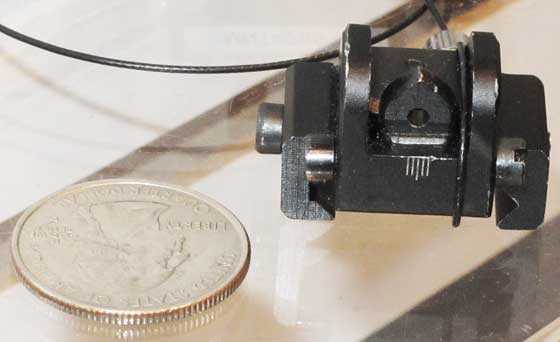 This peep sight is made to fit Weaver bases, but imagine what you could do with this on an airgun!
Air Arms
I saw the new field target rifle being offered by Air Arms. The FTP 900 is a purpose-built target rifle suited to knocking down those pesky steel targets. Short for Field Target Professional, the FTP replaces the EV2, their longtime field target competition rifle. It's loaded with features. But to sum it up, this rifle is adjustable! It's completely ergonomic, so it can be adjusted to fit the shooter like a glove. If $2,500 seems a lot to pay for an air rifle — just try winning the World's with something less!


Air Arms FTP 900 is the newest field target rifle in the Air Arms line.
KalibrGun
From the Czech Republic came the KalibrGun company with a range of precharged pneumatics. According to their spokeswoman, the specs are fluid, but they did show a bullpup called the Colibri, assumedly after the world's smallest (2.7mm) firearm. It's a tiny thing they'll offer in .177, .22 and .25…but they were somewhat vague on the velocities as apparently some things are still in flux. Besides being a bullpup, it's also semiautomatic! Unfortunately, it takes a 300 bar (4,350 psi) fill according to their literature (the sales rep told us that 250 bar is recommended), so I don't know what the U.S. reception will be.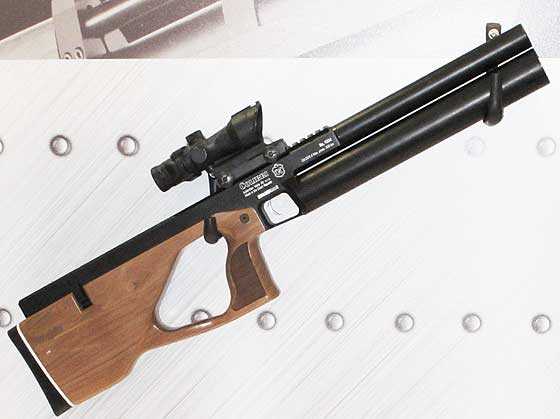 The KalibrGun Colibri is a semiautomatic bullpup.
BSA & Gamo
BSA is located in the Gamo booth, and they keep secrets about their products better than the National Security Agency! I did photograph the BSA Buccaneer SE for you. It appears to be a precharged carbine and I'm sure that someone in the world knows something about it, but they weren't in the booth at this show either time I visited. Perhaps the intelligence community will discover something about this airgun at some time this year. If they do and I learn of it, I'll be happy to share it with you.
Years ago, when BSA was a UK company, the airguns they made were well-designed and had remarkably accurate barrels. Let's hope some of that tradition has carried over to the newest crop of guns!


The BSA Buccaneer SE is a pretty little PCP carbine. It looks like it can shoot!
As far as the Gamo guns go, I couldn't make out what was new and what wasn't. A lot of them were on display, but the confusing plethora of names lead me to abandon the quest. When Pyramyd Air gets some in this year, I'll test some of them for you.
Crosman
Crosman got a healthy exposure in the first report due to the Nitro Piston 2. But I didn't get the full tour until the third day of the show. Let's start with the AK BB gun that everybody was talking about before the show. It's called the Comrade AK and is a semiautomatic BB gun that gets 150 shots per 12-gram CO2 cartridge. Yes, that was the number I was given for a 400+ f.p.s. BB gun!

The Comrade AK BB gun is semiautomatic and gets 150 shots per CO2 cartridge, according to Crosman.
I was also shown the new 760 that has been redesigned for greater velocity and easier pumping effort. They lengthened the pump handle to lighten the load and strengthened the pump rod and pump cup to make the mechanism more efficient.
There are also a couple airsoft guns I'm really excited about. One is an automatic electric pistol that fires both semi- and full-auto. There aren't many full-auto handguns in the world, so I'll let you decide which one this looks like. I hope to test one for you soon.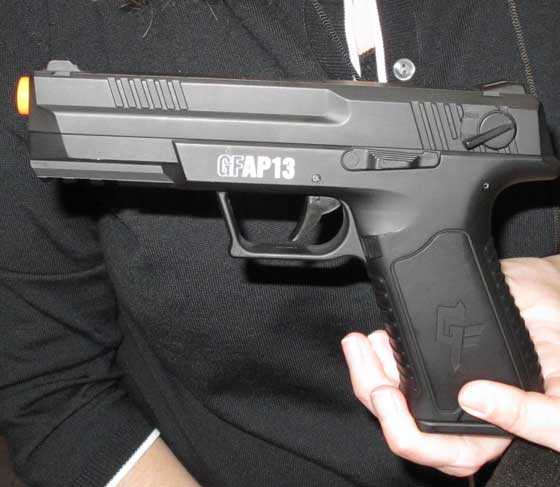 The GFAP13 BB gun is semiautomatic and gets 140 shots per CO2 cartridge, according to Crosman.
There's also a Chicago Typewriter (Tommy Gun) that's a fun AEG. It has an 800-round BB drum that winds on the outside — just like the real thing! I want to test one of these as well.
Finally, I saw a very neat looking CenterPoint dot sight that has a laser built in. So, it's both a dot sight and a laser sight! I don't think I've tested one of those before! This one is a high-quality holographic unit.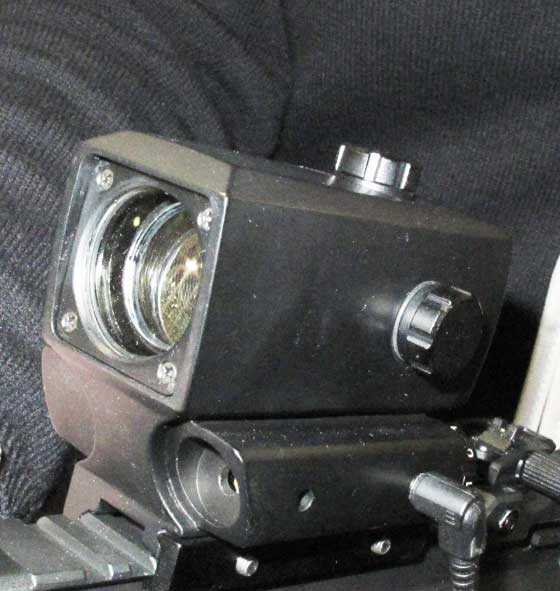 CenterPoint dot sight features both red and green dots, as well as a red laser!
Well, this is the last day of the 2014 SHOT Show. If I see anything new today, I'll stick in one of the reports next week.
by Tom Gaylord, a.k.a. B.B. Pelletier
Here's our second look at what's new in airguns for 2014. Last February, while I was having dinner with Hans Wonish of Umarex, he told me about the upcoming Broomhandle Mauser I'm now testing. After we discussed that for a bit, Herr Wonish asked me if there were any other handgun models that I though might be well-received by airgunners. Several crossed my mind, but the one that really stuck out was the Colt Python! This year, I saw that revolver in the Umarex booth!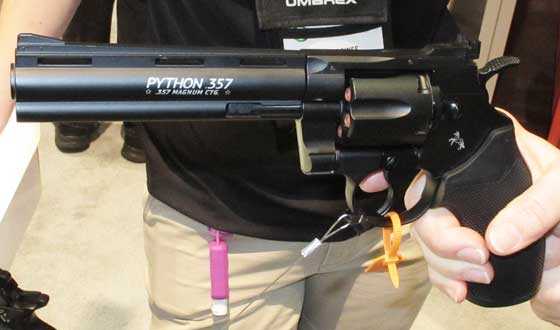 BB gun shooters are going to love the new Colt Python .357 from Umarex. It uses real shells to hold the BBs!
Another new rifle from Umarex is going to have a lot of hunters excited because it offers something they've been requesting for a long time. The new Umarex Fuel breakbarrel spring rifle (with Reaxis gas piston and SilenceAir technology) has a bipod built right into the stock! That's right — there's nothing more to buy. Just pull the legs apart and rotate them down to make a solid field stand. Or flip them back up, and they're just part of the stock.


Built-in bipod makes the Fuel spring rifle stand out — and up!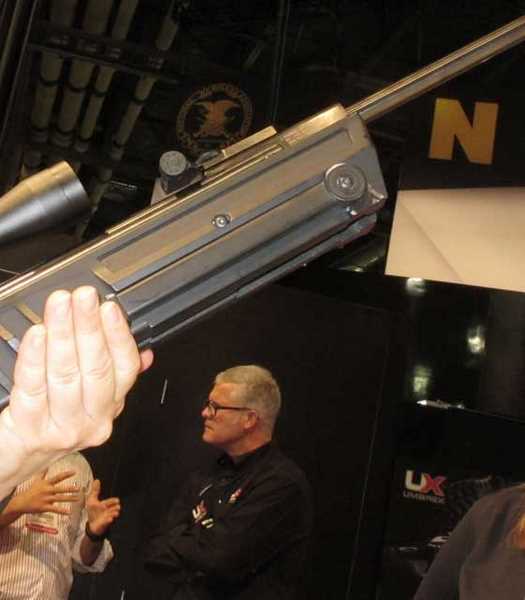 When not needed, the Fuel's bipod folds neatly back into the stock.
Edith and I went snooping over in the German pavilion. In the Diana booth we saw a gun that hasn't been seen in the U.S. yet. It's the 340 N-TEC Premium, a breakbarrel Diana with a nice silencer on the muzzle and a beautiful walnut stock with deep checkering. That's all pretty usual fare for Diana, except this rifle has something new. A gas spring that's 100 percent German made!


The Diana 340 N-TEC Premium is German's first rifle to have a German-built gas spring.
We're fortunate to have Herr Michael Mayer (of Mayer and Grammelspacher — the owners of Diana) show the gun to us. He was justifiably proud of the craftsmanship of this beautiful rifle and told us we may start seeing them in the U.S. by June of this year.
AirForce Escape nets big sales on first day!
Remember the Escape rifles I showed you 2 days ago? Well, AirForce sold their entire first 3 months of production on the first day of the show! The reception was overwhelming for this rifle; and like I predicted, people who aren't traditional airgunners were buying them, too!
Remington gets back into airguns
They haven't made airguns since 1929, but Remington Arms is revitalizing their airgun selection in 2014. Leading the effort is Dani Navickas, the lady who served many of us at the old Beeman organization for so many years. She has spent a lot of time teaching the Remington staff about the airgun market, and it looks like it will pay off this year.
The first offerings are guns made in China, but don't make a face. When I saw them, I was shocked. The quality looks as good as anything that comes from Europe these days. Each model is patterned after a popular Remington firearm, and the guns should be available to the U.S. market by early summer.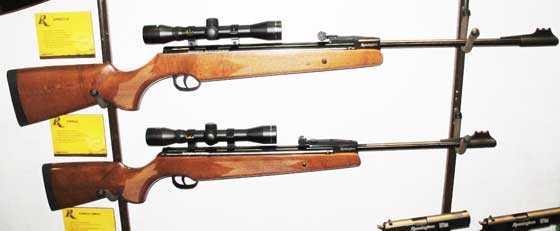 The Remington Express and Express Compact are 2 new air rifles from Remington. They say I can test an Express very soon!
Reminton also has a neat 1911A1 BB pistol. It has blowback and can fully disassemble like the firearm. I'll test that one as soon as possible!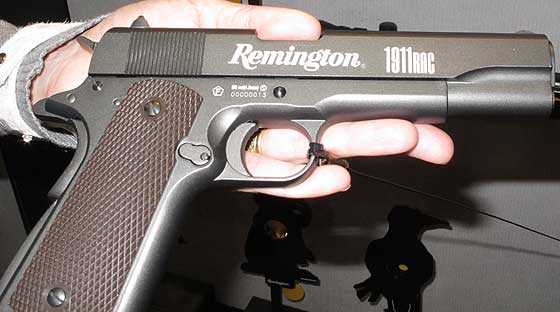 New Remington BB pistol has blowback and offers full disassembly. The grip safety really works!
Another new product from Remington are some great field targets with features I haven't seen before. They offer killzone reducers that are permanently attached and just flip in and out of position! And some of them are resettable with a second shot — ending the need for long cords that can tangle and break.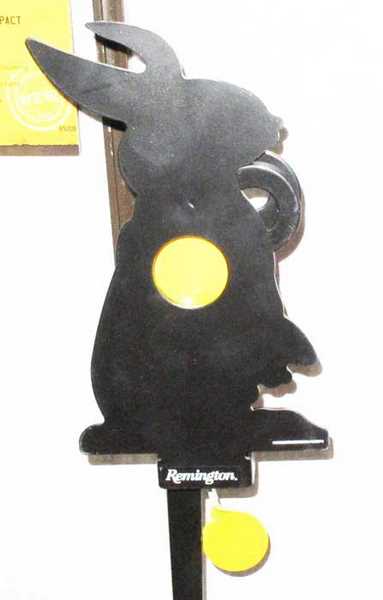 Killzone reducers simply flip in and out of place! And reset the target with a hit on the bottom paddle!
With Dani at the helm, we can count on Remington to enter the airgun world in the right way. I hope they realize how fortunate they were to get her to lead their efforts!
by Tom Gaylord, a.k.a. B.B. Pelletier
I started my SHOT Show this year at the gun range on Media Day — held the day before the show opens. It's an opportunity for all the companies to not just show you what's new, but to actually let you shoot it.
The event is held at the Boulder Rifle & Pistol Club range in Boulder City, Nevada. To call this place a club range is like calling Fort Knox a bank! The firing line is about a quarter mile in length and encompasses dozens of individual ranges sized from 25 to 800 yards. There are another dozen or so shotgun ranges! When I was in the Army, I saw tank gunnery ranges that were larger, but seldom anything else! Of course, the backstop is just miles and miles of miles and miles, so you're pretty safe shooting anything up to but not including a .50 BMG.
Seeing an airgun company in the midst of such a wild event is like watching a Boy Scout weenie roast in the midst of a forest fire! But Crosman did run a range, and I did find them first thing after arriving in the morning. So, what's new?
Well, the thing is that I got to shoot their new Nitro Piston 2. I went to the show with my tongue firmly planted in my cheek over the Nitro Piston 2. I mean, what could it possibly be other than last year's Nitro Piston with a fresh coat of paint? Quite a lot, as it turns out!


Crosman is first bringing out the Nitro Piston 2 in the Benjamin Trail rifles.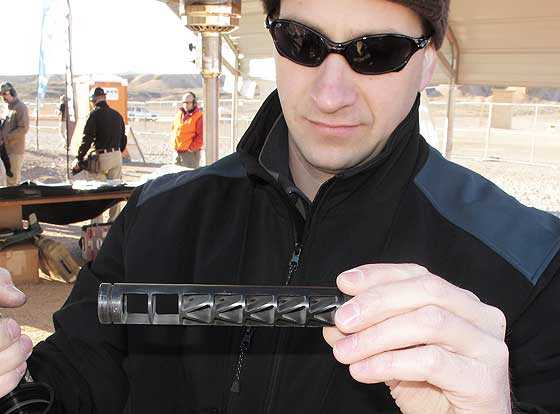 Crosman engineer Jeff Hanson developed the Nitro Piston 2 that defies belief! Here he holds the technology that quiets it.
First thing they told me was that it cocks with about 10 lbs. less effort, and I'll be darned if it doesn't! A full-power gas-piston breakbarrel that cocks as easily as their Benjamin Legacy I used to rave about is something to admire. Don't bother looking for my past reports because you're going to want this new rifle even more since it delivers serious power!
Second, the rifle should have a nice trigger. My definition of nice is a 2-stage trigger with a light, crisp release. And that's exactly what this rifle has! You guys are going to be removing your GRT III's and replacing them with this one! Just joking! But this is a very good trigger, and I don't usually say that about the triggers on gas-piston rifles!
Next, the rifle has to be smooth. Air rifles with gas springs are usually not that smooth, though the pain of firing is over in an instant. But there ain't no pain with this one. Crosman invented a new type of gas piston that dampens vibration to the point that it feels like a tuned air rifle. They buttoned the rear to reduce friction and vibration and they put a rubber buffer in front to stop the piston dead.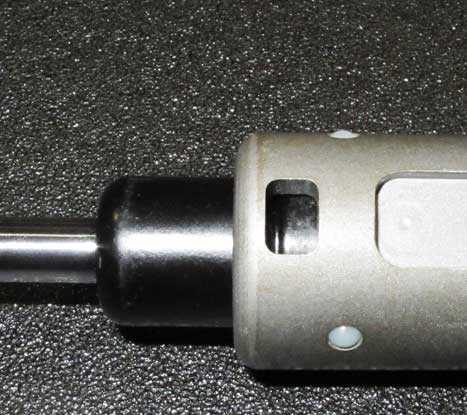 The rear of the Nitro Piston 2′s piston is buttoned for friction and vibration reduction.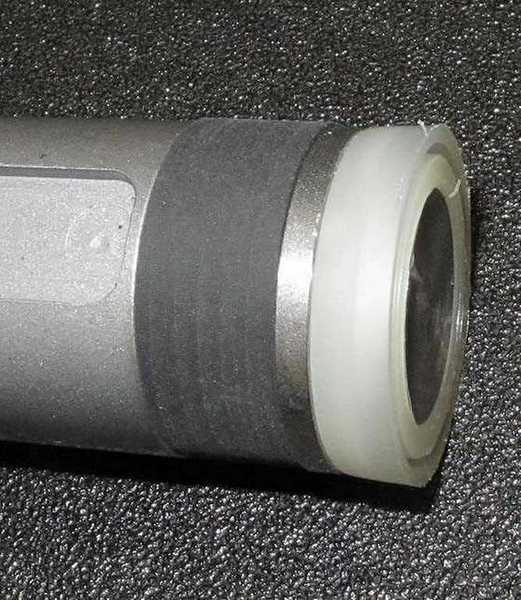 When the piston seal stops, the piston keeps moving and the rubber buffer expands into the compression chamber wall, canceling all movement and vibration!
And last, the rifle has to be accurate! I only shot it a few times; but if what I saw at the range is any indication, this rifle is a tackdriver. Of course, everything is subject to a full evaluation when I get one to test; but from what I saw at the range, this rifle will be one worth owning. I was told the rifle should be available in April, but let's all stay calm because these rollouts sometimes take longer than expected. I did put in my request for a test rifle as soon as they become available, so you can count on seeing it right after I do.
There's more from Crosman, but now let's go over to Hatsan.
Hatsan
At the Hatsan booth, I was greeted cordially by Hatsan USA President Blaine Manifold, which I still think is a marvelous last name for an airgun guy! The first thing he showed me blew me away. How about a very powerful PCP that's also ultra-quiet, super accurate and has a wonderfully light trigger? Sound too good to be true? I thought so too, but then he showed Edith and me a short video where Rick Eutsler shot the gun at 50 and 75 yards! It sounded like a ballpoint pen clicking open, according to Edith, and I couldn't tell how many pellets he shot at 50 yards because they were all going into the same hole!


This shot, taken from the new Hatsan catalog, shows the new AT-44 Long Quiet Energy air rifle.
Then, he dropped the bomb! It'll retail for less than $500! At least I thought I heard him right on that. Edith thinks so, too. Anyway, this one is on my list to test real soon! I didn't get a picture of the rifle, but I'll stop by the booth tomorrow and get one for you.
The next bomb he dropped on me was a subtle one. I don't even think that he expected my reaction to it. It's the model 250XT CO2 BB gun that looks just like a Ruger Mark II pistol. And when I say "just like" I mean it even has a disassembly lever on the backstrap the same as a Ruger; and yes, gentlemen, this pistol can be taken apart!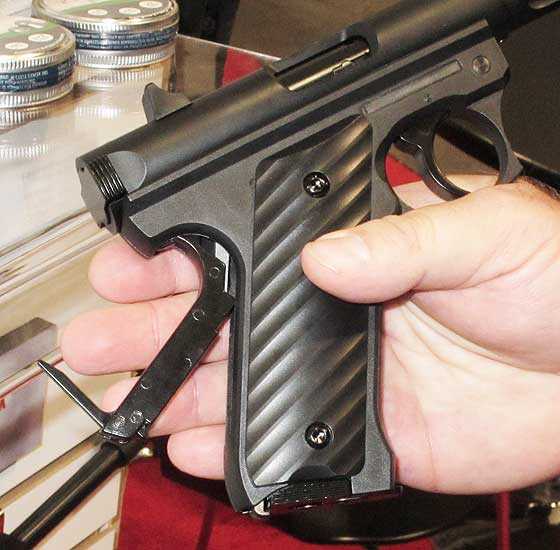 Yes, sports fans, that BB pistol is being disassembled just like a Ruger Mark II targtet pistol. Note the wings on the bolt!
I'm getting one of these pistols ASAP to test for you. I love it!
Just one more!
It's getting late here in Las Vegas, and I have a million things to do. I'm going to share one final picture with you. Over a decade ago, when I first met Wulff Pflaumer (founder of Umarex) at his sister's home in Maryland, he told me about the Walther Lever Action rifle that was soon to hit the market. Then, he asked me for any ideas I had for airguns people would like. I told him I was impressed by his realistic M1911A1 pellet pistol, and I thought collectors would like a version of that gun that looked like a survivor from WWII. I thought it had to look distressed, as if it had been carried though the war.
He thought collectors wouldn't like such a distressed look, but this year he relented and brought out a very special release of 500 commemorative guns. I'll let you be the judge.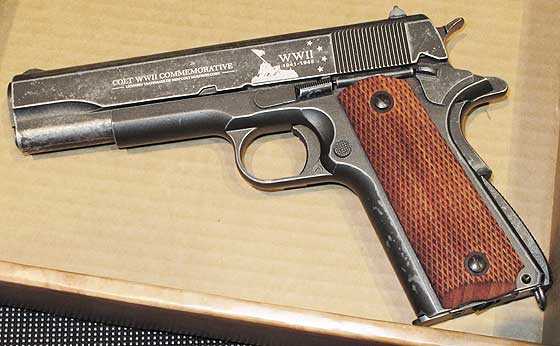 The limited edition Umarex M1911A1 commemorative pistol is a faithful copy of the real deal. It's a BB gun with a distressed finish. They were for sale at the SHOT Show, only.
I'll be back tomorrow with some more looks at what's to come in 2014.
by Tom Gaylord, a.k.a. B.B. Pelletier
Today is Day 1 of the 2014 SHOT Show, and it's also the day AirForce Airguns announces 3 new air rifles — the Escape, Escape SS and the Ultra Light. These air rifles, which come in either .22 or .25 caliber, are aimed at the serious survivalist — not just airgunners; so AirForce is envisioning a much larger market. That's serious!
The Escape was the rifle that started the ball rolling, and it's the brainchild of AirForce owner, John McCaslin, and Ton Jones, the star of television's popular series Auction Hunters. John and Ton were on a road trip while hunting in Texas last year when Ton started talking about a survival air rifle. He wanted power, accuracy and light weight. But most of all, he wanted a pneumatic rifle that could exist off the grid — when the dive shops aren't filling scuba tanks any longer.
As they talked, the idea of the TalonP pistol came up. Ton liked the fact that its air reservoir is small. That makes it easier to fill with a good hand pump. But he wanted more power than the 55+ foot-pounds of the TalonP. He wondered what would happen if a 24-inch barrel was installed in place of the 12-inch barrel that comes standard on the pistol.
He said John didn't talk for 10 minutes after hearing his suggestion. He was obviously deep in thought. Then, he smiled and said, "You know — that might work!" Ton said the smile made it all worthwhile.
You know how these things can snowball! By the end of their trip, John was fired up to see what would happen by doubling the barrel length. Obviously, the gun would go from being a large air pistol to a light air rifle, but that was okay with Ton. He just wanted something light and portable. By starting with a TalonP, it looked like he could have it.
Our veteran blog readers already know what doubling the barrel length will do for a powerful PCP because we've already done it here. I took the Talon SS, which generated 25 foot-pounds of muzzle energy, and boosted it to almost 42 foot-pounds just by installing the optional .22-caliber barrel in place of the factory 12-inch barrel. So, guess what you get on a 55 foot-pound TalonP? That's right, sports fans, we are closing in on 100 foot-pounds from a pellet rifle!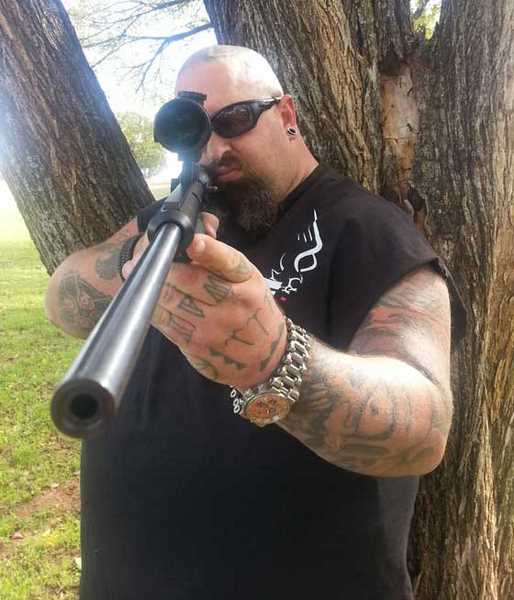 Ton Jones shoulders his new AirForce Escape at the AirForce plant in Ft. Worth.
You might already own one!
A couple weeks ago, I hinted that something big was coming and that some of you might already own one. This is what I was referring to. Those who own TalonP pistols can just add a 24-inch optional barrel in either .22 or .25 caliber and get most of the Escape rifle. It's true, some redesign of the valve was done to make the new rifles even more efficient, but most of the raw power will be there.
In a day when most airgun manufacturers seem to go out of their way to make their new guns incompatible with what has gone before, AirForce turned it around. That's the biggest story in my opinion! They want you to have the flexibility to experience the Escape if you already own a TalonP. All it takes is installing a 24-inch barrel to make the change. And many of you dedicated AirForce owners will own one of those already. Your gun won't have the new Escape valve, but it will be very close.
How does the Escape differ from the Condor?
Here's a good question that's bound to come up. The AirForce Condor is already one powerful precharged pneumatic. Right? We know that it develops 65 foot-pounds easily in .22 caliber, and gets up to 20 full-power shots on a single fill. How is the Escape different?
Well, during development testing, Ton got a .25-caliber Escape up to 97.88 foot-pounds on the first shot! The fifth shot on the same fill produced 84.78 foot-pounds; and on shot 10, it was still putting out 70.96 foot-pounds. All 10 shots produced greater power than a .22 Condor at its highest. [I have to quote the .22 Condor because I don't have the test data for the .25, but you can assume it will be more powerful than the .22.]
The air reservoir on the Escape is small. It's the same size as the TalonP tank. It doesn't hold air for many shots. While that may sound like a drawback, it was exactly what Ton was after because a small air reservoir is much easier to fill with a hand pump than a large one. This is an air reservoir that you can actually fill in the field and not spend all day doing it. During testing, Ton filled a tank from 2,000 psi (the ending pressure after firing 10 shots) to 3,000 psi (the starting operating pressure) in less than 3 minutes.
What does survival really mean?
You've watched the movies and TV shows, so you know what survival means. The comet strikes and bombs civilization back to the Stone Age, or everybody turns into a zombie and it's you against the world. Well, that hasn't happened yet, but every year there are earthquakes, floods, tornados, blizzards and hurricanes that thrust millions of people into real-life survival situations. Survival means you have the ability to hold out (eat, drink, and stay warm and safe) for at least 3 days until the emergency services can get organized. And you know that it can really be longer than 3 days.
In a real survival situation, you aren't going up against lions and tigers and bears (oh, my!), unless you live in a zoo or in places like the Pacific Northwest. But you may have a chance to hunt deer, feral hogs (especially in the south!) and other animals. Hunting licenses won't matter when the bomb drops, and you'll extend the abilities of your weapons to their maximum. In other words, you'll make them do things they aren't normally considered capable of doing. If you're armed with an air rifle, you aren't going to need a repeater, either, because survival is a one-shot, one-kill situation. You need power, accuracy and reliability to get the job done.
A .22 rimfire rifle is ideal in such situations. Given the current ammunition shortages, can you always count on having what you need? You can with this air rifle! The Escape produces about 82 percent of the power of a standard speed .22 long rifle cartridge, and 500 pellets are both affordable and available. Once you have them, they'll last for a good half-century. Air is free and a reliable hand pump gives you all the shots you will need.
The rifles
There are 3 different models of the Escape. The Escape itself is Ton's gun that has his logo on the side. It has a 24-inch barrel in either .22 or .25 caliber; and, of course, the other caliber is always an optional replacement in 5 short minutes. Because of the high volume of air flowing through the valve, no consideration was given to .20 or .177 caliber. For a pure survival rifle, what would be the point?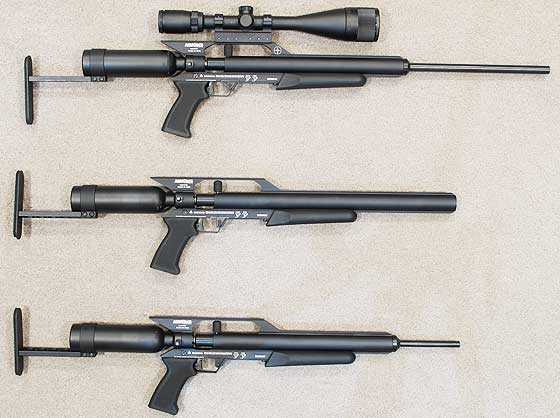 Escape on top, then Escape SS and finally Escape Ultralight on the bottom.

The Escape will have Ton Jones' logo on the side.
Ton has lived in the southern California desert all his life. He was brought up with an appreciation of wildlife that no college can provide. He teaches survival preparation around the U.S., and air rifles are an essential part of his curriculum. He wants a rifle that a small person can handle all day, yet one that has plenty of power. It can't require super-strength to cock, and it has to be accurate. He found a willing ear with AirForce, and these 3 rifles are the result. Until these were created, there was nothing that met all his needs. Let's look at the other 2 rifles for a moment.
Escape Ultralight
The Escape Ultralight is a super-light variation of the rifle that sports an 18-inch barrel with a thinner diameter. Every possible ounce has been shaved from this gun, which weighs less than 5 lbs. unscoped.
Escape SS
The Escape SS also has an 18-inch barrel and has the active sound-reducing technology AirForce is famous for. It gives the shooter a quieter option. The Escape Ultralight and SS give up some sheer power when compared to the Escape, but both are powerful PCPs in their own right. I'll test each of them fully for you, so you know what to expect.
Today's report isn't a test of the Escape. I'm just announcing it today. I'll return and give you all the details you've come to expect from my tests for each of these 3 rifles.
But you can see the scope mounted on the Escape in the photo, so you know I've already begun. I've had this rifle out to the range one time so far, so I know how it shoots. This air rifle is so powerful that you now have some recoil with each shot — just like a big bore! But for that slight inconvenience, I'll show you what you get in return.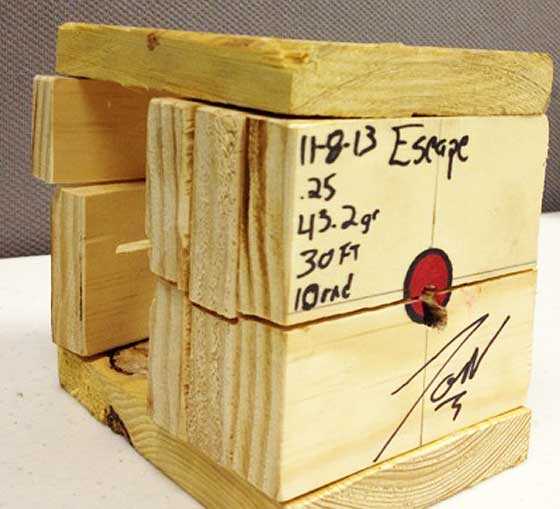 That's 10 shots at a wooden target from 30 feet.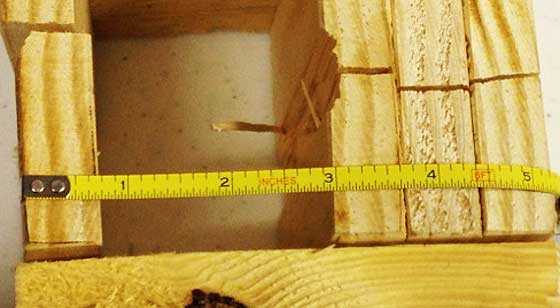 The pellets sailed through about 3 inches of wood!
I'm calling this Part 1 of the Escape report, but I'll give a more detailed description of the gun as the report advances.
by Tom Gaylord, a.k.a. B.B. Pelletier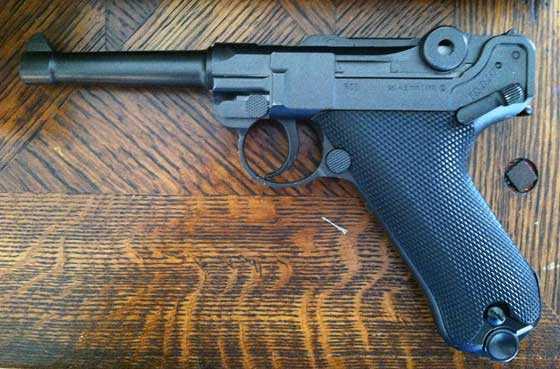 The new Umarex P-08 BB pistol is a stunning copy of the firearm.
When I first saw this gun at the 2013 SHOT Show, it changed my outlook on the show altogether. Up to that point, I was angry because the show had changed so much. Media Day, the day before the show opens and where members of the media are invited to shoot all the new firearms (and airguns!) at a public range in Boulder City, had tightened up because of past abuses, and it now took an invite from a booth holder to attend. Media credentials, alone, were not enough.
Besides that, the show planners did away with the gold carpet in the two large display halls that I have used for reference and navigation for the past 17 years. Now, the show resembled a bazaar in Mumbai, with crowded aisles and tall structures that limit the view of the surrounding countryside. Suddenly, you're 5 years old and everything around you is tall, confusing and moving too fast.
Then I saw IT in the Umarex booth. I was being shown the new products by one of their reps and the guy said, "Oh, yeah. They also have a new replica of some vintage gun." My heart leapt within my chest. Would this be the year that they built IT? Would this be the year of the German Luger?
Sure enough, there it was — displayed for all to see. Only it's NOT a German Luger — or a Luger of any kind. Because, you see, Stoeger purchased the rights to the Luger name back in the 1920s, so the only pistol that can bear that name legally has to be sold by them.
That's okay, though, because what we know as the Luger was never called that, anyway — except by us. What the Germans called it was the Pistol '08, or P-08. It was standardized (not invented) in 1908 for the German army; and because they were preparing for war at that time, they also nicknamed it the para bellum, which is Latin for "prepare for war." Hence, the name Parabellum that's come down to us through history. The firearm is chambered for many different pistol rounds, including a 7.63mm bottlenecked cartridge the Swiss favored and also the .45 ACP for American trials. But by far the most popular chambering is the 9x19mm cartridge that's also called the 9mm Parabellum (and, yes, the 9mm Luger). Is this all beginning to make some sense?
This iconic German selbstlader (self-loader or autoloader) is as recognizable throughout the world by its very shape as the Broomhandle Mauser and the Colt Single Action Army revolver. It's the one handgun that, when anyone picks it up for the first time, makes them paraphrase Crocodile Dundee, "Now, THAT'S a gun!"
The P-08 is arguably the most ergonomic handgun ever made. Many companies, like Ruger, copied it for their own guns. And, because it's chambered for the soft-recoiling 9x19mm cartridge, it's extremely mild to shoot. Even though the gun is designed for ammunition that's loaded well above today's standard 9x19mm loads, its toggle-link bolt and recoiling barrel extension absorb so much recoil that it's a thoroughly enjoyable handgun to shoot. I know, because I owned one and shot hundreds of hot rounds in it!
But I'm not alone in admiring the P-08. Thousands of shooters around the world feel exactly as I do about the gun. Which is why, when Umarex began making their incredible replica pellet pistols and BB guns years ago, the cry went up to build a P-08. The demand was there from the beginning, but, alas, the dream went unfulfilled. Gun after replica gun came out of Amberg, but no P-08. And people wrote me, asking why. The two handguns I'm asked for more than any others are this one and the Single Action Army.
Well, the wait is over. The Umarex P-08 BB pistol is finally here!
The gun
The P-08 BB pistol is all metal on the outside and is pleasingly cold to the touch when you pick it up. A 29.3-oz. unloaded weight gives good heft in the hand without being heavy. The power comes from a standard 12-gram CO2 cartridge stored in the grip. The spring-loaded BB magazine holds 21 Umarex Precision steel BBs. The stick magazine drops free by pressing the contoured round button on the left sight of the grip.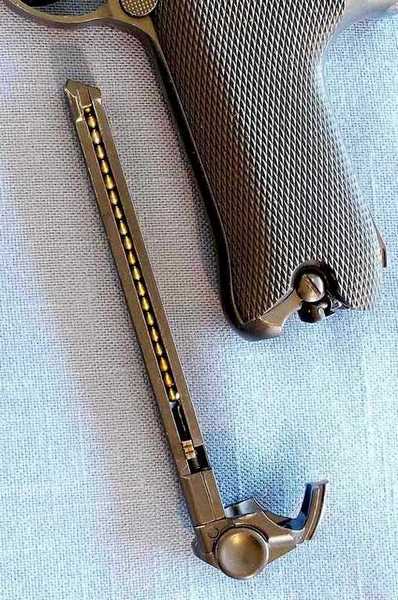 The 21-shot stick magazine drops free of the gun with the push of a button.
I'm testing serial number 12A00004, which tells you it's an early production gun and you probably have zero chance of buying this one after I'm finished because it's on loan directly from Umarex. In other words, the production guns aren't quite here yet. I think this may even be the same gun I saw at the SHOT Show.
The grip panels are black plastic, which is in keeping with later P-08 "Black Widow" firearms. Nothing looks or feels out-of-place. The right grip panel pops off to reveal the CO2 chamber, and the tensioning screw is hidden by the bottom of the magazine that's molded to appear like the bottom of the firearm mag.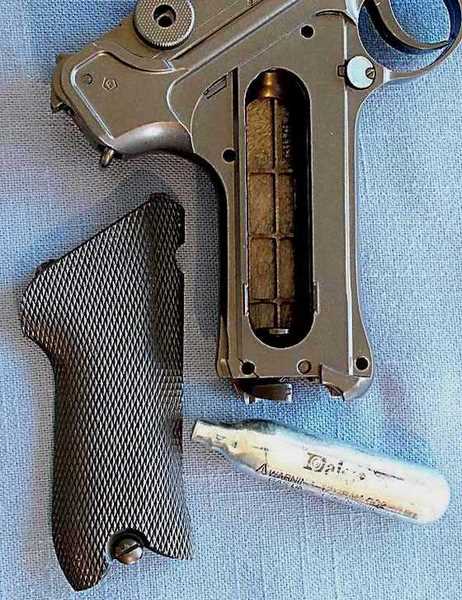 The right grip panel pops off to install the CO2 cartridge. The cap of the magazine covers the piercing screw.
Let's talk about that molding for a minute. Umarex has been perfecting their casting processes over the years, and they have arrived at the point where I found it difficult to believe that the toggle link did not move when I examined the gun at SHOT. The pieces are so well-defined and appear to be awaiting a pull upwards on the toggle "ears" (the two large round knobs at the top rear of the pistol) that I fiddled with the gun for several minutes — trying to get it to "work." It fooled me completely.
I heard disparaging remarks from some readers that if the toggle doesn't work, the gun is worthless, or words to that effect, but do you think we're asking too much? This is a not a $250 pellet replica pistol. It's a $60 BB gun — or at least it will be somewhere near that number. It has the weight and balance of the firearm, as well as the ergonomics and wide trigger blade. Isn't that enough for what they're asking? Right now, I have to say that it is for me.
The controls that do work are the mag release, as already described, and the safety, which is identical to the one on the firearm. Even the word secured (gesichert) is written in German, as on the prototype firearm it copies.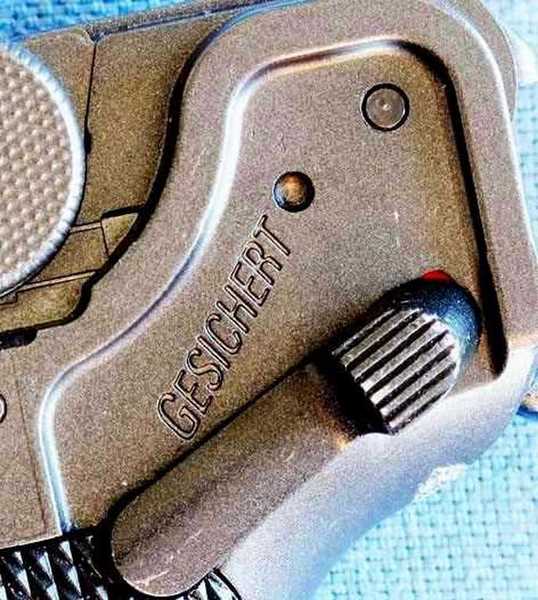 The safety is in the same place and has the same German word as on the firearm.
The sights on a short-barreled P-08 firearm are fixed, and the rear notch is integral with the rear part of the toggle link. So, when the gun fires, the rear sight moves as the toggle moves. On the firearm, the front sight, which is attached to the barrel, also moves, because the barrel extension does move back when the toggle link breech is opened. But on the BB pistol, neither sight moves because both the barrel and the toggle link are fixed in place.
The trigger is not adjustable and operates in the double-action mode, only. You'll have to learn how to control a longer, heavier trigger-pull.
Velocity is supposed to be around 410 f.p.s., which is quite brisk for a BB gun. You'll definitely want a good backstop when you shoot this air pistol, and everyone in the vicinity will have to wear safety glasses for protection from rebounds.
Other than that, this pistol is what it is — a super ergonomic BB pistol (by copying the P-08 profile exactly) with a lot of realism. I hope it shoots accurately because this is definitely an interesting BB gun.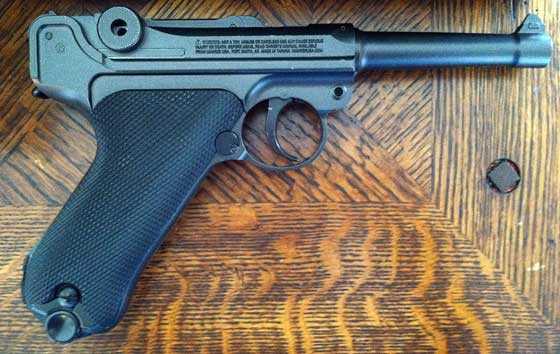 This is the first P-08 BB pistol to hit the market. The realism is remarkable.
When can we expect to see it?
I don't know just when the P-08 will hit the U.S. market, but I would hope it will be by early summer. I will keep an eye out for it.