by Tom Gaylord, a.k.a. B.B. Pelletier
Announcement: Gary Lee is this week's winner of Pyramyd Air's Big Shot of the Week on their airgun facebook page. He'll receive a $50 Pyramyd Air gift card. Congratulations!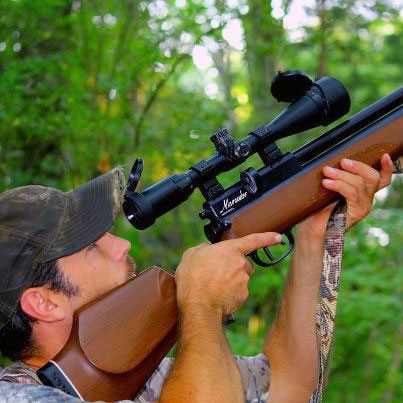 Gary Lee submitted this week's winning photo for BSOTW.


The IZH 60 now comes with target sights.
It's accuracy day for the IZH 60 Target Pro and this is the big test that everyone has been waiting for. And there are a couple of things that have to be cleared up, too. So let's get started.
Cosmoline in the bore
Blog reader chasblock mentioned finding Cosmoline in the bore of his rifle and asked if I would take a look at the test gun's bore. I don't think he really meant Cosmoline, which is a range of military long-term metal storage lubricants. He probably just meant excess grease or oil. At any rate, I ran a patch through the bore, and it came out dry. There was some anti-oxidant compound on it, but no oil or grease. So, that's one down.
Front sight element not centered
Then, we had a discussion about the front sight element not being centered in the globe and wondered if that wouldn't that throw you off. Or at least wouldn't it be annoying? Well, I shot 82 shots in this test and the front sight position was a non-issue for me. Once I had the black 10-meter bull centered in the front aperture, I forgot about everything else. But I'm posting a photo of a Winchester model 94 front sight so you can see that this is a very common phenomenon, and it isn't troublesome in the slightest.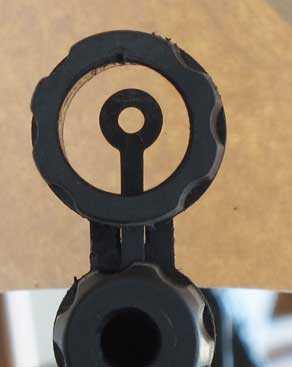 The IZH 60 front sight element is a little higher than the center of the globe. When you're sighting, it's not a distraction.

This Winchester 94 front sight is even higher in its globe and people hunt with it. Many open-sighted rifles with globes are like this.
Rear sight doesn't adjust low enough
Another issue that was raised is that the rear sight doesn't adjust low enough to get on target at 10 meters. I didn't find this to be a problem, as you will see. I also found the rear sight to adjust very positively in all directions without any backlash. So, that's now laid to rest.
Accuracy
I was told by the folks at Pyramyd Air that the IZH 60 Target Pro can put 10 pellets into a quarter-inch at 10 meters. The gun they sent to me to test had a 5-shot group of H&N Baracudas with it. It was fired into a Shoot-N-C paster, so measuring is difficult, but as near as I can tell, it measures 0.268 inches between centers, so even these 5 shots grouped larger than a quarter-inch, though not by much. But we expect a 10-shot group to be 40 percent larger when the same pellet is used.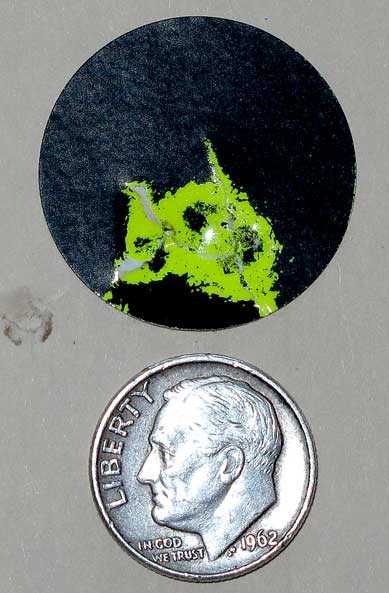 The 5-shot test group measures 0.268 inches between centers, as close as I can measure it. It was shot with H&N Baracudas. The shot outside the black is a sighter and not part of the group.
The rifle was shot from a rested position at 10 meters. The targets were standard 10-meter rifle targets, and they fit well inside the front aperture. It was very easy to hold on target with this rifle. I laid the stock on the back of my hand that was resting on a sandbag.
The trigger-pull is single-stage and vague as to the let-off point, but it's light enough to work very well in this rested position. The rifle is very light, but it didn't seem to move around as much as I'd feared it would.
H&N Baracudas
The first target I shot was with the H&N Baracudas. It took me several shots to get on target because the sight adjustments work backwards of U.S. adjustments. Turn the windage knob in (to the left) to move the pellet to the right, and so on.
The first group of 10 Baracudas measures 0.546 inches between centers. It was larger than expected, but not too bad for the first group.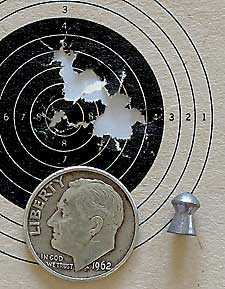 Ten H&N Baracudas made this 0.546-inch group.
As you can see from the pellets I had chosen to use, I expected to shoot a lot in this test, so I thought I would speed things up by firing 5 shots and then seeing if it was worth firing 5 more. The next pellet up was the RWS Hobby that sometimes surprises us with great accuracy. This wasn't one of those times, however, because the first 5 pellets made a group that measures 0.482 inches between centers. No sense finishing that one!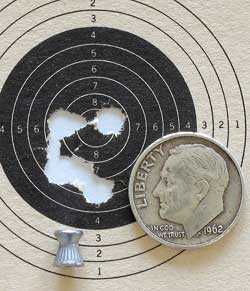 Five RWS Hobbys made this 0.482-inch group. No sense finishing it.
Next, I tried the RWS R10 Match Pistol pellet that I thought might be the most accurate in this rifle. It wasn't, as 5 made a group measuring 0.452 inches. Once more, no sense going on. So I stopped at 5 and moved on.
Five RWS R10 Match Pistol pellets made this 0.452-inch group. No sense finishing it, either.
Then, I tried the H&N Match Pistol pellet. Something was different with this pellet, because the rifle recoiled noticeably less. It was easy to feel, and I could follow-through much better because the sights remained on target after the shot. The feeling was so good that I didn't check the target after 5, but went all the way to 10 shots before looking. The 10-shot group measures 0.391 inches between centers and was the tightest group (10 shots!) to this point in the test! It's not a quarter-inch, but it's a very good group, nonetheless.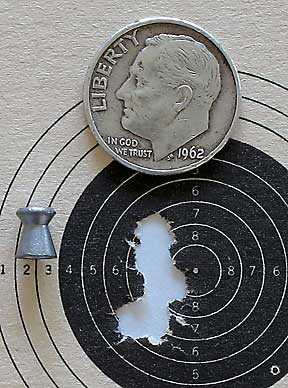 Ten H&N Pistol Match pellets made this 0.391-inch group. This pellet felt like it made the rifle recoil a lot less, so I finished the group without checking.
Next, I tried the JSB Exact RS pellet that often surprises us. This is a domed pellet, so it can't be used in a formal match (impossible to score), but most shooters won't care about that. Ten pellets made a group measuring 0.284 inches between centers. It's a nice, round group, and it's the best 10-shot group the test rifle shot all day!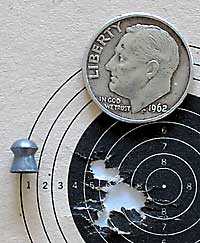 Ten JSB Exact RS pellets made this 0.284-inch group. This pellet also felt like it made the rifle recoil a lot less, so once again I finished the group without checking. This is the best 10-shot group of the test.
This pellet shoots so well that I shot a second group with it. That one didn't turn out as good, at 0.502 inches between centers. Perhaps I was tiring out?

Another 10 Exact RS pellets were not so good, at 0.502 inches between centers.
I then turned to H&N Finale Match pistol pellets, which I thought would be better than the Match Pistol pellets. Alas, that wasn't the case. Ten of them made a huge 0.675 inch group, which turned out to be the second largest of the entire test..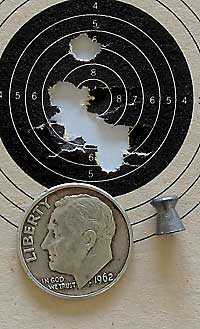 Ten H&N Finale Match Pistol pellets made the second worst group of the test, a whopping 0.675 inches between centers.
Then I tried five RWS Superdomes, but when I looked at the group they made I stopped. It measures 0.646 inches between centers, so no point in continuing.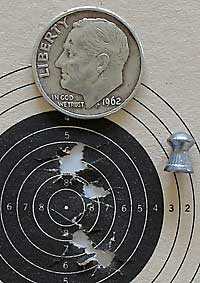 Five RWS Superdome pellets made this 0.646-inch group.
By this point in the test, I knew how the rifle shot. I was also very accustomed to the trigger. So, I thought I'd try another group of Baracudas — just to see if I could improve things from the first time. Ten went into a group measuring 0.702 inches, which was larger than the first group.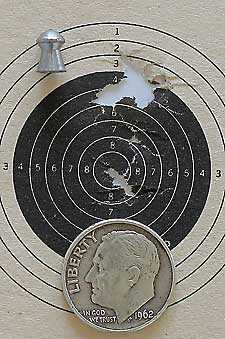 Ten H&N Baracudas made this final 0.702-inch group — the largest in the test.
By this point I knew I was tired. But was that the cause of the group sizes? Was I no longer able to lay them all in the same hole? To see, I grabbed my FWB 300S, which is the most accurate 10-meter rifle I own. I put 10 RWS R10 pistol pellets into a last group that measured 0.135 inches. That's for 10 shots. So it wasn't me!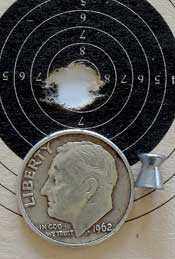 Yeah — it's not me! Ten RWS R10s went into 0.135 inches.
Final impression
The IZH 60 shot about as well as I remembered. It certainly cannot group 10 shots in a quarter-inch at 10 meters in anything other than a chance encounter. So, there's a hat to be eaten!
On the other hand, for what it costs, the rifle is reasonably accurate and the target sights make it even easier to shoot well. I don't think it can out-shoot a Bronco, but it's certainly worth considering for informal target shooting.
by Tom Gaylord, a.k.a. B.B. Pelletier


The IZH 60 Target Pro now comes with target sights.
Today is velocity day for the IZH 60 Target Pro. Before we begin, there's a surprise correction I need to make to Part 1. When I measured the length of pull, I didn't mention that the adjustable stock can be lengthened an additional inch by relocating the anchor point of the adjustment screw.
Increased length of pull
Mac reads the blog sometimes, but he doesn't comment very often but he loves the IZH 60/61 family of rifles. After reading Part 1, he called and reminded me of something I'd forgotten. If you pull the butt stock off its post, you'll see a second spot for the screw anchor on the butt stock post. All you have to do is move the anchor from the first slot to the second, and you'll add just over an inch to the length of pull on your rifle. I had reported a LOP range of 12 inches to 13.25 inches in Part 1. Now, I'll revise that to a maximum of 14.5 inches. (Edith will amend the owner's manual to show this info.)

By moving the screw anchor from one slot to the other, the length of pull can be increased by more than an inch!
The importance of follow-through
We discussed the fact that this powerplant is not capable of producing a lot of velocity. There was a comment on Part 1 that low velocity makes you need to follow through all the more, but I want to address that. Low velocity is not why you must follow through when shooting a spring-piston airgun. Even a 1,300 f.p.s. springer requires follow-through because it has the same problem as the IZH 60. In a springer, the pellet does not begin moving until the piston has almost come to a complete stop. The gun is already vibrating and moving in recoil before the pellet starts its journey down the barrel. But if it takes an IZH 60 to drive that fact home, all the better, because the proper follow-through can do nothing but make you a better shot.
Velocity
As I explained in Part 1, Pyramyd Air sent this rifle to me for this test. They were very confident this rifle would shoot accurately, and they even sent a tin of what they feel are the best pellets. Guess what they are? H&N Baracuda pellets! The website says these are supposed to weigh 10.65 grains, but I weighed the ones sent by Pyramyd Air, and they weighed 10.4 grains. H&N Baracuda pellet weights have changed a lot over the past few years, and I would always recommend actually weighing them rather than accepting the description, because the weights seem to change a lot.
These pellets averaged 382 f.p.s. in the test rifle. The range of velocity went from 371 to 389 f.p.s. At the average velocity, they generate 3.37 foot-pounds of muzzle energy. They will be the first pellets I test for accuracy; but since they're domed pellets, they cannot be used in a formal target match due to the difficulty of scoring the holes. I'll also test some wadcutter pellets — both target and general sporting types.
The second pellet I tested was a target wadcutter — the H&N Match Pistol pellet. This 7.56-grain wadcutter is a good general target pellet that costs less than H&N's Finale Match pellet line. As a pistol pellet, it weighs less than 8 grains, making it appropriate to the IZH 60 powerplant.
This pellet averaged 485 f.p.s. and ranged from 481 to 490 f.p.s. At the average velocity, they generated 3.95 foot-pounds at the muzzle. This is the velocity I expected from this rifle.
Next I tried the H&N Baracuda Green — the lead-free pellet that's performed so well in a number of lower-powered airguns. This time, though, the performance wasn't as good. The average velocity was 425 f.p.s., despite the fact that the pellet weighs just 6.48 grains. It must be the harder alloy that causes excessive friction with the rifling, because the range for this pellet was from a low of 367 f.p.s. to a high of 489! At the average velocity, the muzzle energy was 2.60 foot-pounds. Even at just 10 meters, a velocity variation this large will cause the group to grow, so I don't think I'll test this one for accuracy.
The last pellet I tested was the RWS R-10 Match Pistol pellet. At just 7 grains, this pellet was the lightest of the lead pellets used in this test. It averaged 525 f.p.s. with a range from 507 to 534 f.p.s. The low shot was an exception and loaded very hard. The next-slowest pellet went 516 f.p.s. At the average velocity, this pellet produced 4.29 foot-pounds of energy.
Overall the rifle performed better than I expected. There's some buzzing in the firing cycle, but it's not objectionable — probably because of the low power of the rifle. A "beer-can" tune would probably do wonders for it.
The trigger is light enough, if not very positive. It breaks at 1 lb., 7 oz. consistently. I did try adjusting it, but it was set as light as it would go when I received the rifle, so there was no improvement.
One final thought. I went through the box the rifle came in and found a target that proves this rifle can shoot a tight group at 10 meters. It's shot on a Shoot-N-C target, so measurement is impossible because of the paint flaking off, but it does look like a quarter-inch group. However, it's only 5 shots and the standard is 10, so that hat is still on the line!
by Tom Gaylord, a.k.a. B.B. Pelletier


The IZH 60 now comes with target sights.
This report has a lot riding on it. First, I was specifically asked to do this by Pyramyd Air after I made some remarks about the new IZH rifles with their plastic receivers. I tested both the IZH 60 and the IZH 61 a couple years back and found they did not have the same accuracy as they did a decade ago when the receivers were made of metal. I found the plastic clips for the IZH 61 did not seem to index as well as the older metal clips.
But Pyramyd Air has brought out the IZH 60 Target Pro and the IZH 61 Target Pro air rifles as viable substitutes for lower-end target rifles. I was challenged to test one my usual way; and if the rifle I tested can't keep 10 rounds in a quarter-inch at 10 meters, well — somebody is going to eat his hat!
Now, I enjoy a slice of hat every so often, nicely broiled with garlic and onions, but I won't throw this test just to see someone else eat one. Because the second thing that's hanging on the outcome is a lot of purchase decisions. There's something about these Russian sidelever springers that attracts people; and when target sights are added, it gets serious!
Back when I wrote the Airgun Revue publications, a lot of airgunners in my area were buying these guns as fast as they could. My buddy, Mac, bought at least 23 of them. Every time he got one, he would show it to someone who would then buy it from him — forcing him to buy another.
One local guy took an IZH 60 and added Anschütz target sights and a custom-made laminated stock to it. He spent less than a hundred dollars for the rifle and then put over $500 into it. People thought he was crazy until he started doing well in local 10-meter target matches. Then they realized that this rifle has the capability to be a lot more than the price seems to indicate. [Note from Edith: I remember this man, as he'd brought his gun to an airgun show. He was accompanied by his wife and their infant. I recall seeing the gun reclining ever so tenderly in the stroller, while his wife had to carry the baby around the show!]
But what about today? Now that the receiver has been changed to plastic, does the gun still shoot? That's the question this report will answer — and just in time for the holidays for those inclined to add a target rifle to their collections. If this rifle can shoot, then Pyramyd Air has done what it took over $600 to do back in the 1990s, and they've done it for less than $200.
Cost and serial number
Both the IZH 60 and 61 basic rifles cost $120. The Target Pro versions like the model 60 I'm testing are both priced at $180. The rifle I'm testing is serial number 126001228.
General description
The IZH 60 is a single-shot sidelever spring-piston air rifle. It has a futuristic stock with an adjustable butt that changes the pull length from 12-inches to 13.25-inches. There are no detents, so the stock can be set anywhere within these limits.

Loosen the thumbscrew under the buttstock and position it where you want.
Loading
The power is low, producing just under 500 f.p.s. So, the rifle cocks easy. That and the light weight of the little rifle make it a good one for smaller children, except for seating the pellet. On the 60, the pellet has to be manually seated by pushing forward on a thin steel bolt handle, while on the 61 the pellet is automatically seated when the cocking handle is returned home. Sometimes, manually seating the pellet takes a lot of effort. Therefore, the 61 makes a better youth target rifle if you don't want to load every shot for them.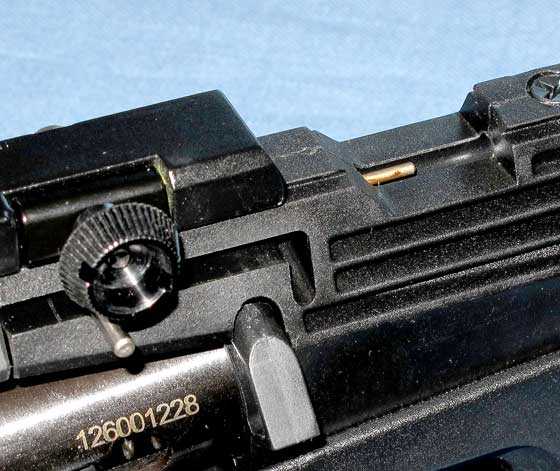 When the sidelever is retracted, the bolt opens automatically, exposing the loading trough. Bolt handle is the thin silver rod under the rear sight thumbscrew.
Sights
While the rifle comes with good adjustable sporting sights, the Target Pro guns have an adjustable target peep rear sight and front sight inserts. Daisy supplies the rear sight, and it is all-metal. It's a lot better-looking than the plastic Daisy aperture rear sight they used to offer on some of their target rifles.
I tried both adjustments on the rear sight and they feel crisp and seem to be repeatable, without backlash. The older Daisy plastic peep sight had a problem with backlash, but this one seems fine. I will test the sight for adjustability after we know how accurate the rifle is.
The front sight has interchangeable inserts, and three of them are apertures, which are the preferred front sight for precision today. When I unpacked the rifle, the entire front sight assembly was canted several degrees to the right; and I was about to fire off an email to get the hat ready. But I discovered that when the sight is disassembled for insert replacement, you can adjust the assembly wherever you want it. So — crisis averted. I only wish my 1917 American Enfield had the same capability! Its front sight assembly was rotated to the right permanently during an arsenal refinish, and was so disagreeable to look at that I sold the rifle.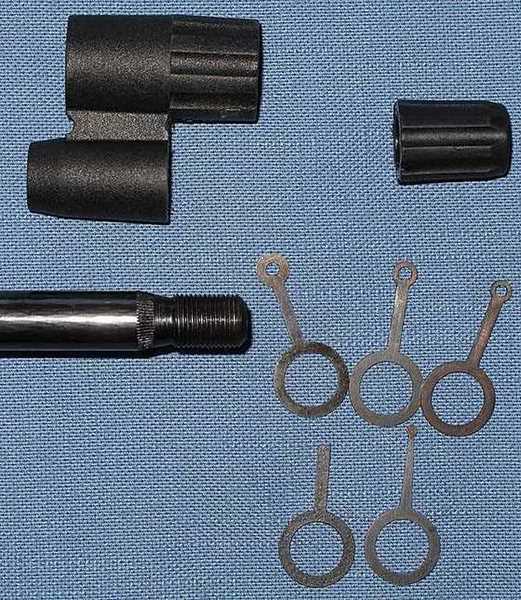 Unscrew the muzzle cap and the entire front sight assembly comes off, allowing the inserts to be changed. You can also center the front globe upright and lock it in place.
Barrel
The barrel is what made the IZH 60 and 61 stand apart from most other spring rifles in the same price range. It's hammer-forged, which is known to give a more consistent bore if done correctly; and the Russians have always been noted for the accuracy of their barrels. But as I said, we shall see by testing. After all, there's a tasty hat at stake.
Trigger
The rifle's trigger adjusts for the pull length, which means where the let-off point is. It's a single-stage trigger that's very light but also very vague. It's not a target trigger, but it's much better than the trigger on a Daisy 953.
My plan
I plan to test the heck out of this rifle. If it's as good as I've been told, I'll shout it from the bell tower. But if not, there better be a hat ready!