by Tom Gaylord
Writing as B.B. Pelletier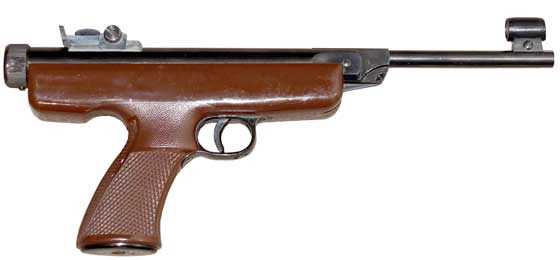 This Diana model 5 air pistol is marked as a Winchester model 353.
This report covers:
A valuable report!
RWS Hobby pellets
Oil
Crosman Premier lites
The oiling
Experience pays off
Qiang Yuan Training pellets
Back to Hobbys
How is it doing?
Trigger pull
Cocking effort
Evaluation so far
Today's the day I discover how healthy my new/old Diana model 5 (Winchester 353) air pistol is. This is best done with a chronograph, which is the Nth time I have told you that.
A valuable report!
Today's test will be a valuable lesson in spring gun dynamics. Because of how I conducted it, this test shows things that are not often seen this clearly. Let's begin.
RWS Hobby pellets
I wanted to know up front whether this pistol is in good condition or not. So I used the RWS Hobby pellet first. In my research for this report I found stated velocities for the Diana model 5 pistol between 375 f.p.s. and 450 f.p.s. Those numbers were no doubt obtained with a light pellet, and in the days that the model 5 was selling, lead pellets were the norm. I thought a lightweight lead pellet would have to give me the fastest average velocity. I was wrong, but let me tell you how the test went.