Posts Tagged 'spring-piston'
by Tom Gaylord, a.k.a. B.B. Pelletier
Today's report is a second installment from our blog reader RifledDNA, a.k.a. Stephen Larson. He's modified his new Benjamin NP Limited Edition and wants to tell us how it's going.
If you'd like to write a guest post for this blog, please email me.
Over to you, RifledDNA.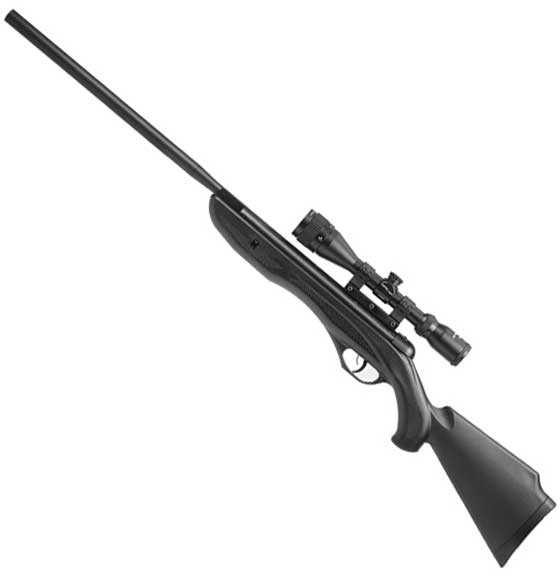 Benjamin Nitro Piston, Limited Edition. This is what the rifle looks like out of the box.
Today is part 2 of my new NP Limited Edition, and we'll look at what's changed on the .22-caliber rifle since I took it out of the box, what pellets it likes so far and the accuracy I've been able to achieve. I wrote an earlier part 2; but the day after it was finished, Crosman alerted me they had a new stock for me. A few days after that, my order of pellets would arrive. It made sense to wait until these things were available for inclusion in this report. Both packages arrived, the stock was installed, the pellets have been tested and I can now tell you everything that has happened in one big mess of journalistic chop suey.
First, let's see what I've changed on the gun. In the first report, I told you how uncomfortable and misconfigured the grip and trigger assembly seemed to me. I'm used to pistol grips, and the Benjamin NPS was designed for one. I knew that a stock with a pistol grip that fit properly must be found.
I approached Crosman and asked for a Benjamin Legacy Jim Shockey stock based on the fact that rifle is similar to my rifle and both have the highly angled forearm screws. While these things are true, the receiver tube of my NP Limited Edition is 1/8th of an inch wider than the tube of the Legacy NP, and the forearm screws are not located in the same place.
The screw holes needed to move an inch back to line up with the screw holes in my rifle; and the stock above the trigger, where the end of the spring tube rests, had to be notched, allowing the stock to open wide enough to receive the larger diameter receiver — say that 5 times fast!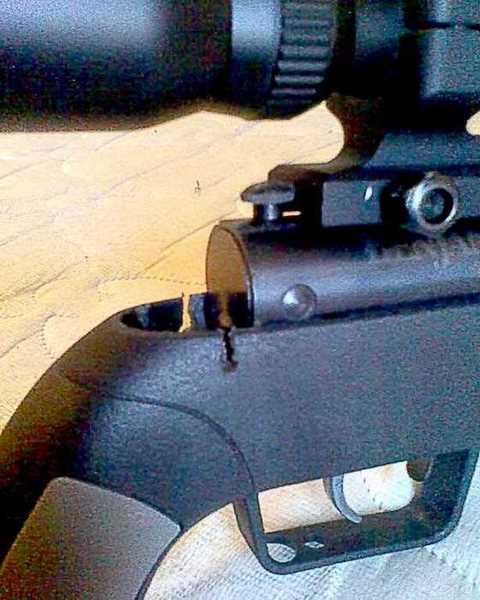 I notched the stock at the back so it would relax and accept the larger NP Limited Edition spring tube.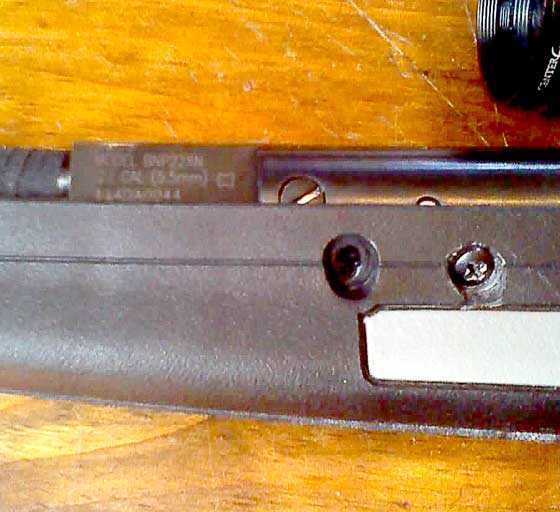 The forearm screws had to be moved back about an inch.
Anyway, the action has now been fitted into the new stock, and it makes me very happy. Although it's Mickey-Moused in, it's solid. While someone might notice the screws are now in a different spot, shooting yields no problems. Quite the contrary. It fits my hand wonderfully, and the trigger is easily accessed and is in a location that feels natural to me. Thank you, Crosman!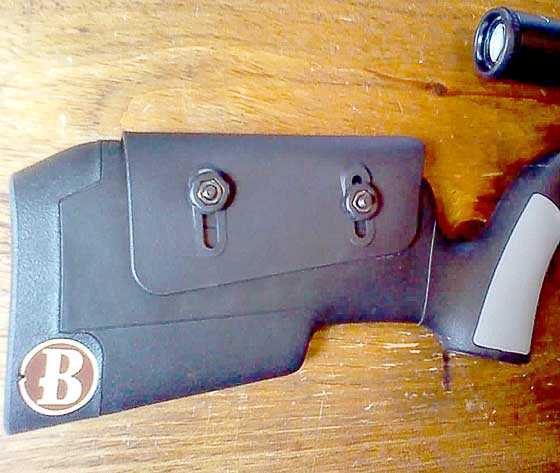 The new buttstock has an adjustable cheekpiece.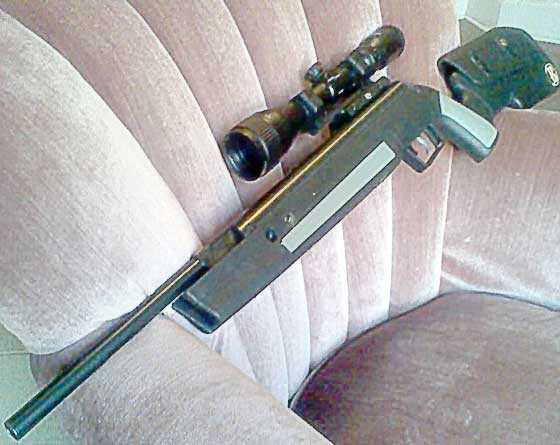 The new stock and modified rifle now fit my shooting style.
I told you about thinning the trigger in the first report. I also told you the barrel is shorter, down to 10.75 inches. [Editor's note: You did? I can't find any reference in Part 1 where you told us how long the barrel is.] I originally had plans to shorten and rethread the barrel to put the shroud back in place. I wasn't able to get the barrel threaded; and different configurations, though effective for the noise level, were not making me happy. I found that the unmodified level of noise is not offensive, anyhow and have abandoned the attachments. The short barrel is simple and manageable. For my style of shooting, ease of movement means making the shot.
I also removed the anti-beartrap safety and can now decock the rifle. I think the ability to dencock is very important and have done so countless times already, so I'm glad I did this. [Editor's note: Removing a safety device like the anti-beartrap device cancels your warranty protection and places the liability for any accidents with the gun squarely on you.]
The trigger modifications improve performance; the shortened barrel improves performance (I believe); the stock that now fits me better improves both performance and appearance. Removing the anti-beartrap device gives me the option of decocking the gun.
Two more performance mods were applied. First, the breech seal was replaced with a nice, thick leather one. I noticed a change in the discharge sound when I did this, and it seems the gun loses no pressure at the breech with the new seal. It may have been losing air with the thin factory o-ring. The difference in contact area of the seal is about 10-fold, so I would hope it seals better!
Second, while the barrel and breech were off the gun, I opened the transfer port by just a hair, maybe one-sixty-fourth of an inch. Without a chronograph, I can only tell you these things haven't hurt the performance. I believe they've probably helped velocity and have definitely helped accuracy. The short barrel and powerful Nitro Piston have the pellets hitting their marks as soon as the trigger breaks.
That brings me to the pellets. I had very little pocket change to scrape together an order of pellets, but I did manage to buy three and get the fourth tin free! I ordered two tins of Beeman Round Nose. I had good luck with Beeman Pointed pellets in a .177 Crosman TR77. At ~3 bucks a tin, these .22 domes work surprisingly well. They're also very soft, which helps with energy transfer. They were the second most accurate pellet.
The two other tins I bought were JSB Exact Monsters and RWS Superdomes. The Monsters were bought to test the powerplant's limits with pellet weights. My Ruger Blackhawk Elite spring rifle rebounded when a too-heavy pellet was used, and I wondered if the Nitro Piston powerplant might act the same. It doesn't. It shoots them smoothly but not very accurately.
The most accurate pellets were the Superdomes. They also seem to run very fast. Again, no chrony, but on a super moist rainy day they were creating supersonic cracks. Shooting in dry weather they did not, so either the moisture lubricated everything to send them supersonic or wet air cracks more easily. Interesting.
The RWS Superdomes shoot like laser beams. Since I bought the NP for small game hunting, I shot a 10-shot, 20-yard group with one extra shot, a first-shot-counts test right out of the bag at a small liquor bottle (not mine, found it on the ground on the way to the shooting spot). That shot went dead-center on the 1.25″x2.5″ body of the bottle. That's good plinkin' in my book.
I set up a 5.5″ Caldwell Orange Peel target on the side of an old 4-slot toaster, settled in on the canvas folding sports chair rest and put ten Superdomes in a group that's covered by a nickel. The hole in the paper target looks quarter-sized, but the holes in the toaster metal show 5/8 inch center-to-center. Two shots opened up the group, but 7 or 8 went into a little under a half-inch group.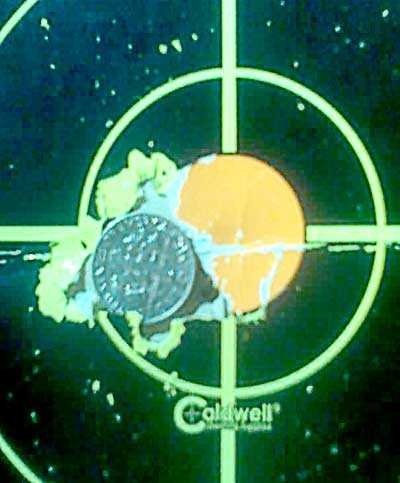 Ten RWS Superdome pellets at 20 yards made this group. It looks larger on paper than it really is.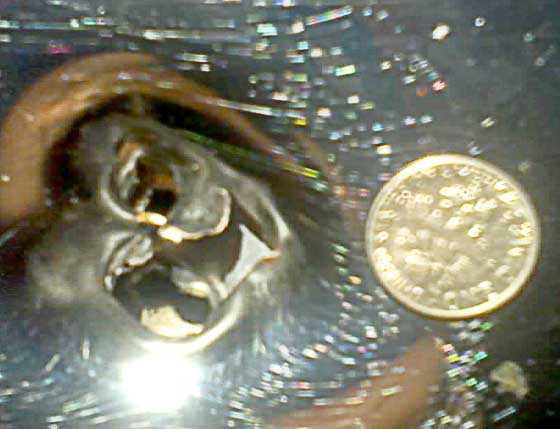 The holes in the toaster metal show how tight this group really is. The coin is a dime.
All in all, I'm very happy with the NP. With the new stock and short barrel, I can achieve hunting accuracy out to about 35-40 yards using the pellets I've tested so far. If another pellet shows up that shoots better, and I keep shooting the gun well, I can see this NP easily shooting an inch consistently at 50 yards.
That's about it. Besides a little more trigger time and work (it's still a little creepy), the gun is in top form with no more changes to be made. I'm now just heading out to enjoy the fruits of my labor as often as possible. When I get a chrony, I'll let everyone know to be on the lookout for part 3. Until then, thanks for reading!
by Tom Gaylord, a.k.a. B.B. Pelletier
This report covers:
• The spring-piston powerplant
• How an AEG works
• Upgrading an AEG
• The problems with upgrading
• How to upgrade safely
When we last looked at airsoft upgrades, we talked about how the tuner has to look at the gun as a system. Improving one part of the gun without regard to the others usually won't make much of a difference. In some cases, it may even make the gun prone to fail much faster. I told you about barrels and gearboxes last time. Today, we'll look at the powerplant, itself.
Powerplant
The powerplants of spring-powered airsoft guns are identical to the powerplants of spring-powered pellet guns. They have a piston, a mainspring and a compression chamber. The piston has a seal that's most often just an o-ring. That's no different than the BSA Meteor Mark IV I've been reviewing for you.
The big difference is that airsoft powerplant parts are most often made of tough plastic instead of metal. And the coiled steel mainsprings found in airsoft guns are wimpy compared to the springs found in pellet guns.


Here's an AEG airsoft piston with its mainspring. Note that this piston is made of nylon. Also note the piston's final gear tooth is made of steel.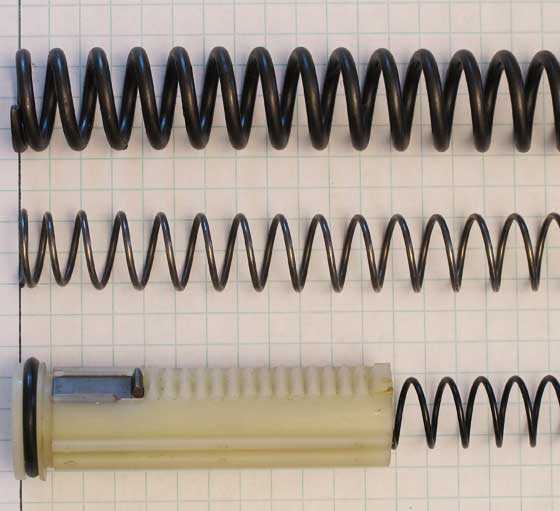 Compare a stock AEG mainspring (bottom) to an upgraded spring (middle) to a middleweight pellet rifle mainspring (top). Airsoft powerplants are weak, compared to pellet gun powerplants.
But they work! And they can be upgraded. You can install a heavier mainspring and a piston that fits the compression chamber tighter. These will boost your muzzle velocity. With some upgrades, it's possible to boost the output so high that you have to use a heavier airsoft BB (plastic ball) to keep the gun shooting accurately.
We overlook what too much power does to our pellet guns, but it's hard to ignore it when all your airsoft BBs are curving hard to the left, no matter how much you adjust the Hop Up! They go so slow and are so visible that you pay attention to them — like tracers in the nighttime sky — especially when you're shooting a stream of shots on full-auto. So, you switch to the heavier BBs and find they're even more accurate in that tight barrel you just installed.
My point is this — you upgraded your guns to get more velocity, but when you got it you lost accuracy. You had to switch to heavier ammunition to do what? Lower the velocity, again! Is that crazy or what?
Upgrading an AEG
While any type of airsoft powerplant can be upgraded, the most common type by far that people upgrade is the automatic electronic gun, or AEG. An AEG is a spring-piston gun that has a small high-torque motor to cock the piston. Because it's electronic, a switch can be turned to make the motor operate just one time with every pull of the trigger — giving you semiautomatic fire — or to keep cocking and releasing the piston as long as the trigger is held down, which gives full-auto fire.
Unlike a firearm, the gun is not powered by the ammunition. It runs on electricity that powers a motor. As long as there's juice in the battery, the action will cycle without regard to the presence of ammunition.
How an AEG works
The AEG has a large gear wheel that meshes with the piston. As the gear wheel turns, it draws the piston back until it reaches the spot on the wheel where there are no gear teeth. The wheel keeps turning; but when the teeth no longer hold the piston, the mainspring pushes it forward, firing the gun. The wheel continues to turn to the point that the gear teeth re-engage the teeth on the piston's gear rack once again. The cycle repeats itself.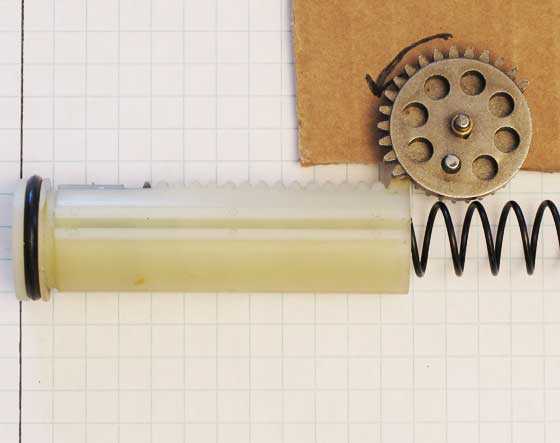 The AEG cocking gear is about to engage the first tooth on the piston gear rack. (Next photo shows this in detail)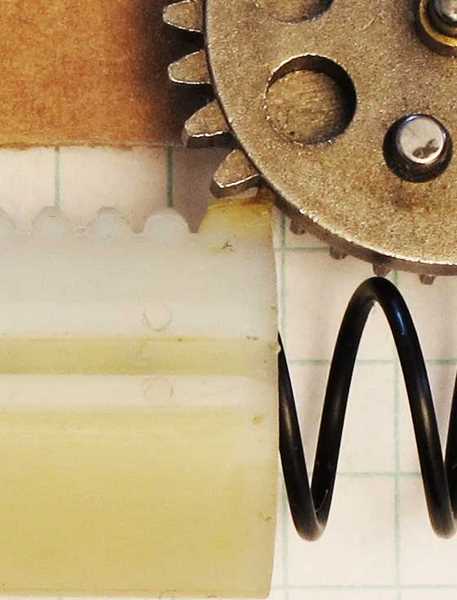 The first tooth on the cocking gear is about to mesh with the first tooth on the nylon piston.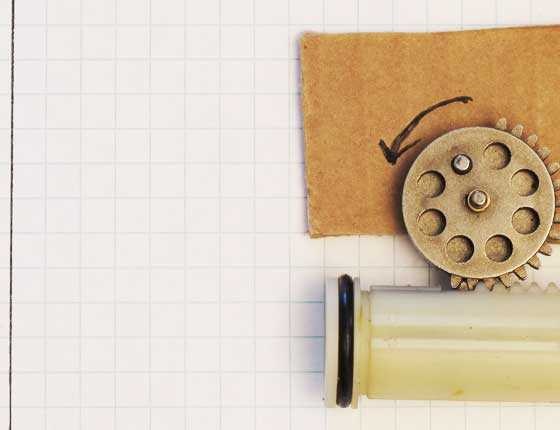 Here the gear wheel has rotated through all its teeth. The last gear tooth on the cocking gear has engaged the final steel tooth on the nylon piston. The cocking gear continues to rotate, and the piston will clear the gear teeth and be pushed forward.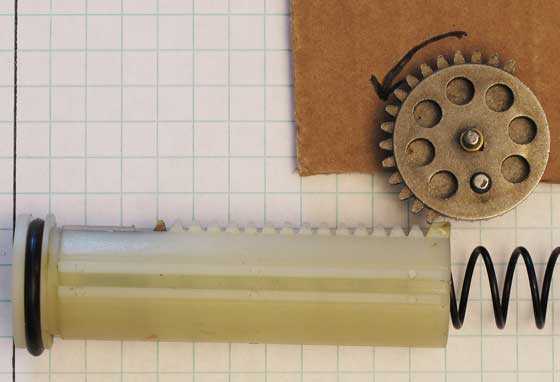 Now the piston has fired and the gear wheel has rotated to the starting engagement position again. This keeps on going as long as the trigger is held down when the gun is in the full-auto mode.
For semiautomatic fire, the gear wheel turns only to the point of releasing the piston one time. It will rotate round to re-engage the piston gear teeth but not rotate farther until the trigger is pulled again.
If you install a stronger mainspring and better piston and compression chamber in your M4 AEG, that wimpy 8.4-volt battery that came with the gun will probably not run it too well. The gun that used to fire 700 shots per minute now struggles to put 400 out in the same timeframe, and everything sounds over-stressed — which it is. You need a stronger motor to power that new setup and a stronger battery to run it. And, while you're at it, better get a battery with a higher mAH (milliampere-hour) rating. That way your gun won't run out of juice after just the first magazine.
But you don't just get a bigger battery. Sometimes, there's no room inside the gun to house a bigger battery, and other times the bigger battery will take too long to charge when it runs down. Perhaps, it's also time to change battery technologies from NiCad to lithium-ion (Li-ion or LIB).
Upgrading the batteries and motor
I did a two-part article on airsoft batteries for Pyramyd Air back in 2008 and 2009. Here are the links: Battery basics –Part 1 and Battery basics — Part 2. Those articles were well-researched, and the information still holds true today. Maybe there have been some technical improvements, but batteries are still batteries.
I think you need to understand why you want a better battery. Sure, it's for more power and so you can operate longer and recharge faster, but the battery does nothing by itself. It powers the motor that drives the powerplant. If you're not upgrading that as well, you gain very little by just swapping batteries. Maybe you just get the gun to operate as well as you thought it would when you bought it.
It turns back on itself
So, you upgrade the motor, battery, compression chamber, piston and mainspring. Let's say you even changed the gears from nylon to metal. Bully for you! However, as you shoot your new, more powerful gun, you notice the cyclic rate starts slowing down, again, after the first few thousand shots. This is exasperating because you've now doubled the cost of the gun by adding all these upgrades — not to mention hours of your time spent installing them and getting them to run right.
You tear down the gun, again, and discover that the holes in the metal gearbox that serve as anchors for the pins that the new steel gears run on are all enlarged. They're no longer round but are becoming oval. The pins have loosened! That's because either the gearbox itself (the housing that holds the gears) is too soft to take the strain of the upgrades you've installed, or you didn't shim each new gear properly — and they're slipping sideways as they operate. This puts undue strain on their axels (the pins). You have to figure out what it is and then either buy a replacement gearbox, or buy an upgraded gearbox (if one exists) or, most expensive of all, drill out all the pin holes in the existing gearbox and install steel bushings for the pins to rest in.
Is it really that bad?
Is upgrading an AEG airsoft gun really fraught with all these pitfalls? Not usually. If you proceed with caution and learn as you go, none of these things ever needs to happen, or maybe one will happen and you'll be able to deal with it. The guy who suffers them all at the same time is the guy who just throws money at his gun without bothering to understand how it works in the first place.
How to proceed?
How should you proceed if you really want to upgrade your gun? Well, first I think you need to have a reasonable expectation of what can be done to the gun and why you want to do that. I remember watching an upgrade to a bolt-action sniper rifle a number of years ago. The owner wanted the absolute best of everything, so he went for the tightest barrel, the best piston and compression chamber and the strongest mainspring. Then, when he cocked his newly upgraded rifle for the first time, it suddenly dawned on him that the bolt that used to take 20 lbs. of effort to cock now took almost 40 lbs.! That gun was the baddest beast around, only nobody could cock it! Try cocking a bolt-action rifle that takes 39 lbs. of force some time if you don't believe me.
Had this guy bothered to first research his project, he would have found this out before investing all that time and money. What he wanted was a bragging-rights sniper rifle with no thought of how to actually use the gun. How do you brag about a gun that nobody can cock? A good sniper rifle is accurate and not that difficult to cock. You don't do it all with a heavier mainspring!
Allow me to make a comparison in the automotive world. You can buy a nice used Acura Integra and drive it daily, or you can lose your mind and mod the engine up to 1,000 horsepower. At that point (actually, long before you get to that point), the Integra is no longer suited for making runs to the mall. It's sole purpose is to travel 1/4 mile in the least amount of time.
You can build an airsoft gun that launches 0.28-gram BBs at 550 f.p.s., if you want to. Just don't expect to use it for anything beyond wowing your buddies at the chronograph. You left the real world of airsoft some time back.
A safer way to proceed would be to use kits that manufacturers put together for specific purposes. Read what users of these kits say about them before taking the plunge. Maybe, if the upgraded barrel you selected wasn't so tight, you might get by with a lower-powered mainspring that was still an upgrade over your factory gun.
And maybe stop and take a moment to ask yourself why you feel the need to upgrade your gun at all. All airsoft guns do not need to be upgraded — just as all pellet guns do not need to be tuned right out of the box.
Another safe thing you can do is to upgrade a battery by one increment of voltage. It's usually safe to go from an 8.4-volt battery to a 9.6-volt battery — especially if the gun you're upgrading comes with metal gears. And you can upgrade the amount of battery storage capacity (mAH) without suffering anything except a possible space issue. A battery with a higher mAH rating is usually larger. On some guns like the M4s with the extendable stocks the batteries have to fit inside the forearm, so make sure there's ample room before you buy the larger battery.
Summary
I could go on and on with this and that tweak, but I think you get the idea. Know what you hope to achieve before you break the bank trying for that last f.p.s.
by Tom Gaylord, a.k.a. B.B. Pelletier
This report covers:
• Learning to work on airsoft guns
• Components of airsoft guns
• Parts commonality — the airsoft way
• Various upgrades to components
• Need for a systematic approach to upgrades
This report is the beginning of the second installment of a promise I made to some of our readers. They wanted to know how to upgrade and work on airsoft guns, and I said I'd show them. The last report was written half a year ago, but I'll get the next one out a bit faster. In fact, I've already written it!
How do you learn?
If you think there's a lack of information about working on pellet guns and BB guns — you should experience airsoft! Not only is there very little information, much of it suffers from poor translation from various Asian languages to English. If you persevere, though, there are places to find this information — and, today, you can add this blog to the list.
I had to learn the hard way — on my own by doing it. I think that's a rite of passage among airsofters. Most of this work is not that difficult once you know what you're doing, but there are so few places that tell you how to begin. I was fortunate to have an airsoft store owner advise me when I first learned, so I'll pass along a lot of what he taught me.
Airsoft parts groups
The first thing to learn is that there are several components in any airsoft gun that can be upgraded. They are:
• Barrel
• Gearbox
• Powerplant (usually sold as a kit but sometimes can be purchased separately)
• Batteries and motors — applies only to automatic electronic guns (AEGs)
• Accessory components (these are not what you'd think)
A universal truth
There are many airsoft guns and many airsoft manufacturers, but there is a very high degree of commonality throughout the industry. If we were talking about cars, it would be the equivalent of Ford making all the engines for all cars, regardless of what name was on the car. There would be no such thing as a Corvette engine. It would be a Ford engine with the Corvette name on the outside.

A small assortment of airsoft parts. These parts are available from online sources to upgrade most guns.
While there are dozens of different models of sniper rifles, there might be only 2 or possibly 3 really different designs. In some cases, there's just 1. I'm not just talking about sniper rifles now — I'm talking about all the different families of airsoft guns. You look at M4s, for instance, and you'll find 15 different names on the outside. That doesn't mean anything. There might just be 2 different M4s that everybody makes into their own proprietary rifle. So, in the world of airsoft, there's no such thing as an Armalite M4. The Armalite M4 is the same as the Olympic Arms M4 and the Colt M4, etc. Get it?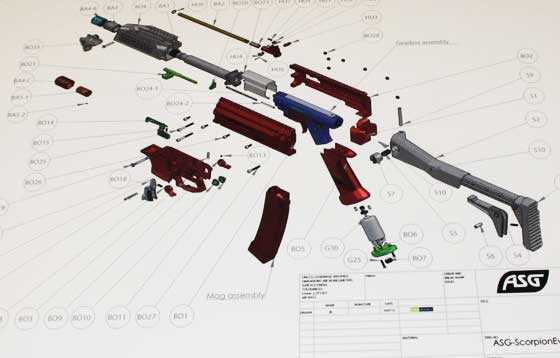 Unlike most airgun manufacturers, airsoft manufacturers freely publish their illustrated parts breakdowns and schematics like this. They're protected from American liability laws by their U.S. distributors.
The first thing you have to do, therefore, is discover which parts will fit on your specific model. Don't expect to find a universal Rosetta Stone with all this information! It's not the same as going to the auto parts store and looking in that thick book of parts applications. What you have to do is converse with the manufacturer/distributor or go on the airsoft forums and ask questions. Let me give you a specific example.
Barrels
Sniper rifle barrels are nothing but smooth tubes. If you paid $99 for your sniper "rifle," the tube that came on it is probably quite a bit larger than most 6mm airsoft ammunition. Why? Because the sniper rifle manufacturer knows you are a cheap person — having spent only $99 to buy a sniper rifle, when you could easily have spent 3 times that amount. Because you are cheap, you will probably also buy and use cheap airsoft ammo, and that's the stuff that is oversized and not uniform. It will work much better in an oversized barrel — where the term "work" means continue to come out the end of the muzzle when the trigger's pulled.


This is a typical airsoft barrel.
But…if you actually want to hit a man-sized target at 50 meters with the first shot, a cheap sniper rifle is not the gun to use. For that, you need a rifle with a tighter barrel (which is still a smooth tube), and you need to find and continue to use only the one correct round in your gun. In other words, you need to become what many will call an airsoft "snob."
As surprising as it may sound, you can buy a tighter barrel for your cheap sniper rifle — often from the company that made the rifle! You see, they didn't actually make that barrel. They bought it from 1 or 2 barrel makers who supply barrels to all of the airsoft community (the Ford engine in the Corvette). And there are different grades of tightness among barrels! This is where the airsoft forums come in handy. Someone will tell you that to upgrade your $99 Whango Tacticool M40, you need a Sho-Lin barrel that's only 0.20mm larger than 6mm. It will work on your rifle, but you have to shoot 0.24-gram Black Mambas through it because everything else will jam.
If you can follow this advice to the letter, you can make a nice sniper rifle. And, when you're done with the barrel and all the rest of the modifications, the price of your upgraded rifle will have about tripled! Small world, no? But, if you're the guy who constantly wants to substitute Owl Sweat for Kangaroo Juice, because there's a sale on it at a store near you, don't even think of modding an airsoft gun! All you'll do is spend money on a pile of parts that will never work together.
Gearbox
The Asians call this the Mech Box or Meca Box. It took me several months to figure that out the first time, and it's important to know if you want to find them on the internet.
The $125 M4 AEG often comes with plastic gears. If you plan on shooting it only on holidays and at family gatherings, buy one and be done with it. By the way, if there's a brand name like Colt on the outside of the gun, plan on spending 3 times as much and still getting plastic gears (sometimes)!
If you want to go into battle and have the gun continue to function for several days and thousands of shots, think about metal gears. But it doesn't end there. There are also special shim spacers to keep the gear wheels aligned under a load, and there are special reinforced metal gearboxes that don't wear like the cheaper gearboxes do. At the top of the list are the gearboxes that are built with pins (gear axels) that have been align-bored by a custom builder. A gearbox upgrade kit in a blister pack can cost you $68, or you can spend $400 with a custom builder who makes the gearbox specifically for your gun.
So, you see the Super Zombie Black Ops (a name I just made up) M4 AEG selling online for $99msays it comes with steel gears on the outside of the box! Big deal! That's the airsoft equivalent of a pellet rifle manufacturer saying their rifle shoots at 1,400 f.p.s. In other words, although it sounds like it implies quality, what they don't tell you is that those gears are not aligned properly and are set inside a cast pot metal gearbox.
Like everything else, in airsoft there are things that do work well and then there are the retailers who trade on the general ignorance of the buying public. They use buzzwords like metal gears to suck in the beginners. To mean something, the metal gears need to be run on pins of the correct size, have thrust washers to hold them in alignment and be inside a gearbox that can take the strain — and the whole reason for all of this is so you can get some benefit from that high-torque motor and uprated battery you also installed. If you aren't going to do this in a systematic way, you might as well eat the metal gears, for all the good they'll do by themselves.
Summary
I'll stop here because this report is getting long. In the next installment, we'll look at the airsoft powerplant, upgrades to batteries and motors, and the best way to get started working on airsoft guns.
by Tom Gaylord, a.k.a. B.B. Pelletier
Today, I'm starting a long series on lubricating airguns. Blog reader Joe asked for this; but as I was researching the subject, I stumbled across another request that came in through the customer reviews on the Pyramyd Air website:
"I wish that RWS or Pyramydair would explain the process and frequency of oiling these RWS rifles in particular the RWS mod 48. Everyone I talk with says the RWS owners manual is outdated and that with the new seals they use does not need to be lubed maybe for years….I purchase the RWS chamber and cylinder oil at a cost of almost $30.00 and now am told I probably will never need it? This topic should be cleared up once and for all by the manufacturer."
Perhaps this customer is referring to RWS Chamber Lube and RWS Spring Cylinder Oil as the two products he purchased. And they do add up to $28 before shipping. Are they necessary? Should he have bought them? That's the question I'll start answering today.
This subject is so vast and complex that I cannot address it in a single report. In today's report, I'm only going to look at lubricating the piston seal. That constitutes about half of the lubrication requirements for many airguns, in my opinion. In the next installment, I'll address all other spring gun lubrication, including the mainspring and piston.
Leather piston seals
In a spring gun, the piston seal is what compresses the air when the gun fires. As the piston goes forward, the seal keeps the air in front of the piston, where it gets compressed because the only escape is blocked by the pellet sitting in the breech. If the gun's working properly, all other avenues for the compressed air to escape have been blocked.
In the past, pistons were sealed with a leather pad or cup. Leather is an ideal material for this job. It's rugged, lasts a long time and will conform to the shape of the compression chamber after a few shots — much like a leather shoe that eventually fits your foot perfectly.

This cup-shaped leather piston seal is for a Chinese spring rifle.
To do its job, a leather seal has to stay soft and pliable, and oil is the best thing for this. As the spring gun operates, a little of the oil is consumed with each shot, so a leather seal needs to be oiled frequently to stay soft. How frequently? In some older guns, I've found that oiling every few weeks is necessary if they're shot a lot. Certainly, all guns with leather seals need a couple drops of oil at least once each month if they're to be shot. You can leave a gun with leather seals unoiled for years if you don't shoot it; but before you start shooting it again, that seal needs to be oiled. When I start shooting an older gun that I know has leather seals (I use references for finding out things like this), I put about 10 drops of oil through the air transfer port and let it soak into the seal for at least an hour, although a half day is even better.
What oil to use?
The type of oil you use depends on the velocity of the gun. Guns that shoot less than 600 f.p.s. in both .177 and .22 caliber will be oiled with regular household oil. Any petroleum-based lubrication oil will do. Yes, gun oil will also work. For guns that shoot faster than 600 f.p.s., I use silicone chamber oil, like the product listed above. The spring cylinder oil is not for chambers and should not be used on the piston seals of these guns.
Synthetic seals
Starting in the 1950s, manufacturers began experimenting with piston seals made from synthetics. Some of them, like the ones used by Anschütz and Falke, worked well and lasted for many decades. But others, such as the seals used by Walther on all their airguns and the seals that Feinwerkbau used on the 121 and 124/127 sporting rifles, were made from a material that dry-rotted within about 20 years. If they were oiled by anything, they failed even faster. These seals started out as a light beige color, but as they absorbed oxygen and oil, it turned them dark yellow and brown until they began to break apart in waxy chunks.
Diana was one of the last companies to switch from leather to synthetic, and they had the benefit of watching the others. They were still using leather seals in their powerful model 45 rifle in the late 1970s, at a time when that airgun had broken the 800 f.p.s. "barrier." When they started making synthetic piston seals, they used a blue-colored material that was tough and long-lasting. It's interesting to note that the others adopted similar piston seal material when they finally realized their seals were perishing in use.

The blue Diana parachute seal is so rugged that hobbyists use it for many other airguns. It needs very little oil!

These 2 FWB 124 seals are made from modern synthetic material, yet they look like the original ones. The one on the right has been inside a rifle for a few thousand shots. It looks bad but is still in great shape and will last for many decades.
Don't fixate on the color blue for piston seals! These synthetics can be colored any way and still be fine. I have modern FWB 124 seals that look similar to the old seals in color, yet they'll last indefinitely. It's the material, not the color.
Which oil to use?
With synthetic seals, I always use silicone chamber oil. That's SILICONE CHAMBER OIL — not brake fluid, silicone spray lubricant or any other concoction. Chamber oil is for piston seals. It does not lubricate metal parts because the viscosity is too low. It'll ruin metal parts if you use it that way. On the other hand, nobody knows what will happen to a gun that's lubed with anything other than SILICONE CHAMBER OIL.
Diana recommends using two drops of chamber oil on the piston seal every 1,000 shots, and one drop on the breech seal at the same time. That's it. To answer the person who asked if he needs the chamber oil, the answer is yes. But one small bottle will last a long time. I've observed that most Diana airguns can get by with even less oiling than what's recommended. One diagnostic for when a gun need its seal oiled is when the seal honks like a goose as the gun is cocked.
Silicone chamber oil has a high flashpoint. Since the air in a spring-piston gun reaches about 2,000˚F with every shot, this is important. This heat is adiabatic — it doesn't heat the gun because the interval is too brief.
Overlubing vs. underlubing
It's almost impossible to overlube a leather piston seal. And it does not harm the seal if you do.
On the other hand, overlubing a synthetic seal can start the gun detonating. Not dieseling — most spring guns diesel. When you smell burning oil, your gun's dieseling. Dieseling is just a few oil droplets vaporizing with each shot. It's perfectly normal in a spring gun.
Detonation is when a lot of droplets vaporize and cause an explosion. That will damage your piston seal if it's allowed to continue for a long time. It can also break your mainspring.
So, dieseling is okay, but detonations are bad. And overoiling synthetic seals causes detonations.
Do you see why I had to cover just the piston seals today?
by Tom Gaylord, a.k.a. B.B. Pelletier
Today's report is a guest blog from reader RifledDNA, a.k.a Stephen Larson. He wants to give us his impressions of a new Benjamin NP Limited Edition he recently received.
If you'd like to write a guest post for this blog, please email me. 
Over to you, RifledDNA!
Good-day everybody. Today, we're going to take a look at the Benjamin NP Limited Edition. These are my impressions of this airgun as I've unboxed it. Others may have different results, as no two airguns are the same.
To start, let's look at what the NP Limited Edition is. This is a .22-caliber breakbarrel air rifle powered by Crosman's Nitro Piston, hence the NP designation. The Nitro Piston is a nitrogen gas-filled piston that has many advantages over the traditional coiled steel spring powerplant. First, a gas piston is less affected by temperature. The nitrogen gas continues to compress and expand consistently even when the temperature drops. A steel spring is coated with lubricants that stiffen and do not want to move as fast in cold temperatures.
Another advantage of the Nitro Piston is less wear and tear. The gas piston has straight forward and back motion, so there's no torque on parts. A coiled steel mainspring doesn't just expand when it decompresses — it also twists because it's coiled. That twisting is transmitted to the parts like the piston and spring guide, causing them to bear against other parts as they move.
Finally, the gas in the piston always has the same amount of mass. That means the gas will have the same expansion characteristics, providing long-lasting consistency.
The consistency of a gas piston is shown by the 10-for-$10 test I ordered with the gun. With 11.9-grain RWS Hobby pellets, the velocities were as follows:
Shot   f.p.s.
1       816
2      820
3      817
4      799
5      808
6      799
7      802
8      804
9      797
10    798
After the first three shots, which was burning off the oil, this gun has very tight velocities right out of the box. If we exclude the first three, we get a high of 808, a low of 797, a spread of 11 f.p.s. and a standard deviation of only 5.16. I think that's pretty impressive!
Another thing that impresses me is the cocking effort. It is SMOOTH! I don't have a bathroom scale, but I would estimate it's somewhere close to 28 lbs. My wife can cock it without much of a struggle! That's not something commonly found in a magnum .22 springer.
The downside
Now that we've talked about the pros of this air rifle, lets look at the things that weren't so impressive. When I bought it, the gun cost $179.99. That's extremely affordable for a gun of this quality; but this great gun has to rest somewhere, and that's in the stock. The stock used for this air rifle is the same synthetic stock that carries the Crosman Fury and Phantom. It's an extremely lightweight stock that has a modified Monte Carlo cheekpiece and a long, curved pistol grip. This isn't the right stock for the NP Limited Edition.
The Benjamin NP Limited Edition is really just the Benjamin NPS in a cheaper stock. The problem is that the NPS stock has a very pronounced pistol grip, and the metal parts of the gun are configured for it.
With the Fury's stock, the trigger is noticeably too far forward. The curved pistol grip is also fat; and with the trigger further forward, you are literally reaching for the trigger, which is also boxy and fat. You cannot get a solid purchase on the trigger. All you get is the side of the square trigger blade. So, I decided to do some trigger modification.
Do trigger work at your own risk! That being said, the first thing I did to modify anything on this gun was to shape and thin the trigger blade on a grinding wheel. With that done, and my elbow up above my ear, I can finally get a solid wrap on it.

Here is the NP Limited Edition laying on top of my Ruger Blackhawk Elite. Notice the trigger placement when the grips are lined up.
In a nutshell, the NP Limited Edition is a great , but the price you pay — or rather the money you save — is felt in the stock. I contacted Crosman about options for different stock. The gun is worth finding a new stock that compliments it better.
I don't have the space to do an accuracy test, but the gun is accurate, powerful, quiet and smooth. Overall, I'm satisfied. Based on the reviews of this gun, I knew the money I was saving was in the stock. I'll look into a custom wood stock. It's really worth it.
by Tom Gaylord, a.k.a. B.B. Pelletier
Last week, I made reference to a heavy top hat affecting performance in a spring gun, and blog reader Joe asked this question:
"You wrote '…weighted top hat inside the piston, or the piston itself is heavy. Either way, the rifle should shoot medium and heavyweight pellets better than lightweight pellets.'
What is a 'top hat'? Why would a heavy piston or top hat shoot medium to heavy pellets better?"
Joe, thank you for asking this question. This blog is now in its 10th year, and I forget that the readership has changed over that time. If one person asks a question, it means that many other readers are wondering the same thing and not writing in. Today, I'd like to review the main parts of a spring-piston airgun powerplant and discuss how they affect performance.
Piston
The piston is the most recognizable part of the powerplant. When the gun fires, it's propelled forward by some kind of spring. It may be a coiled steel spring or it could be some kind of gas under pressure — whatever the source of energy is, it pushes the piston. And before anyone asks — yes, there have been guns with springs that pull the piston.
The piston compresses air in front of it as it goes forward. There is some kind of seal on the piston that keeps most of the air contained, so it compresses air very well.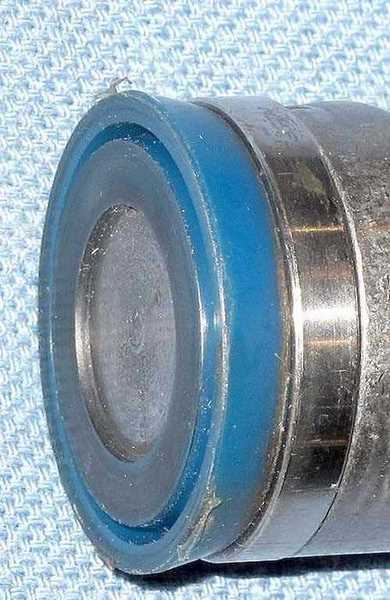 The piston seal (this one is a parachute type, whose sides flare out and seal the chamber better) seals the air in front of the piston.
Tuning tip
Removing excess tolerance makes a spring gun shoot smoother. The top tuners put Teflon or nylon bearings (called buttons) around the rear of the piston skirt to hold it steady and away from the spring tube walls. The piston seal does the same thing for the front of the piston. In a well-built airgun, the metal piston should never touch the walls of the spring tube.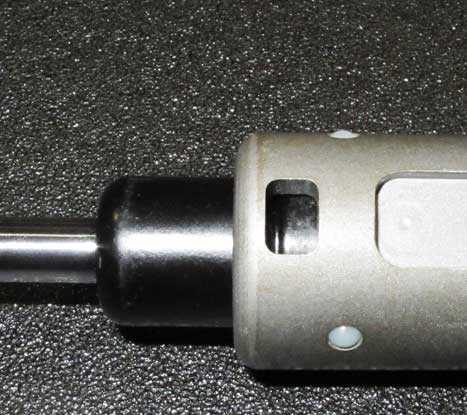 These small white nylon bearings on the Benjamin Nitro Piston 2 are part of the reason that rifle is so smooth when it fires!
Compression chamber
Let's talk about something that's dirt-simple, yet confuses a lot of people — the compression chamber. It's the end of the spring tube, which has been closed off by a metal cap. A hole through the cap, called the air transfer port, allows the compressed air to move from the compression chamber to the barrel. If there's a pellet in the barrel, the air cannot get past it and has to shove the pellet out of the way. This doesn't happen until the air reaches a high pressure, which is at the heart of today's discussion. Essentially, the pellet stays put until the piston has come to almost a full stop, then the compressed air blows it forward, like the cork from a champagne bottle.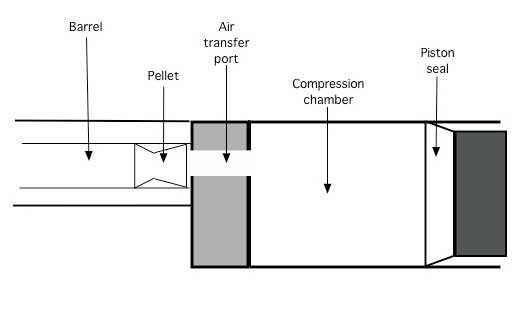 The spring-piston powerplant is so simple that it confuses people.
Spring
We all know what the spring does. It pushes the piston, which compresses the air. A spring can be either coiled steel or compressed gas; but for the remainder of this report, I'll be talking about a coiled steel spring because it's the thing that relates to the top hat.

Thanks to a generous cocking slot, we can see the mainspring inside this piston's body.
Spring guide
The spring guide does what the name says — it guides the spring. What it actually does is keep the coiled spring from twisting or bending too much as it's compressed.

This is the spring guide. It's hollow to allow the piston rod to pass through when the gun is cocked. The metal one is an older Beeman R1 guide, the white plastic (probably nylon) one is what they use more often these days. A lot of vibration can be eliminated by very closely fitting this guide to the inside of the spring.
When the gun is cocked, the piston comes back and compresses the spring. The spring fits up inside the piston, so it's contained by the piston skirt as the piston comes back over it. The spring guide is a hollow tube at the rear of the spring that the spring fits over. As the spring is compressed, it tries to bend to the side, but the spring guide prevents it. The piston skirt keeps it from bending at the front.
Tuning tips
When a tuner wants to smooth the performance (the shot cycle) of a spring gun, getting rid of excess clearance is a great way to eliminate vibration. The outside of the mainspring is fitted to the inside of the piston skirt very closely. Here's something you may not have guessed. When the spring is compressed, it also expands just a little (measured in thousandths of an inch), so the internal fit to the piston skirt has to take that into account.
The spring guide is also fitted to the inside of the mainspring. In the best-tuned airguns, the guide cannot be put on the spring unless the spring is twisted against the guide counterclockwise. Airgunsmith Jim Maccari calls that a guide that's "nailed on." The mainspring grows in diameter as it's compressed. When the gun is cocked, the spring loosens a little and slips down the guide.
Top hat (forward spring guide)
Okay — here it is. You had to wade through lot of blather to get to this point, but I hope it'll be worth it. A top hat is a spring guide that is on the front side (the piston side) of the spring. It fits inside the piston and slides on the central piston rod. Obviously, the mainspring fits over this guide, too, just like it fits the guide in the rear.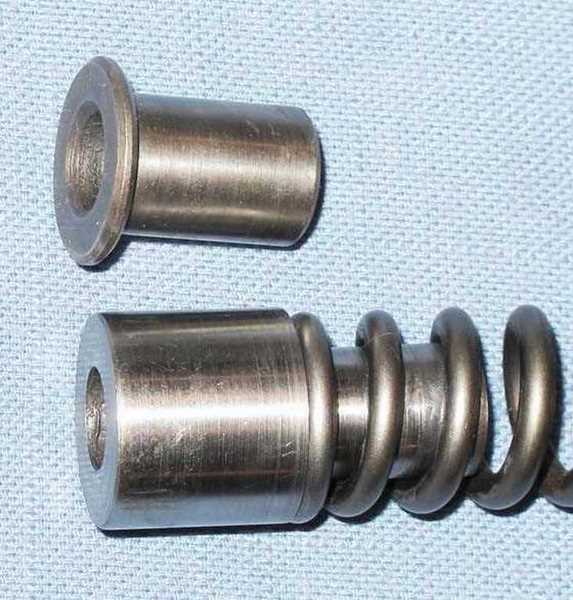 Two top hats (forward spring guides). The heavier one at the bottom was made by airgunsmith Jim Maccari for a special Beeman R1 tune that worked for heavier pellets. I wrote about it in the "Beeman R1″ book.
Tuning tip
Joe — this is the answer to your question. A top hat adds weight to the piston. A heavy top hat adds a lot of weight.
When the piston compresses the air in the chamber, it can reach very high pressure before the pellet starts moving. When the pellet begins to move, the air pressure drops rapidly. Although the pressure is very high, there's not a lot of it — pressurized air.
If the pressure in the chamber is too high and the pellet hasn't started moving, either because of its size, weight or both, the piston can rebound off the compressed air cushion and travel backwards a few hundredths of an inch before the pellet starts to move. Heavier pellets will resist moving longer than lighter pellets — I hope that's obvious.
By adding a lot more weight to the piston, it can resist rebounding to a greater degree (because of its greater inertia). Heavier pistons usually do better with heavier pellets. And top hats are one way to make pistons heavier. That's why I said what I did.
Whew!
That was a quick and dirty look at the spring-piston powerplant and some of its subtleties. Don't think this makes you an expert — there's a whole world of things like this that I haven't addressed.