by Tom Gaylord, a.k.a. B.B. Pelletier

The AirForce Airguns Escape precharged pneumatic air rifle is a powerful new survival rifle in both .22 and .25 calibers.
Last time we looked at the accuracy of the AirForce Escape at 50 yards. I shot the rifle on low pressure and a low power setting on that day to see what it could do. You may remember that at 50 yards, I got a best 5-shot group with JSB Exact King pellets that measured 0.594 inches between centers. That's great for a .25-caliber PCP, but I know it left some of you wondering what the rifle can do at its maximum power. Today, we'll look at that.
The heaviest .25-caliber pellet I have is the Eun Jin pointed pellet, which weighs 43.2 grains. So, it's a little heavier than the standard bullet of a .22 Long Rifle cartridge. We know from testing that this pellet leaves the muzzle at up to 1010 f.p.s., generating 97.88 foot-pounds of energy.
I also had some Eun Jin domed pellets to test. At 35.8 grains, they're lighter than the pointed pellet but might be accurate enough to make a difference. As long as I'm testing, I thought why not test them, too?

These are the 2 pellets used in today's accuracy test. The pointed pellet weighs 43.2 grains, and the dome weighs 35.8 grains.
The wind had just started to pick up at the range. I had finished testing the Benjamin Marauder with synthetic stock and shifted to the Escape because I felt the power of the gun and weight of the pellet wouldn't be affected by this wind nearly as much as a smaller pellet moving at lower speed.
Max power
The first thing I tried was the heavy Eun Jin pellet on max power and with a max power setting on the gun. The first 2 pellets went through the same holes at 50 yards, and I thought I was on to something. Then, shots 3 and 4 moved 2 inches to the right but also landed in a single hole. Shot 5 then landed an inch to the left of the first 2 shots, giving me a 5-shot group that measures 2.478 inches across the widest centers. While that is adequate accuracy for larger animals at 50 yards, it wasn't as good as I'd hoped it would be.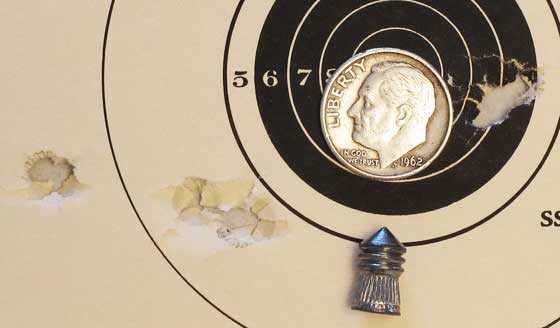 Five Eun Jin pointed pellets on maximum power with a 3,000 psi fill at 50 yards. The group measures 2.478 inches between centers, but look how they landed. The first two are left of the pellet, the next 2 are to the right of the dime (in the same hole) and pellet 5 is all the way over to the left.
I remembered that there are 10 good shots on a fill of the Escape's small 213cc reservoir, so I shot the next 5 pellets at a different target. The scope wasn't adjusted. The reservoir pressure at the start of this string was about 2,600 psi. This time ,all 5 went into 1.622 inches. That's a significant improvement. According to the velocity test data, these shots ranged between about 71 and 82 foot-pounds.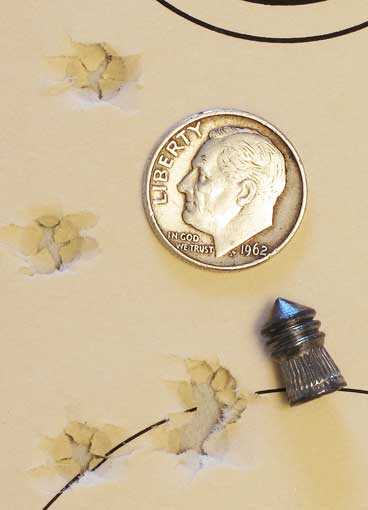 By starting with less reservoir pressure, the group tightened significantly. These 5 shots went into 1.622 inches between centers at 50 yards.
I was satisfied with the results of this heaviest pellet, but I've never gotten the best accuracy with pointed pellets. I felt I might be at the limit of this pellet's performance. Time was passing and the wind was building, so I moved on.
The lighter domed pellet remained to be tested. On max power with a 3,000 psi fill, I got several open 5-shot groups that all hovered around 2 inches. While that's okay, it isn't what I wanted. Then, I shot a couple groups with the power set to max and the starting air pressure set at 2,600 psi. The only reason I did it that way was because of the results of the heavier pointed pellet I'd just tested. And that's where the magic happened!
The first 5-shot group on this setting (power set on max, starting fill pressure at 2,600 psi and shooting the 35.8-grain domed Eun Jin) measures 1.177 inches. Four of those shots are in 0.555 inches! That's fantastic! I don't have the velocity data for this pellet on that setting, but I'll venture a guess it's producing around 60-70 foot-pounds.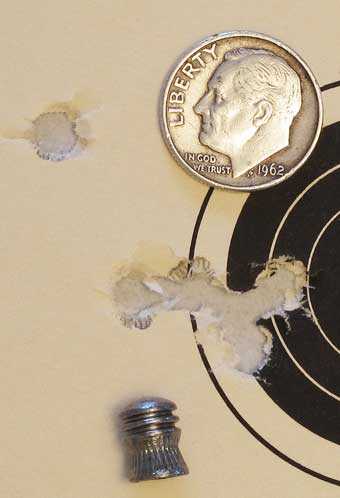 Now, we're cooking! Five Eun Jin domes went into 1.177 inches at 50 yards, with 4 of them making a 0.555-inch group! This is fantastic, but can I do it again?
Like you, I wondered if this single group was just a fluke, so I filled the reservoir to 2,600 psi, again, and shot a second group. This time, I put 5 into 1.089 inches. Three of those pellets are in 0.214 inches. If you overlay those 3 pellets on top of the other group, they all go to the same place!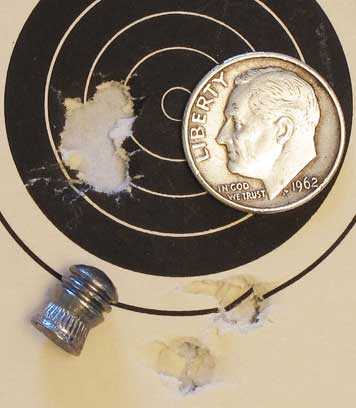 Here's the miracle I was talking about. Same starting air pressure, and 5 pellets went into 1.089 inches. Three of them are in 0.214 inches and in the same place as the 4 pellets from the last group. This is significant!
What I'm saying is that somewhere around this power setting and fill pressure, there's a super sweet spot the Escape loves with this domed pellet. By spending more time refining the fill pressure and by adjusting the sights for this combination, the Escape will become a tackdriver. It doesn't get a lot of shots like this, but remember — this is a survival rifle. You want one shot — one kill. I think this gives that to you!
I could continue to refine my pressure settings with this pellet, but I don't think I have to. I've now shown you 2 different ways the AirForce Escape can make very small groups at 50 yards. If you're looking for a powerful air rifle to do some serious hunting, you should consider this one. I think Ton Jones and John McCaslin both have reason to be proud of their creation.
What's next?
I was prepared to exchange barrels at this point and try the .22-caliber Escape, but I think I'll let that slide for now. If I'm any judge, most buyers are going to get the .25-caliber Escape. Once they see these results, I expect they'll do similar tests. Therefore, I plan to switch over to the EscapeUL next. That's the ultralight rifle that has an 18-inch barrel. I'll give you a combined introduction and velocity/power report, followed by a range test like this.
by Tom Gaylord, a.k.a. B.B. Pelletier
Tarzan! This weekend, a number of readers conducted a discussion of the fictional character Tarzan and the author who created him, Edgar Rice Burroughs. I thought you should all know an interesting connection of Tarzan to airguns. His grandson, J.R. Burroughs, was a big-time airgun importer in the 1990s. In fact, he imported many of the Korean brands that are still coming in today.
When I started writing about airguns in 1994, I got to know J.R. through my writing, and I eventually met him at one of the SHOT Shows. We continued to communicate about airguns and many other things well into the 21st century. I haven't heard from him since I got sick back in 2010, so he may no longer be involved with airguns like he once was, but he was certainly a mover and shaker in the U.S. airgun scene during the time he was active.
A couple points of interest with J.R. He was the man who modified the Shinsung Career 707 adjustment wheel from 3 settings to 17 settings — giving us much greater control over the velocity of our rifles. The factory eventually made the same modification. It was possible to keep a Career shooting at the same velocity for a long time simply by adjusting the power wheel as you shot. I remember testing it over a chronograph and getting 90 shots that were all within 30 f.p.s.
J.R. also created the first adjustable trigger for the Career, and I believe he also created one of the first pellet feed mechanisms that was user-adjustable. Before that, you could only shoot a few types of pellets in the gun; but with his modification, many more types of pellets would work through the magazine.
His brother, Danton manages, the licensing of the Burroughs family literary property. Part of that is a collection of original Tarzan novels that were never sold. There was a fire in the storeroom many years ago and some of these books have smoke damage, but they're all like-new hardcover books from the 1930s. I was gifted with one — Tarzan and the Forbidden City — from this collection, and J.R inscribed it, saying that his father had done the cover art.
Of course, many of you know that the southern California community of Tarzana was created from Edgar Rice Burroughs' Tarzana Ranch in the San Fernando Valley. But how many know that Tarzana was also the name of small hamlet located on the ranch before Burroughs purchased it? And his Tarzan character appeared in print for the first time two years after he bought the ranch.
So, Tarzan does have ties to modern airgunning. I thought you would like to know that. One final thing. Burroughs didn't just write adventure novels. He is also quite famous for his science fiction that bears a remarkable resemblance to his other works, but are set on Mars. Edith and I both enjoy the movie John Carter, in which Burroughs appears as a minor character who turns out to be the author who documents the "real-life" exploits of his uncle, John Carter. I think we enjoy it most because of our fond memories of J.R.
Now, let's take our first serious look at the new AirForce Escape survival rifle. Before I start, I need to make a couple corrections to Part 1. I said the Escape SS (officially named the EscapeSS) has an 18-inch barrel and several readers figured out that wasn't the case. It actually comes with a 12-inch barrel in either .22 or .25 caliber.
I also said the Escape valve is a modified TalonP pistol valve, which isn't true. The TalonP valve is used exactly as it is in the pistol, so pistol owners who add a 24-inch barrel and end cap to their pistols can essentially have the Escape. The pistol's frame is shorter than the Escape frame, but it is just right for the Escape Ultra Light (officially named the EscapeUL) that we'll look at in a later report.

The AirForce Airguns Escape precharged pneumatic air rifle is a powerful new survival rifle in both .22 and .25 calibers.

The TalonP pistol is the base gun used to create the new Escape-series rifles.
The Escape rifle looks like the other AirForce sporting rifles and has many of the same features. The new trigger is there, along with the new safety that can be taken off safe by the trigger finger, alone. The 2-stage trigger on my rifle breaks at a relatively clean 28 oz. While it's not adjustable, I think most serious shooters will find it more than adequate.
The rifle weighs 5.3 lbs. unscoped and measures from 34.5 to 39 inches long, depending on where the extendible buttstock is set. That means the length of pull can also be varied from 9.75 to 14.25 inches.
Like all other AirForce rifles, the Esacpe has long 11mm rails on top and below the receiver. Since this is a survival gun, a bipod and sling swivels might be almost as important as a scope.
I tested this rifle differently than normal. Instead of getting the chronograph figures right away, I decided to shoot it at the range, so 2 days were spent on the range with the rifle in its .25-caliber incarnation. Once I have a good baseline of performance downrange, I'll come back and chrono the best pellets, pressures and power settings. Because these rifles are so infinitely adjustable, it makes sense to figure out what works before you worry about the numbers.
But I'll give you some velocity figures because Ton Jones tested the heck out of the rifle late last year, and AirForce provided me with the data. With .25-caliber JSB Exact King pellets and the rifle set to max power, Ton's first shot was 1145 f.p.s. The first 10 shots on a 3,000 psi fill looked like this:
1–1145
2–1125
3–1106
4–1090
5–1078
6–1061
7–1044
8–1028
9–1017
10–1003
On power setting 8, the same pellet did this on the first 10 shots after a 3,000 psi fill:
1–1100
2–1112
3–1133
4–1106
5–1107
6–1088
7–1075
8–1060
9–1041
10–1022
On power setting 4, the same pellet did this on the first 10 shots after a 3,000 psi fill:
1–1041
2–1036
3–1077
4–1095
5–1080
6–1077
7–1100
8–1077
9–1091
10–1080
At max power and the highest velocity, this JSB pellet generated 73.96 foot pounds of energy at the muzzle.
With the 43.2-grain Eun Jin pointed pellet, the rifle did this on the first 10 shots at max power after a 3,000 psi fill:
1–1010
2–980
3–974
4–955
5–940
6–924
7–907
8–894
9–876
10–860
On 8 power with a 3,000 psi fill, the rifle did this with the Eun Jin:
1–996
2–984
3–964
4–944
5–932
6–906
7–888
8–872
9–856
10–840
On 4 power with a 3,000 psi fill, the rifle did this with the Eun Jin:
1–986
2–975
3–959
4–950
5–937
6–922
7–902
8–889
9–870
10–849
At the max power setting and highest velocity, this pellet generated 97.88 foot-pounds of energy at the muzzle.
I have the data on the Escape's .22-caliber performance, but that will make today's report too large, so let me continue with just the .25-caliber rifle, which is how AirForce set it up for me. I took it to the rifle range on 2 different days. Both were cold but the first one was also very windy, so I'm going to show you the results of day 2 testing, only. The day was 16 degrees F (-9 C) but dead calm. I shot several types of pellets this day and based on those velocity figures you have just seen, I decided to shoot 5-shot groups instead of 10-shot groups.
Ton Jones maintains that a survival situation calls for a single well-placed shot, rather than a number of shots fired rapidly. I agree with him, so I'm not testing the Escape as I normally would. I fired 5 shots and then topped off the air tank. When you're making single shots, that makes sense.
On max power the best groups I shot were with JSB Exact King pellets and Predator Polymag pellets. At 50 yards, 5 JSB Kings went into a group that measured 1.846 inches between centers. That's a large group, but remember that you're shooting at large targets, and 50 yards may be farther than you choose to shoot.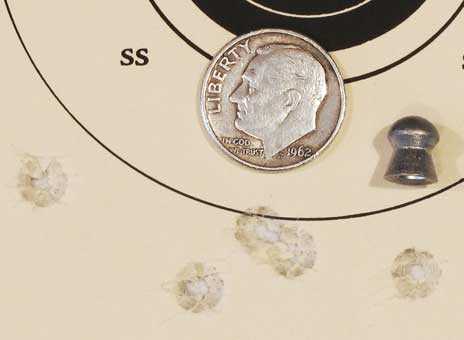 Five JSB Exact Kings went into 1.846 inches at 50 yards on maximum power.
Predator Polymags put five into 1.819 inches at the same 50 yards on max. power. Notice that both pellets spread their shots horizontally.

Five Predator Polymag pellets went into 1.819 inches at 50 yards on maximum power.
Experience takes over
I'm not going to bore you with each and every experiment I did on this day, but I want you to know that I also tried Benjamin domed pellets and Beeman Kodiak pellets. Both gave similar results, with the Kodiaks doing slightly better than the Benjamins.
But I knew that this rifle was more accurate than this. From my experience with other powerful precharged rifles, plus the testing I did with the TalonP pistol, I reckoned the fill pressure had to be lowered and the power adjusted. It soon became obvious this was correct and the JSB Exact King pellet was the one to go with. After several more groups, I settled on a fill of just under 2,000 psi and a power setting of 6. The groups became amazing with this combination, plus they were remarkably uniform from group to group.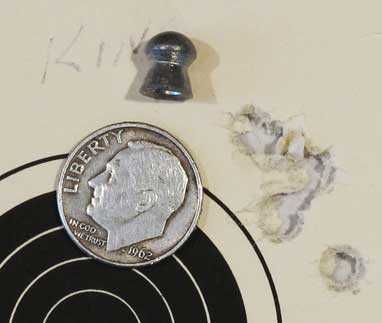 First good group of JSB Kings on power setting 6 with a 1950 psi fill gave me this 0.751-inch, 5-shot group at 50 yards.

After adjusting the scope, I put 5 JSB Kings into 0.694 inches at 50 yards. This was the best group of the day.

Another 5 JSB Kings went into 0.841 inches at 50 yards. This was the worst group of 6 that were fired with this combination of pellet, pressure and power setting.
Now that I know where at least one sweet spot is located, that will be what I'll test through a chronograph. I'll guess that this pellet is producing something in the 30 foot-pound range with the settings I used. Hitting the target with that kind of energy is much more meaningful than missing with three times more.
I also haven't tested the heavy Eun Jin pellet for accuracy. And Ton told me that he lubricated his pellets with Slip 2000, which I've obtained, so I'll be able to replicate what he did.
Summary
How do I summarize anything when I've only just started to test the rifle? There's enough variability here that I could spend the rest of my life just testing the Escape in .25 caliber! What I can tell you is that the rifle performs as advertised, and, yes, you do have to work with it to get these kinds of results. AirForce has always made air rifles for the thinking man, and the new Escape continues that tradition proudly.
by Tom Gaylord, a.k.a. B.B. Pelletier
Today's report is a guest blog from duskwight, our blog reader in Moscow. It's a report of a test to determine if changing the power of a variable scope affects the potential for accuracy
If you'd like to write a guest post for this blog, please email me.
Over to you, duskwight.
How scope power affects accuracy
by duskwight
Hello, my airgunning friends! This is a report of a small test I performed recently to see if changing the power of a rifle scope affects the accuracy potential in any way. I guess the thing I'm testing is if you need to see the target as large as possible for aiming precision, or if you can be just as accurate when it appears smaller, because the crosshairs of your scope will still be in the same place.
B.B. tested this for me last week and reported it in the most recent test of the TX200. He shot two 10-shot groups at 50 yards with the scope set on 4x and 2 more with it set on 16x. In the first set of targets, he admitted that he wasn't holding the rifle as good as he could and the 16x group was smaller than the one shot on 4x. But in the second set of targets, when he said he tried his best, the 4x group was smaller than the 16x group.
B.B.'s test was shot outdoors with a recoiling spring rifle. I decided to shoot mine indoors with a modified Gamo CF-X spring rifle I built.  I call my rifle the Shillelagh, and I've taken a picture so you can see what it looks like.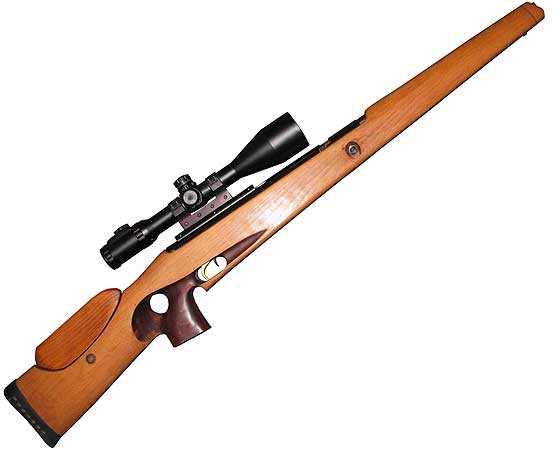 My Shillelagh (Gamo CF-X) was used for this test.
The scope is a Leapers 4-16X56 variable. As you can see, I mounted it with a one-piece mount. I'm shooting JSB Exact pellets with 4.52mm heads. The average velocity is 265 m.p.s. or 869 f.p.s.
I'm shooting indoors, so wind isn't a factor. The air is dry and the temperature is 20 degrees C, or 68 F. I am shooting off a soft rest like B.B. used with the TX200. The distance is 50 meters, and my targets are made of 2 black circles, the inner one 1/2″ in diameter and the outer one 1-1/2″ in diameter. I'm measuring the groups from the outsides of the pellet holes farthest apart, and my groups each contain 10 shots.
I decided to select the power settings 6 and 12 magnifications for this test. I shot 2 groups on each magnification. In one set of targets, I concentrated on the hold very much; and on the other set, I went faster, with less concentration. Let's take a look at the results.
Extreme concentration
The first group that was fired on 6x with extreme concentration measured 0.906″ across the outside of the group at the widest point. If we use a nominal .177 inches for the pellet diameter, that group would then measure 0.7295″ between centers.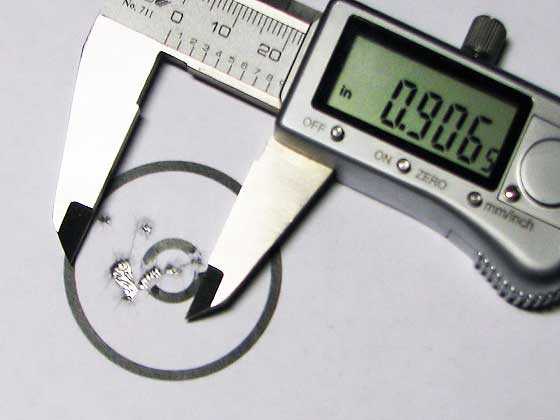 This 10-shot group came with the scope set at 6xr and using extreme concentration. The outside measurement in 0.9065″; and using 0.177″ as the pellet diameter, the center-to-center measurement is 0.7295″. Nice to know my Shillelagh can shoot!
The first group shot with the scope set at 12x and using extreme concentration measured 1.4455″ across and 1.2685″ between centers. That's quite a bit larger than the 6x group!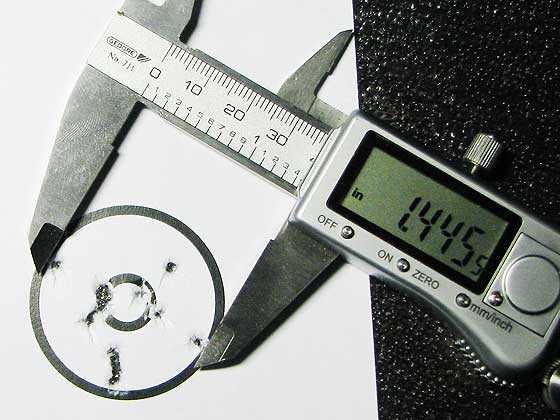 This 10-shot group was made with the scope set at 12x and using extreme concentration. The outside measurement in 1.4455″ across; and, using 0.177″ as the pellet diameter, the center-to-center measurement is 1.2685″. Quite a difference from the 6x group.
More relaxed shooting
Now, it was time to shoot groups from a more relaxed rest. I tried just as hard, but things went faster this time. The first group was shot at 6x and measured 1.003″s across the outside. The C-T-C measurement is 0.826″. Also not too shabby!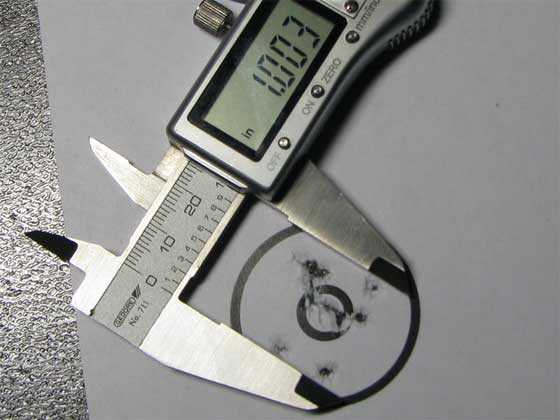 Here are 10 shots with the scope set at 6x with a more relaxed shooting style. The outside measurement is 1.003″ across, and the C-T-C measurement is 0.826″.
Next, I shot another 10-shot group in the more relaxed style with the scope set on 12x. This group measured 1.7325″ across, which gives us a measurement of 1.5555″ between centers. This is the largest group of the test and more than double the size of the first group shot on 6x.

Ten shots with the scope set at 12x with a more relaxed shooting style measured 1.7325″ across, and the C-T-C measurement is 1.5555″. This is the largest group of the test.
Summary
It's clear to me that lower magnification isn't any hinderance to accuracy, as long as you can see the target clearly. In fact, I think lower magnification is the way to go.
Editor's note
I made a huge mistake when I edited this text for duskwight. I assumed that his Shillelagh is his recoiless rifle project, when in fact, it's a highly modified Gamo CF-X. The rifle seen in this test is that Gamo CF-X. I apologize for the confusion this has caused. — B.B.
Some of our newer readers probably don't know the story of how duskwight built a recoiless spring rifle from scratch. Like you he was a reader of this blog and he was also an airgunner before finding this blog. He knew about the famous Whiscombe rifles, but they were hard to come by — even when John Whiscombe was still making them. Adding the extra difficulty of getting one all the way to Russia made him think about building his own rifle. When he first told us his plans, I thought it would never happen; and he shared all his struggles with unreliable machine shops and companies that could not meet his specifications. It seemed as though it wasn't meant to be.
But he persisted, and finally, he had a working prototype. It took years of effort…and I don't want to know how much money. But he did it. Then he sat down and whittled out a stock from a raw wood blank.
This Gamo CF-X, which he calls the Shillelagh, is just one example of his expertise building custom airguns. I think the accuracy he got with it is quite stunning!
Duskwight is Russia's airgun answer to New Zealander Bert Munro, who took a 1920 Indian motorcycle and modified it into a 200 m.p.h. streamliner in the 1960s! People like this are in extremely short supply, and it's our honor to know this one!
by Tom Gaylord, a.k.a. B.B. Pelletier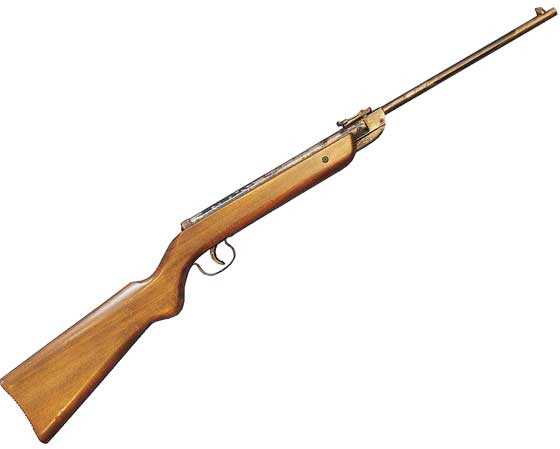 Not as pretty as I would like. This Diana 23 has led a hard life. I'll refinish it.
Today, we'll return to an oldie we haven't looked at in close to 2 months — the Diana 23. You may remember this is a rifle I bought for very little from an online auction — and when it arrived, I found it was better than expected. The finish is gone, but I plan to refinish it. And Larry Hannusch generously donated a brand-new old-stock Diana 23 barrel for the project, so I'm farther along than might be expected.
Last time, we tested the rifle at 10 meters and found that it showed decent accuracy for such a low-powered air rifle. Today, I'm pushing that out to 25 yards with 2 of the best pellets from the last test, plus a new one I've thrown into the mix. The goal is to see if this little vintage springer is accurate enough for general plinking duty out to 75 feet.
Days like this are always relaxing for 2 reasons. The first is that I'm testing something that's no longer available, so there are no company reputations on the line. I enjoy testing airguns, but it's disturbing to read all the sniping negative comments we receive when things don't go exactly perfect. It makes me feel like I have failed the gun somehow, and that's nerve-wracking.
The second reason a day like today is a pleasure is that the gun, itself, is such a little sweetie. The Diana 23 is lightweight and easy to cock. The trigger is certainly not world-class, but it releases with a reasonable pull; and, if the gun is also accurate with open sights, all the better.
The hold
I find when I shoot light low-powered airguns like the 23, the artillery hold isn't so important. I grasp the rifle tighter than a real artillery hold, though not as tight as I would hold a recoling centerfire. Maybe something more like a rimfire hold. The rifle seems to respond okay to this treatment.
JSB Exact RS
The first pellet I tried was the JSB Exact RS dome. They did well in the 10-meter test that I read before starting this one. I noted that deep-seated pellets did best in that test, so all pellets in this test were seated with the Air Venturi Pellet Pen and Pellet Seater. The RS pellets fit the bore very well and were not tight going into the breech as they were seated. They hit the target high and just a little to the right when I held the tip of the front sight on the 6 o'clock spot of the black bull. I used the standard 10-meter pistol target because it appears large enough for open sights all the way out to 50 yards.
The group I got measures 1.16 inches between the 2 furthest centers. I'm quite satisfied with that group, except for the centering. The way the 23′s sights are made, I'll have to drift either the front or rear sight in their dovetails to correct where the pellets land; and since I'm going to change the barrel, I decided to wait and see where the new one shoots.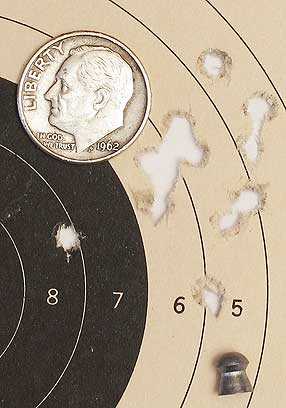 Ten JSB RS pellets made this 1.16-inch group at 25 yards. It's a little large; but for such a small rifle — and with open sights, I'm satisfied.
Air Arms Falcon
The second pellet I tried was the Air Arms Falcon that blog reader Kevin Lentz likes so much. They're made by JSB and weigh the same as the RS pellets, so the temptation is to think they're RS pellets under a different name. But I don't think that's the case. The late Bill Saunders of Air Arms told me that Air Arms owns the dies for all their pellets; and even though JSB makes them, they're not simply rebranded pellets. If anything, Falcons fit the bore a little looser than RS pellets.
At any rate, Falcons didn't do as well as RS pellets in the Diana 23. Ten of them made a group that measures 1.568 inches between centers. This group appears not to have 10 shots in it, but several pellets must have gone through the same hole at the top of the group because I counted each shot carefully.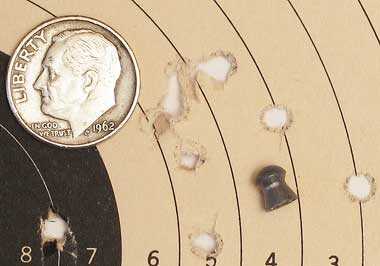 Ten Air Arms Falcon pellets made this 1.568-inch group at 25 yards. This is larger than I would like. I think I'll stick to the RS pellets for this rifle.
RWS Hobby
The final pellet I tried was the RWS Hobby wadcutter. They fit the bore very snug and popped in when seated. Though they were at the outside limit of distance for accuracy (wadcutters start to spread apart after 25 yards), they performed very well — delivering the smallest group of this test. Ten pellets went into 1.014 inches at 25 yards. With that kind of accuracy, I would stick with the Hobbys that are less expensive than the other premium pellets anyway. Sure, the accuracy falls off as the distance increases, but how much farther do I expect to shoot this rifle? Not much!

Ten RWS Hobby pellets went into 1.014 inches at 25 yards. This is great accuracy for such a small rifle and open sights.
That's all I'm going to test for now. Next comes the refinish and then whatever I do as I put the rifle back together. It's a fun little gun. I wish there were more like it!
by Tom Gaylord, a.k.a. B.B. Pelletier
Today, we'll test the Umarex Fusion CO2 rifle at 25 yards. And today was also supposed to be the day I tested how long you have to wait to remove the CO2 cap after exhausting the gas. That's not going to happn, though; because when I took off the CO2 cap to install 2 fresh CO2 cartridges, I noticed the o-ring was damaged pretty bad. So bad, in fact, that it might not work any longer. I switched it for a common black Buna o-ring of the same size and then charged the gun. At the end of this report, I'll tell you how that works.

The original o-ring had these two damaged spots. I thought it might leak, so I replaced it.
JSB Exact RS
When I tested the rifle at 10 meters, the best pellet was the JSB Exact RS dome, so that was the first pellet I tested this time. As I predicted after shimming the rear scope ring, the rifle was hitting too high at 25 yards. I had to drop it about 2-1/2 inches and move it to the right about three-quarters of an inch.
The first 10-shot group I fired measures 0.523 inches between centers. It's nice and round, also. Remember, I'm using the 4x scope that came with the rifle, so the bullseyes looked pretty small at 25 yards. Also keep in mind that this shooting was done indoors, so wind is not a factor.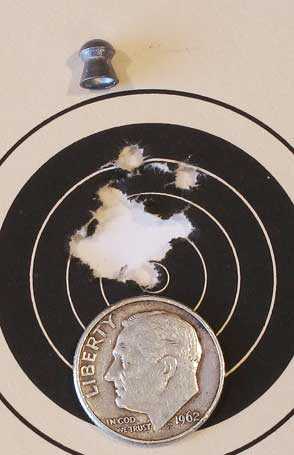 These 10 JSB Exact RS pellets made a 0.523-inch group at 25 yards.
The first group looked so good through my spotting scope that I shot a second one with the same RS pellets. This time, 9 of the pellets went into 0.455-inches, but one shot opened the group to 0.688 inches. That wild shot was not a called flier; it just went astray.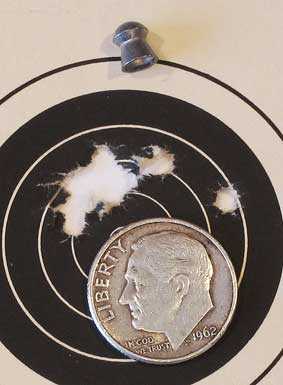 This second group of JSB Exact RS pellets measures 0.688 inches between centers.
H&N Baracuda Match
The second-best pellet at 10 meters was the H&N Baracuda Match, so that was the next pellet I tried. Ten landed in a 0.625-inch group that's open but fairly round at the same time. Looking through the scope, this group didn't look very promising; but I see upon inspection that it isn't much worse than the first 2 groups.

Ten H&N Baracuda Match pellets went into 0.625 inches at 25 yards.
Air Arms Falcon
The final pellet of the day was the Air Arms Falcon dome, which is made by JSB. Sometimes, this pellet surprises me with stellar accuracy. This time, 10 pellets made a group that measured 0.56 inches between centers. It's very close to the first group of JSB Exact RS pellets, which turned out to be the best group of the day.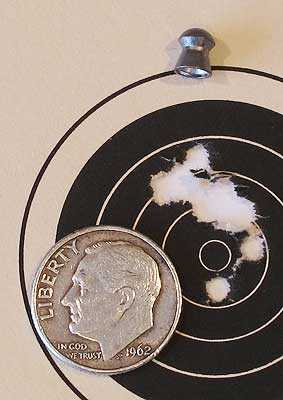 Ten Air Arms Falcon pellets went into 0.56 inches. It was the second-best group of the day.
The new o-ring
The new o-ring worked, but there was some leakage when I pierced the cartridges. The gas exhaust screw wasn't the culprit this time — it was the o-ring that leaked. I suspect I selected a ring that is too thin for the job. When I removed the cap, I saw that this ring had also absorbed the gas and swollen quite large. I took a picture of it 5 minutes after taking it out of the gun and again after 45 minutes, so you can see the dramatic difference as the o-ring outgasses and shrinks back to normal.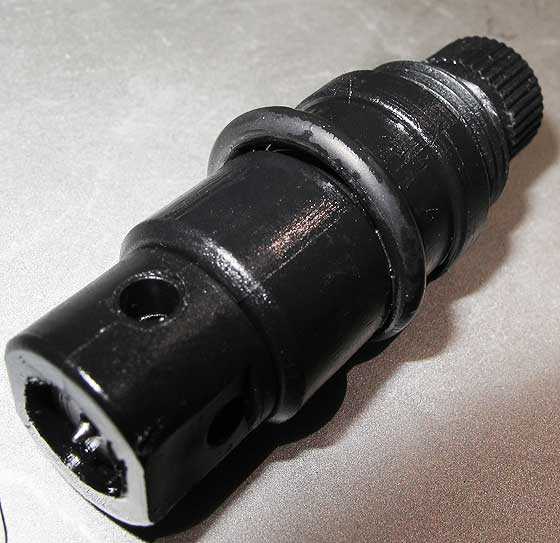 The o-ring after 5 minutes out of the gun. It's still swollen with absorbed CO2.

The o-ring after 45 minutes out of the gun.
Final evaluation
There's a lot to like about the Fusion air rifle. It certainly is accurate, and it fully delivers on the promise of quiet operation. There aren't many other air rifles in this price range that can compete. Even the scope that comes with the rifle seems to be up to the task.
While today's groups are not stunning, they're all good.  It's interesting to note they're all under three-quarters of an inch and some approach a half inch.
I do think the o-ring that comes with the rifle needs to be changed to something that doesn't swell. And it would be nice if the trigger was more adjustable. But those are small points. If you're looking for a fun plinker that's both quiet and accurate, put this one on your list!
by Tom Gaylord, a.k.a. B.B. Pelletier
Today is the first accuracy test of the Umarex Fusion CO2 rifle. It comes one part late because we spent time looking at the CO2 cap, the adjustable trigger and the power adjuster in Part 3. The power adjuster is straightforward — twist the screw in and increase the striker spring tension to increase power. The trigger, we learned, is adjustable, but the safety slider prevents a very wide range of adjustability. You can modify it if you choose, but I don't recommend it; and it will void any warranty on the gun. Blog reader mikeiniowa explained how it's done, but he said to use caution — and I don't intend doing it to the test gun.
You should now understand how the CO2 cap works, but there's one additional thing that I think needs to be stressed. The gas exhaust screw on the cap is to use after the CO2 has been depleted. Screw it in and exhaust the remaining pressure. But that isn't the end because the cap still cannot be taken off safely, as a reader mentioned yesterday. The o-ring that absorbs gas has to be given a lot of time to exhaust that gas and shrink back down to normal size before you attempt to remove the cap. If you try to remove the cap too soon after exhausting the gas, the o-ring will still be swollen and tightly wedged in place. You could tear it if you use too much force on the cap. So, let an hour or two pass before you try to remove the cap; and leave the exhaust screw screwed in, so the remaining gas that leaves the o-ring can get out of the gun. Anyone who has ever owned a Schimel CO2 pistol knows what I am talking about because they had the same problem.
Mounting the scope
The Fusion comes with a 4X32 scope and rings that must be mounted on the gun. The rings are made to clear the rounded receiver top, so don't think just any rings will work. I want to show you what one of the rings looks like after installation, so you don't go nuts thinking it's not on the gun squarely.

The Fusion receiver is rounded on top, so the bottom of the scope ring must be profiled to clear the hump. The rings that come with the gun are correctly shaped for this. Don't let the cockeyed jaw piece fool you — this ring is on the rifle straight and tight!
The scope caps have 2 screws each, which is perfect for this gun. There's no recoil, so 2 screws hold the scope tight enough for good accuracy.
Once the scope was mounted, I sighted-in at 10 meters. All of today's shooting will be from 10 meters for reasons I will explain as we go. I'm telling you that because the groups will be smaller than if they were shot at 25 yards. I do plan on testing the Fusion at 25 yards, too, but first I have to establish what it can do closer.
One additional thing about the sight-in. All the pellets struck the target low at 10 meters. I accepted that for the whole test, and I had to adjust the scope up very high to even get that. You know how nervous that makes me! So, at the end of this test I'll shim the rear scope ring and try one more group with the best pellet. The groups you'll be seeing are either low on the bull or just beneath it.
JSB Exact RS
The first group was shot with the JSB Exact RS pellet. As I shot, I could see all the pellets going into the same place; although with the 4x scope, it wasn't easy to see exactly how good it was until I went downrange. It turned out that 10 pellets made a 0.286-inch group, measured between centers. And this group is very round, which is a good sign that everything is right with the rifle.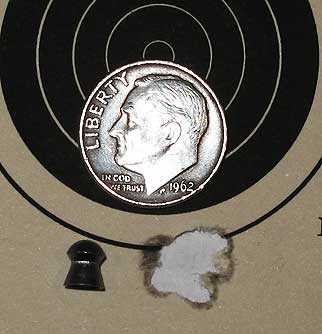 Ten JSB Exact RS pellets made this 0.286-inch group at 10 meters. Remember — this is only 10 meters, so the groups are going to be smaller. But this is a great group!
I observed several things while shooting the first group. The first is the trigger, while having a very long second stage pull that you can feel, is very controllable. Next, I did find the rifle just a bit fiddly to load. Once I got the hang of it, however, I was able to load pretty fast. But the pellets tend to flip around in the trough — especially the domes!
And, finally, I noted how very quiet the Fusion is! Our female cat, who usually walks around the house complaining every time I shoot, found it hard to hear what I was doing unless she was in the room with me. Even then, the noise didn't seem to bother her, though Edith did say she walked into her office to complain once. Other than that, she was quiet. I think any apartment-dweller could shoot this rifle indoors without bothering the neighbors.
H&N Baracuda Match
Next, it was time to test the H&N Baracuda Match pellets. They landed higher on the target than the RS pellets but were still below the point of aim. This group measured 0.345 inches and was just as round as the RS group.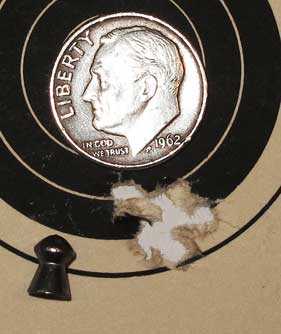 Ten H&N Baracuda Match pellets made this 0.345-inch group at 10 meters. Once again, the group is round and quite small.
Crosman SSP hollowpoint
Then I tried the lightweight lead-free Crosman SSP hollowpoint. I didn't expect much from these pellets, but I tried them because I'd used them in the velocity test. They produced a 10-shot group that measures 1.66 inches between centers. Obviously, I'm not going to shoot this pellet at 25 yards and risk hitting the walls of my house or the furniture! This is why I started shooting at 10 meters.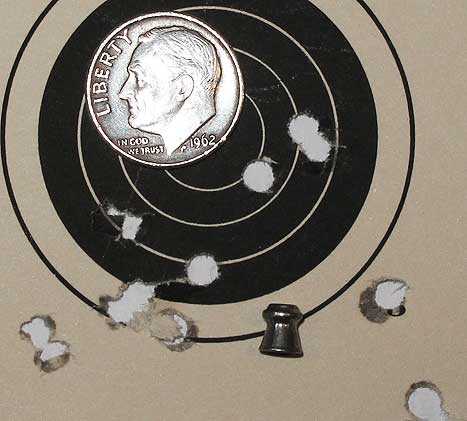 Ten Crosman SSP hollowpoint lead-free pellets went into 1.66 inches at 10 meters. Several seem to have gone through while tumbling. Not the pellet for the Fusion!
RWS Hobby
The last pellet I tested was the RWS Hobby wadcutter. Ten went into 0.59 inches at 10 meters. But the first pellet went to the left of the next 9, so I think this might be one of those times when conditioning the bore was required for best results. Not that I believe in that theory, mind you, but this time it really looked like that's what was happening. The 9 pellets went into 0.36 inches — a much better showing! The Hobby is the third best pellet in the test, but I think the group of 9 is more representative of what it can do.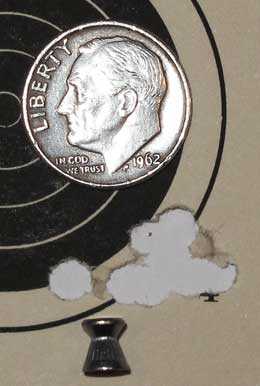 Ten RWS Hobbys went into 0.59 inches, but the last 9 went into a much tighter 0.36 inches.
The JSB Exact RS and the H&N Baracuda Match are the 2 pellets I'll test at 25 yards. I would include the Hobbys, but 25 yards is right where wadcutters start to spread out, so I'll just go with the 2 domes. However, there's still one more thing to try today.
I removed the scope and put one plastic shim on the bottom of the rear ring under the scope tube, then installed the scope again. I went back to 10 meters without any sight-in shots and shot one more group with JSB Exact RS pellets. The group moved up over 1-1/4 inches and over to the left by a half-inch. This is where I will begin shooting at 25 yards, knowing that I'll probably need to decrease the elevation to get back on target. Isn't that interesting, that the point of impact moved up so much with a single shim? The shim measured 0.013 inches, by the way.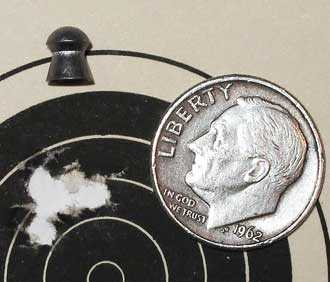 Ten JSB Exact RS pellets went into 0.244 inches at 10 meters. It's the best group of the day! This group was fired after a 0.013-inch shim was placed between the scope and the rear ring. The scope was then simply remounted and no sight-in was done. This group is about 1.30 inches higher than the first group. It also appears to be smaller, but the dark paper hides the true size of the pellets.
Impressions so far
The Fusion is a winner! I like everything about it. It has taken some time to understand; but now that we've been through the design and know what to expect, you show me another air rifle that costs $170 and shoots like this one. We're talking groups very similar to what vintage 10-meter target rifles can produce.
No — it's not a good rifle for hunting; and, no, I don't think it can be modified to become one. If that's what you want, get a Discovery. Leave the Fusion as it is — a nice, quiet, accurate rifle.
25-yard testing yet to come.
by Tom Gaylord, a.k.a. B.B. Pelletier
It's been some time since I did Part 3 of the Evanix Rainstorm 3D bullpup rifle. Just to remind you of where we left off, I found the gun difficult to shoot with the UTG 3-9X32 Bug Buster rifle scope because of the medium-height scope rings. I removed that scope and mounted the UTG 3-9X40 True Hunter rifle scope that comes bundled with high 2-piece Weaver rings. They were better, but even they seemed a bit too low because of the bullpup configuation. This is the same scope I used in the test of the Hatsan AT P1 PCP pistol.
Today's test was done at 50 yards on an outdoor rifle range. The weather was perfect, without a hint of breeze. I didn't sight-in the scope before going to the range, so I sighted-in at 50 yards. Luckily, the scope wasn't that far off, and I was on target in 3 shots.
The 25-yard test that was done in Part 3 showed that only 2 pellets were worth trying at 50 yards. I shot just them and nothing else.
I also want to remind you that the rifle likes to be filled to 2,900 psi according to my tank's gauge. It has more than 10 shots on a fill, but it does go through air pretty quick. So, just for continuity, I refilled after every group.
JSB Exact 15.9-grain domes
I sighted-in with the best pellet from the earlier test, which was the 15.9-grain JSB Exact Jumbo Heavy. Since the third shot landed where I wanted, I continued to shoot and made an 8-shot group for starters. That group measured 0.961 inches between centers. I noted that the bullpup-style stock made the rifle difficult to hold steady on target, so this group was as steady as I was able to hold. I was fighting the trigger, which breaks at 6 lbs., 10 oz. It's hard to hold on target with a trigger this heavy. Also this rifle is tall and narrow, so it wobbles from side to side when you hold it. I didn't see a way around that at first, but then I figured it out.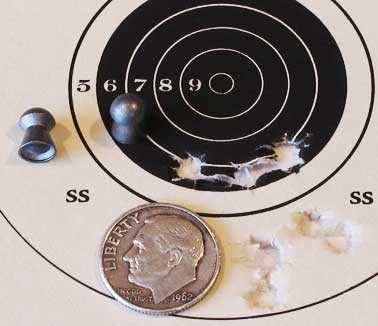 Eight JSB Exact 15.9-grain domes landed in 0.961 inches at 50 yards. The shots are a little low, so I adjusted the reticle up a couple clicks after shooting this group.
Next, I shot a 10-shot group with the same JSB Exact Jumbo Heavy pellets. The rifle's circular magazine holds 11 pellets, but I loaded it with only 10 to keep things consistent with most of my other 50-yard tests.
The scope had been adjusted higher for this group, so the shots landed higher on the bull. Ten pellets made a 1.501-inch group. I must comment that during this group I saw the crosshairs move around on the bull a lot more than I would like. That heavy trigger caused it. In the group that resulted, I see 2 separate points of impact that are one above the other. That isn't what I would expect a sideways wobble to produce, but something was wrong with my hold. I had to solve that first.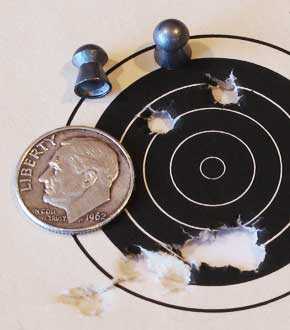 This is the first full 10-shot target that was fired at 50 yards with the Rainstorm bullpup. It measures 1.501 inches. Eight pellets went into 0.941 inches.
Toward the end of the first full group, I found a way to stabilize the rifle pretty well. I was shooting off a sandbag rest that helped with stability, and I found that if I gripped the frame tight (where the forearm would be on a conventional rifle) the wobble stopped. That made me more confident that the group I would be getting was what the rifle could actually do.
Following that group, I shot a second group of 10 JSB Exact Jumbo Heavies that measured 1.406 inches between centers. This one is fairly well centered on the bull and doesn't have the 2 separate points of impact like the first group. I think the improved hold was responsible, although I can't see why a sideways wobble would do what I'd seen before. Maybe the wobble was greater than I thought?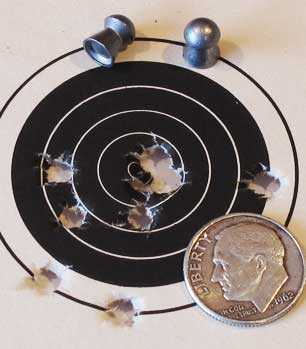 The second full group was a little smaller than the first — at 1.406 inches between centers. I felt the rifle was held well for this group. This is as good as this pellet can do (in general) in this rifle with me on the trigger.
Beeman Kodiaks
Next, it was time to try 10 Beeman Kodiak, which was the second-best pellet at 25 yards. It didn't do as well. The first few shots scattered all over the place, landing far to the left of the aim point and also a bit lower. When all 10 shots were finished, I had a 2.32-inch group that looks more like a shotgun pattern than a group from a rifle. However, I must note that 9 of those shots did land in a 1.331-inch group. But the one lower shot that opened the group wasn't the last one. It was the third shot. Based on that, I would scratch Kodiaks for this rifle and stick with the JSB Exact Jumbo Heavies.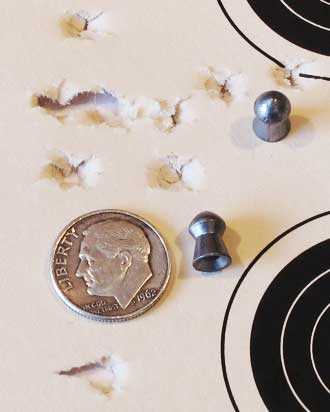 Beeman Kodiaks went all over the target. Ten made this 2.32-inch group, although 9 of them passed through 1.331 inches.
Overall impressions
I've come to the end of my test of this air rifle. It's been an interesting journey, and I've learned some things from it. First, when you scope a bullpup, get the highest scope rings you can. Ring risers might be a good idea. Second, the idea that bullpup actions have poor triggers is apparently true. And finally, when the cross-section of your rifle is as flat as a flounder, it will be harder to hold steady.
The Evanix Rainstorm 3D bullpup rifle is definitely a different beast! It holds different and shoots different than a conventional PCP. If you're looking for the bullpup styling, then either this or the Evanix Max bullpup is the airgun you want. It will produce acceptable accuracy out to 50 yards when you do your part. Just remember that the trigger is stiff and creepy, and the rifle needs a firm hold.