by Tom Gaylord, a.k.a. B.B. Pelletier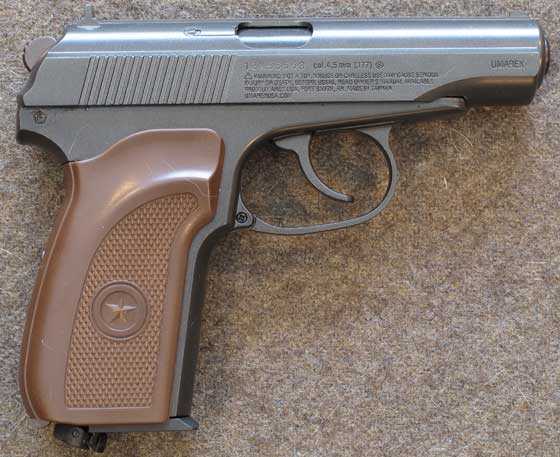 Umarex Legends Makarov Ultra is very realistic!
This report covers:
• Loading
• Winchester Target Cube
• Rested position
• Accuracy
• Overall evaluation
Today is accuracy day for the Legends Makarov Ultra BB pistol and the big question is: How does it hold up against its non-recoiling brother that we all know is very accurate? I think you're going to be pleased with the results.
Load up
I installed a fresh CO2 cartridge, which — thanks to yesterday's report on CO2 – reminded me to put a drop of Crosman Pellgunoil on the tip of the cartridge before piercing. As before, the piercing was nearly instantaneous with no loss of gas. I looked at the face seal with a jeweler's loupe and saw that it's a thick (relatively) clear synthetic that looks like it will do its job for a long time to come.
Next, I loaded some BBs into the front of the magazine. Here's a tip for this. Lock down the mag follower at the bottom of its slot and elevate the bottom of the mag. This way, the BBs will easily fall into the enlarged hole in the front of the magazine. If one overshoots the mark, it remains in a trough and can be rolled back to the hole very easily.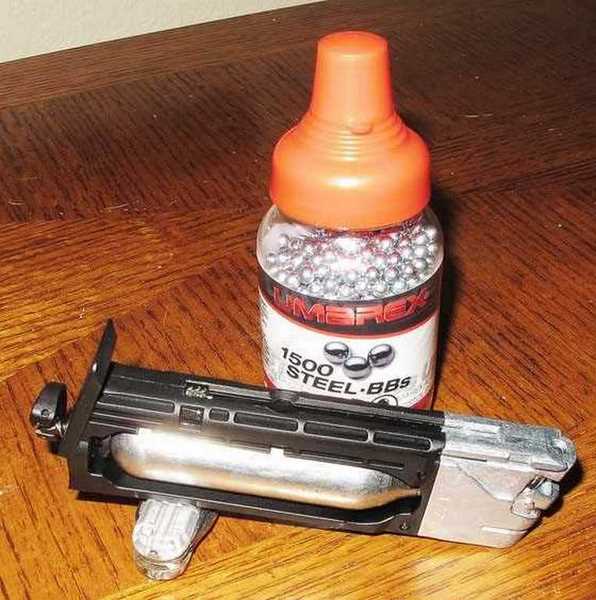 Elevate the bottom of the Makarov magazine, and the BBs will roll right in.
Winchester Target Cube
Once again, the Winchester Airgun Target Cube was pressed into service for a target holder and backstop. I taped the targets to the cube that now has thick cardboard on both sides. No more styrofoam comes out because of the cardboard; and the targets tear better, even when the BBs are shot at lower velocities.
The Target Cube keeps the BBs from bouncing back. That keeps the shooting area cleaner; and since I shoot BBs in my bedroom, that's a good thing. If you shoot a lot of BBs in the house, I recommend the Target Cube.
Rested position
I then sat on a chair at 5 meters from the target and put a large pillow on my lap. When doubled over, the pillow allowed me to rest my arms so I could achieve a very steady 2-hand hold. It's the gun we want to test — not the shooter.
The sights on the Makarov are very fine, but also sharp. I had no problem getting the same sight picture, shot after shot.
First group
The first target I shot was a 50-foot smallbore bull. Those are just slightly larger than 10-meter air rifle bulls. I had no idea where the pistol was shooting, nor how accurate it might be; but at 16 feet, I felt this target was large enough to keep all the shots on paper. I used a 6 o'clock hold, like I always do with handgun sights like these.
The shots landed about 3/4-inch below the point of aim. While the first 3 shots seemed to scatter, the next 7 stayed inside them, resulting in a fine-looking 10-shot group. In measures 0.916 inches between centers and looks even better. The bulk of the shots landed inside a half inch!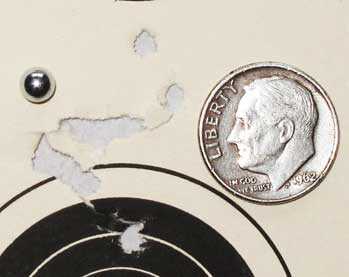 Ten BBs in 0.916 inches, with 7 of them well under a half inch! The 3 shots on the right were the first 3 shots. This gun can shoot!
Second group
The second target looks even better.  I called that shot that went to the left because of the very hard trigger pull we've already discussed. Actually, the trigger isn't that hard for a double-action pull (which it isn't), but for target shooting it's way more than you want. This time, 10 shots went into 1.189 inches, with 9 of them in 0.727 inches.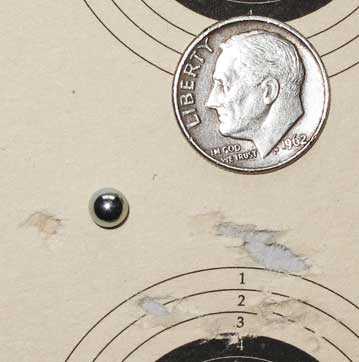 Ten BBs in 1.189 inches, with 9 in 0.727 inches. That shot on the left is a called pull.
I was really impressed with the way this pistol wants to lay them in the same hole at 5 meters. That trigger pull, though, takes discipline to overcome. The tendency is to try to overpower it, which will result in shots thrown wide to the left in my case.
Third group
I decided to try a larger aim point for the third group, so I substituted a 10-meter pistol target instead. The bull is twice the size of the others, and I wondered what it might do. Oddly, it pulled my shots closer together, though I did get a very vertical shot string. This time, 10 shots went into 1.334 inches, with 9 in 0.683 inches. Look at this group, and you'll see the pedigree of the non-recoiling Makarov showing through.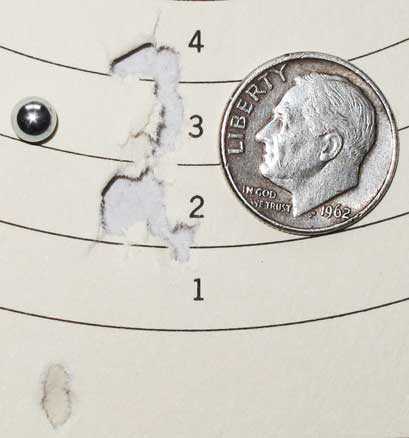 Ten BBs in 1.189 inches, with 9 in 0.727 inches.
Results
Yes, I think this Makarov is just as accurate as its non-recoiling brother. What separates them is the stiffer trigger on this one. It makes you really hold tight, and any distraction will cause you to throw a shot.
Overall evaluation
I like the Makarov Ultra BB pistol. In fact, I think I'm going to buy this one for my growing collection. This is what inexpensive BB pistols should be.
by Tom Gaylord, a.k.a. B.B. Pelletier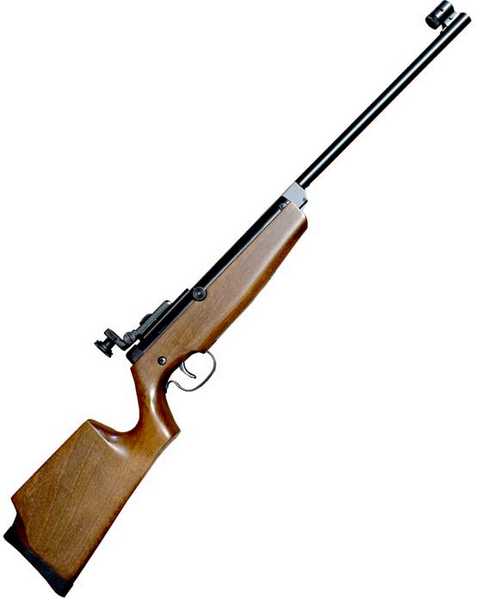 Diana 72 is a youth target rifle from the late 20th century.
This report addresses:
• More on the trigger.
• Accuracy with various pellets.
• Why 5 shots?
• Accuracy with deep-seated pellets.
• Summary.
Today is accuracy day for the Diana model 72 target rifle. We had one extra report in this series, and that was on adjusting the trigger. I want to tell you some more of what I have learned about this trigger.
More on the trigger
During the accuracy test, the trigger failed to work two times. The first time I made a small adjustment and got it running again in a matter of a minute. The second time, however, I worked on it for 15 minutes without success. I finally read Part 3 of this report, to see where the two adjustment screws had been positioned when the trigger was working. The camera angle of that photo isn't the best, so there was still some guesswork involved; but even then I couldn't get the rifle to fire.
Then, I thought of something. I know this rifle has a very protective anti-beartrap mechanism, and I wonderd if it was a little too over-protective. So, I cocked the gun, again (it was still cocked and loaded from when the trigger had failed). I've had other spring-piston air rifles — most notably Weihrauchs and a few Dianas — that would seem to cock but wouldn't quite go all the way. How many people have I talked through cocking their RWS Diana sidelevers because they had not pulled the lever all the way back, and the gun was stuck? Even my Whiscombe has done this often enough that I'm used to it.
When it happens to the 72, the rifle is cocked from the standpoint that the piston is back and the mainspring is compressed, but it also isn't fully cocked in that the trigger isn't in the right position to fire the gun. It's a sort of limbo state that some spring rifles can get into. Think of it as a disagreement between the trigger and the anti-beartrap device, and the designers have allowed the anti-beartrap device to trump the trigger for safety reasons.
All you need to do when this happens is cock the rifle a second time, making sure that the cocking linkage goes all the way back. When I did this, the 72′s trigger began working immediately. So, if you ever get one of these rifles, keep this in mind.
Accuracy
I began this test not knowing where the sights were set. After all, this rifle had been through a complete rebuild, so those sights presumably came off. And the action has been out of the stock several times over the past 2 years. So, the gun needed to be sighted-in.
As a side note, the manufacturing date on the left rear of the spring tube is November 1989. That puts it near the end of the production cycle (1979-1993, according to the Blue Book of Airguns).
Sighting-in with H&N Finale Match Pistol
I started sighting-in with H&N Finale Match Pistol pellets. The first shot was lined up with the center of the bull, but it was too low. It landed at 6 o'clock. Since the sights are target apertures front and rear, I was not using a 6 o'clock hold, but centering the bull in the front aperture.
The first sight-in shot was interesting, but the second was even more so, for it would tell me if this was an accurate rifle or not. It hit above the first shot, in the same line but the 2 holes didn't quite touch. That was good but not what I had hoped for. I had hoped to see a single hole that had barely enlarged with the second round.
Shot 3, however, went into the same hole as shot 2, and shot 4 joined them. So, the rifle was probably accurate, after all. I clicked the elevation up two clicks and proceeded to the first record target.
Shooting for the record
The first 5 shots went into a group that measures 0.221 inches between centers. It's a group you would love to see out of most sporting rifles but not impressive coming from a 10-meter rifle. Just to make sure it wasn't me, I shot a second group with this same Finale Match Pistol pellet. As I shot, I could hear the voices of the newer readers, asking why I only shot 5 shots. So, on just this one target, I put 10 into the next group, which measures 0.269 inches. That's encouragingly close to what just 5 shots did, so it renewed my enthusiasm.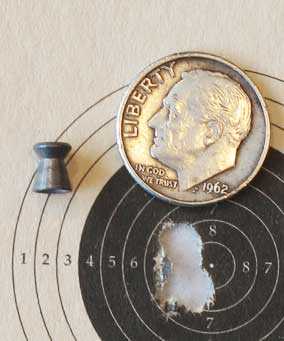 Five H&N Finale Match pellets went into 0.221 inches at 10 meters.

Ten H&N Match Targets made this 0.269-inch group. This is not that much larger than the 5-shot group.
RWS R10 Match Pistol pellet
Next up was the RWS R10 Match Pistol pellet. Five of those made a group that measures 0.244 inches. It's in the same range as the H&N Finale Match pellet, so no cigar.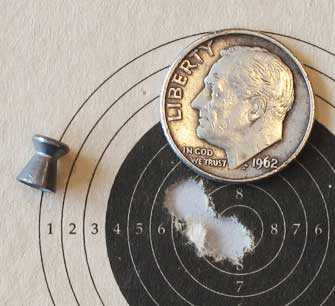 Five RWS R10 Match Pistol pellets went into 0.244 inches.
RWS Hobby
After that, I decided to give the RWS Hobby wadcutter pellet a try. Who knows what they might do? Well, that was a good decision this time, because 5 of them went into 0.194 inches between centers — the smallest group so far.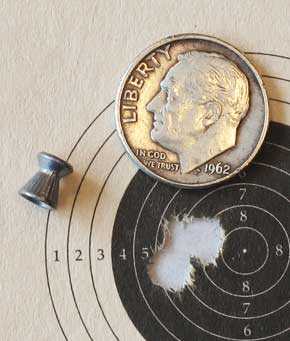 Five RWS Hobby pellets went into 0.194 inches at 10 meters. This is a good group.
At this point, I'd noticed that all the groups were landing off to the left. There's no scope involved, so I can hit the center of the target and not destroy the aim point. I dialed in 3 clicks of right adjustment into the rear sight and continued the test.
JSB Match
Next, I tried JSB Match pellets. Five went into 0.264 inches. That was the second-largest group in this test, so no joy there.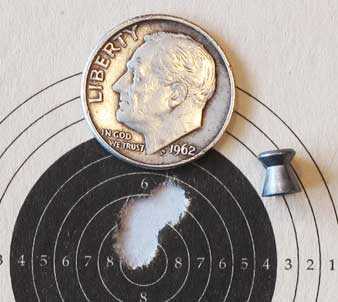 Five JSB Match pellets made this 0.264-inch group. Not that good.
Why 5 shots?
Before someone asks why I shot 5-shot groups, I'll tell you. Accuracy is the reason. Ten-meter guns are generally so accurate that there isn't that much difference between 5 and 10 shots. You only have to look at the first 2 targets to see the truth of that.
H&N Match Pistol
Next, I shot 5 H&N Match Pistol pellets. They're a lower-cost pellet than the Finale Match Pistol, and sometimes they produce good results. This was to be one of those times. Five pellets made a round group that measures 0.166 inches between centers. That's the smallest group of the test; and because it was noticeably smaller, I shot a second group to see if the first was a fluke.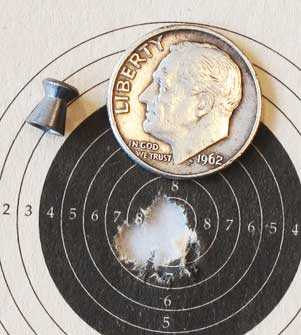 Now, this is a group! Five H&N Match Pistol pellets went into 0.166 inches.
It wasn't a fluke at all, as you can see. The second group was a little larger, at 0.196 inches, but still one of the smaller groups fired in this test.

This second group of H&N Match Pistol pellets was shot to confirm the first one. It measures 0.196 inches, which is larger but still one of the smaller groups of this session.
Seating the pellets deep
Now that I'd tested 4 different wadcutter pellets, three of them being designated as target pellets, I thought I would take the best 2 and test them by seating them deeply in the breech to see if there was any difference. For this, I used the Air Venturi Pellet Pen and Pellet Seater that was also used in the velocity test. We learned then that the 72 doesn't like pellets to be seated deeply where velocity is concerned. Let's see what it does for accuracy.
The first pellet I tested this way was the H&N Match Pistol that proved to be the most accurate in the entire test. When seated deeply, they gave a 5-shot group that measures 0.23 inches between centers. While that isn't bad, it's larger than either of the two groups that were seated flush. They measured 0.166 inches and 0.196 inches, respectively.

When they were seated deeply, 5 H&N Match Pistol pellets went into 0.23 inches. It's larger than either of the 2 groups made with the same pellet seated flush.
And the last pellet I tested was the RWS Hobby. When seated deeply, Hobbys group in 0.252 inches. Again, this was not as small as the one group of flush-seated Hobbys that went into 0.194 inches. That leads me to believe that this rifle likes its pellet seated flush much better.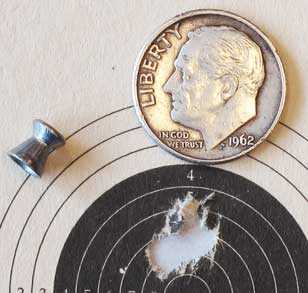 Five deep-seated RWS Hobby pellets went into 0.252 inches. This group appears smaller than it really is because some of the target paper has closed around the holes.
Summary
The RWS model 72 target rifle is a fine example of the quality and ingenuity that Diana can put out. They took a great informal target pistol — the model 6 — and turned it into a youth target rifle. They didn't pour a lot of money into this airgun, with the rear target sight being a conventional, adjustable sight fitted with an aperture, but they did everything right. This is a youth target rifle to covet!
If you want one of these, you'd better start looking right away. There aren't that many of them, and owners tend to hang on to them longer than they do most airguns.
This was a test of the recoilless model 72, but don't forget there's also a model 70 that's based on the model 5 pistol that recoils. There are more of them to be found, and their recoil doesn't amount to much since they were originally an air pistol. Either model is a great airgun that you should certainly look for if this sort of gun interests you.
by Tom Gaylord, a.k.a. B.B. Pelletier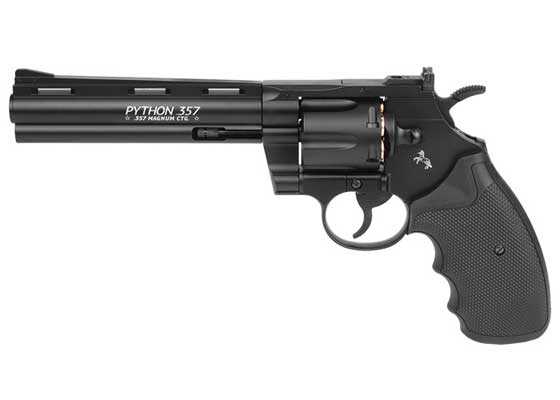 Colt Python from Umarex looks like the real deal!
This report addresses:
• Sighting in.
• Corrections to the manual.
• Accuracy at 16 feet, 4 inches (5 meters).
• Accuracy at 25 feet.
• Summary
Today is accuracy day for the Colt Python BB revolver. I know this is a test many readers have been waiting for, and I think it'll be worth the wait!
I shot the revolver from a rested position, using a 2-hand hold with my hands forward of the rest and unsupported. My forearms were resting on a cushion, and the revolver was steady in my grip. The target was lit brightly, so the sights were in sharp relief.
I charged the gun with an Umarex CO2 cartridge and shot only Umarex Precision steel BBs in this test. I loaded the cartridges individually, and I found that was faster than using the speedloader. It eliminates some steps that take time.
The first few shots landed too low on the target and also a bit to the left. I first adjusted the elevation of the rear sight and left the windage alone. I did this without consulting the manual, because we all know that the rear sight must move in the direction you want the round to move on target. The gun was shooting low so the sight had to come up — it's as simple as that. There are directions for elevation adjustment on the rear sight, and they told me to turn the screw counterclockwise to raise the sight. It worked perfectly, but I had to make several adjustments before the BBs were hitting as high as I wanted.
Then, I shot my first 10-shot group. Yes, I shot a complete cylinder and 4 more from the next cylinder. And I'm glad I did. The first group was the best of the day, putting all 10 shots into 0.537 inches between centers. Until I walked up to examine the target, it seemed as though all shots were going into the same hole. But as you can see, the group isn't quite that spectacular. It's close, though.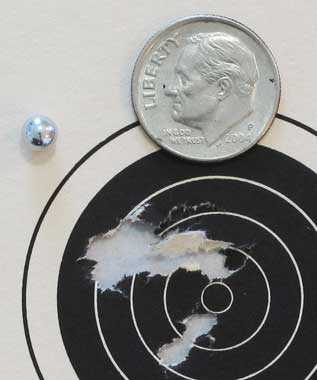 This first 10-shot group was the best of the day. It measures 0.537 inches between centers.
Manual has errors
Next, I wanted to adjust the group slightly to the right, so the rear sight had to be adjusted again; but this time I was stumped. The windage adjustment requires a 1.5mm Allen wrench, while the elevation adjustment is a plain slotted screw. I carry a pocketknife that has a screwdriver, but now I had to find a small Allen wrench. It turns out neither the windage nor the elevation adjustment tools are provided with the gun. I think that's a mistake because the typical buyer of a gun like this in not likely to have a lot of Allen wrenches laying around (there's an Allen wrench included, but it's larger and for removing the cap that holds the CO2 cartridge).
There are no directions for the rear sight adjustment on the gun, so I consulted the manual. That's when I discovered that both the windage and elevation instructions are backwards in the manual! This is of no concern for elevation, because the instructions are on the gun — but for windage, you have to stop and figure it out yourself.
Then, it was back to shooting targets. This time, I used the slightly smaller 10-meter bulls instead of the 50-foot rimfire bulls I'd used for the first group. The BBs landed higher on this smaller bull, and it appeared that I adjusted the rear sight too far to the right.
The next 10-shot group measures 1.119 inches between centers. The first shot was a flinch that went high and right — out into the white, and the other 9 shots were in the black and measure 0.941 inches between centers. It's twice the size of the first group and represents the second-worst group shot from 5 meters.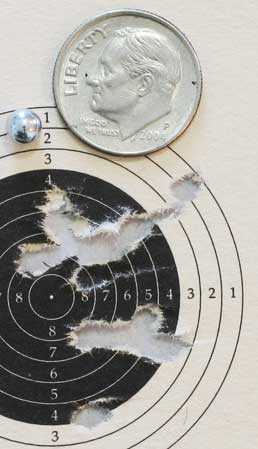 This group is still good, but much larger. The shot in the upper right that missed the black was a called flyer.
I didn't change the sights before the next group. Eight of the BBs went into 0.602 inches, but the other 2 shots opened the group to 1.166 inches. It's the worst group; yet, it contains a remarkable smaller group inside the main group. I think concentration is what determined the group size, more than the accuracy of the gun. In other words — I was tiring out!

All these shots looked perfect at the release. That one in the white was not a called flyer. This group measures 1.166 inches, with 8 shots in 0.602 inches.
25 feet
Finally, I tried shooting a group at 25 feet. This time only, I fired all 12 shots from 2 full cylinders. The group measures 2.121 inches and demonstrates how quickly the accuracy of a BB falls away as the distance to the target increases.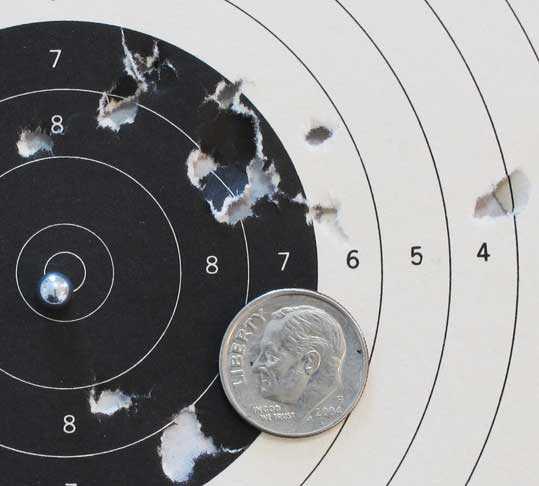 Shot at 25 feet, these 12 shots went into 2.121 inches.
The Colt Python is accurate
Without a doubt, this Colt Python revolver is an accurate BB gun. I don't like to make comparisons, but I know a lot of readers want them. I looked at other accurate BB pistols I've tested over the years and found this one to hold its own. In other words, about on par with the other accurate BB pistols, and quite a bit better than an average BB pistol.
I like the trigger in both single- and double-action, I like the sights, I like the speedloader and the way the cartridges grab each BB so positively. The power is good and so is the shot count. There's nothing to dislike, save the lack of sight adjustment tools and the small transposition in the owner's manual.
If you have a hankering for a Colt Python and cannot or will not spend $1,400 to buy one, this revolver scratches a lot of the itch.
by Tom Gaylord, a.k.a. B.B. Pelletier
A couple weeks ago we had several comments that said there are people who believe all pellets are the same, and it doesn't matter what you shoot in your airgun. Then others chimed in and said the same is true for .22 rimfire ammo. Well, I started a test of .22 rimfire ammo last week and hope to finish it soon, but today I thought I'd start exploring the pellet side of the question.
Today was supposed to be a first look at the accuracy of the BSA Supersport SE; but for the first time that I can remember, I couldn't get the open sights on target at 25 yards! I didn't want to fool with the rifle for a long time, so I set it aside and picked up my super-accurate Beeman R8 Tyrolean. That's a rifle I know I can count on.
My original plan was to buy .177 pellets from wally world and pit them against the best premium pellets I have; but since this was a last-minute test, I just selected some pellets from my supplies. I made this a Part 1 because I still intend doing what was planned.
Today, we'll look at 4 pellets. Two are what I consider premium, though one of them is pointed and I usually don't shoot pointed pellets for accuracy. That should be interesting.
The other 2 pellets are ones I actually bought at a discount store some time ago. They're representative of what's out there right now. One's a wadcutter; but since I'm shooting indoors at 25 yards, I felt it might still do its best. The other is a pointed pellet that Crosman made for Remington several years ago. These 2 pellets are the ones I believe will not do well.
I shot the rifle at 25 yards rested directly on a sandbag, which I've determined works well for this gun. In the entire test, there were no called fliers.
Air Arms Falcon
The first pellet I tested was the Falcon from Air Arms. It's made by JSB on dies owned by Air Arms, so there's no equivalent JSB pellet. There are several that look similar, but testing shows they perform differently. Ten Falcons went into a group that measures 0.667 inches between centers. You can see a single pellet hole to the right of the main group. That was the third shot. Nine of the 10 pellets went into 0.399 inches.

This group of 10 Air Arms Falcon pellets measures 0.667 inches between centers, but 9 of them are in 0.399 inches at 25 yards.
RWS Superpoints
I normally don't recommend pointed pellets for accuracy; but 25 yards isn't that far, and RWS pellets are certainly in the premium category. I didn't expect RWS Superpoints to do as well as the Falcons…and they didn't. But they were close! Ten made a group measuring 0.732 inches. Once again, one pellet was outside the main group, and 9 pellets went into 0.43 inches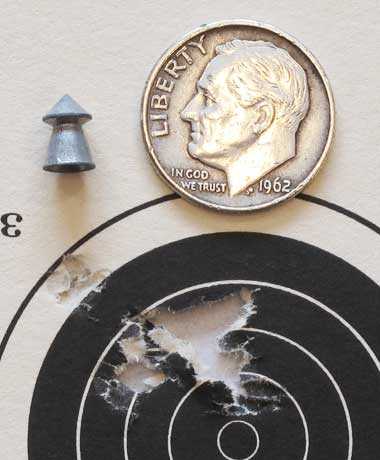 These 10 RWS Superpoint pellets surprised me by going into 0.732 inches. And 9 went into 0.43 inches.
Now, it was time to test the 2 pellets in which I didn't have any faith. I still tried as hard as possible to shoot the best group. Frankly, I'm surprised they did as well as they did!
Daisy Precision Max wadcutter
The next pellet was a older pellet I had that is similar to the Daisy Precision Max wadcutter – a flat-nosed target pellet. I didn't expect it to do much, but 10 of them went into a group measuring 0.804 inches. And, to be fair, 9 of them are in 0.591 inches. While that's not great for this particular rifle, it's a lot better than I expected.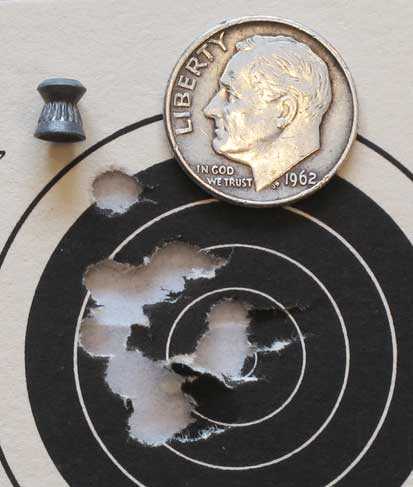 Ten Daisy Precision Max wadcutters made a larger group at 25 yards, but it wasn't as big as I expected. This group measures 0.804 inches, with 9 pellets in 0.591 inches.
Remington pointed pellets
The last pellet I tried was one Remington sold for many years, but one that Crosman made. So, it has a sort of premium heritage, though the discount store pellets that Crosman sells (which is where I got this tin) are not normally as good as the ones they make for their cardboard boxes — by which I mean Premiers, of course. I didn't know what to expect from these pellets. Ten went into 0.821 inches, which is better than I expected, and 8 of them went into a group that measures 0.402 inches. That's hard to argue with.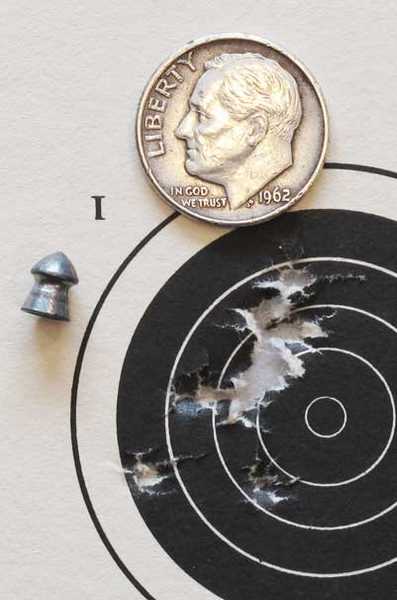 Ten Remington pointed pellets made this 0.821-inch group. Eight went into 0.402 inches.
The results?
This test worked as expected, but it wasn't as conclusive as I'd hoped it would be. Clearly, I need to look harder into these discount store pellets.
The Beeman R8 rifle is really an accurate platform that makes all these pellets look good. I think it's a great testbed, but I won't rule out trying the same test with a different rifle at a later date.
I could run the test at 50 yards, and the groups would all open up a lot — but that isn't what I'm testing. Most airgunners don't often shoot at 50 yards. I think 25 yards is more representative of what they do most of the time. I think I'll just stick to the original plan of buying some representative pellets at a discount store and pitting them against the best premium pellets I have.
by Tom Gaylord, a.k.a. B.B. Pelletier

The AirForce Airguns Escape precharged pneumatic air rifle is a powerful new survival rifle in both .22 and .25 calibers.
Last time we looked at the accuracy of the AirForce Escape at 50 yards. I shot the rifle on low pressure and a low power setting on that day to see what it could do. You may remember that at 50 yards, I got a best 5-shot group with JSB Exact King pellets that measured 0.594 inches between centers. That's great for a .25-caliber PCP, but I know it left some of you wondering what the rifle can do at its maximum power. Today, we'll look at that.
The heaviest .25-caliber pellet I have is the Eun Jin pointed pellet, which weighs 43.2 grains. So, it's a little heavier than the standard bullet of a .22 Long Rifle cartridge. We know from testing that this pellet leaves the muzzle at up to 1010 f.p.s., generating 97.88 foot-pounds of energy.
I also had some Eun Jin domed pellets to test. At 35.8 grains, they're lighter than the pointed pellet but might be accurate enough to make a difference. As long as I'm testing, I thought why not test them, too?

These are the 2 pellets used in today's accuracy test. The pointed pellet weighs 43.2 grains, and the dome weighs 35.8 grains.
The wind had just started to pick up at the range. I had finished testing the Benjamin Marauder with synthetic stock and shifted to the Escape because I felt the power of the gun and weight of the pellet wouldn't be affected by this wind nearly as much as a smaller pellet moving at lower speed.
Max power
The first thing I tried was the heavy Eun Jin pellet on max power and with a max power setting on the gun. The first 2 pellets went through the same holes at 50 yards, and I thought I was on to something. Then, shots 3 and 4 moved 2 inches to the right but also landed in a single hole. Shot 5 then landed an inch to the left of the first 2 shots, giving me a 5-shot group that measures 2.478 inches across the widest centers. While that is adequate accuracy for larger animals at 50 yards, it wasn't as good as I'd hoped it would be.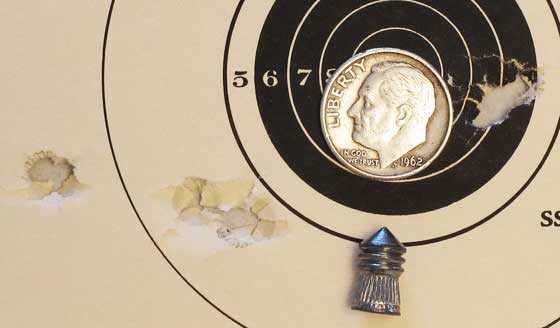 Five Eun Jin pointed pellets on maximum power with a 3,000 psi fill at 50 yards. The group measures 2.478 inches between centers, but look how they landed. The first two are left of the pellet, the next 2 are to the right of the dime (in the same hole) and pellet 5 is all the way over to the left.
I remembered that there are 10 good shots on a fill of the Escape's small 213cc reservoir, so I shot the next 5 pellets at a different target. The scope wasn't adjusted. The reservoir pressure at the start of this string was about 2,600 psi. This time ,all 5 went into 1.622 inches. That's a significant improvement. According to the velocity test data, these shots ranged between about 71 and 82 foot-pounds.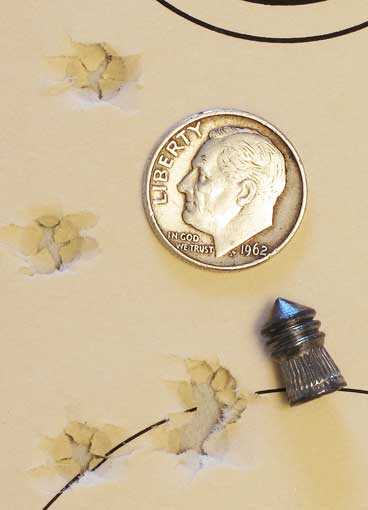 By starting with less reservoir pressure, the group tightened significantly. These 5 shots went into 1.622 inches between centers at 50 yards.
I was satisfied with the results of this heaviest pellet, but I've never gotten the best accuracy with pointed pellets. I felt I might be at the limit of this pellet's performance. Time was passing and the wind was building, so I moved on.
The lighter domed pellet remained to be tested. On max power with a 3,000 psi fill, I got several open 5-shot groups that all hovered around 2 inches. While that's okay, it isn't what I wanted. Then, I shot a couple groups with the power set to max and the starting air pressure set at 2,600 psi. The only reason I did it that way was because of the results of the heavier pointed pellet I'd just tested. And that's where the magic happened!
The first 5-shot group on this setting (power set on max, starting fill pressure at 2,600 psi and shooting the 35.8-grain domed Eun Jin) measures 1.177 inches. Four of those shots are in 0.555 inches! That's fantastic! I don't have the velocity data for this pellet on that setting, but I'll venture a guess it's producing around 60-70 foot-pounds.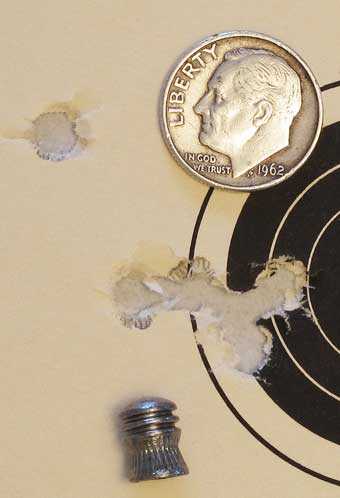 Now, we're cooking! Five Eun Jin domes went into 1.177 inches at 50 yards, with 4 of them making a 0.555-inch group! This is fantastic, but can I do it again?
Like you, I wondered if this single group was just a fluke, so I filled the reservoir to 2,600 psi, again, and shot a second group. This time, I put 5 into 1.089 inches. Three of those pellets are in 0.214 inches. If you overlay those 3 pellets on top of the other group, they all go to the same place!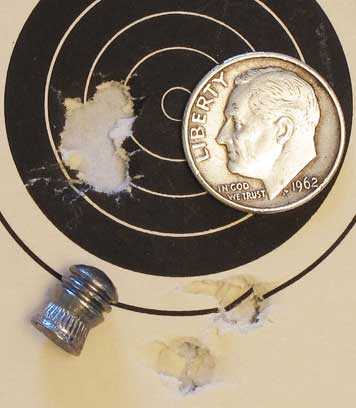 Here's the miracle I was talking about. Same starting air pressure, and 5 pellets went into 1.089 inches. Three of them are in 0.214 inches and in the same place as the 4 pellets from the last group. This is significant!
What I'm saying is that somewhere around this power setting and fill pressure, there's a super sweet spot the Escape loves with this domed pellet. By spending more time refining the fill pressure and by adjusting the sights for this combination, the Escape will become a tackdriver. It doesn't get a lot of shots like this, but remember — this is a survival rifle. You want one shot — one kill. I think this gives that to you!
I could continue to refine my pressure settings with this pellet, but I don't think I have to. I've now shown you 2 different ways the AirForce Escape can make very small groups at 50 yards. If you're looking for a powerful air rifle to do some serious hunting, you should consider this one. I think Ton Jones and John McCaslin both have reason to be proud of their creation.
What's next?
I was prepared to exchange barrels at this point and try the .22-caliber Escape, but I think I'll let that slide for now. If I'm any judge, most buyers are going to get the .25-caliber Escape. Once they see these results, I expect they'll do similar tests. Therefore, I plan to switch over to the EscapeUL next. That's the ultralight rifle that has an 18-inch barrel. I'll give you a combined introduction and velocity/power report, followed by a range test like this.
by Tom Gaylord, a.k.a. B.B. Pelletier
Tarzan! This weekend, a number of readers conducted a discussion of the fictional character Tarzan and the author who created him, Edgar Rice Burroughs. I thought you should all know an interesting connection of Tarzan to airguns. His grandson, J.R. Burroughs, was a big-time airgun importer in the 1990s. In fact, he imported many of the Korean brands that are still coming in today.
When I started writing about airguns in 1994, I got to know J.R. through my writing, and I eventually met him at one of the SHOT Shows. We continued to communicate about airguns and many other things well into the 21st century. I haven't heard from him since I got sick back in 2010, so he may no longer be involved with airguns like he once was, but he was certainly a mover and shaker in the U.S. airgun scene during the time he was active.
A couple points of interest with J.R. He was the man who modified the Shinsung Career 707 adjustment wheel from 3 settings to 17 settings — giving us much greater control over the velocity of our rifles. The factory eventually made the same modification. It was possible to keep a Career shooting at the same velocity for a long time simply by adjusting the power wheel as you shot. I remember testing it over a chronograph and getting 90 shots that were all within 30 f.p.s.
J.R. also created the first adjustable trigger for the Career, and I believe he also created one of the first pellet feed mechanisms that was user-adjustable. Before that, you could only shoot a few types of pellets in the gun; but with his modification, many more types of pellets would work through the magazine.
His brother, Danton manages, the licensing of the Burroughs family literary property. Part of that is a collection of original Tarzan novels that were never sold. There was a fire in the storeroom many years ago and some of these books have smoke damage, but they're all like-new hardcover books from the 1930s. I was gifted with one — Tarzan and the Forbidden City — from this collection, and J.R inscribed it, saying that his father had done the cover art.
Of course, many of you know that the southern California community of Tarzana was created from Edgar Rice Burroughs' Tarzana Ranch in the San Fernando Valley. But how many know that Tarzana was also the name of small hamlet located on the ranch before Burroughs purchased it? And his Tarzan character appeared in print for the first time two years after he bought the ranch.
So, Tarzan does have ties to modern airgunning. I thought you would like to know that. One final thing. Burroughs didn't just write adventure novels. He is also quite famous for his science fiction that bears a remarkable resemblance to his other works, but are set on Mars. Edith and I both enjoy the movie John Carter, in which Burroughs appears as a minor character who turns out to be the author who documents the "real-life" exploits of his uncle, John Carter. I think we enjoy it most because of our fond memories of J.R.
Now, let's take our first serious look at the new AirForce Escape survival rifle. Before I start, I need to make a couple corrections to Part 1. I said the Escape SS (officially named the EscapeSS) has an 18-inch barrel and several readers figured out that wasn't the case. It actually comes with a 12-inch barrel in either .22 or .25 caliber.
I also said the Escape valve is a modified TalonP pistol valve, which isn't true. The TalonP valve is used exactly as it is in the pistol, so pistol owners who add a 24-inch barrel and end cap to their pistols can essentially have the Escape. The pistol's frame is shorter than the Escape frame, but it is just right for the Escape Ultra Light (officially named the EscapeUL) that we'll look at in a later report.

The AirForce Airguns Escape precharged pneumatic air rifle is a powerful new survival rifle in both .22 and .25 calibers.

The TalonP pistol is the base gun used to create the new Escape-series rifles.
The Escape rifle looks like the other AirForce sporting rifles and has many of the same features. The new trigger is there, along with the new safety that can be taken off safe by the trigger finger, alone. The 2-stage trigger on my rifle breaks at a relatively clean 28 oz. While it's not adjustable, I think most serious shooters will find it more than adequate.
The rifle weighs 5.3 lbs. unscoped and measures from 34.5 to 39 inches long, depending on where the extendible buttstock is set. That means the length of pull can also be varied from 9.75 to 14.25 inches.
Like all other AirForce rifles, the Esacpe has long 11mm rails on top and below the receiver. Since this is a survival gun, a bipod and sling swivels might be almost as important as a scope.
I tested this rifle differently than normal. Instead of getting the chronograph figures right away, I decided to shoot it at the range, so 2 days were spent on the range with the rifle in its .25-caliber incarnation. Once I have a good baseline of performance downrange, I'll come back and chrono the best pellets, pressures and power settings. Because these rifles are so infinitely adjustable, it makes sense to figure out what works before you worry about the numbers.
But I'll give you some velocity figures because Ton Jones tested the heck out of the rifle late last year, and AirForce provided me with the data. With .25-caliber JSB Exact King pellets and the rifle set to max power, Ton's first shot was 1145 f.p.s. The first 10 shots on a 3,000 psi fill looked like this:
1–1145
2–1125
3–1106
4–1090
5–1078
6–1061
7–1044
8–1028
9–1017
10–1003
On power setting 8, the same pellet did this on the first 10 shots after a 3,000 psi fill:
1–1100
2–1112
3–1133
4–1106
5–1107
6–1088
7–1075
8–1060
9–1041
10–1022
On power setting 4, the same pellet did this on the first 10 shots after a 3,000 psi fill:
1–1041
2–1036
3–1077
4–1095
5–1080
6–1077
7–1100
8–1077
9–1091
10–1080
At max power and the highest velocity, this JSB pellet generated 73.96 foot pounds of energy at the muzzle.
With the 43.2-grain Eun Jin pointed pellet, the rifle did this on the first 10 shots at max power after a 3,000 psi fill:
1–1010
2–980
3–974
4–955
5–940
6–924
7–907
8–894
9–876
10–860
On 8 power with a 3,000 psi fill, the rifle did this with the Eun Jin:
1–996
2–984
3–964
4–944
5–932
6–906
7–888
8–872
9–856
10–840
On 4 power with a 3,000 psi fill, the rifle did this with the Eun Jin:
1–986
2–975
3–959
4–950
5–937
6–922
7–902
8–889
9–870
10–849
At the max power setting and highest velocity, this pellet generated 97.88 foot-pounds of energy at the muzzle.
I have the data on the Escape's .22-caliber performance, but that will make today's report too large, so let me continue with just the .25-caliber rifle, which is how AirForce set it up for me. I took it to the rifle range on 2 different days. Both were cold but the first one was also very windy, so I'm going to show you the results of day 2 testing, only. The day was 16 degrees F (-9 C) but dead calm. I shot several types of pellets this day and based on those velocity figures you have just seen, I decided to shoot 5-shot groups instead of 10-shot groups.
Ton Jones maintains that a survival situation calls for a single well-placed shot, rather than a number of shots fired rapidly. I agree with him, so I'm not testing the Escape as I normally would. I fired 5 shots and then topped off the air tank. When you're making single shots, that makes sense.
On max power the best groups I shot were with JSB Exact King pellets and Predator Polymag pellets. At 50 yards, 5 JSB Kings went into a group that measured 1.846 inches between centers. That's a large group, but remember that you're shooting at large targets, and 50 yards may be farther than you choose to shoot.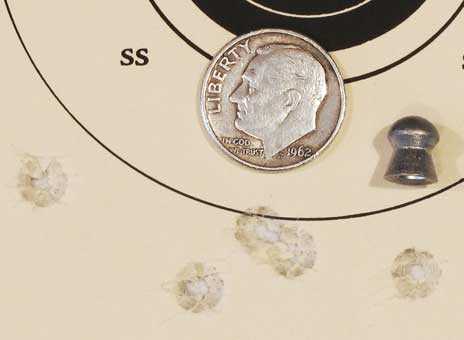 Five JSB Exact Kings went into 1.846 inches at 50 yards on maximum power.
Predator Polymags put five into 1.819 inches at the same 50 yards on max. power. Notice that both pellets spread their shots horizontally.

Five Predator Polymag pellets went into 1.819 inches at 50 yards on maximum power.
Experience takes over
I'm not going to bore you with each and every experiment I did on this day, but I want you to know that I also tried Benjamin domed pellets and Beeman Kodiak pellets. Both gave similar results, with the Kodiaks doing slightly better than the Benjamins.
But I knew that this rifle was more accurate than this. From my experience with other powerful precharged rifles, plus the testing I did with the TalonP pistol, I reckoned the fill pressure had to be lowered and the power adjusted. It soon became obvious this was correct and the JSB Exact King pellet was the one to go with. After several more groups, I settled on a fill of just under 2,000 psi and a power setting of 6. The groups became amazing with this combination, plus they were remarkably uniform from group to group.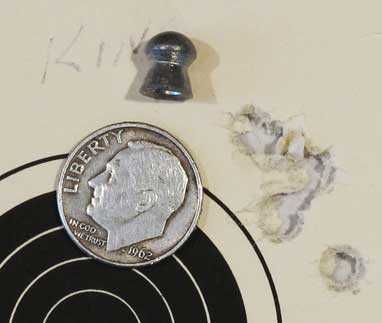 First good group of JSB Kings on power setting 6 with a 1950 psi fill gave me this 0.751-inch, 5-shot group at 50 yards.

After adjusting the scope, I put 5 JSB Kings into 0.694 inches at 50 yards. This was the best group of the day.

Another 5 JSB Kings went into 0.841 inches at 50 yards. This was the worst group of 6 that were fired with this combination of pellet, pressure and power setting.
Now that I know where at least one sweet spot is located, that will be what I'll test through a chronograph. I'll guess that this pellet is producing something in the 30 foot-pound range with the settings I used. Hitting the target with that kind of energy is much more meaningful than missing with three times more.
I also haven't tested the heavy Eun Jin pellet for accuracy. And Ton told me that he lubricated his pellets with Slip 2000, which I've obtained, so I'll be able to replicate what he did.
Summary
How do I summarize anything when I've only just started to test the rifle? There's enough variability here that I could spend the rest of my life just testing the Escape in .25 caliber! What I can tell you is that the rifle performs as advertised, and, yes, you do have to work with it to get these kinds of results. AirForce has always made air rifles for the thinking man, and the new Escape continues that tradition proudly.
by Tom Gaylord, a.k.a. B.B. Pelletier
Today's report is a guest blog from duskwight, our blog reader in Moscow. It's a report of a test to determine if changing the power of a variable scope affects the potential for accuracy
If you'd like to write a guest post for this blog, please email me.
Over to you, duskwight.
How scope power affects accuracy
by duskwight
Hello, my airgunning friends! This is a report of a small test I performed recently to see if changing the power of a rifle scope affects the accuracy potential in any way. I guess the thing I'm testing is if you need to see the target as large as possible for aiming precision, or if you can be just as accurate when it appears smaller, because the crosshairs of your scope will still be in the same place.
B.B. tested this for me last week and reported it in the most recent test of the TX200. He shot two 10-shot groups at 50 yards with the scope set on 4x and 2 more with it set on 16x. In the first set of targets, he admitted that he wasn't holding the rifle as good as he could and the 16x group was smaller than the one shot on 4x. But in the second set of targets, when he said he tried his best, the 4x group was smaller than the 16x group.
B.B.'s test was shot outdoors with a recoiling spring rifle. I decided to shoot mine indoors with a modified Gamo CF-X spring rifle I built.  I call my rifle the Shillelagh, and I've taken a picture so you can see what it looks like.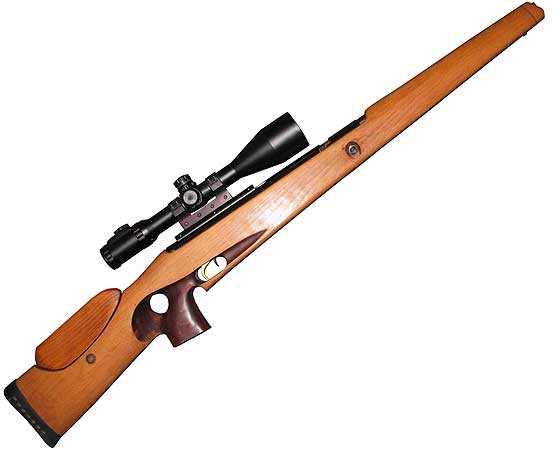 My Shillelagh (Gamo CF-X) was used for this test.
The scope is a Leapers 4-16X56 variable. As you can see, I mounted it with a one-piece mount. I'm shooting JSB Exact pellets with 4.52mm heads. The average velocity is 265 m.p.s. or 869 f.p.s.
I'm shooting indoors, so wind isn't a factor. The air is dry and the temperature is 20 degrees C, or 68 F. I am shooting off a soft rest like B.B. used with the TX200. The distance is 50 meters, and my targets are made of 2 black circles, the inner one 1/2″ in diameter and the outer one 1-1/2″ in diameter. I'm measuring the groups from the outsides of the pellet holes farthest apart, and my groups each contain 10 shots.
I decided to select the power settings 6 and 12 magnifications for this test. I shot 2 groups on each magnification. In one set of targets, I concentrated on the hold very much; and on the other set, I went faster, with less concentration. Let's take a look at the results.
Extreme concentration
The first group that was fired on 6x with extreme concentration measured 0.906″ across the outside of the group at the widest point. If we use a nominal .177 inches for the pellet diameter, that group would then measure 0.7295″ between centers.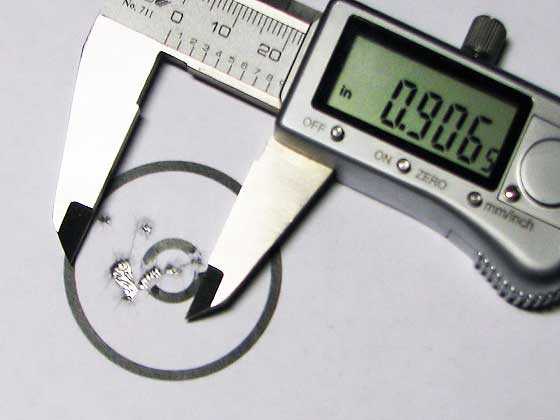 This 10-shot group came with the scope set at 6xr and using extreme concentration. The outside measurement in 0.9065″; and using 0.177″ as the pellet diameter, the center-to-center measurement is 0.7295″. Nice to know my Shillelagh can shoot!
The first group shot with the scope set at 12x and using extreme concentration measured 1.4455″ across and 1.2685″ between centers. That's quite a bit larger than the 6x group!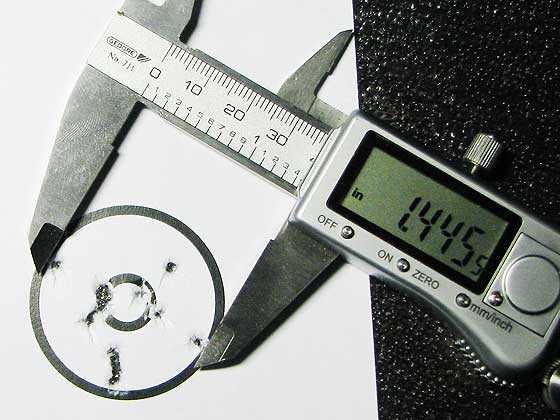 This 10-shot group was made with the scope set at 12x and using extreme concentration. The outside measurement in 1.4455″ across; and, using 0.177″ as the pellet diameter, the center-to-center measurement is 1.2685″. Quite a difference from the 6x group.
More relaxed shooting
Now, it was time to shoot groups from a more relaxed rest. I tried just as hard, but things went faster this time. The first group was shot at 6x and measured 1.003″s across the outside. The C-T-C measurement is 0.826″. Also not too shabby!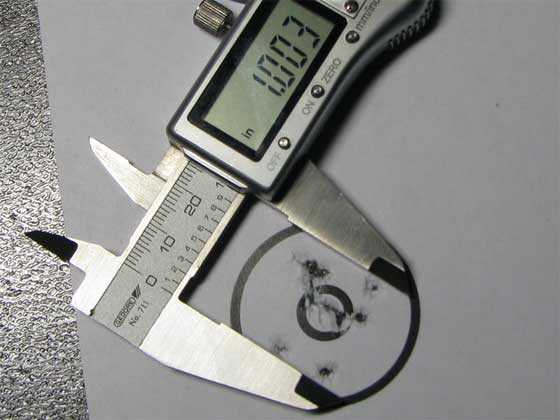 Here are 10 shots with the scope set at 6x with a more relaxed shooting style. The outside measurement is 1.003″ across, and the C-T-C measurement is 0.826″.
Next, I shot another 10-shot group in the more relaxed style with the scope set on 12x. This group measured 1.7325″ across, which gives us a measurement of 1.5555″ between centers. This is the largest group of the test and more than double the size of the first group shot on 6x.

Ten shots with the scope set at 12x with a more relaxed shooting style measured 1.7325″ across, and the C-T-C measurement is 1.5555″. This is the largest group of the test.
Summary
It's clear to me that lower magnification isn't any hinderance to accuracy, as long as you can see the target clearly. In fact, I think lower magnification is the way to go.
Editor's note
I made a huge mistake when I edited this text for duskwight. I assumed that his Shillelagh is his recoiless rifle project, when in fact, it's a highly modified Gamo CF-X. The rifle seen in this test is that Gamo CF-X. I apologize for the confusion this has caused. — B.B.
Some of our newer readers probably don't know the story of how duskwight built a recoiless spring rifle from scratch. Like you he was a reader of this blog and he was also an airgunner before finding this blog. He knew about the famous Whiscombe rifles, but they were hard to come by — even when John Whiscombe was still making them. Adding the extra difficulty of getting one all the way to Russia made him think about building his own rifle. When he first told us his plans, I thought it would never happen; and he shared all his struggles with unreliable machine shops and companies that could not meet his specifications. It seemed as though it wasn't meant to be.
But he persisted, and finally, he had a working prototype. It took years of effort…and I don't want to know how much money. But he did it. Then he sat down and whittled out a stock from a raw wood blank.
This Gamo CF-X, which he calls the Shillelagh, is just one example of his expertise building custom airguns. I think the accuracy he got with it is quite stunning!
Duskwight is Russia's airgun answer to New Zealander Bert Munro, who took a 1920 Indian motorcycle and modified it into a 200 m.p.h. streamliner in the 1960s! People like this are in extremely short supply, and it's our honor to know this one!