Posts Tagged 'underlever'
by B.B. Pelletier

Now that Vince has tuned the Sterling, it's time to see how she shoots.
It's time to see how the Sterling underlever rifle shoots. Benjamin put Lothar Walther barrels on these rifles, so I'm hoping the pedigree will show in today's test. Vince got the velocity back up to a respectable level, as we saw in Part 3 (and Vince showed you what he did to the gun in his guest blog about the Sterling), so there should be nothing to prevent the gun from shooting its best.
When I went to mount a scope, I saw that the Sterling has two vertical holes that can be used for a scope stop. They're located where the front ring needs to be, but with two-piece rings that presents no problem.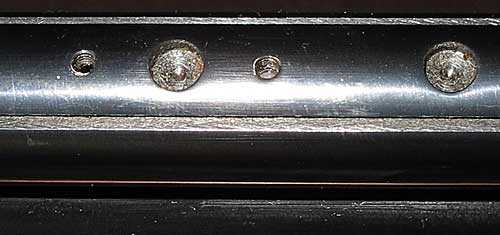 There are two vertical holes for a scope stop on top of the Sterling scope rail. They require the stop to be positioned forward, so I used the front ring of a two-piece ring set.
Since I wanted to give the rifle every chance to shine, I selected the Hawke 4.5-14x42AO Sidewinder Tactical scope for this test. This is the finest of all the scopes I have available for testing, so the Sterling is getting the absolute best of everything.
All shooting was done from a rest at 25 yards. I used my indoor range, so nothing got in the way of the Sterling this day. As usual, all groups contain t10 shots.
H&N Neue Spitzkugel
I thought I would give a pointed pellet a chance this time, as I seldom use them. The H&N Neue Spitzkugel (new pointed bullet) has a very shallow point and looks almost like a wadcutter at first glance. Pointed pellets are most often inaccurate, so I usually don't bother with them, but it's always nice to check from time to time to see if there have been any advances.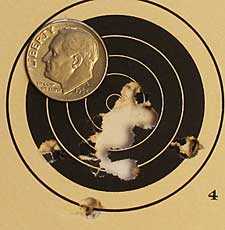 Well, 10 H&N Neue Spitzkugel pellets made only a mediocre group at 25 yards. With some breakbarrels, this would be pretty good, but I expect more than this 1.146-inch group from this Sterling. The shot at the left is a called flyer, resulting from an inconsistent hold — the only one of the test.
While loading, I noticed that the skirts didn't always want to go into the loading trough unless I pressed them in with my thumb. The trough is probably on the small side for larger pellet skirts. This made me watch that the pellets didn't flip backwards before the bolt pushed them into the breech.
Trigger
I also had plenty of time to observe the Sterling's trigger. It seems to be a single-stage, but the pull is short enough. There's some slight creep, but you need a target-shooter's trigger finger to feel it. Overall, it was good enough for very precise shooting without disturbing the aim. If I pull the gauge very slowly, the trigger breaks between 2 lbs., 3 oz. and 2 lbs., 5 oz., which is plenty light enough for good work. I said it was 2 lbs., 8 ozs. in Part 3, but that was when it was pulled more deliberately.  I know Vince had a hand in making it so nice, because Sterling triggers have a reputation for being crude and not so good.
JSB Exact 8.4-grain
Next I tried some 8.4-grain JSB Exact domes. They're at the upper limit of weight of I would choose for a gun of this power, but sometimes that's a plus. Not this time, though, because 10 went into a 0.788-inch group at 25 yards. That's okay for many breakbarrels — but from a fixed-barrel rifle that has a Lothar Walther barrel, I expect more.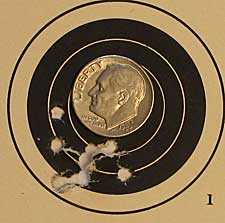 Getting better but this 0.788-inch, 10-shot group is still not as good as expected for the Sterling.
Shot cycle and hold
The Sterling shoots with a very pronounced forward jump — reminiscent of spring guns of the 1970s. It feels like the stroke is long, and the piston is heavy. On the other hand, the rifle lies completely dead in my hand, so applying the artillery hold is easy. My off hand touched the triggerguard, yet I could still feel the cocking slot of the stock on my palm. That means the stock is cut far to the back, which means Vince did a wonderful job of deadening the powerplant to get the rifle as smooth as it is. I just wish airgun makers today would go to the same trouble instead of mounting everything in rubber to deaden the vibration that's still in their guns.
Crosman Premier lites
Next up was the venerable 7.9-grain Crosman Premier lite pellet that often wins the race in these tests. This was the only pellet of the four tested that fit into the loading trough without a push, yet it was also the pellet that gave the most trouble by flipping backwards in the trough.
This time, I got the results I was hoping for, though the group is more open than I would have liked. Look at the group and read the caption, though, because you'll be surprised where most shots went.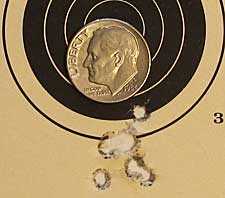 More like it! The group of 10 Crosman Premier lites measures 0.606 inches between centers, but the surprise is in the largest hole in the center of the group. Six shots went through that one hole! Now, we're talking!
Scope not mounted perfectly
By this time, I noticed that I'd mounted the scope a little too far to the rear, and the high mounts I used were not needed. Repositioning the scope in lower mounts would make the rifle easier to shoot — though I don't think it would affect the accuracy. However, if I were to keep a scope on this rifle (and it can't be this wonderful Hawke, as I need it for other tests) I would remount whatever scope I used.
JSB Exact RS
The last pellet I tested was the 7.33-grain JSB Exact RS. You might recall that this pellet is one of Kevin's favorites, and we have seen it do amazing things with some spring guns in the past. The report I did a while back on the Beeman R8 was the most dramatic example of the capability of the RS.
And it didn't disappoint this time, either! Ten RS pellets went into a group measuring just 0.41 inches at 25 yards! That's game, set and match as far as I'm concerned. The Benjamin Sterling has proven itself to be a very accurate underlever spring rifle that warrants special attention from shooters as well as collectors.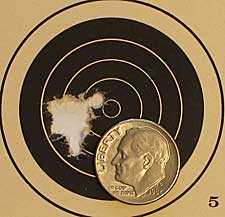 Ten JSB Exact RS pellets went into 0.41 inches at 25 yards, proving beyond a doubt that the Sterling can shoot!
Summary
This test series has been long and rewarding. Thanks to Vince, we now know what a Benjamin Sterling can do under the right conditions. I'm sorry this rifle is no longer available. Except for the lower power and stiffer trigger, it could hold its own with a TX200. When I usually do these reports on vintage airguns, we get to see a lot of warts, but the Sterling doesn't have as many as I was prepared to see. Without a doubt, Vince's work has a lot to do with that.
by B.B. Pelletier
Photos by Earl "Mac" McDonald
This is the second of my reports on the 2012 SHOT Show. There will certainly be at least one more after this, and perhaps even more, as there's simply too much new information to pack into a single report.
The state of the airgun industry in 2012
Before I get to some specifics, I want to make a general observation. This year's SHOT Show was different for me in a major way, because I saw for the first time that firearms shooters are beginning to understand airguns as never before. In the past, I always had to start my explanations with the cooling of the earth's crust and then progress through the age of the dinosaurs because each firearms person I talked to thought of airguns as either toys or BB guns. This year, a lot of them were clued-in on what's happening. They weren't surprised by the accuracy we get, and they knew about big bores. A lot of them had some airgun experience and more than a few asked me the same kind of questions that I get from long-time readers of this blog.
That tells me the day of the airgun has finally dawned in the U.S. Instead of 25,000 to 50,000 active shooters (at best!), we will now see an influx from over 5 million active firearm shooters who are ready to augment their shooting experience with airguns. I'm already getting calls and emails from state departments of wildlife resources, asking about the issues of incorporating airguns into their hunting seasons.
It has been a long haul to get to this point, but we're now seeing the start of the harvest of all the work that's been done over the past 40 years — starting with Robert Beeman in the early 1970s. The job is now to manage this growth and provide useful information to the tens of thousands of new airgunners who are flooding in the doors.
Let me reflect on how the industry seems to be reacting to this trend. Some companies have been on board for many years and are poised to ride the new tidal wave of business as far as they can. Other companies are aware that airguns are very hot, but they're foundering, trying to understand them. Let me say right now that it's not as easy as you think!
The readers of this blog are among the most clued-in airgunners in the world. But they're unique, and they do not represent the true market. The demographic of a new airgunner is a man (usually) in his late 20s to late 40s who is most likely a fan of AR-type rifles and Glock-type pistols. He wants repeaters, semiautos and he thinks that a five-shot group is the gold standard of any gun. Velocity impresses him, and he isn't comfortable with the term kinetic energy.
Things like good triggers and good sights are not an issue with this customer until he experiences bad ones. His ARs have decent triggers off the rack, and he can choose from many drop-in triggers that are much better. When he encounters a spring-piston gun with a horrible trigger that cannot be easily modified, he's surprised.
He does not use the artillery hold, and he equates all airguns to be alike in terms of performance. When he learns about precharged guns, he's put off by the additional equipment he must buy. Spring-piston guns seem the best to him for their simple operation, and he doesn't appreciate the fact that they're also the most difficult airguns to shoot well.
That's the customer who's coming to airguns today, so that's the person airgun manufacturers have to deal with. If you have wondered why many of the new airguns are what they are — this new-customer profile is the reason.
Okay, I've talked about those companies that get it and those that are struggling to understand. There's one more type of company out there. I like to call them the "gloom and doom company" or the "zero sum company." They're firmly entrenched in the 1970s and cannot take advantage of this new windfall of business. They either fired their engineers years ago or they let them all retire, and now they couldn't build a new airgun to save their lives. As far as they're concerned, there are only 25,000 airgunners in the United States and it's the NRA's responsibility to identify and train them so these companies can sell them some guns.
They think of marketing in 1950′s terms, when a simple paint job and some sheet metal was enough to create a new product. Their "secret" business plan is to buy guns made by other manufacturers and have their name put on. If you're a collector, better buy up the guns these guys sell because in 10 years their name will be a memory.
That's enough of the big picture. Let's see some more products.
More from Crosman
Many of you saw the list of new Crosman products Kevin posted last week, so the few that I show here are by no means all there is, but they're the highlights. Crosman had about half the new airgun products at the entire SHOT Show.
New tan M4-177 and carry handle
The M4-177 multi-pump that I recently tested for you is going to be very popular this year. Crosman is also offering it as an M4-177 Tactical air rifle with a new carry handle that replaces the rear sight for improved sighting options. I think this gun will be in their lineup for many years to come.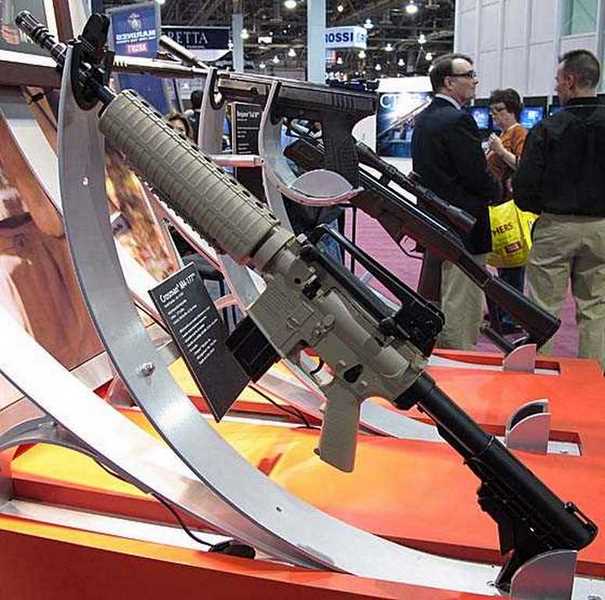 The M4-177 now comes as this tactical model in tan with a carry handle.
I mentioned to Crosman's Ed Schultz that this rifle looks like the A.I.R.-17 of the 1990s, but done better. He said he always wanted to update that design, and that is exactly what this is. So, what he said next came as no great surprise.
I shared my thoughts on a 2260 made as a multi-pump in .25 caliber, and Ed told me that was how the rifle was originally created (not in .25, however). The CO2 version was an afterthought that got put into production, while the multi-pump version languished in the Crosman morgue. I told him that I thought the time was ripe to bring it back as an upscale hunting rifle, and he seemed to agree. We can only hope.
Carbon fiber tank
As Crosman extends their capability into PCP guns, they know shooters are always looking for better options for their air supply. Besides the new butterfly hand pump I showed you last time, they'll also be adding a long summer-sausage black carbon fiber tank with increased capacity over their current tanks. This is a 300-bar tank that has 342 cubic-inch capacity. It comes in a black nylon carrying case with sling for field transport.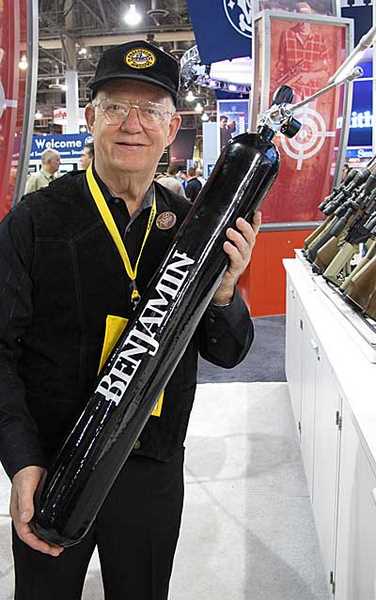 More air for you! New Benjamin carbon fiber tank will help you take your PCPs further afield.
Benjamin Nitro Piston breakbarrel pistol
The Benjamin NP breakbarrel pistol certainly has people talking on the internet. This is the first commercial gas spring application in a pistol, I believe. The most distinctive feature is a cocking aid that can either be detached or left in place while shooting. That reminds us that this pistol is going to be hard to cock, but I'll test one for you so we'll all know just how hard.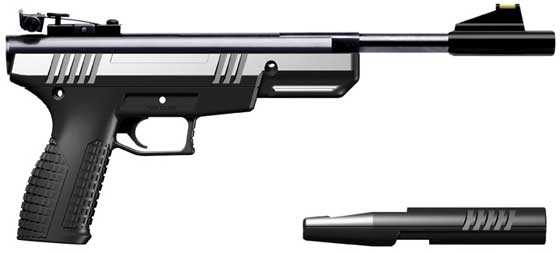 New Benjamin Trail NP pistol is a breakbarrel with a gas spring. The cocking aid can be detached or left in place while shooting.
Crosman 1720T PCP pistol
Everybody was ready to jump down Crosman's throat for creating the 1720T PCP pistol. They wondered with the .22-caliber Marauder pistol and the .177-caliber Silhouette PCP pistol already selling, why was this one needed? As Ed Schultz explained it to me — this one is for field target. It's a .177 (naturally) that produces just under 12 foot-pounds through a shrouded Lother Walther barrel. It can be used for hunting, but field target was its primary purpose. They worried about the shot count with the Silhouette; but with this one, power was the criterion. Look for about 800 f.p.s. with a 7.9-grain Premier. And the trigger is the same as the Marauder, so excellent operation there.


The new Crosman 1720T PCP pistol is meant for field target competition. It will also work well for hunting.
Crosman MAR 177 PCP conversion
The Crosman MAR-177 PCP conversion is another new product that has a lot of people talking. This AR-15 upper converts your .223 semiauto into a .177 PCP repeating target rifle. Because it's on an AR platform, almost everybody expects it to be semiautomatic — including those who should know better. This rifle is a bolt action that cocks and loads via a short pull on the charging handle.
This conversion is an Olympic-grade target rifle for a new official sport that Scott Pilkington and others have been promoting for several years. It will take the U.S. battle rifle back into the ranks of target shooting. However, the look of the gun has many shooters totally confused. I was even asked at the show if I thought Crosman should have come out with an "everyman's" version of the gun first. That would be like asking whether Feinwerkbau missed the boat by not first making their 700 target rifle in a $300 version for casual plinkers.


The MAR-177 PCP conversion is an upper for your target-grade lower. Plan on investing about another $1,000 in a good lower if you hope to compete.
Crosman TT BB pistol
It's all-metal and a good copy of the Tokarev pistol. The weight is good and the gun feels just right. This will be one to test as soon as possible.

Crosman's TT Tokarev BB pistol is realistic and looks like fun.
Benjamin MAV 77 Underlever
The Benjamin MAV 77 underlever rifle is going to force Crosman to recognize spring-piston air rifles instead of just calling them all breakbarrels. This is the TX-200 copy from BAM that was once sold by Pyramyd Air. When the quality dropped off, it was discontinued. Hopefully, Crosman will watch the quality on this one.
They didn't have a firm retail price yet, but hopefully it'll be significantly under the TX. Otherwise, why buy it? I may test one for you, but I already know that BAM can make a great rifle when they want to. I think it all comes down to price.


Benjamin MAV-77 is an underlever spring-piston rifle that looks and, hopefully, performs like an Air Arms TX-200.
TR-77
The Crosman TR-77 is a conventional breakbarrel spring-piston rifle in an unconventional stock. It's different enough that I want to test one for you. It appears to be a lower-powered rifle that probably sells at a bargain price because it's branded under the Crosman banner rather than Benjamin. Mac photographed one in a sand-colored stock for you.


Crosman TR-77 breakbarrel in a sand-colored stock also comes in black.
There was a lot more at Crosman that I could have mentioned, but now let's go over to the Leapers booth.
Leapers
I've watched Leapers grow from a relatively small company back in 1998 to a major player — blasting past older, entrenched companies as they grew. This year, they were playing a video about the company on a continuous loop in their booth. I was impressed to see their plant in Livonia, Michigan, where they build airsoft guns, tactical mounts, accessories and scopes right here in the U.S. The plant is filled with many CNC machining centers and testing facilities to keep close watch over their products during development.
American-made
Leapers owner David Ding told me he wants to get control over the production process so he can assure the quality of all of his products. In keeping with that goal, I was shown the new scope line for 2012 that now offers locking target knobs on all of the upscale models. Many of them feature etched glass reticles that are amazingly crisp and sharp.
Scopes
Mac was impressed by the reticle on the new 3-9x Bug Buster scope. He urged me to look through it; and when I did, I saw that the reticle is now fine and sharp — not the heavy black lines of the past.

David Ding shows me the new 3-9x Bug Buster scope (not out yet), with target knobs and a finer reticle.
But scopes were just the beginning at Leapers. Next, I was shown the whole line of tactical flashlights and lasers, including some mini lasers I will test on my M1911A1 for you. These are all made in the U.S. now and have more rugged internals, adjustments and optics than similar products from the Orient.
UTG 555 Long Range Light
One item I hope Pyramyd Air will consider stocking is a fantastic 500-lumen tactical light for law enforcement. It can be mounted on a rifle, handheld or even mounted on a bike! It comes with rechargeable lithium batteries and a smart charger…and believe me when I tell you it turns night into day!

The UTG Long Range light can go on your rifle, held in the hand or even mounted to your bike! The rechargeable lithium-ion battery pack will keep it shining at 500 lumens for 1.5 hours.
Fast Action Gun bag
Not all Leapers products are for airguns. They also make tactical and law enforcvement gear that rivals spec-built equipment but sells at a fraction the cost. As a result, many of their customers are ordering straight from the front lines of combat and from law enforcement agencies all over the country to get the products that their own supply lines cannot or will not furnish.
One of their latest developments is a Fast Action Gun bag that lets the wearer walk in public with a substantial firearm hidden from view. A quick pull of a strap, and the bag opens to reveal the weapon inside.

Leapers owner Tina Ding models their new Fast Action Gun bag. Here, it's concealed; but she's just pulled it over her shoulder from her back, where it looks like a tennis bag.

And in less than a second, the bag is open, giving instant access to the tactical shotgun or submachine gun inside.
11mm-dovetail-to-Picatinny adapter
Leapers has an entirely new range of quick-disconnect scope mounts coming this year, but there's another innovation that I think you'll find even more impressive. It's an adapter that snaps into a Picatinny scope mount base, turning it into an 11mm dovetail. So, your conventional air rifle will now also accept Leapers Picatinny scope mounts with this adapter.
11mm-dovetail-to-Picatinny adapter is small and doesn't raise the mount at all! This will be one to test!
Leapers is still the company to watch because the owners want to build a lasting corporation here in the U.S. They're poised to move to the next level of quality in their optics, which gives me a lot of hope for the future — they've always been receptive to the needs of airgunners.
Whew! That's a lot of products, and there are still many more to show. As I said in the beginning, there will be at least another report.
by B.B. Pelletier

The Sterling by Benjamin Sheridan is an air rifle not many have seen or even heard about.
Say hello to my little friend! We last saw this Sterling 11 months ago and discovered during testing that the velocity was very unstable. Variations of 61 to 147 f.p.s. were found in the 10-shot strings, even though the rifle had been recently tuned by reader Jim Grossman (Jim in PGH). Clearly, something seemed to be wrong. I stopped the test right there because I didn't want to damage the mechanism, and I set it aside for later when I could I eventually look inside.
Well, our No. 1 tuner and all-around good guy — blog reader Vince — stepped forward and offered to have a look at it for me. He told me he'd worked on another Sterling, and I was relieved because I didn't have to learn the complexities of yet another odd spring-gun mechanism. This one is odd because, in addition to the underlever that cocks the mainspring, the gun also has a bolt-action that opens the breech for loading a pellet. It's quirky and unlike just about any other airgun you've seen.
Vince was as good as his word, and the gun is now back with me. I'll let him tell you what he found inside and what he did to the gun at his convenience. I just want to get back to the original test.
An odd duck
The Sterling is an odd spring-piston mechanism, to say the least. As I said, it cocks via an underlever but is loaded in a trough on top of the action by retracting a spring-loaded bolt; so when the handle is lifted, it jumps back out of the way and exposes the trough for loading. The trough is sculpted to make it easy to roll in a pellet, so loading is a snap.

The Sterling bolt is spring-loaded to jump back and open the scalloped trough, which easily accepts a pellet.
The rifle was made both in the UK and in Racine, Wisconsin, by Benjamin-Sheridan before Crosman bought them. It's a large, solid rifle that looks and feels like a magnum, though the performance is strictly under 12 foot-pounds. One attractive feature of at least the American-made rifles is the barrel from Lothar Walther. It should be fairly accurate.
The UK Sterling suffered from a lot of quality issues, the greatest of which were a very buzzy action, a trigger that tended to fall apart during use, sights that fell off and a rear sight that is apparently of very low quality. I can't comment on the sights; because when I got the rifle, all that remained was the hollow shell of the globe front sight. Benjamin Sheridan was frustrated by front sights falling off, so they engineered a solid front piece that includes the globe for the sight within the same piece that serves as the catch for the underlever.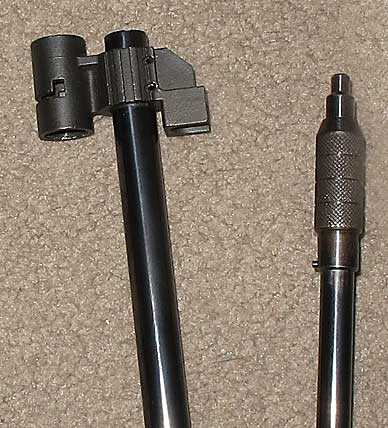 The front sight globe is made as a unit with the underlever catch.
Trigger
In the first part, I complained that the single-stage trigger was a little creepy. Well, either I was being overly critical or Vince did something. Although it still breaks at 2 lbs., 8 ozs., this trigger is now pretty crisp! I'll learn more during the accuracy test, because that's when I become intimate with the trigger. For now, I'll just say that it's a good one.
Cocking effort
The rifle cocks with 26 lbs. of effort, though it feels a little lighter. That's probably because most of the effort over 20 lbs. occurs in the last 20 degrees of lever arc. There's no anti-beartrap device. The bolt-action design keeps your fingers without one, so you can uncock the rifle at any time.
Velocity
When we last looked at the American-made (Benjamin) Sterling, I shot it with three different pellets to obtain the velocity/power rating, so that's where I'll begin today.
Falcon pellets
First, I tried the 7.3-grain Air Arms Falcon pellet. In the test done before this work, the pellet averaged 626 f.p.s., but the velocity ranged over 147 f.p.s. The average velocity equates to a muzzle energy of 6.38 foot-pounds.
With Vince's work, the Falcon pellet now averages 754 f.p.s. — a 107 foot-second gain. The spread was reduced to 23 f.p.s., from a low of 738 to a high of 761 f.p.s. That's quite stable — especially in light of the former test. The current muzzle energy is 9.22 foot-pounds.
JSB Exact 8.4-grain dome
The next pellet tried was the 8.4-grain JSB Exact dome. In the earlier test, this one averaged 597 f.p.s. with a 61 f.p.s. spread from 564 to 625 f.p.s. The muzzle energy was 6.65 foot-pounds.
In the current state, this pellet averages 704 f.p.s. with a 19 foot-second spread from 696 to 715 f.p.s. That is another gain of 107 f.p.s. And the muzzle energy increased to 9.25 foot-pounds.
You don't normally see a heavier pellet making more energy than a lighter one in a spring-piston powerplant. It's indicative of a heavy piston, which is perhaps the reason the rifle has a pronounced froward jump upon firing.
Is it hard to believe that heavier pellets typically produce less energy than lighter pellets in spring-piston guns? While this is not 100% the case, it's probably the case 9 times out of 10. Spring-piston guns do not transfer their potential energy very well, and therefore lighter pellets that offer less resistance are usually slightly more efficient. In pneumatic and CO2 guns, the reverse is true: heavier pellets produce more energy most of the time.
Crosman Premier 7.9-grain lites
The last pellet I tested was the 7.9-grain Crosman Premier lite. In the first test, these averaged 580 f.p.s. with a 144 foot-second spread from 467 to 611 f.p.s. I tried flaring the skirts of these pellets to get a better seal in the bore, but the average velocity increased to only 584 f.p.s., while the total variation increased to 152 f.p.s.
In this test, Premier lites averaged 705 f.p.s., and the spread went from 698 to 712 f.p.s. — a 14 foot-second spread that was the tightest of the entire test. The gun now shoots 119 f.p.s. faster than before. The average muzzle energy is 8.72 foot-pounds — the lowest of the three pellets tested.
The evidence is overwhelming that Vince made some important changes to the Sterling's performance. I'm sure his account of what was done will be of great interest.
Bottom line
My research into the history of this fascinating airgun revealed that very few airgunners who know about the Sterling are neutral about it. They either love it or hate it. Blog reader Robert from Arcade also expressed an interest in the design, as did a number of other readers, I believe. That's why this test is so important. It's been more than two decades since I read about this air rifle in the British press, and I have always wondered what the truth is. Now we can all find out together.
by B.B. Pelletier
Announcement: Dammion Howard is this week's winner of Pyramyd Air's Christmas Big Shot on their facebook page. He'll receive a $50 Pyramyd Air gift card plus another $50 in goodies!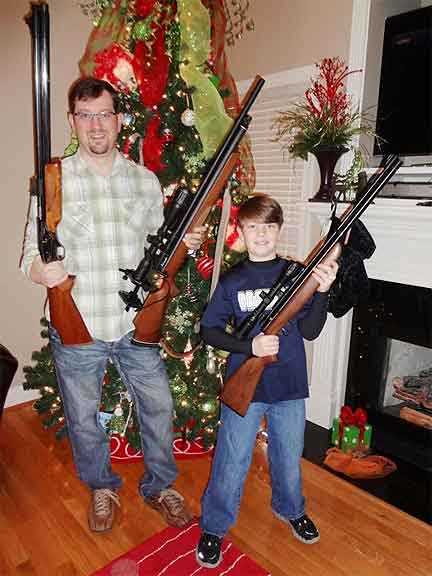 Dammion Howard (left) shows off some new airguns he found under the tree this year!
Part 1
Part 2
Part 3
Part 4
Part 5
Part 6
Part 7
Part 8
Part 9
Part 10
Happy New Year from Tom & Edith!
One nice thing about watching a TV program is that it only takes an hour or less to view. You have no sense of the man-weeks of work that go into a short production on screen. Sometimes, the same thing happens in the world of airgun blogs.
I won't say I've been dreading today's report; but from past experience adjusting the HOTS on the Whiscombe rifle, I knew it might take longer than anyone could imagine to get a good result. It's easy to say, "Adjust the HOTS for optimum performance with a certain pellet." Actually doing it is where you discover if it'll be easy or hard. The report I have for you today was very hard.
I allotted several hours to the actual testing and adjusting that would have to be done. And with my past experience with the Whiscombe, I knew shortcuts the average shooter wouldn't think of. Let me lay the groundwork so you understand what's happening in this process
The HOTS
The Whiscombe harmonic optimized tuning system (HOTS) consists of a weight that can be adjusted in or out along the axis of the bore. A jacket around the barrel is threaded to receive this weight. The threads on the weight are very fine, and one turn of the weight moves it a millimeter in either direction. One complete turn of the weight constitutes 1mm movement of the weight.
Besides the weight, there are two other metal parts. One is a short collar that locks the weight in position after it's been adjusted, and the other is a much longer cover that encloses the entire HOTS from sight. This longer cap doesn't need to be removed from the weight to make adjustments, just provide access room for the special wrench that moves the weight.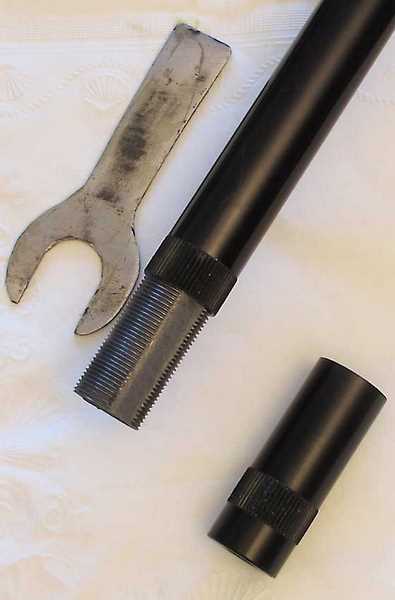 Here you see the HOTS mechanism. The threaded weight is turned in or out of the barrel jacket by the wrench. Once the weight is where you want it, lock it down with the knurled collar on the barrel jacket. Then, install the long cap, and the job is done.
Where to start?
The problem is always the same: Where do you start adjusting the weight? The simplest way is to start right where you are — with the HOTS in the last position it was set. Shoot a group at that setting and go from there. I had that data, of course, from the earlier part of this test, so that's where I began. Because the last transfer port is still installed in the rifle, the Beeman Devastator pellet still develops about 772 f.p.s.
When I shot a group at this velocity in the earlier test, 10 shots went into a group measuring 1.073 inches between centers. I was looking for a group somewhere near that size this time, too. It might be a little smaller or larger; but if it was a quarter-inch group, there was a problem with the results of the last test. The same care was taken with each shot; to do any less would have skewed the results or made them unreliable at the very least.
The first group shot in this test, shot with the same HOTS setting, measured 0.953 inches between centers. That's 0.12 inches smaller than the group from the last test. I would call that in the same ballpark and therefore a confirmation that the last test was sound.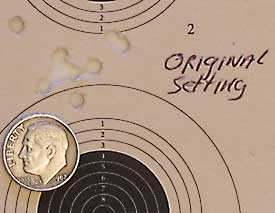 Ten Beeman Devastators at 25 yards went into this 0.953-inch group with the original HOTS setting. It's close to what the gun did in the last test on the same setting.
Adjusting the HOTS
Whiscombe says that there will be several sweet spots throughout a one-inch movement of the weight, which is approximately 25 full turns. He also says that one spot will be better than the others, and that's the one to look for. He just doesn't tell you how to find it, other than by adjusting the weight one turn at a time. But my experience told me that the sweet spot was probably not where the weight was at this time, so I turned it in (toward the receiver of the gun) four full turns and shot a second group. This is where my experience with the Whiscombe was supposed to pay off.
I wasn't going to waste my time shooting 10 shots if the first 5 were spread out. Why bother? I wanted a tight group, and if inside 3-4 shots — or even 2, on one occasion — there was already a large separation, it was no use going further. I turned the weight in 4 full turns and shot another group. This group teased me with the first 5 shots in less than a quarter-inch, but the final 5 expanded that to 0.977 inches. Can't be certain because of measurement errors, but no improvement at all.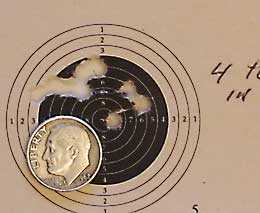 At 0.977 inches, this group is slightly larger than the original setting. Obviously, the HOTS isn't adjusted at this spot.
Next, I tried the weight 5 turns in from the start point. The group was worse. I backed out to 3 turns in and got about the same size group as with 4 turns in.
At this point, I experimented with some subtle adjustments on a half and then a quarter turn. At 3.5 turns in, I got a group that was slightly smaller than the one at 4 turns, but it had one called flyer. I tried another quarter turn in and got 4 shots in a group measuring 0.998 inches between centers. Obviously, I wasn't going the right way.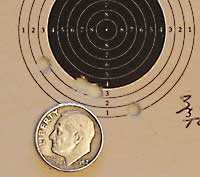 No sense finishing this group. Four shots are already grouping 0.998 inches.
Okay, this wasn't working. I adjusted the weight out in the other direction 9 full turns past the initial setting and shot another group of 10. This time there was some success, as the group measured 0.794 inches between centers. I wanted to call that the end of the test; but looking at the group, I knew it wasn't enough of a difference to impress anyone. Even though it does show improvement over the baseline group, I would like to show a larger change since one of the Devastator groups in the earlier tests measured 0.616 inches. This group was too much larger than that. The gun should be able to do better if harmonics and not velocity was the main driving force behind accuracy.

This group is better than the baseline group, but it's not as good as some groups that were fired in the big test. It measures 0.794 inches between centers.
By this time, I'd fired 49 shots in about 90 minutes. The test work had lasted much longer than expected, and I had to quit for the day.
A happy accident
The next morning, I was back at the bench and trying to complete the work. I figured I would adjust the weight out from the initial setting by a certain amount but as I tried to do that a happy accident happened. The front cover got stuck together with the weight; and by the time I noticed it, I'd already adjusted it 15-20 turns. Except, I had no way of knowing how many turns it was. I had to start all over, and this time from a random place that bore no known relation to the initial start point. Not that it mattered, except I didn't want to waste all of the work from the day before.
I adjusted the weight at a point that looked to be well away from the initial setting. Then, I shot a group as a baseline. Or I should say I began to shoot a group. After 3 shots, I had a spread of 1.153 inches between centers — the largest spread of the entire test to this point. No sense finishing that one!
Past experience has shown that the sweet spots are often a couple turns in either direction. I guessed and turned the weight back in three turns from the starting point. And that was when it happened. The clouds rolled back, the angles sang and the rifle grouped like I knew it could. Ten shots went into 0.523 inches. That's not only the best group of this little experiment with the HOTS, it also beats every group fired with the rifle during the main test conducted earlier.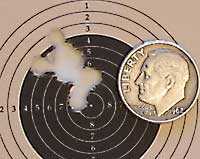 This group of 10 was shot on the second day, with 3 turns in from the start point. It measures 0.523 inches and proves that the Beeman Devastator can shoot accurately at 772 f.p.s.
The results
With this kind of data in hand, I can say with some confidence that harmonics and not velocity is the main driver in how accurate a spring gun can be. I say this because the worst group shot during the velocity test was adjusted harmonically into the best group of the test with this pellet. There's no chance in this group — it's clearly much better than it was in the beginning.
Could the rifle shoot this pellet even better? Maybe. But it isn't necessary to prove the point we were trying to prove.
Next, I want to adjust the rifle for Beeman Kodiaks at a higher velocity and test pellets straight from the tin against pellets that are sorted by weight. Today's report should give everyone the confidence that, if a difference in accuracy is noted, it will be because of the pellets and not the gun.
by B.B. Pelletier
Announcement: Kevin Currie is this week's winner of Pyramyd Air's Big Shot of the Week on their facebook page. He'll receive a $50 Pyramyd Air gift card.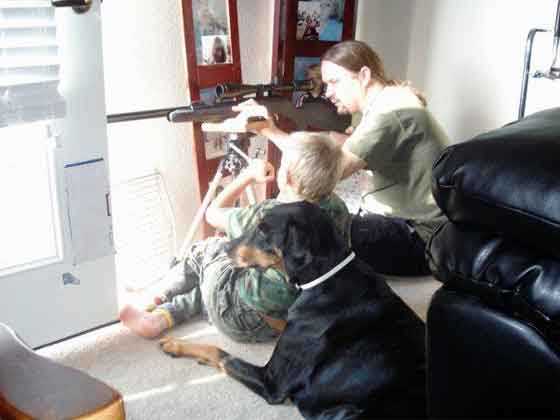 Kevin Currie is shown shooting a tuned .177 Gamo CFX with his son and dog. He says his CFX is scary accurate!
Part 1
Part 2
Part 3
Part 4
Part 5
Part 6
Part 7
Part 8
Part 9
Merry Christmas!
For those who celebrate Christmas, Merry Christmas from Edith and me! This is our last opportunity to wish you a Merry Christmas before Sunday, but I would like to hear on Monday from anyone who received an airgun, airgun-related gift or a firearm for Christmas. I'll tell you what I got, too.
Today, we'll look at the results of this test to see if there's a direct inverse relationship between pellet velocity and accuracy. I'll start with the results by pellet and see where that goes.
A word about the shooting technique
The first accuracy test I did was in Part 2 of this report. I found fault with that test, though, because of how I was shooting. I wasn't using the scope level on the gun all the time, and I also wasn't "seasoning" the bore by shooting several shots before starting a group. Some pellets seemed to need the seasoning, while with others it didn't seem to matter as much. I reshot the entire first accuracy test and seasoned the bore for every pellet, plus I paid attention to the scope level.
The need for seasoning seemed to go away as testing progressed, but the scope level was always consulted for every shot. I know that the level improved the performance of every pellet that was shot. The jury is still out on the seasoning issue.
All the accuracy results seen here are not from the first time I shot the rifle, but the second. All were shot at the velocities indicated. Just the shooting techniques were adjusted as indicated.
Beeman Devastators
In this test, the 7.1-grain Beeman Devastator was the "little pellet that could." From the start, when it was averaging 1,216 f.p.s., this lightweight hunting pellet produced 10-shot groups under three-quarters of an inch at 25 yards. That went against the popular belief that supersonic velocities are harmful to accuracy.
The Devastator turned in the following performance at 25 yards.
Velocity (f.p.s.)….Group size
1,216………………….0.743″
1,123………………….0.616″
973……………………0.724″
772……………………1.073″
Okay, you don't need a graph to see a problem here! This pellet is obviously way more accurate at 1,123 f.p.s. than it is at 772 f.p.s. Theory says that shouldn't be because the first velocity is breaking the sound barrier, which is where all the accuracy gremlins are supposed to live.
Looking at the group size in relation to the velocity, it appears that 1,123 f.p.s. is the most accurate velocity for this pellet in this gun. That would entirely negate the theory that velocity destroys accuracy. So, if there is such a relationship, it must be subordinate to and less influential than some other influence. I think that other influence might be vibration, but that's just a guess.
Crosman Premier lites
The 7.9-grain Crosman Premier lite was the next pellet I tested. Here are the results of all four tests at 25 yards.
Velocity (f.p.s.)…Group size
1,134………………….0.778″
1,057………………….0.754″
915…………………….0.747″
732…………………….0.593″
The Premiers did give a linear relationship between velocity and group size, though the two groups from the middle two velocities are so close in size that they could be the same. Measuring error is greater than the difference between these two groups.
The group at the lowest velocity is obviously the best of the four and by a wide margin. The data from this pellet isn't clear as to what is causing the accuracy improvement. It could be either velocity or vibration. However, at 915 f.p.s., the pellet is going slow enough to be out of the transonic region, while at 1,057 f.p.s. it isn't. I would have expected to see an accuracy gain at that lower velocity that's greater than what we see here if the real problem is just velocity.
Beeman Kodiaks
Next, I shot the heavyweight Beeman Kodiak pellet. It proved to be the most accurate pellet of this test and the only one that turned in a group smaller than a half inch. Please bear in mind that these are all 10-shot groups and are about 60 percent larger than they would be if they were only five shots. I didn't shoot 10 shots for that reason — but because, in doing so, I reduced the probability error significantly. In short, I can trust that the group sizes shown are closer to reality that if I had shot two 5-shot groups and averaged them.
Kodiaks shot tight right from the start, even though the first group of pellets was actually close to or just within the transonic range. Since I didn't keep atmospheric data for each day I shot, I can't say where the sound barrier was exactly; and the transonic region, which is 0.8 mach to 1.5 mach, is calculated based on that. In practical terms, I know that 992 f.p.s. is pretty darn close to transonic, because the sound barrier can be anywhere from 1,050 f.p.s. to 1,125 f.p.s. depending on the temperature and humidity where I shoot.
Velocity (f.p.s.)…Group size
992…………………….0.633″
937…………………….0.628″
819…………………….0.472″
658…………………….0.864″
However, the groups don't seem to support the velocity/accuracy relationship very well. It's true that the first and second groups are too close to really say which is larger than the other, but the velocities at which they were shot are very important. One borders on the transonic, while the other is probably slower than transonic.
But look at that third group! When the velocity averages 819 f.p.s., the Kodiak loves this rifle! Is that a velocity thing or is that influenced by the harmonics of the rifle at that power level? I'm inclined to think that it's the latter, though we do not have enough data to prove it.
The last group is the worst, though the velocity is getting pretty low for a pellet this long and heavy. We don't know much from these results, either. But if it does turn out to be harmonics over velocity, then this pellet is probably the best one for the rifle, and the Harmonic Optimized Tuning System (HOTS) needs to be adjusted for it at around 900 f.p.s.
Eun Jin
The 16.1-grain Eun Jin pellet is too heavy for the power potential of this air rifle. Although the Whiscombe JW 75 is a 30 foot-pound air rifle — that's only in .25 caliber — when the heaviest pellets are used. In .177, it's much closer to 20 foot-pounds and is, therefore, too weak to drive the 16.1-grain .177 Eun Jin fast enough for accuracy.
Velocity (f.p.s.)…Group size
726…………………….0.798″
687…………………….1.118″
618…………………….1.270″
501…………………….1.724″
Starting with the second group, I could tell that the Eun Jins weren't going to do well. Like the Kodiaks, they're also too long and heavy to make any conclusions regarding velocity versus harmonics. They just don't give enough speed in this rifle to properly examine the velocity question.
A different look at the data
The "sweet spot" was different for every pellet. Each pellet had one velocity at which it grouped the best; disregarding the actual velocity, it went like this:
Fastest was best—>Eun Jin
Second fastest was best—>Devastator
Third fastest was best—>Kodiak
Slowest was best—>Premier lite
That, by itself, is a pretty good indicator that supersonic speed isn't a problem, since the Devastator was supersonic when it produced its best group. One thing you cannot do is compare the group sizes…one to another…between the pellets. Let each pellet stand alone because there are far too many variables to make a cross comparison like that.
Was the Whiscombe a valid testbed?
Some thought the Whiscombe was the wrong gun to use because it's so inherently accurate. I disagree. I think its accuracy makes the results all the more valid. Besides, controlling many of the magnum breakbarrel springers is too difficult and gets in the way of testing. They require perfect hold technique for every shot. The Whiscombe is much easier to control, which takes that variable out of the equation.
Some felt that only a pneumatic should be used since harmonics seemed to be causing accuracy errors. Well…that was the point of testing! Now we know a little more about how the pellets respond to supersonic speed, and it seems to me that it doesn't matter as much as many, including me, have believed. People don't just shoot PCPs. I do plan on testing this same sort of thing with a PCP whose velocity I can control over a wide range, and those results will also be interesting — but they don't negate the value of testing a springer.
I used the Whiscombe for this test because, even when I altered the velocity, the harmonics of the gun remained the same. The powerplant always ran at full power, regardless of how fast it shot. And the barrel was always the same, too. The only thing that changed was the velocity.
What comes next?
I'm sure some of you will have additional interpretations to make about this test, and now is the time to make them known. My next step is to use the rifle as it is currently set up and adjust the HOTS to see what I can do to the size of the Beeman Devastator group. I'm thinking the HOTS can be adjusted to shrink it significantly. I have a procedure in mind to cut the time it takes to adjust the rifle because this can take hours if you aren't careful! I'll share that procedure with you in that report.
If I'm right about being able to tune the HOTS to get a small group at the average of 772 f.p.s., then the next thing I'll do is shoot another group with the bubble level taped to hide the bubble. I won't intentionally try to enlarge the group, but I just won't be able to consult the bubble for every shot. That will result in another group that can be compared with the best group I'm able to shoot when the HOTS is tuned, because it will still be tuned for that group.
Finally, perhaps one additional test is needed. I'll set the rifle to shoot Kodiaks in the high 800 f.p.s. range and adjust the HOTS for the best accuracy. When I get the best group, I'll shoot one group of weight-sorted pellets against another group of pellets selected straight from the tin.
When all of this is completed, I should be able to state what I think are the most important components of accuracy. You'll be able to see how much difference these things really have on group size. Most of you can't adjust the harmonics of your spring guns, so you need to find the one pellet that shoots the best. Perhaps it's time someone made a generic harmonic tuner for springers, again.
by B.B. Pelletier
Announcement: Joel Cole is this week's winner of Pyramyd Air's Big Shot of the Week on their facebook page. He'll receive a $50 Pyramyd Air gift card.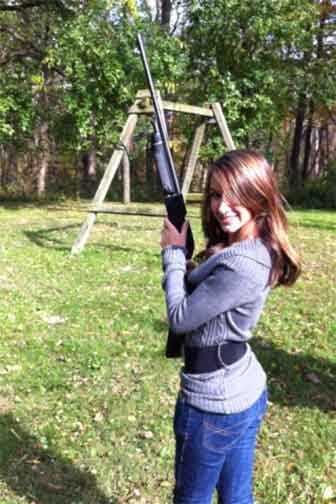 Joel's winning photo is of his niece, Paysen. He was teaching her to shoot a Crosman 66 over Thanksgiving weekend.
Part 1
Part 2
Part 3
Part 4
Part 5
Part 6
Part 7
Part 8
Today, we'll complete the testing of the four pellets at four different velocities in the Whiscombe rifle. The premise of this test has been to explore the effects of velocity on accuracy by shooting the same pellets in the same pellet rifle at four differing velocities. I will make today's report and comment on how the test went, but this will not be the final installment of this test. There will be at least one more summary report that puts all the data into perspective. And if there are side issues to explore, maybe there will be more reports.
At this point, I think I know what I'm going to find when I look at all the data, but there have certainly been a few surprises in this test. And the surprises continue in today's report. Let's get right to it.
Beeman Devastators
This time, the Beeman Devastators were averaging 772 f.p.s. Since this is a very lightweight lead pellet, at just 7.1 grains, I would have thought this velocity would be about as ideal as it gets. The pellets thought otherwise. Ten shots went into a 25-yard group that measured 1.073 inches between centers. You'll have no problem counting all 10 shots, because none of them seemed to want to go to the same place.
However, I do want to draw your attention to the upper right portion of the group. There are 5 holes in a much smaller group measuring 0.399 inches. This is what the best 5 out of 10 shots looks like, and it's a temptation to say that this is what the rifle/pellet can do. Think not? Well, in a national magazine, a popular gun writer who traditionally shows three-shot groups when talking about accuracy, recently published an article about .22 rimfires in which all the groups were 5 shots — very uncharacteristic for him. But when he reported the group sizes, he twice mentioned the size of 4 out of the 5 shots in those groups! In other words, he couldn't resist the temptation to make the gun sound better than it really was — even when the evidence was right out in the open. That's why I most often shoot 10-shot groups.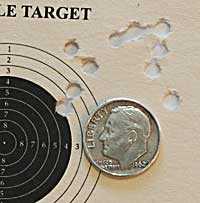 Beeman Devastators did not stay together this time. This group measures 1.073 inches between the two farthest centers. But look at the much smaller group of 5 in the right-hand corner. They're both legitimate and a fraud at the same time. They were legitimately shot by the rifle in this test, yet they do not represent the true accuracy of the rifle at 25 yards at this velocity.
Crosman Premier lites
Next, I shot a group of Crosman Premier lites. They did just the opposite of the Devastators — grouping the best they did out of all four tests. The group measures 0.593 inches between centers. That says a lot for this pellet, but perhaps not everything. The velocity at which they traveled was an average of 732 f.p.s. Is it the velocity or something else that makes them so accurate? We shall just have to wait and see.

Premier lites turned in their smallest 25-yard group of the 4 velocity tests. It measures 0.593 inches between centers.
All shooting was done with care
Lest you think I relaxed at any time during this test, I assure you I did not. Each shot was fired with the same care as all the others. The bubble level was consulted each time just before the shot was taken. I now have the trigger breaking at less than 8 oz., so it's perfection. I've even concentrated on my hold to make it as much the same from shot-to-shot as I possibly could.
Beeman Kodiaks
Next up were the Beeman Kodiaks. These were the pellets that had proved to be the most accurate up to this point in the test. This time, however, they opened up to 0.864 inches between centers. You can see that 8 of the 10 shots are in a much tighter group, but let's not go there yet. The group you see represents how well these pellets did at an average velocity of 658 f.p.s.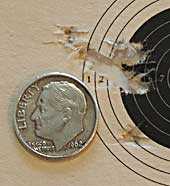 Until this time, Beeman Kodiaks had been the most accurate pellets. This time, they slipped to second place, printing a 25-yard group that measures 0.864 inches.
Eun Jin
We have long since passed the point at which the 16.1-grain Eun Jin super-heavyweight pellets are accurate; but just as the United Nations continues to grant its chairmanship to members of the smallest third-world countries, so we continue to shoot this pellet with each test — pretending that is has some part to play. Last time, Eun Jins printed some two-plus inches below the aim point. This time, with the velocity averaging 501 f.p.s., they dropped 6-3/8 inches! They were so low that I had to reorient a target to see them print on the paper.
The group measured 1.724 inches between centers. That's larger than last time.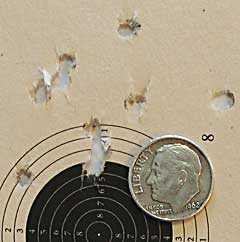 Ten Eun Jin pellets dropped more than 6 inches below the point of aim and made this 1.724-inch group.
The results
Like I said in the beginning, I'll look at today's results right now, but there will be another report dedicated to the entire test. I want to know what you readers think about this, because a lot of what I do ultimately comes from you.
What I see in today's results sort of implies that accuracy falls off at lower velocities. Now, I don't happen to believe that's the case; but except for the Premier lites, that's exactly what happened today. That suggests that something else is causing the larger groups. Perhaps vibration? Maybe that needs to be explored.
Looking at the Beeman Kodiak group, and to a lesser extent the Premier lite group, it seems like pellet selection might improve these two groups significantly. I shot all the pellets exactly the way they came from the tin or box. No special sorting technique was used. Would accuracy have improved if I had weighed these pellets and examined them critically before shooting? That's a question so intriguing that I'm almost compelled to test it next.
On the other hand, no weighing or sorting will improve the groups made by the Beeman Devastators or the Eun Jins that much. They're just what they are, as the openness of their groups suggest.
If I didn't have a lot of experience shooting pellets at lower velocities, I might be tempted to make up some sort of explanation as to why they did so poorly. But I've shot other slower air rifles that exhibited excellent groups at 25 yards, so it seems like it must be something else. That's where the thought of vibration comes in. With the Whiscombe, I can alter the vibration nodes with the Harmonic Optizmized Tuning System (HOTS).
That makes me think of something else. You know how we always say that to find the best pellet for a given gun you have to try them all? Maybe what you're doing is finding the pellet that responds best to the way the airgun vibrates!
You tell me what you think I should do next. I won't promise to do it all, but I will read with great interest what you have to say.
by B.B. Pelletier
Announcement: Aaron Weinstein is this week's winner of Pyramyd Air's Big Shot of the Week on their facebook page. He'll receive a $50 Pyramyd Air gift card.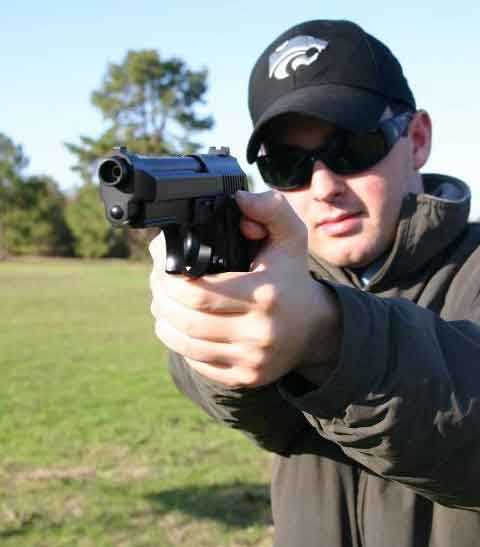 Aaron's winning photo. He's holding a GSG 92 CO2 BB pistol made by an airsoft manufacturer that now also produces realistic lookalike airguns.
Part 1
Part 2
Part 3
Part 4
Part 5
Part 6
Part 7
This is an exploration into the theory that high velocity reduces pellet accuracy when it reaches and exceeds the transonic speed region, or about Mach 0.8 to 1.2. We have thus far examined four different .177 pellets at three different speed levels, produced by shooting them in a Whiscombe JW75 spring rifle. Because all pellets have been fired in the same barrel and powered by the same powerplant, the conditions have remained the same, except for their velocities. That was altered by the use of air transfer ports of varying sizes, that passed the compressed air at differing rates.
In this fourth test, I'll reduce the velocity of the four pellets even more, to as low as I am able to go with this rifle. Then, we'll have four sets of groups to examine for each of the four pellets. While that isn't enough testing to prove anything conclusively, it should provide a good indicator of what happens when pellets are both within and outside of the transonic velocity range. The current theory says that pellets are not designed for transonic or supersonic flight and will be less accurate at those speeds than they will at speeds that are less than transonic.
I'll record the velocities of all four pellets today and then shoot them for accuracy in the next report. We'll have at least one additional report in which all the results are compared and, to the extent possible, analyzed.
Pause to reflect
Before I start today's test, I'd like to take a moment to reflect. Although what I'm doing seems normal, but in 50 years it may seem quite exotic. By using a handmade air rifle like the Whiscombe, it's as if I were shopping for a violin on the streets of Cremona in 1710 and was able to sample the works of Antonio Stradivari as they came fresh from the maker's hand. Or perhaps more to the point, as though I were able to buy a target rifle with all the supporting equipment directly from Harry Pope. From the accounts I've read, shooters who were able to do just that back in Pope's time revered his rifles as much as today's airgunners revere a Whiscombe.
What will readers of the future think about our familiar association with an airgun that, by then, will have assumed an elevated cult status? Indeed, it's almost in that position today. It's also the perfect tool for conducting the very experiment I'm now reporting, because it can do everything we need while avoiding bias.
Some readers have suggested that just the fact that it's a Whiscombe brings bias to the table. They say that because this rifle is so well made, it doesn't necessarily represent most airguns and may be able to tolerate and even ignore the physical constraints we're testing. I disagree.
The most accurate rifle in the world is still subject to the laws of the physical world. A bullet or pellet in free ballistic flight doesn't know or care what sent it on its way. If that projectile is unstable for any reason, it's going to behave just like a top spinning on a flat table. It'll wobble and move in the direction in which its instability forces.
In fact, because the Whiscombe is so accurate it should be even easier to see those natural laws in action — if they actually work the way we think they do — because the gun doesn't have all the extraneous "noise" that normally accompanies a spring-piston airgun. By "noise," I'm referring to the extra vibrations that influence a rougher gun at the moment of, and just after, firing.
Today's test
The transfer port limiter I installed for this test is the same one that was in the rifle when it was sent to me. So, we should see a large drop in the velocities of all four pellets. Accuracy testing should then prove very interesting.
The first pellet tested was the Beeman Devastator. They averaged just 772 f.p.s. with this transfer port limiter. The spread went from a low of 767 to a high of 779 f.p.s., so 12-foot-seconds from low to high. At the average velocity, they were generating 9.4 foot-pounds. That's a velocity loss of 200 f.p.s. from the last test, which should do something to the group size.
Next, I tried Crosman Premier lites. This 7.9-grain domed pellet was pretty accurate pellet in the last two tests, but this time the velocity dropped to an average of 732 f.p.s. That's about 185 f.p.s. slower than last time. It will be very interesting to see what effect, if any, that has on their accuracy. The spread went from 726 to 736 f.p.s. and the muzzle energy was also 9.4 foot-pounds.
Next up were the most accurate pellets thus far — the Beeman Kodiaks. These averaged 658 f.p.s., with a spread from 655 to 661 f.p.s. That's an extremely tight 6 foot-second difference between the slowest and fastest pellet in the ten-shot string! And they generated 10 foot-pounds on the nose! That's more than the two lighter pellets, which isn't supposed to happen in a spring-piston gun. But it's exactly what happened last time, as well, so there is consistency.
The final pellet I shot was the heavy 16.1-grain Eun Jin dome. This pellet is really too heavy for the powerplant, when it is set at this level, but we want to see what happens to all pellets on all power settings, so we have to test this one, too. They averaged 501 f.p.s. and ranged from 499 to 504 f.p.s., a five foot-second difference. They weren't too accurate last time, and I expect them to get worse this time. The muzzle energy was 8.98 foot-pounds, which puts it last in terms of power. That remains the same as it has been throughout this test.
This sets us up for the next accuracy test, which should be most interesting, given the great velocity reductions we're seeing. But I wonder if people will accept the results, knowing that they were obtained with a Whiscombe. As I said in the beginning of this report, all I think the Whiscombe does is give us a clear picture of the results. But we shall see.