Posts Tagged 'velocity test'
by Tom Gaylord, a.k.a. B.B. Pelletier
Today's report is a guest blog from Tyler Patner, a Pyramyd Air customer sales and service representative and enthusiastic field target shooter. He's going to tell us about a BSA PCP pellet rifle. This is a complete report with the description, velocities and test targets, so I am breaking it into two sections.
If you'd like to write a guest post for this blog, please email me.
Over to you, Tyler.
by Tyler Patner
This report covers:
• Changes from BSA
• Let's shoot

BSA Scorpion with beech stock.
Before getting to the review, I want to preface this by saying that I'm a BSA fan boy (self-proclaimed, of course). When I found out that BSA was officially making their return to the U.S. market, I was ecstatic. And no gun was more present in my mind than the BSA Scorpion SE. I already had the BSA R-10 in my arsenal and had owned an Ultra as well as a SuperTEN (predecessor to the R10). The one gun I had yet to own of the BSA PCP line was the Scorpion SE. With the new look to the stock and the various glowing reviews from the UK sub-12-foot-pound crowd, I was chomping at the bit for the Scorpion SE.
Traditionally, I'm a .177 and .22 pellet shooter. I've never owned a .25; and, quite frankly, I had little desire for one. It's nothing against the caliber, I just don't have too much use for it, as most of my hunting and long-distance shooting can be easily accomplished with a .22. But as most folks will tell you, it never hurts bringing more gun than you need. If there was one thing I knew going into this review, it was that the accuracy should be nothing short of stellar. BSA barrels are widely known and highly regarded for their amazing consistency and accuracy. Many worldwide field target and benchrest shooters choose their barrels for that exact reason. So, expectations were very high; but to my surprise, my expectations could not have possibly been set this high.
Changes from BSA
The introduction of the SE (which stands for Special Edition, even though all of the current models are "SE" models) saw a few new features brought to the BSA line that many had yet to experience. The addition of a pressure gauge that reads in bar was a welcome feature I was very happy to see. The R-10 was the first BSA gun to employ it, and BSA has since added it to their entire PCP range.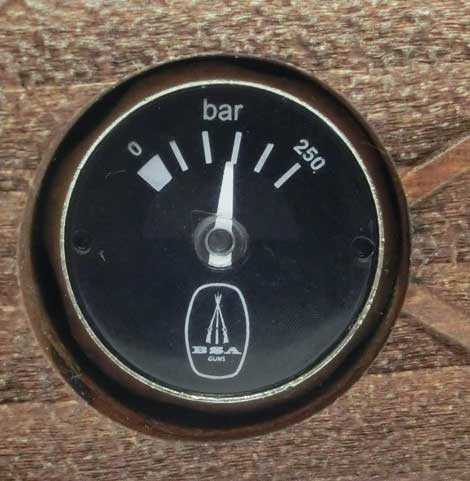 BSA Scorpion SE pressure gauge reads in bar.
The Scorpion SE also uses BSA's new self-indexing magazines. Prior to these mags, BSA went through two other styles that used an indexing pin within the breech. This is a common method of indexing a magazine but comes with its own set of problems. A common complaint was that the indexing pin would actually break, leaving the gun unusable. BSA has solved this issue by creating a magazine that seamlessly rotates under spring tension once the bolt is retracted from the magazine.
I've used these magazines in both old-style BSA rifles and the new-style guns. To this day, I've never had a hangup with the new-style mags. Loading the magazines does take a certain technique, but it's very easy to figure out and do quickly. I simply hold the drum of the magazine with my left hand and load pellets with the right, rotating with my thumb and index finger.
The drums are color-coded blue and red for .177 and .22, respectively. Each holds 10 pellets. The .25 is slightly different, with cutouts to allow for the larger spacing the bigger quarter-inch bore pellets need. It's black and holds only 8 shots. I'd like to see BSA not leave any portion of the pellet exposed in the magazine.  If I were to drop the magazine in the dirt or mud, it's possible for debris to find its way into the internals of the mag and potentially jam it.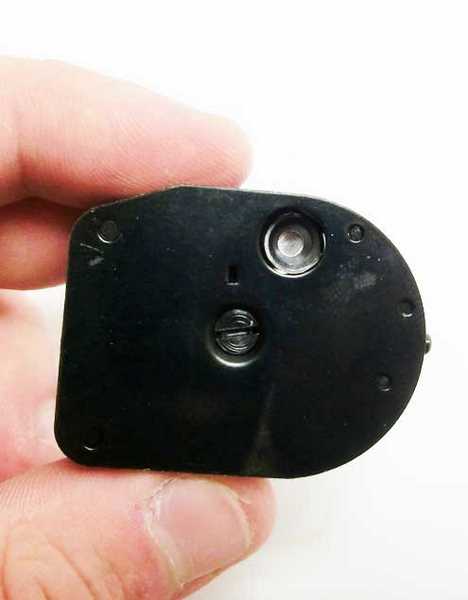 My thumb and index finger hold the magazine drum against spring tension.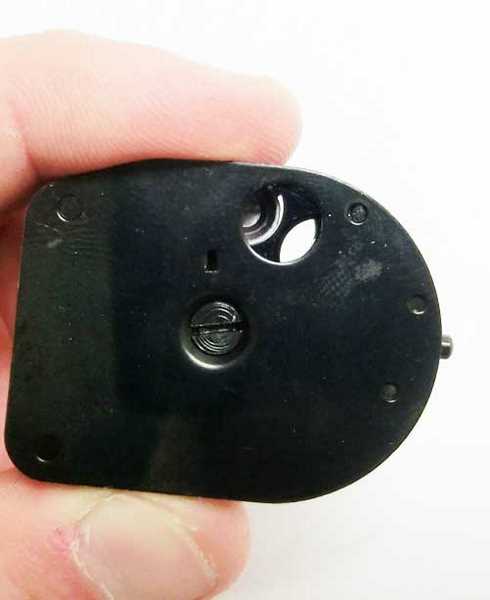 Here I show the drum not indexed. It takes only a little finger pressure for this control.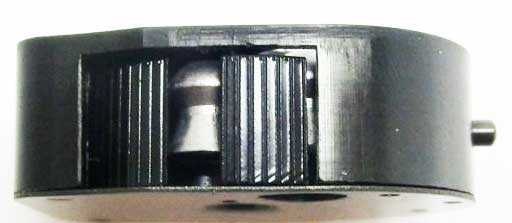 The mag drum is open on the side to allow the big .25-caliber pellets to fit.
The final change was the stock. The new stocks are being made by Minelli in Italy. For standard beech, the one I had was very impressive. It had great character and a very comfortable shape. The stock also had a very interesting reverse stippling in some areas. I'm not really sure if reverse stippling is the correct term for it, but that's the best I could come up with! It's almost as if Minelli removed a layer or two of wood and left things rough on the surface to give you more positive feedback when held. This definitely made an impact, as the areas of the stock where this was present were very tacky and really solid in my hand. The forearm is not too wide, and the relatively light overall weight of around 7 lbs. makes this gun an excellent choice for those walking the woods.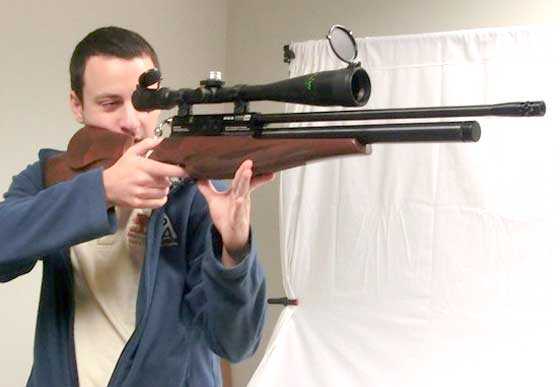 The rifle holds steady in the offhand position. It's lighter than it looks!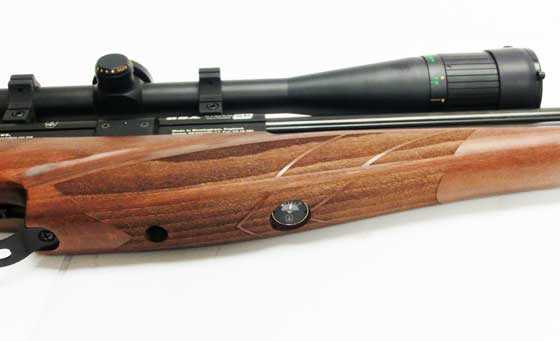 The wood stock is shaped well, and the odd stippling is very grippy.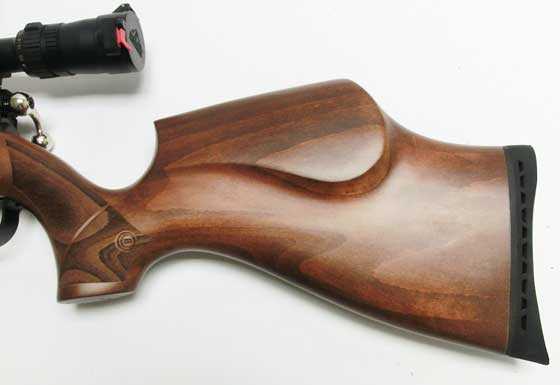 The butt is nicely shaped, and the wood is attractive.
Let's shoot
I chose to mount a scope that most would think is major overkill for a gun like the Scorpion SE. I went with a Bushnell Elite 8-32X40AO. This is a big scope that adds a lot of weight; but since I was shooting only benched groups, that was fine with me. It was also the only scope available at the time that I was comfortable with. All my good hunting optics were on guns and in use. That said, a gun like the Scorpion SE certainly warrants a nicer scope such as the Bushnell, and the extra magnification really gave me the ability to be as precise as possible when shooting my groups. Before we get to the group shots, though, let's have a look at some velocity numbers.
I shot eight different pellets for the test but decided to chronograph only three of them. BSA touts their new SE models as having a "self-regulated valve." There isn't an actual regulator in the gun, so I wasn't sure why they would refer to the valve design as self-regulated when that's normally how PCPs function. With an unregulated gun, you usually get more of a curve when you graph out your velocities, while a regulated gun gives you a very flat string until the gun falls off the reg. While the shot count was relatively low, it was extremely tight — maybe one of the tightest spreads from an unregulated gun I've seen. And that wasn't just from one pellet. Hunters could probably milk 20-25 shots from the relatively small air cylinder on the Scorpion SE.
The first pellet I ran over the chrony was the H&N Field Target Trophy which weighs in at 20.06 grains. [Editor's note: Depending on how you search for this pellet in Pyramyd Air's listings, one product name will state that it weighs 20.06 grains, and another will say it's 19.91 grains. However, on the actual product page, the name and description say it weighs 19.91 grains (which is correct). However, I left the weight at 20.06 grains for this report since all of Tyler's calculations are based on that number.] Filling the gun to 3000 psi delivered 17 good, consistent shots. We had a high velocity of 819 f.p.s., a low of 792 f.p.s. and an average velocity of 807 f.p.s. The extreme spread was 27 f.p.s., and the standard deviation was 8.4 f.p.s. Again, the low shot count is due to the smaller air cylinder, but it's much more consistent than most unregulated PCP guns I've shot. The Field Target Trophy pellets put out about 28.7 foot-pounds at the muzzle. For a .25-cal. PCP, this is very underpowered, and my only real beef with the gun. More power would sacrifice shot count further, and BSA opted to go for a moderate power level with a higher shot count.
Next up were the 25.4 grain JSB King pellets. These are widely considered the best .25-caliber pellets on the market — and for good reason. They preformed extremely well and also proved to be the most accurate pellet tested, but more on that in part 2. We got 15 good shots on a full 3000 psi fill with a high of 738 f.p.s., a low of 723 and an average of 731 f.p.s. The extreme spread was only 15 f.p.s., and the standard deviation was a mere 2.7 f.p.s. When you see a standard deviation that low, you often find accuracy follows closely behind.
That works out to 30 foot-pounds of energy at the muzzle for this pellet. It's more than enough for small game but very underpowered for that caliber. A 25-grain pellet moving in the low 700s in a gun sighted in at 25 yards has just under 3 inches of drop when stretching out to 50 yards. That's quite a trajectory curve, and it really shows just how under-used the caliber is in the Scorpion SE platform.
The final pellet I chronographed was the Beeman Kodiak at 31 grains. On a full fill, the gun produced 19 very consistent shots. The high was 672 f.p.s. and a low of 655 f.p.s., which averaged out to 664 f.p.s. We really see how going heavier eventually reaches a point of diminishing returns. I wouldn't consider the slight bump in muzzle energy to be worth it, as it only topped out at 30.3 foot-pounds. I'd rather run the slightly flatter-shooting JSB Kings and give up the measly 0.2 foot-pounds. But with only a 17 f.p.s. extreme spread and a standard deviation of 5.9 f.p.s., things looked promising for the accuracy testing.
We'll stop here and return in part 2 with Tyler's accuracy testing. There are some good groups coming!
by Tom Gaylord, a.k.a. B.B. Pelletier
This report covers:
• Here we go, again
• Out of the box
• Cocking
• Barrel bushings
• Scope base welds
• Pillar bedding!
• Good to go
• Crosman Premiers
• Beeman Kodiaks
• Crosman SSP
• Trigger
• Evaluation thus far
• Reminder from PyramydAir.com
Here we go, again
Today, I'm starting our look at the second Benjamin Trail Nitro Piston 2. This rifle was sent from Crosman to Pyramyd Air especially for me to test, so we know that it's the absolute best that they can do with the NP2 design. I'm not being sarcastic when I say that. I'm telling all the Crosman ankle-biters that I do acknowledge that this rifle has been thoroughly examined by Crosman before sending it to me — just to stop them from saying it. This is the same thing I recently did with the Daisy 880.
The first NP2 I tested came straight from the factory and was completely random. And you saw how well it turned out. You also saw that it needed a little time to break in before the cocking effort dropped to where we thought it should be. You also saw how I had to learn to hold the rifle for best accuracy. That shouldn't happen with this one because I know how to hold it now.
I do plan on installing the scope that comes packed with the rifle for my test. We had one negative reader comment about me switching the scope on the other rifle, and doing it this way should end that complaint.
Out of the box
Several of you asked me to go over the second rifle thoroughly to see how it differs from the first rifle I tested. This rifle is also a .22-caliber model in a wood stock; so from the outside, it appears very much the same. But one curious thing I noted is that this rifle does have a wood screw holding the front of the triggerguard to the stock. You may remember I showed you the other rifle didn't have the screw, even though the triggerguard has a hole for it.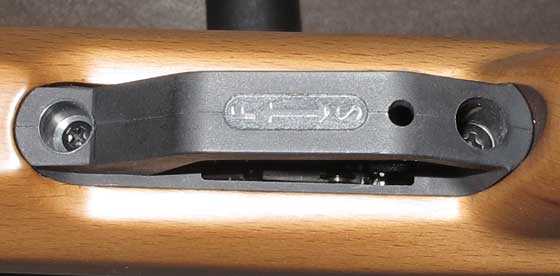 This photo shows both screws in the triggerguard.
I went over the entire rifle, looking for differences, but none came to light. I shined a tactical flashlight down the muzzle and noted that the baffles are not obstructing the muzzle. So, the rifle seems good to go.
Cocking
I cocked it, just to see how that felt, and I was transported back to the SHOT Show! This rifle cocks with between 25-27 lbs. of effort. I found the barrel pivot joint was too loose for the barrel to remain in place after the rifle has been cocked. You normally want it to stay in one place, but I say that advisedly, because this NP2 might teach us a thing of two. Crosman designed this rifle with a pivot bolt instead of just a plain pin, so the pivot joint can be tightened whenever necessary. I took the action out of the stock to do this, and that's when I noticed a number of things.

The NP2 barrel pivot bolt is slotted so it can be tightened. That wasn't necessary on the rifle I'm testing.
Barrel bushings
First, the barrel does indeed have a screw, but it was already tight on this gun. Then, I shined a flashlight through the action forks and the breech joint and noticed that there are probably bearings (what some would call shims) at the pivot joint. So, the barrel can be tight and yet still flop up and down after it's cocked. We need to learn from this; because if this rifle is accurate, Crosman has done something new. Their barrel may be looser than other breakbarrels of the past and yet still be accurate.
Scope base welds
The welds on the scope base are much more visible on this second test rifle. I know that Crosman did take action on this issue right away after the first guns were launched.


The scope base welds are much more visible on this new rifle. They're the bright lines under each foot on the base.
Pillar bedding!
Second, I found a u-shaped piece of steel on the floor after removing the stock. When I examined the stock, I found out what it is — pillar bedding! We've recently discussed this on this blog, and Crosman has apparently gone and done it. The interesting thing is that they didn't mention it in their advertising! How could they have missed announcing an important feature like this? Shooters are paying hundreds of dollars to have their rifles pillar bedded, and Crosman has gone and done it for free and kept it a secret!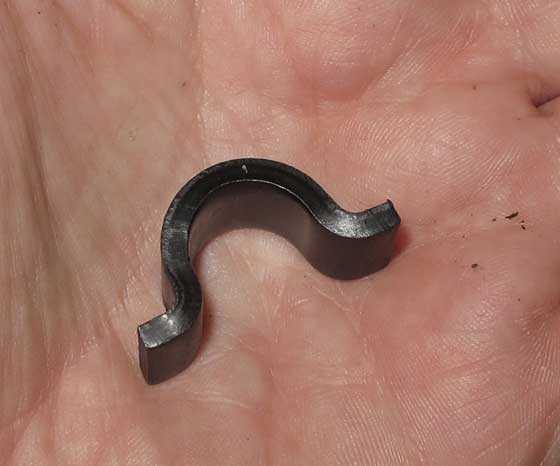 This u-shaped bushing or spacer serves as a pillar to separate the triggerguard screw from the action. This is pillar bedding on an airgun!

When the steel bushing is in the stock, it's impossible to over-tighten the rear stock screw. This is how pillar bedding works. It keeps the wood from being crushed.
The 2 forward stock screw heads bear directly against the wood of the stock, so they'll need washers to spread their load; but the NP2 is bedded better than 80 percent of the top-end spring rifles on the market.
Good to go
I assembled the rifle and found the barrel does not wobble side to side, yet it still flops after it's cocked. This means the barrel pivot joint is adding very little resistance to the cocking effort. Now, it was time to start the velocity test.
Crosman Premiers
The first pellet up was the 14.3-grain Crosman Premier that I believe will be one of the most accurate pellets for this rifle. Ten of them averaged 823 f.p.s. — a whopping 78 f.p.s. gain over the broken-in velocity of the first test rifle. And the cocking effort is still 5-7 lbs. lighter!
Best of all, Premiers varied by only 5 f.p.s. over the 10-shot spread — from 821 to 826 f.p.s. That's phenomenal! It's in PCP territory, and I'm talking about a regulated gun. At the average velocity, this pellet generates 21.51 foot-pounds of energy at the muzzle.
Beeman Kodiaks
Next, I tried 21.1-grain Beeman Kodiaks. As powerful as this rifle is, it should handle them okay. They averaged 646 f.p.s., which means a muzzle energy of 19.46 foot-pounds. The spread for this heavyweight pellet was 12 f.p.s., ranging from 639 to 651 f.p.s.
You might wonder why I didn't test the JSB Exact RS dome in this rifle since I did test it in the first rifle. The reason was the poor performance we saw in that first velocity test. I decided to switch to the Kodiaks rather than test a pellet that might not be suited to this powerplant.
Crosman SSP
The last pellet I tested was the 9.5-grain lead-free Crosman SSP pointed pellet. They averaged 1023 f.p.s. from the NP2, with a 55 f.p.s. spread that ranged from 992 f.p.s. to 1047 f.p.s. This is getting up close to the 1100 f.p.s. velocity that's printed on the outside of the NP2 box. At the average velocity, this pellet generates 22.08 foot-pounds of energy.
Trigger
The trigger on this new test rifle feels very similar to the one I tested on the first rifle. The first stage is long and heavy, measuring 3 lbs., 6 oz. to stage 2. Stage 2 was breaking at over 6 lbs. out of the box, but I adjusted it to 4 lbs., 4 oz., which is exactly the same as the first trigger. This is a very good trigger for a sporting airgun — especially considering the price!
Evaluation thus far
This is more like the rifle I shot back in January. I think anyone would be happy with this one; and if they aren't, then they should reconsider getting a gas-spring air rifle altogether. I sure hope this rifle is at least as accurate as the first one turned out to be.
Reminder from PyramydAir.com
Pyramyd Air's marketing department wants to remind our blog readers that today (Mon. 6/30/14) is the last day you can enter their Son of a Gun Giveaway for the June prize, which is the Benjamin NP Limited rifle!
They've now started their 4th of July countdown of deals! There's a special coupon that lets you combine a discount with their free shipping promotion and you'll get double Bullseye Bucks. Plus, more deals are going to coming via email. If you're not signed up to receive their email promos, go to Pyramyd Air's home page and enter your email address in the space to the left of the word SUBSCRIBE.
by Tom Gaylord, a.k.a. B.B. Pelletier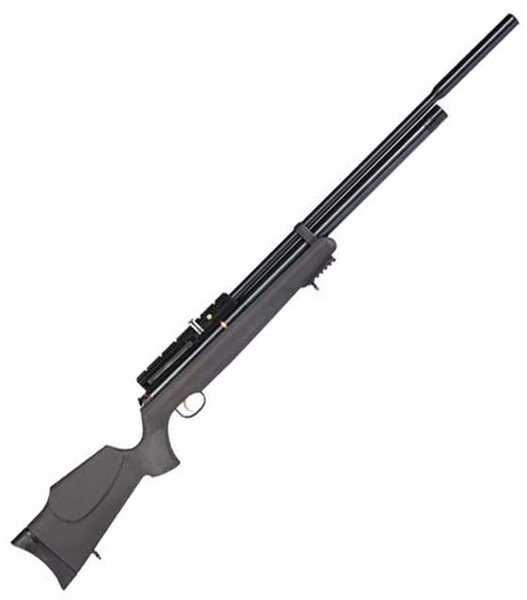 Hatsan's AT44-10 Long QE is packed with features for airgun hunters.
This report covers:
• First pellet
• What to look at
• Next pellet
• Last pellet
• Quattro trigger
• Discharge noise
Remember this report because I've done something with this rifle that I don't normally do. To save some time at the range, since good airgun range days in Texas are often hard to come by, I've already tested the Hatsan AT44-10 Long QE at 50 yards. I took it along last week when I was testing the Shamal, and the day was perfect for 50-yard shooting. I'm not going to tell you the results today; but when I do show them, a lot of you will be impressed.
Today is velocity day. Normally, I would have already tested velocity when I went to the range, but this time when I shot for accuracy I had no idea how fast this rifle was shooting. You can't tell from its muzzle report, either, because the AT44-10 QE is as quiet as a Benjamin Marauder. When I tested it today, Edith thought I was shooting the Benjamin Trail Nitro Piston 2 in my office, instead of a powerful PCP.
First pellet
The first pellet I tested was the 16-grain Air Arms Diabolo Field pellet, which is a dome. I'll show you the first 20 shots, then explain what I'm doing. The rifle was first filled to the recommended 2900 psi (200 bar).
Shot    Vel.
1………1003
2………1019
3………1018
4………1009
5………1003
6………1002
7……….994
8……….991
9……….987
10……..975
The average for this first string of 10 shots was 1000 f.p.s. The high was 1019, and the low was 975 — so the spread was 44 f.p.s. At the average velocity, this pellet generated 35.54 foot-pounds of muzzle energy.
The next 10 shots with the same pellet, and still shooting on the same fill, looked like this.
Shot    Vel.
11……..970
12……..960
13……..961
14……..953
15……..950
16……..948
17……..931
18……..930
19……..928
20……..923
The average for this string of 10 shots was 946 f.p.s. The high was 970 and the low was 923, so a spread of 47 f.p.s. At the average velocity, the pellet generated 31.8 foot-pounds on this string.
The spread for the entire string of 20 shots was from 923 to 1019 — which is 96 f.p.s. We will look at where the pellets impact on the target with this pellet for both strings in the next report. And, yes, I have focused on this specific pellet.
What to look at
I showed you these 20 shots for a reason. What you see is that the velocity drops from the first shot to the last, with a couple exceptions. Perhaps the maximum fill pressure of 200 bar is understated for the rifle I'm testing, or maybe my gauge doesn't agree with Hatsan's gauge for the starting pressure. Some shooters would be tempted to fill to a higher starting pressure to see how the power curve might change; but since I'm at the recommended maximum, I'll stay where I am.
The air reservoir had 1750 psi remaining after these 20 shots. That's about the maximum number of shots you can get with this pellet if you're looking for the best accuracy at 50 yards. If you confine your shots to 35 yards and less, I'm sure there are another 10 shots in the reservoir. The shot count depends on how you're shooting the airgun. Please keep this velocity relationship in mind as we proceed because I'm not going to record the velocity of the other pellets 20 times. But you know that the velocity will continue to drop with them just as it does with this pellet.
Next pellet
Next up were 28.4-grain Eun Jin domed pellets. We know that these heavy pellets will probably be the most powerful in this rifle because it's a pneumatic. Pneumatics usually do their best (achieve the most power) with the heaviest pellets.
This is a very long pellet that just fits in the circular clip, but it did fit and functioned fine. I filled the gun to 2900 psi, again, and shot 10 pellets that did the following:
Shot    Vel.
1……….892
2……….886
3……….882
4……….876
5……….869
6……….867
7……….863
8……….850
9……….852
10……..836
The average for these 10 pellets was 867 f.p.s. The high was 892, and the low was 836 f.p.s. — so the spread was 56 f.p.s. Again, the velocity dropped almost linearly; and at the end of 10 shots, the reservoir was holding 2250 psi. This heavier pellet used more air than the lighter Air Arms pellet that shot 20 shots and ended at 1750 psi. At the average velocity, this pellet generated 47.41 foot-pounds at the muzzle. Remember that number.
Last pellet
The final pellet I tested was the 11.9-grain RWS Hobby. The gun was filled to 2900 psi once more, and another string was fired.
Shot    Vel.
1………1128
2………1128
3………1123
4………1114
5………1110
6………1107
7………1103
8………1090
9………1087
10…….1078
The average for this string was 1107 f.p.s. The high was 1128 f.p.s., and the low was 1078 f.p.s. The velocity spread was 50 f.p.s. As with the first 2 pellets, the velocity fell off linearly. At the average velocity, this pellet produced 32.39 foot-pounds of energy at the muzzle. The reservoir pressure after this string was 2500 psi.
We've learned that lighter pellets will use less air than heavier pellets. If you just plink at distances below 35 yards, you can probably extend the number of shots per fill to 30. Hatsan says you should get 30-40 shots per fill, and that's about what I see from this test. I'm probably going to test it at only 50 yards, although I haven't yet made up my mind on that.
There doesn't seem to be a flat spot on the power curve. The velocity just drops from the first shot to the last. We'll see next time how that affects accuracy.
Velocity and power
Hatsan says you'll get up to 38 foot-pounds from this rifle in .22 caliber. In fact, I got over 47 foot-pounds, so they're being very conservative. They also say the top velocity with lead pellets should be 1070 f.p.s., yet I saw over 1100 f.p.s. with RWS Hobbys, which are lead. Again they are conservative. Hatsan has the reputation of advertising realistic velocities and power for their PCPs by using only lead pellets, and this test confirms that.
Quattro trigger
I adjusted the Quattro trigger and got it to my liking. Stage one now requires 1 lb., 3 oz. and stops at stage 2 most of the time. Stage 2 releases at 3 lbs., 4 oz. There were a couple times when the rifle fired before I could feel the trigger stop at stage 2. I think that may have been partly my inexperience with this trigger, but it made me more cautious. At any rate, the trigger is very adjustable and should please most sportsmen.
Discharge noise
The AT44-10 Long QE is an extremely quiet air rifle — especially when you consider the power. Stay away from pellets that go supersonic and you won't bother too many people when you shoot. It's quieter than most breakbarrel rifles. You should be able to shoot it without bothering the neighbors, unless they're listening for you to shoot.
So far, the AT44-10 Long QE is living up to its advertised potential. I just happen know the rest of the story as well; so, although I'll make you wait a while longer, this is going to be a story you will want to read. If you're looking for a quiet, powerful, accurate hunting air rifle, watch this test closely.
by Tom Gaylord, a.k.a. B.B. Pelletier
This report covers:
• Lots of interest
• Crosman's quality inspection
• Velocity testing
• Cocking effort
• Trigger pull. and adjustment
• Firing behavior
• Quiet
• Evaluation so far
There has been a lot of talk about the new Benjamin Trail Nitro Piston 2 since it showed up three weeks ago. Some of that talk has been critical of certain faults. And some of it has been the pile-on of people who just wait to say bad things about a company.
After the first part of this report went live, I received the following email from Jennifer Lambert — Crosman's vice-president of marketing.
"Tom, I have been reading and appreciating your reviews, the comments, and debate on NP2.  I just wanted to write and clarify some of your comments around the origin of NP2. In your review you imply that the NP2 guns are not made here and that is not accurate.
While it is true that we use a mix of domestically made and imported components in the gun, I can assure you that every gun is built and quality tested right here in the U.S. in our Bloomfield factory. I will snap and send you some photos of the line and would be happy to take you on a tour and personally introduce you to some of the workers on it. And as sales of the Trail ramp up and we bring out more new guns in the NP2 platform, the number of jobs based here will continue to grow
If you have any questions or would like to discuss further please let me know, and keep the analysis coming."


This is the wording that lead me to make my comment in Part 1.
I told Jennifer I would restate my initial report. You can see the wording on the side of the gun. When something is worded like that rather than saying Made in the U.S.A., it draws attention to itself. We know that the parts can be manufactured outside the U.S., then brought in and assembled here. Many airguns are made that way, and I was pointing out that apparently this is one of them. However, after rereading what I said in Part 1, I see that I did go over the line.
I stand by my statement that the phrasing on the rifle means that some of the parts are sourced from outside the U.S. I did not mean to imply that the NP2 was assembled in another country. If I gave that impression, then I want to set the record straight. I do believe that the NP2 rifle is being assembled in the U.S. from parts and assemblies that are sourced from a variety of places — some of which are in this country and others that are not.
Crosman's quality inspection
What Jennifer told me that I did not know was that Crosman does a quality inspection after assembly on each gun in their plant. I remember when they were launching the very successful Benjamin Discovery in 2007, Ed Schultz set up an assembly line in their New York plant that included a 24-hour pressure test for every gun they built. He said he did that until he was certain they were sealing the guns perfectly.
No company can afford to spend that much time on every airgun they make — it would break them. But when you're launching a brand new product that has the potential for huge sales and represents an important step forward for the company, you take such measures.
We did the same thing at AirForce Airguns when we launched the new Condor in 2004. I personally tested and recorded the velocity of the first 100 rifles until we were certain that what we produced would always exceed the performance parameters we advertised for the gun. When you're betting the farm on something, you take extraordinary steps to ensure your bet is a safe one!
Velocity testing
The first pellet I tested in the NP2 was the .22-caliber Crosman Premier, a medium-weight pellet. Ten shots averaged 793 f.p.s. with a spread from 767 to 807 f.p.s. So, a spread of 40 f.p.s. At the average velocity, this pellet produces 19.97 foot-pounds of energy at the muzzle.
The second pellet I tested was the JSB Exact RS dome. Since it weighs 13.43 grains, you'd expect it to go faster than the 14.3-grain Premiers; but these pellets averaged 752 f.p.s. in the NP2. The spread went from 741 to 764 f.p.s., so 23 f.p.s. At the average velocity, these pellets generate 16.87 foot-pounds of muzzle energy.
The third pellet I tested was Crosman's own SSP lead-free alloy pellet. At 9.5 grains weight, these are the pellets you'd expect to go the fastest. Crosman advertises 1100 to 1200 f.p.s. with alloy pellets for this rifle, depending on where you look. [Note: The box states 950 f.p.s. with lead, 1100 f.p.s. with alloy pellets. The Crosman website states 900 f.p.s. with lead, 1200 f.p.s. with alloy pellets.] In the test rifle, they averaged 949 f.p.s. and spread from 939 to 964 f.p.s. A 25 f.p.s. spread. At the average velocity, this pellet produces 19 foot-pounds of energy at the muzzle.
I know there will be a cry of "foul" on these numbers because of the advertised velocity, but in my opinion, this is exactly where I want this rifle to be. If it shoots this fast and is also accurate, the NP2 is definitely worth consideration. I'm on record as saying the same thing about the Walther LGV Challenger when I tested it back in 2013, so at least I'm consistent.
Cocking effort
I measured the cocking effort after publishing Part 1 and found it to be 38 lbs. But during this velocity test, it seemed like I was growing stronger. So I measured the effort again, and it still measures 38 lbs. What's different now is much of the cocking friction has gone from the stroke. It actually does feel lighter now than it did before.
How does that compare to other gas-spring rifles? The powerful ones cock with between 40 and 60 lbs. of force, so the NP2 is definitely on the lighter side. To put it into perspective, it cocks about like a Beeman R1 after break-in.
Trigger-pull
I said in Part 1 that the trigger-pull was creepy. So, I adjusted the single screw located behind the trigger. I unscrewed it about 2 full turns and the trigger became exactly like the one I tested at the SHOT Show. It now has a long first-stage pull that measures 3 lbs., 4 oz., then a crisp second stage that releases at 4 lbs., 4 oz. You can take up the first stage and just wait at stage 2 until you're ready to fire. Then, just one pound more fires the gun. I really like this trigger!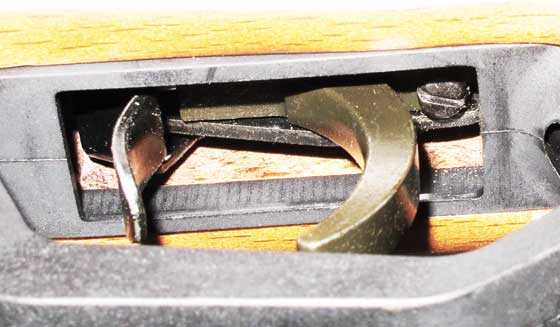 Turn the screw behind the trigger blade counterclockwise, and the first stage gets longer, while stage two becomes crisper.
Firing behavior
Experienced airgunners won't believe how smooth this rifle is. The pulse of the shot is strong (a strong two-way push), but there's no vibration. It's dead smooth! You would pay hundreds of dollars to get a coiled spring gun this smooth.
Quiet!
The test NP2 is very quiet! The shooter hears the noise through the stock against his face, but a bystander hears a much lower discharge sound. During velocity testing, I was also assaulted by the instant hit of the pellet in the trap in front of me. I suspect that when I shoot for accuracy, I'll get a better feeling for the sound.
Evaluation so far
I'm no longer at the SHOT Show. I'm in my office where I can control the testing and the evaluation. People are not telling me things — I'm finding them out on my own. And the Nitro Piston 2 I have is testing very well.
Sure you can make a big deal out of the velocity being lower than advertised. But I never wanted that advertised velocity to begin with. I wanted what this gun has — solid numbers in the 750-800s with practical .22-caliber lead pellets that I'll probably use.
The firing behavior and trigger are exactly as they were at SHOT, which is to say stunning for a gas-spring rifle of this power. Although the cocking effort measures higher than expected, it isn't bad for a spring rifle that shoots this fast.
Yes, there have been some quality problems in the first batch of guns that went out. There were cracks in some plastic parts and some scope bases fell off the guns. If that happened to you, you have every right to be angry; but the rest of the public should know that Crosman is doing something about it. Everyone who experienced a problem with their rifle will be taken care of by Crosman, and you can be sure that they're refining their in-house quality assurance program to correct future shipments. They want the NP2 to succeed because of how important it is to their business.
I want it to succeed for my own reasons. This is a $250 air rifle, and there aren't many of them around that have what this rifle has. We need a good gun in this price range, and I'm hoping the NP2 is it.
What remains to be seen is the accuracy. If this rifle is accurate, I will buy the one I'm testing because this is too important an airgun for me not to own.
by Tom Gaylord, a.k.a. B.B. Pelletier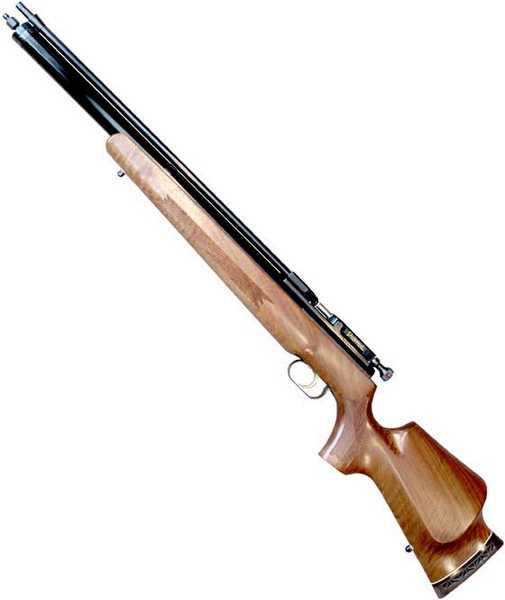 Air Arms Shamal is an attractive PCP. It was Air Arms' first precharged rifle.
This report covers:
• Trigger adjustments.
• Discovering the maximum fill pressure.
• Shot count.
• Velocity with various pellets.
• Discharge noise.
• Loading.
In this report, we'll discover the Shamal's pressure curve, which will be instructional for all who are new to precharged airguns. As I mentioned in the first report, this rifle didn't come with a manual; so when I got it, I had to discover the pressure curve on my own. I did, and it turned out the rifle wanted an initial fill pressure of 2,600 psi. That was on the gauge that was on the fill device that came with the rifle — the device that I no longer have. I need to find out where on the gauge of my carbon fiber tank the needle wants to be when the rifle is full. These small pressure gauges are not that precise, so the number could be off by several hundred psi. Also, the gauge on my carbon fiber tank isn't marked in hundreds of psi. There will need to be some interpolation involved.
More than a decade has passed since this rifle was mine. I'm not sure where it's performing today. So in all respects, this is a brand new air rifle to me. That will benefit you if you want to look over my shoulder while I do what needs to be done.
Trigger adjustments
Before I get into that, however, I first want to address the adjustable trigger. Shamals haven't been around for a long time and there isn't that much written about them. I want this report to serve as an owner's manual for all who get one in the future.
The Shamal came with two different triggers — a standard one that my rifle has and an Olympic trigger that sounds more adjustable, but which I know nothing about. My trigger has 4 adjustment screws. From the back to the front (holding the rifle on your shoulder) they are:
1. The sear engagement (clockwise to reduce).
2. The first-stage travel (clockwise to reduce).
3. The first-stage weight (clockwise to increase).
and in front of the trigger:
4. The second-stage weight (clockwise to increase).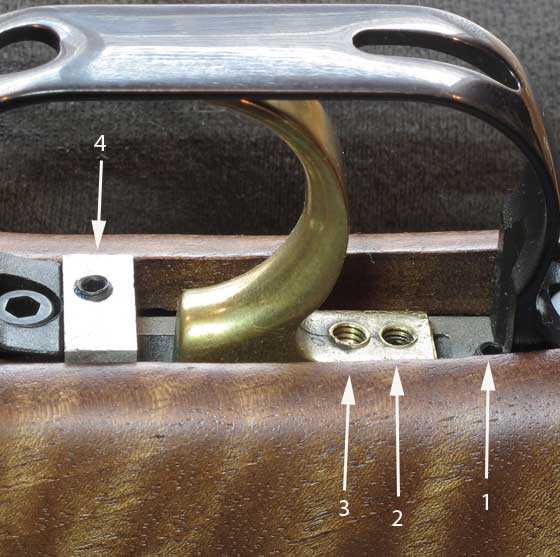 Trigger-adjustment screws: (1) Sear engagement, (2) first-stage travel, (3) first-stage weight and (4) second-stage weight.
When I tested the trigger with my electronic gauge, the firs-stage weighs just under 6 oz., and the let-off was between 12 and 14 oz. The first stage is long, which I like, and the release is as light as I like a trigger to be, so I'm satisfied with this trigger as it stands.
Discovering the max fill pressure
This is something that has to be done whenever a new gauge is used. I had data from previous tests that told me the fill pressure should be 2600 psi, so I filled from my carbon fiber tank to 2750 psi. That gave me the following velocities with the same 14.3-grain Crosman Premiers I used over a decade ago.
Shot Vel.
1     742
2    740
3    748
4    744
5    745
6    746
7    757
8    754
9    748
10   763
11   774
12  775
13   770
14   771
15   —-
16   772
17   —-
18   782
19   782
20   790
21   780
22   801
23   791
24   804
25   806*
26   793
27   800
28   799
29   801
30   —-
31   —-
32   782
33   788
34   778
35   775
36   775
37   769
*Fastest shot
The fill pressure at the end of this string was 1500 psi. This string tells me almost everything I want to know about this rifle. First, the fill pressure I used was way too high. I'll fill the gun again to a much lower pressure and see where that gets me.
Shot count
Next, there are just under 20 good shots on a fill — down from what I thought so many years ago. I like the velocity that runs from 780 to 806 — a spread of 26 f.p.s. Looking at the curve for Premiers, I should start with shot 18, although the shot before that didn't record, so I can't be certain whether it was any good or not.
If I end the string at shot 34, I'll get 17 full-power shots close to my desired range. What should the starting air pressure be? That's solved easily.
I'll guess that 2350 psi is the start point. I filled the rifle to that pressure and got the following results.
Shot Vel.
1     773
2     770
3     774
4     781
Okay, as the pressure inside the gun has decreased with each shot, the velocity has increased. The last shot was 781 fps, which is as low as I want the velocity to go on the power curve I'm willing to accept. The gun's reservoir pressure has now dropped to the maximum pressure that will give me a velocity on my desired power curve (781 fps).
The velocity of 781 is at the bottom of the power curve that I have identified for this rifle. Since my last shot was 781, the rifle is now on the power curve. The pressure in the reservoir is now at the highest it can be and still give me the velocity I want. From this point on, as the rifle's reservoir pressure drops, the velocity will either increase or remain stable. As long as it's at 780 fps or higher, the rifle is on the power curve I'm looking for.
Now I can find the ideal starting fill pressure for my desired velocity range. All I have to do is start to fill the airgun, again. When the needle stops moving fast, indicating the fill hose is full and the gun's intake valve has just opened, I stop the fill by closing the tank's valve and look at the needle. The needle is pointing at the air pressure that is in the gun's reservoir. I can see on the gauge that this rifle likes a starting fill pressure of 2250 psi!
To confirm that I'm right, I fired one more shot with Premiers. It went 781 f.p.s. Bingo! I'm right at the start of the power curve, with at least 16 more good shots in the reservoir.
I also discovered that the rifle performs very much the same as it did long ago. I'm using a different chronograph, yet the velocities from the late 1990s and today are within a few f.p.s. of one another.
The power curve I've accepted gives me an average velocity of 792 f.p.s., which is good for 19.92 foot-pounds of muzzle energy.
Other pellets
I will now test the velocity of other pellets, but I'm not going to shoot long strings and get the averages. I will shoot 2 of each pellet and take the lowest velocity of each pellet as the average for that pellet. While that's not exact, it's far faster than shooting whole strings and averaging. I know I'm on the power band for the next 16 shots; and if I use even fewer than 16 shots (4 pellets x 2 shots each = 8 shots), I can be sure that all of them are on the power band. The power band is the place where the velocity of any pellet will vary the least.
Eun Jin domes
This 28.4-grain Eun Jin dome pellet gave me velocities of 592 and 586 f.p.s. Taking the lower number as the average, I get a muzzle energy of 21.66 foot-pounds.
Beeman Kodiaks
The Beeman Kodiak pellet weighs 21.14 grains and gave me velocities of 683 and 680 f.p.s. That's very close to the "magic" velocity of 671, where the weight of the pellet in grains equals the energy in foot-pounds. Using the low figure of 680 f.p.s., this pellet gave an energy of 21.71 foot pounds at the muzzle.
JSB Exact Jumbo Monsters
Next, I tried JSB Exact Jumbo Monsters — a 25.4-grain pellet. They gave me velocities of 584 and 611 f.p.s. Using the lower number, that's a muzzle energy of 19.24 foot-pounds.
The bottom line is that this Shamal is a 20 foot-pound air rifle as it's operating now. That's what it was when I owned it in the 1990s. So, the rifle hasn't changed, but the gauges have changed and so has my perception of the total number of shots that are available. So, this update was important to the operation.
Discharge noise
I don't know what I was thinking when I reported the Shamal as a quiet air rifle before, but it isn't. It sounds exactly as loud as a .22-caliber Benjamin Discovery running at the same power.
Loading
Someone asked about the loading room at the breech, and on this rifle there's a generous amount. There's no loading trough, so it's easier to get your fingers behind the breech with a pellet. And all pellets load easily because there's no rifling at the breech. Rifling doesn't start until after the air transfer port, which is deep inside the breech. The bolt nose has a long probe that pushes the pellet past the air transfer port and into the rear of the rifling.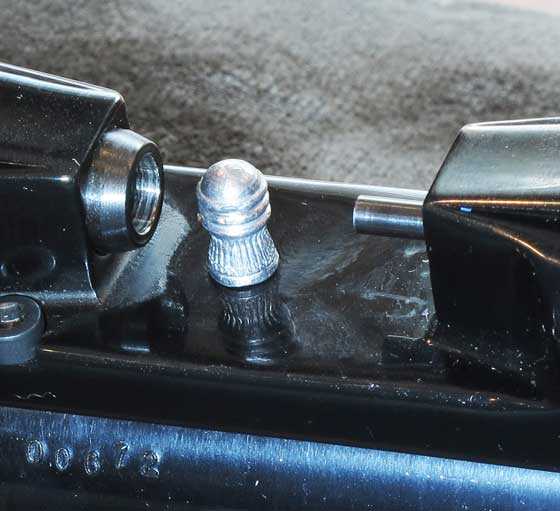 That's a 28-grain Eun Jin standing on the receiver. It's one of the longest .22-caliber pellets around. As you can see, there's plenty of room at the breech.
That's it for this look. Next time I'll scope the rifle and head to the range.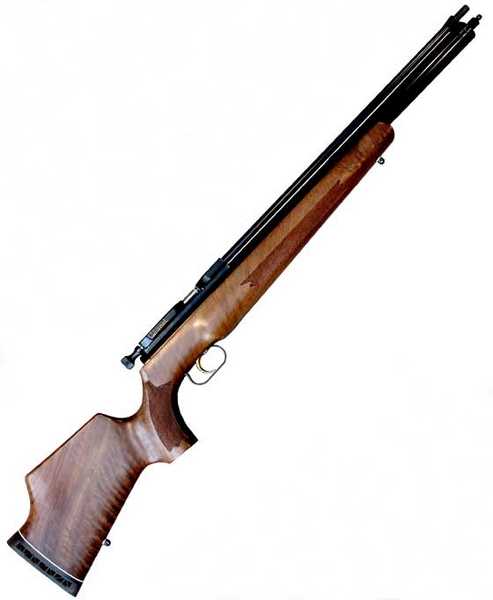 by Tom Gaylord, a.k.a. B.B. Pelletier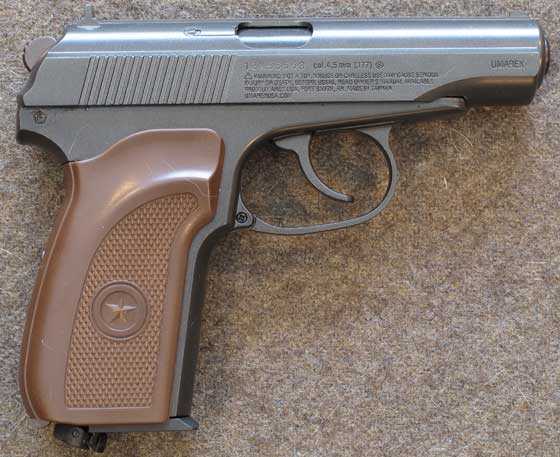 Legends Makarov Ultra is very realistic!
This report covers:
• Single-action trigger.
• Charging.
• Loading.
• Velocity.
• Blowback.
• Slide remains back when magazine is empty.
• Shot count.
Let's look at the velocity of the Legends Makarov Ultra BB pistol. Because the gun has blowback, I'll also report how that works.
Umarex is currently making a huge marketing push on their lookalike airguns and the undisputed leader in airguns that look like firearms. The Makarov Ultra is one of their latest and greatest new products.
Trigger
A firearm Makarov has a trigger that's both single-action and double-action. Single-action means the hammer must be cocked for the gun to fire, and the blowback action of the slide accomplishes this. But for the first shot, you must manually cock the hammer, because, unlike the firearm Mak, the trigger on this pistol will not cock the hammer on its own. The Makarov Ultra trigger is not double-action.
The trigger-pull, however, is quite odd. A single-action trigger is traditionally light and crisp. The Makarov Ultra trigger, however, pulls through a long arc, and the pull force increases as the trigger nears the end of its arc. It feels like a double-action trigger, even though by strict definition it's single-action because the hammer must be cocked separately.
The trigger is not objectionable, nor is it too heavy. It just doesn't feel like a conventional single-action trigger.
Charging the pistol
The pistol is charged by a conventional 12-gram CO2 cartridge. The cartridge fits into the magazine that drops from the Makarov's pistol grip. Because the Makarov has a magazine release located behind the rear of the magazine floorplate, it's not convenient to release from the pistol and requires the use of 2 hands to do the job.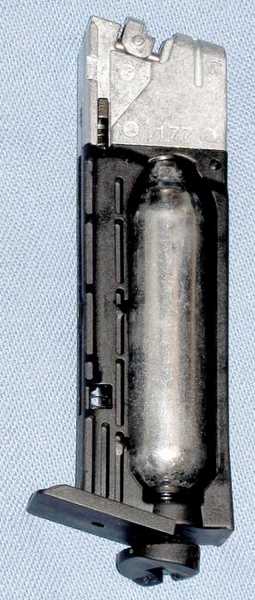 Like many BB pistols, the Makarov Ultra's magazine houses the BBs, CO2 cartridge and the gun's valve.
Once the magazine is out of the pistol, the CO2 cartridge installs easily and is tightened in place by the tension screw on the bottom of the mag. The piercing went so fast there wasn't even a telltale hiss of gas that escaped the cartridge. Naturally, I put a drop of Crosman Pellgunoil on the tip of the cartridge before installing it.
Loading
The stick BB magazine loads very easily. I put the base of the mag up on a small ledge to elevate it and pulled the follower down to its locking point. A funnel-shaped hole on the magazine is where the BBs are fed in. If the magazine is sloped forward just slightly, up to 16 BBs drop in and roll forward with ease. This is perhaps the fastest-loading stick magazine I've yet encountered.


With the bottom (floorplate) of the magazine elevated slightly, the BBs drop easily through the widened hole and roll out of the way.
Velocity
Umarex rates the Ultra pistol at 350 f.p.s., and I found the rating to be slightly conservative. I started shooting BBs with the first shot out of the pistol, and the first few shots with a 12-gram cartridge are almost always above the expected average. Let me show you 10 shots from the first string of 16 BBs that were fired. Several BBs failed to trigger the chronograph's skyscreens, but all 10 shots came from the first string of 16 BBs fired from the gun.
Shot Velocity
1       370
2       372
3       364
4       360
5       344
6       350
7       349
8       344
9       346
10     342
I allowed at least 10 seconds between each shot, except for between shots 4 and 5. There were several BBs that failed to trip the skyscreens between those 2 shots and I didn't allow as much recovery time. The average for these 10 shots is 354 f.p.s., with a variation of 28 f.p.s.
The next 10 shots are much more telling. This time I allowed at least 15 seconds between each shot, and when they failed to trigger the skyscreens, I still allowed the time.
Shot Velocity
1       383
2       352
3       374
4       364
5       361
6       358
7       360
8       355
9       356
10     353
This time, the average velocity was 362 f.p.s. and the spread was 31 f.p.s. That means the average went up with the second 16 shots. Notice how fast that first shot is? The gun had laid dormant for at least 10 minutes after the first string. All of this is on the same CO2 cartridge.
Blowback
The Makarov Ultra is a lightweight BB pistol, so the blowback is pretty snappy. It feels very much like shooting a firearm.
Slide remains back
After the last BB has been fired, the slide remains back, making it obvious the gun is out of ammunition. This is the same thing the Makarov firearm does.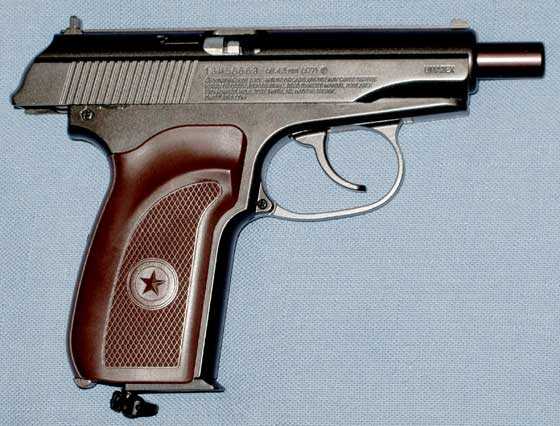 The slide stays back when the magazine is out of BBs.
Shot count
Besides velocity and how well the blowback works, another important performance parameter is the number of shots you can expect to get from a CO2 cartridge. For the first 2 magazines, I was conserving gas unrealistically, just to get an idea about the velocity potential. So, I shot the entire third magazine the way a shooter might — pulling the trigger as fast as I could. That took the total count up to 48 shots. On the fourth magazine, I slowed down to one shot every 10 seconds and got an average velocity of 320 f.p.s. The numbers declined steadily as these shots were fired. So the gun was running out of gas. But that's still a shot count of 64 on one cartridge.
Blowback was still strong through magazine 4. On the fifth magazine, though, the gun started to sound weaker almost immediately. And on shot 9, the slide failed to cock the hammer for the first time. Therefore I think it is safe to say the Makarov Ultra will give you 4 good magazines on one CO2 cartridge.
Accuracy testing will come next. I hope the Makarov Ultra is an accurate BB pistol because its manual cousin — the gun that doesn't have blowback — is legendary!