Posts Tagged 'velocity test'
by Tom Gaylord, a.k.a. B.B. Pelletier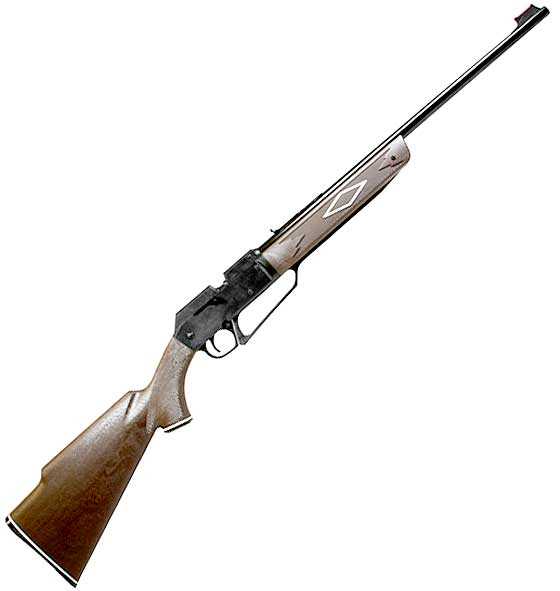 The Daisy 880 multi-pump is a classic.
Today, we'll look at the velocity of the Daisy 880 multi-pump pneumatic. The test didn't go as I expected it to, so stick around and learn something new with me.
Oil the pump head
Before I started the test, I oiled the 880′s pump head with several drops of Crosman Pellgunoil. I do that whenever I want to get the maximum performance from a multi-pump pneumatic, because the oil seals the pump head, allowing it to build more pressure.
First test — velocity per pump stroke
This is a test I recommend to all multi-pump owners. You test the velocity of your gun with differing pump strokes — from the lowest number recommended in the manual, which is 2 in this case, to the highest number, which is 10. [Note: In part 1, I stated that the minimum number of pumps was 3. It's actually 2, and the Pyramyd Air website has been corrected to reflect that.] For this test, I also did 11 and 12 pump strokes to see if the gun had even more velocity.  The results were revealing. I'll discuss them in a moment.
The pellet I used was the 7.9-grain Crosman Premier dome. Any pellet will do, but it helps if you always pick the same one in case you ever want to compare one gun to another.
Stroke    Velocity
2                332
3                448
4                499
5                530
6                562
7                574
8                595
9                601
10*           616
11*            617
12*           607
* No air remaining in the gun after this shot.
For those who may be new to multi-pumps, notice that as the number of pump strokes increases, the amount of the velocity increase grows smaller. If you were pumping the gun, you would have noticed that after the fourth pump stroke (from 5 strokes on) the pump handle jumped out when I pulled it for the next stroke. Compressed air is remains in front of the pump head and does not enter the gun's reservoir. As the pressure inside the reservoir builds, it holds the inlet valve closed a little harder each time; so, more compressed air fails to enter the reservoir. This phenomenon is common to all multi-pumps, and many of the more expensive ones have (or used to have) adjustable pump heads that minimize this; but the 880 doesn't have any adjustment.
Note that there's no air remaining in the gun after a shot was fired on 10 pumps. That means the gun is able to exhaust all the compressed air. From the velocity chart, we learn there's no value in pumping the gun more than 10 times.
Consistency
This is where I learned a couple big lessons about the 880 — or at least about my 880. Normally, a multi-pump is very consistent. The same number of pump strokes will give nearly the same velocity every time, as long as the same pellets are used. I'm used to seeing a velocity variation of about 5-8 f.p.s. over a 10-shot string. But not this time!
The 880 gave an average of 469 f.p.s. for 10 shots with 5 pump strokes. If you look at the string before, however, you'll see that this velocity is well below what I got with 5 pump strokes (530 f.p.s.) and the very same pellet. Even stranger is the fact that, on this test, the velocity spread went from a low of 441 f.p.s. to a high of 502 f.p.s. That's a variation of 61 f.p.s. over 10 shots. And not one of those 10 shots went as fast as the same pellet did on 5 pump strokes in the previous test!
The Daisy 880 varies greatly in velocity from test to test. You may think this is because my 880 is an older one. I can't argue that. If you want to run the same test with a more modern 880 and submit your results, I'd be glad to see them, but please back up any claims you make with chronograph results.
RWS Hobby pellets
Next, I tested the rifle with RWS Hobby pellets fired on 10 pumps. These pellets averaged 600 f.p.s.; but, once again, the spread was very large. The low was 559 f.p.s. while the high was 643 f.p.s. That's a variation of 86 f.p.s.
How fast will it shoot?
I tried a string of Crosman Super Sonic pellets on 10 pumps. They averaged 690 f.p.s. Again, the spread was very large — from 648 to 722 f.p.s. That's 74 f.p.s. I only did this to see how fast the gun could shoot. The owner's manual online says the maximum is 715 f.p.s with pellets, and we saw just a little more. So, that claim is right on.
Daisy BBs
Finally, I tried the rifle with Daisy Premium Grade BBs. On 5 pumps, they averaged 578 f.p.s. with a low of 565 and a high of 586 f.p.s. On 10 pumps, they averaged 644 f.p.s., with a low of 632 and a high of 657 f.p.s. So the gun is much slower than advertised (750 f.p.s.) with BBs, but the velocity spread is a lot less than it is with pellets.
Impressions
I was surprised by the large velocity variation I saw with the 880. This is not just the largest variation I've ever seen with a multi-pump, it's many times larger than the next largest variation. Multi-pumps are very consistent, in my experience.
Will this large variation have any affect on accuracy? Probably not at 10 meters, but it almost certainly will at 25 yards. I plan to shoot the rifle at both distances, so we shall see.
by Tom Gaylord, a.k.a. B.B. Pelletier
AirForce Escape: Part 1
AirForce Escape: Part 2
AirForce Escape: Part 3
I'm testing 3 AirForce guns together — the Escape, the EscapeUL and the EscapeSS. All 3 are based on the same powerplant that is derived from the TalonP pistol. That's why I am grouping them together like this. But each rifle has its own unique characteristics, too. And this is our look at the EscapeUL, which is the ultralight version of the rifle. It's the lightest of the 3 air rifles and comes in either .22 or .25 caliber. I'm testing a .25.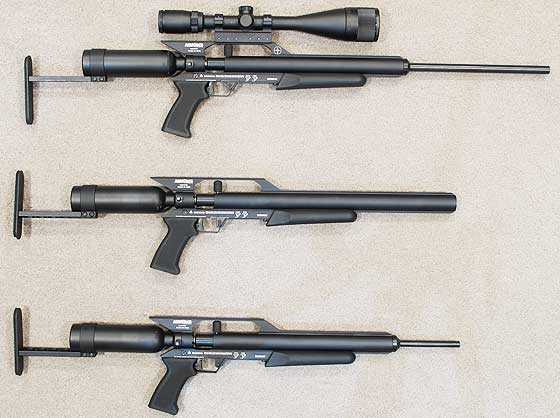 Escape on top, then Escape SS and finally Escape Ultralight on the bottom.
As you will remember, the Escape is a collaboration between AirForce Airguns and Ton Jones, the star of television's Auction Hunters. Ton had the requirement for a survival airgun and came up with the idea of putting a longer barrel on the TalonP pistol action, and AirForce did the engineering and development that turned it into a production rifle.
What does survival mean?
Survival is a word that's charged with emotion, so the definition depends on the person who is using it. For many people, the term connotes a human wave attack with bullets and missiles flying everywhere — a last stand at the Alamo. But is that what survival really means? If you're in the Alamo at that moment, I guess you would agree with that definition, but most of us will thankfully never be in that situation. But every year, millions of people are thrust into real survival situations.
Hurricane Sandy, a force 5 tornado, a blizzard that won't stop or just having your truck break down 20 miles off Old Lincoln Highway outside Ely, Nevada, in the late summertime can all qualify as survival situations. Maybe all you have to do is hold out for 2 days before someone comes looking for you. You were exploring an old ghost town, and now they want to add you to the town rolls!
You don't need a track-mounted machine gun or a Patriot missile launcher, but it sure would be nice to know you could defend yourself if a wild dog showed up! Or, if you had some way of popping one of those elusive prairie chickens that run along the ground and seem to stay just outside throwing distance. So, in your truck, along with the extra water, gasoline, MREs and sleeping bag (with cot, for this is the desert) you have a small canvas bag. Inside is a scoped EscapeUL, a hand pump and a tin of pellets. The rifle has been sighted-in, but you check it with one shot at an MRE wrapper stuck on a creosote bush 40 yards away — just to be sure. Then lay the rifle on top of the bag on the ground and put 10 pump strokes back in — 7 to get the air line up to pressure and 3 for the shot you just fired — and everything is good to go. The bag weighs 12 lbs., total, and has straps for shoulder carry. That's what we mean by a survival airgun.
We took a good look at the Escape rifle for both power and accuracy and found that it can be plenty accurate when you use the right combination of pellets and pressures. Ton has pronounced it good to go, and his logo is on every Escape made.
The EscapeUL, however, is an AirForce idea. Ton knows about it and did test it, but it doesn't bear his logo. It has slightly different features for a person with slightly different needs.
The EscapeUL is designed to remove all unnecessary weight from the rifle, while retaining as much of the power as possible. It has an 18-inch barrel instead of the Escape's 24-inch barrel, so some velocity is lost. We'll see how much in a moment.
The barrel isn't just shorter, it is also thinner. Instead of a nominal 16mm diameter for the Escape barrel, the UL barrel is just 12mm. That diameter is only nominal. Some comes off when the barrel is ground before bluing. The barrel on my test rifle measures 0.477 inches across, which translates to 12.1158mm.
The net weight of the EscapeUL is 4.25 lbs., making it several pounds less than most precharged rifles and even less than some of the lightest ones.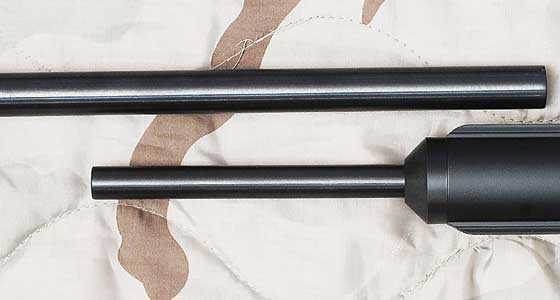 The EscapeUL barrel (bottom) is thinner than the Escape barrel, saving weight.
Of course, we all want to know what a thinner barrel means as far as accuracy goes. That test will be next. But now, let's take a look at power.
The EscapeUL shares the same 213cc Spin-Loc air reservoir as the Escape and TalonP pistol, so the number of shots per fill is going to be about the same. Physics being what they are, we already know what to expect. The powerplant is also the same. The same valve in the tank and same striker weight and spring tension will give similar performance. It's the 18-inch barrel that makes the difference.
With the heaviest .25-caliber pellet, which is the Eun Jin pointed pellet that weighs 43.2 grains, the maximum velocity in the 18-inch barrel is about 910 f.p.s. The 24-inch Escape barrel gave a maximum of 1010 f.p.s. with the same pellet, so the UL barrel loses about 100 f.p.s. In term of muzzle energy, that's 79.46 foot-pounds on the first shot, compared to the 97.88 foot-pounds for the Escape.
As with the Escape, the velocity drops with each succeeding shot. By shot 5, the velocity will be down to 855 f.p.s. That carries an energy of 70.14 foot-pounds.
In .22 caliber, the energies are all lower because the pellets are lighter. With a 28.4-grain Eun Jin dome the maximum velocity is 980 f.p.s. on the first shot. That's 60.58 foot-pounds of muzzle energy. By shot 5, the pellet leaves the muzzle at 900 f.p.s. and generates 51.09 foot-pounds.
You can discuss their performance in several different ways; but to my way of thinking, the Escape rifles are best in .25 caliber. I'm glad that's the way I will be testing this one.

The AirForce EscapeUL is a lightweight PCP with the Escape powerplant. The shorter slender barrel reduces the weight.
The trigger, adjustable stock, automatic safety and scope mounts are identical to those found on the Escape. It's plenty for a scope, scope level, tactical flashlight and laser. There's even enough for a coffee grinder, if you can find one that will fit!
Some thoughts
I've already been asked if the Escape rifles will run on CO2. They should, but it will need to be tested to say for sure. Since they were not designed to operate on CO2, I'll have to find a way of filling the reservoir. No CO2 coupling I know of will mate with an air coupling, so it may take me some time to work it out.
I've also been asked on the back channel how quiet these airguns can be. Quite frankly, I don't know. Given all the technology in the world, they can probably be made quieter than a Marauder; but once I answer that, the next question will be if all that technology can be reduced in size to fit in a pocket! We criticize the U.S. Air Force for asking that everything be made from unobtainium (strongest metal known whose forms weigh nothing and add lift to airframes), yet we do the same thing when it comes to powerful airguns. "Great," we say, "but can they also be quiet and get lots of shots, too?"
There's survival and then there's daydreaming. We're talking survival here.
by Tom Gaylord, a.k.a. B.B. Pelletier

The Lightweight Disco Double in its new stock looks striking!
Okay, all joking aside — today, we'll look at the performance of the Lightweight Double Disco that Lloyd Sikes built. Lloyd tested this exact rifle when it was still in its factory original condition, so we can compare that to the performance of the rifle after the conversion. I was pleased to see that my chronograph results and Lloyd's are very close.
Before the conversion, the stock Benjamin Discovery accepted a fill to 2,000 psi. From that fill, the rifle got 21 shots of .22-caliber Crosman Premiers at an average 845 f.p.s., which works out to an average 22.7 foot-pounds. Lloyd did get more shots in his string, but he discounted all those that were not within 4 percent of the average velocity. That's a subjective choice, but it's what drives the numbers Lloyd is giving us for the factory rifle. The maximum velocity spread in this string of 21 shots was 40 f.p.s., with a low of 820 f.p.s. and a high of 860 f.p.s.
After the Lightweight Double Disco conversion, Lloyd shot the same Crosman Premier pellets on a similar 2,000 psi fill and got a string of 33 shots at an average 849 f.p.s., for a muzzle energy of 22.9 foot-pounds at the average velocity. Again, this number includes all shots that fell within 4 percent of the average velocity. The maximum variation in this string of 33 shots was 34 f.p.s., with a low of 831 f.p.s. and a high of 865 f.p.s.
The shot count made possible by the Lightweight Double Disco conversion went from 21 to 33 shots. The average velocity did increase by 4 f.p.s., but I wouldn't concentrate on that because these numbers will change a little each time you record them. Essentially, the gun shot this pellet the same before and after the conversion — it simply got more shots after.
What did I get with Premiers?
I filled the rifle to about 2,100 psi because I wasn't sure that my best pressure gauge agreed exactly with Lloyd's gauge. I wanted to start in a slightly valve-locked posture and move up into the power curve as I went, and that's exactly what happened. Here's my shot string.
1-20     21-40      41-end
802      856          836**
822      856          832
817       852          828
826      852          825
831*     857          824
831-     855          820
833      857          816***
837      853         STOP (47 shots)
842     853
842     860+
846     853
848     855
849     848
852     848
850     842
851      848
852     840
851     843
847     838
851     839
- Slowest shot in acceptable string
+Fastest shot in string
* First gauge photo
** Second gauge photo
*** Third gauge photo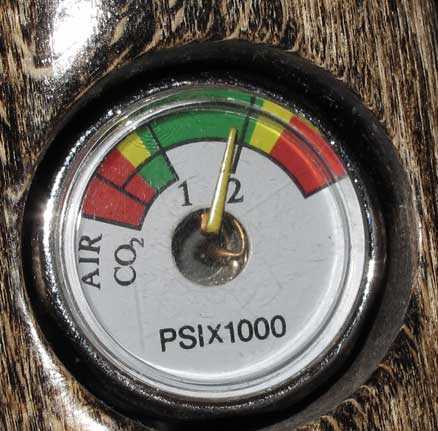 This is where the needle was just before the fifth shot in the string was fired.

This is where the needle was after 41 shots had been fired.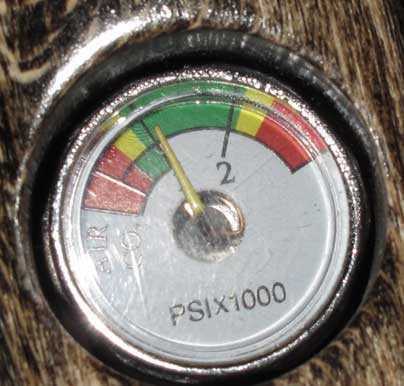 This is where the needle was after 47 shots.
If I accept the shots in this string starting at No. 5 and continuing through No. 41, I get 37 shots. They'll have a maximum spread of 29 f.p.s., with a low of 831 f.p.s. and a high of 860 f.p.s. If I'm more critical and start with shot No. 8, which went 837 f.p.s., and still stop at shot 41, the total is 34 good shots, with a maximum spread of 24 f.p.s. The low in this string is 836 f.p.s. and the high is 860 f.p.s.
Do you see how this works? It's entirely subjective. I'm deciding what to accept and what to reject. Once I start accepting shots, though, I keep on shooting until the last shot in my acceptable string has been fired. I can't ignore any shots in that string because I won't be able to chronograph my shots when I'm shooting in the real world, away from the chronograph.
You must pick the starting and ending points that you feel are best for what kind of shooting you want to do. That's why a chronograph is so essential to the owner of a PCP. If I were to shoot this same string again with the exact same starting pressure, which is very difficult to control, I might get numbers that are similar but slightly different from these.
Baracuda/Beeman Kodiaks
Next we will look at the performance with .22-caliber H&N Baracuda pellets. Lloyd tested the rifle with them, but I didn't have any .22-caliber Baracudas on hand, so I substituted the Beeman Kodiak, which is the same pellet under a different name.
With the Discovery in factory trim on a 2,000 psi fill, Lloyd got a string of 22 shots that averaged 717 f.p.s. They produced an average muzzle energy of 24.2 foot-pounds (compared to the 22.7 foot-pounds produced with Premier pellets in the factory trim). Heavier pellets will almost always produce more energy in a precharged rifle. The maximum velocity spread with the Baracuda pellet in the factory Discovery was 29 f.p.s. The low was 697 f.p.s. and the high was 726 f.p.s.
The Lightweight Disco Double conversion running on the same 2,000 psi fill with Baracudas gave a string of 38 shots that averaged 713 f.p.s. The low was 699 f.p.s. and the high was 729 f.p.s., so the spread was 30 f.p.s. The average muzzle energy was 23.9 foot-pounds.
Baracudas got more shots per fill than Premiers
With Baracudas, Lloyd got 22 shots per fill in factory trim and 38 shots with the Lightweight Disco Double conversion. In both cases, the rifle gave more shots per fill with the Baracudas than with the Premiers. My thinking is that the heavier, slower pellet holds the valve open a bit longer and is able to go to lower pressure before it falls off the power curve.
What did I get with Beeman Kodiaks on a 2,000 psi fill (refer to the first photo of the pressure gauge to see where I actually stopped the fill)?
1-20      21-40      41-end
702        712          701
699-      720          693
707        716          695
714        718          696
709       714           683
719       726           STOP (45 shots)
717       728
711        725
723       722
718       709
711        709
715       712
728+     708
728       716
712       721
716       711
717       718
719       715
724       715
718       707
- Slowest shot in string
+Fastest shot in string
While this string has fewer shots than the first one with the Premiers, there are actually more usable shots here because I learned where the needle on the gauge had to be in the first test. No air was wasted at the start of this string. I would accept everything from shot No. 1 through shot No. 41, giving me a total of 41 usable shots, with a spread of 29 f.p.s. The low was 699 f.p.s. and the high was 728 f.p.s.
I got more usable shots from Beeman Kodiaks than from Premiers, just like Lloyd did with H&N Baracudas. Our data seems to agree very closely. Lloyd's low velocity was 699 f.p.s. and so was mine. Lloyd's high was 729 f.p.s. and mine was 728 f.p.s. How is that for consistency? As I said, the H&N Baracuda and Beeman Kodiak are the same pellet.
Analysis thus far
The Lightweight Disco Double increases the useable shot string significantly, even though the rifle is no larger nor heavier than a factory Discovery. You can tell from a glance at the onboard pressure gauge if the rifle is still on the power curve, so there's no need to count the shots.
All of what you have seen to this point was done with the stock Discovery striker spring (0.035″wire, 0.289″ OD, 1.99″ long , 16.5 coils) in place. But Lloyd also provided and tested a heavier striker spring (0.041″ wire, 0.300″ OD, 1.78″ long, 19 coils) that gives both the factory Discovery and the Lightweight Disco Double conversion more power.
To see what the heavier striker spring can do with Baracuda pellets in the Lightweight Disco Double, Lloyd recorded that the average velocity climbed from 713 f.p.s. to 764 f.p.s. That is an energy increase from 23.9 foot-pounds to 27.5 foot-pounds. The total number of shots dropped back from 38 to 25 shots. This shows how the Disco Double allows the power to be increased, and the total shot count to remain the same as the less powerful factory gun.
Trigger
I haven't reported on the trigger, yet. You may recall that I had Lloyd install an optional trigger from a Benjamin Marauder. Lloyd told me in a message that it's set for a light first stage, and then an extremely light second-stage pull. I found at first that it was so light that I pulled straight through both stages without recognizing stage 2. But when I adapted to it, it's really not as sensitive as a 10-meter target pistol trigger. Stage 1 takes 14.4 oz. of effort; and stage 2, while recognizable, does not increase the number on the electronic scale. It's on the order of 10 grams or less.
Summary
So far, I'm delighted with the Lightweight Disco Double. If it turns out to be accurate, it could become my go-to PCP!
by Tom Gaylord, a.k.a. B.B. Pelletier

The Lightweight Disco Double in its new stock looks striking!
I'd planned to report on the velocity of the Lightweight Disco Double today and, as good fortune would have it, the new stock arrived yesterday! So, I installed it and took a photo for you to see. I think it looks fabulous!
This stock was made by Normand Morin who has a website at Discos R Us. The wood grain is a very striking brown tone that's finished shiny. The inletting is perfect for my rifle, and it dropped in with a tight fit. I like it even better than the walnut stock the rifle was shipped with. If you want to dress up your Disco, take a look at what this man can do for you.
Isn't it ironic that I reported on the $100 PCP yesterday, and today I'm looking at the Disco Double? That wasn't planned; but since it worked out, I'm sure you'll draw some comparisons from the contrast of the 2 rifles.
First shots
I saved these first shots just for you! This is the first time I have fired the rifle since it arrived. I figured Crosman Premier lites could do the honors since the rifle is basically a Benjamin Discovery. At this time, I have not yet installed the TKO muzzlebrake, so the sound is what you would hear from a factory Discovery.
The needle on the rifle's built-in pressure gauge was reading just below the 2,000 psi mark, which is the edge of the green zone for air. There's a separate green zone for CO2 on the gauge, but it doesn't really do much because a CO2 fill never goes above the pressure of the gas at whatever temperature the gun is at when it's filled. In other words, CO2 pressure isn't determined by the fill — it's determined by the ambient temperature.
Here's the first string I fired:
Start….21-40….41-STOP
690      739          736
709      748          —
707      757          —
718      750          715
726      757         729
720      745         724
732      744         714
728      742         716
735      753          713
729      742         701
723      754        STOP
737      742
743      746
733      741
733      742
742      744
737      745
741      734
747      722
745      738
After examining the shot string, I concluded that the reservoir pressure was slightly too high when I began shooting, so I filled it to a slightly lower pressure (on the rifle's built-in gauge) and fired 5 more times. That gave me the following velocities:
730
731
739
728
731
At the end of these 5 shots the on-board gauge read 1,900 psi. That looks like the right pressure to me.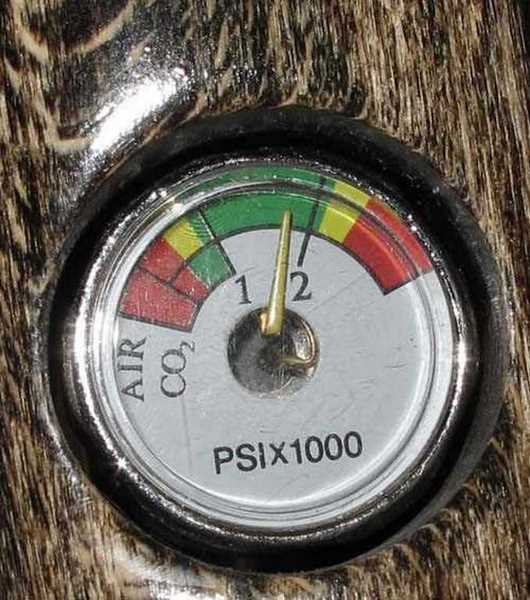 This is as high as the fill level will go for the first shot to be in the correct velocity range.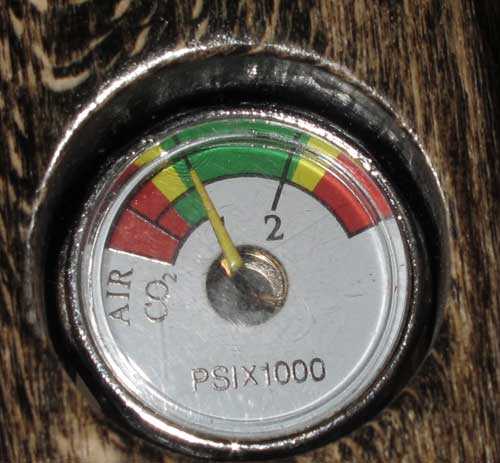 When the rifle falls off the power curve, this is where the needle sits.
More Disco Double features
I told you in Part 1 that this rifle has too many features to cover in just a single report. Two more of them are the stainless steel male Foster quick-disconnect fitting that's used as a fill nipple. Lloyd has machined it into the end cap of the lower reservoir tube and covers it with a black plastic cap.
There's also a special barrel band he can provide that has a dovetail on the bottom for the attachment of a bipod. That looks particularly handy, and I'm thinking of doing just that.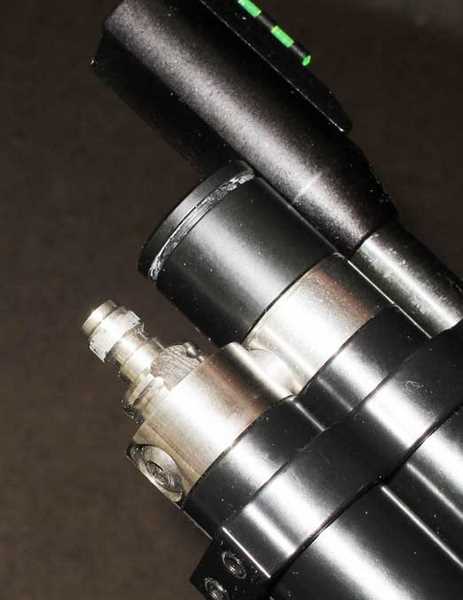 The fill nipple is stainless steel and on the bottom tube.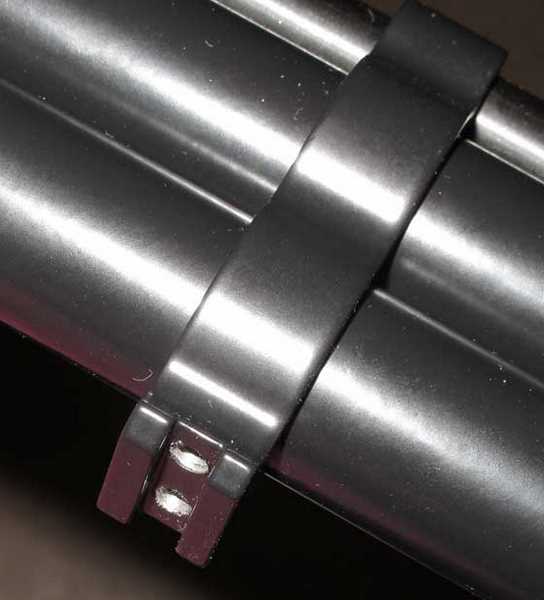 Lloyd makes this custom barrel band, which has an anchor point for a bipod on the bottom.
Analysis of the velocity numbers
Now that I have a good first string on record, let's see what it means. These numbers seem on the low side, though I did tell Lloyd that I wanted maximum shots over anything else.
Lloyd sent me several spreadsheets with his own test velocities that I'll now compare to mine. Then, we can select a good performance curve for the rifle.
OH, NO!!!
What did I do?
Dear readers, I just consulted the velocity spreadsheet Lloyd sent me and discovered that he was getting velocities in this rifle in the mid-800s, also using Crosman Premiers. But I saw right away what he was doing differently.
HE WAS USING .22-CALIBER PREMIERS, where I'd been shooting the much-harder-to-control .177 Premier lites. Apparently, this Disco Double is special. Not only does it get a lot of shots, it also shoots .177 pellets in the same barrel as .22 pellets!
I swear I'm telling the you the truth, just as it happened! When I made my "discovery," I dropped a .177 Premier pellet down the muzzle of the gun and noticed it fell all the way down.
Yes, friends, B.B. Pelletier has done it once again. I'll now give you 5 minutes to draw a crowd for my public humiliation.
I didn't plan for this report to go this way, but I can't write stuff this funny when I try. So, have a great weekend at my expense, and on Monday I'll return with some different velocity numbers. These will be obtained with the .22-caliber Premiers that probably work much better in this gun.
by Tom Gaylord, a.k.a. B.B. Pelletier
Tarzan! This weekend, a number of readers conducted a discussion of the fictional character Tarzan and the author who created him, Edgar Rice Burroughs. I thought you should all know an interesting connection of Tarzan to airguns. His grandson, J.R. Burroughs, was a big-time airgun importer in the 1990s. In fact, he imported many of the Korean brands that are still coming in today.
When I started writing about airguns in 1994, I got to know J.R. through my writing, and I eventually met him at one of the SHOT Shows. We continued to communicate about airguns and many other things well into the 21st century. I haven't heard from him since I got sick back in 2010, so he may no longer be involved with airguns like he once was, but he was certainly a mover and shaker in the U.S. airgun scene during the time he was active.
A couple points of interest with J.R. He was the man who modified the Shinsung Career 707 adjustment wheel from 3 settings to 17 settings — giving us much greater control over the velocity of our rifles. The factory eventually made the same modification. It was possible to keep a Career shooting at the same velocity for a long time simply by adjusting the power wheel as you shot. I remember testing it over a chronograph and getting 90 shots that were all within 30 f.p.s.
J.R. also created the first adjustable trigger for the Career, and I believe he also created one of the first pellet feed mechanisms that was user-adjustable. Before that, you could only shoot a few types of pellets in the gun; but with his modification, many more types of pellets would work through the magazine.
His brother, Danton manages, the licensing of the Burroughs family literary property. Part of that is a collection of original Tarzan novels that were never sold. There was a fire in the storeroom many years ago and some of these books have smoke damage, but they're all like-new hardcover books from the 1930s. I was gifted with one — Tarzan and the Forbidden City — from this collection, and J.R inscribed it, saying that his father had done the cover art.
Of course, many of you know that the southern California community of Tarzana was created from Edgar Rice Burroughs' Tarzana Ranch in the San Fernando Valley. But how many know that Tarzana was also the name of small hamlet located on the ranch before Burroughs purchased it? And his Tarzan character appeared in print for the first time two years after he bought the ranch.
So, Tarzan does have ties to modern airgunning. I thought you would like to know that. One final thing. Burroughs didn't just write adventure novels. He is also quite famous for his science fiction that bears a remarkable resemblance to his other works, but are set on Mars. Edith and I both enjoy the movie John Carter, in which Burroughs appears as a minor character who turns out to be the author who documents the "real-life" exploits of his uncle, John Carter. I think we enjoy it most because of our fond memories of J.R.
Now, let's take our first serious look at the new AirForce Escape survival rifle. Before I start, I need to make a couple corrections to Part 1. I said the Escape SS (officially named the EscapeSS) has an 18-inch barrel and several readers figured out that wasn't the case. It actually comes with a 12-inch barrel in either .22 or .25 caliber.
I also said the Escape valve is a modified TalonP pistol valve, which isn't true. The TalonP valve is used exactly as it is in the pistol, so pistol owners who add a 24-inch barrel and end cap to their pistols can essentially have the Escape. The pistol's frame is shorter than the Escape frame, but it is just right for the Escape Ultra Light (officially named the EscapeUL) that we'll look at in a later report.

The AirForce Airguns Escape precharged pneumatic air rifle is a powerful new survival rifle in both .22 and .25 calibers.

The TalonP pistol is the base gun used to create the new Escape-series rifles.
The Escape rifle looks like the other AirForce sporting rifles and has many of the same features. The new trigger is there, along with the new safety that can be taken off safe by the trigger finger, alone. The 2-stage trigger on my rifle breaks at a relatively clean 28 oz. While it's not adjustable, I think most serious shooters will find it more than adequate.
The rifle weighs 5.3 lbs. unscoped and measures from 34.5 to 39 inches long, depending on where the extendible buttstock is set. That means the length of pull can also be varied from 9.75 to 14.25 inches.
Like all other AirForce rifles, the Esacpe has long 11mm rails on top and below the receiver. Since this is a survival gun, a bipod and sling swivels might be almost as important as a scope.
I tested this rifle differently than normal. Instead of getting the chronograph figures right away, I decided to shoot it at the range, so 2 days were spent on the range with the rifle in its .25-caliber incarnation. Once I have a good baseline of performance downrange, I'll come back and chrono the best pellets, pressures and power settings. Because these rifles are so infinitely adjustable, it makes sense to figure out what works before you worry about the numbers.
But I'll give you some velocity figures because Ton Jones tested the heck out of the rifle late last year, and AirForce provided me with the data. With .25-caliber JSB Exact King pellets and the rifle set to max power, Ton's first shot was 1145 f.p.s. The first 10 shots on a 3,000 psi fill looked like this:
1–1145
2–1125
3–1106
4–1090
5–1078
6–1061
7–1044
8–1028
9–1017
10–1003
On power setting 8, the same pellet did this on the first 10 shots after a 3,000 psi fill:
1–1100
2–1112
3–1133
4–1106
5–1107
6–1088
7–1075
8–1060
9–1041
10–1022
On power setting 4, the same pellet did this on the first 10 shots after a 3,000 psi fill:
1–1041
2–1036
3–1077
4–1095
5–1080
6–1077
7–1100
8–1077
9–1091
10–1080
At max power and the highest velocity, this JSB pellet generated 73.96 foot pounds of energy at the muzzle.
With the 43.2-grain Eun Jin pointed pellet, the rifle did this on the first 10 shots at max power after a 3,000 psi fill:
1–1010
2–980
3–974
4–955
5–940
6–924
7–907
8–894
9–876
10–860
On 8 power with a 3,000 psi fill, the rifle did this with the Eun Jin:
1–996
2–984
3–964
4–944
5–932
6–906
7–888
8–872
9–856
10–840
On 4 power with a 3,000 psi fill, the rifle did this with the Eun Jin:
1–986
2–975
3–959
4–950
5–937
6–922
7–902
8–889
9–870
10–849
At the max power setting and highest velocity, this pellet generated 97.88 foot-pounds of energy at the muzzle.
I have the data on the Escape's .22-caliber performance, but that will make today's report too large, so let me continue with just the .25-caliber rifle, which is how AirForce set it up for me. I took it to the rifle range on 2 different days. Both were cold but the first one was also very windy, so I'm going to show you the results of day 2 testing, only. The day was 16 degrees F (-9 C) but dead calm. I shot several types of pellets this day and based on those velocity figures you have just seen, I decided to shoot 5-shot groups instead of 10-shot groups.
Ton Jones maintains that a survival situation calls for a single well-placed shot, rather than a number of shots fired rapidly. I agree with him, so I'm not testing the Escape as I normally would. I fired 5 shots and then topped off the air tank. When you're making single shots, that makes sense.
On max power the best groups I shot were with JSB Exact King pellets and Predator Polymag pellets. At 50 yards, 5 JSB Kings went into a group that measured 1.846 inches between centers. That's a large group, but remember that you're shooting at large targets, and 50 yards may be farther than you choose to shoot.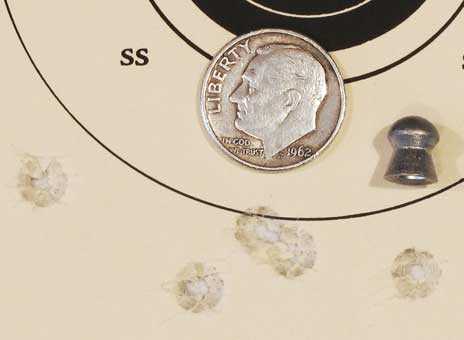 Five JSB Exact Kings went into 1.846 inches at 50 yards on maximum power.
Predator Polymags put five into 1.819 inches at the same 50 yards on max. power. Notice that both pellets spread their shots horizontally.

Five Predator Polymag pellets went into 1.819 inches at 50 yards on maximum power.
Experience takes over
I'm not going to bore you with each and every experiment I did on this day, but I want you to know that I also tried Benjamin domed pellets and Beeman Kodiak pellets. Both gave similar results, with the Kodiaks doing slightly better than the Benjamins.
But I knew that this rifle was more accurate than this. From my experience with other powerful precharged rifles, plus the testing I did with the TalonP pistol, I reckoned the fill pressure had to be lowered and the power adjusted. It soon became obvious this was correct and the JSB Exact King pellet was the one to go with. After several more groups, I settled on a fill of just under 2,000 psi and a power setting of 6. The groups became amazing with this combination, plus they were remarkably uniform from group to group.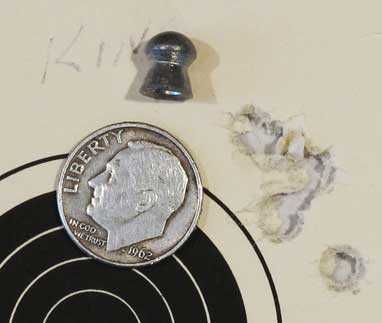 First good group of JSB Kings on power setting 6 with a 1950 psi fill gave me this 0.751-inch, 5-shot group at 50 yards.

After adjusting the scope, I put 5 JSB Kings into 0.694 inches at 50 yards. This was the best group of the day.

Another 5 JSB Kings went into 0.841 inches at 50 yards. This was the worst group of 6 that were fired with this combination of pellet, pressure and power setting.
Now that I know where at least one sweet spot is located, that will be what I'll test through a chronograph. I'll guess that this pellet is producing something in the 30 foot-pound range with the settings I used. Hitting the target with that kind of energy is much more meaningful than missing with three times more.
I also haven't tested the heavy Eun Jin pellet for accuracy. And Ton told me that he lubricated his pellets with Slip 2000, which I've obtained, so I'll be able to replicate what he did.
Summary
How do I summarize anything when I've only just started to test the rifle? There's enough variability here that I could spend the rest of my life just testing the Escape in .25 caliber! What I can tell you is that the rifle performs as advertised, and, yes, you do have to work with it to get these kinds of results. AirForce has always made air rifles for the thinking man, and the new Escape continues that tradition proudly.
Let's look at the velocity of the Legends C96 CO2 BB pistol. It's advertised at 380 f.p.s., and we know that it has blowback. So, it'll be interesting to see just how powerful this pistol really is, as well as how many shots it gets.
Crosman Copperhead
The first BB I tested was the Crosman Copperhead. They were tested when the CO2 cartridge was fresh, which boosted their average velocity a few f.p.s. They averaged 402 f.p.s, with a spread from 392 to a high of 409 f.p.s. At the average velocity, Copperheads generated 1.83 foot-pounds of muzzle energy.
I found the magazine very easy to load. Pull the follower all the way down and twist the tab into a slot to lock it back, then the BBs are dropped into a trough where an opening dumps them into the single stack slot in the mag. Release the follower, and the gun is loaded. I found the rated capacity of 19 BBs to be spot-on.
Daisy Premium Grade zinc-plated BBs
Next up were Daisy Premium Grade zinc-plated BBs. I though they might be a little faster than the Copperheads, but they weren't. They averaged 395 f.p.s., with a low of 386 and a high of 404 f.p.s. At the average velocity they produced 1.77 foot-pounds of muzzle energy.
All the time I was chronographing the gun I was also counting all the shots. I noticed that when you load a new magazine, the first shot will always be a blank. That's because of how the gun's feed mechanism works. I did count those shots in the total because they used up gas the same as if a BB had been shot.
Umarex Precision steel BBs
The final BBs I tested were the Umarex Precision steel BBs. They averaged 394 f.p.s. with a low of 385 and a high of 404 f.p.s. That parallels the Daisy BBs pretty close. At the average velocity, these BBs produce 1.76 foot-pounds of energy at the muzzle.
During the chronographing session, I was waiting a minimum of 10-15 seconds between shots to allow the gun to recover from the cooling effects of the gas. But after the 3 test strings were finished, I continued shooting Umarex steel BBs to see how many good shots there are on one CO2 cartridge. I went much faster during this shooting, with less than a second between each shot. I think this is closer to the way most shooters will use the gun.
I kept expecting the pistol to run out of gas at any time, and it kept right on shooting and surprising me. Finally, at shot 103, I chronographed an Umarex BB going out at 336 f.p.s. While that is slower than the recorded average, you have to take into account the fact that I was now firing the pistol very fast and allowing it no time to warm up. So, an unexpected finding was that this pistol doesn't suffer as much from the cooling of the gas as most CO2 guns. There normally would be at least a 100 f.p.s. velocity drop when shooting this fast.
Shot count
Finally, after shot 123, the hammer didn't cock for the first time. I cocked it manually and kept on shooting, but it failed to cock again after a few more shots. The gun was now out of gas. Had I wanted to get more shots from it, all I needed to do was slow down my shooting to allow more time for the gun to warm up. I think the shot count could easily be stretched out to 140-150 shots that way.
So, the pistol shoots a little faster than advertised, and it gets a very respectable number of shots from a CO2 cartridge. That's 2 big plusses for the gun.
Next on the schedule is accuracy testing. I'm looking forward to that! I have to tell you that this C96 is a very neat CO2 BB pistol. Of course, it isn't ergonomic, but neither is the C96 firearm it copies. It's not supposed to fit you well — it's supposed to look like the real deal, and I think it does that very well.
by Tom Gaylord, a.k.a. B.B. Pelletier

The PCP built on a Crosman 2100B chassis.
Today is Media Day at the range, and I will be shooting many of the new airguns that will be coming out this year, plus a lot of firearms — I hope. Tomorrow the 2014 SHOT Show starts, and there's a special first-day report all set for you.
Let's look at the performance of the $100 PCP that big bore airgun maker Dennis Quackenbush created on a Crosman 2100B chassis. I read some comments about the gun in Part 1. Before we get started, I need to address one of them. Some of you say you want a PCP that operates on 100 psi, so you can run it on your shop compressor. Gentlemen — such an airgun doesn't exist and cannot exist as you envision it. That is simply not enough pressure to push a pellet to the kind of velocities we want. You can shoot t-shirts into the grandstands with that kind of pressure or perhaps run a pneumatic tube delivery system, but not a pellet gun.
I know that the airguns of old used lower pressure than we use today. They got amazing power from 500 to 800 psi. But they weren't shooting smallbore caliber pellets. They were shooting .40 to .70 caliber round lead balls and they got them up to 450-600 f.p.s. They did that because the area of the projectile is much larger than a .177 pellet, and also because they used very long barrels (30-36 inches).
You can shoot tennis balls with shop air, but not pellets. I did report on a .25-caliber pellet rifle that worked with 800 psi air, but that's a lot different than 125 psi air. You can't pressurize air to 800 psi with a shop compressor. So, we're going to have to confine our research to what is physically possible. I'm not trying to shut you down for thinking outside the box, but this is a very real physical constraint.
On with the test
Today, we're looking at the velocity of this rifle with air for both pellets and BBs. Pellets are our principal concern, but I'll test BBs, as well, since they can be used in this airgun.
Dennis told me what the performance curve looked like, but I'm going to approach this as if I know nothing about this gun. Where do I begin? Well, I may not know much about this particular PCP, but I've used enough other PCPs that I'm not completely in the dark. I filled the reservoir to 800 psi, as indicated on the gauge of my carbon fiber tank and then started loading Crosman Premier lite pellets and firing through the chronograph.
800 psi
1…..539
2…..509
3…..474
4…..441
5…..409
5…..361
Stop
Okay, the velocity dropped with every shot, so the valve is not on the power curve, yet. It wants to see more air pressure.
1,000 psi
1…..654
2…..634
3…..582
4…..556
5…..525
7…..483
8…..453
9…..417
10…384
11…345
Stop
Look at the velocity increase from just an additional 200 psi of pressure! That's an indication that we're quite far from the power curve. It took 5 shots before the rifle was shooting as slow as in the first string, so that extra 200 psi really added shots.
A word about the next part of the test is appropriate. The gauge on my tank doesn't show even divisions of pressure as closely as I would like. Instead of adding another 200 psi, I found myself guessing that I added another 300 psi. If I had a more accurate gauge, I could do this with greater control; but it's all going to turn out in the end. You'll see.
1,300 psi
1…..722
2…..695
3…..659
4…..did not record (DNR)
5…..593
6…..550
7…..516
8…..488
9…..DNR
10…423
11…DNR
12…DNR
13…309
Stop
This was interesting because there wasn't such a big increase over 1,000 psi as there had been when going from 800 to 1000, despite adding 300 psi rather than 200 psi. It took just 3 shots for the velocity to become equal to the 1,000 psi string (compare shot 3 from this string to the first shot of the previous string). The extra air pressure isn't doing as much as it did before.
1,500 psi
1…..791
2…..765
3…..751
4…..DNR
5…..706
6…..677
7…..645
8…..605
9…..570
10…542
11…500
12…466
13…428
14…DNR
15…357
Stop
1,800 psi
1…..808
2…..796
3…..786
4…..763
5…..753
6…..721
7…..699
8…..661
9…..625
10…600
11…566
12…524
13…DNR
14…442
15…405
16…366
Stop
Okay, look at the first 5 shots in this string. See how little velocity they lose compared to the first shots in previous strings? That's significant. It means the valve is beginning to operate more efficiently at this pressure level. Dennis told me that when he reached 1,800 psi, the rifle stabilized for him, as well. What we don't know and cannot know for sure is what pressure either Dennis or I actually used because neither of us has a calibrated pressure gauge. We're just guessing based on the inexpensive small gauges that come with all pressure tanks. But, whatever the exact numbers are, they're pretty much in the same ballpark.
We have a PCP that operates at 1,800 psi — or so. But when I say "operate," it isn't really operating the way we want a PCP to operate. We want to see a nice string of shots that are fairly consistent — some a little higher and some a little lower, but a nice string where the velocity is stable. We don't have that yet. What we have is a rifle that wants to operate at this fill pressure but probably needs a number of tweaks to get where we want it to be.
There's one more thing to do. Dennis and I talked about this, and he said if there's a weakness in this rifle, it's at the threads where the air reservoir is threaded to the brass valve. While the reservoir is way overbuilt, those threads are a place where not too much more strain can be applied. Dennis feels that it will be safe to 2,000 psi but not much higher. I agreed with him on that, so I did one last test at 2,000 psi.
2,000 psi
1…..853
2…..833
3…..823
4…..825
5…..820
6…..809
7…..799
8…..780
9…..762
10…746
11…717
12…687
13…654
14…624
15…588
16…550
17…513
18…472
19…434
20…397
21…DNR
22…298
Stop
Okay, adding 200 extra psi increased velocity significantly, plus it also gave us a greater number of consistent shots. I would call the first 7 shots fairly consistent, and the velocity doesn't really start to plummet until after shot 9. What this tells me is that the valve return spring is way off. It's probably too heavy. And Dennis has already criticized the valve itself. It's a poppet shape (looks like a top hat) instead of a valve with angled sides that mate with an angled valve seat.
Add to that an enlargement of the valve port (through which the air flows) that might help lower the operating pressure, and the new valve would handle the pressure better than this stock one that got pressed into service for which it wasn't designed.
What about BBs?
Okay, I can't end without giving you some BB velocities. Since the rifle works so well at an indicated 2,000 psi, I decided to skip all the early stuff and go straight to the string we're all interested in.
For this test, I used Daisy Premium Grade BBs that I know from measurement are both the largest and also the most consistent steel BBs on the American market. Since steel BBs run 0.171 to 0.173 inches in diameter, they're considerably smaller than .177-caliber lead pellets, no matter what their packages say. BBs are NOT 4.5mm!
2000 psi
1…..910
2…..900
3…..891
4…..871
5…..DNR
6…..856
7…..DNR
8…..DNR
9…..809
10….786
11….763
12….DNR
13….698
14….DNR
15….DNR
16….599
17….577
18….533
19….484
20….441
21….408
22….340
Stop
Like the pellets with a 2,000 psi fill, the first several shots with BBs are close to each other and after, perhaps, shot 6 or 7, the spread opens up. Of course, you have to realize that steel BBs going over 800 f.p.s. are extremely dangerous. Lead pellets start to disintegrate at velocities above 600 f.p.s.; and at 800 f.p.s., they almost vaporize when they hit a hard target such as metal. But BBs not only hold together, they absorb the energy of the impact and bounce back at nearly the same velocity. Believe me — you don't want to be hit by one!
What have we learned?
So far, we know this rifle works but is not a fully functional precharged pneumatic because it does not shoot a string of shots at a steady velocity. However, that doesn't stop us from proceeding with accuracy testing.
What's been proven by this test is that the idea of a $100 precharged pneumatic rifle is completely plausible. The needed changes have been pointed out; but as we proceed further, no doubt, other things will be revealed. That's the way of product development.
Remember this is a testbed — not a production rifle. Also remember the rifle that it was built from. We should expect accuracy to be similar to the Crosman 2100B, which is fully acceptable at this price point. And I'm going to select a string of shots whose velocities are relatively close to each other, so I probably won't be shooting 10-shot groups.
I'll need to do some things to the gun before starting the accuracy test, but I'll tell you about those things in the next report.