Posts Tagged 'Walther Lever Action CO2 rifle'
by B.B. Pelletier
Today, I'll venture into an area where style and function can clash violently. Also, because every person is built differently, the things I say will not apply equally to all people. That is not to say they are untrue or vague enough to just be opinions; but because of differences in our bodies, each of us will have slightly different needs, and sometimes they won't even be that slight!
1903A3 Springfield
As most countries do, the United States has a rich tradition of fielding infantry rifles with "one size fits none" stocks. I could criticize all of the Mosin Nagants or the K31 Schmidt-Rubin rifle of Switzerland, but I don't need to look any farther than the dear old M1903A3 that was the last gasp of the famous Springfield rifle used at the start of World War II. The pull of this rifle is a ridiculous 12-3/4 inches in length that guaranteed to sock anyone in the kisser when the big round goes off. As if that weren't enough, the stock also drops away from your face steeply to get a running start at your cheek when the recoil begins!
Even men of very small stature find the Springfield stock uncomfortably short. The spin doctors at the arsenal dreamed up an excuse: "The stock is designed for men wearing field jackets and winter uniforms." Ha, ha!
[Parenthetically, I will say that two vintage U.S. battle rifles have had stocks of decent proportions -- the 1917 Enfield (the American Enfield) and the Garand. Both have acceptable pull lengths and good pistol grips. The Enfield's comb is a little low, but overall, it's a rifleman's stock. The Garand is as close to stock perfection as the United States ever came in the 20th century -- in my opinion. That's in spite of having a short pull of 13 inches.]
The Soviets said their Mosin stock had its short pull because "The Soviet Union is comprised of many different countries with soldiers of widely varying stature. The rifle was designed to fit as many different men as possible." Again — ha, ha!
Why the Swiss skimped on the length of their buttstocks and dropped their combs so low is a mystery to me, because they do not have nearly the problem the Sovs did with ethnic differences. In sharp contrast to the too-short K31, their model 1911 rifle had a stock of more correct proportions.
What these nations really mean is that they build their battle rifles on a budget, and the bean counters thought the savings of an inch or two of wood, spread over millions of stocks, was worth it. Besides, making soldiers miserable is a time-honored right of passage.
Good stock equals reduced recoil
When I bought a German-made Mark V .270 Weatherby Magnum rifle for hunting, I was prepared to be laid low by the recoil. I had recently suffered with a Remington 788 in .308 Winchester caliber that about knocked me flat every time it went off. So, imagine my shock to discover that the Weatherby, with its more powerful belted magnum cartridge, did not kick as hard as the Remington! It actually kicked a lot harder, but the straight lines of the Weatherby stock coupled with the very shallow slant toward the butt kept the comb firmly in contact with my cheek the entire time. The rifle didn't have the opportunity to get a running start at my face when it went off. I wound up loving the gentle Weatherby that others, who don't know it, regard as a monster!
I was about 24 years old when this discovery took place, and that was when I started paying attention to the shape and size of rifle stocks. I found that I liked a pull (the distance from the center of the butt to the center of the trigger blade) of 14-3/4 inches, which is a tad longer than most other men my size (5'11″ at the time). I guess my arms and neck were a little longer than the norm for my height.
What I'm trying to tell you is that you may not have the same body dimensions as me, but we will both do better with a stock that is straight versus one that drops low at the toe. And we will also do better with a stock that has the right length of pull for our frames — whatever that may be.
Correct length of pull is hard to measure
There's an old method of measuring the correct length of pull on a rifle. The butt is rested on the crook of your arm and the trigger is supposed to come about halfway up your index finger when the finger points straight up.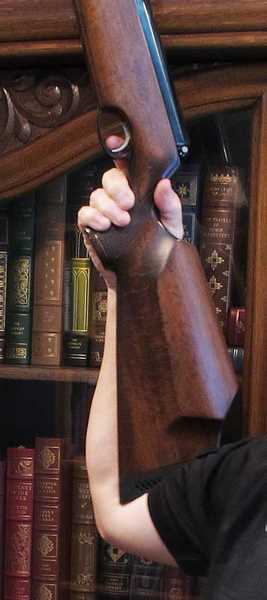 This is the traditional way people measure the correct length of pull on a rifle. It works after a fashion, but only by holding the rifle offhand will you know for sure.
Hooey! This old method is ingrained into most shooters at a tender age, but I find it often doesn't work. A better way to find the right length of pull is to shoulder the rifle and see how easily your trigger finger finds the trigger blade and your hand finds the pistol grip.
What fits feels good
Blog reader Kevin Lentz once asked me if I'd ever had a rifle whose stock fit me well. He knows that because I test so many different air rifles all the time that chances are that most of them don't quite fit me. I answered him that my Weatherby was the best-fitting rifle I ever owned, and he understood — because he also owns a Mark V Weatherby in .300 Weatherby Magnum.
As far as airguns go, the TX200 fits about as well as a Weatherby. It has a very vertical pistol grip that invites a good hold, and the flat forearm helps stabilize the heavy rifle. The butt drops a bit far, but the TX recoils so soft that it doesn't matter.


The TX200 has a very high comb. The stock drops quite a bit, but the low recoil and high comb combine to cancel that.
So, where does this leave us? Well, if we know that length of pull and the drop of the stock are important, it seems that we should be able to design stocks that fit us well. Enter the Air Venturi Bronco!
Air Venturi Bronco
Several years ago, I became exasperated by all the air rifles that were near-misses for stock fit, as far as I was concerned. I knew from conversations with other airgunners that what the world really wanted was another Diana 27. But Diana only wanted to make powerful spring rifles that were hard to cock.


The Bronco has a western-style stock with a high comb, no cheekpiece and a straight wrist.
The other airgun many shooters wanted was the Beeman R7, but for one-third the current price — the old five-cent cigar thing. There were long debates on this blog about whether this or that HW30 was equivalent to the R7. Remember that?
One day, I was sharing my feelings with the president of Pyramyd Air. I lamented that a company like Mendoza that made accurate barrels and good triggers didn't have a nice youth airgun we could sell. That was when he told me that they did, indeed, have a youth airgun, but that it was too ugly to sell. I asked him to send me his sample, and a few days later I had it in my hands. It was called the Bronco. [Note from Edith: I always thought Tom made up that name. Now, I find out he didn't. What other things is he taking credit for that are not deserved?] It was exactly what I was looking for, only it had a stock so ugly that you needed a tetanus shot just to hold it!
The Bronco was an RM10-barreled action in a stock that had a huge kidney-shaped cutout in the butt. It was a stock by Salvador Dali that could only exist in an acid-trip fantasy, yet Mendoza had somehow managed to turn it out for real. The pull was just over 10 inches, as I recall.
Remembering the success of the Beeman C1 carbine, I suggested to Pyramyd Air that we have a stockmaker build a Western-style stock and that we make other changes to the powerplant at the same time. I was tasked with getting the stock made, and I found a custom stockmaker to do the work. We produced a stock in American maple that had a strawberry blonde finish and a 14-3/4 inch pull. I fell in love with it; but when we discussed the project at Pyramyd Air, we decided the stock had to be shorter to accommodate older kids and adults, alike. We settled on a 12-3/4-inch pull. The blonde finish was kept, though many people disliked it.
Mendoza took the sample we sent them and produced a gun for us to examine. A couple small changes were made to that prototype, and we were done! The result is the Air Venturi Bronco that you see today.
What's good about the Bronco is that the comb is high without needing a Monte Carlo profile or a raised cheekpiece. It comes up to the shoulder fast and naturally for most shooters, and the sights are right in line with your eyes when your head is erect. Also, you don't have to hold your head in a different place to use a scope. That's the advantage of a straight-line stock that has very little drop at the toe.
The classic stock
Many times, I've mentioned the classic stock in the past. What is it? What makes it classic?
A classic stock is one that has a straight comb with no Monte Carlo profile. The stock line is very straight, so the toe doesn't dip very low. That allows the recoil to be transmitted in a straight line instead of in a downward angle when it first comes back, then it rotates off the shoulder to rise upward and hit your cheek.
A classic stock has a pistol grip in a place where you can grasp it when holding the rifle to your shoulder. Many larger air rifle stocks, such as the one on the Hatsan Torpedo 155, have pistol grips — but their proportions are too large for 95 percent of the population, with the result that the shooter cannot grasp the grip when holding the gun normally. The grip is set too far to the rear and out of reach for most people. A TX200, in contrast, has a pistol grip in exactly the place where most shooters' hands expect it to be. The result is that the rifle seems to fit better and is easier to hold, even if the shooter isn't aware of the reasons why.

The Hatsan Torpedo 155 has a large drop at the toe of the butt, plus the comb is also low, despite being a Monte Carlo profile. The result is a hard-kicking air rifle.
Perhaps the best example of a classic air rifle stock I can give you is the wood stock that comes on the RWS Diana 34 breakbarrel. There's no Monte Carlo comb and the pistol grip is in pretty much the right place.
For an even better example of a classic stock done right, you need look no farther than the Ruger M77 rifle. While their pistol grips come back a bit too far, these stocks are about the best ones on today's market. Sako of Finland is another maker that had a remarkable line of good stocks in decades past; and in recent times, they've taken the classic proportions and put them into synthetic stocks. And I must include the iconic Winchester model 70 in the small list of classics.
No thumbholes
A classic stock does not have a thumbhole. Instead, the pistol grip is proportioned so well that it feels good in the hand. I personally don't like thumbhole stocks because they usually prevent my thumb from being placed where I like it. On the whole, I do find that most thumbhole stocks fit better than most non-thumbhole stocks. That's because most of those stocks without thumbholes are cut with the wrong angles and proportions.
A Western-style stock like the one found on the Bronco and the Walther Lever Action rifle is not a classic rifle stock. The straight wrist isn't as easy to hold as a well-formed pistol grip. But the Western-style stock does fit more people better, because there are so many classic-cut stocks that miss the mark.
The bottom line
I wrote this article for those new airgunners who are researching airguns to buy right now. The size and shape of the stock plays an important part in how well your gun will fit; and that, in turn, affects how much you enjoy shooting it. Don't just buy an airgun based on the velocity, because that will lead you astray. Unless the gun also fits you and feels good, it will not do well in your hands.
If you don't know how different guns feel, you might try visiting a gun store or pawn shop and try a few different rifles for their fit. Your friends may have different guns than you do…so try on some of those to see which ones fit you better. Yes, you can even try firearms and transfer their fit over to air rifles. If you have no other frame of reference, this will at least give you a starting point. And don't forget to read everything you can about the fit of a good rifle, because this is an area that will never stand out but will make a big difference in how much you like or dislike a particular rifle.
by B.B. Pelletier
Happy New year! I thought I'd review the best products I got to test last year. Some will be new, but others have been around a long time — I just got around to testing them.
Benjamin Marauder pistol
Back in January, when I was pouting about missing the SHOT Show, I had the opportunity to test the Benjamin Marauder PCP pistol. Actually, the test began in 2010 and extended into 2011, but it was such a good test that the pistol has to make it into this report.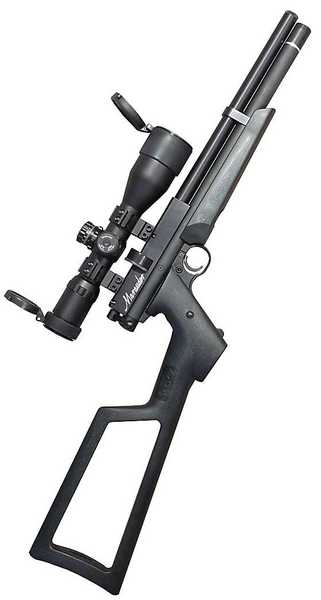 Benjamin's Marauder pistol, known as the "M-rod," is a winner!
I even did an extra accuracy test because for the first one I mounted an old Leapers 6×32 scope that didn't seem to give the pistol a chance to perform up to its capability. When I substituted a CenterPoint 3-12x44AO compact scope in the last test, the pistol showed what it can do.
The Marauder pistol is a .22 caliber with all the accuracy you could hope for. The power is great for this size airgun, and I strongly recommend attaching the standard shoulder stock extension that comes with the gun.
Beretta 92FS
The next great product of 2011 was the Beretta model 92FS air pistol with wood grips. I completed the test on this one in March. I was so impressed that I thought for a long time that Edith and I needed to get the firearm to go with it. In the end, we returned it because you just can't keep them all; but while I had it, I thought it was a wonderful air pistol.
Hawke Sport Optics 4.5-14x42AO Tactical Sidewinder rifle scope
This one is not an airgun, but I would be remiss if I didn't tell you about the finest rifle scope I've ever tested — the Hawke Sport Optics 4.5-14x42AO Tactical Sidewinder rifle scope. I've owned several Leupolds and looked through other premium scopes, but this Hawke has them all beat.
What's so good about this scope? The clarity. It's even clearer than my Unertl 6x that used to be a standard for target shooters. At 14x, it's clearer than other scopes are at 32x. You have to see it to understand how that could be possible, but it is.
It's very costly, though with the clarity it surpasses others of greater price. It's the best I've ever seen.
Crosman Silhouette pistol
The Crosman Silhouette PCP air pistol is another pistol that made my list. I'd tested it the year before, but this one had some improvements, the most notable of which was the trigger.
The power is great, in the high 400s with medium-weight .177 pellets, but the number of shots on a fill reached 75, which is even more phenomenal. Crosman really did their homework on this pistol — refusing to let it alone after the initial offering. The result is that they launched an even better model in 2011 that will have airgunners talking for a long time.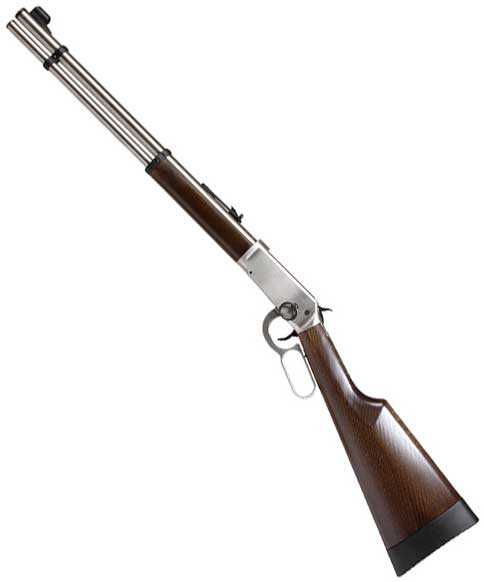 Looking very Western, the Walther Lever Action rifle was one of the best airguns from 2011.
Walther Lever Action rifle
Walther already had a good lever-action air rifle, but last year they modernized it to accept the 88-gram CO2 cartridges, and the new Walther Lever Action Rifle is even better than before! I liked it so much that I did a special 4-part review on the gun and showed you accuracy you didn't expect to see from this kind of airgun.
This rifle is pricy, but you get what you pay for. It's slick, accurate and reliable. If you want a good lever-action pellet rifle it's the only game in town. (My test featured the nickel version, but Pyramyd Air no longer sells it…but the blued version is still available.)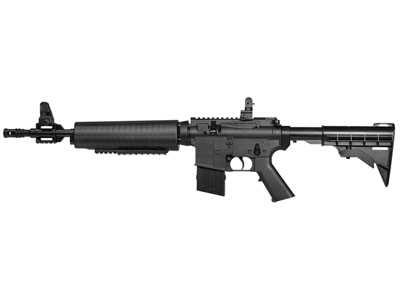 Crosman's new M4-177 multi-pump rocks!
Crosman M4-177 air rifle
I would be remiss if I didn't rave about the new Crosman M4-177 multi-pump air rifle. I liked mine so much I bought it! Does that tell you anything?
The gun is realistic, accurate and well-made. I bought one of the early guns that were mismarked, but Crosman begins shipping guns with the correct marking this month. I don't know if Pyramyd Air has any of the mismarked ones left. However, don't let that stop you — this is an airgun we can all enjoy.
MTM Predator Shooting table and Predator shooting rest
I use both the MTM Predator shooting table and the Predator shooting rest for almost all of my tests, if that tells you anything. But they've just been added to the Pyramyd Air product list and are now available to all of you. So, I included them in the 2011 list, even though I've had mine for several years. Both products let you make a firing line wherever you are, and that's a necessity for someone who shoots a lot. I take mine to the rifle range and use the table in preference to the concrete tables on the range.
Dan Wesson BB revolver
We ended the year on a high note with the Dan Wesson BB revolver. When I reported on this novel new revolver, I said I was impressed by the realism they packed into the design. Twenty years ago, you just couldn't get this level of realism in an airgun.
The one thing I failed to note in my report is the quirky way the safety works. Of course, a safety on a revolver is about as common as a unicorn horn; but if you have one, it ought to work right. This one doesn't. You can put it on when the hammer is down and the action will be locked; but if the hammer is cocked, the safety does nothing at all. That's dangerous, because there are new shooters who haven't been properly trained and will test every safety in an unsafe way. This one will fire if they do.
Still, the gun is powerful, gets lots of shots and is quite accurate for a BB pistol. It's also all metal. I don't know what more you could ask for.
Summary
I reviewed many other airguns in 2011, including a host of vintage models that I won't report in this list. These are the ones that stood out and caught my interest. You may have others, and now it's your turn to comment.
by B.B. Pelletier
In Part 1, we saw seven airguns that copy firearms. Let's look at some others, plus I'll give you an appraisal of how one of them functions as a firearm.
This is such a fascinating part of airguns, and the time has never been better for collecting airguns that look like firearms. But lookalikes have been with us a lot longer than many suppose.
Hakim
The Egyptian Hakim 8mm battle rifle was an adaptation of the Swedish Ljungman 6.5mm rifle. It's a gas-operated semiautomatic that has close-fitted parts (the Swedish heritage) and an adjustable gas port to adapt the rifle to different ammunition. It's been called the "poor man's Garand" and the "Egyptian Garand," but its operational history tells us it was anything but. Where the Garand operated well in a dirty environment, the Hakim jammed quickly when sand was introduced into the mechanism. Not a gun for use in the desert!
In 1954, Egypt contracted with both Anschütz and Beretta to make a number of training rifles. Anchütz made .22-caliber air rifles, and Beretta made a 10-shot .22 LR semiauto. Navy Arms wound up buying most of the air rifles and importing them to the U.S. in the 1970s. They ranged from a few that had apparently seen little use to the majority that looked like they had been stored in a sewage ditch.
I acquired a Hakim air rifle through a newspaper ad. After discovering what it was, I went on a buying spree that netted me more than a dozen rifles over the next few years. I've cleaned and rebuilt them exactly as they came from Egypt, and I've also seen a couple that others have cleaned up and tuned. The least I've paid for one was $60 and the most was about $150, but the price has risen considerably since those days a decade ago. Today, a good shooting specimen should sell for about $250-300, while a nice one will command considerably more. But beware of the ones that have been reworked, because they're out there. I see one on Gun Broker that has parts missing, and the starting price is about twice what it's worth, in my opinion.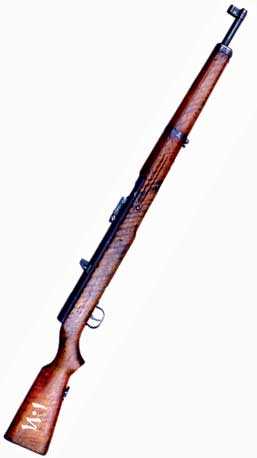 The Hakim pellet rifle was made by Anscütz in 1954.

The 8mm Hakim battle rifle is closely fitted and not suited to a dirty battlefield.
The Hakim action is based on the Falke 90 air rifle that I showed you last year. And the Falke 90 is based on the BSA Airsporter. The rifle is an underlever spring-piston action that's loaded through a tap. And like the Falke, the Hakim is doing very well to make it into the mid-500s with medium-weight, .22-caliber pellets. They can be tuned to shoot faster, but in doing so you lose the calm demeanor the rifle was designed to have and get a bucking, snorting headache machine in return. It isn't worth it, in my opinion.
Because it's a taploader, the Hakim will do best with oversized pellets and with those that have thin skirts. I've always found RWS Superpoints to be the most accurate in my rifles.
As far as accuracy goes, I had no problem putting 5 shots into a dime at 10 meters. I never really shot the rifle at longer distances, but I think the accuracy would hold together out to 25 yards or so.
Ruger Mark II — Crosman Mark I
I don't know very much about airguns, but I've been shooting and collecting them long enough that, to a newcomer, I can sometimes sound knowledgeable. Several times each year, I'm asked why no one has ever thought about copying the Ruger Mark I and II target pistols. Well, the fact is, they have! But not recently.
You have to go back to 1966 to see the first Crosman Mark I (.22 caliber) and Mark II (.177 and BB caliber) target pistols. They were single-shots and had the lines of the Ruger pistols down pat, as you can see in the photo. Both airguns were powered by CO2 and had remarkable triggers–but also high-quality, rifled barrels. With modern pellets, these guns can hold their own with a firearm Mark I or II out to 20 yards with no problem.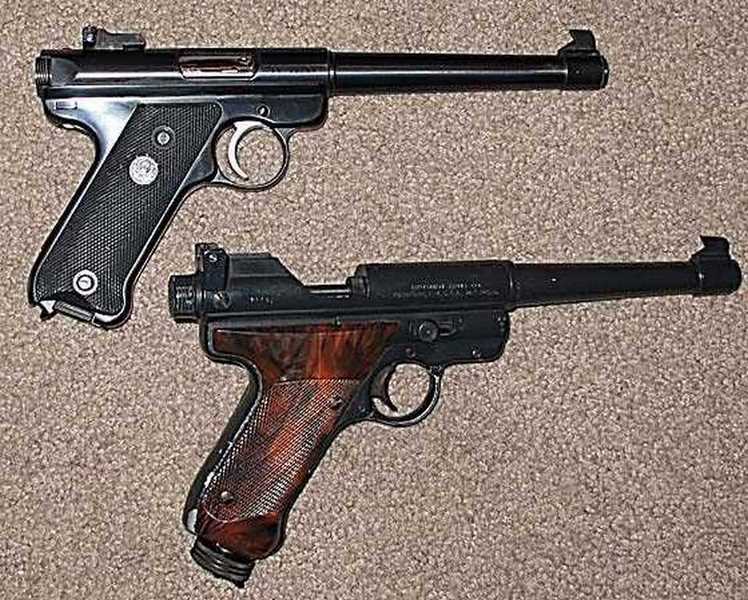 Ruger Mark II above the Crosman Mark I Target pistol. Both are wonderful target sidearms.
My own Mark I air pistol is a delight to shoot; and until I tested it against a Crosman 2240 a couple years ago for a Shotgun News article, I thought it was just about the most accurate pellet pistol I owned — other than an outright competition model. But the 2240 beat it fair and square, so I have to concede that.
Of course, many readers own the Ruger pistol and can tell you what a joy it is to shoot. For less than half what some .22 target pistols cost, the Ruger will keep up with all but the specialty Olympic models. In fact, I've gotten rid of Colt Woodsman and High Standard Victor pistols because my Mark II Ruger is everything I need.
Desert Eagle
Several years ago, I got the Magnum Research Desert Eagle .177 pellet pistol to test and ultimately kept it. I was impressed with the accuracy and the blowback action, though this air pistol does use a lot of gas when it shoots. But the thing that impressed me the most was the huge grip. I wondered for years what the actual firearm would be like.
Edith joined me in this curiosity, because she could see how large the grip is. It's incredibly long front to back, so even though the magazine (of the firearm) is a single-stack design, the grip is still very large.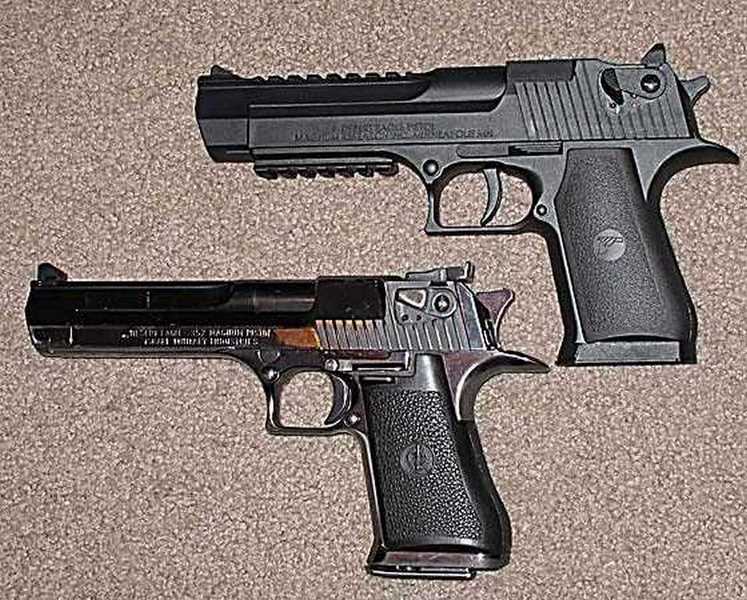 The Magnum Research Desert Eagle pellet pistol (top) is larger but lighter than the .357 Magnum Research Desert Eagle. The air pistol copies the current Mark XIX pistol, but my .357 is the earlier Mark VII, which accounts for the lack of accessory rails.
Then we happened to see not one but three Desert Eagles in a local pawn shop about six months ago. Edith got to hold the .357 (the other two were .44s), which was the only one I thought we might be interested in, and the salesman was surprised to see her one-hand the gun. Unfortunately, the price was too high and although we made an offer, they declined to accept.
Fast-forward to a couple weeks ago. We happened to stop by the same pawn shop and looked around, but saw nothing. When the salesman asked if we had found what we were looking for, I told him we were looking for a Desert Eagle but none were in the case. He asked us to wait a moment and brought out the very .357 that Edith had looked at previously. Someone had started buying it and didn't finish paying for it, so it was for sale again.
This information gave us a tremendous bargaining position, because the gun had already earned the store some money. So I lowered my offer from several months earlier (they didn't remember it) and stood firm. We got this gun!
Now, we have the firearm to compare to the airgun. This is the third firearm we've bought on the basis of seeing the airguns first. There was the Walther PPK/S BB pistol that turned into a .22 LR pistol and the Walther Lever Action rifle that became a Winchester 1894 .30-30.
Now that we had the .357 Magnum, I had the opportunity to dispel a rumor that's very common — namely that a Desert Eagle pistol soaks up so much recoil because of its gas operation and its weight that shooting a .44 Magnum feels just like shooting a .45 ACP. Bull! Our .357 Magnum, which has considerably less recoil than a .44 Magnum, still has at least twice the recoil of a .45 ACP in a 1911 pistol! It's true that it recoils less than any other .357 Magnum I've fired, but that's not the point. The point is that the gun still kicks hard, and shooters need to know that going in. I did find it very pleasant to shoot about 30 rounds of full-power magnum ammo, which usually starts me flinching if I do the same in a revolver.
As for accuracy, that'll have to wait for another day. The ammo I was shooting was not what is recommended for the firearm, and the best I could do was an 8-inch group at 50 yards. I know I can do much better than that when the gun does its part. We'll have to return to this sometime in the future.
Cleaning firearms
I don't have any place else to put this, so I'm adding it in to today's post. If you dislike firearms talk, now is the time to stop reading.
For decades, I've stayed away from shooting genuine black powder because of the mess involved in cleanup afterwards. Just this past week, as I was reading Ned Robert's The Muzzle-loading Cap Lock Rifle for the umpteenth time, I happened to pay attention to how he said to clean a rifle that's been shot with black powder.
When you return home from shooting, boil water and remove the nipple of your rifle. If you have a patent breech, remove the barrel from the stock and stand it in a pail. Pour two quarts of boiling water down the muzzle while holding the barrel with a towel wrapped around it. It does get very hot! You will see particles of black soot coming out of the nipple hole.
Then, let the rifle stand until the barrel cools down to just warm. When it is cool enough to hold, run an oil-soaked swab down the bore several times. I used Ballistol on a wool mop, and it worked perfectly.
This entire process took about 10 minutes start to finish. The next day, I ran a dry patch down the bore and removed the excess Ballistol. No dirt came out! The rifle is sparkling clean. I even looked down the bore with a tactical flashlight, and all I see is clean rifling.
This process won't work as well for a flintlock because of the small flash hole not draining water fast enough. But with a cap lock, this is the easiest way I've even seer to clean a rifle. My centerfire rifles take longer and are messier and more involved than this charcoal burner, which is a .32-caliber by Thompson Center! I'm going to stop shooting black powder substitutes and return to the genuine product, now that I know how to clean my gun so fast.
Marinate the barrel
The black powder process reminded me of another great cleaning tip I learned. If you don't want to clean your gun right away, coat the bore liberally with Ballistol and let it sit and "marinate" for several days. Using this process, Mac and I have cleaned dozens of guns that hadn't been cleaned in many years. Ballistol softens the residue and makes it come out with minimal effort when you finally get around to cleaning.
Get the rust out
Earlier this year, Mac acquired a Ruger Mini-30, which is a Mini-14 chambered for 7.62×39. The rifle appeared to be in excellent condition until you looked down the barrel. It was coated with red rust that even repeated soakings of Ballistol could not remove. What happened is that an owner unknowingly shot military surplus ammo in his rifle without appreciating that it is corrosive. It then rusts the bore within a couple of days.
So, I fired three rounds through the gun and then cleaned it. The bore came out sparkling — with no trace of pitting or frosting from the rust. When I finished cleaning the gun this time, you could not tell that it had ever been abused.
The reason I knew this would work is that I used to encounter a lot of GI 1911A1 guns back in the 1960s that had the same problem. Uncle Sam used some corrosive pistol primers in WWII, and that ammo was still available in quantity in the 1960s. The guns that shot it often had rusted bores. But shoot a couple rounds of FMJ through them, and they cleaned up just like it never happened.
by B.B. Pelletier
Announcement: Aliabas Abas is this week's winner of Pyramyd Air's Big Shot of the Week on their facebook page. He'll receive a $50 Pyramyd Air gift card.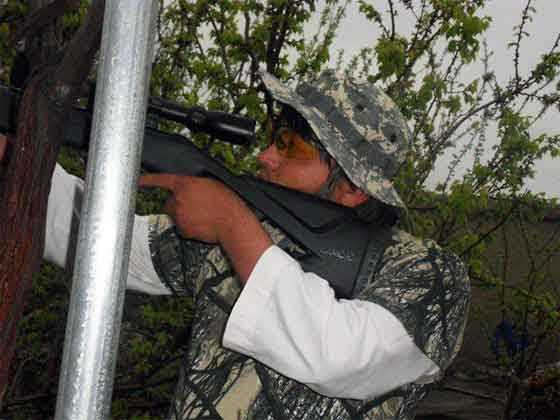 Aliabas' winning photo. Looks like he's got a Gamo.
I had a different blog prepared for today, but I can't use it because the products haven't arrived at Pyramyd Air yet, and I don't want to talk about something that you can't get.
Yesterday's blog got me thinking about lookalike airguns. I mentioned that Crosman had made the M1 Carbine BB gun that I love so much, and they made a host of others like the SA-6 that resembles a Colt SAA revolver, and the 38-T and 38-C revolvers that look something like Smith & Wessons.
Today, I want to talk about many airguns that are lookalikes. Some of these are airguns that are seldom seen, though they exist in quantity, while others are very unique. Let's go!
Makarov
I owned a Makarov BB pistol before I ever bought the actual firearm. And the pistol I owned was made on a genuine Makarov firearm frame. Then, I got a Bulgarian Mak in 9x18mm that hasn't jammed or failed to feed one time in close to a thousand rounds. It's accurate and has a soft recoil.What a great gun it is!
Then to my surprise, Umarex brought out their Makarov BB pistol, and it turned out to be a superior airgun. If you ever saw the American Airgunner TV show, it was the Makarov that I used to teach Crystal Ackley to shoot. And after a single lesson, she started out-shooting Paul Capello, me and even a national silhouette champion — WITH HIS OWN AIRGUN!

Mak firearm at top, then the first BB gun Mak that was made on a firearm frame and the Umarex Mak on the bottom. When I put these away, I got confused and put the Umarex gun in my nightstand, where the firearm should be!
M1911 A1
I was a 1911 fan long before Umarex brought out their CO2 version of the Colt M1911 A1, which is why I got one to keep forever. The realism is astounding. Of course, today I could say the same about many new BB pistols, because the 1911 is one of the most-copied firearms of all time.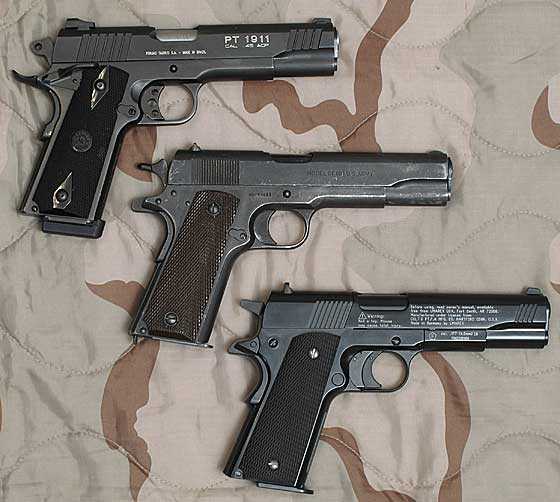 Taurus PT 1911 on top, genuine World War I 1911 in the center and Umarex Colt 1911 A1 CO2 pistol at the bottom.
PPK/S
The Walther PPK/S is the airgun that got me interested in lookalikes. I owned the Crosman M1 Carbine; but when I got the WaltherPPK/S, I decided that I also had to own the firearm, as well. So I got a .22-caliber PPK/S that's a bit of a rarity on its own.

Both are genuine Walther PPK/S pistols. Top is a .22 rimfire. Bottom is a BB pistol.
M1 Carbine
I've owned three Crosman M1 Carbines. The first had a wood stock, which was only made in the first two years of production (1966-1967). Then I owned one with a Croswood (plastic) stock, but I let it get away. Then Mac gifted me the one I own today, which also has the Croswood stock and the original box.
I would own this even if it weren't any good as an airgun because of the association with the military rifle, but the irony is that this is also one heck of a BB gun! It's powerful and accurate and has fully adjustable sights. What's not to love?
The M1 Carbine is so very popular that besides the 6 million that were produced during World War II, there have been millions more made commercially after the war. They're still being made today! And some of these commercial guns are in calibers other than .30 Carbine. My .22 Long Rifle German-made Erma made for Iver Johnson is one such gun. So, here were have an original firearm, a copy that is also a firearm, as well as an airgun copy.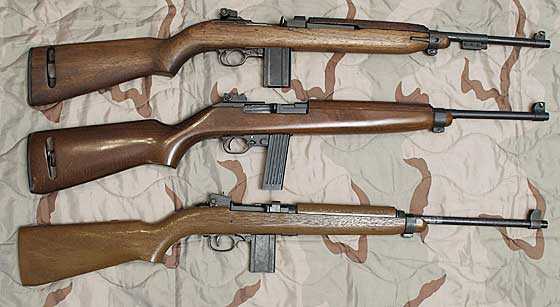 Genuine military carbine on top, then an Erma .22 carbine and the Crosman BB gun at the bottiom.
Walther Lever Action
The Walther Lever Action is a copy of the iconic Winchester 1894 lever action rifle that ushered in the era of smokeless powder for the maker. Except for the butt that is larger to house the 88-gram CO2 cartridge, it's very similar to the firearm. Not only is this air rifle a close copy of the firearm, it's also very accurate and a fun gun in its own right! While pricy, it's worth it if you value the similarity to both the look and operation of the firearm it mimics.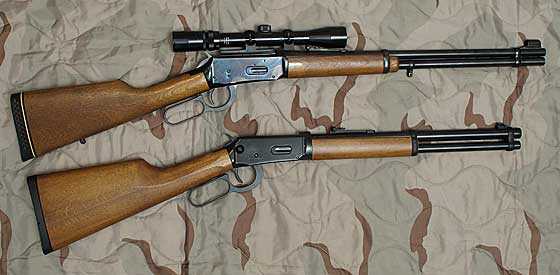 A Winchester 1894 30-30 on top and a Walther Lever Action at the bottom. The firearm has a side-mounted scope, because it ejects empty cartridge cases straight up.
Daisy model 26
Not to be outdone, Daisy had its own lookalikes — starting with the 1894 lever-action and progressing to a copy of the BB gun you're about to see. They copied the Remington Fieldmaster 572 — a slide-action (pump) — .22. Why they chose that particular model, I don't think we'll ever know. When I asked at Daisy, they told me that firearm was such a classic! Yeah! Like a Hudson Hornet is a classic car! Anyhow, they made a beautiful lookalike BB gun that was first marketed as the model 26 for reasons no one seems to know, and then as the model 572, which is understandable. The guns are identical, but the model change allows collectors to date their guns to a certain degree.


Daisy's model 26 was the first copy of the Remington Fieldmaster 572. Daisy later changed their model number to 572.
Something really odd
Up to this point, you could buy any of these airguns or firearms within a couple of months of diligent searching here in the United States. Now I want to show you something that I bet you've never seen and were not even aware that it existed. Even advanced airgun collectors do not know about what you're about to see.
In 1976, this country celebrated its 200th anniversary and the party was huge. I was in Germany at the time, so I missed it, but I see the reruns on TV all the time.
One gun manufacturer — called Ultra-Hi — had been manufacturing black powder guns in Japan and decided to make an airgun to commemorate the bicentennial. An underlever BB gun was made that looked very much like an 1840s caplock rifle. Airgun collectors know about the Pioneer '76 and consider it very collectible.
What they don't know is that Ultra-Hi copied one of their own black powder rifles when designing this BB gun. Here, for the first time, you'll see both the BB gun and the muzzleloading rifle it copied.


Here's an airgun and firearm pair nobody knows about. The Ultra-Hi Pioneer '76 on top is a BB gun that is well-known among collectors. The Ultra-Hi .45-caliber percussion rifle underneath is the gun nobody knows about. Both guns have fake brass-colored plates where there should be patchboxes, and both rifles have stocks made from two separate pieces of wood to save money. The brass strip on both stocks hides that fact.
What comes next?
I made this Part 1 in case this is a subject that interests you readers. This is an area of airgun collecting that's nearly ignored, because airgun collectors often don't like firearms and firearm collectors don't care for airguns, as a rule.
I'll watch your reactions to what I've shown today to determine if it's worth pursuing this subject any farther, but from the response to yesterday's report on the Crosman M4-177 Multi-Pump Air Rifle, it looks like it might be.
by B.B. Pelletier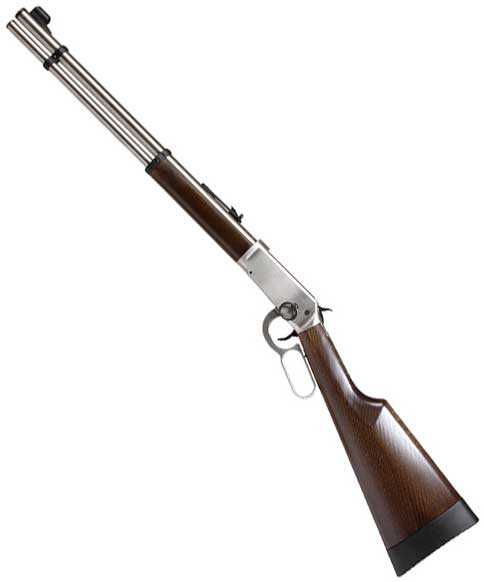 The brushed-nickel version of the Walther Lever Action CO2 rifle is extremely attractive.
Before we start today's report, I want to update you on another report that's ongoing. The .25 caliber BSA Supersport test had to be stopped because the forearm screws on the test rifle will not tighten. Also, the velocity of the test gun seems to be way too low. It's in the 400s. We've contacted Gamo USA to get a replacement rifle. When it arrives, I will re-start the test from where we left off.
Today is a special fourth part to the test of the Walther Lever Action rifle. I did the accuracy test with open sights in Part 3, so today I'm mounting a scope to see how much better this rifle will shoot.
I'm using a prototype scope mount made for the older Walther Lever Action rifle by B-Square. It was eventually offered as a standard item for many years, but it is no longer available. However, Umarex now sells their own version of this mount that they call the Walther scope base, and it looks even nicer. It's made to accept either Weaver or 11mm scope rings, which is a big plus. Also, it has three mounting screws instead of the single screw the B-Square base has.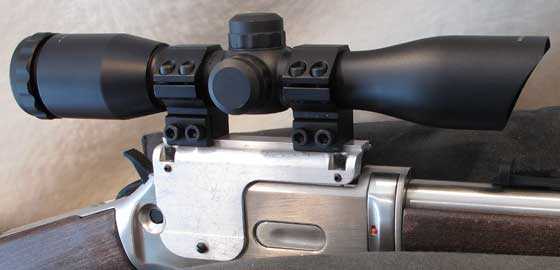 This old B-Square prototype mount was never finished, so the bare aluminum is a close match for the silver rifle. The small Leapers scope looks just right for the rifle's size.
For a scope, I was very selective. This rifle is more of a carbine size, and I didn't want to overpower it with a huge scope. Even the usual 3-9x scopes that are considered normal on most air rifles are large for this one. I had a Leapers 5th Gen 4×32 Compact Mini CQB scope with a 100-yard fixed parallax that looked right for this installation, so I used it. Normally, this would be the exact wrong scope to use on a short-range air rifle, because the parallax is set for 100 yards, but I found it clear enough at 25 yards to let me see .177 pellet holes when they landed in the white. I could bisect the bull with the crosshairs, and the extra bit of eye relief this scope gives made it a good choice in this case.
Trigger-pull
I praised the trigger-pull back in part 2. I said I thought it would satisfy most shooters, but when I looked through the scope in this test I found the trigger a little too heavy for perfect work. So, I applied a technique that always works well on heavier rimfire triggers. Instead of squeezing the trigger gently, pull faster and with more force. The gun will fire sooner, which I found offsets the desire to wait until the crosshairs are on the exact point of aim. It sounds like a sloppy way to shoot, but when there's a heavier trigger I've found that it works well.
Accuracy
All shooting was done from a rest indoors at 25 yards. I began the test by seating the pellets with just my fingers, but that didn't work too well. After switching to the seating tool, the groups shrunk in half. Don't forget to use that tool!
Crosman Premiers
I shot the Crosman Premier 7.9-grain domed pellet, but this time it didn't do very well. The 8-shot group was nearly one inch, which is on the large size in view of the other groups I got.
Air Arms Falcons
Another domed pellet that didn't work as well as I'd hoped was the Falcon from Air Arms. They grouped about 0.90 inches for 8 shots, but in light of the other two I tried, that was lacking.
JSB Match Diabolo Exact RS
One of the pellets that performed well was the JSB Match Diabolo Exact RS. It's another lightweight domed pellet, but unlike the Falcon, the Walther really liked this one. However, it wasn't as consistent in the rifle as the next pellet I tried.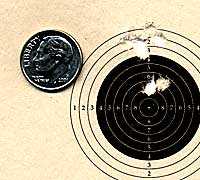 JSB Match Diabolo Exact RS pellets did well at 25 yards. This 8-shot group measures 0.652 inches between centers. This was the best group of the test.
JSB Match Diabolo Exact 8.4-grain domes
The pellets I found best in this rifle and the pellets I kept coming back to, magazine after magazine, were the JSB Match Diabolo Exact 8.4-grain domes. They just always wanted to go where I was aiming, once the gun was sighted in for them.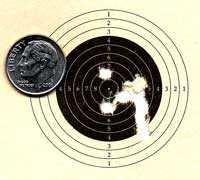 The JSB Match Diabolo Exact 8.4-grain pellet proved to be the most consistent in this rifle. Though they didn't shoot the best group of the day, they were all close to this one, which measures 0.748 inches between centers.
Shooting this rifle is like eating peanuts. You never want to stop, because it's just so much fun to do! I shot a lot more groups than I normally would for a test like this. Both the JSB Exact 8.4 and the JSB Exact RS were super performers that did their job, so long as I did mine.
Final impressions
It's still shooting the rifle on the first CO2 cartridge I installed. With today's testing, that's over 225 shots for certain. You get lots of shots from one of these big bottles.
I'll be sad to let this one return to Pyramyd Air. I know I can't hang onto them all, but this one is the high-water mark of the lever-action design. It's smooth, slick and balanced perfectly. It handles like you wish a .22 rimfire would, and it builds dreams with each pull of the trigger. I'm going to put it in my recommended list of airguns, because I know how happy it will make all potential owners.
by B.B. Pelletier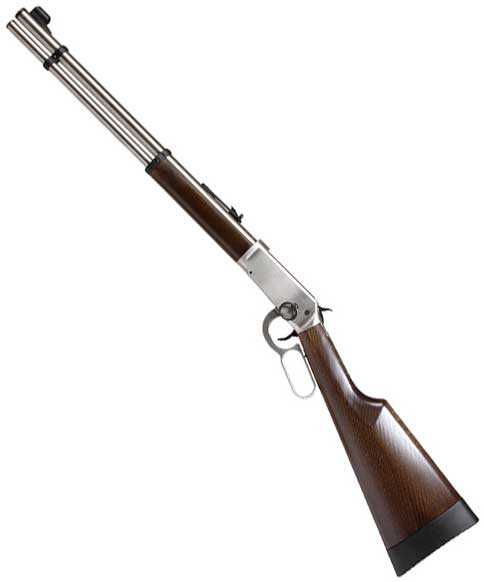 The brushed-nickel version of the Walther Lever Action CO2 rifle is extremely attractive.
Today, I'll shoot the gun downrange and find out if this newest Walther Lever Action rifle has the same pinpoint accuracy as the first model. Many readers have written in to support this latest offering, so I think I should share some personal observations with you.
General observations
For starters, the new buttplate doesn't look that bad in person. When you're shooting the rifle, you don't have time to look at it, and it does feel right in your hands. How it holds is far more important than how it looks, but I'm telling you now that it doesn't look that bad.
Next, I want to convey the absolute butter-smoothness of the action. If Marlin or Winchester rimfires worked this smooth, they would sell a lot more of them! The lever doesn't have much work to do, so it can move unimpeded through its arc. It even sounds right when it cycles, with a satisfying snick-snick.
Finally, I now know the trigger a lot better than before. There's an ever-so-slight hint of creep in stage two, but it still releases crisply.
I'm back to open sights
My eyes suddenly became better last week, so I was able to shoot the rifle with open sights. I tried it at only 10 meters, because the bull was beginning to get fuzzy, but I wanted to see how well I could do without the aid of a scope. I surprised myself — or, I should say, the rifle surprised me because it stepped up to the mark and did all that was asked of it. I remembered my older Walther Lever Action was very accurate with open sights, but with all I've been through getting other guns to shoot well recently, this was still a pleasant surprise.
All shooting was done offhand, with a support. Like the strong-side barricade position for practical handgun shooting, I supported the rifle against a door jamb to steady myself.
RWS Hobbys
The first pellets tested were RWS Hobbys, which fit the circular clip very tight. I used the pellet seater tool that comes with the rifle to seat every pellet, but Hobbys were the only ones that actually popped forcibly into the chambers when their skirts were sized down. All the others slid in without a complaint.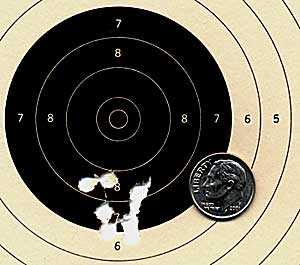 Shooting from 10 meters offhand supported, these eight RWS Hobby pellets made a nice little group that measures 0.698 inches between centers.
Seeing that tight group of Hobbys gave me some confidence that I could shoot with open sights. At least at 10 meters, things were clear enough using the reading glasses I described in several past reports.
Crosman Premier 7.9-grain pellets
The next pellet I tried was the Crosman Premier 7.9-grain domed pellet. This is the so-called "lite" pellet in the .177 caliber Premier line. Domed pellets don't mark a paper target as distinctively as wadcutters, but with the Walther's velocity ranging in the mid 550 f.p.s. region, they leave holes that are clear enough to see. Any slower, and you'll get ripped holes that are very difficult to locate.

Eight Crosman Premier lites made this group that measures 0.615 inches across the farthest centers. It was the best group of the test.
Let's get crazy!
Just for fun I decided to shoot 8 Crosman High Velocity Super Sonic Pellets, to see what they might do. We tested them for velocity in Part 2, and it seemed only right to give them a chance here, as well. And they didn't disappoint.
Crosman High Velocity Super Sonic pellets
As anyone with experience using Crosman High Velocity Super Sonic lightweight pellets knows, they scatter like shot from a blunderbuss. That's not a criticism of Crosman pellets; all lightweight, non-lead pellets have this tendency. Only when a lot of manufacturing care (and a lot of additional cost) is put into their making can they keep up with lead pellets — and even then only out to about 25 yards.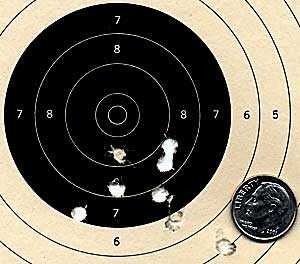 Crosman High Velocity Super Sonic pellets gave this 1.561-inch, eight-shot group. In light of the performance of the other three pellets, I don't think anything more needs to be said.
H&N Finale Match Pistol pellets
After the Super Sonic pellets I loaded H&N Finale Match Pistol pellets, so we're back to a lead pellet with some hope for accuracy. Sometimes, these will be the most accurate pellets of all. I used the pistol pellets instead of the rifle-weight pellets because of the rifle's available power.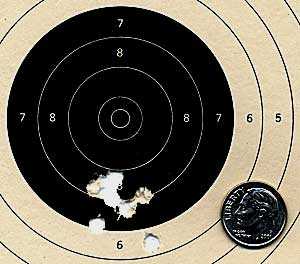 The H&N Finale Match Pistol pellet also did well in the Walther Lever Action gun. This group measures 0.835 inches between centers.
Conclusion
Although the Premiers and the Hobbys outshot the H&N Finale Match Pistol pellets in this test, I would have to group all of them into the same category of accuracy because I didn't shoot that many groups. The non-lead pellets, on the other hand, are clearly in a different category.
I'm not done with this rifle. I'm going to mount a good scope and shoot again at 25 yards. Then, we'll have a complete picture. I'm not saying this is supposed to be a target rifle, but from past experience I know that its accuracy is well above average. I just want to show that to everyone, plus I really like shooting this one. It's like an R7 that's easy to cock.
Oh, one last comment. After at least 150 shots, I'm still shooting with the first 88-gram CO2 cartridge I installed.