Posts Tagged 'Yours Truly Harvey Donaldson'
by Tom Gaylord, a.k.a. B.B. Pelletier
While I was at the courthouse awaiting jury selection the other day, I was reading a favorite gun book, Yours Truly Harvey Donaldson, edited by David R. Wolfe and published in 1980 by Wolfe Publishing Company, Prescott, Arizona. In the book, Wolfe assembles letters and articles written by Harvey Donaldson, one of America's top shooters, and cartridge developers. He is best-known for his .219 Donaldson Wasp cartridge, but he actually worked on dozens of different centerfire cartridges over the 89 years of his fruitful life. And he was a schuetzen shooter on top of all of that. Schuetzen rifles are single-shot rifles with incredibly accurate barrels that shoot lead bullets at low velocities. They typically shoot at 100 and 200 yards, either offhand or rested on a bench. The best of them have been known to put 10 bullets into a group that measures under one-half inch at 200 yards, which is a challenge that's difficult to equal with modern arms today.
So, Donaldson knew how to shoot. And that's the connection to today's report. I read a paragraph that Donaldson wrote for an article that appeared in American Rifleman magazine in May 1936 – Rest Shooting and Schuetzen Loading:
"The secret of fine rest shooting is to hold the rifle so it will be free to recoil in the same way for each shot. I like to have my rifle come straight back, and when I see the crosshairs rise toward 12 o'clock in a straight line above the bull, I know that all is well and I can expect a good group. If the shooter will carefully perfect his holding so as to get this effect, the matter of making small groups will come much easier."
That's a good description of the goals of the artillery hold airgunners use, with one exception. Donaldson describes firearms that, while their bullets don't travel very fast (never over 1,400 f.p.s.), still leave the muzzle before the major vibrations and movement of the gun begins. With a spring-piston airgun, the heavy steel piston has already jumped forward violently and then come to a sudden stop before the pellet begins to move. Vibrations in the gun have already started well before the pellet leaves the bore, which is why airgunners have to take this special hold even farther than Donaldson describes.
Important point — please read and understand!
Remember this — Donaldson was talking about firearms when he described his hold. So, the basic tenets of the artillery hold apply to firearms as well as to airguns. I have known that all along, but I haven't harped on it because it really doesn't matter to most shooters. A hold like this is only important to those who want the absolute last bit of accuracy potential from their firearms. Some of our blog readers who have competed with firearms, like Victor, understand the importance of hold consistency without my saying anything. They might call it something else, like follow-through perhaps, but we're speaking about the same thing. For the rest of the shooters who are just plinking with a .22 rimfire or shooting anything offhand, it wasn't important that I drill down to the absolute bottom bedrock fundamentals of shooting to explain my points. Either they understood it without me commenting or it wasn't important.
But I'm going on record today and saying that an artillery-like hold, or at least a repeatable hold that allows the firearm to recoil in the same way every time, does have a positive influence on the accuracy of a firearm as well as a spring-piston airgun. And I'm also going to say that the artillery hold has a positive effect on other types of airgun powerplants — including the precharged pneumatic (PCP).
It's still true that a PCP is much easier to shoot accurately than a spring-piston gun, but only with a proper hold will any PCP be capable of delivering its full accuracy potential. Because PCPs do not vibrate very much, nor do they recoil, the benefit of a consistent hold gets lost in the noise. Most good PCPs shoot very well regardless of how they're held.
What is special about the artillery hold?
Okay, we know that the consistency of the hold is important to accuracy. But is the artillery hold different than what Donaldson describes in the passage above? Yes, it is. Donaldson rested his schuetzen rifles front and rear. The barrel of his rifle rested on the forward rest and the buttstock rested on the rear rest. There's foam rubber between the barrel and the rest, but my point is that Donaldson does not rest the rifle on its forearm.
To be honest, there are photos showing benchrest rifles rested on their forearms, too, so it can be done either way, but the barrel rest was by far the more common in these older times.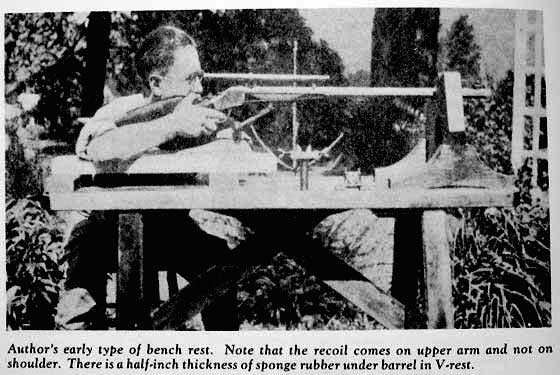 Donaldson shown with a rested schuetzen rifle in the 1930s. The barrel is resting on foam rubber on the front rest. Photo from the book, Yours Truly, Harvey Donaldson, Wolfe Publishing, 1980.
What's special about the artillery hold is that we don't normally rest the rifle directly on sandbags or other rests. Instead, we rest it on our hands, which are placed on the rest. The flesh of the hand cushions the rifle in some unique way that even sand cannot. There are some gel-filled pads that seem to work as well as the hand; but when you examine them, you find that they feel quite a lot like the flesh of your hand. There's something about the consistency that a spring-piston air rifle needs in order to have repeatable recoil and vibration patterns.
What you rest the rifle on is important, but so is where you rest it. I often have to try sliding my off hand back and forth under the stock, from the triggerguard to out as far as I can hold it — searching for a point where the rifle responds the same with every shot. Sometimes, I never do find the right place, and then I resort to resting the stock on the backs of my fingers and even directly on the sandbag. I don't use the backs of the fingers unless absolutely necessary because it often hurts. And the number of airguns that can be rested directly on a sandbag and still shoot well is very small, although the TX 200 is one that can.
Today's lesson
The point of this report is that the artillery hold is nothing new, and I didn't invent it. It was already very old when I picked a quirky name for it, so airgunners would remember it and be able to talk about it. This hold is one of the fundamental tools in a good shooter's kit. You can ignore it, but do so knowing what you're giving up — because this is the "secret" to shooting a recoiling spring-piston air rifle well.
by Tom Gaylord, a.k.a. B.B. Pelletier
I've written about firearms in this blog from time to time. Even though it's about airguns, there are so many lessons we can learn from firearms that it's a shame to turn our backs on them — as if by using explosive gas instead of compressed air they're somehow different. Once the projectile gets out of the barrel, it acts the same regardless of what starts it on its way.
Many of you understand why I do this. Blog readers Kevin and BG_Farmer, for example, know that a precharged gun acts the same as a black powder arm, in that they both require a long barrel for optimum performance. The longer the barrel, the greater the velocity you can expect — all other things remaining equal. That was demonstrated clearly in the test of the Talon SS, when I switched from a 12-inch barrel to a 24-inch barrel. Velocity increased dramatically and the shot count remained the same — proving that a longer barrel gives greater performance in a PCP.
Today, I want to discuss another similarity I've discovered. I didn't really "discover" it. I more or less tripped over it, cursed a bit; then, as I was picking myself up and brushing myself off, I happened to reflect on what had happened and was enlightened.
The idea first crossed my path in the book Yours Truly, Harvey Donaldson, by the author of the same name. He noticed that some of the shells he reloaded grouped their bullets very well, while others that had the same headstamp and were purchased at the same time, threw their shots wide of the mark. That phenomenon is so common in my experience that I thought it was the way things always were, but old Harvey had a different idea. He started setting aside the cartridge cases that threw the wild shots, keeping only those that tended to group their shots together. In time he was left with a smaller batch of shells that all wanted to put their bullets into the same hole — as long as everything else (powder type and weight, bullet weight, seating depth, primer type, etc.) stayed the same.
In the end, Donaldson wound up with a batch of shells he could count on to group their shots together and others that couldn't. He then shot groups with cartridges made from the good shells and from those that were not as good and demonstrated that the good shells grouped much better.
My shooting buddy, with whom I recently commiserated about the lack of success we were having with some firearms, pointed out that we were both shooting cartridges with mixed headstamps, and we weren't paying attention to the things that were staring us in the face. That was a wakeup call for me!
So, I've just begun doing the same thing as Donaldson with a couple of my firearms — but I don't have any real results to show, yet. However, the initial examination does look promising. I say that because within any group of 10 shots with certain rifles there's usually a smaller group that hints that there may be a difference between the shells, since everything else is exactly the same.

Ten shots from a 250-3000 Savage at 100 yards. If you were sorting these shells for reloading, which three would you exclude from the good pile? The x-ring is 0.90 inches in diameter.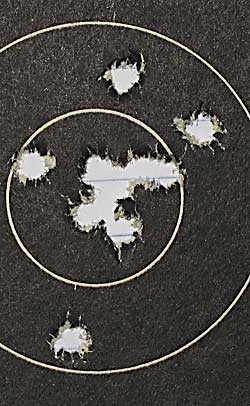 Ten shots from a .22 Hornet at 50 yards. Can you tell which 6 cartridges are of interest?
But how can this information help me as an airgunner? Edith pointed out that once the trigger is pulled, the pellet goes downrange and there is nothing left to be sorted for the next time.
But what if I could sort BEFORE the shot? And, of course I can! If I weigh and visually inspect each pellet, I'll have the most uniform group of pellets possible. I can then shoot them against a random selection of pellets straight from the tin and also against a group of pellets that were specifically rejected during the selection process. There should be a noticeable difference between those three groups — no?
Oh, I can hear the gears turning, now! In your analytical minds, you're creating universes in which all pellets go in the same hole at a ridiculously long distance. Well, cut it out! It often doesn't work as simply as that. It may sound good when you read it in print; but when you attempt to test it, the results may not be what you expected. There are many reasons for this.
The gun
If you're doing this with an accurate airgun, there's a chance you'll succeed. But if you're doing it with a gun that vibrates like a jackhammer and kicks like a mule, any difference in accuracy may be overwhelmed by the slop of the test instrument (the gun).
Your shooting technique
I was at the range last week and observed a man who couldn't hit a 12-inch paper plate at 100 yards every time with an M1 Garand. Was that the rifle's fault? No, it wasn't. The guy closed his non-sighting eye by squinting and refused to try holding it open. So, the round peep hole his sighting eye looked through was scrunched up into a deformed hole that nobody could hope to sight through. He could not be convinced to try holding both eyes open, and I bet this is a person who blames "old eyes" on his inaccuracy when it is nothing more than technique. If you don't have good shooting technique, you'll never be able to see subtle differences in accuracy in a test like this.
Range conditions
I've seen shooters complain because their rifles were not giving them one-inch groups at 100 yards. But they were shooting on a windy day and disregarding the wind entirely. As if a bullet isn't affected by wind! Granted, bullets shot from firearms buck the wind much better than pellets — but, even so, there are limits. And a 15-mile-per-hour crosswind is not the time to be expecting one-hole groups. On a day like that, you either wait out the wind and shoot during the quiet times, or you do something else. But don't expect to set records.
Distance
You need to shoot at a distance at which the groups start to open. I like small groups like everyone, but you don't learn anything from them in a test like this. So, the 22-foot range in your basement is out. You need to get some distance between you and the target. For me, that distance is 50 yards. That's where I have to do all of the things mentioned above correctly on every shot, and any mistake I make gets magnified greatly, to my embarrassment.
And why do you need open groups? What you really need is to clearly see the smallest deviations your pellets are making. The farther you shoot, the more visible they become.
So, Grasshopper, before you can benefit from today's lesson, you must first prove that you can shoot tight groups to begin with. This is the reason I push so hard for new shooters to acquire certain models of airguns — because I know those models will give them a modicum of accuracy. What kind of Formula One racer would you be if all your driving experience was on a tractor?
I have done this test — once
I actually did do this test one time — twice if you count once with target sights and once with a scope. Some of you may remember that I was goaded into shooting groups at 50 yards with an FWB 300S target rifle. I did get better results from weight-sorted pellets than from random pellets taken straight from a tin. None of the groups were especially small, but those shot with weight-sorted pellets were the smallest in both the test with open sights and again with a scope.
But I haven't done a test specifically to evaluate the benefits of sorting the pellets. That would be new.
I'm going to do it, so please give me your thoughts.
by B.B. Pelletier
Part 1
Part 2
Part 3
Part 4
Part 5
Part 6
Before we begin today's report, I want to reflect on a truth that helps explain why we're sometimes dissatisfied with things when we get them. I was at the range last week testing some airguns, and I was using my Celestron 70C spotting scope, like I always do. This scope is good at 50 yards, but becomes marginal at 100 because it cannot resolve the smaller bullet holes. I don't mean pellet holes, I mean .22-caliber bullet holes in the black bullseye at 100 yards.
A friend brought his Burris spotting scope to the range for me to compare, and the difference between the two was night and day. His scope was sharp enough to see small spiders walking on the target paper at 100 yards!
That same day, I shot a couple rifles my other friends had brought to the range. One of them was a fantastically accurate custom 6mm/.22 that can shoot a half-inch, 5-shot group at 100 yards. But it's scoped with a BSA 4-24X scope that isn't available at Pyramyd Air for good reason. It's so dark and muddy that I couldn't see the bullet holes as I shot this very accurate rifle. And I was shooting at a bright orange dot on white paper! I couldn't see bullet holes on that! The scope was set at 16X because anything above that caused the image to go white from flare, and we were shooting in total shadow under a covered roof!
Another friend had a Lyman Super Targetspot scope that was 10X, and I could easily see all the holes his .220 Swift was making at 100 yards on the same kind of targets. So with six fewer magnifications, I was able to see the holes because of the superior optics. The Lyman scope is no longer made and a good used one will fetch about $800, while you can probably buy the BSA for under $200 all day long.
Back to the spotting scopes
My Celestron spotting scope has 30X, 60X and 90X power available. Where do I have it set? Between 30X and 60X, which is about 45X. Because anything greater than that muddies up the image too much — even at 50 yards. My friend's Burris spotting scope only goes up to 45X maximum, yet it's many times clearer than my Celestron. And I found on this day that only 10X was actually required to see .22-caliber holes at 100 yards on a light target. A black bull is probably harder to see with just ten power, but with 45 power it is easy!
So, I went home and researched that Burris spotting scope. It sells for about $175 at Midway, where the Celestron C70 Matsukov I have sells for about $80. But what good is it if it doesn't do its primary job?
That got me thinking about shooters who purchase air rifles on the basis of velocity, alone, without appreciating all the other variables that come in the package. Things like smoothness, a good trigger and, most importantly, accuracy are pushed aside for velocity and low price.
I rant on about these things because they are also among my personal flaws. I've always tried to buy the cheapest of everything, and often the "mostest powerfulest," too. So, I'm constantly drawn back to them whenever I find that I have made another dumb blunder.
On to today's report
This was a day of great learning. When I summarize this series of tests, today will mark a big turning point, I believe. I learned a lot of things — all of which I will now show you.
Beeman Devastators
As always the first pellet tested was the lightweight Beeman Devastator. I've been amazed at the performance of this pellet from the start of this test, and last time I predicted that it would shoot even smaller groups this time.
Sorry, but that didn't happen. The first four shots seemed to confirm the need to "season" the bore before shooting each new pellet. I'm showing that target here so you can see what I saw.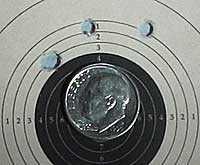 This sight-in target for Beeman Devastators fooled me. Shot one was the upper right. Shots two and three were in the same hole on the left and shot four was between that group and the first shot. At the time, I felt this was demonstrating the need to "season" the bore before shooting a group with this pellet.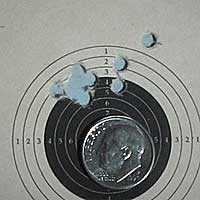 This group of Devastators seemed to suggest that the barrel wasn't fully seasoned yet. Group measures 0.956 inches between centers.
Shot one was the on at the high right, then the tight group of shots at the left were the next seven shots. Just when I was about to proclaim a universal law of bore seasoning had been discovered, shots nine and ten fell between the first shot and the group at the left.
Now, I was in a quandary. If the last two shots had strayed from the group in the same direction as the first shot, what was it telling me? Maybe the bore didn't need seasoning. Maybe the Devastator just doesn't like this velocity. Only another group would tell me for sure.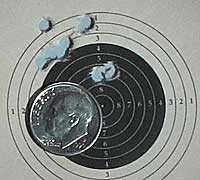 This second target of 10 Beeman Devastators shows that the barrel didn't need to be seasoned. It simply isn't responding well to this velocity. Group measures 0.724 inches between centers.
I believe that this particular velocity is one the Devastator pellet doesn't like. As you know, I haven't touched the Harmonic Optimized Tuning System (HOTS) on the barrel of my Whiscombe during this test. And I won't. I don't really care how accurate the gun is with a certain pellet. I was trying to see if there is a linear relationship between velocity and accuracy, and these two groups suggest that there isn't. You'll have to read the rest of this report to fully understand what I mean.
Crosman Premier lites
Next, I shot 10 Crosman Premier lites at 25 yards. This time, the target was very good, but the point of impact moved about a half-inch higher than last time. I was prepared to shoot four shots to season the bore, but the pellets kept going through the same hole, more or less, so I just completed the group without any seasoning.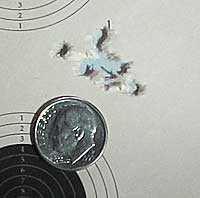 This is a nice group of 10 Crosman Premier 7.9-grain pellets at 25 yards. It measures 0.747 inches and is actually slightly larger than the smallest group of Devastators. It's almost identical to the last group shot during the previous test, so no big change in group size with this pellet.
The change of impact point was another big lesson this time. I'd seen it earlier, but not as dramatically as this time. The overall size of the group remained the same as before. That's another indication that this is a barrel vibration issue and not one that's driven by a change in velocity.
Beeman Kodiaks
The next pellets I tested were the Beeman Kodiaks, which have performed so well to this point. This time, the point of impact shifted up about three-quarters of an inch, but the group remained very tight. This time, 10 shots went into a group measuring 0.472 inches at 25 yards, which I believe is currently the best group of this entire test. Last time, they gave us a group measuring 0.628 inches.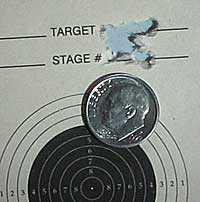 Kodiaks continue to be the best pellet of the test. This group of 10 measures 0.472 inches between centers.
Eun Jin
And, now, it's time to report the performance of the super-heavyweight 16.1-grain Eun Jin pellet. Last time, they made the worst showing and that continued into this test, as well. What was different was the fact that the point of impact dropped more than two inches with what was just a slight reduction in velocity.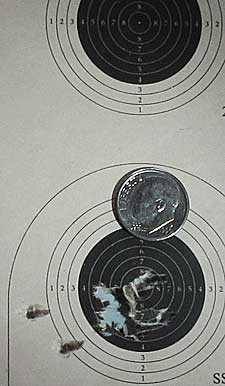 I was aiming at the center of the bull above, where they impacted! This was a dramatic change of impact point from the last test. Group size for these 10 Eun Jin pellets was 1.27 inches between centers. That's a little larger than last time, but the change of impact was far more noticeable.
What have we learned?
Well, nothing has been linear in this series of tests — the way I expected. But what the vibrations are doing seems pretty obvious. So, the next test is both needed, as well as anticipated.
by B.B. Pelletier
Part 1
Part 2
Part 3
Part 4
Part 5
For the benefit of readers who have landed on this article first, this is the sixth test in a series of reports designed to test how velocity affects accuracy. I'm using a Whiscombe JW75 breakbarrel/underlever rifle with a .177-caliber barrel installed. That way the same powerplant is being used for each test. I'm controlling the power of the gun by the use of different air transfer port limiter screws that allow less and less air to past through.
The Whiscombe rifle uses dual opposed pistons that come together to compress the air when the gun is fired. The rifle has no recoil and just a minor impulse that can be felt — yet it's one of the most powerful spring-piston air rifles ever made. My rifle can produce over 30 foot-pounds in .25 caliber.
Four pellets were chosen at the start of this test and have been used in each velocity and accuracy test that's been conducted. Two of them were supersonic in the first test and one remained supersonic in test two, while the other was still in the transonic region where wind buffeting occurs. It's testing exactly what it was designed to.
Today, I installed a smaller transfer port limiter to slow down the four test pellets even more. This was the first time all four pellets were safely below the sound barrier, and the shooting was uniformly quiet. You probably should read the first five reports at the links provided above to understand all that's happening.
Beeman Devastators
This 7.1-grain lead hollowpoint hunting pellet has been the biggest surprise of this entire series. Normally, these types of special pellets are designed for maximum mushrooming and are not that accurate — at least not in my experience. But the Beeman Devastator has proven to be the exception. From the start, when it was leaving the muzzle at an average 1,216 f.p.s., it was accurate. So far, we've conducted only two accuracy tests, so the results of this one should prove interesting. As I said, this was the first time this pellet has left the muzzle at subsonic speed.
The average velocity was 973 f.p.s., with a low of 967 and a high of 977. That's only a 10 foot-second difference between the slowest and fastest pellet, which I think is amazing. Usually, a pellet this light will also have a much larger total velocity spread over a 10-shot string. At the average velocity, this pellet is cranking out 14.93 foot-pounds of energy at the muzzle. That's down from the initial 23.32 foot-pounds it was making when there was no transfer port limiter in the gun.
Can you guess what this pellet will do in the accuracy test? I think it'll be even more accurate than in the past. But who knows?
Crosman Premier lites
Crosman Premier lites were next. Initially, they were leaving the muzzle at 1,134 f.p.s. when there was no transfer port limiter in the gun. Today, they averaged 915 f.p.s. and the spread went from 911 to 919, for a super-tight 8 foot-second difference. At the average velocity, these pellets were producing 14.69 foot-pounds at the muzzle.
Any guesses as to what this pellet will do in the accuracy test? The difference between the first and second accuracy tests was very small, but we've finally gotten the velocity down out of the transonic region, where all the buffeting is. They didn't break the sound barrier the last time; but at an average 1,057 f.p.s., they were well into the transonic range. There could be a happy surprise from the Premiers.
Beeman Kodiaks
Beeman Kodiaks averaged 819 f.p.s. with this transfer port limiter. The spread went from 817 to 824 for just a seven foot-second total variation across 10 shots. The muzzle energy was 15.2 foot-pounds. Notice that this heavy pellet is producing more energy than the two pellets that are lighter — something that's not supposed to happen with a spring-opiston system.
I need to interject a word on Kodiaks. For some reason, their weights have varied widely over the past couple years. Where they had weighed 10.6 grains for several decades, someone decided to reduce the weight to 10.2 grains in 2010. Those are the pellets I have. But now I notice that the weight is back up to 10.4 grains. Obviously, someone is adjusting the weight of this pellet that was once considered one of the three most accurate .177 pellets on the market.
Kodiaks have been the most accurate pellets in both the previous accuracy tests (after I started using the scope level), but I don't know if they'll continue that trend at this new lower velocity.
Eun Jin domes
The 16.1-grain Eun Jin dome is really too heavy for the Whiscombe in its most powerful form. Certainly as the power is reduced, they become even less appropriate. In this test they averaged 618 f.p.s., and the spread went from 615 to 624, for an 11 foot-second total. At the average velocity, these super-heavyweights are producing 13.7 foot-pounds at the muzzle.
They produced the worst group last time, opening up from the group they had made with no transfer port limiter installed; and I predict this trend will continue in the next accuracy test. These are really best in powerful PCP guns — not in spring-piston guns.
What's next?
Next, I'll test the accuracy of these four pellets at 25 yards. I'll use the same careful technique that I've been using so far to keep the results as free from bias as possible, so this should give us a good look at how velocity really affects accuracy — at least with these four pellets in this one gun.
You may not remember this, but at the beginning of this series I said that if the results of three velocity and accuracy tests seemed to warrant it, I could do a fourth test with the velocities cranked down very low. I'll hold off on the decision to do that until I see the results of the next accuracy test.
Whether I do a fourth velocity/accuracy test or not, I'll write a final summary report on all that's been done in this test. If it seems worthwhile, I could do a second test using a Talon SS, so we can see the same relationship in a PCP gun. However, that hasn't been decided, yet. We still have to get through this one.
by B.B. Pelletier
Today we look at the groups made by the four pellets used in this test at 25 yards when the velocity is diminished. Part 4 covered the velocity for each pellet, so go there to see where each one is.
If you like nice linear results, prepare to be disappointed. Today's target do show changes, but they may not be in the direction you expect. Let's get right to it.
First up were the 7.1-grain Beeman Devastator pellets. These pellets have been a real surprise in this test, because they have proven to be accurate at supersonic velocity and they are not sensitive to bore conditioning. Shoot one and it tends to go to the same place every time. They also do not show any first-shot tendencies that so many other pellets do. This is a real plus for hunters, who are always shooting the first shot. I will have to return to this pellet sometime soon and test it in other guns, because it seems to be a real winner.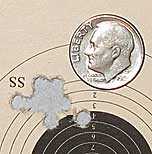 Another fine 10-shot group of Beeman Devastators at 25 yards. It measures 0.616-inches between centers.
This group measured 0.615-inches between centers, compared to the first group in Part 3 that measured 0.743-inches. Obviously the slower pellet is significantly better, but because we only have two groups to compare it is impossible to know whether one will always be better than the other. The Devastator is still going out the muzzle at supersonic speed, even though it has been slowed by about 70 f.p.s. This is the second-best pellet of this test, just as it was in the first test.
All the shooting conditions are exactly as reported in Part 3. The scope level was used for every shot and the rifle was held in the artillery hold, with the stock resting on my hand at the same place every time. So the same care is being taken each time I shoot, and that won't change.
Next I tried the 7.9-grain Crosman Premier lites. The bore was conditioned with four shots before shooting the group shown here, and as before, the Premiers did show some wandering in the first three shots. After that, they seemed to settle down, though as you will see, settling is a relative term.

Crosman Premier lites turned in the second-worst group of this test. Ten went into this group that measures 0.754-inches between centers.
This time the group size remained nearly the same, at 0.754-inches. The group shot when the gun was shooting them faster measured 0.778-inches, which is too close to call. Yes, the group fired with the pellet going slower is a trifle smaller, but it is really too close to say there is a difference that's due to the velocity — especially given the built-in error in measuring groups that I have talked about.
The third pellet I tried was the heavier Beeman Kodiak. They turned in the best group of the test, just as they did the first time. And the ten-shot group measured 0.628-inches between centers, which is very close to the 0.633-inches of the first test.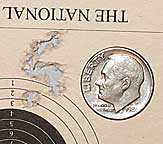 Ten Beeman Kodiaks went into this group measuring 0.628-inches. It's very close to what the rifle did in the first test.
I cannot say that the Kodiaks did any better this time than they did in the first test. Even though the velocity was slowed by 55 f.p.s., it doesn't seem to make much difference at 25 yards. Maybe that's just not enough of a drop to matter.
The last pellet tested was the 16.1-grain Eun Jin dome. These pellets were never in the transonic region, even with no transfer port limiter in the gun. So this time they were just going slower. And what a difference that made!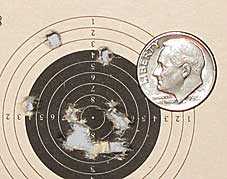 Ten Eun Jin pellets were all over the place at 25 yards. They made this huge group that measures 1.118-inches between the centers of the two pellets farthest apart. This is the worst group of this test and also much worse than the first test with this same pellet, when they grouped 0.798-inches.
Eun Jins made a bad showing at 25 yards with the transfer port limiter installed. As long and heavy as they are, I guess they need all the velocity they can get, to obtain the rotational speed required for stabilization.
What have we learned?
The first thing we learned is this probably was not enough of a velocity drop to matter, except for the slowest pellet. The next thing we learned is that the changes are not always linear. Although three of the pellets exhibit what I would call a linear relationship of accuracy to velocity, only one of them — the Beeman Devastator — shows any real improvement. And even that is just a very small improvement that could just be due to chance.
The next thing we learned is that some pellets need their speed to maintain accuracy. The big heavy Eun Jins do not like this lower velocity, and I will predict they are going to get even worse with the next velocity decrease.
The Crosman Premiers are still not performing well, and since they are still within the transonic region, there is good reason for that. I look for an improvement in the next test.
What all this tells us is that using very long heavy pellets in a lower-powered airgun is probably not a good idea. When the distance to the target increases beyond about 30 feet, you will start seeing these pellets spread out, where lighter pellets will probably continue to be accurate.
by B.B. Pelletier
Today we lower the velocity of the Whiscombe and test each of the four pellets, in preparation for the next accuracy test.
One reason I selected the Whiscombe for this series of tests is the fact that I can control the power output over a wide range of velocities by installing various transfer port limiters. For those who are new to airgunning, every spring-piston airgun like the Whiscombe generates a brief blast of compressed air by means of a piston racing forward in a compression tube. In the Whiscombe's case it is actually two pistons racing towards each other. At the exact end of their travel a small air tunnel called an air transfer port conducts the compressed air from the compression chamber to the base of the pellet, where it blows it out the bore.
The amount of compressed air is extremely small, but the pressure is fantastically high for a brief moment — as much as over 1,000 psi. In fact, well over 1,000 psi. Now you probably also know that precharged airguns operate on compressed air that is at an even higher pressure, but the difference is, when a precharged valve opens, it does so relatively slow, releasing air at far below the pressure that's in the reservoir. But a spring piston gun doesn't have any valves, so when the air is compressed, it flows through the air transfer port to the back of the pellet like a small explosion. Everything the gun has to give is right there at the same time.
However, if anything gets in the way of this air as it flows, it slows down the flow and the resultant energy output of the gun. The amount of compressed air remains the same, but the rate at which it flows is slower, and the pellet is not moved with the same sudden push.
That's a fancy explanation for the Whiscombe's air transfer port limiters, which are nothing more than Allen screws that screw into the threaded transfer port. In the center of each are holes of various sizes though which the air must then pass.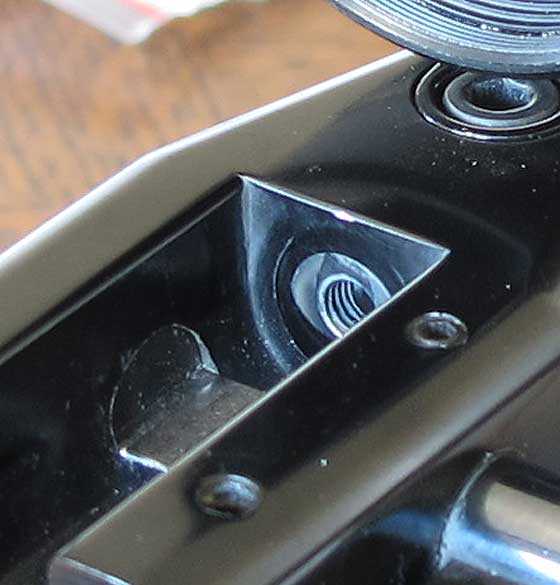 The rifle has a threaded air transfer port. It's shown here without any limiters installed.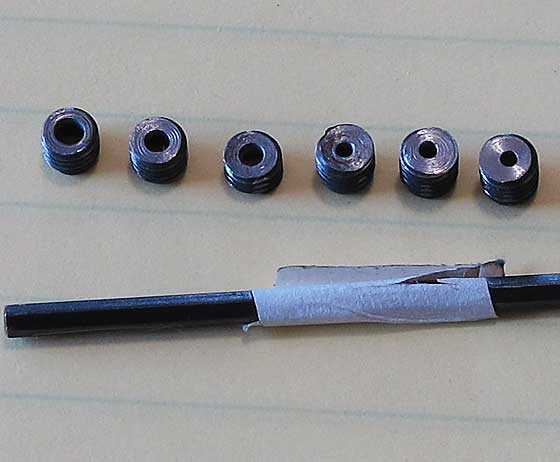 These limiters have various sized holes that reduce the airflow through the transfer port when they are installed. For this test I will install the largest one on the left.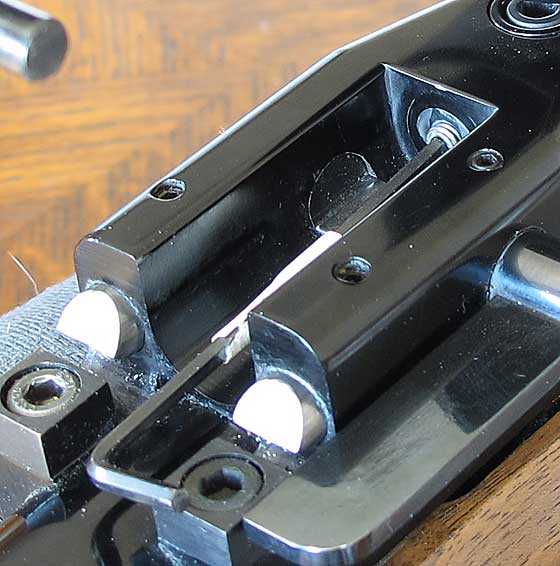 The transfer port limiter is installed with an Allen wrench.
Velocities
Now let's see what changes have been made by the insertion of the transfer port limiter. I will shoot the same four pellets as before and in the same order.
Beeman Devastator
First I tested the Beeman Devastator pellet. This is the pellet that gave an average velocity of 1,205 f.p.s. in Part 1 without any transfer port limiter. With the limiter I show being installed above the Devastator's average velocity dropped to 1,123 f.p.s. In the first test the spread was 28 f.p.s. In this test is was 16 f.p.s., running from 1,116 to 1,132 f.p.s. That isn't a huge drop in speed, but the power that was 23.32 foot-pounds in the first test has dropped to 19.89 foot-pounds. We will see what this does to the accuracy.
Premier lite
Next came the Crosman Premier lite pellet. In the first test they were averaging 1.134 f.p.s. for an energy of 22.56 foot-pounds. The spread in that test was only 12 f.p.s. In this test the same pellet averaged 1,057 f.p.s. for an energy of 19.56 foot-pounds. The spread was an even tighter 6 f.p.s., running from 1,054 to 1,060 f.p.s. That is incredible performance at this power level.
Beeman Kodiak
Beeman Kodiaks came next and they averaged 992 f.p.s. in the first test. That generated an average 22.29 foot pounds of energy at the muzzle. The spread in test one was 22 foot-seconds. After the transfer port limiter was installed the average velocity dropped to 937 f.p.s. for an energy of 19.89 foot-pounds. The total velocity spread was 24 f.p.s. — ranging from 927 to 951 f.p.s.
Eun Jin
The heavy 16.1-grain Eun Jin was the final pellet I tested. In the first test they traveled 726 f.p.s. and generated 18.85 foot-pounds of energy. The spread was 13 f.p.s. With the transfer port limiter installed they averaged 687 f.p.s. for an energy of 16.88 foot-pounds. The spread with the limiter installed was 10 f.p.s. — from 682 to 692 f.p.s.
What's next?
Next I shoot groups at 25 yards with each of these pellets so we can compare them to the groups fired with no transfer port limiter. That will give us our first look at how velocity affects accuracy.
After that I install another limiter that restricts the airflow even more, so the rifle shoots slower. And then we shoot it at that level for accuracy.
At the end of this test I still have one pellet out of four that's supersonic. The Devastator, at 1.123 f.p.s. will always be supersonic where I live. The Crosman Premier, however, will be right on the cusp of the sound barrier and whether of not it breaks though will depend on the day.
Tomorrow
Normally I would run the accuracy part of this report immediately after the velocity report, but something wonderful happened at the range on Wednesday. So I am making a special report on Friday to show you something very amazing — at least in my eyes. And no, it isn't the Ballard. Not yet.
by B.B. Pelletier
Announcement: Jerry Strong is this week's winner of Pyramyd Air's Big Shot of the Week on their facebook page. He'll receive a $50 Pyramyd Air gift card.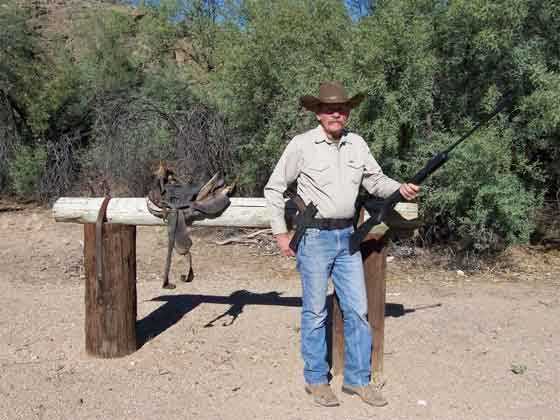 Jerry Strong, winner of the Big Shot of the Week, holds a Stoeger X50 and wears a Beeman P1 on his hip.
What a day we have before us! I relearned a valuable lesson in accuracy and got some very surprising results.
Increasing accuracy by an order of magnitude
Before I launch into today's report, a comment I made a few days ago has raised some interest and I thought I would explain it now. I happened to mention that a new loading technique that I was trying on the Ballard .38-55 rifle had given me the promise of an accuracy increase of an order of magnitude. Instead of 10 shots going into one inch at 100 yards, it looks like this new technique will be capable of putting those same 10 shots into one-tenth of an inch at the same distance. Whether I ever accomplish such a feat is immaterial as long as the rifle demonstrates it can do it.
The technique is one I found in the book Yours Truly Harvey Donaldson. He reported on it in the 1930s, and it's a technique that was used before the start of the 20th century. And this only applies to lead bullets — not jacketed bullets. The technique is to load the bullet directly into the bore of the gun so that it stops about one-sixteenth of an inch in front of the loaded (but bulletless) cartridge. You do this with an empty case into which a hard wood dowel is driven, then cut off one-sixteenth of an inch longer than the end of the case.
Then simply drop the lead bullet into the chamber with the muzzle pointed down and insert the doweled cartridge behind it. A tool with a lever can be made to seat the cartridge deep enough into the rifling that the rifle's breech can be closed, camming the bullet the last bit of the way into the bore. Extract the doweled cartridge and insert a loaded cartridge behind the bullet.
The loaded cartridge is reused for every shot — thus eliminating one variable. The cartridge is de-primed, the primer pocket cleaned, re-primed, loaded with a light charge of powder (10 grains of Unique for my proof of concept test) and the balance of the case is filled with Cream of Wheat cereal. Shooters have been loading with Cream of Wheat this way since at least the year 1900, and it works. I put a cork wad on top of the Cream of Wheat, and the cartridge is ready to fire. The cream of Wheat keeps the hot gasses from the base of the lead bullet, so you can use very soft lead that fills the bore better.
It takes approximately 5 minutes to go through the entire loading process; but in that time, the barrel has an opportunity to cool down. Thus, giving stability to the rifle. Because it will go back into the same chamber from which it was extracted, it doesn't have to be resized. I filed a notch on the rim of the cartridge and this notch is oriented to the 12 o'clock position, to allow the cartridge to enter the chamber the same way every time.
As I mentioned in my comment, the first two shots from my clean rifle went about three inches apart, with the next three going into two-tenths of an inch. That's at 100 yards with open target sights and a bubble level. I will be reporting on this process in much greater detail, and I'll have photos for you to see what's going on in a future report; but I wanted to satisfy the curious who have been asking me about what I'm doing.
On to today
Well, the stuff you just read had a lot of bearing on today's test. You may remember that this is a retest of the four pellets at ultra-high velocity — which is as fast as any spring gun can propel them. The objective of this test is to see if lowering velocity has any effect on the accuracy of these four pellets.
I'm doing a retest because I thought that the first time around I detected some evidence of group shifting as the bore got seasoned to each pellet. Two of the pellets seemed to act that way, while the other two didn't.
But as long as I was doing the test again, I decided to use the scope level that's mounted on the Whiscombe rifle I'm using. I have learned from shooting my Ballard rifle, which has a bubble level on the front sight, that leveling the rifle for each shot makes a huge difference in accuracy. However, that's at 100 yards, and I'm shooting the pellet rifle at 25 yards. Could a level help much there? I wondered, so I tried it.
I shot the pellets in the same rotation as in the first test — lightest to heaviest. So first up was the Beeman Devastator.
Beeman Devastator
You may recall that I selected the Devastator because it's the kind of hyper-fast pellet I figured guys who buy hyper-velocity air rifles might choose. I didn't expect it to be accurate, but you'll remember that it was.
The Devastator was also one pellet that showed no need for bore seasoning. In other words, it was ready to go from shot one. I was prepared today to shoot four pellets (three to season the bore and a fourth to check where the group should be) before moving to a fresh target, but the Devastator shot so well that I didn't do that. Today's group is the first 10 shots out of the gun.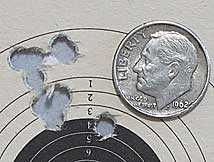 Ten Devastators went into this tight 0.743-inch group at 25 yards. This is phenomenal accuracy for a pellet moving over 1,200 f.p.s.!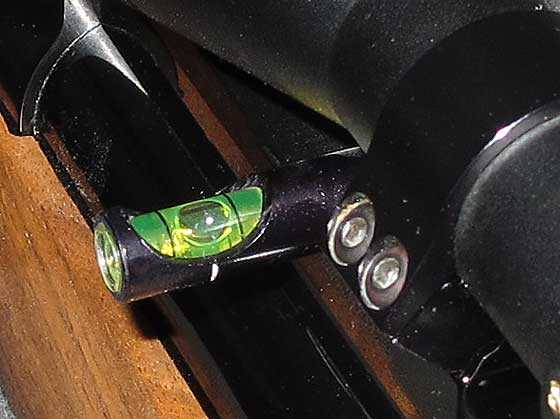 By leveling every shot, I got better accuracy. This has been proven many times before.
Incidentally, the shot that strayed from the main group was No. 4. But all the others were even tighter than the group size indicates. I hope you can understand why I did not feel the need to shift this pellet after the first three shots.
Devastators still crack like a .22 rimfire because of the sound barrier thing, so they're not the pellet to use in the backyard. At least not at this velocity. But they're accurate. In the first test, the group measures 0.903 inches, so this isn't really that great a reduction, but I do believe that the small improvement was due to my using the scope level on the rifle for every shot.
Crosman Premier lites
Next to be tested was the Crosman Premier lite pellet. In the first test this pellet was the one that gave a huge difference between where the first couple shots landed and the main group went. So I did season the bore with three test pellets and a fourth check pellet, just to see if the group moved. And it did. It moved about a half-inch upward.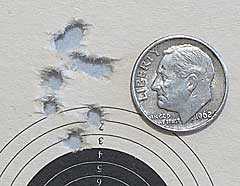 What a difference from the first time! The first group of 10 Crosman Premier lites at 25 yards measured 2.385 inches between centers. This one measures 0.778 inches. Seasoning the bore with four warm-up shots before shooting the group made the largest difference, but the scope level also helped.
Beeman Kodiaks
Many of you expected Beeman Kodiaks to be the best in this test the first time. They were good, but not quite the best. Well, this time they turned the tables and made the best group. I seasoned the bore as described with four shots before starting this group; and although it was small, I did see some movement from the first shot to the second. It's difficult to say whether that was due to seasoning the bore or just general dispersion, so I'll withhold comment.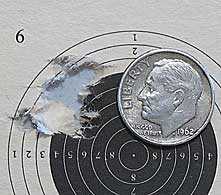 Now, that's a group! Using the scope level, I put 10 Beeman Kodiaks into this 0.633-inch group at 25 yards. That's way better than the first group that measured 1.055 inches!
Eun Jin
The last pellet I tried was the 16.1-grain Eun Jin dome. In the first test, this was the most accurate pellet, but this time they slipped to last place. Ten went into a group measuring 0.798 inches. However, that's very close to their first group of 0.755 inches, so they really didn't change that much — if any. The others just passed them by.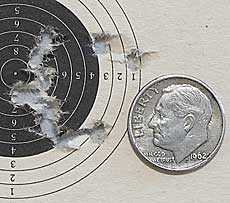 The worst group of this test was turned in by the pellet that shot best last time. Ten Eun Jins went into 0.798 inches at 25 yards.
Bottom line
I now feel confident that I'm getting everything this rifle has to offer from these four pellets at this velocity. Seasoning the bore remains iffy. It seems to help Premiers, but pure lead pellets don't seem to need it as much — if any. However, adding the scope level made a big difference in group sizes.
Now the bar has been set; and according to my expectations, it's set high. Every time I run this test, I'll have to shoot my very best if the results are to mean anything.