Posts Tagged 'youth rifle'
by Tom Gaylord, a.k.a. B.B. Pelletier

Edith and Tom (left) and Mac and his wife, Elissa, prepare to support Yoda as he carves his way through the jammed SHOT Show aisles.
Today, we have Part 2 of the SHOT Show report; but before we get into it, I want to remind you all that I'm showing you only a select smattering of the guns I saw at this show. This is, hands down, the largest SHOT Show ever for airguns. This year, nearly all companies are innovating in a big way, and the results are proudly displayed in their booths. It'll take some time for the full story to come out.
Also, the SHOT Show is a wholesale show — not a retail show. The products seen there are not necessarily ready for market, yet. Some products get put on the back burner for any number of good reasons, but after they were seen at SHOT, people expect them to be available. In fact, many people don't understand why they're not on sale the day the show closes. Well, it doesn't work that way.
As a writer, my job it to give you the best sense of when a product might become available in the coming year. That can change many times after SHOT closes, so please bear that in mind.
Crosman
I had my official tour of the Crosman products, and a couple of them were holdovers from last year. One was the butterfly hand pump that Crosman engineers have now developed quite thoroughly.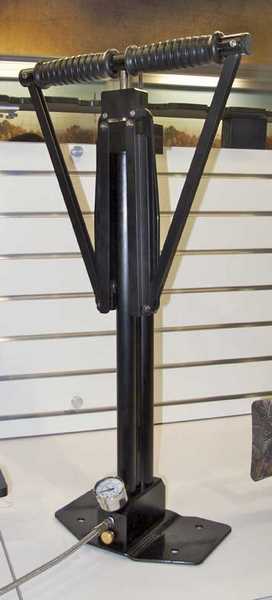 The Benjamin butterfly hand pump is now far along in development. This is a pre-production sample. Look for it this summer.
I also saw several new guns Crosman plans to bring to market. While they look very developed, I spoke to the engineer who was working with the specifications, and these are not just rebranded items.

A new 1911 BB pistol will be available for testing and purchase later this year.
Gamo
I'm going to put Gamo here because their booth was difficult to navigate and understand, as far as I'm concerned. Yes, there are new models, but many of them look to be just reskinned from existing guns and given catchy brands that reflect the TV hunting shows they sponsor. The technology displays (silencer, trigger, gas spring, vibration damper) that were new in 2012 were still displayed as new for 2013, though no changes seem to have been made.
The Little Cat is a new youth model that I'll test as soon as possible. It's very lightweight and does have some plastic in key areas like the breech (it's a breakbarrel); but if it's done right, it could work. I want to see how well-suited it is for younger shooters.


The new Gamo Little Cat is a youth-sized spring rifle. Can't wait to test it!
The other airgun that piqued my interest at Gamo was their new MP-9 — a semiautomatic BB gun that resembles the Ingram submachinegun. It's powered by CO2 and looks very cool. It was displayed in such a way that I could not actually hold it — and there were no Gamo representatives available in the booth both times we visited it. So, we'll just have to wait and see what comes in the box.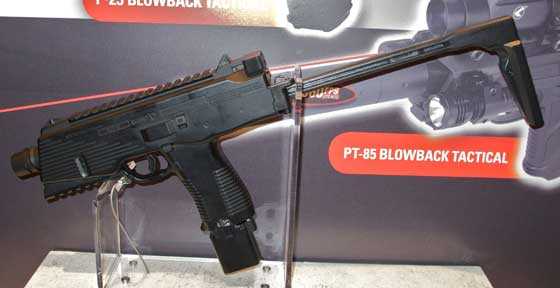 The Gamo MP9 (the sign is confusing — this isn't a PT-85 Blowback Tactical) looks like a cool new BB gun.
Other news
American Airgunner has gained a new host. Rossi Morreale, from television's Belly of the Beast and Junkyard Wars, will take the lead with the airgun show starting its fourth season. I'll be appearing in a few episodes this year, the first of which was filmed at the 2013 SHOT Show. So, I've now come full circle.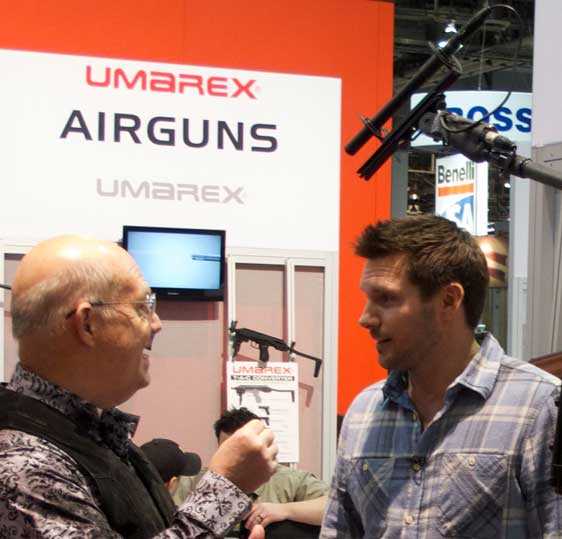 Tom meets Rossi to discuss SHOT on American Airgunner.
There's a lot more to cover, including some great new scopes from Leapers and a dynamite action target for airsoft guns. Next week.
by Tom Gaylord, a.k.a. B.B. Pelletier

The Diana 25 (this one says Winchester 425) was made for decades. It's at the top of the youth line of air rifles from the '50s through the '70s.
Today, we'll learn how accurate a vintage Diana model 25 breakbarrel air rifle, in the form of a Winchester model 425, can be. I have to tell you, days like this are pure candy to me! Shooting a smooth vintage air rifle is so relaxing. Since they're no longer sold, I don't have to scramble to shoot my best, because only a collector will ever buy one. On the other hand, these lower-powered spring guns mostly out-shoot the modern guns anyway, at least at short distances, so even shooting relaxed I do pretty well.
We all agreed that the model 25 is a close-range plinker, so I shot from 10 meters. I used a 10-meter pistol bull since I was using the open sights that come with the rifle. By strongly lighting the target and keeping the room I'm shooting in dark, the sights appear sharp against the target. I normally don't like the German Dachkorn-type front sight, which is a V-shaped post; but under these circumstances, it worked very well. Incidentally, I've always referred to this as a Perlkorn; but while researching this report I discovered that the Perlkorn has a bead on top of the tapered post.
Sitting down at the bench to shoot reminded me of just how easy this little rifle is to cock. The barrel goes down butter-smooth, and it takes only about 14 lbs. of force to do it. But when I brought it back up after loading, I discovered that the pivot bolt was a little loose. The barrel wouldn't stay in one position after the rifle was cocked. It flopped back down again. That's a sign that the pivot is too loose, which leads to a loss of air at the breech. I decided to tighten it, and that lead me to another wonderful feature of the Diana 25 — the pivot bolt has a locking screw!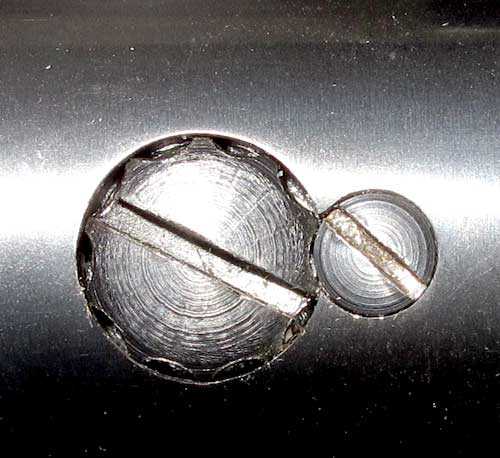 The head of the barrel pivot bolt (larger slotted head in the photo) is cut out around its edge to receive the smaller head of the locking screw. Once set, this bolt will not get out of adjustment.
The pivot bolt has cutouts around its edge to accept the head of a smaller locking screw. Once you set the bolt where you want it, put the locking screw in and the setting will never move. This is one of those seemingly insignificant features that we overlooked when rifles like this were new, yet  today even the most expensive pellet rifles don't have it! In fact, a good number of the current guns don't even have a pivot bolt — they use a plain pin that can never be tightened.
RWS Superpoints
The first pellet I shot was the .22-caliber RWS Superpoint. I mentioned in an earlier report that I like the Superpoint for its thin skirt that gets blown out into the sides of the bore when the rifle fires. Other pellets are either too hard, or their skirts are too thick to deform with the relatively light puff of air from the model 25′s piston. The Superpoint, though, should work well in a gun like this.
The distance was 10 meters and I shot from a rest, so this report is about the rifle's capability and not the shooter's. That crisp ball-bearing sear was a real pleasure to use, and I didn't waste a lot of time setting up each shot.
I used the sights exactly as they were set when I got the rifle. Remember that my friend Mac was the former owner, so it came as no surprise when the pellet landed exactly at the aim point — a 6 o'clock hold on the bullseye. After seeing the first pellet was where it needed to be, I didn't look at the target again until the 10th shot had been fired. What I saw then was a surprise — even when I had been expecting good results. Ten RWS Superpoints went into a group that measures 0.613 inches between centers. It's a one-hole group that looks smaller than it really is because the pointed pellets allowed the paper to return to its normal dimensions after they pass through. This is the same kind of accuracy I used to get from the Hakim trainers at the same 10 meters.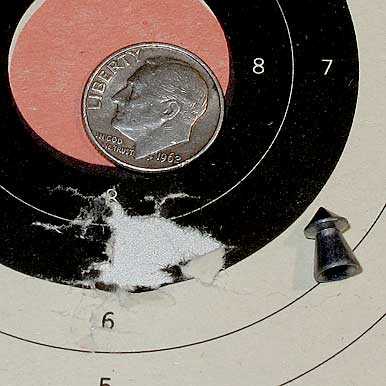 Ten RWS Superpoints made this 0.613-inch group at 10 meters. It's larger than it looks because the paper flapped back after the pellet passed through.
The next pellet I tried was the RWS Hobby. This is another pellet that's often very good in rifles that shoot at lower power. And by being fairly light, at 11.9 grains, it has the advantage of traveling faster than most other pellets. Ten Hobbys grouped in 0.538 inches between centers. It was another one-hole group. Nothing to do but to smile and hope the rifle continues to shoot like this!

Ten RWS Hobbys are even tighter, making this 0.538-inch group.
The last pellet I tried was the JSB Exact RS dome that weighs 13.4 grains. I hoped that this pellet might shine in the little 25 in the same way the .177 version does in my Beeman R8. Well, shine it did, putting 10 of them into a group that only measures 0.38 inches between centers. Does that explain why I like shooting these little vintage spring guns so much?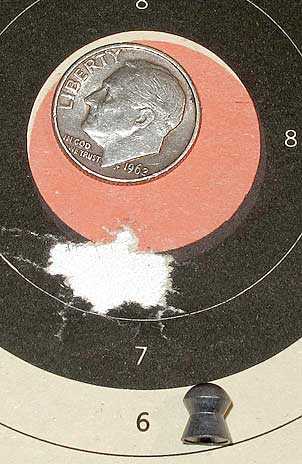 The JSB Exact RS dome was the best pellet of all. Ten made this 0.38-inch group at 10 meters.
Deformed pellets?
The Diana breakbarrels all have slanted breech faces; and when the barrel is closed, if the pellet isn't seated flush all the way around the skirt, it can catch on the action and slightly bend the rim of the skirt when the barrel's closed. This was happening with all three pellets used in this test. So I shot a fourth group of 10 with the most accurate pellets (JSB Exact RS) seated deep in the breech. I wanted to see what effect this would have, if any.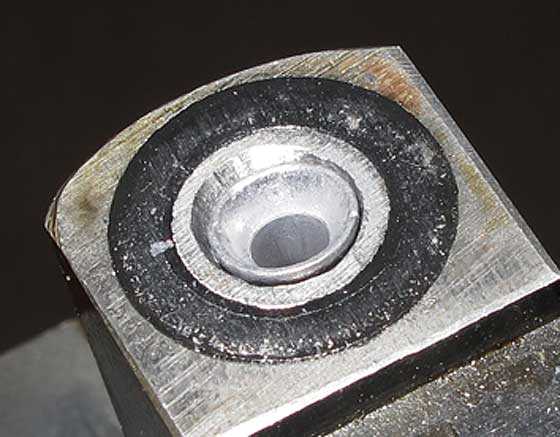 Because the breech face is slanted, the tip of the pellet skirt sticks out like this when the pellet is seated.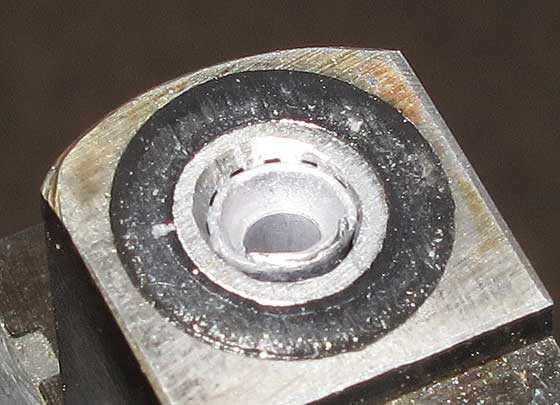 When the breech is closed, this is what happens to the pellet. It doesn't seem to hurt accuracy.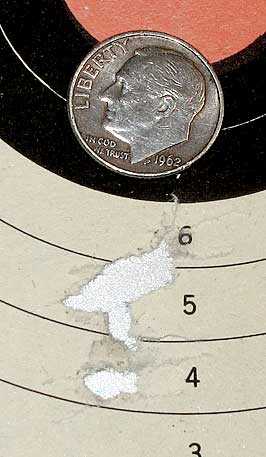 Seating pellets deep in the breech (JSB Exact RS used) opened the group up and also dropped the point of impact about one inch at 10 meters.
Deep-seating didn't work this time. The group of 10 JSB Exact RS pellets opened to 0.615 inches. It also dropped the point of impact about one inch at 10 meters. Doesn't seem like it's worthwhile.
The end?
I sure hope this isn't the last report I get to do on this air rifle. What a joy it is to shoot something that's accurate, has a great trigger, is quiet and is easy to cock. I know you have to buy these used, but it's worth the effort, in my opinion. It doesn't replace your modern magnum air rifles, but it gives you something to do when you just want to shoot without a lot of fuss. If you've enjoyed reading this report, remember that there are three different models of the Diana 25. Only two of them have the ball bearing sear, so be careful when you look for one.
by Tom Gaylord, a.k.a. B.B. Pelletier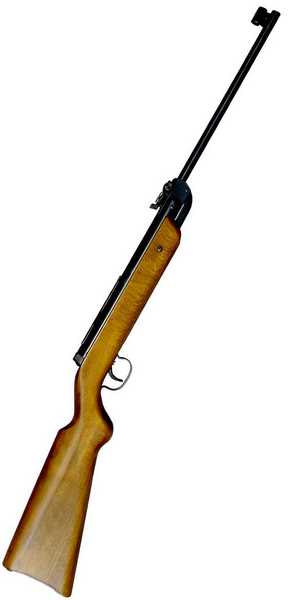 The Diana 25 (this one says Winchester 425) was made for decades. It's at the top of the youth line of air rifles that were made from the '50s through '70s.
Today, I'll test the Winchester 425 (Diana 25) breakbarrel air rifle for velocity and power. When I shot the rifle, the ultra-smooth firing behavior suggested that it might have been tuned. And a faint whiff of burned grease confirmed it. I shined a tactical flashlight down into the cocking slot and saw the mainspring is coated with a thin layer of black tar — proof positive the innards have been breathed upon!
The second clue as to its past is that the rifle was owned by my friend Mac before I got it. I know he loves this platform and does not fear taking one apart to make it better.
Finally, the trigger is adjusted to perfection. Mac knows how to do that, as I described in Part 1 of this report. The trigger is two-stage with a very long first stage that stops at a definite second stage before breaking crisply at the shot. I would not call it a glass-rod trigger, because the excessive overtravel after the trigger breaks makes it feel less precise than it really is, but if you've never sampled a fine sporting airgun trigger, this one would amaze you. The only aspect that might put some people off is that the first stage has to be very long for the second stage to be crisp. You can try to shorten stage one if you like — but then stage two disappears, and the trigger becomes a guessing game.
The trigger return spring on this rifle is heavy enough to give the first stage a 1 lb., 1 oz. pull weight. Stage two breaks at 2 lbs., 15 oz., and I doubt you'd guess it to be that much.
Cocking effort
One reason I love little breakbarrels like this model 25 is their light cocking efforts. This rifle has a ball-bearing detent that makes the barrel break open easier. Then just 14 lbs. of force are needed to cock the rifle. That's so little that pre-teens will find it easy. Of course, this particular example is as smooth as they come because of the tune it's received, but even a rusty old relic that's been sitting up in the loft of a barn for 30 years will still cock pretty easy.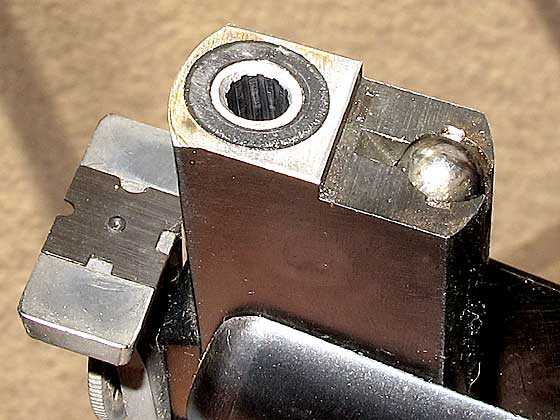 Instead of a chisel detent that has a powerful spring behind it, the Diana 25 barrel is held closed by a spring-loaded ball bearing. It is much easier to open and close the barrel, yet it stays shut when the gun fires.
Remember, this is a .22-caliber air rifle — not a .177. This is a case where the smaller caliber probably would have been the better choice, but folks with large fingers will still appreciate this one for the ease with which it can be loaded.
RWS Hobbys
The first pellet I tested was that old standby — the RWS Hobby. In .22 caliber, this wadcutter weighs 11.9 grains and typically offers the highest velocity of any of the lead pellets. In the test rifle, Hobbys averaged 440 f.p.s. The spread went from 421 to 458 f.p.s., which is a fairly broad 37 f.p.s. range. They loaded firm, as if fitting the bore well, so I expect them to do well in the accuracy test. At the average velocity, Hobbys generate 5.12 foot-pounds of muzzle energy.
Deep-seating
From what we learned while testing the Hy Score 801 rifle that has a pellet seater built into the barrel, deep-seating pellets can sometimes increase velocity and also stabilize the overall range of velocities achieved. I tried seating the Hobbys deep into the breech. The result was a large loss of velocity — from 382 to 408 f.p.s. for the deep seating! That tells me the model 25 doesn't like its pellets seated deep, so I didn't try it with the other pellets.
JSB Exact Jumbo Express
The next pellet up was the JSB Exact Jumbo Express dome that weighs 14.3 grains. This is a pure lead pellet, and it fits the rifle's breech very nicely, going in easier than the Hobbys. These averaged 417 f.p.s. and ranged from 414 to 422 f.p.s. That's an incredibly tight 8 f.p.s. spread across 10 shots! I want to note that this pellet also went deeper into the breech with just finger pressure. That means the skirt was not subject to damage when the breech was closed — something I can't say for the other two pellets I tested. This pellet produces 5.52 foot-pounds of energy at the muzzle.
The last pellet I tested was selected for a very specific purpose. I've found in the past that taploaders that have large holes through their taps — such as the Hakim trainer — need a soft lead pellet with a very thin skirt so the light air blast will flare the skirt out to contact the bore and seal it against air blowby. Even the RWS Superdome has a reinforcing ledge inside its skirt that prevents this from happening. But the RWS Superpoint doesn't. The Superpoint skirt is very thin, soft and pliable; and it seals better than any lead pellet I've ever used. I like to at least try them in low-powered spring guns like this model 25 air rifle because they often give very good results on paper.
In the test rifle, Superpoints averaged 377 f.p.s., and the spread was from 373 to 383 f.p.s., so only 10 f.p.s. The Superpoint weighs 14.5 grains, so at the average velocity the muzzle energy was 4.58 foot-pounds. With the first two pellets as a comparison, I wouldn't call this a great performance.
How does the 25 compare to the Diana 27?
For no better reason than the fact that I was curious, I then tested my Diana 27 (Hy Score 807) with the same pellets. I figured it would be a little more powerful than the 25, but not a lot.
Where Hobbys averaged 440 in the 25, in the 27 they went 495. The JSBs that averaged 417 in the 25 went 449 in the 27. And the RWS Superpoints that only went 379 in the 25 actually went 458 in the 27 — exceeding the JSB pellets! I think that result was that thin soft skirt kicking in, and the 25 probably doesn't have quite enough power to blow the skirts out like I mentioned.
Impressions so far
I wish this rifle was still being made so more of you could experience it. It's a delight to shoot. It cocks so easily, and the trigger is a dream to use. Let's all hope the accuracy is there, as well. I'm not looking for tackdriving accuracy at 25 yards this time — just nice round groups at 10 meters because the Diana 25 is a plinking air rifle — first, last and always.
by Tom Gaylord, a.k.a. B.B. Pelletier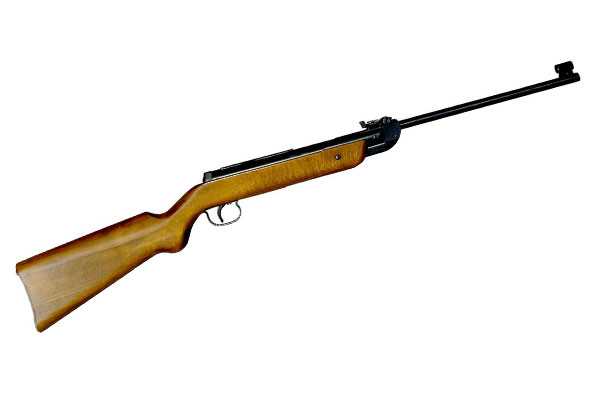 The Diana 25 (this one says Winchester 425) was made for decades. It's at the top of the youth line of air rifles from the '50s through '70s.
Before we begin, I owe you an explanation. Although the title of this report says the Diana model 25, the rifle we'll look at is actually a Winchester model 425 — Winchester's branding of the model from the 1970s. I used the Diana 25 model name because there are many times more Diana 25 air rifles than just the few thousand that carry the Winchester name. That way, all who read this will know the root airgun. If they ever need parts, they'll know what to look for.
At most airgun shows, I buy and sell as much from/to the other dealers as I do to the public. I'll often sit at my table with my eye on a certain gun for almost the entire show before making my move. I bought David Enoch's Gamo 68 as we were packing up to leave the Malvern show. I'd wanted it all show long and hoped it would still be there when I sold something and had the money to buy it. When I did have the money, I found my self unable to open my wallet until David started packing it up to go.
The Fast Deer I bought at Roanoke this year is another example of the same thing. I had the money, but still I putzed around for no reason, arguing with myself over a $40 purchase!
And all the while we were at this show, I watched Mac's Winchester 425 (Diana 25) sitting on the table next to me. He had it marked at $200, which is a very good price, because this is the model 25 that has the three-ball trigger. I had a Winchester model 427 (a Diana 27) for sale for $225, which is also a good price for that model, but people were overlooking my gun and focusing on Mac's 25. His rifle is even cleaner than mine and frankly, at $25 less, it looked like a better deal.
Finally, after much agonizing and hand-wringing, I either bought Mac's rifle or traded for it. I think we traded, which is always better, because then you never know for sure who got the better deal. It's the old two $2,500 dogs for a $5,000 cat routine.
Every time I buy an airgun, I'm always justifying it by thinking that I'll write a blog about it, which I almost always do. Sometimes, like the case of my Falke 90, I get so involved in the gun that I start investing even more time and money just because I get caught up in the story and want to see how it turns out. And, FYI, the Falke stock is on its way to the refinisher to get a new lease on life. The results of that will be coming in a separate report some time in the future.
Back to my report. So, I acquired this Diana 25, and now I want to share it with you. For years, Mac has told me that the 25 is just a 27 that's a little shorter. I wanted to test that. Mac has had a whole collection of these guns, including several 27 and 25 airguns. He sold a 27 at the Roanoke show the year before, and I was sad to see it go — even though I have two of them myself and do not need another. Mac's had more of these rifles than I, so I listen to what he has to say about them.


Diana 27 (top) was just slightly larger and more powerful than the 25.
The 25 stands out because there were several different versions of the same gun, built over the decades the model was being manufactured. There's the 25 that has a more or less simplistic trigger with a direct sear. That one isn't adjustable, as far as I know. It's not a bad trigger, but it doesn't compare to the model we're examining here.
Then, there's the model I'm testing for you that has two adjustment screws for the trigger — only one of which actually adjusts the pull. The other screw is nothing but a lock screw that holds the adjustment in place. People who are not familiar with the trigger adjustment process of the 25/27/35 will invariably mess up the adjustment and get a trigger-pull that's single-stage, long, creepy and vague as to the let-off point. They'll declare the trigger to be junk and get rid of the rifle when it could so easily be adjusted to a very fine pull if they only knew the secret.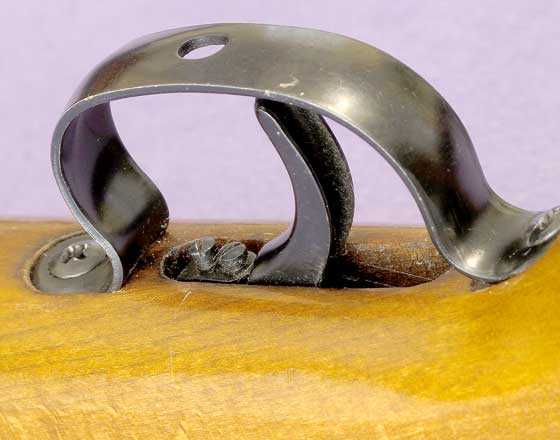 The presence of two screws on a Diana 25 air rifle trigger signifies a ball-bearing sear trigger. The front screw (left) is just a locking screw.
Adjusting a two-screw, three ball-bearing sear Diana trigger
Here are simple instructions for adjusting the Diana 25/27/35 triggers that have two screws. The front screw is just a lock screw. Loosen it and then screw the rear screw in as far as it will go (that's clockwise). Then, turn it back out two full turns and try cocking the rifle. Be careful not to let go of the barrel, because some guns may be adjusted to the razor's edge this way. If yours is and you need a little more sear engagement, try turning the screw in or out just a quarter turn until the sear holds well. Next, tighten the front screw, and the job is done. You'll have a long first stage followed by a definite stop and crisp stage-two break when the gun fires. You only have to experience one of these triggers adjusted correctly to know how nice they all are.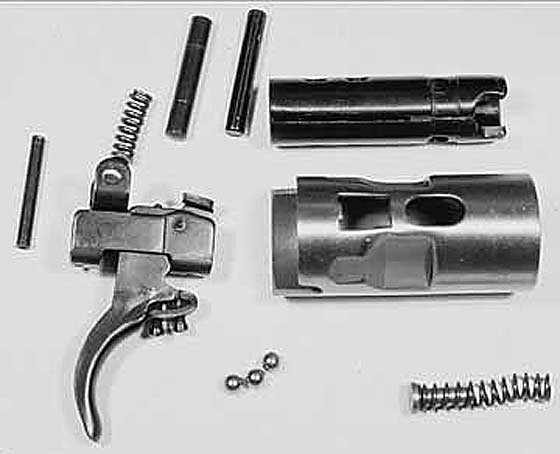 This trigger assembly from a Diana 35 is identical to the one found in the model 27 and the model 25 we're examining. These parts are held together inside the gun by the spring tube. Assembly requires a lot of tacky grease to hold these parts together until they're safely contained inside the spring tube.
There's one more variation of the 25, and that's a rifle with just a single trigger screw. It's a later design that did away with the need for a locking screw by virtue of having the adjustment screw pass through more metal and be less resistant to movement. This one is much easier to adjust because there's no chance of making a mistake with the locking screw since it isn't there.
The rifle is small, being made primarily for youth. At just 37-3/4 inches overall, it's sized like a carbine, though the proportions look more like those of a rifle. The pull is just 12-7/8 inches, which is short for an adult but about right for a teenager. Today, these rifles are more often used by older shooters than their builders intended. As Mac stated, they're viewed as smaller model 27 air rifles — especially when they have the ball-bearing sear. The barrel is shorter than the one on the model 27, at 14-1/2 inches. The rifle still cocks easily because the mainspring isn't that strong.
The stock is beech, which is stained very differently than the darker model 427 shown for comparison. There's actually a pleasing grain that isn't common to beech. The butt has a single rubber "button" at the top that confuses airgunners all the time. It's there to keep the wooden butt from sliding across the floor when the rifle is stood in the corner. There's a slab-sided profile to this 25 stock that isn't seen on the 427. It just means they started with a thinner blank.
The metal parts are all well-polished and deeply blued. Today, the finish looks exceptional; but when this rifle was made, it was considered standard for the time.
The rifle weighs 5-1/2 lbs. on the nose. It feels like a gun you could carry and shoot all day.
This model came in both .177 and .22 caliber, though all the Winchesters I've seen were in .22 caliber. That's a pretty large pellet for such a small powerplant, and you can expect velocities somewhere in the 400s with light- and medium-weight pellets. That sounds pretty anemic to those who are accustomed to supersonic velocities, but the fact is that these are pretty accurate at close range and a lot of fun to shoot.
Sights
The 25 and 27 air rifles have fully adjustable rear sights and hooded front posts that are fixed. There's also a serrated ramp on the back of the spring tube that accepts a Diana peep sight, should you be fortunate enough to find one.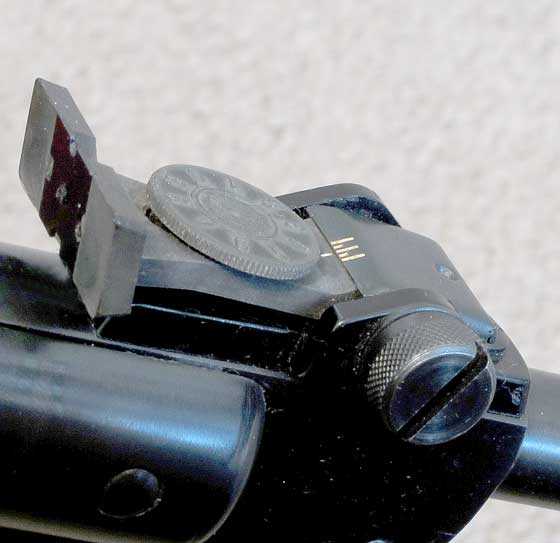 The rear sight adjusts in both directions. It's crisp, clear and an example to all airgun makers today.
I'm testing this rifle because Mac has piqued my interest over the years. Normally, I would say the Diana 27 is the epitome of lightweight spring guns, but there might be something here that I haven't yet seen. At any rate, it'll be fun to find out!
by Tom Gaylord, a.k.a. B.B. Pelletier
Announcement: Gary Lee is this week's winner of Pyramyd Air's Big Shot of the Week on their airgun facebook page. He'll receive a $50 Pyramyd Air gift card. Congratulations!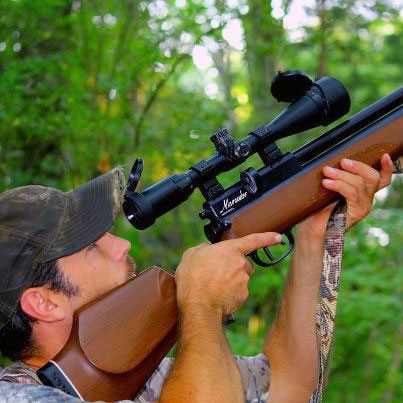 Gary Lee submitted this week's winning photo for BSOTW.


The IZH 60 now comes with target sights.
It's accuracy day for the IZH 60 Target Pro and this is the big test that everyone has been waiting for. And there are a couple of things that have to be cleared up, too. So let's get started.
Cosmoline in the bore
Blog reader chasblock mentioned finding Cosmoline in the bore of his rifle and asked if I would take a look at the test gun's bore. I don't think he really meant Cosmoline, which is a range of military long-term metal storage lubricants. He probably just meant excess grease or oil. At any rate, I ran a patch through the bore, and it came out dry. There was some anti-oxidant compound on it, but no oil or grease. So, that's one down.
Front sight element not centered
Then, we had a discussion about the front sight element not being centered in the globe and wondered if that wouldn't that throw you off. Or at least wouldn't it be annoying? Well, I shot 82 shots in this test and the front sight position was a non-issue for me. Once I had the black 10-meter bull centered in the front aperture, I forgot about everything else. But I'm posting a photo of a Winchester model 94 front sight so you can see that this is a very common phenomenon, and it isn't troublesome in the slightest.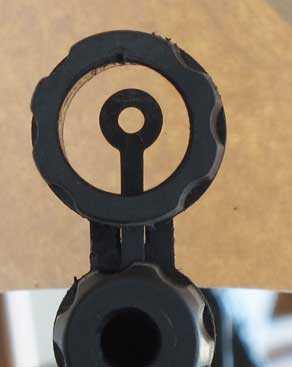 The IZH 60 front sight element is a little higher than the center of the globe. When you're sighting, it's not a distraction.

This Winchester 94 front sight is even higher in its globe and people hunt with it. Many open-sighted rifles with globes are like this.
Rear sight doesn't adjust low enough
Another issue that was raised is that the rear sight doesn't adjust low enough to get on target at 10 meters. I didn't find this to be a problem, as you will see. I also found the rear sight to adjust very positively in all directions without any backlash. So, that's now laid to rest.
Accuracy
I was told by the folks at Pyramyd Air that the IZH 60 Target Pro can put 10 pellets into a quarter-inch at 10 meters. The gun they sent to me to test had a 5-shot group of H&N Baracudas with it. It was fired into a Shoot-N-C paster, so measuring is difficult, but as near as I can tell, it measures 0.268 inches between centers, so even these 5 shots grouped larger than a quarter-inch, though not by much. But we expect a 10-shot group to be 40 percent larger when the same pellet is used.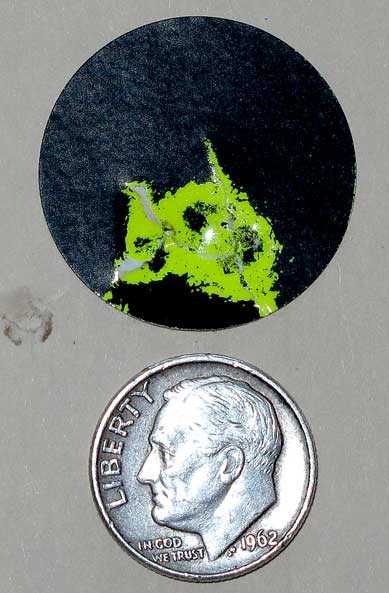 The 5-shot test group measures 0.268 inches between centers, as close as I can measure it. It was shot with H&N Baracudas. The shot outside the black is a sighter and not part of the group.
The rifle was shot from a rested position at 10 meters. The targets were standard 10-meter rifle targets, and they fit well inside the front aperture. It was very easy to hold on target with this rifle. I laid the stock on the back of my hand that was resting on a sandbag.
The trigger-pull is single-stage and vague as to the let-off point, but it's light enough to work very well in this rested position. The rifle is very light, but it didn't seem to move around as much as I'd feared it would.
H&N Baracudas
The first target I shot was with the H&N Baracudas. It took me several shots to get on target because the sight adjustments work backwards of U.S. adjustments. Turn the windage knob in (to the left) to move the pellet to the right, and so on.
The first group of 10 Baracudas measures 0.546 inches between centers. It was larger than expected, but not too bad for the first group.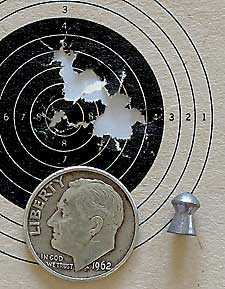 Ten H&N Baracudas made this 0.546-inch group.
As you can see from the pellets I had chosen to use, I expected to shoot a lot in this test, so I thought I would speed things up by firing 5 shots and then seeing if it was worth firing 5 more. The next pellet up was the RWS Hobby that sometimes surprises us with great accuracy. This wasn't one of those times, however, because the first 5 pellets made a group that measures 0.482 inches between centers. No sense finishing that one!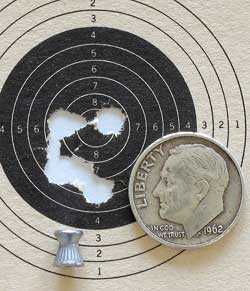 Five RWS Hobbys made this 0.482-inch group. No sense finishing it.
Next, I tried the RWS R10 Match Pistol pellet that I thought might be the most accurate in this rifle. It wasn't, as 5 made a group measuring 0.452 inches. Once more, no sense going on. So I stopped at 5 and moved on.
Five RWS R10 Match Pistol pellets made this 0.452-inch group. No sense finishing it, either.
Then, I tried the H&N Match Pistol pellet. Something was different with this pellet, because the rifle recoiled noticeably less. It was easy to feel, and I could follow-through much better because the sights remained on target after the shot. The feeling was so good that I didn't check the target after 5, but went all the way to 10 shots before looking. The 10-shot group measures 0.391 inches between centers and was the tightest group (10 shots!) to this point in the test! It's not a quarter-inch, but it's a very good group, nonetheless.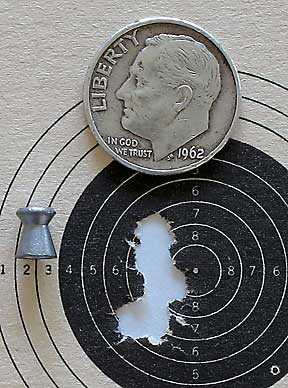 Ten H&N Pistol Match pellets made this 0.391-inch group. This pellet felt like it made the rifle recoil a lot less, so I finished the group without checking.
Next, I tried the JSB Exact RS pellet that often surprises us. This is a domed pellet, so it can't be used in a formal match (impossible to score), but most shooters won't care about that. Ten pellets made a group measuring 0.284 inches between centers. It's a nice, round group, and it's the best 10-shot group the test rifle shot all day!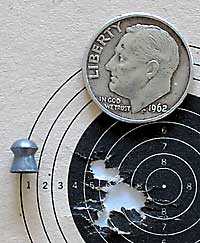 Ten JSB Exact RS pellets made this 0.284-inch group. This pellet also felt like it made the rifle recoil a lot less, so once again I finished the group without checking. This is the best 10-shot group of the test.
This pellet shoots so well that I shot a second group with it. That one didn't turn out as good, at 0.502 inches between centers. Perhaps I was tiring out?

Another 10 Exact RS pellets were not so good, at 0.502 inches between centers.
I then turned to H&N Finale Match pistol pellets, which I thought would be better than the Match Pistol pellets. Alas, that wasn't the case. Ten of them made a huge 0.675 inch group, which turned out to be the second largest of the entire test..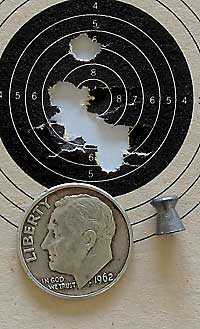 Ten H&N Finale Match Pistol pellets made the second worst group of the test, a whopping 0.675 inches between centers.
Then I tried five RWS Superdomes, but when I looked at the group they made I stopped. It measures 0.646 inches between centers, so no point in continuing.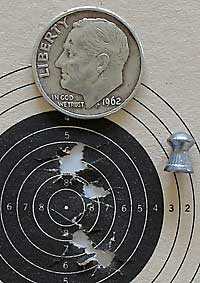 Five RWS Superdome pellets made this 0.646-inch group.
By this point in the test, I knew how the rifle shot. I was also very accustomed to the trigger. So, I thought I'd try another group of Baracudas — just to see if I could improve things from the first time. Ten went into a group measuring 0.702 inches, which was larger than the first group.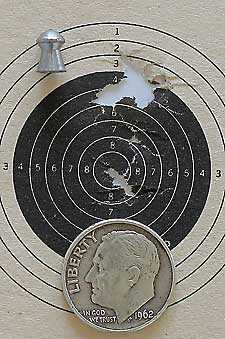 Ten H&N Baracudas made this final 0.702-inch group — the largest in the test.
By this point I knew I was tired. But was that the cause of the group sizes? Was I no longer able to lay them all in the same hole? To see, I grabbed my FWB 300S, which is the most accurate 10-meter rifle I own. I put 10 RWS R10 pistol pellets into a last group that measured 0.135 inches. That's for 10 shots. So it wasn't me!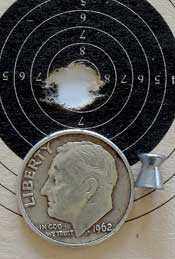 Yeah — it's not me! Ten RWS R10s went into 0.135 inches.
Final impression
The IZH 60 shot about as well as I remembered. It certainly cannot group 10 shots in a quarter-inch at 10 meters in anything other than a chance encounter. So, there's a hat to be eaten!
On the other hand, for what it costs, the rifle is reasonably accurate and the target sights make it even easier to shoot well. I don't think it can out-shoot a Bronco, but it's certainly worth considering for informal target shooting.
by Tom Gaylord, a.k.a. B.B. Pelletier


The IZH 60 Target Pro now comes with target sights.
Today is velocity day for the IZH 60 Target Pro. Before we begin, there's a surprise correction I need to make to Part 1. When I measured the length of pull, I didn't mention that the adjustable stock can be lengthened an additional inch by relocating the anchor point of the adjustment screw.
Increased length of pull
Mac reads the blog sometimes, but he doesn't comment very often but he loves the IZH 60/61 family of rifles. After reading Part 1, he called and reminded me of something I'd forgotten. If you pull the butt stock off its post, you'll see a second spot for the screw anchor on the butt stock post. All you have to do is move the anchor from the first slot to the second, and you'll add just over an inch to the length of pull on your rifle. I had reported a LOP range of 12 inches to 13.25 inches in Part 1. Now, I'll revise that to a maximum of 14.5 inches. (Edith will amend the owner's manual to show this info.)

By moving the screw anchor from one slot to the other, the length of pull can be increased by more than an inch!
The importance of follow-through
We discussed the fact that this powerplant is not capable of producing a lot of velocity. There was a comment on Part 1 that low velocity makes you need to follow through all the more, but I want to address that. Low velocity is not why you must follow through when shooting a spring-piston airgun. Even a 1,300 f.p.s. springer requires follow-through because it has the same problem as the IZH 60. In a springer, the pellet does not begin moving until the piston has almost come to a complete stop. The gun is already vibrating and moving in recoil before the pellet starts its journey down the barrel. But if it takes an IZH 60 to drive that fact home, all the better, because the proper follow-through can do nothing but make you a better shot.
Velocity
As I explained in Part 1, Pyramyd Air sent this rifle to me for this test. They were very confident this rifle would shoot accurately, and they even sent a tin of what they feel are the best pellets. Guess what they are? H&N Baracuda pellets! The website says these are supposed to weigh 10.65 grains, but I weighed the ones sent by Pyramyd Air, and they weighed 10.4 grains. H&N Baracuda pellet weights have changed a lot over the past few years, and I would always recommend actually weighing them rather than accepting the description, because the weights seem to change a lot.
These pellets averaged 382 f.p.s. in the test rifle. The range of velocity went from 371 to 389 f.p.s. At the average velocity, they generate 3.37 foot-pounds of muzzle energy. They will be the first pellets I test for accuracy; but since they're domed pellets, they cannot be used in a formal target match due to the difficulty of scoring the holes. I'll also test some wadcutter pellets — both target and general sporting types.
The second pellet I tested was a target wadcutter — the H&N Match Pistol pellet. This 7.56-grain wadcutter is a good general target pellet that costs less than H&N's Finale Match pellet line. As a pistol pellet, it weighs less than 8 grains, making it appropriate to the IZH 60 powerplant.
This pellet averaged 485 f.p.s. and ranged from 481 to 490 f.p.s. At the average velocity, they generated 3.95 foot-pounds at the muzzle. This is the velocity I expected from this rifle.
Next I tried the H&N Baracuda Green — the lead-free pellet that's performed so well in a number of lower-powered airguns. This time, though, the performance wasn't as good. The average velocity was 425 f.p.s., despite the fact that the pellet weighs just 6.48 grains. It must be the harder alloy that causes excessive friction with the rifling, because the range for this pellet was from a low of 367 f.p.s. to a high of 489! At the average velocity, the muzzle energy was 2.60 foot-pounds. Even at just 10 meters, a velocity variation this large will cause the group to grow, so I don't think I'll test this one for accuracy.
The last pellet I tested was the RWS R-10 Match Pistol pellet. At just 7 grains, this pellet was the lightest of the lead pellets used in this test. It averaged 525 f.p.s. with a range from 507 to 534 f.p.s. The low shot was an exception and loaded very hard. The next-slowest pellet went 516 f.p.s. At the average velocity, this pellet produced 4.29 foot-pounds of energy.
Overall the rifle performed better than I expected. There's some buzzing in the firing cycle, but it's not objectionable — probably because of the low power of the rifle. A "beer-can" tune would probably do wonders for it.
The trigger is light enough, if not very positive. It breaks at 1 lb., 7 oz. consistently. I did try adjusting it, but it was set as light as it would go when I received the rifle, so there was no improvement.
One final thought. I went through the box the rifle came in and found a target that proves this rifle can shoot a tight group at 10 meters. It's shot on a Shoot-N-C target, so measurement is impossible because of the paint flaking off, but it does look like a quarter-inch group. However, it's only 5 shots and the standard is 10, so that hat is still on the line!
by Tom Gaylord, a.k.a. B.B. Pelletier


The IZH 60 now comes with target sights.
This report has a lot riding on it. First, I was specifically asked to do this by Pyramyd Air after I made some remarks about the new IZH rifles with their plastic receivers. I tested both the IZH 60 and the IZH 61 a couple years back and found they did not have the same accuracy as they did a decade ago when the receivers were made of metal. I found the plastic clips for the IZH 61 did not seem to index as well as the older metal clips.
But Pyramyd Air has brought out the IZH 60 Target Pro and the IZH 61 Target Pro air rifles as viable substitutes for lower-end target rifles. I was challenged to test one my usual way; and if the rifle I tested can't keep 10 rounds in a quarter-inch at 10 meters, well — somebody is going to eat his hat!
Now, I enjoy a slice of hat every so often, nicely broiled with garlic and onions, but I won't throw this test just to see someone else eat one. Because the second thing that's hanging on the outcome is a lot of purchase decisions. There's something about these Russian sidelever springers that attracts people; and when target sights are added, it gets serious!
Back when I wrote the Airgun Revue publications, a lot of airgunners in my area were buying these guns as fast as they could. My buddy, Mac, bought at least 23 of them. Every time he got one, he would show it to someone who would then buy it from him — forcing him to buy another.
One local guy took an IZH 60 and added Anschütz target sights and a custom-made laminated stock to it. He spent less than a hundred dollars for the rifle and then put over $500 into it. People thought he was crazy until he started doing well in local 10-meter target matches. Then they realized that this rifle has the capability to be a lot more than the price seems to indicate. [Note from Edith: I remember this man, as he'd brought his gun to an airgun show. He was accompanied by his wife and their infant. I recall seeing the gun reclining ever so tenderly in the stroller, while his wife had to carry the baby around the show!]
But what about today? Now that the receiver has been changed to plastic, does the gun still shoot? That's the question this report will answer — and just in time for the holidays for those inclined to add a target rifle to their collections. If this rifle can shoot, then Pyramyd Air has done what it took over $600 to do back in the 1990s, and they've done it for less than $200.
Cost and serial number
Both the IZH 60 and 61 basic rifles cost $120. The Target Pro versions like the model 60 I'm testing are both priced at $180. The rifle I'm testing is serial number 126001228.
General description
The IZH 60 is a single-shot sidelever spring-piston air rifle. It has a futuristic stock with an adjustable butt that changes the pull length from 12-inches to 13.25-inches. There are no detents, so the stock can be set anywhere within these limits.

Loosen the thumbscrew under the buttstock and position it where you want.
Loading
The power is low, producing just under 500 f.p.s. So, the rifle cocks easy. That and the light weight of the little rifle make it a good one for smaller children, except for seating the pellet. On the 60, the pellet has to be manually seated by pushing forward on a thin steel bolt handle, while on the 61 the pellet is automatically seated when the cocking handle is returned home. Sometimes, manually seating the pellet takes a lot of effort. Therefore, the 61 makes a better youth target rifle if you don't want to load every shot for them.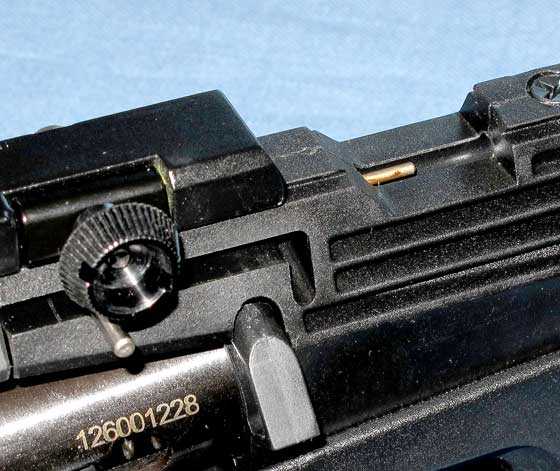 When the sidelever is retracted, the bolt opens automatically, exposing the loading trough. Bolt handle is the thin silver rod under the rear sight thumbscrew.
Sights
While the rifle comes with good adjustable sporting sights, the Target Pro guns have an adjustable target peep rear sight and front sight inserts. Daisy supplies the rear sight, and it is all-metal. It's a lot better-looking than the plastic Daisy aperture rear sight they used to offer on some of their target rifles.
I tried both adjustments on the rear sight and they feel crisp and seem to be repeatable, without backlash. The older Daisy plastic peep sight had a problem with backlash, but this one seems fine. I will test the sight for adjustability after we know how accurate the rifle is.
The front sight has interchangeable inserts, and three of them are apertures, which are the preferred front sight for precision today. When I unpacked the rifle, the entire front sight assembly was canted several degrees to the right; and I was about to fire off an email to get the hat ready. But I discovered that when the sight is disassembled for insert replacement, you can adjust the assembly wherever you want it. So — crisis averted. I only wish my 1917 American Enfield had the same capability! Its front sight assembly was rotated to the right permanently during an arsenal refinish, and was so disagreeable to look at that I sold the rifle.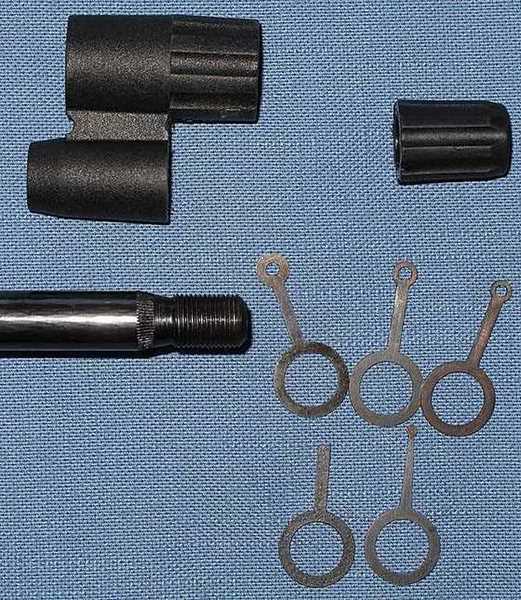 Unscrew the muzzle cap and the entire front sight assembly comes off, allowing the inserts to be changed. You can also center the front globe upright and lock it in place.
Barrel
The barrel is what made the IZH 60 and 61 stand apart from most other spring rifles in the same price range. It's hammer-forged, which is known to give a more consistent bore if done correctly; and the Russians have always been noted for the accuracy of their barrels. But as I said, we shall see by testing. After all, there's a tasty hat at stake.
Trigger
The rifle's trigger adjusts for the pull length, which means where the let-off point is. It's a single-stage trigger that's very light but also very vague. It's not a target trigger, but it's much better than the trigger on a Daisy 953.
My plan
I plan to test the heck out of this rifle. If it's as good as I've been told, I'll shout it from the bell tower. But if not, there better be a hat ready!