2019 Replica Air Pistol of the Year Part 1
The Candidates
By Dennis Adler
This has been a year of surprises and disappointments for air pistol enthusiasts but the surprises have far outweighed the let downs in some areas, notably the conspicuous absence of any new revolvers from ASG, Umarex, or Bear River, all of which were expected to continue the successful runs that had begun with the Dan Wesson double action pellet cartridge loading models, the Colt Peacemakers, and Schofield. In fact, there are fewer models overall this year, as some have been discontinued or are not currently available, like the nickel 7-1/2 inch Peacemaker (more about that in 2020!)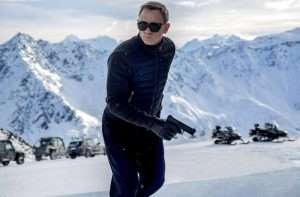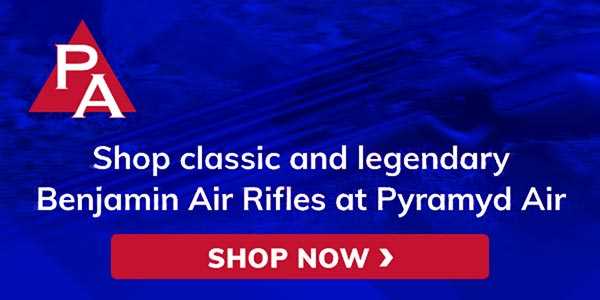 What the coming year holds for western gun enthusiasts is under wraps awaiting the 2020 Shot Show, so the lapse this year in new models may well be the bellwether for new six-shooters to be unveiled next month and throughout the year. I remain an optimist. What's fueling that optimism is the handful of impressive semi-auto models that have been introduced this year, all tough acts to follow, so perhaps some new wheelguns are next. I don't have a crystal ball, but I have heard a few things.
New Rules
I have had a very stringent set of qualifications awarding top honors for the replica air pistol of the year, and one of those has been field stripping capability. It's a darn good rule, but it is also one that automatically kicks a lot of otherwise impressive guns to the curb with no chance of winning. To be fair, field stripping would knock a couple of new guns right out of contention this year, that in other ways greatly surpass some that can be taken down like their centerfire counterparts. This rule knocked the Umarex Glock 17 out of contention in 2018, and I really felt bad about that afterward because it was one of the first blowback action CO2 models, based on a current centerfire gun that could be used for training exercises beyond 10 yards. So, for this year field stripping capability is going to be a 1 point bonus for the total points, or as a tie breaker at the end of the competition. I am also adding a 5 point bonus for design innovation, which will be well spelled out.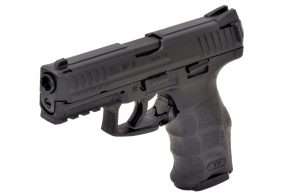 With fewer guns this year, the competition will be broken down into the following categories each with a possible total 10 points. Again, the first is, in my mind, the most important for a replica, Authenticity; how close is the CO2 model in physical appearance to its centerfire counterpart? Aesthetics of the design will also have a bearing, such as the air pistol's finish and its weight and balance compared to the centerfire model.
Second is the Ingenuity of the design; (not to be confused with Design Innovation). This can come down to the type of firing system used and how close it is to the centerfire design. Guns that use essentially the same systems as earlier designs (if it ain't broke don't fix it), might garner fewer points than a gun improving on an older design.
Third is another very important qualification, Ease of use; because if a pistol is a chore to load it is not going to bode well for its popularity with some shooters. Another aspect of ease of use is how exact the handling is and placement of operating controls to the centerfire gun. When a manual safety is required on a gun that does not have one as a centerfire pistol, how well that is handled in the design of the CO2 model will have a bearing on awarded points.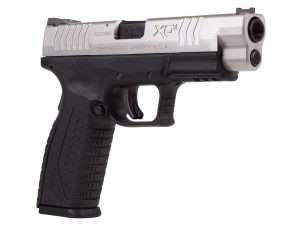 Next would have been field stripping but that is now awarded as a 1 point bonus point, since it is not crucial to handing and accuracy when training, but is itself more of a bonus for the gun's design authenticity.
Last is probably as important as the first, Performance & Accuracy; this will be determined by accuracy at competitive distances of 21 feet since all of this years guns are BB pistols and there are no new semi-auto pellet-firing models. (The only breakout design this year is the Sig Sauer Super Target single shot pneumatic, which is in a different class of air pistol.) Perceptible recoil (the more the better) and average velocity will count, as will sight design and ease of target acquisition. A gun that accumulates 50 points wins the Replica Air Pistol of the Year for 2019.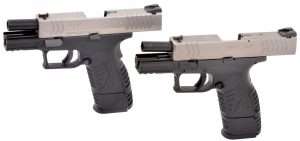 This year's contenders
Within the CO2 group of handguns you either have revolvers or semiautomatic pistols, and of course, there are CO2 powered rifles and pistols in other categories, the pistols not being replicas, and the rifles based on semi-auto tactical rifle and carbine designs or lever actions. Paring down a list of handguns for this year was not a problem, because it wasn't even possible to compile a list of 10, and so for 2019 there are only nine guns in contention, all semi-autos, three brand new entries from another well known firearms manufacturer stepping into the airgun arena, Springfield Armory. Teaming with Air Venturi, Springfield has put itself right up against Umarex and Sig Sauer.
Sig Sauer, though its Sig Air division, has had an impressive run of significant semi-autos the past three years, and for 2019 has only added one new model, but they made it a jaw dropper, the Sig Sauer P365, a micro compact 9mm, which, as a CO2 model, demanded a whole new design paradigm for blowback action air pistols.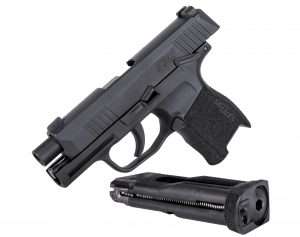 Umarex is like a quiet giant, and except for its penchant to introduce new models in Europe before the U.S. has not held back this year introducing three significant new blowback action models, the military style Beretta M9A3 with some impressive design updates over the 92A1, and the third and fourth new Glock models in two years, the G17 Gen4 and a dark horse that rode in almost unannounced, the military style Glock 19X. That makes up eight of the nine; with the last spot going to an updated version of Crosman's Beretta 92FS clone and 93R-style select fire mechanism, reintroduced this year as the Full Auto P1.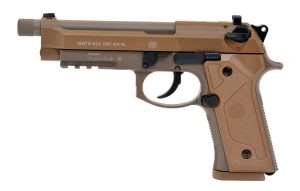 All nine have been covered this year in Airgun Experience articles, and I recommend taking the time to look back and review these articles by linking to the Articles header on the individual product pages at Pyramyd Air. Thursday I will begin the breakdown of guns and how they will be paired up for comparison tests. I welcome any opinions from readers on these individual guns, (especially if you own them and have found things you like or dislike strengths and weaknesses), so I have a broader sense of the guns beyond my own experiences with them. You will find links to the articles below.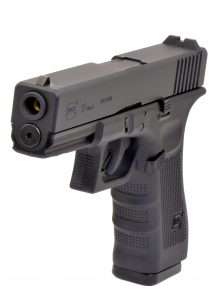 Later this month, Pyramyd Air will be announcing a Replica Airgun of the Year Contest that will award the Top Gun for 2019 to one reader on Christmas Eve, as we celebrate the 500th Airgun Experience article this December 24th.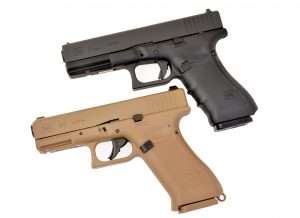 And the contenders for 2019 are, in alphabetical order:
Air Venturi Springfield Armory 1911 MIL-SPEC
https://www.pyramydair.com/airgun-experience/springfield-armory-1911-a-1-mil-spec-part-1/
Air Venturi Springfield Armory XDM 4.5 bi-tone
https://www.pyramydair.com/airgun-experience/first-test-springfield-xdm-co2-part-1/
Air Venturi Springfield Armory XDM 3.8 black
https://www.pyramydair.com/airgun-experience/the-xdm-3-8-part-1/
Crosman Full Auto P1
https://www.pyramydair.com/airgun-experience/select-fire-beretta-pistols-part-1/
Sig Sauer P365
https://www.pyramydair.com/airgun-experience/sig-sauer-p365-part-1/
Umarex Beretta M9A3
https://www.pyramydair.com/airgun-experience/first-look-umarex-beretta-m9a3-part-1/
Umarex Glock 17 Gen4
https://www.pyramydair.com/airgun-experience/umarex-glock-17-gen4-part-1/
Umarex Glock 19X
https://www.pyramydair.com/airgun-experience/umarex-glock-19x-part-1/
Umarex HK VP9
https://www.pyramydair.com/airgun-experience/umarex-heckler-koch-vp9-part-1/
A word about safety
Blowback action airguns provide the look, feel and operation of their cartridge-firing counterparts and this is one reason why they have become so popular. Airguns in general all look like guns, blowback action models more so, and it is important to remember that the vast majority of people can't tell an airgun from a cartridge gun. Never brandish an airgun in public. Always, and I can never stress this enough, always treat an airgun as you would a cartridge gun. The same manual of operation and safety should always apply.