2019 Replica Air Pistol of the Year Part 3
Re-imagining the blowback action design – Sig Sauer P365
By Dennis Adler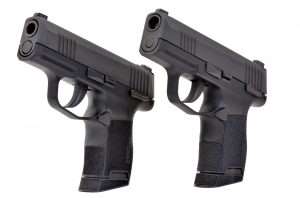 In the broadest possible sense reengineering the fundamentals of a handgun is one of the most challenging jobs in the world. There are physical limits determined by the dynamics of how a handgun works, whether rimfire or centerfire, and these must be based around the caliber of the ammunition and how it is fired. Revolvers greatly simplify the process, but when you get into semiautomatic pistols, an entirely new set of rules come into play. The larger the caliber the greater the limitations due to recoil and dynamic stress on parts, and this is multiplied by the size of the gun as it gets smaller. A full-size duty gun, let's say a Sig Sauer M17 or P320, is going to have more manageable recoil, a larger ammunition capacity, and with a longer barrel, commensurate increases in velocity and accuracy over a Sub Compact of the same caliber. For Sig Sauer, the limitations of caliber, capacity, handgun size, recoil, velocity and accuracy were the starting points with the P365. The laws of physics are immutable but their effects can be minimized through technology, and a small, 9mm Micro Compact semiautomatic pistol can be built. It can have manageable recoil; retain effective velocity, defensive pistol accuracy, and superior capacity, in this instance 10+1, which is three to four rounds above the standard for a Micro Compact semi-auto even in .380 ACP.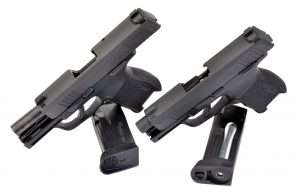 Creating a 9mm centerfire pistol this small was an achievement that earned Sig Sauer accolades throughout the firearms industry, including Guns & Ammo's 2018 Handgun of the Year, and Shooting Illustrated Magazine's 2019 Golden Bullseye winner for Handgun of the Year. Translating that design to a matching blowback action CO2 model was an equally "impossible" task. Yet the proof that it can be done is in front of you. Is it as significant an achievement in .177 caliber as it is in 9mm? That depends entirely upon what you expect from a blowback action CO2 air pistol that is smaller than any comparable semi-auto design powered by a standard 12 gr. CO2 cartridge. The P365 is only 5.75 inches in overall length, 1.0 inches wide (at its widest point) and 4.5 inches tall with the finger extension magazine used for the 9mm model. Even with the finger extension, the P365 is smaller than the Umarex Walther PPK/S and PPS/PPS M2 CO2 models by half an inch, and the Sig uses a self-contained, 12-shot capacity CO2 BB magazine that is unprecedented in the industry. Its capacity is equal to the centerfire pistol's 10+1 with an extra round for good measure.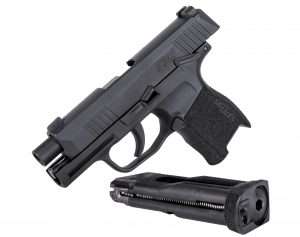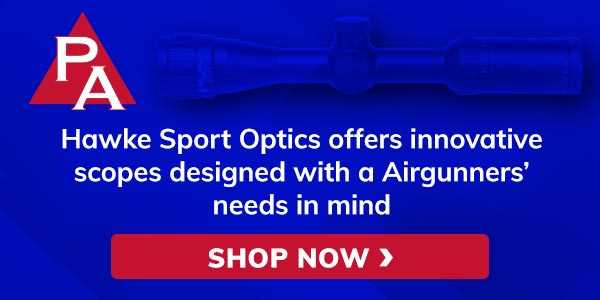 In order for Sig Sauer's Sig Air Division to build a 1:1 blowback action air pistol with the CO2 and BBs in a single magazine, the engineering required those same immutable laws of physics to be minimized through technology. CO2 mechanisms take up space in the frame and within the CO2 BB magazine. Without going into all the details covered in my Airgun Experience series on the P365 CO2 model, new approaches were needed to make everything work in an airgun exactly the same size as the 9mm pistol, including a firing system almost identical to a striker-fired pistol. (Other CO2 models that appear to be striker fired designs, like the Glock 17, for example, actually use a small internal hammer, not a striker.) Before going any further with the competition for Replica Air Pistol of the Year, the Sig Sauer P365 earns 5 extra points for Design Innovation. This is different than Ingenuity of the design because that speaks to copying actual features and incorporating them into the air pistol's design, whereas this 5-point bonus is awarded for breaking new ground in the design of the air pistol's internal operating mechanisms.
Sig is the first to acknowledge that this technology for downsizing the pistol has taken a toll on velocity by stating right on the box "Up to 295 fps" which is regarded as sub standard by most, the accepted minimum being 300 to 320 fps with a 12 gr. CO2 cartridge. That's only 5 fps average less than several larger blowback action guns with self-contained CO2 BB magazines. But the fact that the 12 gr. cartridge fits in a magazine that is barely longer then the cartridge itself, is what makes it such a design achievement. If you consider the next smallest blowback action model, the Umarex Walther PPK/S, does no better on velocity and uses a separate CO2 cartridge in the grip frame and a stick magazine (and lacks a lot of authenticity of design) the P365 being 1:1 with its 9mm counterpart stands head and shoulders above the PPK/S. The excellent Umarex Walther PPS models, which are larger than the P365, hit velocities of around 350 fps but also use separate CO2 and stick magazines like the PPK/S. Even the Umarex Makarov, which is slightly larger than the PPK/S, doesn't measure up for authenticity with its exposed CO2 seating screw, even though it is a self-contained CO2 BB magazine.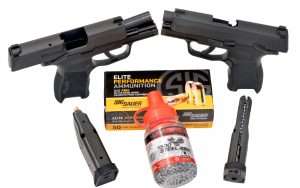 I look at the P365 as an important new gun because of its size, proof that it can be done with only small compromise, and I guess that is the velocity. You have to be pragmatic about that because short barrel centerfire (and rimfire) guns always have lower velocities than longer barreled guns and that translates to air pistols as well. If Sig Air had been able to squeeze 310 to 320 fps out of the P365 I don't think anyone would be complaining. But a velocity under 300 fps is a liability for earning points.
On the plus side, the P365 feels very much like the 9mm model in your hand (I have done 1:1 comparisons), it has robust felt recoil, and that might have taken a few fps from the CO2's performance as well, but BBs hit the target with plenty of force at 21 feet and for accuracy at that range it surpasses the PPK/S, and equals or beats the PPS and Makarov models at 21 feet. As a Micro Compact air pistol for CCW training, it stands alone, just like its 9mm counterpart in the world of concealed carry arms.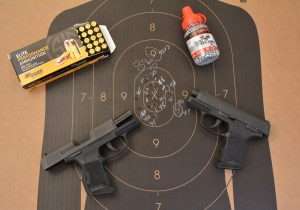 Being a serious understudy for the 9mm pistol (as intended by Sig Sauer), trigger pull on the CO2 model averages a short but firm 5 pounds, 6 ounces, with 0.3125 inches of total take up to a crisp break. The trigger moves back 0.25 inches with almost zero resistance, then there is a firm 0.125 inches to discharge, with no over travel and a quick reset. This compares favorably with the centerfire pistol's 6 pound average trigger pull, which is also moves back 0.25 inches with almost zero resistance before a firm pull through of 0.25 inches releases the striker.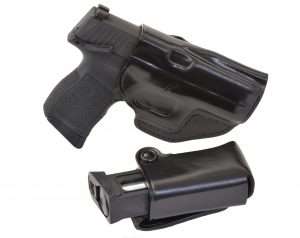 Loading CO2 and BBs can range from being easy to a royal pain depending upon the gun and the little Sig is a gem in that respect. Not only is this the smallest self-contained 12 gr. CO2 BB magazine ever devised, it loads similarly to the 9mm model, in other words from the top. The locking follower is easy to set and there is no loading port above it. Using your index finger to press the BB stop down (which is done by the barrel breech when the gun is loaded) you insert each BB into the magazine (like a cartridge pistol magazine) then release the locking follower when you're done.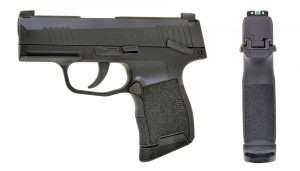 The small size of the magazine does require a CO2 seating screw that is a bit shallower than most, and it takes a little care when inserting the hex head tool to turn down the cap and pierce the CO2 quickly to avoid loss of air. This does take some practice.
As for accuracy, the P365 has done well in several tests, including a comparison with the 9mm model at various ranges. Today's test had one flaw (me) placing 9 rounds close to POA and one terrible flyer that went low and right opening up a otherwise under 1-inch group to 1.75 inches (otherwise 9 of 10 at 0.93 inches). The best five among a cluster hitting a little high and left of the bullseye (tearing a cut through the target that is hard to see in the photo), measured 0.48 inches. The gun has actually done a little better for 5-shots out of 10 in the past. Thus the P365 remains consistent as a shooter, albeit under powdered, and with a design that cannot be field stripped. Against some of the guns this year it is less than perfect, but in a size that has no competition.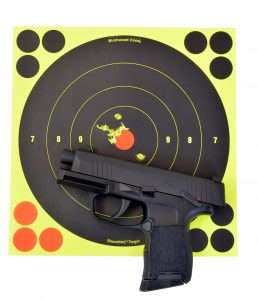 CATEGORY RATINGS
Model: Sig Sauer P365
Authenticity 1 to 10:  10 (1:1 measurements and operation with 9mm model)
Ingenuity of the design 1 to 10: 10 (Smallest blowback action CO2 model)
Ease of use 1 to 10: 10 (Easy to load BBs and good trigger)
Performance 1 to 10: 5 (under powered with velocity below 300 fps)
Accuracy 1 to 10: 9 (Shoots close to POA requiring only minimal corrections)
Bonus points: 5 (Design Innovation for smallest self-contained CO2 BB magazine)
Total Points: 49