2019 Replica Air Pistol of the Year Part 6
Updating a timeless classic – Springfield Armory 1911 MIL-SPEC
By Dennis Adler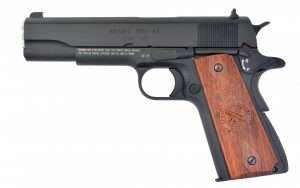 There is no point in American firearms history since the 1911 was introduced that the Colt Model or some version of it has not been in production; it is an unbroken cycle that has lasted 108 years. Aside from the Colt Peacemaker (which actually did go out of production during WWII and until 1956) no American handgun has remained in production longer than the 1911. As an air pistol, the 1911 silhouette was the inspiration for classics old air pistols made by Marksman from the 1950s to the 1970s that shot BBs, pellets, or darts (in fact, they still make it). How many of you had one of those when your were a kid?
Not your father's BB gun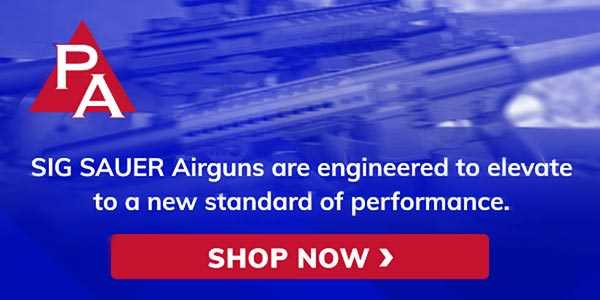 Since 2014, we have been treated to an array of Model 1911 air pistols that duplicate the design and operation of the centerfire model in its many variations, from original pre-WWI designs to the pre-WWII 1911-A1, through today's modern tactical and competition versions made by Colt's (licensed through Umarex), Remington, Sig Sauer, Tanfoglio, and Swiss Arms, among others, and now by Springfield Armory, which built its reputation on .45 ACP Colt Model 1911 designs starting in the early 1980s. Today, Springfield has one of the largest and most popular lines of 1911 pistols that span the needs of law enforcement, civilian and competition shooting. This year they added a blowback action CO2 model to the Springfield Armory line (licensed through Air Venturi) that is solidly based on the company's 1911-A1 MIL-SPEC .45 Auto series.

This is Springfield Armory's modestly updated version of the original Colt Model 1911-A1 they began selling in 1984. Today there are two centerfire versions; the standard model with a matte Parkerized-like finish and the Stainless Steel MIL-SPEC with stainless steel construction and a polished finish on the flat surfaces and bead-blasted matte finish on the rounded areas. The mainspring housing on both models is the arched style found on GI issue 1911-A1s beginning in the mid 1920s, but they have an added safety design with Springfield Armory's I.L.S. Internal Locking System (used on centerfire models, but not the CO2 version). Springfield models have a standard spur hammer, grip safety, left-side, non-extended thumb safety, and short military combat trigger true to the original 1911-A1. Springfield made exterior improvements to the original design as well, which include 3-dot fixed sights and a lowered and flared ejection port (again on the centerfire models). The MIL-SPEC centerfire models come with Springfield's cross-cannon emblem on the checkered walnut grips. The grips for the CO2 model are duplicated with quality injection molded panels that have the same checkering and cross-cannon Springfield Armory logo. As plastic 1911 grips go, these are exceptional looking. The same can be said of the Parkerized-look finish on the CO2 model, and all of the Springfield Armory stampings on the slide. The only quick tell that instantly distinguishes the MIL-SPEC as an air pistol is the use of the same S F (SAFE FIRE) white lettering and a directional arrow on the thumb safety that is  used on the Umarex Colt Commander, and white lettering for the Springfield name and caliber stamping. Some of this is more than forgivable, as white lettering is occasionally used on centerfire guns. What is unforgivable for a brand new CO2 model, is that the typical white letter warnings are on the frame. Considering how far we have come with other new models, including Springfield Armory's XDM CO2 models, it is unfortunate to see this step back, when the warnings could all be placed on the underside of the frame. In light of some of the competition this year, this has to be a 1 point deduction from Authenticity of Design.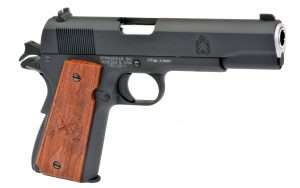 Facts on the ground
However nice this new model is, aside from the white lettering, and even with an authentically based Parkerized finish, this new gun is not unique, but rather the latest in a series of blowback action 1911 CO2 models that began in 2014 with the Umarex Colt Commander. They all share nearly identical internal designs and operation and the same self-contained CO2 BB magazines, and that's the best part of this story, because all of the magazines are interchangeable even though Springfield now has spare MIL-SPEC mags for sale. The only distinct features that separate these guns are exterior aesthetics; the design of the trigger, hammer, thumb safeties, sights, grips, and finish. Otherwise, they are one and the same, and with very few exceptions, that's pretty much the way it is in the world of centerfire 1911 models. Individual manufacturers and retailers, companies like Colt, Sig Sauer, Kimber, Wilson Combat, Les Baer, Springfield Armory and others, have their own sets of standards and features for their 1911 models, all based on the original John M. Browning design, but improved upon with time and technology. With the CO2 models, no matter what name is on the slide, they are no different except for finishes and features like sights and safeties, yet some do perform better than others.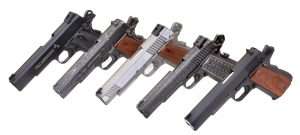 Like their centerfire counterparts, where certain manufacturers of frames, slides, barrels and other components that make up a 1911, offer different levels of quality and features to meet a specific price range, the airgun manufacturers also build like guns to meet a specific standard of performance, fit and finish for each individual retailer, be it Umarex, Sig Sauer or Springfield Armory. And in that, there are small differences because Springfield Armory set its standards high, Sig Sauer WE THE PEOPLE 1911 high.
Internally, the same design parts are used for the CO2 firing systems but there are subtle differences in the air nozzles and air nozzle restrictors, magazine valve releases and other parts. While barrel length has a lot to do with velocity, all of the 1911 CO2 models have approximately the same length smoothbore barrels.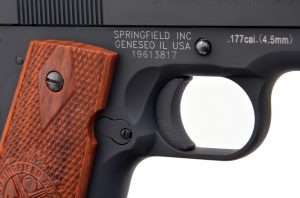 The Springfield's 1911 A-1 military-style short trigger has an average pull of 5 pounds, 9 ounces, which is in the ballpark for a centerfire 1911 A-1 and in keeping with Springfield's claimed trigger resistance for the centerfire MIL-SPEC of 5 to 6 pounds.
The otherwise very traditionally-styled Springfield MIL-SPEC totally surpasses the fixed, low profile military sights on other 1911 A-1 CO2 models, and clearly challenges those with fixed combat style white dot sights. The difference with the Springfield is that the style of white dot sights is not a modern combat sight (most of which are based on Novak designs) but rather the older, more upright U-notch rear with white dots facing a white dot blade front sight found on the original Colt Series 70 Government models built in the 1970s and 1980s. What this translates too when shooting the air pistol is a difference in POA and POI from some other blowback action models. While the majority of CO2 pistols tend to hit low, requiring a hold over at 21 feet, the MIL-SPEC shoots high, about 3 inches over POA with a fresh CO2, and then settles down after the first 10 to 15 shots to hitting about 2-1/2 inches high; velocity with this gun is very consistent from shot to shot (unless you rapid fire the gun). You need to hold under the bullseye, more akin to a 6 o'clock hold but about an inch lower than normal.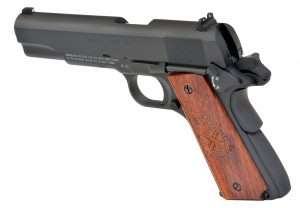 Except for the Sig Sauer WTP, the Springfield has the highest average velocity. The Sig has consistently hit between 329 and 338 fps. The Springfield has a factory rating of 320 fps and tested at an average of 314 fps, but within a very tight variance of between 313 to 317 fps for 10 shots. Once you have your POA dialed in, the gun will hit just about dead center from there.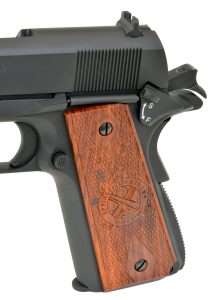 With a fresh CO2 and Umarex steel BBs, my best 10-shot group with the Springfield MIL-SPEC measured 1.41 inches with a best 5-shot group at 0.68 inches, including three overlapping in the bullseye and the rest of the group a little high and right. It comes in as just about equal for accuracy (accounting for POA corrections) with the Sig WTP. Not as good, but still well in the ballpark for a 1911 with fixed sights.
The Springfield Armory MIL-SPEC, for its combination of features, fit and finish (and impressive grips), comes in second overall to the Sig. As a gun combing original Colt design, an upgrade in sights from military to white dot but still within Colt standards, and being a duplicate of a .45 ACP production gun (again just like the Sig Sauer WTP), the MIL-SPEC is as close to being all that it can be.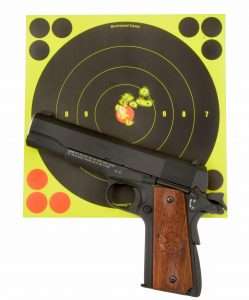 CATEGORY RATINGS
Model: Air Venturi Springfield Armory 1911 MIL-SPEC
Authenticity 1 to 10:  9 (Excellent except white letter warnings on side and S F safety)
Ingenuity of the design 1 to 10: 9 (Superior fit and finish but old established design)
Ease of use 1 to 10: 10 (Easy to load BBs and CO2)
Performance 1 to 10: 10 (Average velocity better than most 1911 CO2 models)
Accuracy 1 to 10: 10 (Shoots tight groups, best group 0.68 inches)
Bonus points: 1 (Can be filed stripped)
Total Points: 49
How to win 2019's Replica Air Pistol of the Year
On December 24th, one lucky reader will win 2019's Replica Air Pistol of the Year to commemorate the 500th Airgun Experience article. To enter, all you have to do is be signed up to post comments on Pyramyd Air's website and read this year's Replica Air Pistol of the Year articles leading up to the announcement on December 24th.
The rules are simple; you need to post your choice for Top Gun by midnight Monday, December 23rd and answer one question about each of the nine guns from the Replica Airgun of the Year articles published between December 5th and December 21st. The nine questions will only be available at the end of the December 21st article, and you will have had to read the articles on each gun to find the answers. Because there will be several guns reaching 50 points, there will be a tie-breaker decision on December 24th. You will have to make that decision, too, and the first person to post the correct answers to all nine questions and name this year's winner by midnight December 23rd wins the Replica Air Pistol of Year on Christmas Eve.
Good Luck to everyone!