2019 Replica Air Pistol of the Year Part 7
How good can it get? – The Umarex Glock 17 Gen4
By Dennis Adler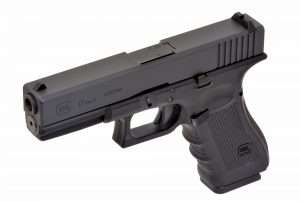 When serious air pistol enthusiasts said what they wanted, it seemed no one was really listening. Sure, airgun manufacturers were introducing new guns that were more and more authentic looking, but they still were not crossing the line drawn in the sand by consumers who wanted a 100 percent duplicate of an established centerfire pistol for training use, and to have the best possible air pistol for authenticity of design. They wanted a CO2 model entirely indistinguishable from its centerfire counterpart in appearance and handling, the kind of air pistol that could have corporate lawyers wringing their hands and airgun enthusiasts applauding with theirs. This is what Umarex and Glock finally arrived at this year with the Glock 17 Gen4. This is more than an impressive new blowback action CO2 air pistol. It is 20 years of air pistol evolution, from look-alike air pistols that were good, but not so perfect that you didn't know they were air pistols in a matter of seconds, to one that you had darn well better remember almost no one can tell from an air pistol. This is the one above all others that you have to respect and treat as you would the 9mm because the Glock 17 design is the definition of ubiquitous, and easily the most recognized handgun in the world today.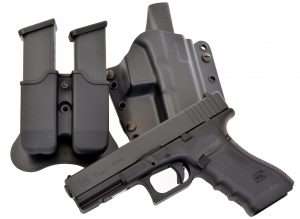 There are only two ways to know at a glance that the Umarex Glock 17 Gen4 is an air pistol. You have to be looking down the barrel and see the brass muzzle of the inner .177 caliber barrel, or are so familiar with Glock design that you instantly recognize there is something wrong with this Glock; it has no caliber stamping on the slide. It fits every Gen4 holster; the CO2 BB magazines fit Glock mag pouches, and all Glock and aftermarket light and laser accessories mount on the perfectly duplicated dustcover rail.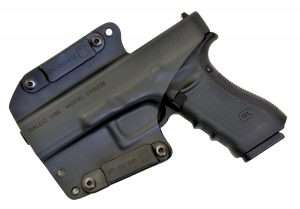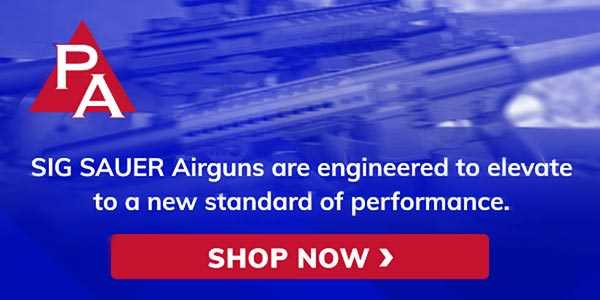 As a 1:1 training gun this is almost everything airgun enthusiasts have asked for. I say almost because the design is limited to the same lower velocity range average of 317 fps as other blowback action models that run in the 300 to 320 fps range. It is, however, consistently on the upper end with a high of 319 fps, low of 316 fps, and standard deviation of only 2 fps for 10 rounds.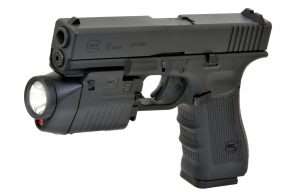 The only way to significantly exceed that velocity is to sacrifice two of this air pistol's most authentic features; field stripping, which is done exactly the same way as the 9mm model, and the dual recoil spring and guide rod design. And there would be the possibility of loosing a third feature, Glock's Gen4 interchangeable backstraps. Part or all of this would be sacrificed to use a closed system like the Glock 19X, to achieve an average velocity of 378 fps. With all that has gone into the Glock 17 Gen4, it would be a high price to pay, and you can get that same performance from the Third Gen-based Umarex Glock 17, which uses the same firing system as the G19 X.
The Umarex Glock 17 Gen4 shares two unique features with its centerfire counterpart, the use of an accurate dual recoil spring and guide rod design, copied from the 9mm Gen4 model, and interchangeable backstraps making this air pistol suitable for training use by a greater variety of individuals depending upon hand size. It is as close to the 9mm model as possible for an air pistol.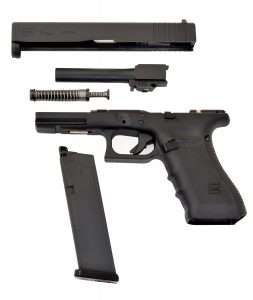 Absolute authenticity of design goes for the Gen4's trigger, which operates like the centerfire pistol's, with a functioning Safe-Action blade safety and a precise, matching take up and average pull of 5 pounds, 5 ounces. This is also seen in the almost perfectly matching matte (Parkerized-look) over a Melonite treated slide and the overall fit and finish. There is only one other CO2 pistol that can even touch the Glock 17 Gen4.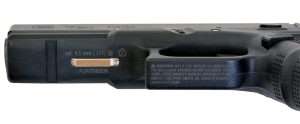 Downrange proof
At 21 feet the Gen4 needs a correct 6 o'clock hold under the bullseye, and with a consistent velocity around 317 fps, it can punch 10 rounds under an inch using a solid two-handed hold. I put 10 rounds a little right of center into an overlapping cluster that spread 0.93 inches with a best five (at least five with overlapping hits) measuring 0.5 inches. With accuracy to equal its authenticity of design, this CO2 model has it all together. This is your second 50 point gun, and the first to claim a possible tie-breaking 1 point bonus for field stripping. This year's winner may seem obvious with the G17 Gen4 totaling 51 points, but it is not a lock just yet!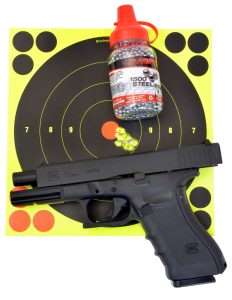 CATEGORY RATINGS
Model: Umarex Glock 17 Gen4
Authenticity 1 to 10:  10 (1:1 match to the 9mm model)
Ingenuity of the design 1 to 10: 10 (Superior fit and finish, Gen4 design dual recoil spring and guide rod for more authentic slide response)
Ease of use 1 to 10: 10 (Easy to load BBs and CO2)
Performance 1 to 10: 10 (Average velocity better than 300 fps)
Accuracy 1 to 10: 10 (Consistently shoots tight groups, best 5-shots at 0.5 inches)
Bonus points: 1 (Can be filed stripped)
Total Points: 51
How to win 2019's Replica Air Pistol of the Year
On December 24th, one lucky reader will win 2019's Replica Air Pistol of the Year to commemorate the 500th Airgun Experience article. To enter, all you have to do is be signed up to post comments on Pyramyd Air's website and read this year's Replica Air Pistol of the Year articles leading up to the announcement on December 24th.
The rules are simple; you need to post your choice for Top Gun by midnight Monday, December 23rd and answer one question about each of the nine guns from the Replica Airgun of the Year articles published between December 5th and December 21st. The nine questions will only be available at the end of the December 21st article, and you will have had to read the articles on each gun to find the answers. Because there will be several guns reaching 50 points, there will be a tie-breaker decision on December 24th. You will have to make that decision, too, and the first person to post the correct answers to all nine questions and name this year's winner by midnight December 23rd wins the Replica Air Pistol of Year on Christmas Eve.