2020 Replica Air Pistol of the Year Part 3
Timeless wheels
By Dennis Adler
The third contender for this year's top gun title is not a gun but rather a new concept for airguns. This year marked the launch of Pyramyd Air's Airgun Builder for the Umarex Colt Peacemaker. Now I know you're saying, how can a gun that has been around for five years be in contention for 2020's Replica Air Pistol of the Year? Every time a manufacturer makes a change or upgrade to a CO2 model we look at it as a new gun, the introduction of the 7-1/2 inch Umarex Colt Peacemaker on the heels of the 5-1/2 inch, for example, or when the rifled barrel was added; another new gun to be considered. With this year's implementation of the Colt Peacemaker Airgun Builder, the guns are new again in an even broader sense, because you can have it built the way you want.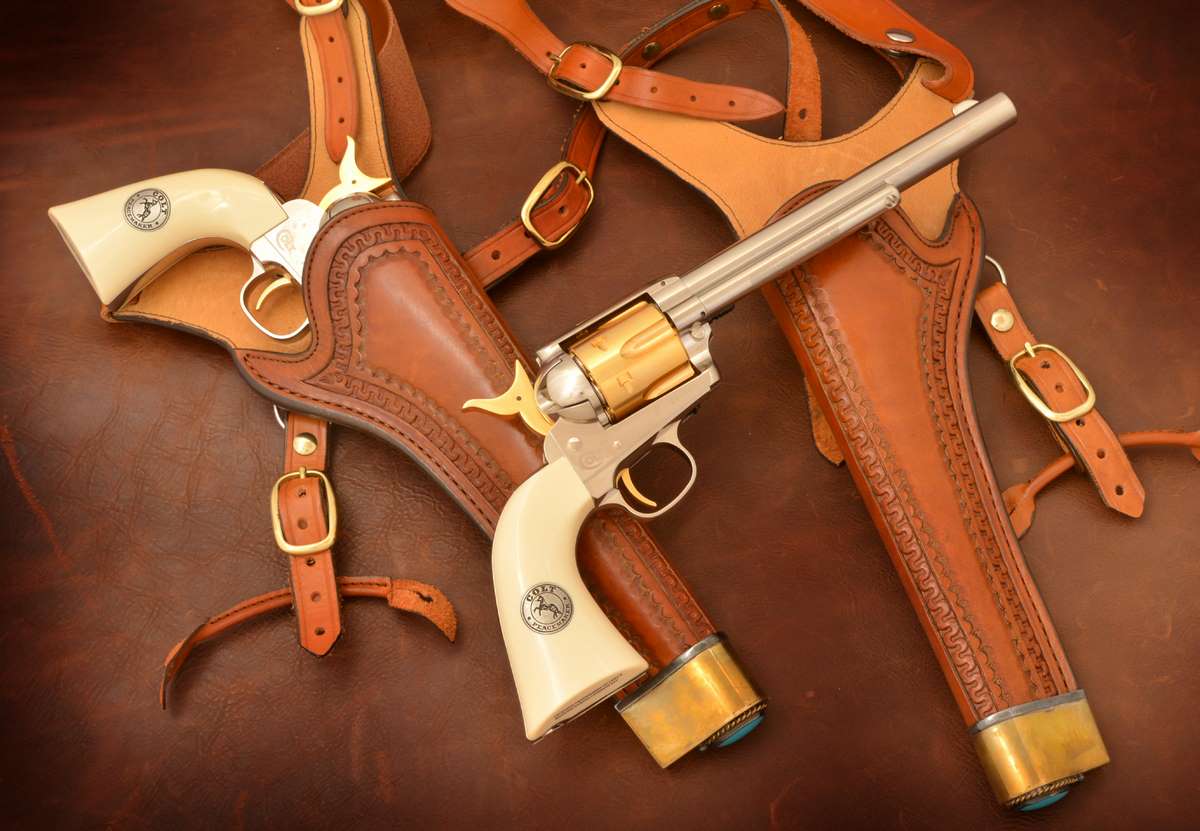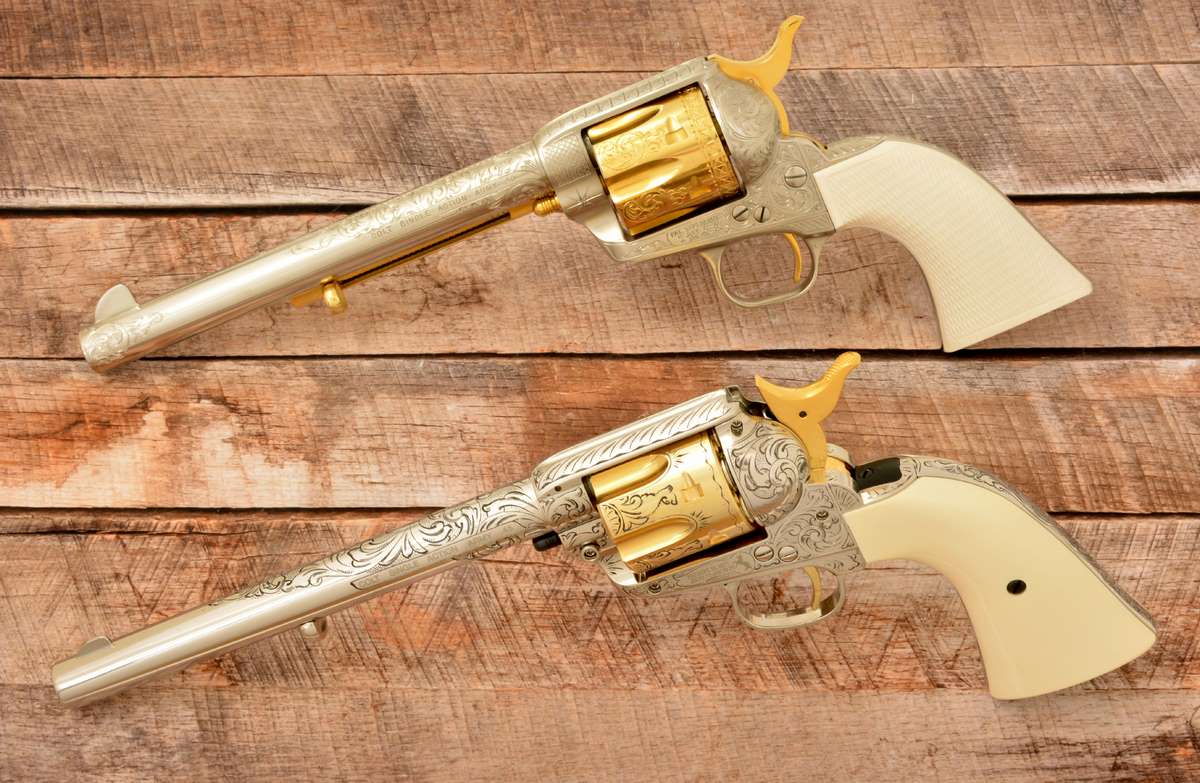 Just as it has been with the Colt's Patent Fire-Arms Mfg. Co. since the 1870s and up to the present day, a Peacemaker can be built to a purchaser's specifications, presently through the Colt's Custom Shop. The Pyramyd Air Peacemaker Airgun Builder allows a similar variation of that famous Colt's tradition by allowing personal combinations of frames, barrels, cylinders, triggers, and hammers, in weathered, nickel or gold finishes. It is very easy to order a CO2 model that looks like one of many custom finished six-shooters from the past. Colt's even offered many duo-tone guns, gold and nickel, or blued barrels and frames with contrasting nickel cylinders, hammers and triggers as well as factory limited editions. These are all original combinations you can recreate with the Airgun Builder, so however unusual you may make your CO2 model, it is likely Colt's also built it at some point in time.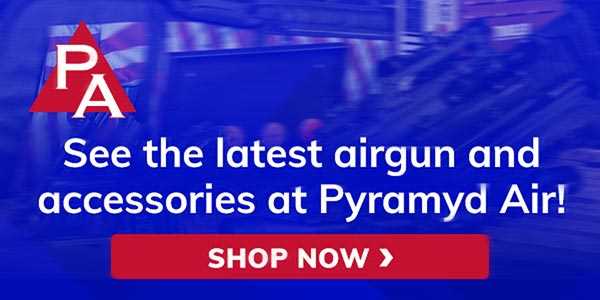 This isn't to say that every gun ordered through the Airgun Builder is a new gun to be considered for Replica Air Pistol of the Year, because they all begin with the same parts. It is the idea of the Airgun Builder that we are considering for this year's top CO2 pistol award.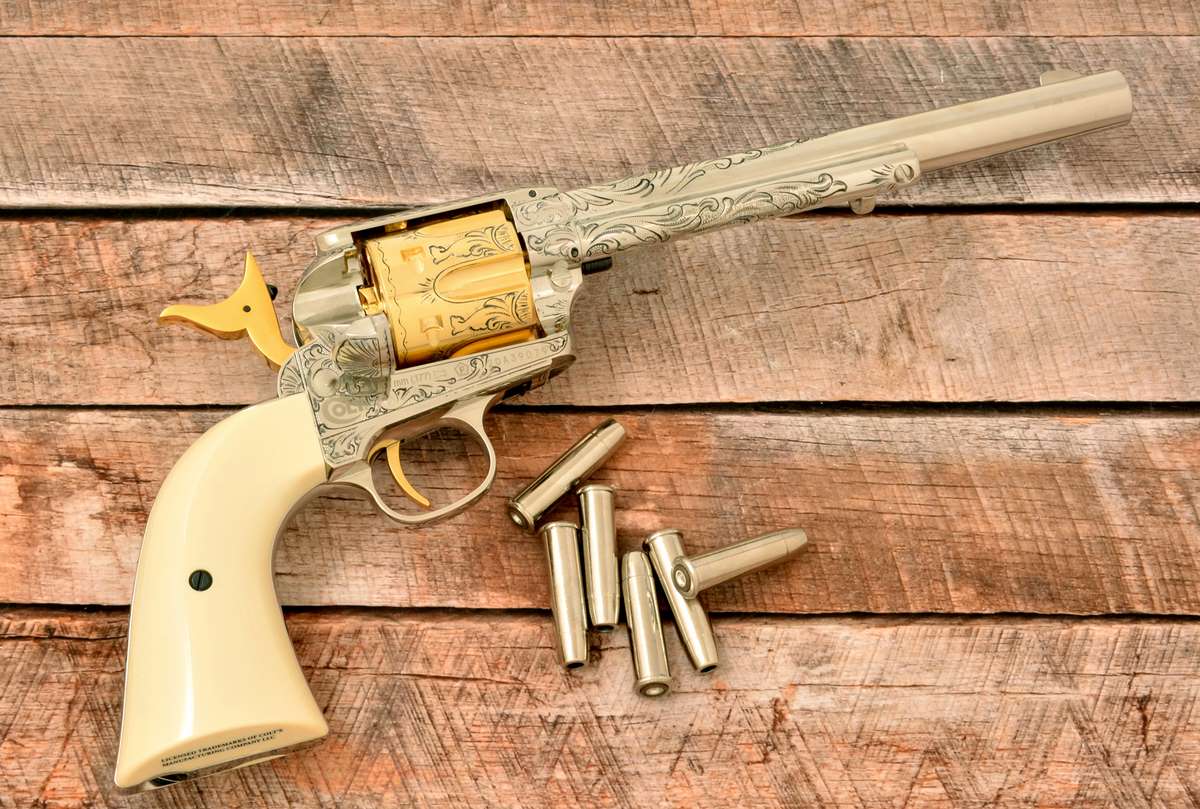 My choice to represent the Airgun Builder
I have seen some very interesting combinations ordered by readers over the last few months since the Airgun Builder came online at Pyramyd Air, and I have my personal choice, which will be the representative gun for 2020's Replica Air Pistol of the Year. It is one of my favorite combinations and one that matches a centerfire .45 Colt Peacemaker that I own. I favor the 7-1/2 inch barrel, so that is going to give my gun a slight advantage over the 5-inch barrel length Barra Schofield Wells Fargo and Chiappa Charging Rhino, as well as it being a rifled barrel, but it is still firing the same alloy pellets as I have used thus far in comparison of CO2 models with pellet-loading cartridges. It is about as level a playing field as I can create for this year's trio of wheelgun contenders.
 In my particular instance I took my Airgun Builder pistol and had it engraved to match my centerfire Colt and that is not a part of the comparison, but it is on an equal footing with the Adams & Adams hand engraved Barra Schofield Wells Fargo model that will be available in 2021. There is absolutely nothing about my Airgun Builder model that cannot be done by any purchaser if they send their finished Colt CO2 model to Adams & Adams for engraving, just as I did.
A new gun for 2020 based on all of the considerations given to the new Airgun Builder, we begin by looking at all the characteristics of this Colt CO2 model. It arrived as a nickel and gold combination pictured at the beginning of this article and then went to Adams & Adams for engraving in the period correct Louis Daniel Nimschke style of the late 1870s New York engraving era. The centerfire example is a 2nd Generation Colt engraved by Adams & Adams in the exact pattern as one of the original Nimschke guns sold by Hartley & Graham in New York City. The closest that the CO2 model can come due to the way the guns are made (with the barrel and ejector as one piece, so all one finish be it nickel, gold or weathered), and the fixed cylinder pin, which is always a dark black finish on the air pistols, the CO2 model in nickel and gold is still a standout pistol with the inked Nimschke-style engraving. The exact same engraving can be done on an all nickel model or any other combination, though weathered finish guns would have to be inked in or the engraving will be bright metal against the aged exterior. And this too, has also been done on centerfire guns, so even that wouldn't be inaccurate on an air pistol version. You really can't go wrong.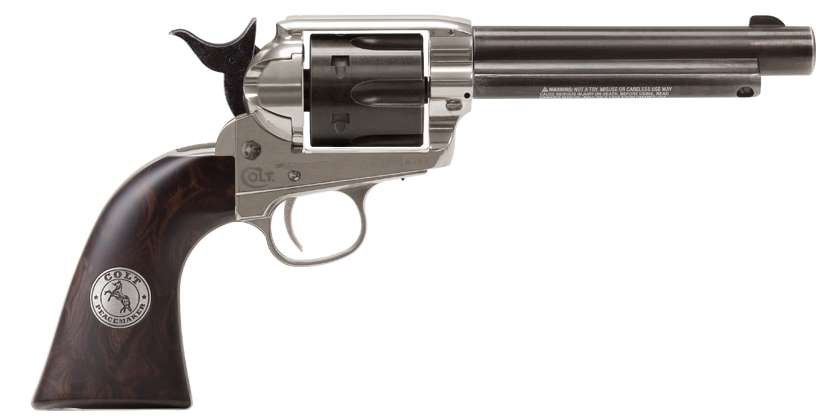 Regardless of finish, the base gun is a standard 7-1/2 inch model with virtually 1:1 measurements to the centerfire revolver, except for the Army-size grips (also optional on centerfire guns), so even this is technically correct, though the majority of Peacemakers had the slightly smaller Navy-size grips (based on the 1851 Navy percussion revolver). The larger grips make the CO2 model a little easier to handle and are required, as is the slightly larger grip frame, to allow room for the CO2 channel inside.
So, we go forth armed with all of this knowledge, and a customized 2020 Colt CO2 Peacemaker from the Airgun Builder, for a shot at the Replica Air Pistol of the Year title.
Downrange
Velocity listed for the rifled barrel 7-1/2 inch CO2 Peacemakers is 380 to 400 fps (maximum velocity) with lead wadcutters, and this dates back to the first rifled barrel models. The new nickel and gold gun clocked an average of 420 fps with the lightweight H&N Sport 5.25 gr. alloy pellets, a high of 436 fps, and a low of 417 fps on a fresh CO2. Looking back to last week's test of the Barra Schofield Wells Fargo, the 5-inch barrel length smoothbore using the same H&N Sport Match Green alloy wadcutters clocked an average of 482 fps; that's 60 fps faster than the Umarex Colt Peacemaker. Just as a reminder, the average steel BB weighs 5.1 gr. so the H&N Sport Match Green alloy pellets are not that much heavier than a .177 caliber BB. (The heaviest .177 caliber steel BB is Crosman Black Window, which weighs 5.23 gr.; most 4.5mm lead wadcutters are 7.0 gr.)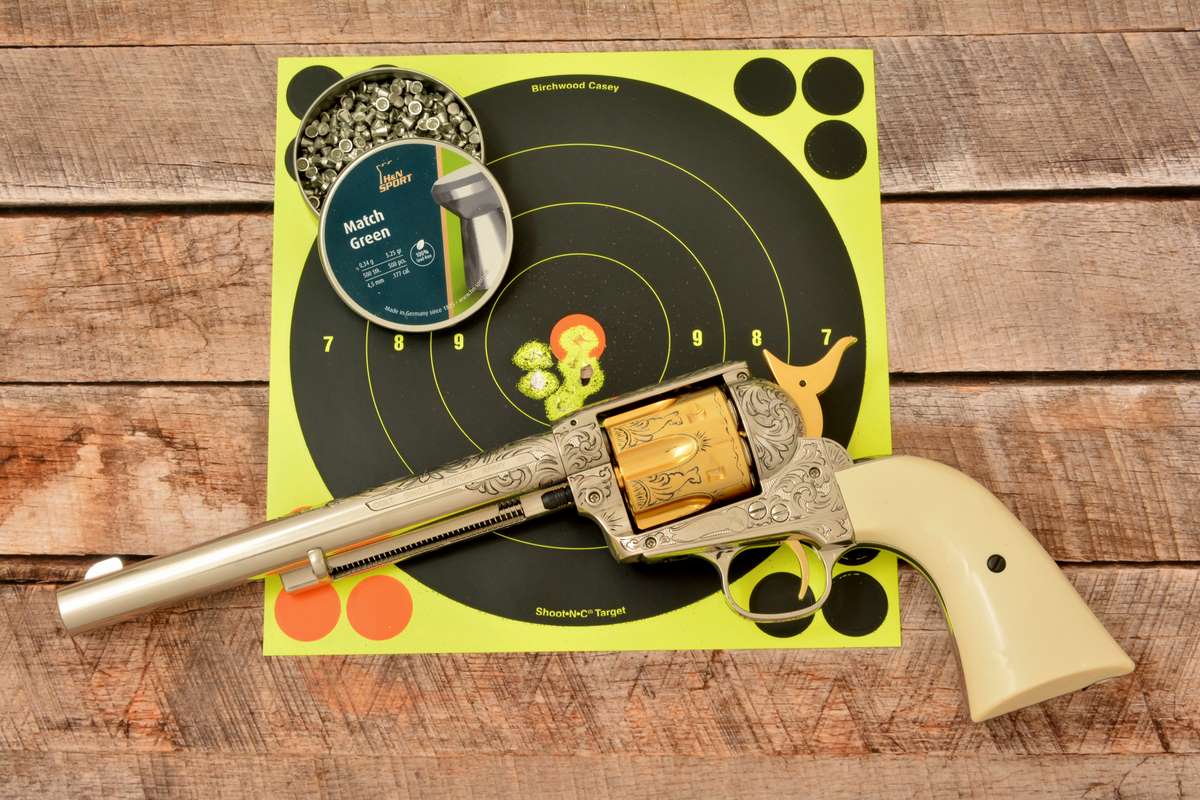 My 6-round target with the Colt had a spread of 0.93 inches with the best five at 0.81 inches. I shot a 12 round target for this test as I have done with both of the previous revolvers, and the full spread measured 1.875 inches with a best five at 0.625 inches inside the 10 and bullseye. But, that is a best estimate because there are only nine definite holes in the target that you can count, so three shots are inside of those. Not bad for old-fashioned Colt SAA sights. This actually says more about the gun than one with an adjustable rear sight that can't shoot any better. The Peacemaker is proof once more that classic Old West guns like the Colt and the Schofield were not only the best guns in their time but can hold their own in any time!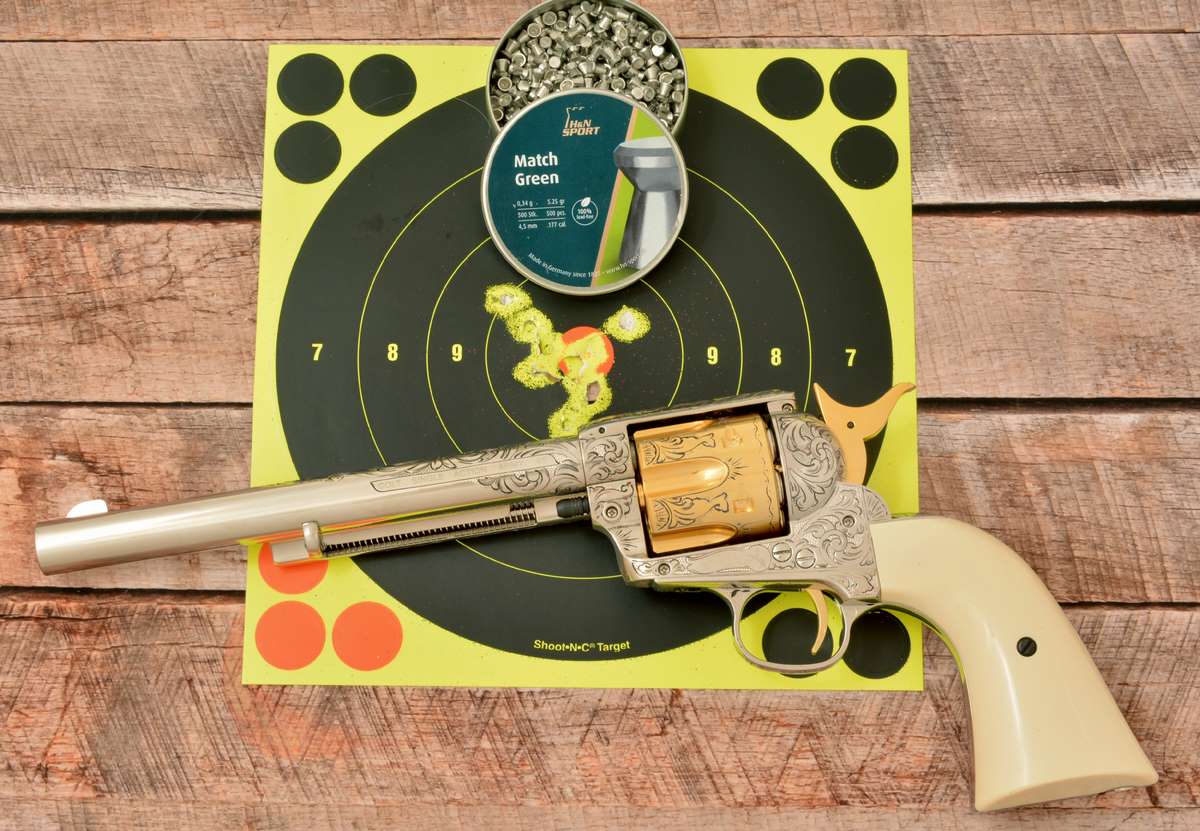 At the end of the first three 2020 models compared for Replica Air Pistol of the Year we have a two way tie between the two oldest designs, the Schofield Wells Fargo and the Colt Peacemaker! This also marks the first time we have had three revolvers in the running and all three have been shot with pellets. From here on out its semi-auto BB guns and they have some tough old competition to beat.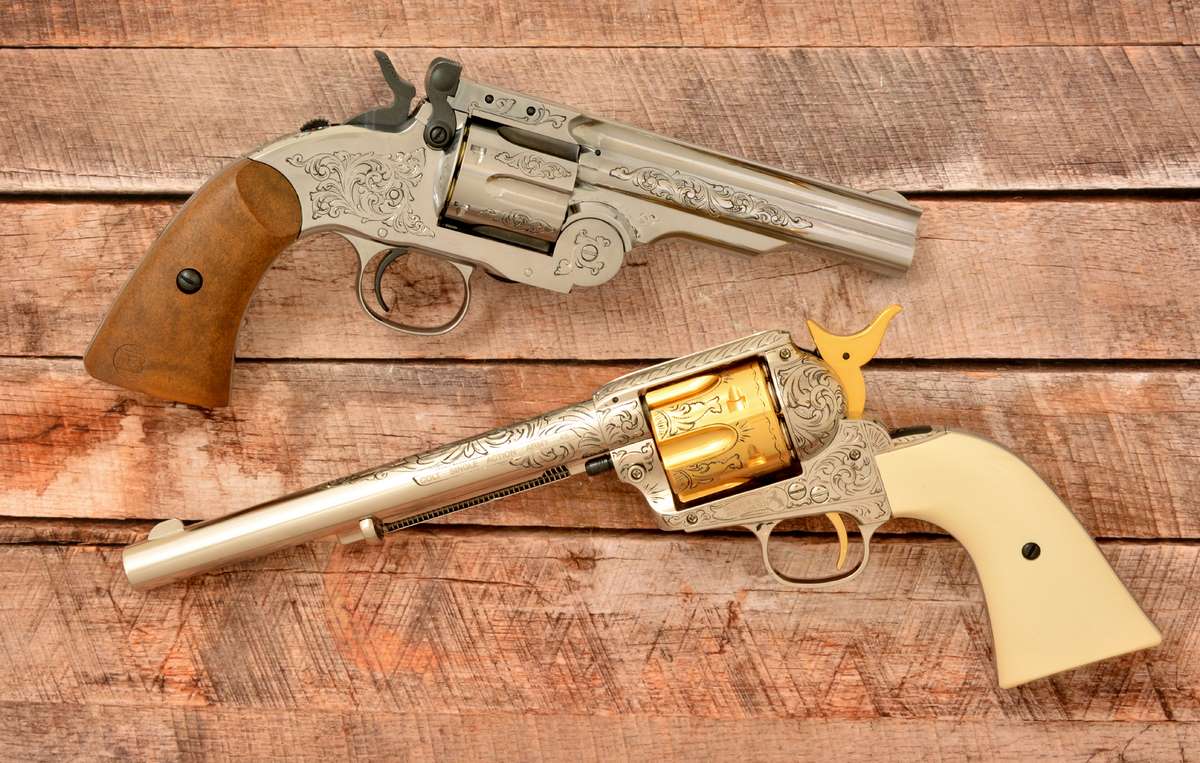 Colt 7-1/2 inch Peacemaker
Authenticity 1 to 10 9 (1 point for manual safety same as Wells Fargo)
Ingenuity of the design 1 to 10 9 (1 point, based on earlier designs)
Ease of use 1 to 10                             10 (easy loading, easy CO2 loading)
Performance 1 to 10 10 (high velocity, light SA trigger)
Accuracy 1 to 10 10 (best 5 at 0.625 inches)
Field stripping capability bonus 1
Adjustable Sights bonus 1               
Total points 48