The 21st Century Colt 1911 Rail Gun Part 1 Part 2
Keeping one of the oldest continuously carried military handguns up to date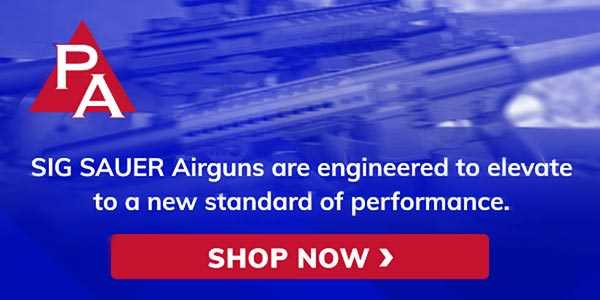 By Dennis Adler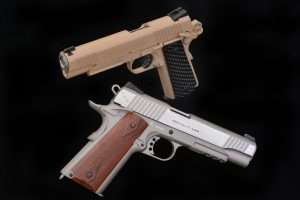 The Colt Model 1911 is 106 years old, and for an old gun (the oldest military pistol still in use) the M1911 proved it still has the chops by being selected back in 2012 as the Marine Corps new CQBP (Close Quarter Battle Pistol). The USMC version, or M45, is a specialized 1911 Rail Gun based on the Colt XSE Series Rail Gun. As manufactured for the U.S. Marine Corps the M45 costs around $1,875. The civilian version costs even more selling for $1,999. Colt 1911 Rail Guns have become extremely popular, not only for their elite USMC status, but for the fact that they can be easily equipped with tactical lights and laser sighting devices, making them ideal for law enforcement SRTs (SWAT) and personal defense use.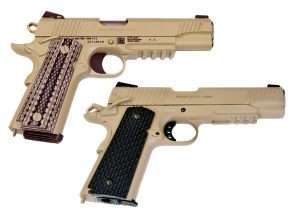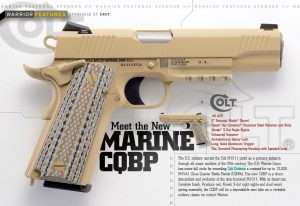 The success of the Colt Rail Gun, which is a 21st century tactical version of the most successful semi-auto pistol in history, prompted other manufactures to produce similar designs, and now Government Model and Compact 1911 Rail Guns are available from a variety of U.S. and foreign makers. In keeping with the trend, there are .177 caliber blowback action Rail Guns available using correctly sized self-contained CO2 BB magazines, including the pair shown from Swiss Arms. The SA 1911 Tactical Rail Pistol (TRS) with a full length accessory rail and Desert Tan SA 1911 Military Rail Pistol (MRP).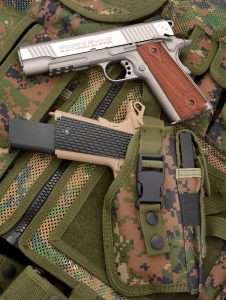 The Swiss Arms Models
The first of the two Swiss Arms versions, the SA 1911 MRP (Military Rail Pistol) is based on the 2012 Colt CQBP and is finished in a Cerakote-style Desert Tan. The SA 1911 TRS (Tactical Rail System) model has a distinctive matte grey alloy frame and brushed alloy slide that has the appearance of brushed stainless steel. The MRP has black polymer grips that simulate the G10 style used on many 1911 tactical models, while the brushed stainless-look TRS has checkered Colt Diamond pattern grips (also polymer but a very nice imitation of hardwood).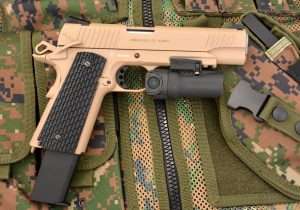 Both are updated 1911 CQBP designs with extended ambidextrous thumb safeties, a raised palm swell, and a flat finely-checkered mainspring housing with a military lanyard loop. Both models have Delta style hammers, skeletonized match alloy trigger designs, and Novak-style fixed dovetailed white dot combat sights. The guns run with a Swiss Arms/Tanfoglio design self-contained CO2 BB magazine with an 18-round capacity. An extra bonus is the availability of the Swiss Arms/Tanfoglio 27-round extended capacity 1911 magazine, which gives either gun, especially the Desert Tan version of the Colt CQBP, a very serious military bearing.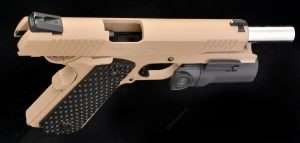 These are both exceptional 1911 models with all of the correct features that 1911 airgun enthusiasts have been looking for, and none of the verbiage that breaks up the look of almost every other CO2-powered 1911 blowback action model. The Swiss Arms 1911s are clean looking airguns with no more embellishment on their slides than most custom 9mm and .45 ACP 1911 models from manufacturers like Kimber, Springfield Armory, STI, and the Taylor's & Co. imported M1911 A1 FS Tactical models.
In Part 2 we will explore the common features between the Swiss Arms SA 1911 TRS and a .45 ACP Rail Gun.
A Word About Safety
Blowback action models provide the look, feel and operation of their cartridge-firing counterparts. All arguns, in general, look like guns, but those based on real cartridge-firing models even more so. It is important to remember that the vast majority of people can't tell an airgun from a cartridge gun. Never brandish an airgun in public. Always, and I can never stress this enough, always treat an airgun as you would a cartridge gun. The same manual of operation and safety should always apply.