Air Venturi Seneca Aspen Part 2
The PCP air rifle that goes it alone
By Dennis Adler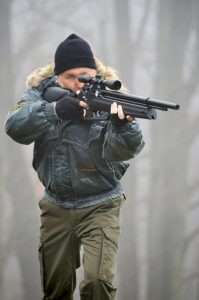 The Air Venturi Seneca Aspen is offered in 4.5mm (.177), 5.5mm (.22), or 6.35mm (.25) caliber models. The .22 is an ideal gun to take on small game hunting trips or just as a plus one for your hunting gear. There are certain advantages to a very quiet, high velocity air rifle in the field.
The Aspen provides a number of options, the number of shots vs. number of pumps to maintain ideal psi for single or multiple rounds, as well as psi firing modes, there are two, High and Low, the latter providing more shots without pumping up the air pressure as often, but still with an average of 750 fps with .22 caliber pellets (within the set psi range).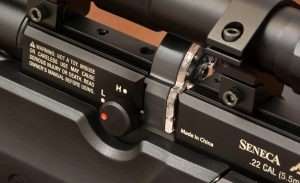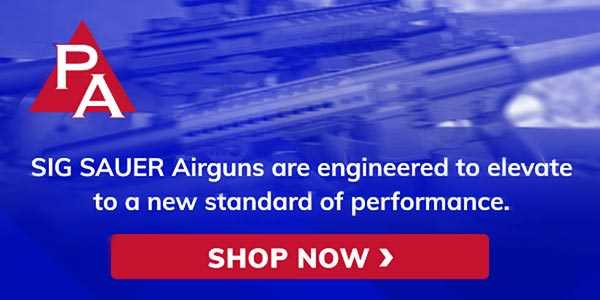 I shot velocity tests at both H and L settings and established my optimum psi and number of shots, without additional pumps. Another option is to shoot several rounds, then add a few pumps to bring the psi back up, thus maintaining as close to the same psi per shot as possible. One advantage to the Aspen is that when you have pressure set (number of pumps to a predetermined psi in order to achieve your desired result with a given pellet at a given range), you can have the gun ready to load and leave it. I pumped the Aspen up to 2800 psi and let it sit for several days. The pressure gauge showed a decline in pressure to 2500 psi, still more than enough to send a .22 caliber pellet downrange with effective velocity and stopping power for small game without pumping it back up to 2800 psi. The point is, like a rimfire or centerfire rifle you have sighted in with a specific cartridge, the Aspen will provide the same assurance with air and pellets.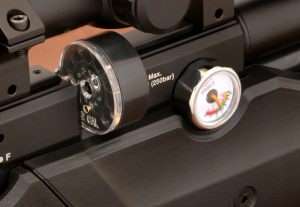 Trigger
The Aspen has an excellent adjustable trigger, (it can be set to work as a 2-stage trigger as well), and the trigger is perfectly positioned when you grasp the deep pistol grip stock. Average trigger pull, as set by the factory, is a short, crisp 3 pounds, 9 ounces with a mere 0.25 inches of take up and zero over travel. This can be adjusted lighter or heavier, but I was satisfied with the factory settings for this short field test.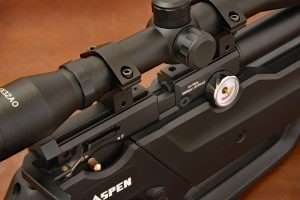 Another excellent feature of the Aspen is a large cocking lever which is as ruggedly built as the rest of the gun. It rests at 90 degrees to the receiver and has a checkered rubber cover for an easy grip. It takes very little effort to cock the action and it is as smooth as a bolt action rifle. The cocking handle opens the breech to load a single round when the pellet try is inserted, or rotates the 10-shot magazine to the next pellet when operated. Below the lever is a large safety that can be easily thumbed to the FIRE position after closing the action. It has a copper, pellet-shaped tip that makes it easy to hit. Like everything on the Aspen, it is laid out for quick handling.
Pellet and psi combinations
There are various ways to achieve optimum psi, pellet, velocity, range, and accuracy and establish a table of combinations (Tom Gaylord has done these for years and the stats can be extraordinary). For this test I am going after an optimum combination for just two types of domed lead pellets to be shot at 25 yards. The gun is good to twice that distance on High with the right pellet combination. Tuned all the way up, a lightweight .22 pellet will leave the muzzle at over 900 fps, which is nearing .40 grain, .22 long rifle velocities from an 18 to 20-inch barrel. The Aspen's rifled steel barrel is just a hair under 18 inches.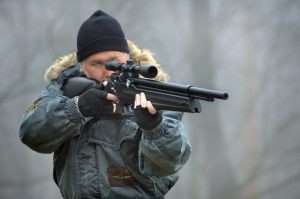 Everyone who purchases an Aspen is going to set up their own combination of pellets. If you look at Tom Gaylord's reviews of the Aspen he set up a number of tables for a variety of pellets over a lengthy series of tests. I set mine up for velocity and effective range based on needs, which was shooting targets at 25 yards for the highest effective velocity and number of shots within a given psi range. I shot two favorite .22 caliber pellets from Sig Sauer; the 14.66 gr. Crux Pb precision domed pellet, which is designed for competition shooting accuracy at medium range and delivers a very flat trajectory, and the heavier 21.14 gr. Wraith Pb Precision Aero pellets designed for long range accuracy and small game hunting.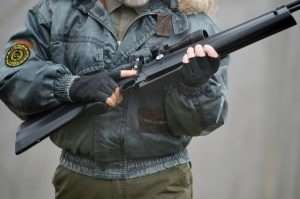 The first thing you need to do after selecting your pellet(s) is chronograph them to see if you are getting an effective velocity (especially for small game hunting). With the Sig Sauer 14.66 gr. lead domed pellets, 2800 psi on the Low setting was giving me an average velocity of 735 fps. Shooting from a rest at 25 yards, after sighting in the scope, I shot a series of 10 rounds, which I finally dialed into a best 5-shot group measuring 0.68 inches. After every three rounds I pumped the rifle back up to 2800 psi to maintain velocity. It took eight to ten pumps.
I chronographed the 14.66 gr. Sig Sauer lead pellets a second time starting at 2800 psi on the High setting, which gave me an average velocity of 917 fps for four consecutive shots. The pressure dropped from 2800 psi to 2200 psi. It took 30 pumps to bring it back up. For the second high velocity test, I fired six consecutive shots starting at 2800 psi and the chronographed velocities were 949 fps, 927 fps, 913 fps, 897 fps, 888 fps and 885 fps, with an average velocity of 909 fps. This took the pressure down to 2000 psi and it took 60 pumps to bring it back to 2800 psi. (Of course, in the field, you're not going to continually run it down and pump it back up like I'm doing, unless you need the exercise).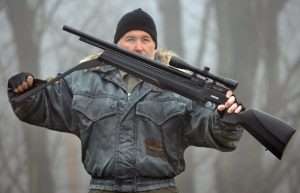 Thus far I have stayed with the lightest pellet for target shooting. For the most effective stopping power when hunting small game, a little heavier round is needed. The 21.14 gr. Sig Sauer Wraith Pb Precision Aero lead pellets are designed for this. They cleared the chronograph traps on the Low setting beginning at 2800 psi with an average velocity of 652 fps, a high of 656 fps and a low of 649 fps for four consecutive shots. This again brought the pressure down to 2200 psi so there is absolute consistency with the same number of shots. A velocity of 650 fps is about the absolute minimum for most small game if you want a clean, one shot kill. With the heavier pellets you should dial the Aspen up to High. Again starting at 2800 psi the heavier weight pellets clocked an average of 808 fps, a high of 824 fps and a low of 797 fps for four consecutive shots. That took pressure down to 2050 psi. So, I know that I will be in the 800 fps range with the 21.14 gr. and be able to have a quick follow up shot if needed using the 10-round magazine.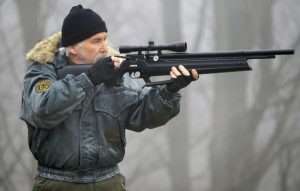 I decided to run out the last six rounds in the magazine and see what the pressure dropped to and what the low velocity would be at shot number 10. Starting at 2050 psi, the 21.14 gr. pellets recorded velocities of 785 fps, 782 fps, 765 fps, 753 fps, 741 fps and 725 fps. That took pressure down to 1800 psi. Bottom line, you can shoot 10 consecutive rounds and maintain high enough velocity for small game.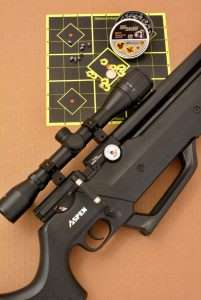 Using the heavier Wraith Pb pellets on High and target groups were not quite as tight as with the lighter Crux Pb. I shot one full rotary magazine, 10 rounds, from a rested position at 25 yards. All 10 shots had a spread of 2.75 inches, and the best 5-rounds at 1.5 inches. I pumped five to eight times after every third shot to keep pressure between 2500 and 2800 psi.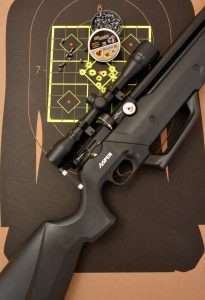 While I know for a fact that target shooters using this rifle can put 5-shot groups at 0.5 inches and less, in the field, sighting in on an average size rabbit at 25 yards or other small game and shooting off hand, I'm not going to miss if I can keep 1.5 inch groups at POA on paper. Given time and additional practice, this rifle will give most shooters 0.5 inch groups at 25 yards (especially from a bench rest). The Aspen is just as good out to 40 yards. As a Plus One for a hunting trip, this self-contained precharged pneumatic will quietly and effectively get the job done, and continue to get it done until you run out of pellets!
Next week we begin testing an American Classic as produced by Springfield Armory, the M1 Carbine.