Airguns of the American West Part 10
The Guns of John Wayne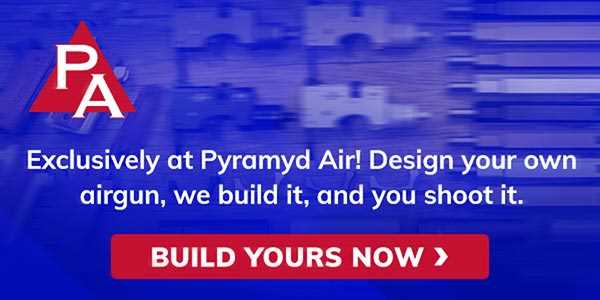 For almost 50 years The Duke's favorite handgun was a Colt Peacemaker
By Dennis Adler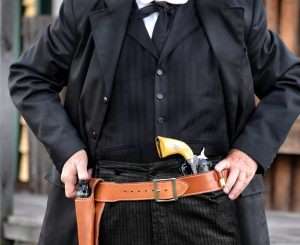 John Wayne's film career spanned more than three generations, from 1930 when he starred in his first western, The Big Trail to 1976 when he made his last film, The Shootist. The Western cinematic legacy he left chronicles almost the entire history of this uniquely American film genre and its kinship to the Colt Single Action Army revolver.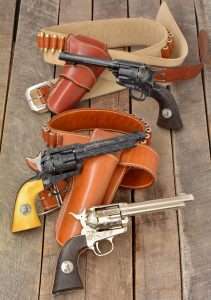 Up until 1930, the tall, rugged looking man from Winterset, Iowa, had been working as an extra, but he had determination and a look that caught the attention of legendary film director Raoul Walsh in 1929. The next year he gave the young actor named Marion Morrison his first big break in the 1930 epic The Big Trail. Walsh also changed Morrison's name to John Wayne. Although the film was not a box office smash, even though it was one of the first shot in 70mm wide-screen, Wayne became a "B" movie hit, spending the next nine years making westerns and building a reputation as a film star. Many of his early films were remakes of old Ken Maynard silent movies with Wayne always playing a character named John (John Drury, John Steele, John Mason, John Trent), and riding a magnificent white stallion named, of all things, Duke.
In the early years of western cinema, guns and gun rigs were glamorous, and the famous Bohlin Buscadero holsters appeared in numerous films. Wayne wore a fancy carved two-tone holster and cartridge belt made by Ed Bohlin in 23 westerns made for Republic Pictures and Lone Star Productions beginning with Riders of Destiny in 1933. In 1936 when he filmed Born to the West, Wayne switched to a handsome hand-tooled Heiser outfit with a silver Bohlin buckle and tip and #714 holster. The H.H. Heiser outfit was worn by Wayne from 1936 through the first film he produced, 1947's Angel and the Badman.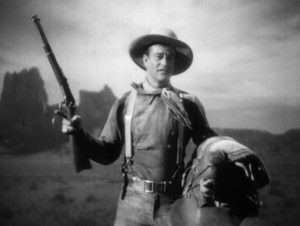 In 1939 he made the transition from "B" movies to big screen star as the Ringo Kid in John Ford's epic Stagecoach. From the moment Ford zoomed in on Wayne spin cocking his Winchester Model 1892, his place in film history was established. He repeated the stunt in dozens of westerns most notably in his Oscar winning role as crusty, one-eyed Marshall Rooster Cogburn in True Grit.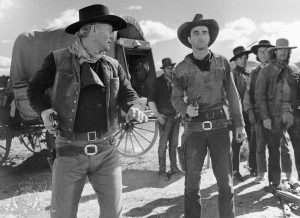 A number of Wayne's best films, for serious acting, were post-Civil War cavalry stories directed by John Ford who was famously quoted as saying "I never knew the big SOB could act!" after seeing Wayne's performance in Red River, directed by Howard Hawks. The first of Ford's post Civil War epics was Fort Apache released in 1948. Wayne played veteran frontiersman Captain Kirby York opposite Henry Fonda as Eastern-bred Colonel Owen Thursday.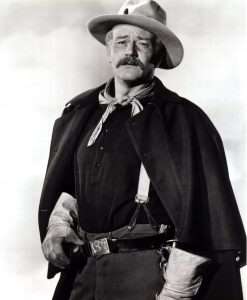 It was one of Wayne's better performances in what was a subordinate role to Fonda. One of his most challenging and best performances ever was in She Wore A Yellow Ribbon, where Wayne played Cavalry Captain Nathan Brittles, a character who was supposed to be older than Wayne actually was, challenging him to not only look older, but play someone who had been worn down by years of experience on the frontier and the loss of his wife. The guns in these Ford westerns, as with most, were secondary and occasionally wrong for the period of the film, a curious trait of John Ford's post-Civil War films. Wayne and others were often armed with guns that wouldn't have existed until the 1870s, 1880s, and, of course, there was Wayne's famous Big Loop Winchester 1892 lever action.
The Duke's signature Colts and gun rigs
With few exceptions The Duke carried faded blue Colt Single Action Army revolvers with wood grips throughout most of his films. Barrel lengths varied but most often 5-1/2 inch guns were used. This was the inspiration for the first John Wayne commemorative .177 caliber model, which features a weathered finish, simulated wood grips, and features John Wayne's signature on the backstrap. A faded blued 5-1/2 inch Colt was the centerpiece of 1948's Red River, in which Wayne played a much darker character than usual, cattleman Thomas Dunson. Opposite a youthful Montgomery Clift as Matt Garth, Dunson's adopted son, the gun handling in Red River was exceptional.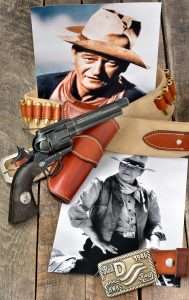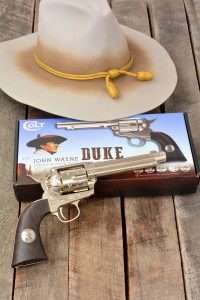 Wayne's trademark two-tone suede cartridge belt and tan leather holster were first seen in 1953's Hondo. He wore it again in one of his most dramatic acting roles ever as Ethan Edwards in The Searchers. In this classic western Wayne used one of his favorite tricks twirling his SAA upward out of the holster and cocking it at the top of the spin. The cut of the holster made it easy to do. According to John Bianchi, the original holster and gun belt were given to Wayne by his friend, famed Western stuntman and second unit director Yakima Canutt. The two-tone rigs (there were more than one) used a skirtless holster and tan suede money belt-style cartridge belt with contrasting brown bullet loops. The original version worn in Hondo was darker overall than the later two-tone rigs.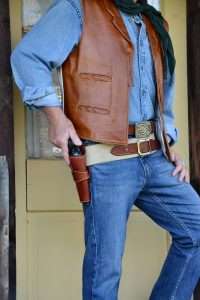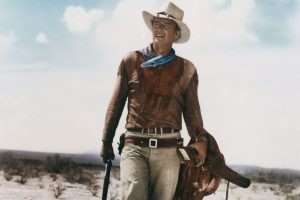 Wayne liked that particular style more than any other and wore it in almost every film after Hondo. The color tones changed over the years as did the shape of the holster but the two-tone rigs remained Wayne's favorite. He wore them in Chism, Rio Lobo, The Train Robbers, True Grit, Rooster Cogburn, and in The Cowboys, among others.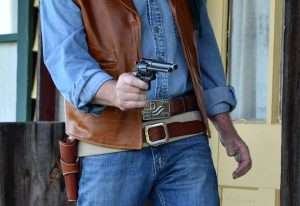 In 1967's The War Wagon The Duke switched from his usual 5-1/2 inch Colt Peacemaker to a 4-3/4 inch Colt with yellowed ivory grips, yet to become another Wayne trademark. He actually soaked the ivory in tea to age them. The Colt Peacemaker with worn finish and aged grips was the gun he used for most of his westerns until his last, The Shootist.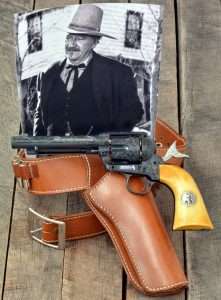 Filmed 40 years ago for an August 1976 theatrical release, it would turn out to be his final movie. For Wayne's character of legendary gunfighter John Barnard "JB" Books, he eschewed his traditional well worn Peacemaker in favor of his own personal pair of hand engraved and ivory stocked Single Actions. This was one film where Wayne believed the guns he carried were paramount to the character, Books was a professional gunfighter so the engraved revolvers seemed more appropriate, and he'd wanted to use them in a film for some time. The handsome ivory mounted six-shooters weren't Colts; they were Great Westerns, engraved by Carl Kourts and presented to Wayne by the company when they were in their heyday, a period when Colt had stopped building the Single Action Army (with GW production beginning in 1954 and continuing until 1964. Colt introduced the 2nd Generation SAA in 1956). The guns appeared to be Colts in the film for one reason, they were fitted with Colt-style hammers; Great Westerns manufactured by American Arms had frame-mounted firing pins. This was verified by Luster Bayless, Wayne's costumer. The inscription on the backstraps, which always remained out of focus were supposed to be J.B. Books, but were actually J. Wayne, thus the intentional soft focus whenever the backstraps were seen. The Shootist was a defining film for Wayne, who died three years later on June 11, 1979, shortly after celebrating his 72nd birthday.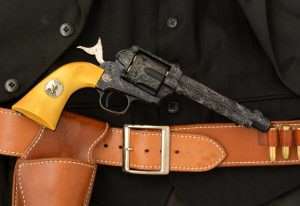 The Shootist .177 caliber CO2 model is fully hand engraved and custom finished to match the Single Actions used by John Wayne in the film. The last, and best of the John Wayne commemorative Umarex Colt Single Action revolvers, The Shootist gun is a fitting tribute the man from Winterset, Iowa, who became a legendary film star, and the quintessential image of the American cowboy.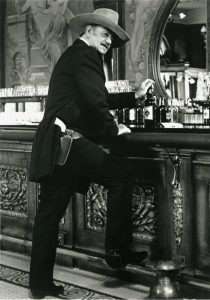 The Airgun Experience will return October 3rd with a test of the Umarex S&W M&P 40 – The new ultimate in semi-auto training guns.
A word about safety
Blowback action airguns provide the look, feel and operation of their cartridge-firing counterparts and this is one reason why they have become so popular. Airguns in general all look like guns, blowback action models more so, and it is important to remember that the vast majority of people can't tell an airgun from a cartridge gun. Never brandish an airgun in public. Always, and I can never stress this enough, always treat an airgun as you would a cartridge gun. The same manual of operation and safety should always apply.