Airguns of the American West Part 4
Delivering Western Justice – The hand engraved Umarex Colt Models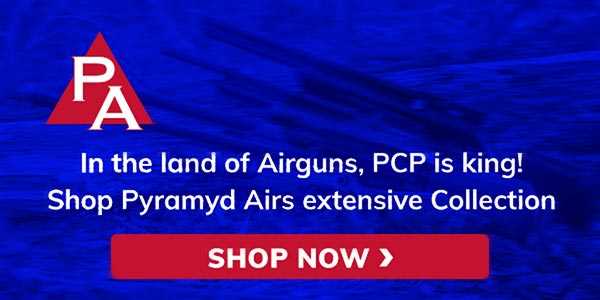 By Dennis Adler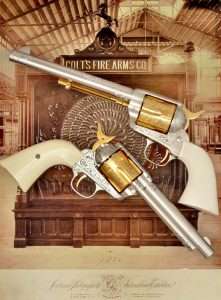 As far back as the late 1580s firearms were being embellished by the engraver's hand. Wheelock pistols and muskets were among the very first, each unique to the craftsman who engraved them. But by the mid to late 1600s engravers were beginning to record their work in pattern books. As noted by historian R.L. Wilson in Steel Canvas, "In 1684 French engraver Claude Simonin published a book of his engraving patterns comprised of designs that could be adapted to deluxe flintlock firearms, thus allowing engravers the advantage of sources to copy." The pattern books of 19th century engravers, particularly the works of Gustave Young and Louis Daniel Nimschke and their work on Colt revolvers, have long been the source of designs for 20th and 21st century engravers, as have the guns themselves.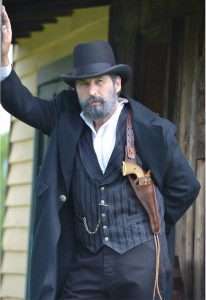 Within the world of firearms engraving there are some constants in the established patterns used by the vast majority of engravers; foliate designs, vine scrollwork of various sizes, the popular banknote scroll, classic French fleur de lis motif, barrel bands (also referred to by engravers as wedding bands) and of course, the use of animal heads and animals, often hunting dogs, which can be traced back to the 1600s. Though many of these design motifs were well established in the 1700s, it was Gustave Young, Samuel Colt's first master factory engraver, who brought so much of it together in his early presentation Colt revolvers. Young remained at Colt's from 1852 to 1871 when he left to establish his own shop in Springfield, Massachusetts. His replacement was Cuno A. Helfricht, the son of Colt stock maker and engraver Charles J. Helfricht. His work advanced the designs forged by Young and along with his own variations and patterns; he remained in charge of Colt's engraving department for a remarkable 50 years! There are more Helfricht engraved Colts today than any other.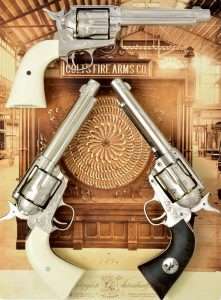 Of course, neither Young nor Helfricht worked alone, they had family members, Young his sons Eugene and Oscar, along with a staff of journeyman engravers, and assistants. Colt's, along with other armsmakers like Smith & Wesson, Remington and Winchester (which had its own in-house engraving department run by the Ulrich family), also used the services of independent engravers like New York's renowned Louis Daniel Nimschke. The Nimschke shop established what is known as the New York style of engraving, which was famously sold through Schuyler, Hartley & Graham, (which employed L. D. Nimschke and his shop as their "in-house" engraver), Tiffany & Co., and other prominent 19th century retailers. The Nimschke pattern books are regarded as among the most influential today.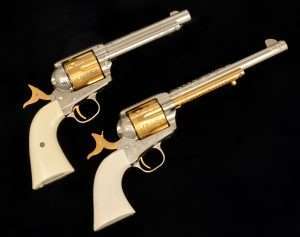 The Colt Custom Shop (and before that, the Colt factory engraving shop) have been producing hand engraved models since the establishment of the Colt's Patent Fire-Arms Manufacturing Co. in 1855, and even before that, with engraved guns from Colt dating back to the 1836 Paterson models. Those same historic engraving patterns have been reproduced in the 20th and 21st centuries by America's (and Europe's) top engravers. Among those who have, and still do work for Colt's, is Adams & Adams of Vershire, Vermont. John J. Adams Sr. has worked with Colt's for over 30 years and his son, John J. Adams, Jr., has worked for the Colt's Custom Shop and Smith & Wesson's Performance Center. Today, Adams & Adams is one of the most historic names in modern western gun engraving dating all the way back to John J. Adams' work for the legendary Alvin A. White and AA White Engraving.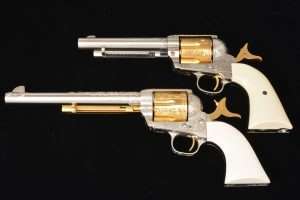 Adams & Adams specializes in the Gustave Young, Cuno A. Helfricht, and Louis Daniel Nimschke engraving styles and it is the latter which is used on the forthcoming nickel and gold Nimschke Umarex Colt Peacemakers. The designs on this gun are copied from an original Nimschke gun done for Schuyler, Hartley & Graham in the 1870s, and a reproduction of that 7-1/2 inch .45 Colt caliber SAA created by Colt's and Adams & Adams in 2008.
Engraving the Umarex Peacemakers
L.D. Nimschke is perhaps the most famous and prolific of 19th Century engravers outside of the Colt's factory shop. He did much of the engraving seen on Colts sold through Schuyler, Hartley and Graham in New York, as well as for Tiffany & Co. which at one time in its history sold lavishly engraved handguns.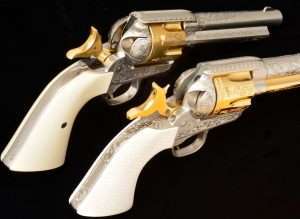 L.D. Nimschke's style, and that of the Nimschke Shop, was unique in the combination of engraving elements, and extensive use of punch dot backgrounds to add greater depth to the engraving. Patterns were usually a combination of vine scrolls, sunbursts, crosshatch panels (usually on the side of the frame where it meets the barrel), and use of borders or waves and dots to accent ejector housings and frames. This is the style used by Adams & Adams for the forthcoming Umarex Colt Nimschke Peacemaker.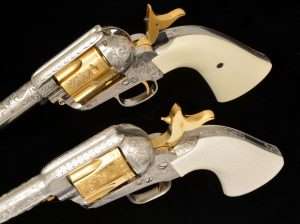 The engraving on this gun is also inked in, a process used to accent the engraving on nickel plated (or silver plated) guns. In addition, following the details of the Schuyler, Hartley and Graham 7-1/2 inch Colt, the cylinder, hammer and trigger on the Umarex Peacemaker are separately gold plated before the engraving.
This is the most lavishly engraved of all the Umarex Colt Peacemakers, and like the current hand engraved blued and nickel plated .177 caliber Peacemakers currently available, the Nimschke will only be offered in a limited edition.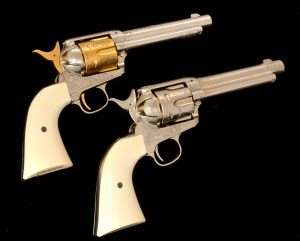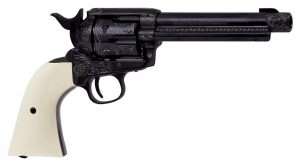 The hand engraving for the Umarex Colts is no different today than it was in L.D. Nimschke's time. Actually when it comes to hand engraving very little has changed since Young, Helfricht and Nimschke picked up their tools and began carving into metal in the 19th Century.
A word about safety
Blowback action airguns provide the look, feel and operation of their cartridge-firing counterparts and this is one reason why they have become so popular. Airguns in general all look like guns, blowback action models more so, and it is important to remember that the vast majority of people can't tell an airgun from a cartridge gun. Never brandish an airgun in public. Always, and I can never stress this enough, always treat an airgun as you would a cartridge gun. The same manual of operation and safety should always apply.