ASG CZ 75 SP-01 Update Part 3 Part 2 Part 1
Velocity and Accuracy at 21 feet
By Dennis Adler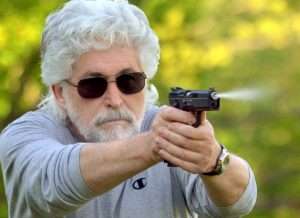 The SP-01 is a fairly hefty pistol, a full-sized 9x19mm design suitable for law enforcement (the CZ 75 is carried by police and military in various corners of the globe), as well as a personal defense handgun and a competition pistol; the CZ 75 is a many faceted semi-auto. The new ASG CO2 model, brings all of CZ's best features into one blowback action CO2 model that can be fully upgraded with the aluminum grips and magwell (magazine funnel) shown, as well as a matching aluminum magazine base pad and dustcover rail-mounted optics bridge (which we will address in a later Airgun Experience article). In its basic form, the SP-01 Shadow borders on a being a .177 caliber CO2 target pistol equivalent to the Tanfoglio Limited Custom (currently not available) with the exception of an adjustable rear sight. That is where the optics bridge will come in at some point in a future article. As for today's conclusion of the ASG CZ 75 SP-01 Shadow update, here is how this second test gun has performed.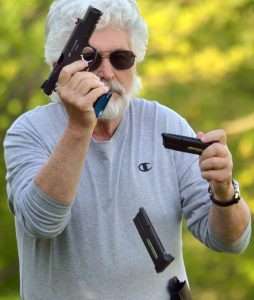 The original test gun that was reviewed in March delivered an average velocity of 310 fps with Umarex .177 caliber steel BBs. The new test gun upped the performance level with an average velocity of 319 fps, a high of 324 fps, a low of 317 fps, and a standard deviation of just 2 fps over 10 consecutive rounds fired at 30 second intervals. While the average was 319 fps, out of 10 shots through the chronograph, the gun exceeded 320 fps six times. The ASG SP-01 model is factory rated at 312 fps.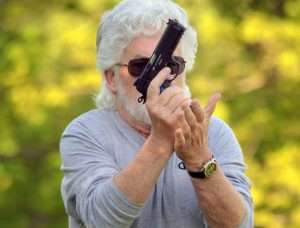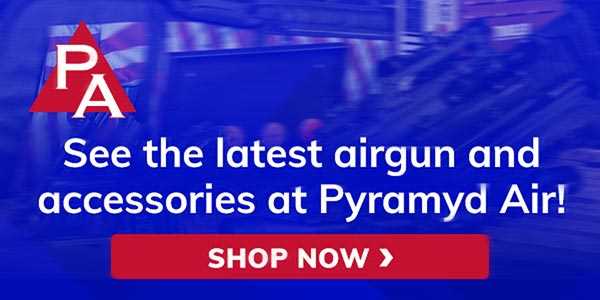 Trigger pull and operation
Trigger pull on a 9x19mm SP-01 Shadow averages 8 pounds 7.5 ounces double action, and 2 pounds 11.5 ounces single action. The first ASG CO2 Shadow model tested last March weighed in with a double action trigger press of 8 pounds, 14.5 ounces, so just a little heavier, and 2 pounds, 4.5 ounces single action, just a little lighter. This new Shadow test gun has a heavier but smoother double action pull of 9 pounds, 15 ounces, and a slick single action trigger press of just 1 pound, 15.4 ounces average. Considering only the first round is fired double action (if you have de-cocked the pistol after chambering the first BB), the overall advantage is the single action trigger on the SP-01 for its smooth, light pull and clean break shot after shot; exactly what you want for target shooting. (In the real world of carry guns, the CO2 model's single action pull is too light for an EDC pistol; an average of 3.5 to 5.5 pounds is preferable. Some law enforcement agencies demand that duty guns only have DAO triggers to minimize accidental discharges). For target shooting practice, however, the SA trigger on the CO2 SP-01 Shadow is a gem.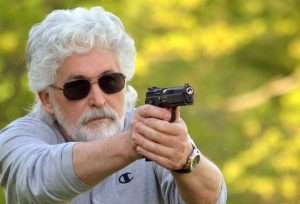 The CZ delivers a pretty decent kick when the slide comes back and it slams closed with an equal amount of energy. I wouldn't call it "recoil" in the sense of a centerfire (9x19mm) pistol but it comes close to a .22 rimfire, only without the sharp crack of a .22 round being fired. It is actually about the equivalent of a .22 rimfire equipped with a noise suppressor. Even fired at slow intervals (at least 10 seconds between shots) the Shadow eats up CO2 and on average you get to reload the 17-round magazine three times before velocity really begins to drop off. You should have at least one spare magazine for the SP-01 for any kind of shooting practice. The magazines are bit twitchy to load. First the magazine base pad has to be removed to load CO2. It has two pinhole detents that have to be individually pressed in with the small hex head wrench included (or other small tool on hand) to remove it. The seating screw is then removed with the included hex head wrench, CO2 inserted, the screw replaced and tightened down to pierce the CO2. Last, the base pad has to be slipped back onto the bottom groove of the magazine; one click, press in the pin, second click, and press in the pin again. Then push the base pad the rest of the way until it clicks into place. Slow going but the magazine looks right for an SP-01 when it is inserted.
Next, the CZ magazines do not have locking followers, so you need to hold the follower and compressed spring down while loading 17 steel BBs into the just slightly larger than BB circumference loading port. Again, a bit more time consuming than some other magazine designs. But BBs will pour smartly into the port if you get the angle just right. Compared to some magazines it is a pain, compared to the magazine for the Umarex S&W M&P, it's a breeze. Just depends on what you're used to loading.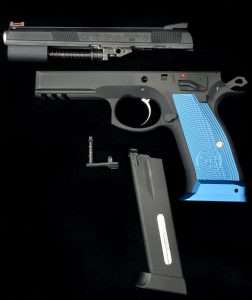 Before I get into the final accuracy test, I want to discuss another kind of accuracy the ASG CZ 75 SP-01 Shadow offers. CZ pistols are incredibly well made (centerfire and ASG CO2 models alike) and both the centerfire and CO2 versions utilize a short-recoil, locked-breech design common among the majority of modern semi-autos. The .177 caliber pistol uses a modified blowback action but with a separate recoil spring, guide rod and linkless barrel, like the centerfire model. A CZ is also among the easiest semi-auto pistol designs to fieldstrip and that process is translated to the air pistol's construction. With the magazine removed and the chamber cleared, all that's necessary is to cock the hammer and move the slide back 3/16ths of an inch, thereby aligning two registration marks (one on the rear of the slide, one on the frame) and then remove the slide release lever. Pull the slide back slightly and then draw the slide, barrel and recoil assembly forward off the frame. No further disassembly is required. Reassembly is the reverse order. It takes only seconds, just like the centerfire CZ models.
Shots downrange
The rear sight is a fixed dovetail mount, not adjustable for elevation or windage but removable. The red fiber optic front sight is very easy to see and sight alignment on target is quick. The earlier Shadow test gun consistently shot below POA and I had to compensate by holding over. It also shot a little left. I compensated by adjusting my POA high and right and punched 10 shots into 2.5 inches with a best five measuring 0.875 inches. This second test gun also shot just "slightly" below POA and the correction was simply to aim dead center for the bullseye. The trigger pull being as smooth as it is on this gun made consistent shots in and around the bullseye for a best 10 shot target with a spread of 1.56 inches and best five rounds measuring 0.75 inches. Not Tanfoglio tight, but not bad for open sights.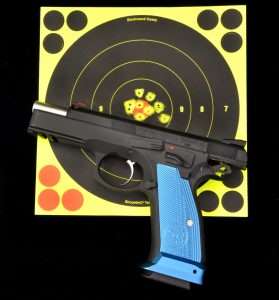 So what about shooting Dust Devils? The lighter grain weight composite frangible BBs load easily, do not get pushed down in the magazine and do not jam, in the magazine…but they do jam downrange at an average velocity of 325 fps with a high of 333 fps a low of 322 fps and a standard deviation of just 3 fps. Will a little more speed downrange bump up accuracy with frangible BBs (not to mention being able to engage reactive metal targets)? I pulled a little right but had two tight groups with a total spread for 10-shots measuring 1.03 inches and a best 5-shot group covering 0.68 inches, just a fraction better than with steel BBs.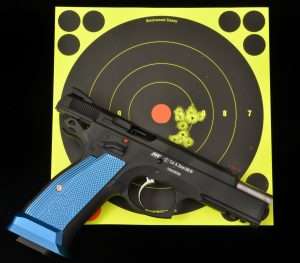 Conclusions of test 2
I came away from this second run with the ASG CZ 75 SP-01 Shadow more impressed with the gun than last time. With ASG's option of aluminum competition grips and magwell (mag funnel) to dress up and improve handling on an already well dressed pistol, and no real issue with POA adjustments, I would definitely rank the Shadow as a top 10 choice for new blowback action target pistols.