ASG CZ P-09 DT FDE
A basic 4.5mm Tactical Trainer Part 2 Part 1 Part 3
By Dennis Adler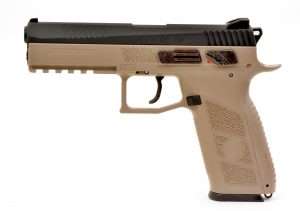 There is no current means by which a pellet-firing semi-auto can provide the full handling experience possible with a blowback action BB model. A few have come close, others like the new Sig Sauer P320 have taken a different tack with a higher capacity pellet-firing stick magazine, but the underlying issues of no self-contained pellet and CO2 magazine remains the biggest problem. The only exceptions are the new Hatsan H-1911 and just previewed ASG Dan Wesson 1911 (but they don't have blowback actions). Manufacturer's take other technical shortcuts in building pellet-firing semi-autos by eliminating features that cannot work, like slide releases and slides with actual ejection ports, which become molded-in features, (again except for the new Hatsan and ASG Dan Wesson 1911s). The ASG CZ P-09 follows the same approach as the Sig Sauer, with a molded-in ejection port, which is the gun's least attractive and most telling feature.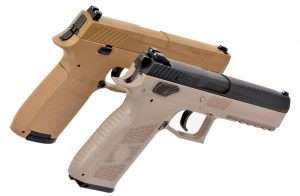 I can question this logic because Umarex uses a slide with an actual ejection port on the PX4 Storm that exposes the barrel on recoil, even though it has no purpose other than to look correct when firing. The savings in production costs by not doing this, I must assume, are significant, considering that Sig Sauer and ASG have slides with molded-in ejection ports, but suggested retail prices hint otherwise. The PX4 Storm has the same MSRP as the Sig Sauer P320 and is only $15 more than the CZ. And branding is not an issue; Beretta is just as famous of a name as Sig Sauer or CZ. Thus, it is an interesting design choice. Sig explains it away as not putting money into a non-functional accessory and focusing on the overall gun's design for training and handling. You could say the same for the CZ, but ASG has given the P-09 something that makes it more practical as a training gun; functioning ambidextrous thumb safeties and decocker.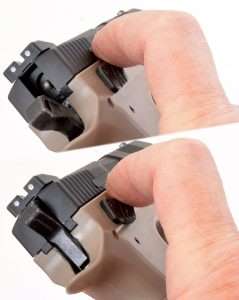 I have long been a proponent of DA/SA semiautomatic pistols with de-cockers, all the way back to the Walther P99. Not everyone is of the same mind, but I'm not changing mine. I want a de-cocked gun with a loaded chamber and I want second strike capability. You can get that in either a hammer-fired or striker-fired design. More than 20 years ago, the Walther P99 was the first polymer framed, striker-fired semi-auto with a decocker and DA/SA trigger. I know this may be a little eccentric for an airgun discussion, but if you are training with one, it should work the same as its centerfire (or rimfire) counterpart.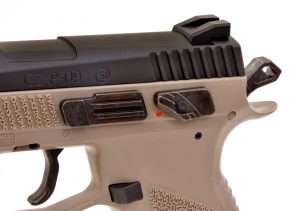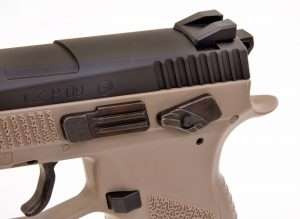 How this airgun works
Considering that the centerfire CZ P-09 is a polymer framed handgun, an injection molded frame for the CO2 model is exactly what you want. A metal slide, (alloy rather than stainless steel) is also correct for the CO2 model. The overall configuration of the airgun is identical to the centerfire model and it has blowback action, so you get some actual feedback when the trigger is pulled. The trigger on this ASG model, is another topic altogether.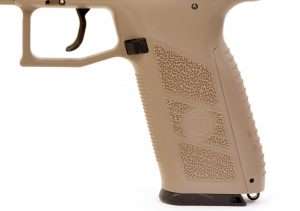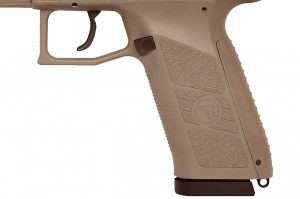 It has a typical (long) DA trigger pull with an average resistance of 10 pounds, 14 ounces. Take up is a lengthy 0.75 inches, but fired SA, which is what you have automatically after the first shot (if the gun was de-cocked), there is an effortless 0.625 inches of take up until you hit a short pull of 0.125 inches and a trigger press of 5 pounds, 12.5 ounces. As triggers go on DA/SA air pistols this one is pretty close to an actual DA/SA semi-auto. So far, I really like it.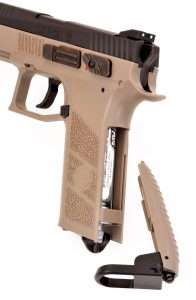 With a long 6.68 inch sight radius, the excellent white dot sights are easy to place and hold on target. The magazine release works smoothly, dropping the 8+8 reversible stick magazine into your hand for a quick flip and reload.
You can practice racking the slide, though it serves no purpose with the rotary magazines, since the internal function is still more akin to a revolver. But this one handles and feels more like a semi-auto than many of its contemporaries. It also has a dedicated ASG marketed injection molded Strike Systems Tactical Gear Level 1 paddle holster that makes training with the P-09 an even more realistic airgun experience.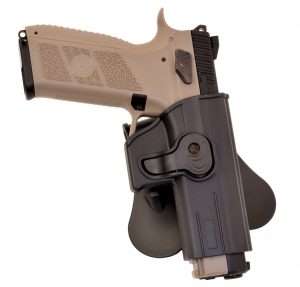 In the concluding Part 3 we will run through drills with the CZ P-09 and Strike Force holster and send some lead (and alloy) downrange for a final velocity and accuracy test.