ASG CZ P-09 DT FDE
A basic 4.5mm Tactical Trainer Part 3 Part 2 Part 1
By Dennis Adler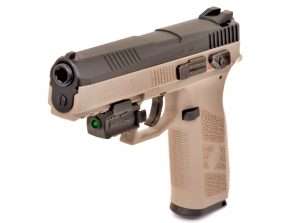 As a training gun the ASG CZ P-09 falls a little short of the mark because of its 8+8 rotary stick magazine, separate CO2 channel and not having a slide that locks back on an empty magazine (but there are centerfire guns that don't lock back, too, so this really isn't a non starter in my book; I carry a Ruger LCP as a backup and it doesn't lock back on an empty magazine). If the ASG model has any one flaw that taints its use for training it is the added pushbutton release on the left-side thumb safety. If you can get past that, then the P-09 begins to show its better nature as both a serious 4.5mm shooter and a decent training gun with benefits.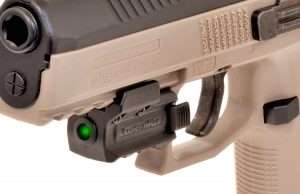 What ASG brings to the table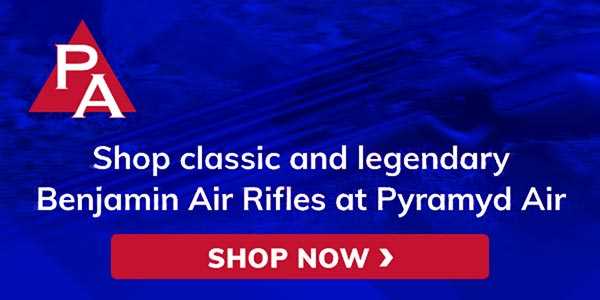 As shown in Parts 1 and 2, this is a very accurate counterpart to the 9mm version for size and basic handling. The grips are an exceptional copy of the centerfire model, the white dot sights are also accurate in design, it has blowback action with a pretty snappy kick for a CO2 pistol, and a very good DA/SA trigger. It is the latter that makes this ASG model worth considering for training purposes because the trigger closely approximates that of the actual firearm. Trigger control is one of the most important aspects of training with airguns and a comparable trigger to a centerfire pistol is essential. The ASG CZ model makes the cut with honors. The last key feature is the manual thumb safety. There's no way to put this in a good light as far as ease of operation once the safety is set. It clicks on with ease, if you use the right hand safety instead of the left, it not only puts the gun into SAFE condition it de-cocks and lowers the hammer. Practicing this safety skill when re-holstering is a basic training regimen with a DA/SA semi-auto.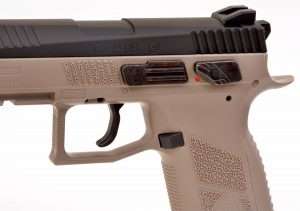 Just for the record, the left side release will also de-cock the gun, but it pushes the thumb safety below a spring-loaded bearing that rests underneath. You simply push the left safety up a little and it goes back into place, no big deal. The ambidextrous safeties are linked together but nevertheless by using the right side safety to decock the gun (as shown in Part 2 using the trigger finger) it does not bring the left side safety down below the button! Only if you use the left side; don't ask I have no idea why. To take the pistol from SAFE to FIRE you still have to negotiate the redundant button release on the left side. In the final analysis, we have a blowback action, pellet-firing pistol with a combination safety and decocker, excellent sights and DA/SA trigger, overall approximate weight and balance to the 9mm, and a grip design that is a 100 percent match. As a training gun, all that's missing is a good holster. ASG has that, too.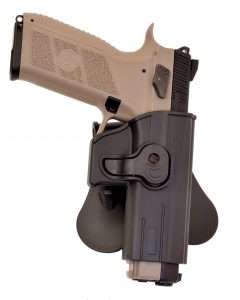 Gear up
The ASG Strike Systems Tactical Holster is a cant adjustable, Level 1 paddle design. It could also be regarded as a Level 2 design, since it is a combination of passive retention created by the molded holster itself, plus a secondary trigger finger release on the side of the holster that locks into the triggerguard. Depending upon the standard used, this can also be regarded as a Level 1, since the passive retention of a contoured holster can be easily defeated in a gun grab scenario, which is the basis for determining holster retention levels.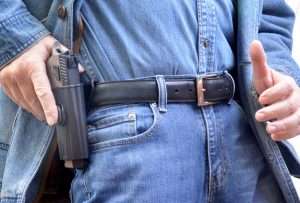 According to Safariland, which manufacturers a vast majority of law enforcement holsters, Level 1 requires at least one system that can defeat a traditional gun grab and the weapon cannot be pulled from the holster for a test period of 5 seconds. The wearer must then be able to release and draw the weapon. On this basis, the ASG Strike Systems Tactical holster is a Level 1 design with its trigger finger release. Contoured (mostly injection molded and Kydex) holsters that can securely retain the gun when the holster is held upside down can also be regarded as Level 1. This type of retention is usually a contoured fit around the gun that uses a detent pressing into the triggerguard as a solid but passive restraint. If the wearer fell or was on the ground or had to perform some sort of physical maneuver that could cause the gun to fall out of the holster, it would still be secured. However, even though solidly retained in the holster, this would not pass the Safariland Level 1 test for a gun grab. The same could be said for a thumb strap or thumb break design because they can be easily defeated in a gun grab, even though the gun would be secured in a fall, jump, or roll test.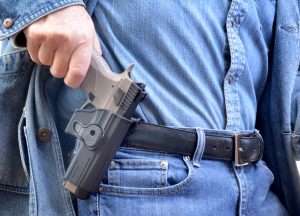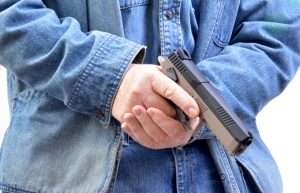 Considering that that majority of CCW holsters are open top designs with only the contoured pouch for retention, a true Level 1 holster (by Safariland standards) would be far more secure overall. There are Level 2, Level 3 and even Level 4 holsters for law enforcement requirements where a gun grab is not an unlikely scenario. The Level 1 is simply good sense for safe, secure concealed carry with a medium to large frame handgun. The ASG injection molded P-09 holster is well built and priced commensurately with the airgun.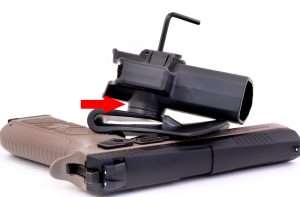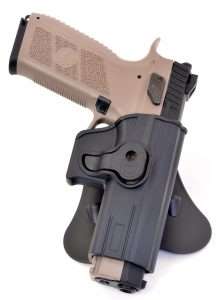 Velocity and Accuracy
With a fresh CO2 loaded, the P-09 clocked a high of 341 fps and an average of 338 fps with the 7.0 grain Meisterkugeln lead wadcutters.  Switching to Sig Sauer Match Ballistic alloy wadcutter pellets, the P-09 sent the 5.25 grain rounds downrange at a high of 390 fps and an average of 378 fps.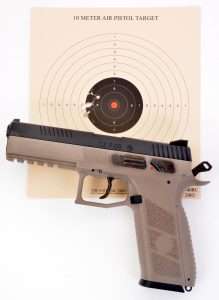 With the white dot sights the P-09 shot a little left but dead center for elevation. Without correcting my aim I was able to punch eight shots from 10 meters into a total of 0.875 inches. Correcting my aim, holding right by about 1-inch, I grouped a little high but put two 8-round loads into 0.75 inches total spread with a large hole measuring 0.625 inches that accounts for 11 of 16 rounds. I ran another test with the Sig Sauer alloy wadcutters and my groups were almost the same size (within a 16th of an inch) but grouped high.
Using the LaserMax Spartan green laser, the ASG CZ P-09 put six of eight in a ragged hole above the bullseye measuring 0.437 inches with the remaining two rounds hitting the center ring for a total spread of eight shots at 0.875 inches.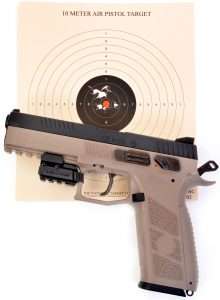 Overall, this is a fairly overlooked pellet pistol that deserves another look if you haven't found the PX4, Gamo, or Sig Sauer blowback action pellet models to your liking. ASG has cut fewer corners in building a quality pellet firing semi-auto within the constraints of current design technology. The established CZ frame and slide design is one of the best there is, in either centerfire or CO2 handgun models. Much of what you do with guns like the CZ P-09 pellet model depends upon the level of training you're interested in and the level of commitment beyond just having fun with an air pistol. The CZ P-09 is one of those guns that can go either way, especially if you want to shoot 4.5mm pellets instead of BBs.