ASG CZ P-09 DT FDE
A basic 4.5mm Tactical Trainer Part 1 Part 2 Part 3
By Dennis Adler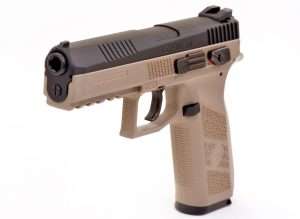 Back in 2015 ASG introduced its blowback action, 4.5mm copy of the CZ P-07 Duty, a semi-auto that, in its centerfire version, has become one of the more popular 9mm carry guns. The 9mm models were introduced by Ceská Zbrojovka five years ago as a full-size polymer frame pistol with an impressive 19+1 capacity (also in .40 S&W with a 15+1 capacity). It is a hand-filling pistol that is roughly the same size, although a different shape, than the famous CZ-75. There are more pistols based on the CZ-75 platform today, than almost any other semi-auto except the Colt Model 1911.

Centerfire and CO2 compared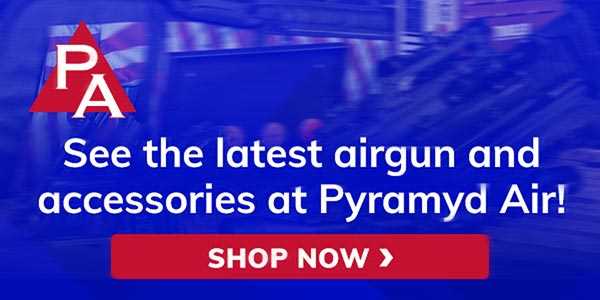 The centerfire P-09 uses CZ's Omega DA/SA trigger, has an integrated 1913 Picatinny accessory rail molded into the polymer frame, and low profile white dot sights mounted on CZ's famous slide design. CZ-design slides are unique in that they run inside the frame rails, rather than over them like most semiautomatic pistols. This gives CZ models a shallow profile slide which places the sights more in line with the bore. (This advantage is also shared by the equally famous Sig P210 developed in the late 1940s). The FDE (Flat Dark Earth) polymer frame version of the CZ P-09 was a one-year-only option offered from 2014 to 2015, the same year ASG unveiled its Ceská Zbrojovka licensed CO2 version.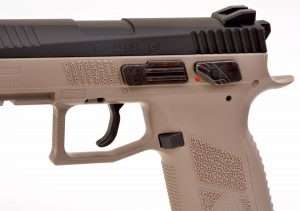 The P-09 is a scaled up duty size variation of the CZ P-07 (which is also offered as a CO2 model). In 2015, a time when polymer framed semi-autos were almost all striker-fired designs, the P-09 was a bit of a surprise when it came out as a hammer-fired DA/SA model featuring a combined ambidextrous safety and decocker. The CO2 version is somewhere between an entry level and full training gun since it has a few of the centerfire model's handling characteristics. Dimensionally, it has the same overall length of 8.1 inches with a 4.54 inch length barrel. The CO2 model has a rifled steel 4.5 inch barrel. The centerfire CZ model has a long grip, which gives the gun an overall height of 5.79 inches and a wide frame width of 1.46 inches, including the ambidextrous safeties. Like I said, it's a hand-filling gun. ASG's model is likewise a large pistol with a height of 5.75 inches and width of 1.27 inches to the ambidextrous safeties. The centerfire model weighs 31 ounces, while the ASG pellet-firing version comes in a little lighter at 25 ounces. As a physical match for handling and familiarization it qualifies as a "basic" CZ P-09 training gun. I say "basic" for several reasons.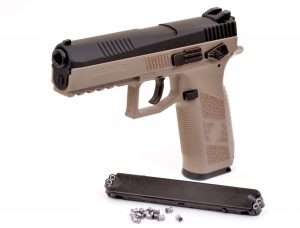 It suffers from some of the same limitations as the Sig Sauer pellet firing models and the Beretta PX4 Storm, using a reversible 8-shot rotary stick magazine, separate CO2 channel, and a slide release that does not function. Actually it doesn't need to, since blowback action pellet models do not have slides that lock back. In addition, stick magazines greatly reduce training capabilities to practice reloading and tactical reloads. (This also makes changing CO2 a longer process since it is not part of the magazine).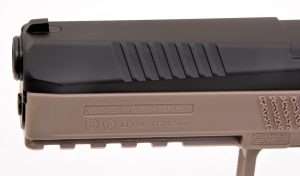 These limitations have always given the training advantage to BB-firing models, which offer fully functioning features and self-contained CO2 BB magazines, including the current CZ-75 CO2 model. But the pellet firing CZ P-09 has a few advantages of its own, which I will explore in Part 2.