New ASG Dan Wesson 2-1/2 inch Model 715 snub nose pellet revolver
Short and to the point Part 2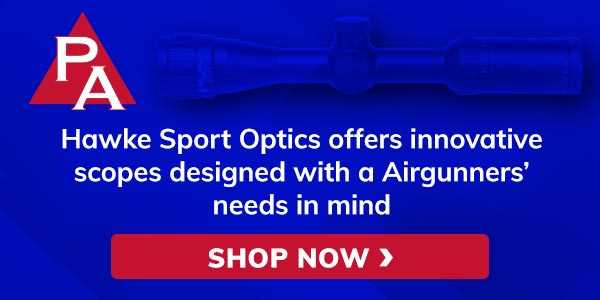 By Dennis Adler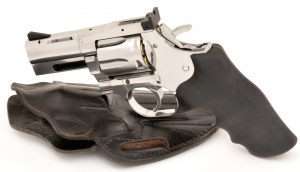 It's no secret that I have a preference for snub nose revolvers regardless of caliber, and the new ASG Dan Wesson Model 715 snub nose is remarkably authentic in its design and handling. The 4.5mm (.177) caliber model has the heft and feel of a real .357 Magnum, and it fits the appropriate holsters, including an old pancake-style belt rig I have had for more than 20 years. It was designed for large frame S&W models and is a perfect fit for the Dan Wesson CO2 pistol, as well. A good design never goes out of style.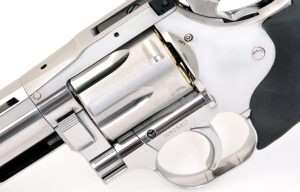 Testing the new 2-1/2 inch Model 715 airgun (the internal rifled barrel length is actually 2.2 inches) presents an ideal opportunity to discuss the practicality of concealed carry with a large frame revolver in a pancake-style holster. This popular holster design keeps the gun close to the body for concealment with a jacket or even a heavy sweatshirt, as shown. The ASG Dan Wesson Model 715 is about as close to getting a feel for carrying a large frame .357 magnum snub nose revolver as you can get.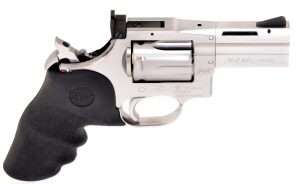 If you have never carried a large frame snub nose revolver, I recommend the airgun first to see if the size and weight of the pistol are suitable for concealed carry use before investing in an S&W or other medium to large frame pistol. It also allows accurate practice drawing from concealment using the same holster as a comparably-sized cartridge-firing gun, and last, being able to present and fire the gun at a target with consistent, accurate hits reinforces skill training. The only components absent are noise and recoil, which is substantial even with a large frame revolver.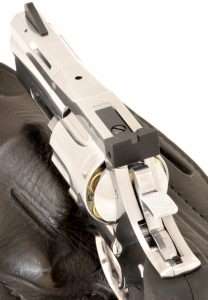 Handling and operation of the CO2 model
The ASG Dan Wesson is an excellent surrogate for a large caliber, medium to large frame snub nose revolver. It has a carry weight of 2 pounds, 3 ounces (empty), overall length of 8.3 inches and a hefty double action trigger pull of 12.5 pounds. Single action, for a more accurate shot on target (especially fired one-handed), is about half that, a modest 5 pounds, 15 ounces average. This is an excellent airgun to use for CCW training and drawing from concealment. Covering a large frame revolver will challenge you. The Dan Wesson uses the same Hogue-style rubber combat grip on all three models, which is a little oversized for a snub nose revolver, but having said that I prefer a larger grip for better control. Even my .38 Special S&W Model 49 Bodyguard wears oversized finger grooved combat grips. So I'm right at home with the grips on the airgun. On the downside, they make the revolver a little more difficult to conceal, since the grips will print if you lean over and stretch your cover garment over the pistol. This even happened when I wore the heavy hooded sweatshirt. You can minimize this by moving the gun a little further forward around the waist. (I like wearing a concealment holster at the 4 o'clock position; but it is easier to block the grips from printing when worn at the 3 o'clock position).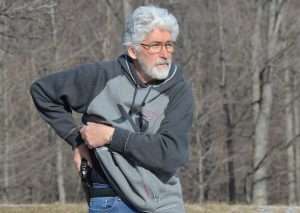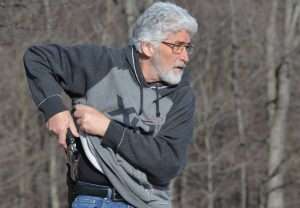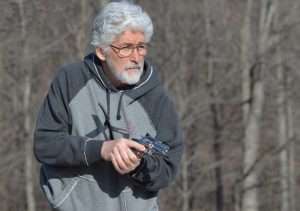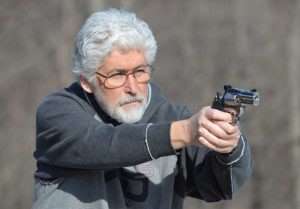 Loading the Dan Wesson is identical to the real Model 715 with a downward pull on the crane-mounted cylinder latch and a press of the cylinder from the opposite side. The pellet loading cartridges can either be dumped for a quick reload with the 6-round speed loader, or you can reload them individually while still in the cylinder, since the 4.5mm pellets are pressed into the back of each cartridge. For target shooting you can simply dump the cylinder into your support hand, (placing the spent shells in a pocket rather than dropping them on the ground). In a real world training exercise one would normally dump the empty shells on the ground to speed up the process and go right for the speed loader, and you can do that as well, just make sure you can find the shells again. This is more than policing your brass, just like real shells, these pellet cartridges are meant to be reusable. The cost for a box of 25 is about $40.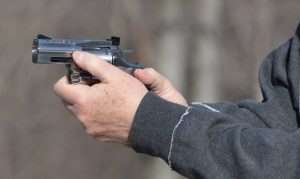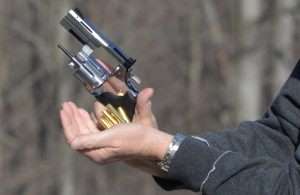 For the shooting test I used the latest ASG Dan Wesson pellet cartridges. Six come with the gun along with a speed loader. This newer pellet cartridge design loads from the rear as previously noted, whereas earlier Dan Wesson pellet models use a two-piece pellet round with the pellet loading inside a threaded bullet screwed to the cartridge. These look more realistic, but are far more time consuming to reload.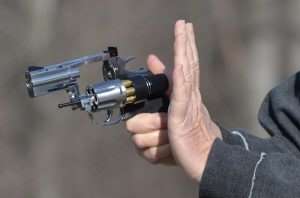 I fired two different brands of pellets for the 2-1/2 inch model's 10 meter range test, Meisterkugeln Professional Line 7.0 gr. lead wadcutters and Sig Sauer Match Ballistic 5.25 gr. alloy wadcutters. The lighter weight Sig Sauer alloy pellets left the rifled barrel at 389 fps average. The Meisterkugeln 7.0 gr. lead wadcutters cleared the chronograph at an average of 337 fps. This pistol is factory rated at 344 fps, so the Sig alloy pellets really added some serious velocity.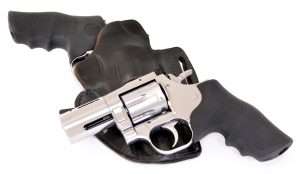 All tests were done firing single action (although I also did some double action shooting, noted separately), using a Weaver stance and two-handed hold. The sights are excellent and the oversized grips really keep this pistol locked in your hand and on target. The higher velocity alloy wadcutters delivered a best six shots with four overlapping and two to the left of the pattern for a spread of 1.25 inches and a total 12 shot group measuring 2.98 inches. Would have been less but I dumped a flyer high in the 8 ring on my best target. I took the four overlapping fired offhand at 10 meters and called it a day on the Sig Sauer wadcutters.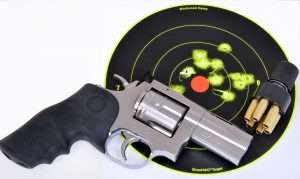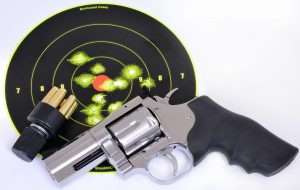 The Meisterkugeln Professional Line grouped 12 rounds at 2.75 inches with a best six measuring 1.75 inches in the 10 and X rings, including one double hit in the 10 ring just to the right of the bull's eye; again a nice showing for a snub nose at that range.
At 10 meters with a 2-1/2 inch barrel, I can't fault this pistol on any level (other than the double action trigger which is not designed to stage the hammer). Fired single action, trigger pull is solid, with 0.375 inches of travel to a crisp break. Even double action the pistol can still put 12 shots under 4 inches.
If you want consistently tight groups at 10 meters with a snub nose wheelgun, you can't beat the ASG Dan Wesson Model 715 for its sights, accuracy, handling, and authentic DW styling, right down to the .357 Magnum engraved on the barrel. This just became my favorite snub nose CO2 revolver, and it'll be yours too.
A word about safety
Double Action/ Single Action airguns provide the look, feel and operation of their cartridge-firing counterparts. Most airguns, in general, look like cartrrige guns, this Dan Wesson Model 715 even more so, and it is important to remember that the vast majority of people can't tell an airgun from a cartridge gun. Never brandish an airgun in public. Always, and I can never stress this enough, always treat an airgun as you would a cartridge gun. The same manual of operation and safety should always apply.