ASG Dan Wesson Rifled Barrel Revolvers
Of Bullets, BBs and Pellets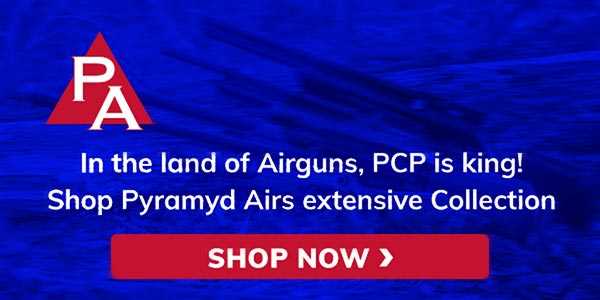 By Dennis Adler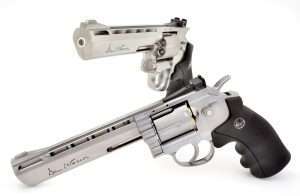 Among the features that have long distinguished BB guns from cartridge firing revolvers are the fundamentals of how they operate. Modern cartridge guns have swing out cylinders that chamber from five to eight cartridges, depending upon the model. With air pistols, the cartridge hurdle was cleared by Umarex when they began offering authentic models like the S&W TRR8 and the legendary Colt Python; revolvers with swing out cylinders and six cartridges that hold a steel BB in the nose of each hollow point round. These guns are remarkably precise in appearance, loading, (they even use speed loaders) and single action/double action operation. In essence, they are good enough for firearms training purposes, reloading drills, and target acquisition exercises, as the guns have adjustable sights. Currently there are similar revolver versions from Crossman and Swiss Arms, as well as those from Umarex, but what they all lack is a rifled barrel for greater accuracy and shooting the vaunted 10 meter air pistol discipline.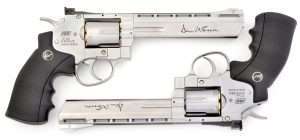 The first to close that gap is ASG (Action Sport Games) a Danish-based manufacturer with exclusive international licensing to manufacture and market high end BB and pellet guns based on CZ, Bersa, STI, and Steyr Mannlicher semi-autos, and Dan Wesson revolvers. It is the latter, Dan Wesson, a brand established in 1968 by Daniel B. Wesson's great-grandson, which has been used to raise the bar on air pistol revolver design. The Dan Wesson models not only use swing out cylinders, and BB cartridges, but are offered in rifled barrel versions that fire 4.5mm pellets! And that puts the Dan Wesson wheelguns into the 10 meter category.
A Little Pellet Revolver History  
 We're dancing on a technological tightrope here because pellet-firing revolvers are nothing new, and some of the latest such as the Gamo PR776 use a pre-loaded pellet rotary clip that drops into the cylinder (like a speed loader, only it stay in the cylinder). Umarex has used 10-shot rotary pellet clips in swing out cylinder revolvers like their 4- and 6-inch barrel length S&W Model 586 and 686 for years, as well as .177 caliber BB models of the Colt Python and S&W M&P R8 with cylinder loading 8-round rotary clips. What ASG has achieved with their exclusive Dan Wesson line is a rifled barrel pellet gun that loads like a real revolver with six specially-designed metal cartridges that hold a 4.5mm lead pellet.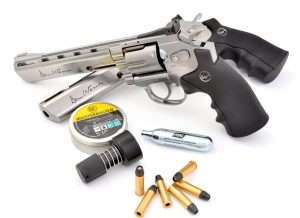 There are nine Dan Wesson Signature Series models available as .177 caliber BB guns with 2.5-inch, 4-, 6- or 8-inch barrels, and three models, 2.5 inch, 6- and 8-inch chambered for 4,5mm pellets. In addition to barrel lengths there are two standard finishes, black or silver (both look very good for air pistols), plus a single special edition 2.5-inch model with a gold finish. The Dan Wesson wheelguns have the DW inlaid emblem in the large combat style finger groove grips with the general design of the gun based on the Dan Wesson Model 15-2 Series. The 6- and 8-inch models also feature a full length barrel shroud and vent rib. There is only one noteworthy exterior alteration for the air pistols, the traditional Dan Wesson cylinder latch (located in front of the cylinder) is absent and in its place is a frame-mounted S&W-style thumb latch that also serves as a manual safety.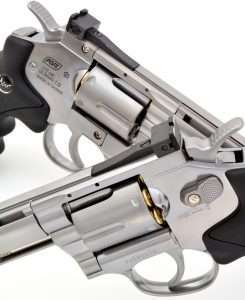 The Dan Wesson models are all good looking air guns with a heft and balance (longer barrel models) that makes them easy to handle and fire accurately. The weight on the 6-inch model is 33 ounces, empty, which is five ounces lighter than the current 6-inch, .357 Magnum Dan Wesson Model 715. The air pistol's hammer is very wide for easy cocking and single action accuracy; the double action runs smoothly and cleanly stages the cylinder as you pull through. Trigger pull on double action averaged 8.5 pounds and on single action 6.25 pounds.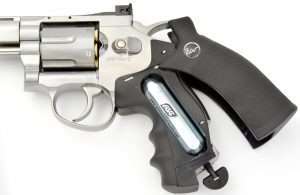 Both test guns (BB and pellet) were the 6-inch silver finish with the Dan Wesson signature etched in black on the barrel shroud. The grips have a traditional pebble grain finish and break at the frontstrap to allow the main one-piece panel to slide back and expose the CO2 capsule grip channel. The CO2 is easily seated and a hidden turn key moves the capsule up until it is pierced. Then just slide the grip panels back and you're ready to load.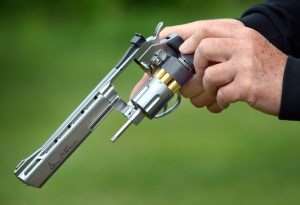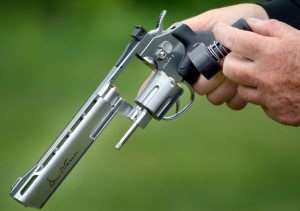 A 6-round speed loader comes with each gun and makes filling the cylinder as fast as a real cartridge revolver. And loading BB cartridges for the Dan Wesson (and the S&W TRR8) is equally fast; you simply place them in the speed loader, pour BBs into a jar lid (or an old pellet tin) and push the cartridges nose down into it. The hollow point plastic bullet tips easily find a BB to seat into the opening. For the 4.5mm pellet gun, however, speed is off the table, and having at least two extra sets of cartridges is a must. Why? Each brass cartridge has a hollow point plastic bullet that must be unscrewed, have a pellet inserted, and then threaded back onto the bullet case. It is slow, but the return is a level of accuracy from the rifled barrel pellet gun that BBs pistols can rarely match. A box of twelve cartridges cost about $30.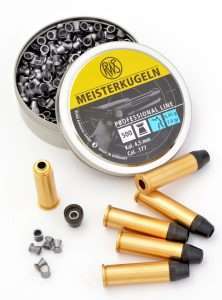 Running on Air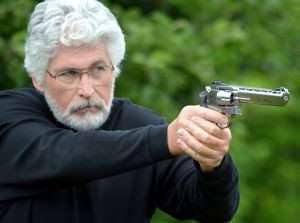 For the test of the Dan Wesson pellet version, I decided to go with a personal favorite, RWS Meisterkugeln's higher grade 4.5mm 7.0 gr. Professional Line. These are match grade target pellets for competition and training and are also excellent for sighting in. The Meisterkugeln averaged 412 feet per second (fps) through the traps on a ProChrono chronograph. As for accuracy at 10 meters (33 feet) the Dan Wesson fired off hand using a Weaver stance and a two handed hold produced a best five round group measuring 1.2 inches.
The Dan Wesson does has a heavy double action pull but you overcome that with ease, still like majority of cartridge firing DA/SA revolvers the airgun proved more accurate when fired single action. Overall, not being competition air pistols, 1.2 inch groups fired off hand at 10 meters is darn good and the Dan Wessons have a look that sets them apart from any other airgun revolvers.