Barra 009 Part 005
Full Auto Operation
By Dennis Adler
This is the part of every select-fire CO2 air pistol test that we wait for because this is an experience you can generally only get with an airgun. I have fired full auto centerfire rifles and they can be a handful, same for pistols, but most reports on the Glock 18 say that recoil is not that hard to manage on full auto compared to other select-fire pistols. Certainly with the Barra 009 recoil will not be an issue no matter how nice the rapid action of the slide feels and the low dB report sounds. It is a mere fraction of what the real gun would be like. And that is actually a good thing, as very few of us will ever need to train for full auto firing with a handgun or rifle. It is an occasional privilege for those of us who write about firearms so our opinions are grounded in fact. The fact is, at the moment, the Barra 009 is in a class by itself as the most compact (compared to the Beretta 92A1/M9A3 or Mauser M712) CO2 full auto handgun on the market. And a gun in a class of its own deserves a good explanation.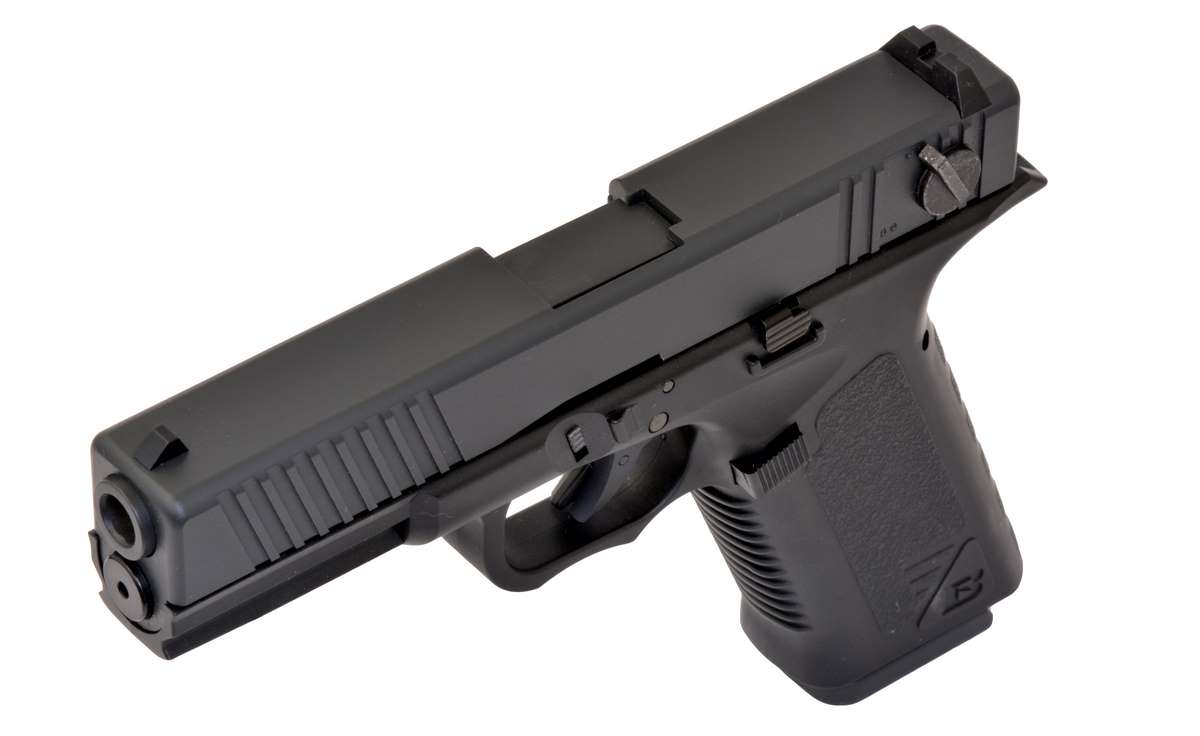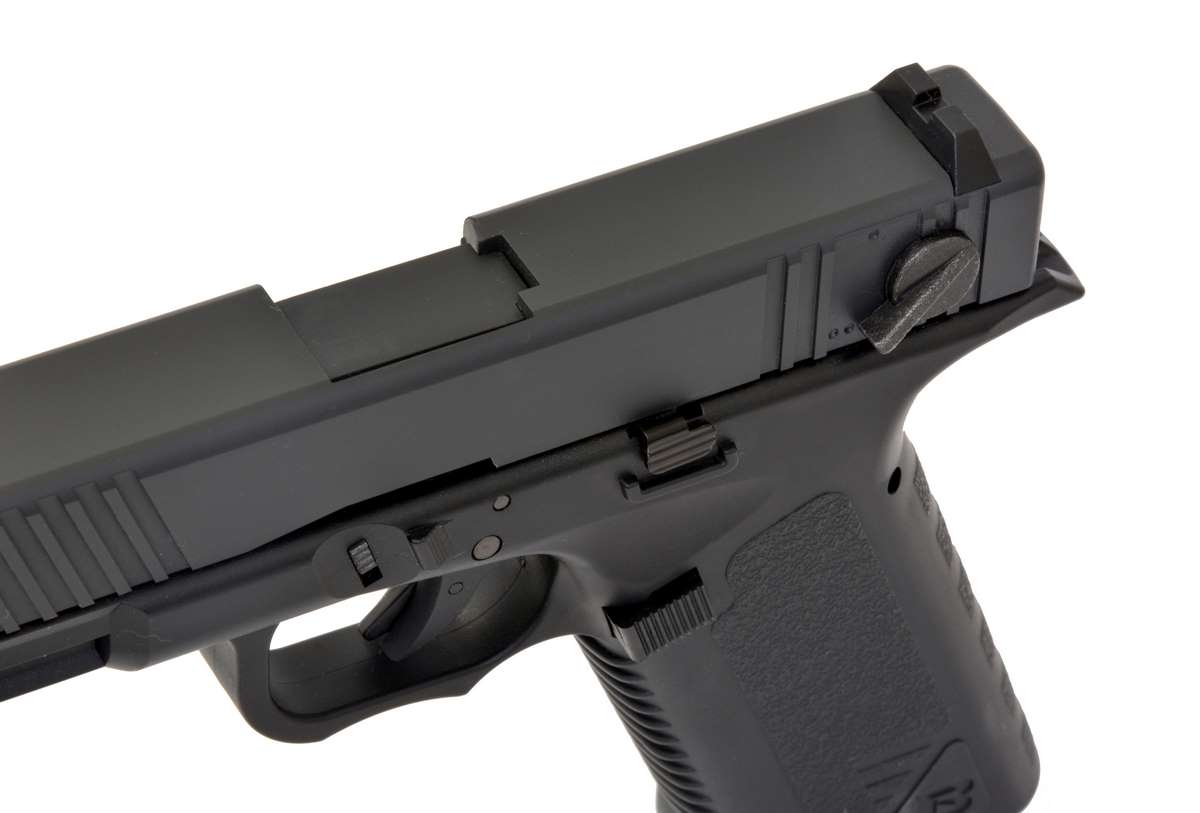 The Glock 18 is still the top select-fire 9x19mm handgun in use for military and law enforcement, the Barra 009 translates that concept into a blowback action CO2 pistol with a standard complement of 18 rounds in the CO2 BB magazine. That means a little over a second on full auto and the mag is empty. It's fun but impractical unless you have several loaded mags and want to waste BBs and CO2. The trick is to learn feathering the trigger to fire short three and four-round bursts with some degree of accuracy. That is the goal with a gun like the 9mm Glock 18, as well as the .177 caliber Barra 009. The one exception with the 9mm would be laying down suppressive fire during a combat engagement or in close quarters against multiple targets or a single primary. As an air pistol, the 009 is just for engaging cardboard and cans, but the basic principles are the same.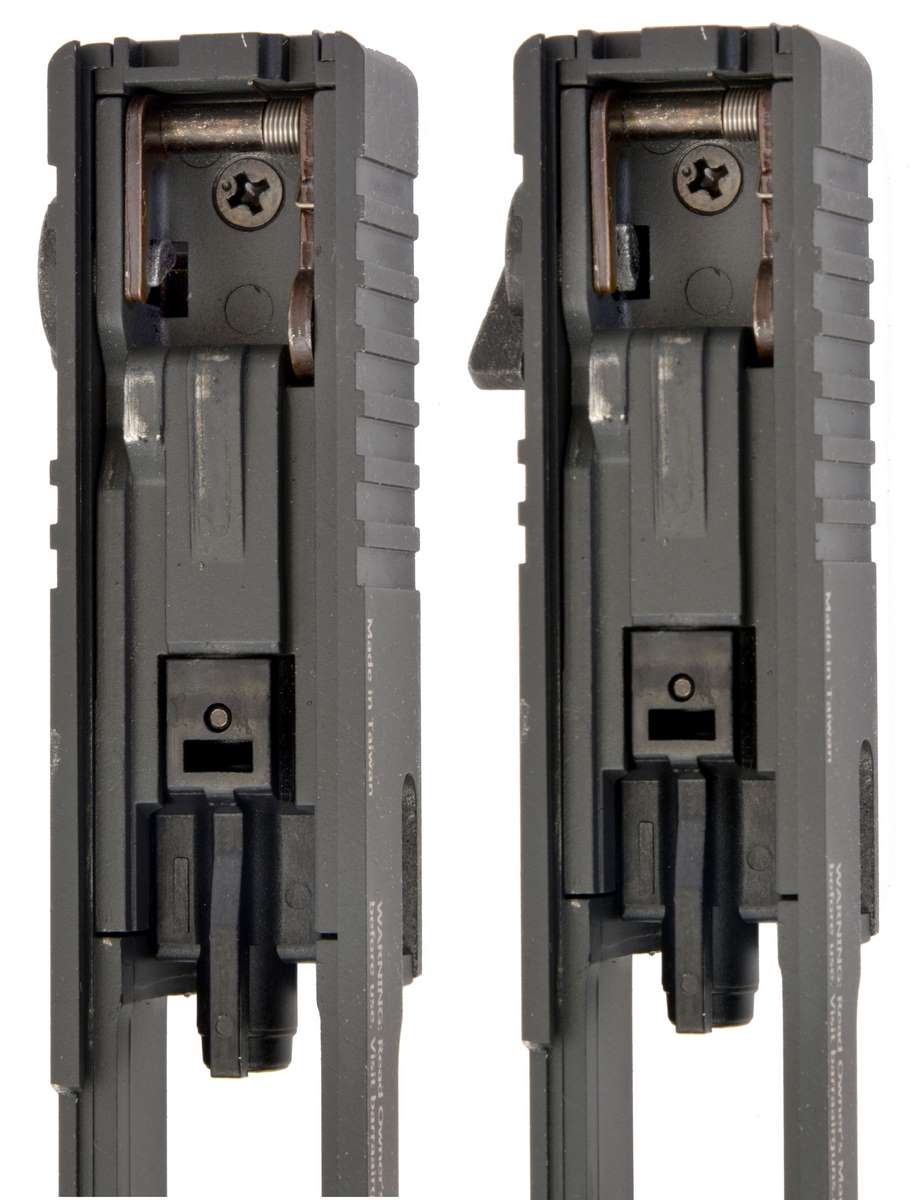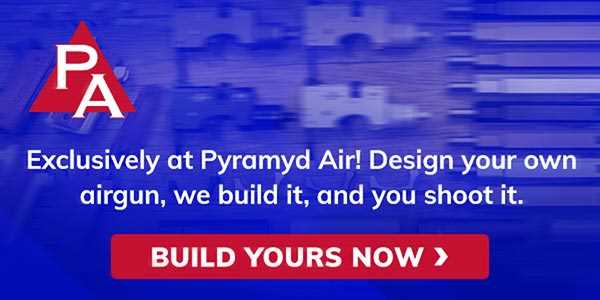 If you have fired the Umarex Legends Mauser Broomhandle Model 712 on full auto you know its accuracy is only fair unless you have a Broomhandle shoulder stock; most originals and some reproduction stocks fit the CO2 pistol. The Beretta 92A1 and M9A3 are a little more manageable and accurate than the Mauser. The Barra 009 then, does not have too high of a bar to surpass and the operation is actually a little easier because of the trigger and recoil system used in the Glock Gen4-based air pistol.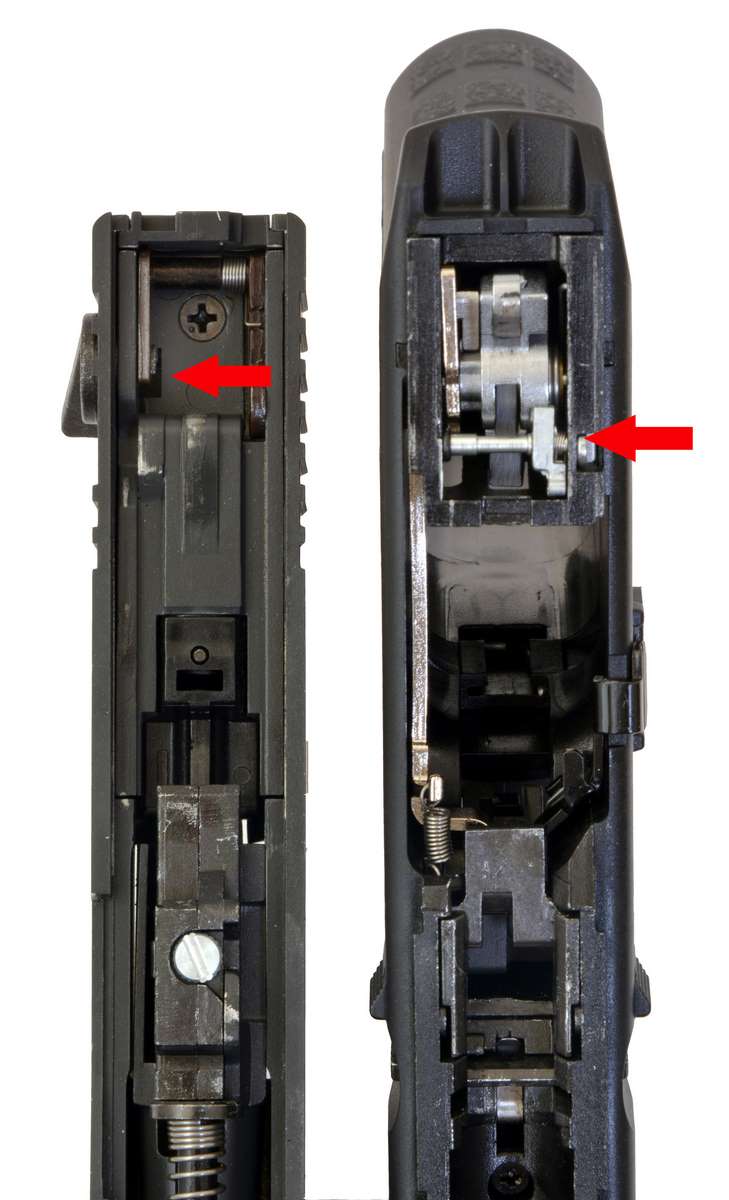 For this final test of the 009 I am setting the selector to full auto, holstering and the doing the entire shooting exercise as a close quarter combat test, drawing, firing multiple bursts at a target 21 feet down range, reloading and repeating. Here's what happed.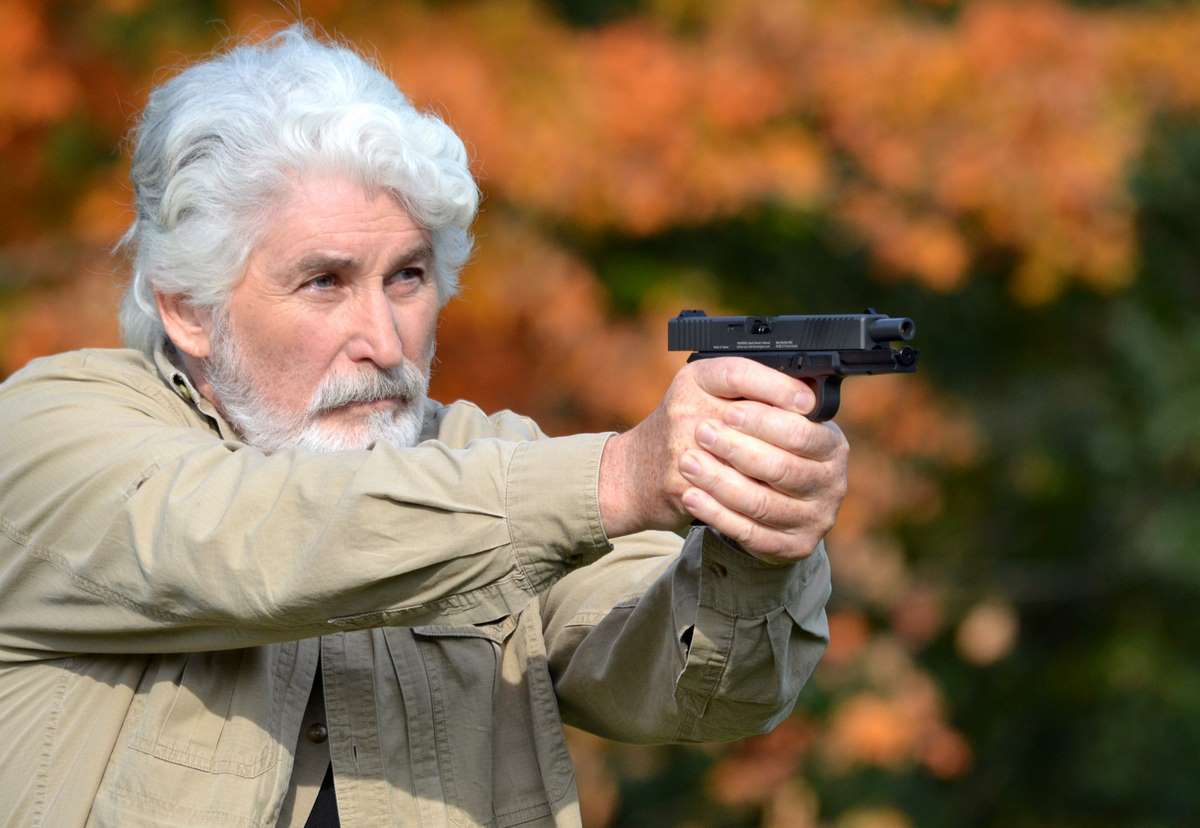 All previous semi-auto tests of the 009 have shown that the gun's windage is dead on center; elevation is off and requires a 3 to 3.5 inch hold over the bullseye at 21 feet. This is my starting point for the full auto evaluation using an IPSC cardboard silhouette and aiming just above the A in the Z-Zone. If the gun has any tendency to rise on full auto I'll know pretty quickly, also my plan is to shoot in short bursts for the first run of tests. At 21 feet using a two-handed hold and Weaver stance (I did not alter my stance and lean in as you would with a 9mm) I immediately discovered the 009 has a slight climb and a tendency to hit right. My first 18 shots in short bursts were nothing but a learning experience. They were all over the center mass of the target, most mid-line and the right side of the C-Zone. With a corrected POA at the mid section and left of center I put 11 of 18 rounds in the A-Zone from top to bottom and the rest hit lower and right as velocity dropped off from the rapid firing.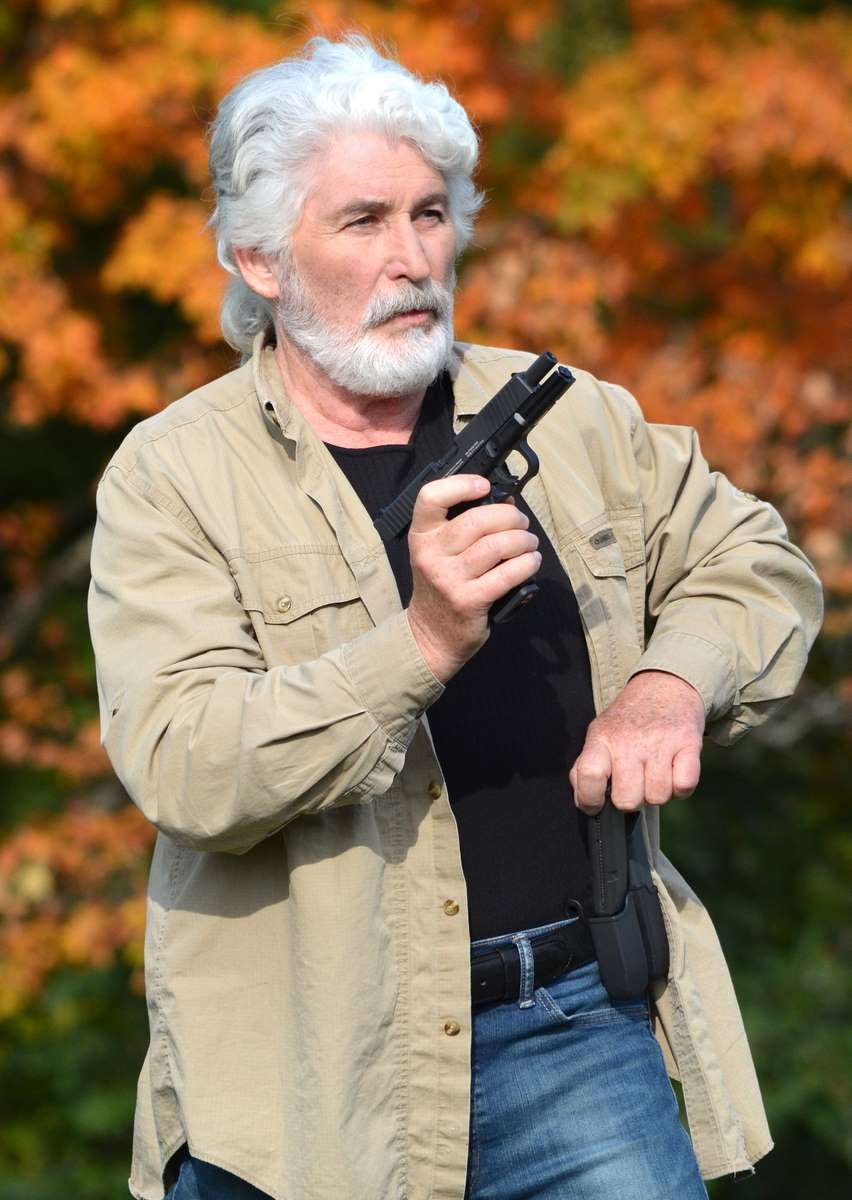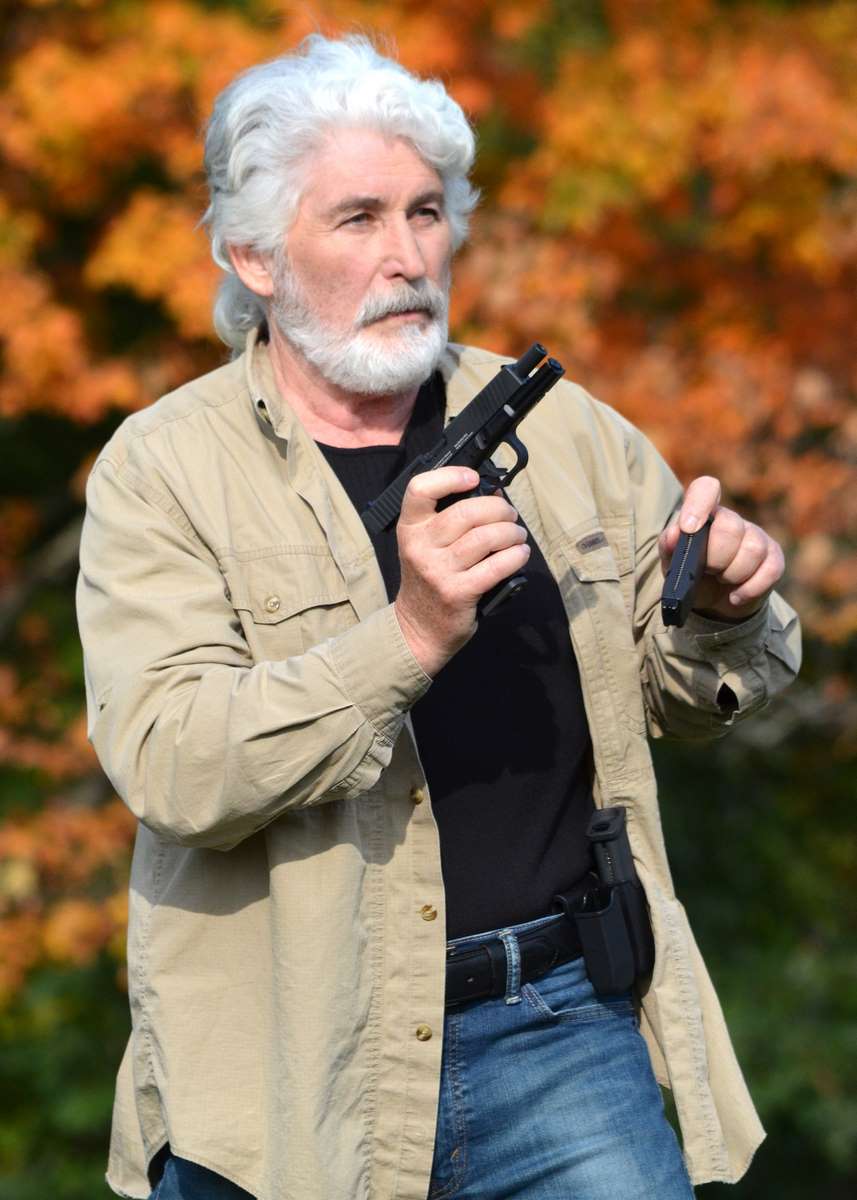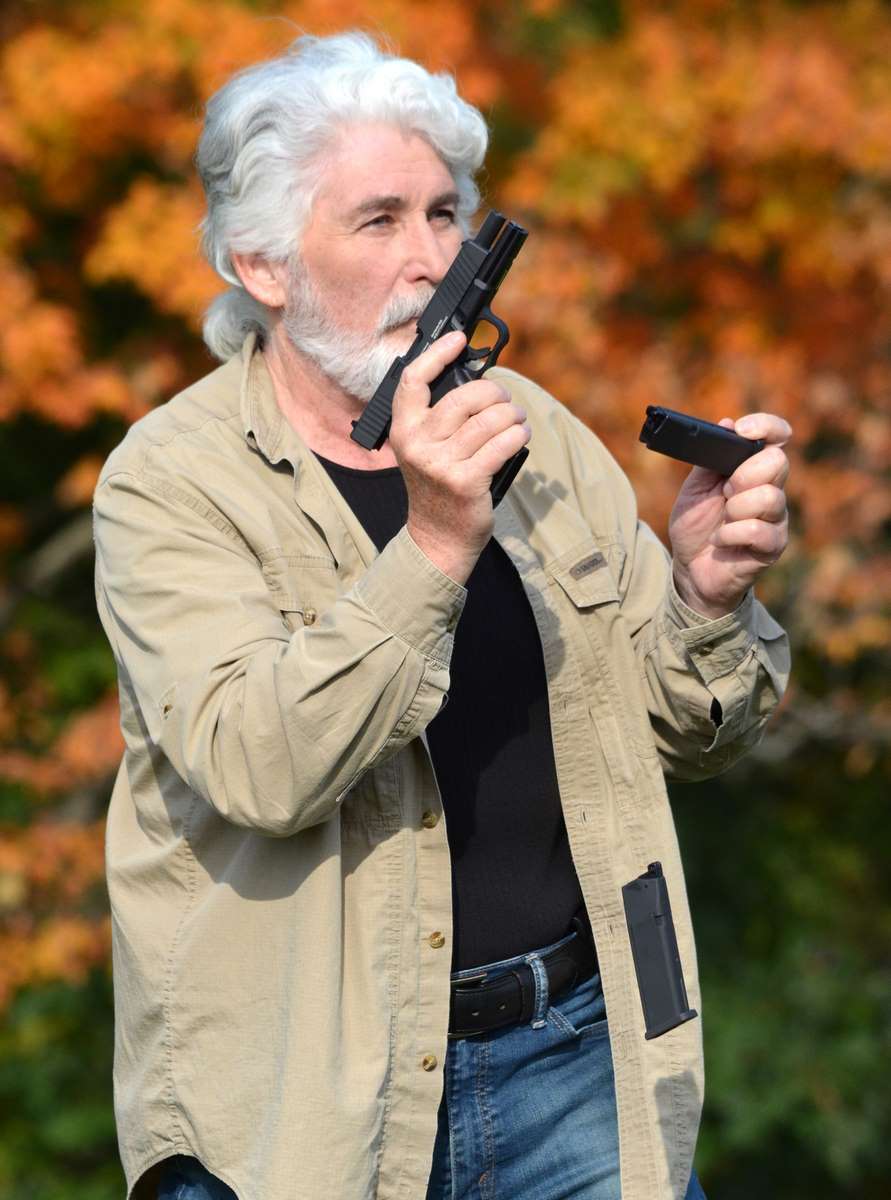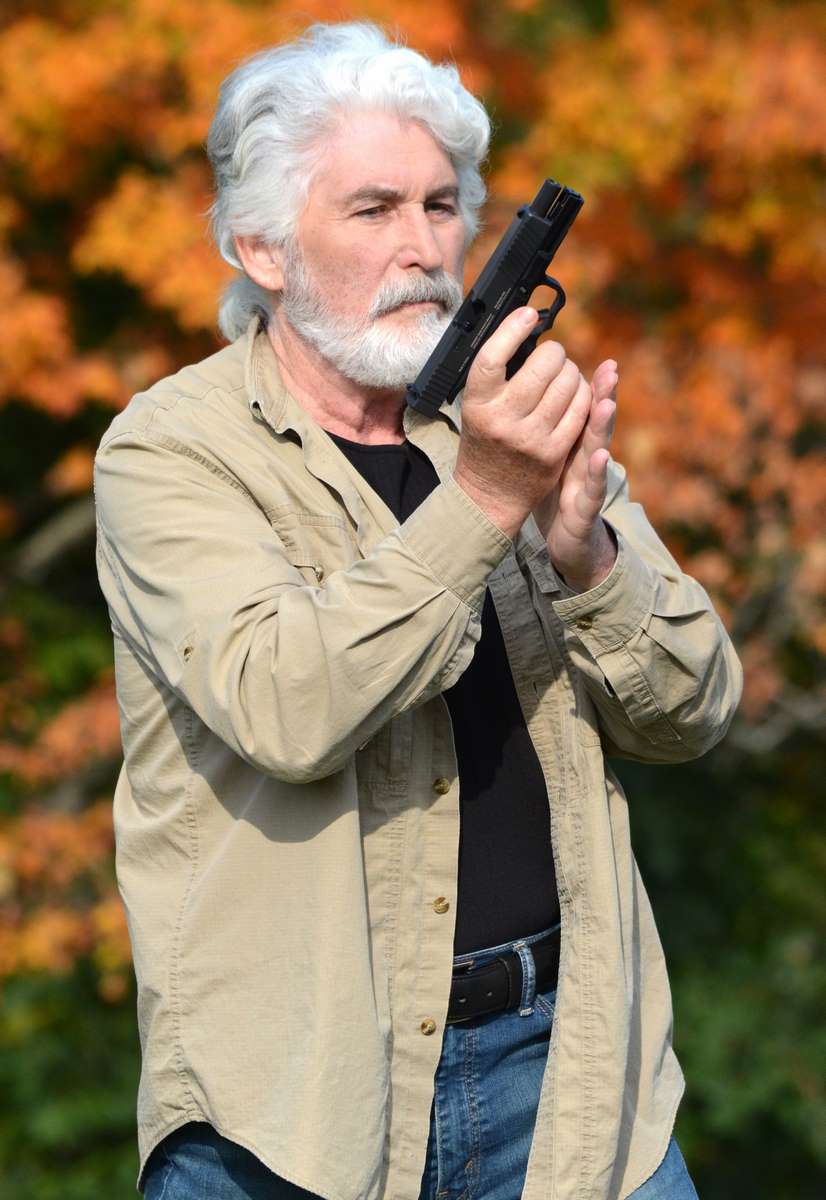 This brings me to the subject of velocity and a quick chronograph test to see if I can clock a burst of fire. I got two shots at 315 fps and that was it. It would be safe to say that as you fire a burst, velocity is going to drop from 315 to below 300 fps in five rounds firing at a fraction of a second (as low as 288 fps, which I got on another chronograph test). So, my hold under is not really going to work as shots begin to drop. I decided to raise my POA to mid-center of the A-Zone still correcting left. And that's the ticket. I put a total of 21 shots in the A-Zone, 23 shots in the C-Zone, 4 shots in the D-Zone, and out of 54 rounds (three magazines) there are two that originally hit very high on my first shots missing center mass altogether (actually unintended head shots), and four shots spent on chronographing.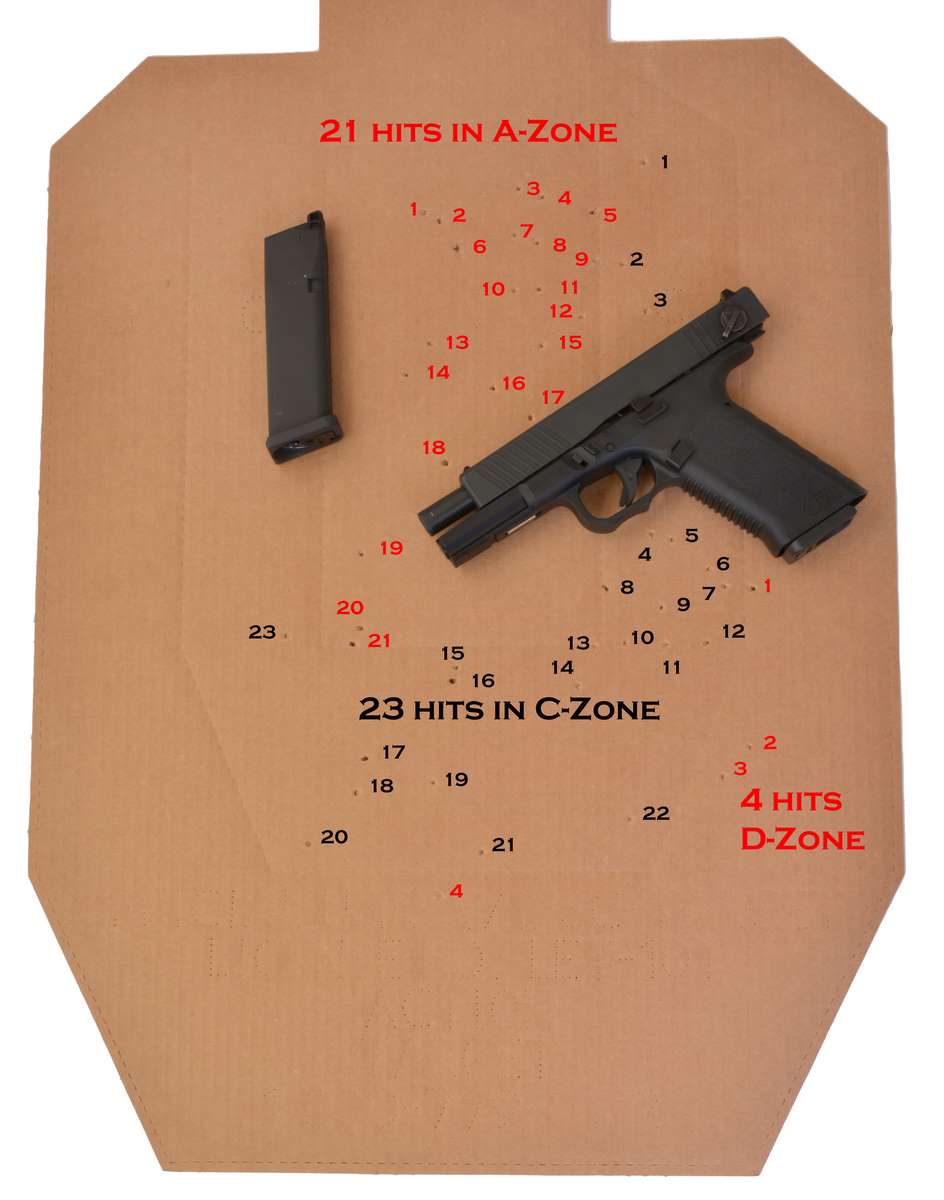 I ran out the CO2 in my last two mags (average is 54 shots per CO2 on full auto fire) using a Shoot-N-C silhouette target and put all of the shots in center mass. Full auto is not accuracy it is saturation. And the 009 saturates the target from 21 feet.