Barra 1866 Cowboy
Doing things the old way Part 1
By Dennis Adler
Western air rifle enthusiasts have it great right now with the dual CO2 powered Umarex Legends Cowboy Lever Action rifle. It is as close to a centerfire Winchester lever action as we are likely to see for awhile and it uses either Peacemaker BB or pellet loading shells, even though it is a smoothbore. The Umarex lever action is somewhere between a Winchester 1892 and an 1894 design, but way back in the mid 1860s, Winchester lever actions were far more primitive in design, and the Model 1866 was the first rifle to bear the Winchester name.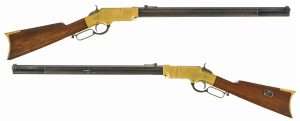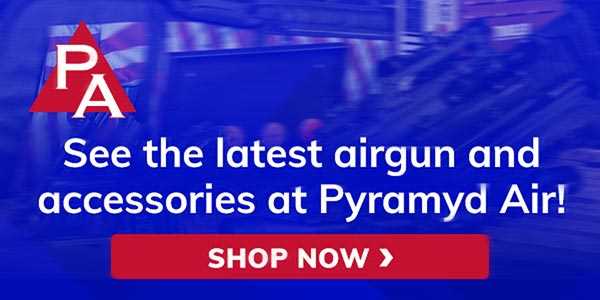 It had evolved from the Civil War-era Henry lever action rifle, designed by Benjamin Tyler Henry for Oliver Winchester's New Haven Arms Co. of New Haven, Connecticut. It had taken Henry three years to build, but in 1860 he gave Oliver Winchester the repeating rifle he wanted, a magazine-fed, breech-loading, lever-action. Patented October 16, 1860, it was named the Henry after its inventor, as was the new .44 caliber rimfire cartridge it would fire.
The Civil War made the Henry rifle one of the most famous guns in history, but not because of the U.S. military, more in fact, in spite of it. The War Department in Washington didn't purchase Henry rifles to arm Federal Troops in any significant number (approximately 1,731 during the course of the war); instead it was individual soldiers, infantry and cavalry units that purchased Henry lever actions at their own expense! I know, that sounds ridiculous, the Henry is the most famous rifle of the Civil War and for years after during the Western Expansion, so why did soldiers have to buy their own Henry rifles? When Oliver Winchester had shown the Henry to the U.S. military's Chief of Ordnance, General James Ripley, he saw little benefit in the design (the military relied on larger caliber, single shot muzzle loading percussion rifles). Ripley regarded Winchester's first model as less than ideal for combat because the Henry had an open follower channel running the length along the bottom of the magazine tube. This exposed the follower spring and cartridges to the elements, and Henry rifles had a propensity to jam if not carefully maintained. What Gen. Ripley and government inspectors failed to take into account was that in a fight, a properly functioning Henry was equal to a dozen soldiers armed with single shot percussion U.S. Rifled Muskets, no matter how fast they could reload. Ripley still believed that no better weapon could be issued to infantry soldiers in the field than the rifled musket. Unfortunately, no one in Washington ever asked the soldiers in the field for their opinions, and no one, except those soldiers in the field, truly recognized the value of the 16-shot, .44 rimfire Henry repeater in combat.

Although not a military success in terms of government contracts, the Henry became a financial success for Oliver Winchester. But all was not well in New Haven in 1865. At the end of the Civil War Winchester had a falling out with Benjamin Tyler Henry who gained control of the company and tried to force Winchester out. Rather than resorting to lawyers and court battles, the wealthy financier simply obliged Henry and withdrew his financial backing from the New Haven Arms Co. which soon ceased to exist. Winchester not only took all the money with him but Henry's right-hand man, arms designer Nelson King, who had plans to update the Henry rifle and address its shortcomings. With the quick establishment of the Winchester Repeating Arms Co. in New Haven, King was free to engineer much needed improvements, and the Winchester Model 1866 was introduced as the company's first lever action rifle. This is one instance where saying, "…and the rest is history" truly applies.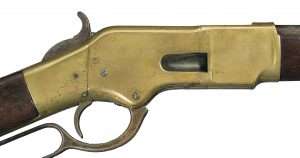 King's improvements to the Henry included a loading gate in the right side of the receiver and totally enclosing the cartridge magazine running under the barrel, thus eliminating the Henry's greatest drawbacks. The addition of a wooden forearm also made the gun easier to hold and aim. King even managed to increase the rifle's cartridge capacity from the Henry's impressive 16 to 17 rounds and Oliver Winchester had another runaway success on his hands. More than 100,000 Model 1866 rifles, or Yellow Boy, as they came to popularly known, were sold between 1866 and 1898, becoming one of the most famous rifles of the American West. There were four different models as rifles and carbines, all chambered in .44 rimfire until the Fourth Model, which could also shoot the same .44 centerfire cartridges used in handguns (this would be the last 21,101 Model 1866 rifles built toward the end of the 19th century). The 1866 became synonymous with the American West, right alongside with the Winchester Model 1873.


A Barra bones 1866 inspiration 
Some puns are irresistible, as is the Barra 1866, which has the look of a vintage lever action Winchester with its brass colored frame and brass finished buttplate and barrel band. The 1866 influence is undeniable and the Barra looks like a Western-style rifle, but beyond that, it is a cleverly-designed pneumatic that can be pumped with the lever action up to 10 times to hit velocities of 800 fps. With 4.5mm pellets traveling down its 20-inch rifled steel octagonal barrel this is a pretty serious air rifle for target shooting Old West style. Underneath it all, it is a long stroke, under lever pneumatic in Winchester dress, a look not unlike those classic lever-action Daisy spring rifle models from our childhood. What's that? Not that old? Well, you have certainly watched A Christmas Story once or twice during the holidays, and Daisy still makes the Red Ryder, even the classic 1938 version, but no compass in the stock or a thing which tells time… Heck, the Daisy even has a real wood stock. But it's a classic kid's gun with a probable velocity of 350 fps, good enough for chasing off Black Bart, but no match for what the Barra's multi-pump pneumatic can deliver.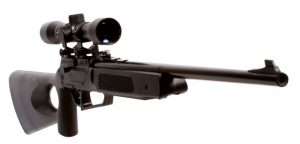 Entry level priced
The Barra 1866 is a $100 air rifle (discounted at $79.95) compared to the classic Daisy Red Ryder, which is still a bargain at $39.99. There's even a larger adult-sized Daisy version with an overall length of 36.75 inches vs. the original 1938-style model at 35.4 inches. But when you want to step up to a real adult air rifle, without giving up on the Old West style ('cause we're all just big kids), the Barra fills an interesting niche that bridges the gap between classic old spring piston air rifles like the Daisy, modern high-power spring piston break-barrel designs like Diana 240 Classic, more expensive under lever models, like the WWII-inspired Diana Mauser K98, and more affordable multi-pump under lever pneumatics like the Winchester 77XS. The Barra 1866 is kind of like an Old West version of the 77XS, and about the same price which falls squarely in the entry-level Adult Airgun class. With its Winchester inspiration, the Barra could be an interesting fit for those who like Old West guns and want a very simple and quick-at-hand plinker that relies on nothing but the shooter to make it work.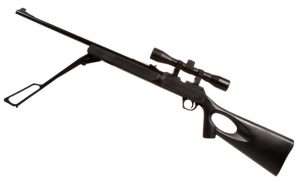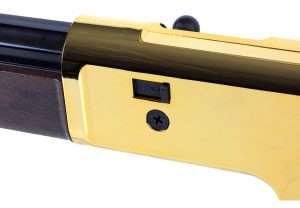 Multi-purpose and reality split
The Barra 1866 holds its Old West looks pretty well at a distance but its operation is more than a bit curious because it's not only a multi-pump lever action design that can shoot BBs or pellets, it's a bolt action rifle! Benjamin Tyler Henry, Nelson King, and Oliver Winchester just spun in their graves.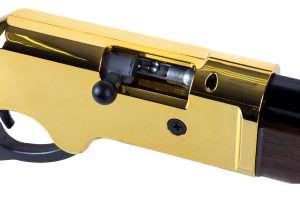 We'll get into what makes this lever action/bolt action Old West style rifle tick in Part 2.