BBs vs. Pellets – Part 2
The choice between steel and lead with two exceptional Umarex Beretta models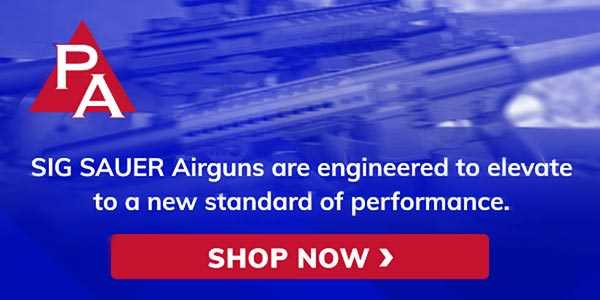 By Dennis Adler

Now that the guns have been explained it's time to look at what will be coming out the end of the barrels. For the Umarex Beretta 92 FS there are a number of options. The principal pellet design in use today for target shooting is a diabolo wadcutter, a pellet with a flat (wadcutter) head, a thin (hour glass) waist and wide, hollow base skirt. This is an extremely efficient, self stabilizing pellet design for velocity and accuracy, and one of four primary pellet designs; wadcutter, pointed, round nose, and hollow point. For the majority of pellet-firing handguns, wadcutters are the most commonly used for punching holes in paper, much like wadcutters are used for target shooting with cartridge loading handguns. With pellet-firing air pistols the wadcutter really excels for accuracy at the traditional 10-meter target distance, that's 33 feet. Like bullets, pellets are available in different grades and for accuracy, Competition and Match Grade pellets are the most desirable and also the most expensive compared to Basic and Hobby grade pellets, which generally cost much less (we're talking a spread of under $7 for a 500 count tin, to as much as $40 for the best competition grade pellets).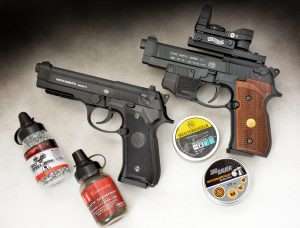 For the comparison test I have opted to use two different types of pellets and BBs. For the 92 A1, Umarex 1500 Precision 5.1 gr. steel BBs, and Hornady Black Diamond 5.1 gr. black anodized steel BBs. For the 92 FS, the choice was Meisterkugeln Professional Line 4.5mm, 7.0 gr. lead wadcutter pellets ($11.95 for 500), and Sig Sauer Match Ballistic Alloy 5.25 gr. alloy wadcutters ($34.95 for 500). To further level the playing field I set aside my traditional "real world" offhand shooting test protocol, and fired the guns rested on a 15 pound sandbag.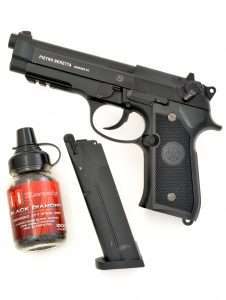 Both Beretta models are easy to handle but there is a clear advantage to the new 92 A1 which is a smoother operating airgun overall with one of the best DA/SA triggers I have found on any air pistol. It is also very close in feel to the trigger on the 9mm Beretta model. The white dot sights make it easy to point and hold on target (as evidenced by the results from 10 meters). In operation and handling the 92 A1 is as close to firing a 9mm 92 A1 as you can get with a CO2-powered semi-auto.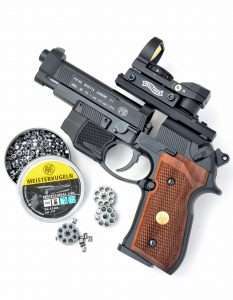 The older-style 92 SF pellet gun is still a solid, ruggedly-built air pistol that, even with 15 years behind it's design, still delivers on accuracy, but is no longer superior compared to the 92 A1 BB model for handling and features. First, it is intended to be fired DAO (even though it has a hammer). To fire single action, you must manually cock the hammer for each shot as I did for this head-to-head test with the 92 A1. The new Beretta blowback only fires double action for the first shot, after which it operates as a single action pistol unless it is de-cocked by setting the safety. This lowers the hammer, disconnects the trigger, and resets the gun to fire double action when the safety is released.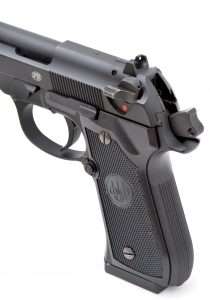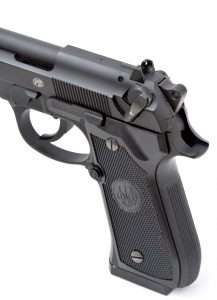 IPSC Cardboard targets
For the test I used Law Enforcement's Targets cardboard IPSC competition targets at a measured distance of 10 meters. Firing Meisterkugeln from the Beretta 92 FS in back-to-back 8-round groups (two 8-round magazines), the best measurement was 2.0 inches with a best 5 shots clustered at 0.75 inches. The 92 FS averaged 425 fps with the Meisterkugeln wadcutters. Switching to the Sig Sauer alloy pellets, the best 16-round group covered 2.25 inches, with a best 5 shots measuring 1.12 inches. I have had better results with the lightweight 5.25 gr. Sig Sauer alloy pellets in other guns, but groups were just a little wider fired from the Beretta than they were with the less costly 4.5 gr. lead RWS Meisterkugeln pellets.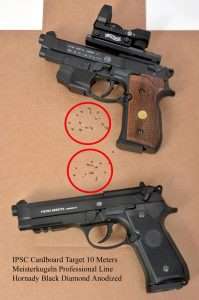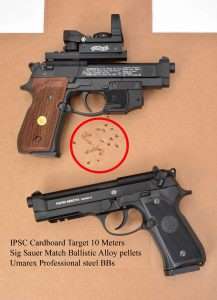 Firing the 92 A1 with Hornady's .177 caliber black anodized steel BBs and those shiny bright Umarex steel rounds, the average velocity was 320 fps. So, you have a hundred and change feet per second difference between .177 caliber BBs from the CO2 powered blowback action 92 A1 and pellets from the 92 FS. As for accuracy, the bench rested Beretta blowback punched 16 Black Diamond BBs into 2.25 inches with a best 5 shots at 0.95 inches. Using Umarex steel BBs, the best 16 covered 2.50 inches with a best 5 overlapping into one ragged hole measuring 0.625 inches, actually better than the rifled barrel pellet gun for a 5-shot group! Are BBs the equal of pellets? Maybe this time, but for long range accuracy and consistency, a precision lead pellet is still a safer bet than round steel.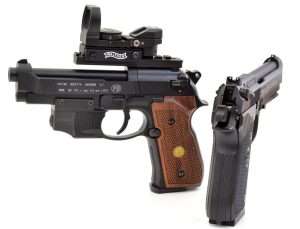 As to which of these two excellent Umarex Beretta airguns to buy, both have great handling, accurate features to the cartridge-firing models, and are both good shooters. Neither is prohibitively expensive, nor are BBs, pellets and CO2. So, how do you choose between the 92 FS and the 92 A1? Well, as the great N.Y. Yankee's legend Yogi Berra once said, "When you come to a fork in the road, take it."
A word about safety
Blowback action airguns provide the look, feel and operation of their cartridge-firing counterparts and this is one reason why they have become so popular. Airguns in general all look like guns, blowback action models more so, and it is important to remember that the vast majority of people can't tell an airgun from a cartridge gun. Never brandish an airgun in public. Always, and I can never stress this enough, always treat an airgun as you would a cartridge gun. The same manual of operation and safety should always apply.