Beretta M9A3 Take 2 Part 3
Out of the box testing
By Dennis Adler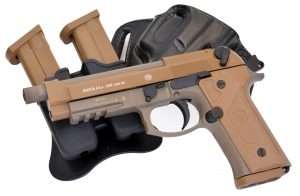 Air pistol design and manufacturing has advanced, by modest comparison, in the way that technology in laptops, tablets and smart phones has advanced in the past several years. Like I said a "modest" comparison, but look at the M9A3 compared to the 92A1. Only four years separate these two Umarex blowback action pistols, and they share many of the same features, but where they differ is significant enough to make the M9A3 a totally new generation of Beretta CO2 pistol, a gun closer to the new HK USP, Glock 17, and Springfield XDM 4.5 in design fit, finish, and overall performance, than the four-year old 92A1.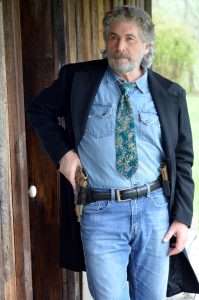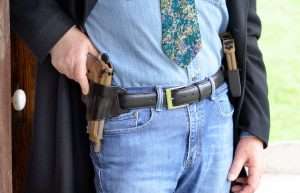 There are holsters for the M9A3 (since the centerfire model has been out a few years) and they fit the CO2 version. Adding a laser sight does complicate things (in terms of affordable holsters for the CO2 model) but it will fit a typical nylon tactical holster with a laser mounted on the rail. As a training gun the M9A3 scores all good points since it so closely duplicates all of the 9mm model features. You may recall that in Part 2, I mentioned that the newer white dot sights are easier to pick up. They are noticeably different than the smaller, lower white dots on the older Beretta models, and at least for me, I find them quicker to acquire when drawing and aiming. And so on that thought we return to the 21 foot test range and begin correcting POA from test 1 to see if the gun can print another 0.68 inch group, but this time all in the bullseye.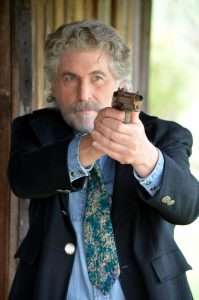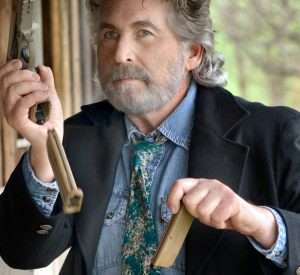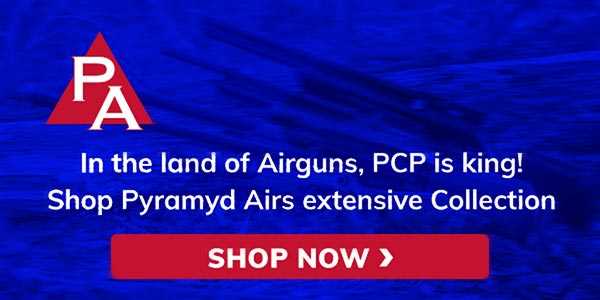 With an added red dot placed 1.5 inches above the center of the bullseye as a POA for a 6 o' clock hold, 10 shots still came in a little low of center but grouped into 0.87 inches with a best 5-shot group at 0.44 inches with three overlapping at the bottom. This was approximately 40 total shots with the first CO2 (some shots were used during the photo session as well as chronographing) and the air was not giving the slide as much push as earlier so I changed to a fresh CO2. I shot another test target at 21 feet with my hold on a red dot placed just a little higher than the last one. I didn't do quite as well this time with a best center bullseye group measuring 1.43 inches for 10 shots with one flyer low right, that opened up an otherwise tight 9-shot group at 1.0 inches and a best 5-rounds at 0.5 inches with three overlapping. Sounds funny to complain about a 0.5 inch 5-shot group but the gun can do better than that at 21 feet.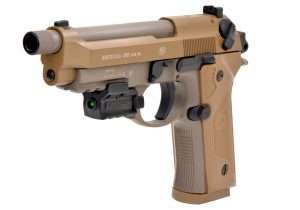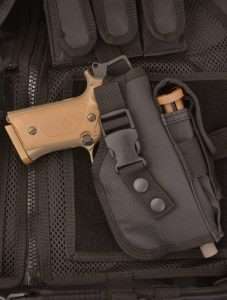 I shot one target with the laser to see how tight the gun could shoot. I have to tell you I have laser sighting issues, so I'm not the best candidate for this. Last year I had cataract surgery which restored my vision to 20/20 (the reason you don't see me in anything these days but shooting glasses when necessary), but the downside is that with the corrected lenses in my eyes I no longer see a pinpoint of light with a laser, rather a small starburst, so I may bee it dead center on the target but I cold be off my a fraction of an inch as to where the laser id actually pinpointing. This happened with my M9A3 test target, a tight 10-shot group but all off to the right of center. Still the total spread measured 0.875 inches and a best 5-shot group at 0.45 inches, with four overlapping.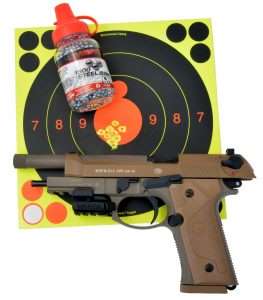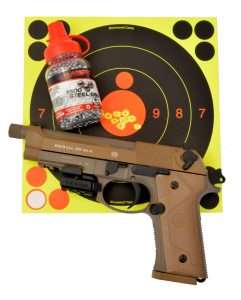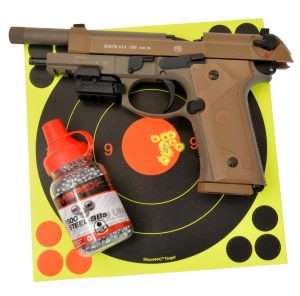 The takeaway
As blowback action CO2 models go, the new Beretta M9A3 is the most accurate at 21 feet. Yes, you have to correct POA so it is somewhat less than perfect, but with practice, this CO2 pistol will have you consistently shooting sub 0.5 inch groups off hand. If that's not an airgun experience, I don't know what is.
Next week one last pass at the M9A3 on full auto!