Bersa BP9cc Part 1
Learning the ways of subcompact carry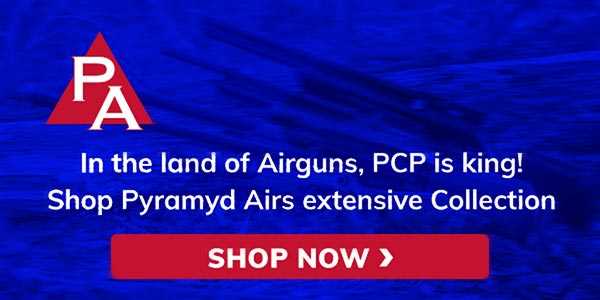 By Dennis Adler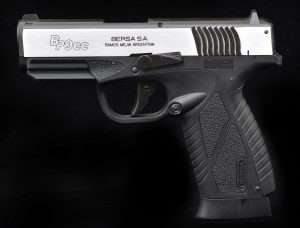 Back in the 1980s I owned a Bersa .380 ACP semi-auto, it wasn't a Walther PPK but it looked a lot like one and that was its biggest attraction. Bersa started out in the late 1950s building .22 caliber semi-autos and over the decades worked its way up to larger calibers. Their early guns all had a passing resemblance to either Walther or Beretta models, and not surprisingly, the company's founders, Benso Bonadimani, Ercole Montini and Savino Caselli were Italian firearms engineers who immigrated to Argentina in the 1950s and established Bersa in the city of Ramos Mejia, the name you see on the slide of every Bersa model. Their first .22 LR semi-auto pistol was introduced in 1959. More than half a century later Bersa is an established manufacturer of well built but still affordable pistols. The company offers a complete line of .22LR, .380, 9mm and .40 S&W semi-autos (some that still look like a Walther PPK or PPK/S) and others, like the BP9cc, with a passing resemblance to a Glock. It is, however, its own unique design. BP9cc stands for Bersa Polymer 9mm Concealed Carry. Introduced in 2010, the 9mm semi-auto was the company's first polymer-framed, striker-fired pistol, so for Bersa this is a groundbreaking design.

The BP9cc 9mm and .177 caliber models
In 9mm the BP9cc is regarded as a lightweight semi-auto. It uses a locked breech (Browning) design and has very compact dimensions, particularly in width, which is a mere 0.94 inches. With an overall length of 6.35 inches and height of 4.8 inches, it is an ideally-sized concealed carry pistol, especially for one chambered in 9mm.
It took two years but the BP9cc really began to catch on in the U.S. by 2012 and is now available in 9mm, .40 S&W and .380 ACP. With a suggested retail of $440 (with the duotone finish), the BPcc series has been successful enough to warrant its own CO2 version, which is built under license by ASG.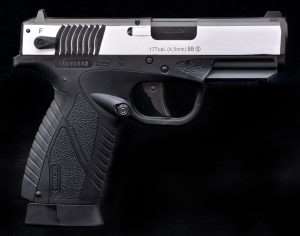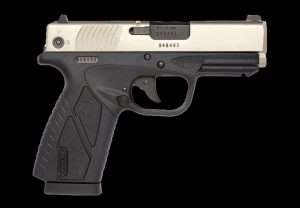 As previously mentioned the BP9cc has a Glock-like silhouette, but a different trigger system, an internal key locked safety, and a well designed grip frame that provides a secure hold for its compact size. The triggerguard is also slightly undercut to provide a better grasp on the narrow grip, as well as lower the bore axis, which helps reduce muzzle flip. While the latter is of little consequence in a .177 caliber pistol, the airgun is as true to the 9mm design as possible, providing clean lines and very easy handling and operation. If not for the use of a 20-shot stick magazine with a full size base (to conceal the CO2 seating screw) and a separate CO2 channel, this would be one of the most authentic CO2 semi-autos on the market today. Even with those two small strikes against it, this is an exceptional blowback action model for under $100.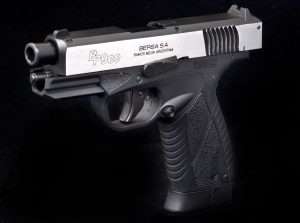 Gun details
A 9mm Bersa model weighs in at 21.5 ounces, the ASG model also tips the scales at 21.5 ounces and shares the same overall length, but comes in taller at 5.25 inches (base of magazine to top of rear sights) adding about a quarter of an inch to the gun's profile. Both the centerfire and .177 caliber models have a double-action-only (DAO) trigger and no external safety, although the airgun has a lever added to actuate the gun's internal lock. On the cartridge-firing models it is set and released with a separate key. This feature is intended for safe storage, not as a functional manual safety on centerfire models.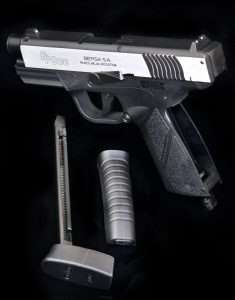 The 9mm Bersa models use a trigger with a fairly long initial pull and a passive firing pin safety that prevents the pistol from discharging without a complete stroke of the trigger. Unlike a Glock design with a blade safety trigger, the Bersa relies solely on its trigger mechanism like a DAO revolver. The Bersa 9mm has a short trigger reset so the initial long trigger pull is only for the first shot, unless you release the trigger fully. It is a design that demands a shooter's attention. To that end the basically ambidextrous design of the frame has a trigger finger rest indentation on either side above the triggerguard. The offhand side indentation is a perfect location for the support hand thumb as well. And all of this is perfectly duplicated in the ASG BP9cc CO2 model.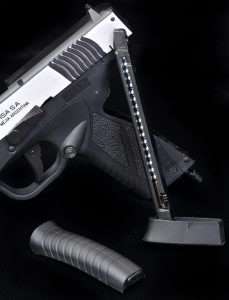 The Bersa is a very clean design, especially with the duotone polished slide. The gun has no superfluous features; the front of the slide is beveled to facilitate smoother re-holstering, the frame has an integral light or laser accessory rail, and the external controls are the trigger, ambidextrous magazine releases (only a left side release on the airgun, unfortunately), and slide stop lever. This gun fits the average hand well and has excellent balance for its size and weight, and white dot sights for quick target acquisition. There is very little in the Bersa's design not to like, in any caliber.
In Part 2 more detail on the airgun's design, loading, operation and the shooting test.
A Word About Safety
Blowback action models provide the look, feel and operation of their cartridge-firing counterparts. All airguns, in general, look like guns, but those based on real cartridge-firing models even more so. It is important to remember that the vast majority of people can't tell an airgun from a cartridge gun. Never brandish an airgun in public. Always, and I can never stress this enough, always treat an airgun as you would a cartridge gun. The same manual of operation and safety should always apply.