Focused Groups
Best blowback action airgun sights Part 1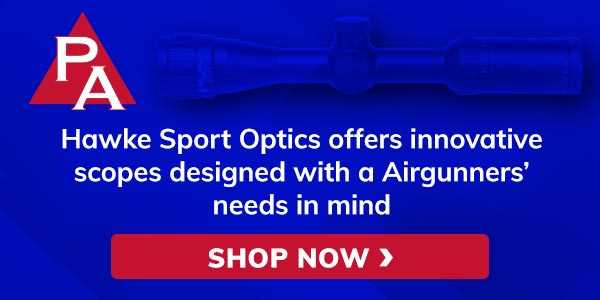 By Dennis Adler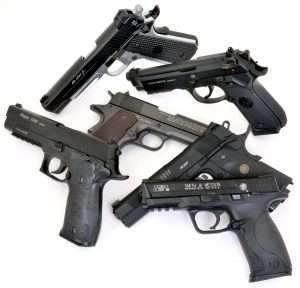 Target shooting with blowback action semi-autos is as close as you can get to shooting a small caliber handgun. The one thing always absent from CO2 powered air pistols, whether semi-autos or revolvers, is appreciable recoil, even to the level of a .22 caliber pistol. So how is target shooting with an air pistol in any way equivalent to firing a cartridge handgun? With CO2 powered semi-autos it is the blowback action which, regardless of the level of recoil, still puts the slide in motion, and with it, the gun's front and rear sights. Learning how to reacquire the sights and get back on target is a key training skill that can be learned with CO2 powered, blowback action airguns, but there are differences in guns, designs, and sights.
Focus points
In close quarter combat pistol shooting there is often too little time to get your sights on the target (especially one that may be aiming back at you!) Training for arms length confrontations is more common for law enforcement, and not relevant to this target shooting discussion, (although it does apply to using a CO2 pistol that matches a law enforcement duty or CCW gun for cost efficient skills training). For target shooting practice at distances of from 7 yards (21 feet) out to the 10 meter (33 foot) regimen, a high quality CO2 powered, blowback action semi-auto will demand most of the same skill sets as firing a .22 caliber, .380 ACP, 9mm, or even a .45 ACP semiautomatic. You experience everything but felt recoil and of course, the much higher decibel ratings of a smokeless powder cartridge being fired, compared to the sound of a .177 caliber steel BB leaving the muzzle. With the growing popularity of suppressors, even that aspect is changing.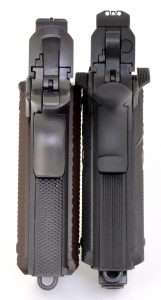 The most important features any CO2 powered blowback action semi-auto can provide are a good trigger, and good front and rear sights. It is surprising how many cartridge-firing handguns costing far more than even the most expensive blowback action CO2 model, often fail to meet those two essential criterions. So how can one expect an airgun to do better? When it comes to sights, you would be surprised how many do.
What to look for in high quality air pistol sights
 The majority of blowback action CO2 semi-autos are nearly identical (in some cases 100 percent identical) to their cartridge-firing counterparts and thus provide equivalent sighting capability. There are, however, a handful of CO2 models that excel in this capacity. And what you want does not always mean white dot sights, though they are hard to fault. What I look for first is the size of the sights.
Everyone loves the historic look of the original Colt Model 1911 (I know I do), it's an American classic, and those who like original style 1911s are willing to accept the shortcomings it brings with it. The original Model 1911 and 1911A1 had terrible sights. What's wrong with them? You simply need to compare them with modern 1911 sights, and you can make this comparison with airguns. A low narrow rear notch, combined with a shallow, crescent shaped front sight, typical of the John Browning-designed Model 1911, is hard to acquire. For military use they were more than adequate, but even Colt's recognized the need for better sights on the 1911 and introduced the National Match version in 1933. As Colt historian, the late  R.L. Wilson, noted in The Book of Colt Firearms, "The National Match 45 [was introduced] to answer the demand for the Colt Government Model Automatic Pistol…equipped for target shooting."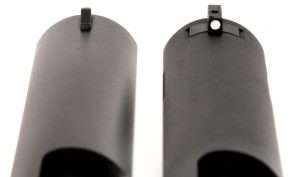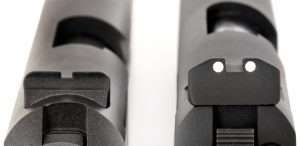 The National Match was equipped with a "Super-smooth, hand-honed target action, selected Match barrel, and two-way adjustable rear target sight." This became the standard for future 1911 target models and these same features are seen today, even in CO2 powered, blowback action air pistols. At the same time, you also have white dot sights, with dual white dots on the rear and a single dot on the front sight.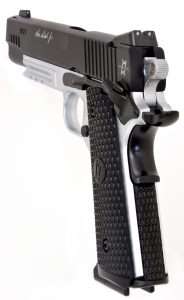 Other variations only use a white dot on the front sight and wide rear notch sight. There are also combat rear sights (angled upward from front to back with rounded contours) to provide a higher sighting position combined with a matching, elevated front sight. The combat sight is faster to acquire for a variety of shooting disciplines from combat to target shooting. They can have white dots or be all black; the overall advantage is in the design. And all of these various sight designs are available on CO2 powered blowback action air pistols.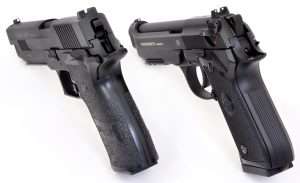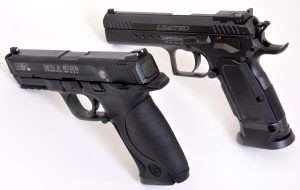 The last consideration is sight radius. This usually implies a longer barrel, but not always. As a case in point, the Smith & Wesson M&P9 and M&P40 are smaller overall than a Beretta Model 92A1, but have a longer sight radius despite having a 0.65 inch shorter barrel length (4.25 inches vs. 4.9 inches for the Beretta). The differences are also duplicated by the CO2 models.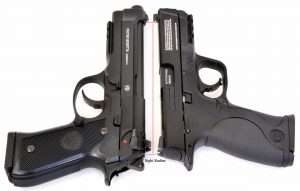 Deciding which type of sight is better and may work best for you will be discussed in Part 2.