Focused Groups
Best blowback action airgun sights Part 2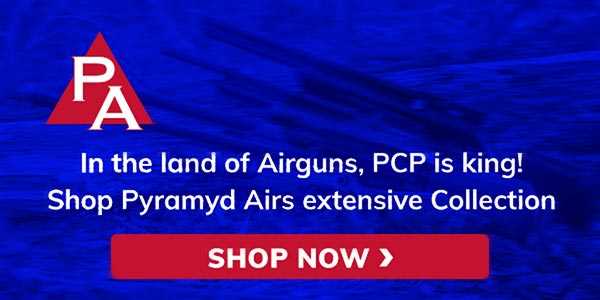 Thinning the herd
By Dennis Adler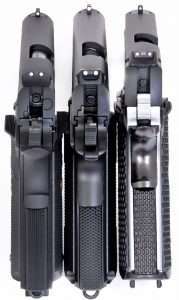 I have always been a fan of white dot sights, particularly tritium night sights, which are a must for serious 24/7 carry, but if I had to make a choice between three white dots, or just a white dot front sight, I would probably pick the white dot front paired with a wide notch black rear sight. The best example of this type with a blowback action CO2 air pistol is the Sig Sauer P226 X-Five. Why a single dot over the three white dots? Aligning three dots is an absolute lock on target, and some of the best handguns in the world rely on this design, but putting the front dot between the goalposts is a little quicker under varied lighting conditions. Still, the majority of law enforcement models like the S&W M&P9, M&P40, M&P45 and M&P Shield, Beretta M92A1, and Glock models, rely on three dots (the Glock design actually has a standard white outline rear sight notch and white dot front, which was shown in Airgun Experience No. 102 with the ISSC M22). The majority of replacement sights for Glocks are three dot, tritium night sights, or fiber optic sights, the latter being a completely different subject in regard to CO2 models. Not to sound hypocritical, among my several EDC handguns, only one has a white dot front sight (and it is a tritium sight), the other two have three dot sights, one of which is custom fitted with tritium combat sights.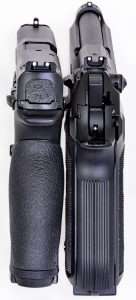 For target shooting, all of these sight designs (except tritium) are duplicated for CO2 models, but there are some distinguishing characteristics that give certain sights an advantage depending upon the target downrange. For example, an IPSC cardboard target is neutral in color, a cardboard tan, so any set of sights will be easy to pick up against it. Switch to a black B-27 silhouette target and all black sights are harder to align against the dark background. Here a single white dot front or three white dots offer an advantage for quick target acquisition. If the target is light in color, as many paper targets are, white dot sights in bright sunlight can be more difficult to align against the background. In this situation all black target or combat sights have a slight edge. There is no one perfect sight for every circumstance (except tritium). I have experienced all of these situations using various targets, including a variety of Birchwood Casey Shoot-N-C designs (which are great with airguns), and over all, the most versatile sights are a toss up between a large notched rear sight or standard Glock style rear, facing a single white dot front sight.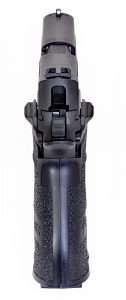 Target shooting is usually done in daylight, so much of this is academic and comes down to personal preferences, but lower the ambient light, (as in shooting indoors), and either a single white dot or three dot combat sight will excel for quick target acquisition. The only sights that are more versatile are tritium night sights which will show up under any lighting from high noon to pitch black against any backdrop. But, since they are not available for blowback action CO2 pistols (although they probably could be fitted on a model that has dovetailed front and rear sight channels), they are off the table.

Target shooters who compete with open sights generally have three dot sights on their guns, and that's where we will begin to thin the herd toward finding the best overall sights on blowback action CO2 models. The Colt Model 1911s with original military-style sights are the first to be eliminated, leaving several excellent options including the Sig Sauer 1911 and Umarex Colt 1911 Commander, both with white dot sights.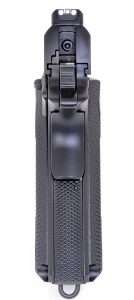 Everyone who owns an Umarex Colt Commander is happy with the sights on this pistol. It uses a dovetailed combat style (ramped) rear sight with a recessed U channel and deeply inset white dots on either side. The dovetailed front site is a tall blade with a deeply inset white dot. These are equivalent to Novak-style sights found on many cartridge-firing handguns, making the Umarex Colt Commander one of the best CO2 models for quality sights.
The Sig Sauer 1911 uses a similar dovetailed Novak-style arrangement but a different rear sight configuration with a slightly scooped rear face and two small white dots bordering a U notch opening. The front is a slightly shallower blade with a large white dot. The other difference is that the Umarex sights have high gloss white dots, while the Sig has matte white dots. In comparison, the Colt Commander's white dots are faster to acquire and align. Staying with 1911s, the Sig Sauer Max Michel has a windage adjustable Novak combat-style rear sight with a shelved U notch bordered by two small white dots and dovetailed white dot blade front. These are nice sights, but still not as easy to acquire as the Colt Commander's.

Between the Umarex S&W M&P40 and Beretta 92A1, the three dot sight designs are completely different with the M&P40 using a shallow, wide recessed U notch bordered with deeply inset white dots and a dovetailed front blade with the same size and depth white dot. The 92A1 is based on the military model and Beretta sights are unique to the pistol with the front blade an integrated part of the open top slide, and the rear a narrow, inset U notch with small white dots. Both the M&P40 and 92A1 point naturally and sight acquisition is fast, but the advantage goes to the more modern S&W with its larger and easier to see white dots. The wild card in this group is the Sig Sauer P226 X-Five, which has a large white dot front sight and a tall inward V-angled notch that quickly frames the white dot. No matter what type of lighting conditions (outside of very low illumination) the white dot remains easy to see surrounded by the black U notch. It is just slightly easier to get on target in bright light or against a bright background than the others with three white dots and really fast against a dark background. The basic differences between a single front dot and three dot sights are not that significant, however, the V-angle on the Sig's rear sight also helps to illuminate and better define the rear notch in daylight. This is an excellent sight design for all around use.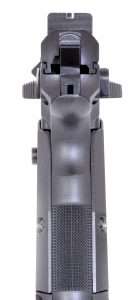 The last gun in this group is an admitted ringer; it is the only one that is a dedicated target pistol, the Tanfoglio Limited. Based on the CZ75 design sold by European American Armory (EAA), this is one of the best blowback action CO2-powered .177 caliber target pistols, period. And if you like to shoot with open sights, it is even better than the Tanfoglio Gold Custom version which is built for mounting optics. Aside from the pistols overall outstanding design, it has a competition designed windage and elevation adjustable dovetailed rear sight similar to a Dawson Precision Bomar-style, using a black horizontally serrated wide U notch, facing a rectangular blade front. On the target range in bright light, it can be dialed in to pinpoint accuracy.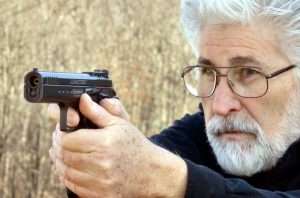 The contenders for best blowback action airgun sights are the Umarex Colt Commander, Umarex S&W M&P40, Sig Sauer P226 X-Five and Tanfoglio Limited.
In Part 3 we find out which gun earns the top spot.
A word about safety
Blowback action airguns provide the look, feel and operation of their cartridge-firing counterparts and this is one reason why they have become so popular. Airguns in general all look like guns, blowback action models more so, and it is important to remember that the vast majority of people can't tell an airgun from a cartridge gun. Never brandish an airgun in public. Always, and I can never stress this enough, always treat an airgun as you would a cartridge gun. The same manual of operation and safety should always apply.