The Best Dan Wesson Part 2
Shooting the 6-inch .357 Magnum CO2 Model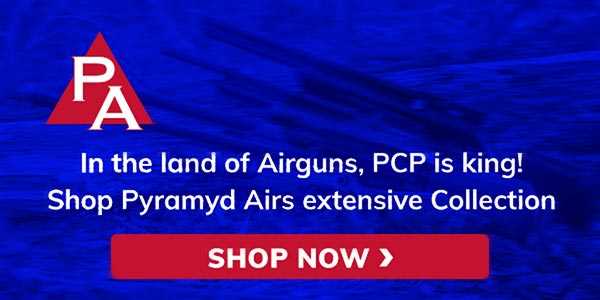 By Dennis Adler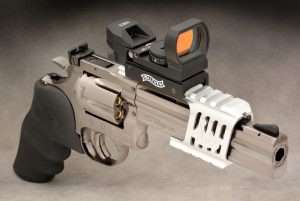 The Dan Wesson Model 715 is the most authentic looking of all the Dan Wesson CO2 models and the pellet version, in its unique high polish steel grey, is even more interesting because the color changes under different lighting conditions from almost silver to nearly blue black. It's like a mirror, it reflects its surroundings. In the photo studio, it appears a warm silver grey, but take it outside in daylight and the color deepens to almost black; either way it's shiny and looks good. It also shoots as good as it looks.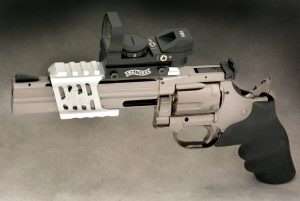 For the test I used Meisterkugeln Professional Line 7.0 gr. lead wadcutters. The Dan Wesson pellet cartridges are easy to load from the back and using the speed loader with an extra set of rounds ready to go, makes reloading just as quick as the cartridge firing model. I added the optional ASG Custom CNC rail, which screws into the drilled and tapped holes in the bottom of the barrel shroud. It comes in silver or steel grey and I went with silver to contrast the gun. It's a matter of preference. For optics I selected the Walther MRS Multi Reticle Sight, which provides a choice of four reticle styles. This is a powerful sight for use outdoors in bright light. I set it to the red dot with full crosshairs (it also has two different sized standalone red dots and a three-quarter crosshair with red dot). There are a lot of good red dot sights on the market in this price range, but the Walther is hard to beat. For competition shooting with cartridge revolvers traditional red dot scopes are more commonly used in Bianchi Cup open class and other open class shooting competitions, and you can mount a red dot scope just as easily. I happen to like the MRS because of its compact size, ease of use (adjustments) and seven brightness settings.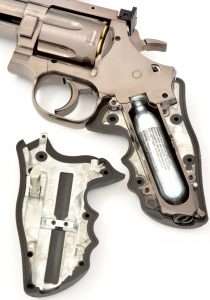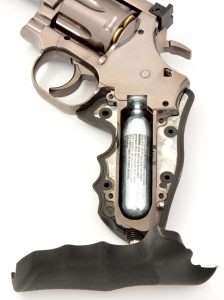 The Dan Wesson weighs in at 2.3 pounds and is a hand filling gun, with an overall length of 11.73 inches. While I am not a big fan of rubber grips, I am of the finger grooved, tapered combat style Hogue grips on this gun. It balances very well in the hand, just like its cartridge-firing counterpart.

Before the weather went south (an uncommonly warm January day) I started my test outdoors by running a dozen rounds through my chronograph, which recorded an average velocity for the 7.0 gr. wadcutters of 409 fps from the 5.5 inch (internal length) rifled barrel. The ambient temperature was 50 degrees, a little cold for CO2, but the pistol functioned perfectly. It got colder and gusty by the time I was done with the outdoor photo shoot and ready for the 10 meter test, so everything moved inside for the final evaluation.
I set up my target at 21 feet with the open sights and optics, as well as 10 meters with optics only. Trigger pull fired double action was a heavy 12 pounds, 3 ounces with 0.75 inches of travel, a clean break and no over travel. Fired single action the hammer drops with 7 pounds of pressure on the trigger, which only travels 0.125 inches. It's a good trigger all around but it shines like the gun on single action.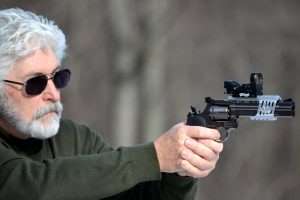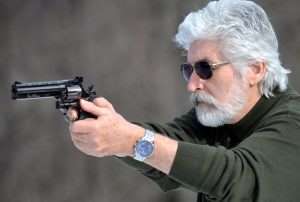 The Dan Wesson Model 715 is already a barrel heavy gun and with the addition of the rail, which weighs three ounces, and the MRS sight, which adds another 4 ounces, you have an airgun with the heft and balance of the real .357 Magnum model. That's a plus in my book. My tests were done using a Weaver stance and two-handed hold and all fired single action for best accuracy.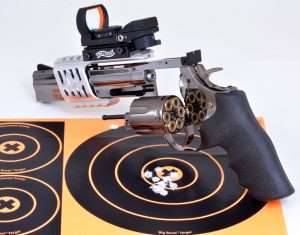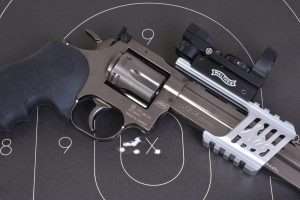 At 21 feet using the Walther MRS, I was able to put six rounds into one ragged hole spreading 0.95 inches and a total of 12 rounds with a spread of 1.70 inches on a Big Burst orange target. Stepping back to 10 meters, again with the MRS optics, my best group of six shots measured 1.25 inches in the X ring of a B-27 silhouette. At 21 feet with open sights my best six rounds also measured 1.25 inches. Bottom line, this is an accurate handgun at any distance out to 10 meters and with optics it is capable of sub 1-inch groups. The ASG Dan Wesson Model 715's authentic looks and handling definitely make this CO2 wheelgun one to add to your airgun experience.
A word about safety
Double Action/ Single Action airguns provide the look, feel and operation of their cartridge-firing counterparts. Most airguns, in general, look like cartrrige guns, this Dan Wesson Model 715 even more so, and it is important to remember that the vast majority of people can't tell an airgun from a cartridge gun. Never brandish an airgun in public. Always, and I can never stress this enough, always treat an airgun as you would a cartridge gun. The same manual of operation and safety should always apply.