Hammering down accuracy
Best double action CO2 revolver triggers Part 2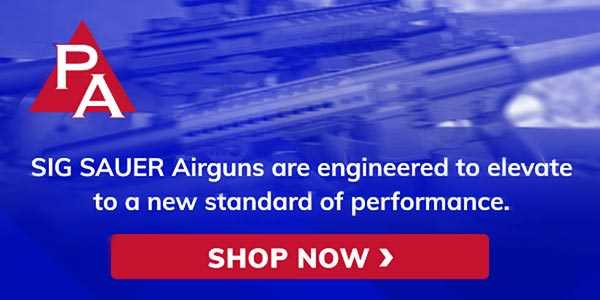 Doubling on air
by Dennis Adler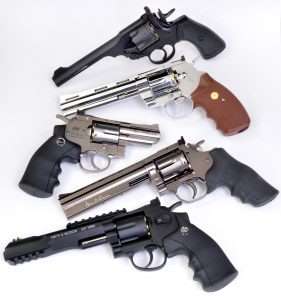 The one thing that New York armsmaker Eben T. Starr did with his 1858 double action pistol design, was engineer a trigger (or trigger lifter in this case) to "stage" the trigger for the final pull-through. What I mean by that is the trigger pull rotated the cylinder into battery and cocked the hammer but left a little additional pull before the trigger lifter struck the hammer release. This allowed a soldier to take better aim before firing. This same step in the trigger pull was repeated by Colt's in their 1877 and 1878 double action designs, and has been used to great effect by S&W in their revolvers, which stage the hammers with relative ease. Most shooters pull straight through on double action, as it should be in combat, but for greater accuracy, or a studied and practiced pause before dropping the hammer, this aspect of double action revolvers has become a trait of the best guns and best triggers. It is also so with the best double action CO2 revolvers.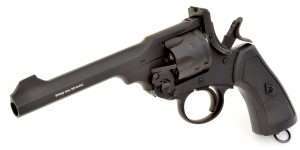 While you may call this a breech of etiquette, in order to have a 19th century design in the CO2 mix (to counterbalance the Starr) I'm using a British Webley MKVI (which evolved from the MKIV introduced in 1899); the MKVI was introduced in 1915. The rest of the double action/single action models are comprised of the Dan Wesson Model 715 with 6-inch barrel, and Dan Wesson 2-1/2 inch pellet cartridge-firing models, and the Umarex Colt Python and S&W 327 TRR8. Which among these excellent CO2 models has the best double action trigger? All five were tested with a Lyman trigger pull gauge with an average for six consecutive shots. Each gun was evaluated for pull-through, capability to stage the hammer, degree of stacking, and overall ease of firing.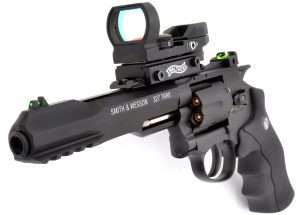 The Umarex S&W 327 TRR8 averaged 7 pounds, 8 ounces. The trigger is very easy to stage, and has a light pull-through with moderate stacking. It feels sold like a real cartridge-firing pistol trigger. The Dan Wesson Model 715, for all its wonderful features and good looks, has one of the heaviest triggers among the double action revolvers with an average pull of over 12 pounds, 5 ounces, hard stacking all the way through, and it will not stage the hammer. It is by far one of the best and most authentic looking of the latest CO2 BB and pellet cartridge firing models, but does not deliver on trigger pull.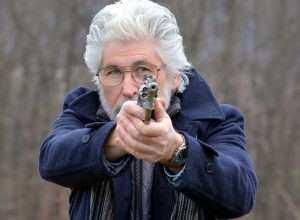 Interestingly its 2-1/2 inch counterpart (with a different trigger design) is far easier to shoot. Even though it is an incorrect design, using an S&W type cylinder latch, it has an exceptional double action trigger pull with an average of 7 pounds, 14 ounces. It also stages cleanly, but sounds a little "tinny" when the hammer drops. The minor shortcomings in its design are a small price to pay when the trigger feels so right.
Umarex prides itself in producing handguns with excellent triggers, and their Colt licensed Python model is no exception with a double action trigger that averages 8 pounds, 11 ounces. The trigger has easy pull-though, almost no stacking, and stages quickly. For overall feel it is one of the very best. Ah but leave it to the British to come through with the best built double action trigger (Webley has a lot of experience building airguns, so this is really no surprise), and with an average pull of 6 pounds, 4.5 ounces, easy staging of the hammer and virtually no effective stacking, it ranks as number one. This is a very authentic looking and handling copy of the famous MKVI, but the double action trigger on the airgun is 180 degrees from the .455 Webley cartridge firing models of WWII, which had a double action trigger pull that can wear a man out in six rounds.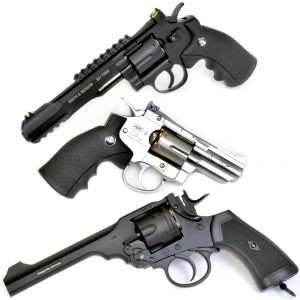 If you want to shoot double action revolvers double action, the Webley MKVI, ASG Dan Wesson 2-1/2 inch, and Umarex S&W 327 TRR8 all offer a great airgun experience.
A word about safety
Double Action/ Single Action airguns provide the look, feel and operation of their cartridge-firing counterparts. Most airguns, in general, look like cartrrige guns, this group even more so, and it is important to remember that the vast majority of people can't tell an airgun from a real cartridge revolver. Never brandish any of these BB and pellet cartridge-loading airguns in public. Always, and I can never stress this enough, always treat an airgun, any airgun, as you would a real cartridge gun. The same manual of operation and safety should always apply.