Making the case for "the" range case
CaseCruzer Universal Shooting Range 4 Pack Handgun Case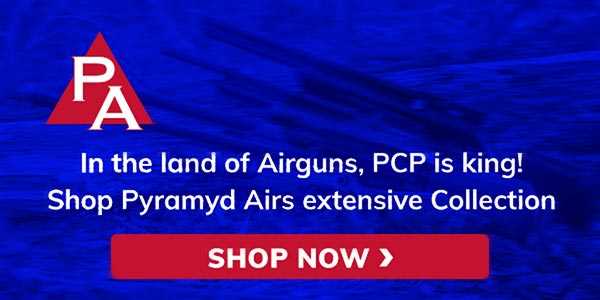 By Dennis Adler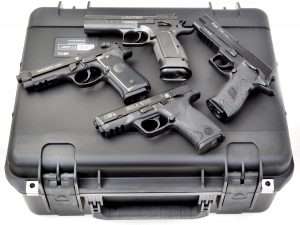 If you have been collecting blowback action air pistols for any length of time, you probably have some favorites, I know I do, and you probably have a big stack of boxes and accessories. You probably also have a range bag to transport them to the shooting range that holds a couple of guns, a box or two of CO2 cartridges, BBs and pellets. Now, what if you could have four of your favorite blowback action airguns (or CO2 revolvers), shooting glasses, BBs, pellets, and plenty of CO2 cartridges all together in one easy to grab, air tight, water tight storage case that's ready to go to the shooting range whenever you are? If you have cartridge-firing handguns and go to the shooting range regularly (or are in law enforcement) you probably already have one, but the CaseCruzer Universal Shooting Range 4 Pack Handgun Case is also an ideal all-in-one storage and range case for cartridge firing guns or CO2 powered blowback action airguns.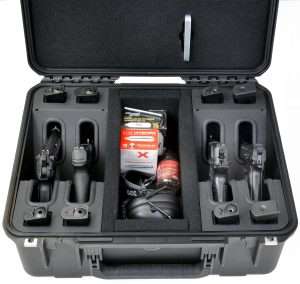 Back in the day
Going to the shooting range when I was a young man was always interesting because I had this terrific old Pachmayr range case made in the 1970s that everyone fussed over. It looked like something you'd see in a photograph of an old gunsmith's shop. Actually I still have it, and it's as good today as it was over 40 years ago. The Pachmayr was a sold wood framework covered in pebble grain material, inside and out, with room for four semi-autos or revolvers on a removable top shelf, storage below for ammo and a compartment on the opposite side for accessories. It weighed a ton, looked very professional but wasn't intended for any serious travel, especially on an airline. But it was the quintessential range case of its day. Now, here's the modern equivalent, the CaseCruzer Universal Shooting Range 4 Pack Handgun Case. What has 40 plus years done to gun case technology? About the same as it has to handguns and top airguns!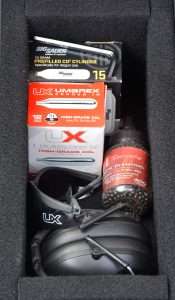 The CaseCruzer has a heavy-duty injection molded plastic exterior with a custom fit interior designed to accommodate four standard frame semi-autos or revolvers. The case is sturdy, water tight and suitable for travel anywhere by land, sea or air. The four specialized gun compartments are built to fit handguns that are 7-inches to 9.25 inches in overall length. This includes Sig Sauer, Colt, H&K, S&W M&P, CZ, Tanfoglio, and other full-size and compact semi-auto in use today, all of which are almost perfectly matched for size by brand name .177 caliber air pistols.
For storing your airguns the CaseCruzer effectively seals out water, air and dust thanks to an ambient pressure equalization valve, high-quality latches, and o-ring seal, and if there's one thing air gunners know about it O-ring seals! The interior design guarantees equipment will not dislodge or collide while in transit and the handgun carrying case is fitted with double-throw latches for absolute safety. The shockproof hard-shell exterior will easily stand up to forcible impact or vibration and can be padlocked for extra security. The CaseCruzer also has a lifetime warranty.
Tacti-Cool Design
One of the features that made my old Pachmayr case so handy was being able to remove the entire shelf with all four guns locked in place, but getting them out of the carrier required unscrewing a central locking ring. No problem at the range but slow otherwise. Considering the possible use of the CaseCruzer by professional target shooters, as well as law enforcement, the interior design is truly innovative in that it places each handgun in its own rubber-edged storage bay specifically angled to allow drawing the guns from the case quickly and without any additional locks, and there is additional room for eight independently secured magazines, four above and four below the handguns. Whether used by a law enforcement officer or a pistol range competitor, or just to get your four favorite air pistols out to the back yard, the quick-draw design is a clear advantage.
A large center channel separating the guns in pairs can be used for any combination of accessories, including an insert that comes with the CaseCruzer to hold eight additional magazines. Even with the extra magazines on board there is still room for a couple of boxes of CO2, BBs and pellets. Without the removable insert, you can add shooting glasses, hearing protection and other accessories, as well as additional shooting gear.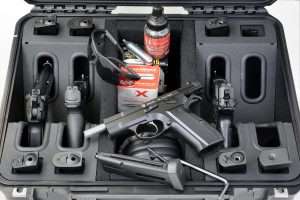 The CaseCruzer is also ideal for marine use. Being both water and air tight, it comes with its own "renewable" moisture absorbent insert (that fits into a slit inside the case lid) containing 40 grams of active silica gel. The pack has an indicator to tell when it is working (a window shows blue) and turns pink when the hydrosorbent is saturated. It is easily renewable by baking out accumulated moisture in an oven.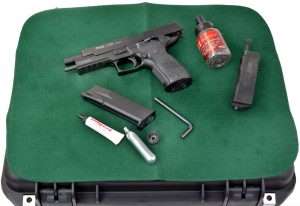 As a range case, storage case, or for law enforcement use, the CaseCruzer is a simple grab-and-go design with one rubber over-molded fold-down handle. Exterior dimensions of the gun case are a trim 20.25 inches in length by 16.93 inches in width and 8.78 inches in overall height. When empty, the case weighs 11.20 pounds. For airline travel the CaseCruzer must be checked-in with other luggage at airports and is airline safe ATA 300 rated.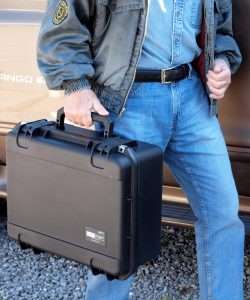 This is definitely the new go-to case. Guess I'll have to put my old Pachmayr back on the shelf. Suggested retail for the Universal Shooting Range 4 Pack Handgun Case is around $284, and there are also 5 and 6 Pack Universal Shooting Range Handgun Cases. For more information visit casecruzer.com.