Colt's Aluminum Canvas
The art of engraving the CO2 Peacemakers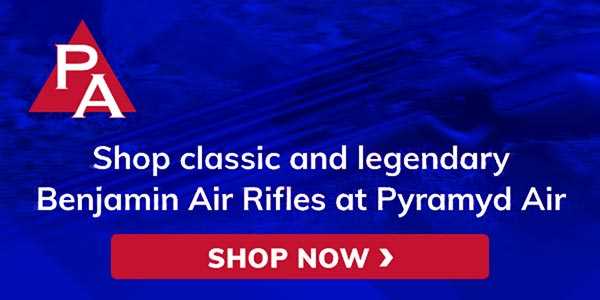 By Dennis Adler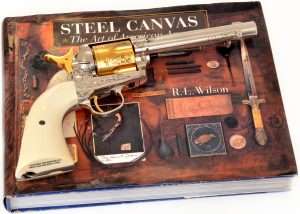 One of my very best friends wrote a book some years ago titled Steel Canvas. It was a literary and illustrative history of the art of arms engraving, and over the years it has not only inspired many of my articles on firearms, but portions from several of my own books on Old West and Civil War era firearms. Engraving was regarded as not just an art form but a means of paying respect to the individuals who were presented with engraved pistols and rifles like Winchester lever actions and Colt Peacemakers, and long before that finely embellished knives, shields, and armor. The art of arms engraving spans more than 500 years since the earliest Matchlock and Wheelock rifles and pistols were engraved in the late 16th Century.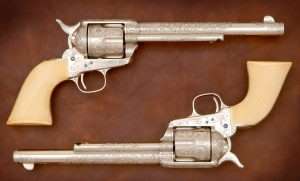 It was this rich history that inspired Samuel Colt to use engraved firearms as presentation pieces to European royalty, Russian Czars, Presidents, politicians and military officers. From the beginning of his first firearms manufacturing company in Paterson, New Jersey, (1835 to 1842), and throughout the remainder of his career, as founder of the Colt's Patent Fire-Arms Manufacturing Company in 1855 until his untimely death in January of 1862 at age 48, Samuel Colt made the engraver's art legendary.
By 1862, the Colt tradition had been firmly established, and Colt's continued on with the manufacturing and presentation of finely hand engraved revolvers. That practice, established by Samuel Colt more than 180 years ago, continues to this very day. In Steel Canvas, author R.L. Wilson noted that, "Considering all the trades that together make a fine gun or edged weapon, only filing, polishing, and engraving employ the same basic tools that have been in use for some five centuries. An engraver from centuries past would feel very much at home if he stepped up to a modern workbench to cut a Colt Peacemaker revolver. His only real concern would be the increased hardness of the metal. Prior to the mid-twentieth century, having to fight tough steel was virtually unheard of. Today many steels (including stainless) are so hard that even in their so-called soft state they are extremely difficult to engrave."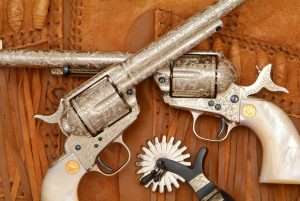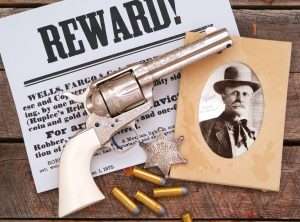 In just the past two years, the advent of the aluminum alloy construction used for the Colt Peacemaker .177 caliber CO2 air pistol has brought about its own renaissance of the engraver's art, by once again providing a metal that is strong, yet yields to the graver and chasers hammer in the hands of a skilled artisan.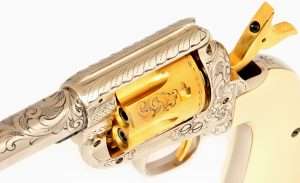 The possibilities for creating the same level of fine engraving used on Colt revolvers since the mid 19th Century is almost endless, as the pattern books of legendary Colt engravers such as Gustave Young and Cuno A. Helfricht, and famed New York City engraver Louis Daniel Nimschke, offer a treasure trove of designs that can be recreated not only in steel but now in aluminum.
What we have seen, and are about to see done with Single Action airguns, and not only Colts but others, presents for the first time in both the history of firearms and airguns, an opportunity for almost anyone to own a piece of handcrafted functional fine art, and at a price that is not prohibitive.
When you start running the numbers it's really amazing because you are getting what would be a $1,200 to $1,500 engraving job on a cartridge-firing .45 Colt Peacemaker, on a $200 gun for $600. The Nimschke is a lot of gun for the money and the Adams & Adams hand engraving is the same!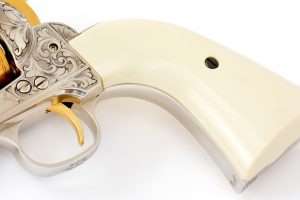 If you are a Western gun enthusiast, and have not already taken advantage of the opportunity to own a hand engraved Colt revolver because it was just too expensive, the current and future line of Umarex Colts and other Western handguns recreated as authentic .177 caliber reproductions, represents an unprecedented opportunity, even to collectors who have the real guns. I said about a month ago when I began the recent series of articles on Airguns of the American West, that this was the new frontier. And we are only just seeing the horizon.