Compartmentalizing Airguns Part 1
Best in class options
By Dennis Adler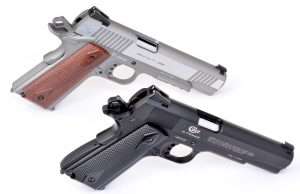 Not everyone has the ability to buy every airgun they want (and neither do I), so you have to make some informed decisions on what to buy. With so many excellent choices today, in just the single category of air pistols, how do you decide? Sure, I get to test them all, but I only keep certain ones, the rest go back, and I make those choices through a process I call Compartmentalizing Airguns. This is simply breaking down specific interests into categories, or compartments. I have four. Since this is my article I'm going to use my interests, and since you are reading this, it's pretty likely we have shared interests. So, what makes one air pistol more desirable than another? And price isn't always the answer; in fact, to do this right price has to be a secondary consideration.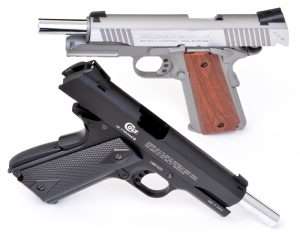 One thing I've learned over the years with airguns, as well as centerfire and rimfire handguns and rifles, is if you can't afford it right now, don't settle for a substitute; might as well save up, because you will still want the one you didn't buy. However, since the vast majority of airguns in this category are under $150 and most under $100, I'm not sure money should be that big of a factor. Now, if you're looking for a high-end competition pistol or rifle, where the retail prices start around $1,000, then that's another story, and a very different article!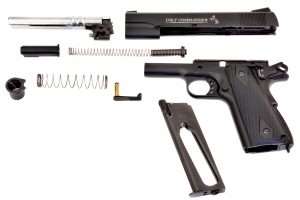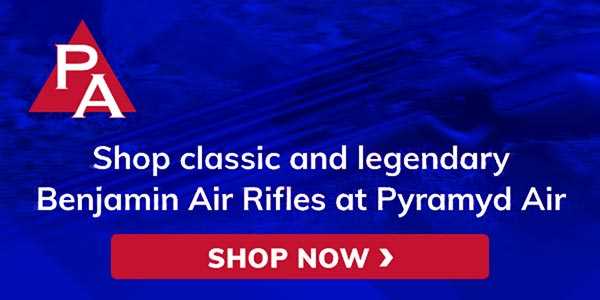 Considerations
The first thing I consider is what kind of centerfire pistol would I want, if I were going to buy only one handgun? I know a great many airgun owners never actually buy centerfire or rimfire pistols or rifles, or have even fired one, and in many countries outside the U.S. this isn't even a choice. First off, if you have no intention of using an airgun as a training substitute for a matching centerfire handgun (or rifle) you are open to look at a greater variety of options. I for one want some semblance of design and functional compatibility with an actual firearm. I think most airgun enthusiasts would agree, and while that narrows down my choices, what remains are some very fine and affordable airguns.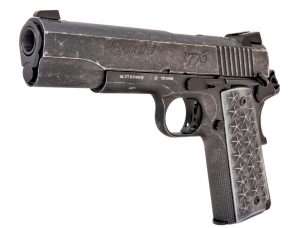 We will begin with my first category, Blowback Action CO2 Pistols. Yep, that's jumping right into the abyss with a lot of established makes and models out there and a handful of new ones, some coming out within the next couple of months. But let's say you are looking for realistic handling, the most features, and best price for a pistol to use for plinking at paper targets, tin cans, and reactive targets with friends and family, so it doesn't need to have any relationship to a centerfire or rimfire pistol you may or may not own, or even consider owning. You simply want the most gun for the money, period. Right off the top I am ruling out compact and subcompact designs and a couple that are right on the line, like the Umarex S&W M&P40. This still leaves a lot of full size handguns from which to choose.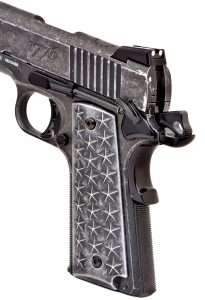 Next I am going to select only guns that have self-contained CO2 BB magazines. Stick magazines are great for some models, but if I am only buying one airgun I want one that gives me some options. Why? Guns wear out, seals wear out; a separate self-contained CO2 BB magazine also wears out, but is easily replaced. Even if you get a bad one (and it happens), it can be replaced. So, another consideration is a model that has extra magazines readily available. If you can't get spare magazines it's a non-starter.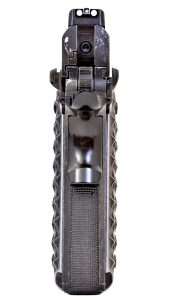 Among full-sized BB firing blowback action CO2 models with self-contained CO2 BB magazines are a number of well established pistols that have been in production for several years. The obvious choices are Colt Model 1911-based designs, it's an American classic. Remember you are looking for the most features, so consider build quality, brand recognition, accurate handling, and sights, the sights are really important. That rules out any 1911 model with original style military sights (unless that is the type of 1911 you want), and this narrows down the number of options to models with combat sights, preferably white dot sights. On my list this gives me the following models:
Umarex Colt Commander, the first of the blowback action branded 1911 Colt models and the longest in production. It is known for excellent build quality, accuracy, a very good trigger, combat white dot sights, and readily available CO2 BB magazines. The negatives are the thumb safety design which even when set allows the slide to be racked (it should not on a 1911) and its use of redundant SAFE and FIRE markings and a directional arrow on a safety that only has SAFE and FIRE functions. Its self explanatory and this only irritates those of us who know 1911s.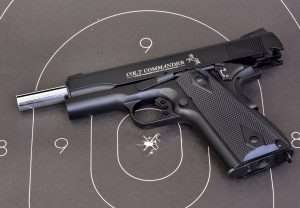 Next in line for a traditional 1911 combat configuration is the new Sig Sauer WE THE PEOPLE 1911 which is "fundamentally" the same gun as the Colt Commander in a much better looking form if you like embellished pistol designs, custom grips, and fully functioning ambidextrous thumb safeties identical to those found on .45 ACP combat models.
The third option is a 1911 Rail Gun like the Swiss Arms 1911 TRS or SA 1911. The SA models have the same functional features as the Sig Sauer but with different finishes and grips, and the addition of an integral dustcover accessory (Picatinny) rail. In terms of dollars they are all commensurately priced (discounted) to within $10 of each other, $99.95 to $109.95. All use the same style CO2 BB magazines which are interchangeable if one brand or another can't be found, plus Tanfoglio Witness magazines also fit. This gun was eliminated from the options because it has the old-style military sights. Out of this selection I would choose either the new Sig Sauer or the Colt Commander; the Sig is $10 less, the Colt-branded Commander is older and has a proven track record. The Rail Guns are great, but unless you are going to invest in a tactical light or light/laser sighting device, offer nothing over the Sig Sauer WE THE PEOPLE 1911, and only an ambidextrous thumb safety over the Umarex Colt Commander.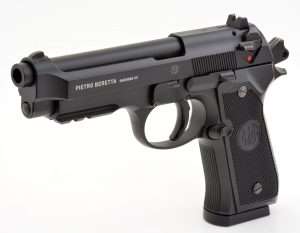 What's that you say? You don't care for 1911s? You want more features for your only blowback action CO2 pistol than a 107 year-old design has to offer. You want everything thus far but in a double action, single action semi-auto pistol. This category can be narrowed down quickly to the top models; the Umarex Beretta 92A1, Sig Sauer (licensed) P226 X-Five, Swiss Arms SA 92 (copy of Beretta 92FS), and the latest top-of-the-line ASG CZ-75 SP-01 Shadow. All four have ambidextrous thumb safeties, combat sights with either white dots (92A1), a single white dot (X-Five and SA92) or red fiber optic front sight (SP-01), DA/SA triggers, dust cover accessory (Picatinny) rails, readily available extra CO2 BB magazines, and are completely filed strippable like their centerfire counterparts. The price spread (discounted) ranges from $99.99 (P226 X-Five and Swiss Arms SA92) to $129.95 for the 92A1 and $139.95 for the CZ-75 SP-01 Shadow. We are still well under the $150 cap I placed on a blowback action model.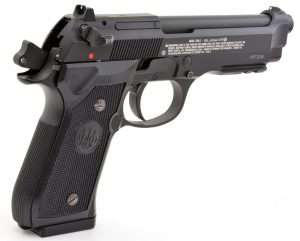 How do I break this foursome down to make a best choice? If you are looking for total number of features for the money, a quality build, and a proven track record, the choice is down to one, the Umarex Beretta 92A1 which shares all the best features plus a select-fire control to shoot on full auto. This also bumps it up into another classification (or compartment), Select Fire Airguns. The 92A1 is a double winner for this added feature.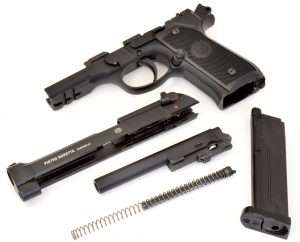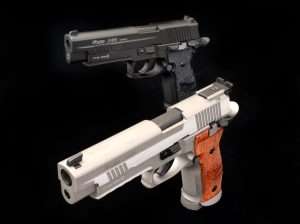 The Sig Sauer licensed P226 X-Five models also have a proven track record for accuracy and reliability. The Swiss Arms SA92 is a slightly lower-feature take on the Beretta (older style 92FS configuration with no Beretta brand markings), and it has a safety design based on the (c. 1970s-1980s) select-fire Beretta Model 93R. At one point Gletcher made a Model 92 with a select-fire mechanism, and this exact same frame, only without the select-fire detent is used for the Swiss Arms SA92. Gletcher discontinued its Beretta-style pistols a few years back. And there was another contender, an excellent one, in fact, that is no longer available, the Tanfoglio Limited Custom. If you have that model, consider yourself a lucky airgun owner! (Fortunately, the magazines are the same as used in the Tanfoglio Gold Custom, so you're still in luck).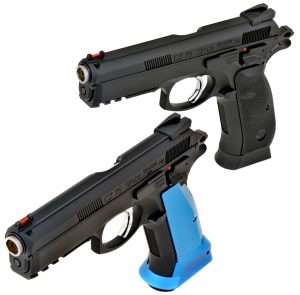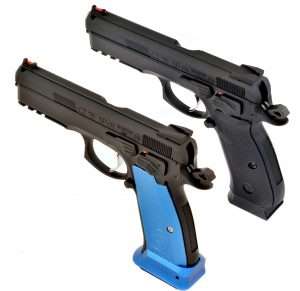 These are the best of the current blowback action models with all the desirable features, models that are based on actual firearms, some historic, others more modern but all well established choices for my first compartment: Blowback Action CO2 Pistols. I have my "go to" gun in this category, so make your choices and let me hear from you over the next week while the Airgun Experience is on a brief hiatus. When we pick up on September 18, I'll reveal my choice if I could only have one blowback action air pistol. We'll also look at the next category, Selective Fire Airguns. There will also be some new CO2 models that will be reviewed later this month and in early October. Keep your options open.
The Airgun Experience will return on Tuesday, September 18th.