CCWT Part 1
Concealed Carry Weapons Training with Airguns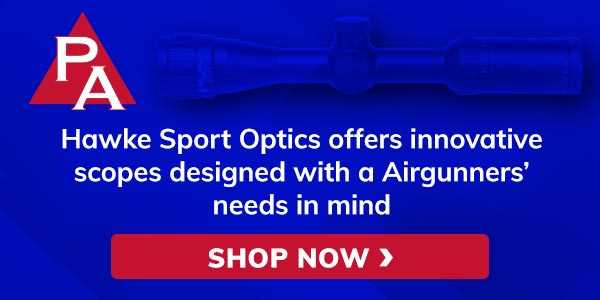 By Dennis Adler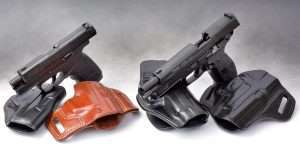 Happiness is never having to say, "I hate carrying this gun!" When it comes to finding the handgun and holster that works best for you, and I mean "you" the person reading this, no matter what you have read, no matter how good it sounds or looks, until you try it, live with it, and become comfortable and proficient with it, it's only words. This is where training with airguns that duplicate the size, operating features, weight and handling of their cartridge-firing counterparts can save you hundreds, if not thousands of dollars and help make the final decision on what handgun to carry and how to carry it.
Concealed Carry Weapon Theory
It is essential that an individual find the right gun and holster combination that will provide three key features, and no matter what your eventual choice in a handgun or holster, these three rules never change: carry comfort, degree of effort to retrieve the gun, and level of concealment. Remember the operative word in concealed carry is "concealed." There is also a fourth element that combines recoil management and learning to reacquire the sights after firing. This is one step in the learning process that airguns can only partially help to assuage, and only when using blowback action semi-auto models like the Sig Sauer P226 and Walther PPS airguns shown.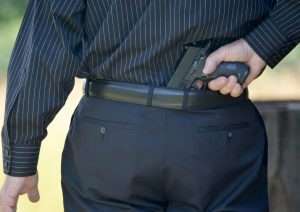 A popular TV and movie stunt is to tuck a gun inside the waistband at the small of the back for concealment. While it looks good and actually works, it is not a smart move. 
On television and in movies we have all seen the hero or the villain pick up his or her handgun and tuck it into the waistband of their pants right behind the small of the back. In theory this works, but only temporarily. Guns shift and the result can be that it falls out, or drops further below the waistband and becomes harder to retrieve. In point of fact there is no substitute for a holster, and by the way, in the movies and on TV after the actor tucks that gun into their pants waist and walks off camera, the set armorer takes it from them and holds it until the next scene where they have to draw it. In the real world you should always carry a handgun concealed in a holster that works for you. So let's begin with an airgun that duplicates a cartridge-firing model you might consider purchasing. For this example I have selected the aforementioned full-size 9mm Sig Sauer P226 and small frame subcompact 9mm Walther PPS. These two popular handguns both have perfectly matched airgun surrogates costing less than $100.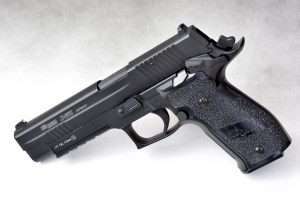 The Sig Sauer P226 and holsters for carry
The Sig Sauer is a staple with various branches of military, government and law enforcement, thus it is a very likely choice for civilian use. The airgun version shown is the P226 X-Five, which is based on Sig's top-of-the-line target model. The P226 X-Five airgun has the exact same dimensions and fits all current Sig Sauer P226 holsters. This is a large frame gun comparable in size with the Beretta Model 92FS and Colt Model 1911, and would be considered among the largest practical semi-auto handguns for concealed carry use.
If you have made the decision to get a CCW permit and want to learn the basic skills before laying out hard cash on the real deal, this is an excellent starting point to find out if this is the right handgun for you. This begins with comfort. The location of your sidearm has to be comfortable. If it's not, you're not. It should feel as natural as the wallet in your pocket and become second nature. I have found (and remember this is me, and it doesn't mean it's going to be you), that almost any small to medium sized handgun carried in either a belt or paddle holster and worn at the 4 o'clock position (just forward of your hip) is going to be comfortable (the 8 o'clock position if you are left-handed). It is also going to be easy to conceal with almost any kind of outer clothing.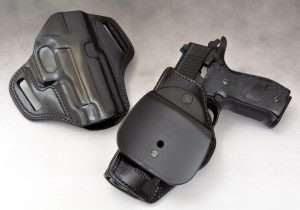 I have paired the airgun with two Galco holsters made for the 9mm Sig Sauer P226. The first is a Galco standard with law enforcement, the Combat Master belt holster. Once you have worked on drawing and re-holstering the airgun from this rig you have established the muscle memory for the 9mm or .40 S&W models. You can also practice reloads and tactical reloads with this airgun since it is identical to the cartridge-firing models. The Sig airgun uses a self contained BB and CO2 magazine to provide as close to the actual handling experience as possible. In addition, the all-metal construction of the airgun has the same features; manual thumb safety, slide release, and the slide locks back after the last BB in the magazine has been fired. In all respects, this is a total match-up for learning the handling and carrying of the P226 and all you have invested is the cost of the airgun and the Galco holster. And you can use the holster with a real P226.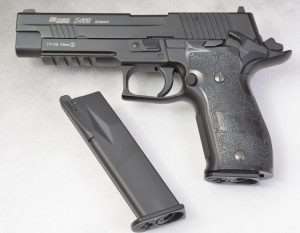 The other holster option is a paddle rig like the Galco Concealed Carry Paddle holster made for the P226. The advantage here is that a paddle holster can be put on and removed without having to take your pant's belt off. Also, the gun in a paddle rig can be easily shifted from the more concealable 4 o'clock position to the 3 o'clock position if necessary. Paddle holsters are excellent for any size handgun. Both the Concealed Carry Paddle and Combat Master are open top designs allowing for quick access. Both are also designed to keep the pistol as close to the body as possible, though neither provides an additional security (handgun to holster retention) other than the contoured fit to the gun. There are also Level II and Level III holsters that employ thumb break safety straps and thumb-released triggerguard retention devices for those who prefer a more secure holster design.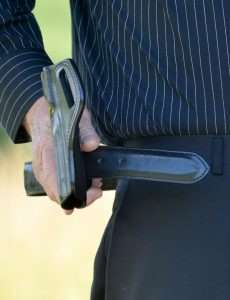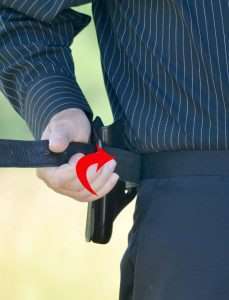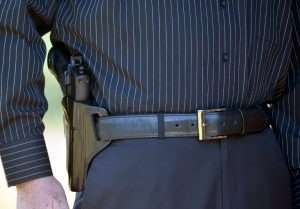 This simple beginning allows you to affordably determine if this match up of full-size handgun and holster is right for you, and to do it for less than $200. And even if it's not, you still have a terrific blowback action .177 caliber airgun for plinking!
In Part 2 we examine drawing practice and stepping down to a subcompact model.