Conceptual Evolution
Looking back and looking forward
By Dennis Adler
Every so often you watch a movie trailer and it looks like it is going to be the best new film of the year, but it turns out that all the best scenes were used in the trailer and the movie as a whole falls flat on its face. That's kind of where we are looking forward to new air pistols this year. Tom Gaylord gave us a thorough look at what new airguns are coming in 2019 direct from the Shot Show floor. And there are a lot of new airguns coming, but in the area of CO2 models, the offerings are impressive but few, as they apply to Airgun Experience readers. We are a picky lot and expect every year to be a banner year with an abundance of new and exciting CO2 pistols and rifles. But the reality is not always as exciting and many months go by between debuts and availability. Case in point, Umarex has announced a second Glock 17 with an enhanced blowback action for even more realistic handling. As a training gun this will be a benchmark, at least for those who want to train for carrying a 9mm Glock. And even just as a CO2 pistol on its own, it will likely rise to the top as one of the, if not the most realistic CO2 pistols built to date. But exhale; we won't see them until late this summer. This is about the same waiting period as last year's Shot Show announcement of the Legends Cowboy Lever Action Rifle (before it was pushed back to December). But it has proven well worth the wait. The question is, "What are we waiting for next?"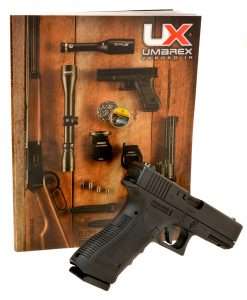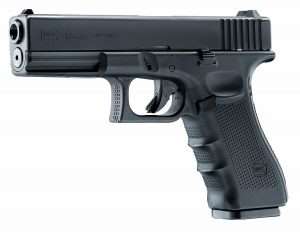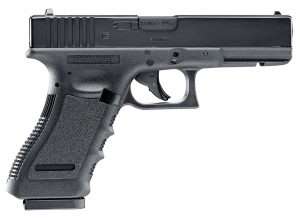 Umarex has plans
Umarex is the bellwether of new guns, though it is being challenged quite effectively by Sig Sauer, and, as will be revealed this year, by Air Venturi and its alliance with American armsmaker Springfield Armory. Umarex remains the world's leading manufacturer but that is just the point, we are not the world, we are the United States, and when it comes to new airguns, not the largest market, second largest perhaps. Umarex functions on a global level, and has a highly diversified product line that fulfills the needs of European airgun enthusiasts, and an ever increasing range of Airsoft models that vastly outnumber CO2 pistols and rifles. On the other hand, what we have available from Umarex in the U.S., just since 2014 is, well, in a word, remarkable. This is where we count our blessings as the market that more than any other relishes authenticity and realism in our CO2 pistols and rifles. In five years time we have gone from almost zero to an abundance of choices in revolvers, semi-autos with blowback action, semi-auto longarms, and recreations of historic American and European pistols. And this is just Umarex.

The additions to that number for 2019 are not great, but let's look at what they are, and I am only addressing pistols and rifles that run on CO2. An obvious frontrunner for anyone who grew up in this country from the 1960's on is the Ruger 10/22, the all around American .22 LR rifle. I had one, you probably had one (may still have one) and adding a CO2 version with a rifled steel barrel that loads 10 pellets in a 10/22 style magazine is going to be on everyone's list. That is likely to be another summer release (possibly late May according to Umarex), just like the release of summer movies, only I don't think the trailer for this one will lead to a disappointment! The technology for the gun is based on the dual CO2 system in the Cowboy Lever Action, so we can expect impressive velocity numbers, especially with alloy wadcutters. We may not have ended up with a rifled barrel Model 1894 lever action (yet) but the Ruger will not disappoint.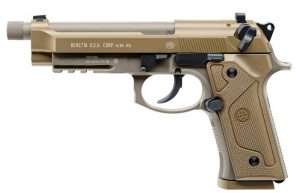 Evolution of designs
I am an odd bird when to comes to updating existing designs; I'm keen on upgrades, like what ASG has been able to supply for the CZ75 SP-01 Shadow, and Umarex has an impressive upgrade for 2019 with a revised Beretta 92 version of the military M9A3. This is the M92 A1 in full military dress with Desert Tan slide and grips, FDE frame and barrel, updated sights, and a threaded barrel that hints at some future accessory faux suppressor or compensator. Even if you have an M92 A1, you will want this upgraded model for its outstanding looks, and it also retains the select-fire operating system from the M92 A1. We can expect this one within a month according to Umarex.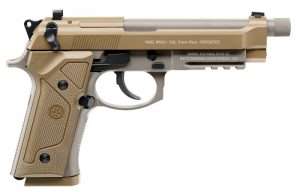 The new blood seems to be coming not from Germany (where Umarex is based, as well as Umarex USA in Ft. Smith, Arkansas), but from Illinois and Ohio, with the combined efforts of Springfield Armory and Air Venturi introducing an entirely new line of CO2 pistols based on Springfield's XD series of polymer-framed semi-autos, and Springfield's modern recreation of the legendary M1A carbine (the civilian semi-auto version of the M14). This authentic replica will be offered in two versions, one with a wood grain synthetic stock, and for $100 more, with a genuine hardwood stock, making it one of the most true-to-the-original centerfire model air rifles on the market.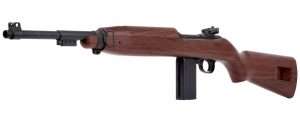 The new Springfield Armory/Air Venturi XDM pistols break new ground by getting everything right from the start. Two versions of the 9mm XDM series pistols will be offered, the full size 4.5 and compact 3.8 models. Both operate exactly like the centerfire models; have interchangeable backstraps to adjust to individual hand sizes, fully functional controls, and full field stripping capability. And those pesky white warning are gone, replaced by molded in warning information unobtrusively placed on the left side of the slide along with the proof marks.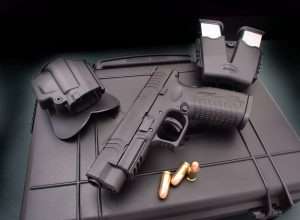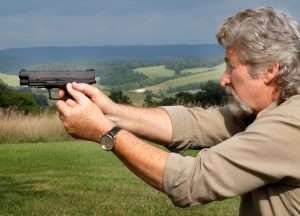 All of the markings on the guns are true to their centerfire counterparts, putting these two new blowback action pistols head-to-head with the forthcoming Glock 17 Gen4 and new HK USP models, as well as the Sig Sauer WE THE PEOPLE.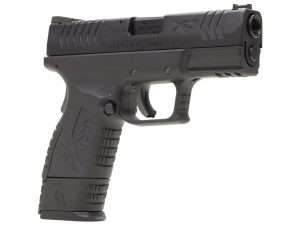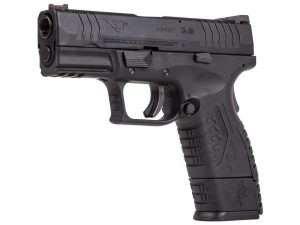 If that is not enough new for 2019, Sig Sauer has more in store for the year than the P226 Super Target pneumatic pellet model. But Sig is keeping a lot of what is coming under wraps like they did in 2018.
Looking back at how many impressive new models from major manufacturers have been introduced since 2014, when the only new blowback action gun was the Umarex Colt Commander, the field is expanding at an astonishing rate for revolvers (lest we forget what ASG has done with the Dan Wesson brand), semi-autos with truly authentic designs and operating features, and a handful of new rifles that provide firsts for the American CO2 market.
If you look back at what has been introduced, and how designs have been improved upon every single year, the look ahead is more impressive than ever.