Crosman Bug Out-Kit Part 2
A little something extra that could make a difference
By Dennis Adler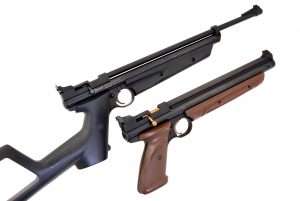 For much of Crosman's history they have built excellent single shot air rifles and pistols, and of the latter their strong suit with air pistols was the traditional single shot pneumatic pump. Crosman was also a pioneer in early CO2 pistols back in the 1950s. One of Crosman's best pneumatic pump action designs remains the Model 1377, also known as the American Classic, a design that has evolved over time since 1947 and the Crosman Model 105. The 105 used a cocking knob at the rear of the receiver rather than the bolt action cocking mechanism used on the Model 1377, introduced in 1977. I mention this because if you look at a Model 1377 you see the basic design of the 2289G, even though it is in principal a carbine and not a pistol. Crosman still builds the Model 1377 currently known as the Model 1377C, which was introduced in 1998, coincidentally (or perhaps not) the same year that the original 2289 was introduced. This is a design archetype that has worked for Crosman over decades.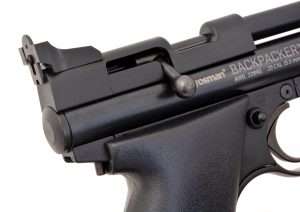 Will that be metal or plastic?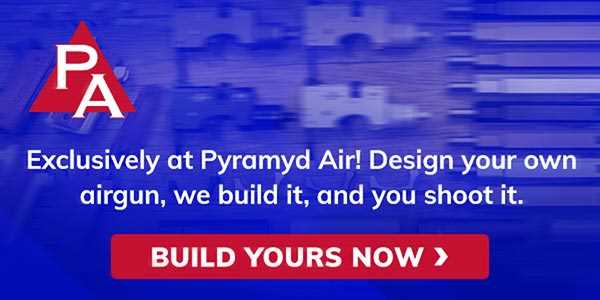 Today you can purchase a replacement metal breech for a number of Crosman models that have plastic breeches like the 2289G. Interestingly the Model 1377 American Classic originally had a metal breech. It was changed to the plastic breech used today on 1377C and 2289G, among others, back in 1981. Remember that plastic was having somewhat of an epiphany in the 1980s. In 1982 the polymer-framed Glock 17 9x19mm pistol was introduced and within a decade polymer frames were sweeping in a new era in gun making. Plastic is durable and I can attest to the longevity of my American Classic which looks as good as the day I bought it almost 20 years ago. The point of this is that if you upgrade the 2289 or other Crosman single shot pneumatic models based on this platform to the metal receiver, it really isn't an "upgrade" it is actually a retrofit!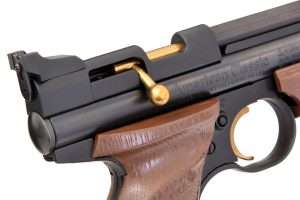 The Backpacker's tale
The current model with a 14.6 inch rifled barrel has an overall length of 18 inches without the stock and 30 inches with stock attached. Length of pull is 16.25 inches, which is long, especially for a carbine. Average length of pull is from 13.25 to 14.5 inches, so you really have to snug up on the Backpacker, and if you have shorter arms it could be even more difficult to get proper eye relief from the rear sight. I measured several of my own centerfire rifles and length of pull averaged 13.5 to 14.5 inches. The closest I came to 16 inches was a shoulder stocked Colt 1851 Navy, and really sighting was pretty primitive back then using a notch in the top of the hammer and a blade front sight. Still, the Crosman at 16.25 inches is a stretch; even taking into account the drop in the injection molded skeletonized shoulder stock.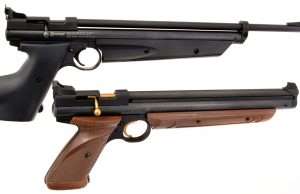 Speaking of primitive, the rear sight on the Crosman is close to that classification with a slotted metal blade screwed to the rear sight housing. The blade is reversible by removing the screw and turning it 180 degrees. The slot is also used to adjust elevation and you have a notch on one end (which I find too wide for the width of the front blade, some 17.25 inches downwind), and a small peephole sight on the opposite end. This seems to work better. Interestingly it is just the other way around for my old Crosman American Classic, which has the exact same style rear sight but a larger front blade that works well with the notch rear sight.
Another varying criticism of the earlier 2289G models was trigger pull. On this test gun average trigger pull is 5 pounds, 3.5 ounces with 0.156 inches of take up and only very light stacking, which is a modest improvement over earlier models.
The bolt action is tight but not hard and locks securely. The pump effort, however, is heavier than the American Classic, despite the 2289G's slightly larger and longer (by 0.75 inches) forend handle.
10 Meters through the chronograph
The first chronograph test was shot with Sig Sauer Crux Pb 10.3 gr. Ballistic Alloy domed pellets, which clocked an average of 554 fps with 10 pumps. The variance for 5 shots was 550 to 557 fps. At 554 fps the 10.3 gr. alloy pellets develop 7 foot pounds of energy. At 10 meters the five-shot group had a spread of 1.24 inches with paired hits measuring 0.43 inches. Shots were within 0.25 inches of POA. This is on the light end of the scale for hunting small game like rabbits.
For test two I switched to Sig Sauer Wraith Pb, a 21.14 gr. hunting pellet. The heavier lead rounds cleared the chronograph screens at an average of 401 fps with a high of 403 fps and a low of 400 fps. This is quite a bit lower than Crosman's 550 fps claim with lead pellets but this is a pretty heavy one and comes in at 8 foot pounds of energy, still a little low by hunting standards. At 10 meters my five test shots grouped at 0.75 inches with three of five at 0.5 inches.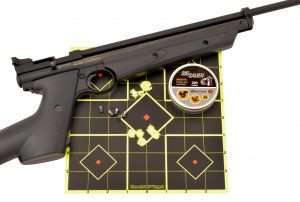 For the third pellet test I went with something in between the light Crux Pb and heavy Wraith Pb, I picked H&N Sport Baracuda Hunter Extreme, an 18.52 grain hollow point. The H&N are designed for long range accuracy with a deep cross hollow point for rapid energy transfer. A balance of velocity, FPE and accuracy could make this an ideal choice to use with the Backpacker as a close range field gun for small game. Average velocity, again with 10 pumps per shot, was 421 fps with a high of 423 and a low of 420.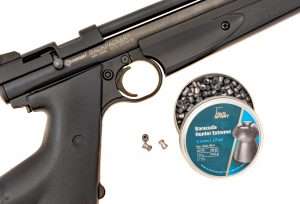 My five-shot group at 10 meters was exactly want you want to see for consistent accuracy with a spread of only 0.5 inches center-to-center and four out of five almost overlapping. With an 18.52 gr. pellet at 421 fps you have 7 FPE, again, this is a little low but given the accuracy of this pellet with the Backpacker and the pellet's design, I think a well placed head shot at 10 meters, or around 30 to 35 feet, is going to make a clean kill.
In circumstances where hunting small game would be a necessity for survival, this latest 2289G Crosman Backpacker version will quietly and effectively do the job at close ranges, and with the right pellet, as humanly as possible. And as a very affordable target gun it has also acquitted itself quite well. Rabbits, squirrels, backyard vermin and tin cans be warned, the old Sheriff is back in town, and it isn't even Doomsday!