Crosman Triple Threat Part 5
From Target Pistol to Pocket Pistol
By Dennis Adler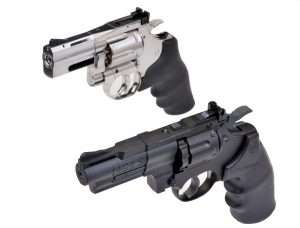 You'd need a pretty good sized pocket to carry the Triple Threat with the 3-1/2 inch barrel, but back in the Old West pockets were pretty big and short barrel Colt Peacemakers with 2-inch and 2-1/2 inch barrels were considered pocket-sized. Today, even the Dan Wesson 715 with a 2-inch barrel would be a hard fit because of the combat grips, and the Crosman Triple Threat is even leggier, but with the 3-1/2 inch barrel it is still technically a snub nose revolver. And how great is that when you are still talking about the same $70 gun we started out with last week?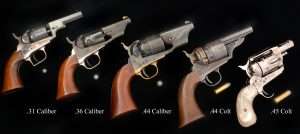 Short and to the point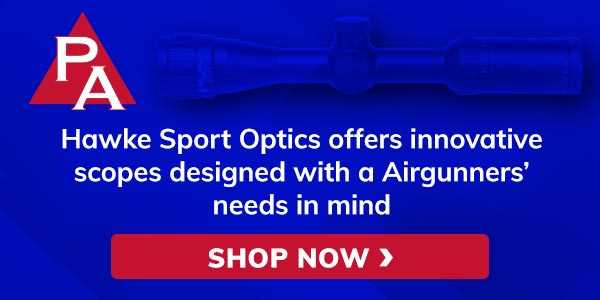 Snub nose revolvers going back as far as the 1860's Colt Avenging Angel, which was an 1861 Police Model offered with factory altered 2-inch or 2-1/2 inch barrels. Only about 50 were produced, but a few of them ended up in the hands of some very famous and infamous people. The 1860 Army was also given the same treatment, though not by the Colt factory. They were done by gunsmiths. After the Civil War the .44 Colt Army models picked up the rather Southern sobriquet "Natchez Specials" because quite a few of the short-barreled Colt Army models ended up in the pockets of riverboat gamblers.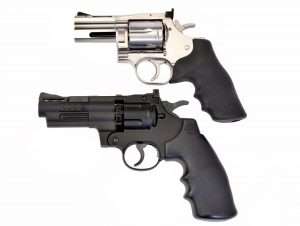 In the early 20th century a number of those late 19th century snub nose designs remained in use until Colt and S&W began making .32 and .38 caliber snub nose revolvers, which grew in popularity beginning in the 1930s and remained so well into the 1950s and 1960s. Colt Detective Specials and S&W Chiefs Specials were especially popular with plain clothed law enforcement officers and detectives. Snub nose revolvers are still among the most carried backup guns and personal defense guns in use today and the Triple Threat with the 3-1/2 inch barrel gives you that experience in a very affordable CO2 model.
Velocity falls
It didn't matter if you were shooting a .36 caliber lead round ball or .45 Colt cartridge, a short barreled revolver wasn't going to provide the same velocity as a 5-1/2 inch or 7-1/2 inch barrel, and it certainly isn't going to be the same in the Crosman with the 3-1/2 inch barrel as it was with the 6-inch or 8-inch barrel. But how big of a loss are we taking about in CO2? Using the H&N Sport 5.25 gr. alloy wadcutters to get the most velocity out of the Crosman, the goal is to see how close the 3-1/2 inch barrel comes to the 8-inch barrel's scorching 527 fps average. Again starting with a fresh CO2, the 3-1/2 inch barrel sent the alloy wadcutters downrange at an average velocity of 428 fps, which is pretty good for a short barrel. High velocity was 450 fps and low 419 fps for 10 consecutive shots.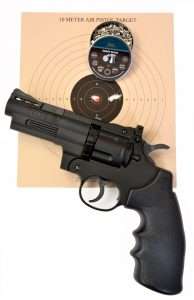 Now, just to keep things equal, the Dan Wesson 2-1/2 inch, firing the same H&N Sport alloy wadcutters clocked in at an average of 398 fps with a high of 421 and a low of 394 fps.
On the accuracy side from 21 feet, shooting through the chronograph, the Crosman put 10 shots into 1.25 inches, and this was before readjusting the rear sight for the shorter barrel. Of the 10 rounds fired, eight hit right of center in one ragged line measuring 0.5 inches, and after windage adjustment the last two hit the bullseye. The Dan Wesson landed its six inside 0.875 inches shooting through the chronograph. Both guns were fired single action.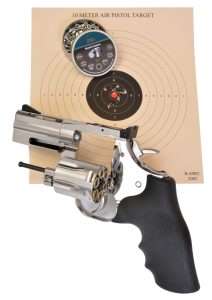 I went back with adjusted sights and ran one more test from 21 feet with each gun using Meisterkugeln 7.0 gr. wadcutters (still my favorite for accuracy with most pellet firing revolvers), and the Crosman, which hit a little low with the heavier lead rounds, put its 10 into 0.9 inches with a pretty good rip across the 7 and 8 rings plus one under the 10.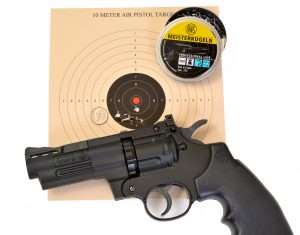 I really got on a roll shooting the Dan Wesson, with my first five rounds in the bullseye and 10 ring, and then I pulled my sixth shot to the left. I still ended up with a total spread of 0.75 inches. Without the flyer, my other five rounds measured 0.437 inches (which would have been the best I have ever done with that gun at 21 feet, but would have been doesn't count). Even with the flyer it's 0.75 inches for the pricier DW vs. 0.9 inches for the Crosman. Both guns under an inch anyway you cut it.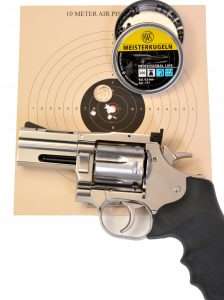 We end up with one gun with one barrel, vs. one gun with three barrels (setting aside the differences in design, authenticity, and pellet cartridges compared to a pellet clip), but you have two guns that are otherwise pretty equally matched for overall accuracy, at least with short barrels at 21 feet.
For a head-to-head shootout, I'm pretty satisfied that both guns, regardless of price and with comparable barrels, can group under an inch. With the Crosman you get to shoot three different length barrels, and if you're not looking for a 1:1 design with a centerfire gun like the DW, the Triple Threat, like all Crosman models, lives up to its historic reputation; a good airgun at a reasonable price.
We're going to kick off next month with a week long 4th of July celebration review and test of the brand new Sig Sauer P365!