Dan Wesson Model 715 2-1/2 inch Part 2
BBs vs. Pellets – Velocity checks
By Dennis Adler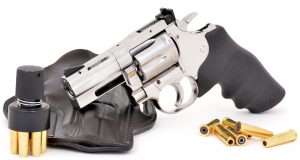 Over the last four years I have done several BBs vs. Pellets reviews, but it has been rare that I have been able to make that comparison with identical guns like the ASG Dan Wesson Model 715 snub nose revolvers. This is that totally level playing field you look for when making comparisons, so this is really going to be about what you gain and what you sacrifice between round steel balls and cast lead or alloy pellets in downrange speed and accuracy, as well as the possibility to extend the effective range of the pistol with a higher velocity round. This has been proven several times with CO2 pellet and BB pistols maintaining comparable accuracy out beyond 10 meters.
Looking back at the DW pellet model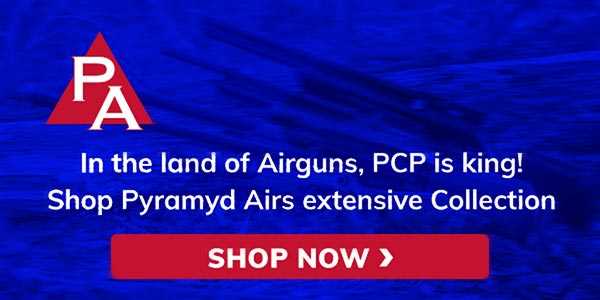 The ASG Dan Wesson Model 715 snub nose pellet model with a 2-1/2 inch barrel and pellet-loading cartridges was first evaluated by me in Airgun Experience back in February of 2017. At that time the 2-1/2 inch BB model was offered only with a blued finish, and not a matching nickel finish like the current version. The 2-1/2 inch models are based on the same frame, double action/single action trigger and grip design as the 6-inch and 4-inch CO2 models, and have the correct crane-mounted cylinder latch that remains a hallmark of the Dan Wesson design. This is one of the key features that clearly separate the current 715 models from the earlier ASG Dan Wesson versions that were essentially based off the same platform as the Umarex S&W 327 TRR8.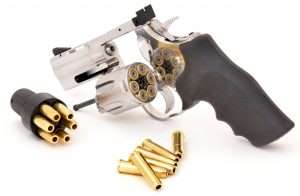 Although I haven't mentioned this since the original review, Dan Wesson cylinders (.357 Magnum, CO2 pellet and BB models alike) rotate clockwise (to the right) with each double action trigger pull or by cocking the hammer. Conversely, S&W revolvers rotate their cylinders counter clockwise (with the exception of S&W M&P .38 Bodyguard), while Colt revolvers also rotate clockwise like the Dan Wesson.
For training, the ASG Dan Wesson is an excellent surrogate for a real large caliber, medium to large frame snub nose revolver, with a carry weight of 2 pounds, 3 ounces (empty), and a realistically hefty double action trigger pull of 12.5 pounds. Single action is about half that, a modest 5 pounds, 15 ounces average, again very close to most DA/SA revolvers. Loading the Dan Wesson is identical to the real Model 715 with a downward pull on the crane-mounted cylinder latch and a press of the cylinder from the opposite side. The pellet loading cartridges can either be dumped for a quick reload with the 6-round speed loader, or you can reload them individually while still in the cylinder, since the 4.5mm pellets are pressed into the back of each cartridge. This is something you can't do with the front-loading BB cartridges.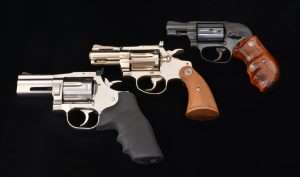 While the grips on this snub nose wheelgun are fairly large, but virtually identical to the .357 Magnum models, I prefer a larger grip for better control; even my .38 Special S&W Model 49 Bodyguard wears oversized, finger grooved S&W combat grips. So I'm right at home with the grips on the airgun. Some of you will be as well.
For the original shooting test in 2017, I used the latest ASG Dan Wesson pellet cartridges, which are rear-loading. Six come with the gun along with a speed loader and another 25 shells can be purchased from Pyramyd Air, as can extra speed loaders. This newer pellet cartridge from ASG is a more efficient design, whereas earlier Dan Wesson pellet models used a two-piece pellet round with the pellet loading inside a threaded bullet, screwed to the cartridge. While these look more realistic, they are far more time consuming to reload. Of course, if you have enough of them already loaded for your time at the range, it doesn't really matter, except that there is a slight increase in velocity with the rear-loading pellet cartridges.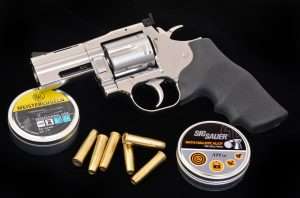 For my original velocity tests of the Model 715 pellet-cartridge version, I fired two different brands of pellets, RWS Meisterkugeln Professional Line 7.0 gr. lead wadcutters and Sig Sauer Match Ballistic 5.25 gr. alloy wadcutters. The lighter weight Sig Sauer alloy pellets left the rifled barrel at 389 fps average, about 40 fps better than ASG's factory specs. The Meisterkugeln 7.0 gr. lead wadcutters cleared the chronograph at an average of 337 fps, and the pistol is factory rated at 344 fps. The one certain advantage the rifled barrel pellet model will have over the smoothbore BB version is the ability to shoot tighter groups at 10 meters with either lead or alloy pellets.
Ah, but there is a silver (or make that nickel) lining for the BB model, which can shoot just about any .177 caliber BB made out of the front-loading cartridges, and that means the 2-1/2 inch snub nose will be sending lightweight, frangible Dust Devils downrange as well as Umarex and Hornady steel BBs.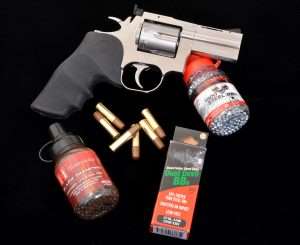 Dust Devils weigh in at an average of 4.35 grains vs. steel BBs at an average of 5.1 grains. The percentage of velocity increase varies upon the gun but Air Venturi generally claims that Dust Devils will clock an average velocity that is 10 percent faster than a steel BB. Let's find out.
Aside from being easy to get a solid hold, I like the DW grip design for one additional reason, it is easy to remove the left panel for loading the CO2, and the grip has a seating crew wrench built in (similar to the Umarex Colt Peacemaker grips), so there is no fumbling with a separate Allen head tool. The other nice thing is pressing BBs into the front loading cartridges. Pour them into a tin, have shells in the speed loader and then push all six cartridges into the BBs. Check to make sure the BBs are flush with the nose of the shell, and you're ready to drop them into the cylinder. It doesn't get any easier, and it is slower inserting pellets one at a time into the back of each pellet-loading cartridge. Spare loaded BB or pellet shells are still a great idea, and are affordably sold in 25-round boxes, so it's easy to have them ready on the target range. Extra speed loaders are also available.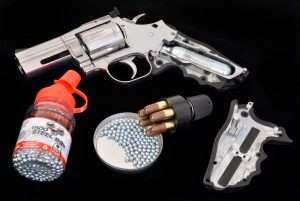 Today's velocity test with the BB model
Starting with the Umarex Precision steel BBs, the six rounds clocked an average velocity of 319 fps, with a high of 321 fps and a low of 314 fps on a fresh CO2 cartridge. Factory specs for the 2-1/2 inch BB model are 328 fps. The 5.1 gr. Umarex steel rounds comes up short, compared with a 7.0 gr. lead wadcutter traveling downrange at an average of 337 fps from the 2-1/2 inch rifled barrel model.
As always, I'm never certain if I will gain or lose velocity with the Hornady Black Diamond anodized steel BBs, but the coin toss this time gave the Dan Wesson BB model an average velocity of 324 fps, with a high of 333 fps and a low of 317 fps. So, average velocity was within 4 fps of the factory specs. Now, what happens when you load those BB shells with a lighter weight Dust Devil? A 10 percent increase over the Black Diamond would be 356 fps. First round out of the barrel only clocked 330 fps. Round number two dropped to 325 fps. Round number three punched up to 346 fps, round four 331 fps, round five flew at 337 fps, and the last shot cleared the screens at 334 fps. Average velocity by the chronograph was 333 fps, equal to the high velocity for the Black Diamond. Why the disparity? Dust Devils are slightly undersized, the plastic noses of the BB shells have minor variances, they also get worn from repeated use, and thus the Dust Devil is an inconsistent fit. A little tighter seat and you get 346 fps, a little loose and you're in the 330 fps range. It is not a deal maker or breaker. Accuracy will be the final decision maker for the BB model.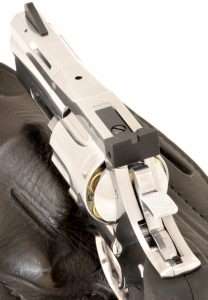 In Part 3 the BB model does its best at 21 feet.
A word about safety
Blowback action semi-autos and realistic CO2 revolvers provide the look, feel and operation of their cartridge-firing counterparts and this is one reason why they have become so popular. Airguns in general all look like guns, blowback action models more so, and it is important to remember that the vast majority of people can't tell an airgun from a cartridge gun. Never brandish an airgun in public. Always, and I can never stress this enough, always treat an airgun as you would a cartridge gun. The same manual of operation and safety should always apply.